Over the past two years, major oil companies in the UK have sponsored over 100 community activities, educational awards, and local events, DeSmog UK can reveal.
This allows the firms to greenwash their image and cheaply purchase a social license to operate within the communities.
DeSmog UK's new database, launched today, tracks fossil fuel companies' involvement in local communities through funding and sponsorship. It includes local level and educational sponsorship deals from five of the most prominent fossil fuel companies operating in the UK: BP, Shell, Exxon, Total, and Chevron.
The database allows the public and policymakers to track which oil giants are the busiest splashing their cash and which communities are targets for fossil fuel company spending.
The database will continue to be updated as new sponsorship deals are announced. If you know of any fossil fuel sponsorship happening in your community, please get in touch by emailing [email protected]
Big Oil in Small Communities
BP and Shell, two companies headquartered in the UK, have dozens of programmes, while international giants Exxon, Chevron and Total also use sponsorship schemes to boost their UK profile.
While many of the programmes help provide useful services to communities, the fact they rely on fossil fuel companies' resources is symptomatic of wider social problems, according to campaigners.
And as DeSmog UK has previously revealed, sometimes these are neither wanted or needed by the communities they supposedly serve.
Campaigners say companies deliberately target sponsorship deals and educational programmes in areas in which they have a vested interest.
For example, Exxon has provided funding for the Real Fife Football Club, where they operate the Fife Ethylene Plant.
Thanks to everyone who came to the #newforest remembers WWI exhibition launch @ExxonMobil_UK @TheAgeasBowl pic.twitter.com/x2fvCQq99q

— New Forest NPA (@NewForestNPA) February 5, 2016
Exxon also sponsors various community activities in the New Forest near its large Fawley oil refinery, including sponsoring the 2016 launch of a WW1 exhibition and the area's amateur marathon.
BP engages a number of schools through their In The Pipeline programme, including St Margaret's School for Girls in Aberdeen, where the company has its North Sea headquarters. A member of the school is set to address an industry conference later this month.
Shell sponsors similar programmes in areas it has a commercial interest, such as the Girls in Energy programme administered by North East Scotland College in Aberdeen.
And Chevron supports anti-poverty charity Instant Neighbour in Aberdeen, where it operates a large office.
It's problematic that programmes that normally struggle for funding have to turn to big companies for support, campaigners say.
Chris Garrard, co-director of campaign group Culture Unstained, said government budget cuts put an unfair burden on communities to accept such deals. He told DeSmog UK:
"I think it places the community in a very difficult position because there are pressures on funding within the arts and pressures on funding within schools and education so any support that's being offered is going to be really welcome.
"It's very much tokenistic, and to the community they are being offered what might be a significant amount, but it's a drop in ocean compared to the billion-dollar budgets of these fossil fuel companies."
Anna Markova, campaigner with NGO Platform, was also keen to point out that the deals aren't set up just to be good for society, they're also good for business. She told DeSmog UK:
"One of the longer term impacts of this overall is that it sucks the life out community events, in the sense that it's a kind of corporate takeover of something that ought to be in a public space by people, for people."
"All these sponsorships are business decisions. They work out which audiences they want to buy the trust of and then they'll think 'ok, how do I buy that trust'. Or they might think a particular MP is important on the foreign affairs committee and we want that support so let's sponsor something in the MP's constituency."
BP

, Exxon and Chevron in Schools

Targeting young children is one way companies can greenwash their image and help portray themselves as socially responsible actors within a community, campaigners say.

Both BP and Shell use school competitions as a means to gain access to schools.

Shell's investment in Tomorrow's Engineers' Energy Quest programme is a mechanism used to access schools, much like BP's In The Pipeline competition.

DeSmog UK previously revealed that BP was putting its branding into almost 100 Aberdeenshire schools, whilst also slashing its workforce in the area.

Exxon has also provided funding to numerous schools and organisations to allow them to carry out science classes and workshops. For example, in March 2017, Exxon funded Generation Science's Fizz Boom Bang workshop at Lochgelly South Primary School.

Meanwhile, Chevron funds a youth boat-building project alongside Banff Academy in Aberdeenshire.

Garrard said this is all part of the companies' wider strategy to seem like good actors in society, before using that goodwill to pursue commercial projects:

"The fossil fuel companies are co-opting the good work of schools and community groups, and that allows them to then sit down with government ministers and really embed themselves in the state and in society so they can hold that influence over new legislation which would shift towards renewables for example."

"This involvement in local communities is what allows them to buy a social licence to operate because they're basically sustaining this perception of them as an ethical and necessary company", he said.

And it allows the companies to brag about the good they do to wider, more influential audiences, at the national level. For instance, BP runs this advert in a daily newsletter from Politico that the company sponsors: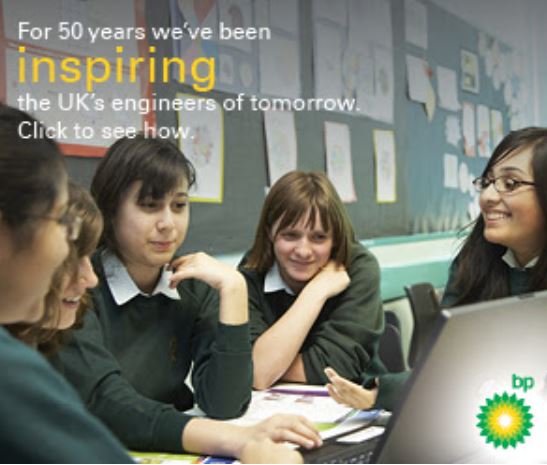 Appealing to Younger Generations
Companies feel the benefits beyond just a reputational boost; it can also make them seem like attractive employers.
Last year, Shell won the 'Corporate Influencer' gong at the World Media Awards for it's Make the Future campaign.
"Oil companies right now are facing a recruitment problem. There's research that been published by the FT that shows that young people are the moment don't want to go and work for oil companies, it's one of the most 'uncool' places to go and work," Markova said.
There are also direct approaches to engaging with university students. For instance, at the University of Strathclyde, engineering students are eligible for BP Achievement Award.
"Young people know now that the industry doesn't have a future and it's not something that can be sustained into the following decades. They're trying to worm their way into people's imagination to try and associate themselves to the future," Markova said.  
"So these forms of sponsorship are often an attempt to ingratiate themselves with a generation who already know they don't have a future. In some ways it's quite desperate, but in some ways it's also insidious and scary."
Going National
While DeSmog UK's new database focuses on community-level sponsorship, fossil fuel companies are also controversially involved in supporting much bigger national projects.
Some of these partnerships have seen the companies receiving special treatment from publicly-funded institutions, such as when Shell sponsored the National Gallery, or the University of Hull and the Hull City of Culture worked with BP to reduce negative criticism of their sponsored lectures.
The companies maintain they have a legitimate role to play through such programmes, however.
A Shell spokesperson said:
"Many of our operations are located close to communities so we work with them to understand their priorities and concerns. Managing our impact on people is essential to being a responsible company.
"We do this in many ways: by creating new jobs, encouraging local businesses to be a part of our supply chain, and providing useful skills training. For example, in the UK, we have run nationwide programmes to address long-term societal needs.
"These programmes are designed to drive economic growth and foster skills and innovation to support the energy transition.  Our projects can have an impact on neighboring communities where we operate. Therefore, we work with subject matter experts to understand the effects that a project may have on land, livelihoods and culture. We also engage with communities to understand their priorities and concerns. We work to mitigate any possible negative consequences of a project, working alongside our technical and commercial teams."
Exxon declined to give a comment, and BP, Total and Chevron did not respond to request for comment.
Image: WikiCantona/Wikimedia Commons CC BY–SA 2.5. Updated 15/03/2018: A paragraph on BP's sponsorship of the Politico newsletter was added.