Revelations continue to emerge about Cambridge Analytica, a political consultancy that has found itself embroiled in a scandal around data privacy and electoral manipulation.
Three whistleblowers have gone public in the Guardian and Observer to outline how Cambridge Analytica used Facebook data to influence the outcomes of the US presidential election and Brexit referendum.
DeSmog UK has previously mapped how the company ties to climate science denial through its Brexit and Trump connections. Now, Nafeez Ahmed over at Motherboard has outlined how Cambridge Analytica has ties to the fossil fuel industry.
Based on that research, it's only a few steps between the company and some of the world's biggest coal and oil companies, many of which have had a revival since the election of Donald Trump. It's only a couple more steps to tie those connections to the already well-established web of power lobbying for Brexit.
Here's an interactive map of how Cambridge Analytica has links to the fossil fuel industry: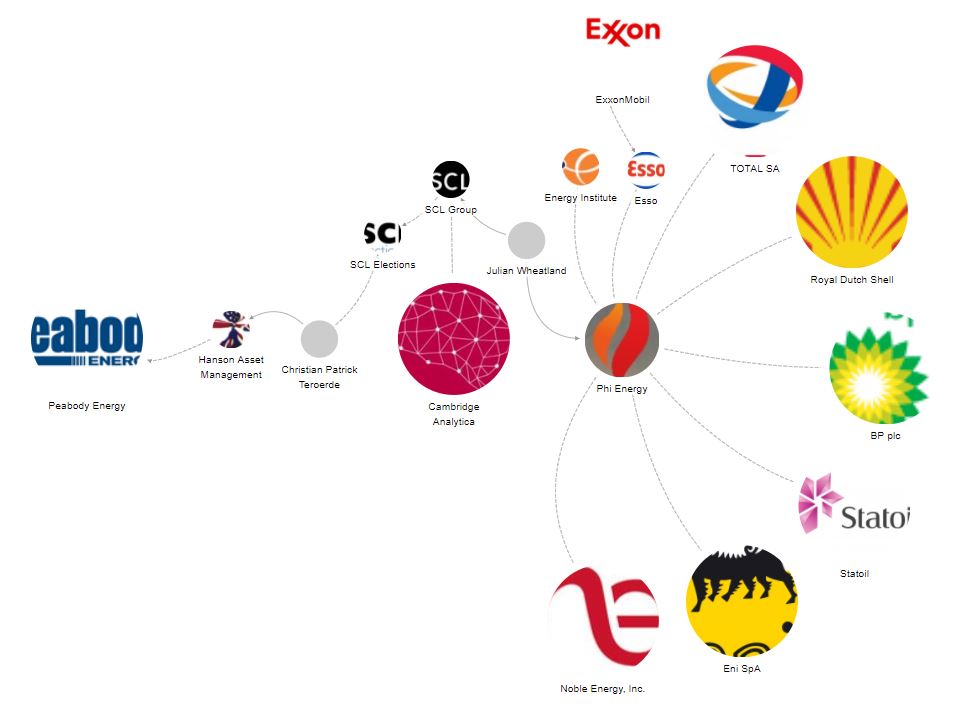 View the full interactive map on LittleSis.
Big Oil
The main links to Big Oil companies including, BP, Shell and Exxon, come through a smaller company called Phi Energy, which has a presentation naming the companies as clients.
One of Phi Energy's directors is Julian Wheatland, who is also a director of Cambridge Analytica's parent company, SCL Group.
ExxonMobil's former CEO is Rex Tillerson, who was until recently the US Secretary of State. He was appointed by Donald Trump, who Cambridge Analytica were influential in getting elected.
Big Coal
Cambridge Analytica also has ties to the world's biggest coal company, Peabody Energy.
The link there is through Christian Patrick Teroerde, who was a director of SCL Elections – a subsidiary of Cambridge Analytica's parent company, SCL Group.
Teroerde is also a director of Hanson Asset Management, which bought a major stake in Peabody in the 1990s, when it was the world's largest coal company.
Peabody filed for bankruptcy in 2016 as coal prices crashed. Since Donald Trump got elected, Peabody has bounced back, big time.
Brexit and Climate Science Denial
Hanson Asset Management also links to DeSmog UK's previous map that tied Cambridge Analytica to Brexit and climate science denial.
The company was built on the wealth of Lord James Hanson, who was a big Euro-sceptic. He founded the anti-EU campaign group Business for Sterling, whose Head of Research was Dominic Cummins.
Cummins went on to be the campaign director for the official Brexit campaign group, Vote Leave. One of the whistleblowers in the Guardian claimed Cambridge Analytica was working for Vote Leave via a youth campaign organisation called BeLeave and the company's Canadian spin-off, Aggregate IQ.
Vote Leave was supported by two members of the Conservative party with climate science denial links: North Shropshire MP Owen Paterson and hereditary peer Matt Ridley. Both are well-known allies of the the UK's most prominent climate science denial campaign group, the Global Warming Policy Foundation.
The Electoral Commission is currently investigating the unofficial Brexit campaign, Leave.EU, which Cambridge Analytica is also thought to have worked with, though the company denies this.
Leave.EU was bankrolled by climate science denier Arron Banks and was fronted by another climate science denier, former UKIP-leader Nigel Farage. Both were famously photographed in a golden elevator with Donald Trump.
Both Vote Leave and Leave.EU also have ties to the party currently propping up the government, the Democratic Unionist Party, through another Brexit campaign group – Grassroots Out. DUP MP and climate science denier Sammy Wilson was a key player in Grassroots Out.
Here's an interactive map of how it all fits together: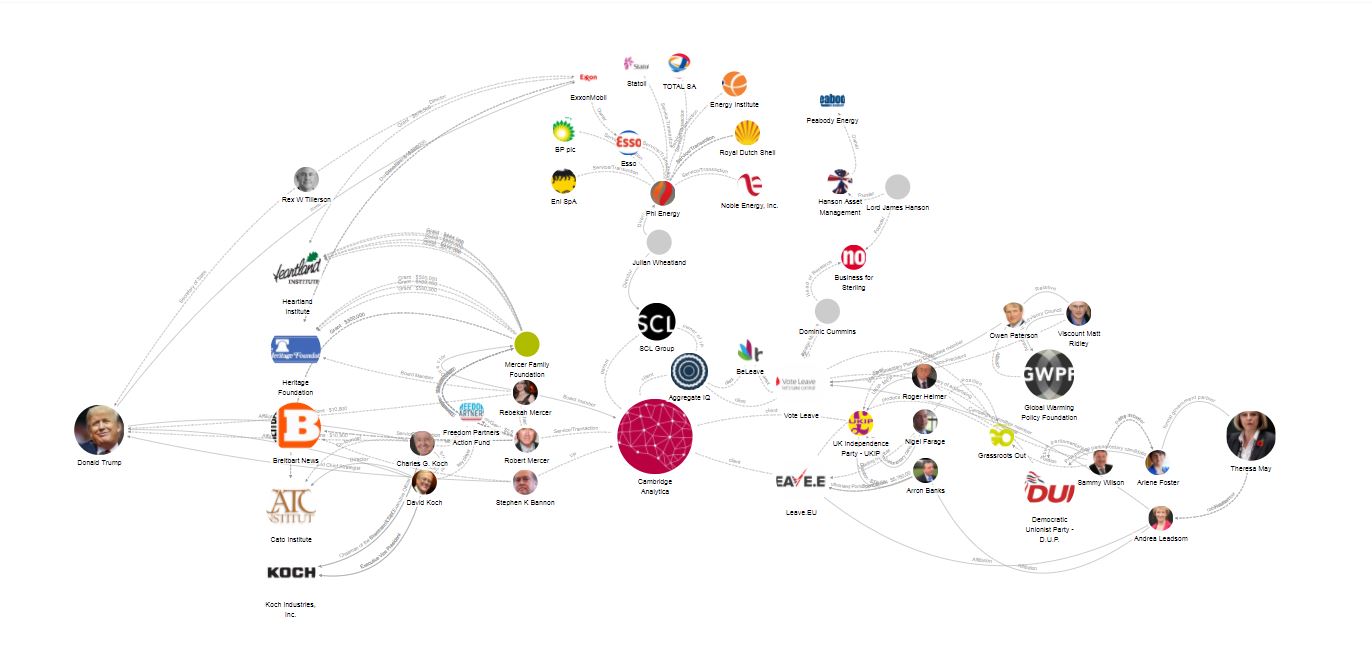 View the full interactive map on LittleSis.