Even Scott Pruitt — the US Environmental Protection Agency (EPA) chief known rarely to turn down a freebie — doesn't want to have anything to do with the UK's premier climate science denial group.
The Global Warming Policy Foundation (GWPF) invited Pruitt to give its annual lecture in 2017. Pruitt either rejected or ignored the invite, as it was ultimately former Australian Prime Minister Tony Abbott that took to the stage.
Pruitt is currently in charge of implementing the US's environmental regulations. But he has well-publicised ties to the fossil industry, and has made it a priority to roll back President Obama's power plant pollution limits.
Pruitt is currently embroiled in a wide-reaching ethics scandal in the US.
The GWPF's  invitation was sent via the US-based lawyer Latham & Watkins, which runs the GWPF's US fundraising arm. The subsidiary is represented by Los Angeles lawyer, Paul Tosetti, who has handled several mega-mergers of large pharmaceutical companies, and who registered the GWPF at a PO Box in Delaware.
A representative of the US bank, Midfirst, later lobbied Pruitt on the GWPF's behalf.
Midfirst's CEO is a "good friend" of Tosetti's, the email reveals. And despite the fact that the Midfirst representative acknowledged that he did "not know the organization", he agreed to try and "ensure Scott at least received and considered the invitation".
The emails were part of more than 24,000 pages of emails, call logs, and documents from Pruitt's office, obtained by environmental group, the Sierra Club. The GWPF email to Pruitt was first revealed by New York Times journalist Lisa Freidmann on Twitter:
"While there's nothing controversial in the letter, please keep it in confidence" a Latham & Watkins writes, forwarding a signed invitation by Nigel Lawson for Scott Pruitt to address the U.K.'s premier climate skeptic group.
via @SierraClub pic.twitter.com/jCqCRbOfpn

— Lisa Friedman (@LFFriedman) May 7, 2018
The GWPF lies at the heart of a web of climate science denial that stretches across both sides of the Atlantic.
DeSmog UK previously mapped the key relationships, which include foreign secretary Boris Johnson, International Trade Secretary Liam Fox, as well as Tory backbenchers and GWPF allies Matt Ridley and Owen Paterson.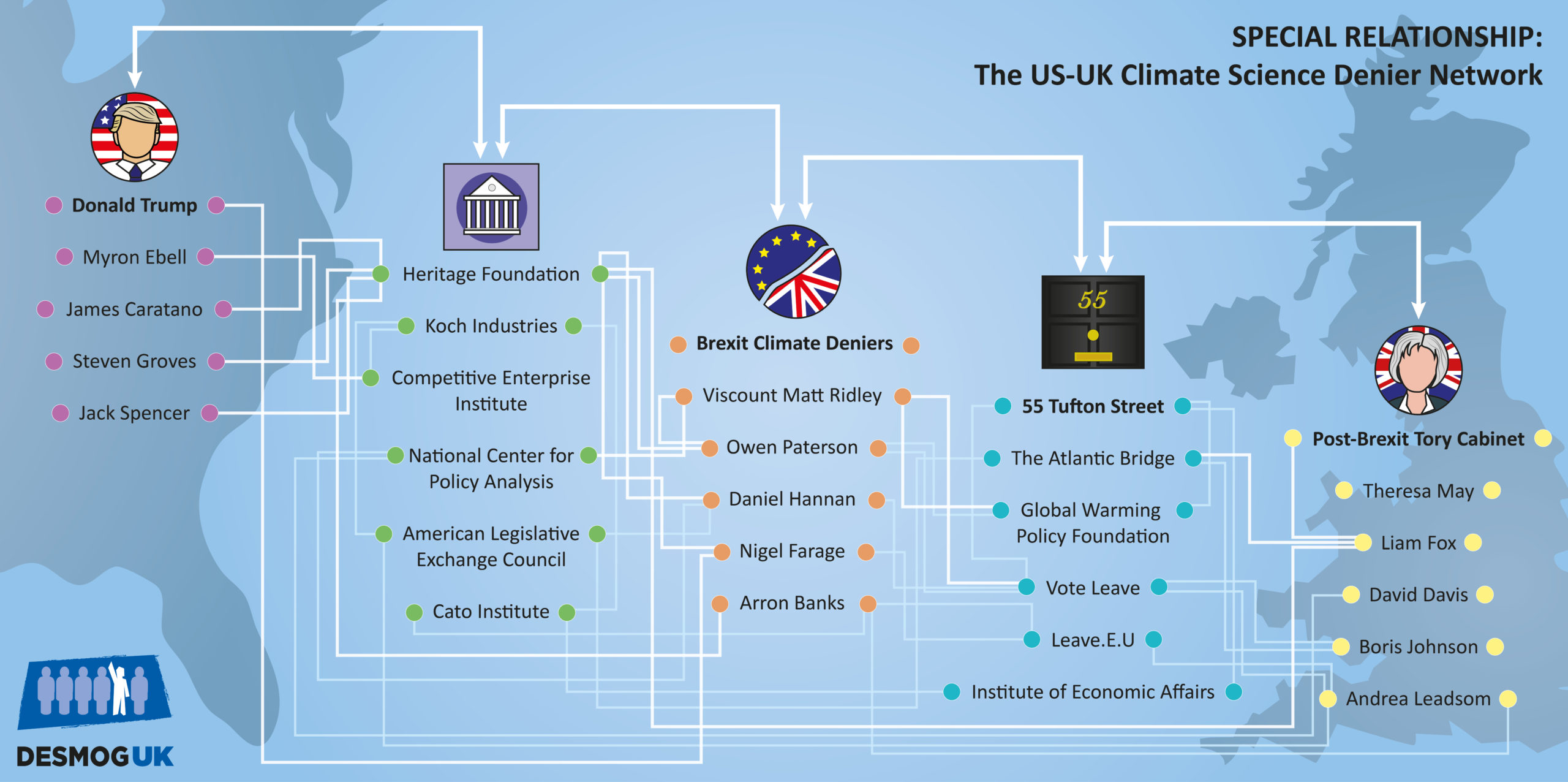 Main image: Gage Skidmore/Flickr CC BY–SA 2.0