FIFA has been accused of double standards after it joined a UN Climate Change initiative to reduce greenhouse gas emissions during this year's football World Cup while continuing to receive lucrative sponsorship deals from big polluters.
Football's global governing body is the first international sports organisation to have signed up to the UN Climate Change's (UNFCCC's) Climate Neutral Now scheme and pledged to measure, reduce and offset ticket-holders' emissions travelling to the event in Russia.
As part of the scheme, FIFA has committed to strive to become emission-neutral by 2050 – in line with the expectations of the Paris Agreement. But the UN offsetting mechanism has long been seen as controversial and it has previously been accused of being "fundamentally flawed".
But despite FIFA's green pledges, the association has signed sponsorship deals for the World Cup with leading natural gas and Russian state-owned company Gazprom, the first company to pump oil from the Arctic shelf and that is planning a controversial gas pipeline across Europe.
Airline and motoring giants including Qatar Airways, Hyundai and Kia Motors are among the main sponsors of the event.
'

Greenwash of highest level'
In FIFA's own words, World Cup sponsorship "represents one of the most effective global marketing platforms, offering sponsors unrivalled opportunities to connect with consumers" through one of the biggest and most watched sporting events in the world.
Environmental activists welcomed FIFA's efforts to reduce emissions but pointed to the "contradiction" between its voluntary pledge on the one hand and the football association receiving millions in sponsorship deals from carbon intensive companies with the other.
Nicolò Wojewoda, Europe team leader at the climate campaign group 350.org, told DeSmog UK: "FIFA is such a powerful brand and institution: this is the highest level of greenwash."
The ties between the football and the oil and gas industry run deep in the history of the association and the sponsorships at this year's World Cup are a reflection of this long running relationship.
Jesse Bragg, spokesman for NGO Corporate Accountability, pointed to the hypocrisy of FIFA's collaboration with the UN Climate Change.
"You cannot encourage climate action while taking money from industries driving the crisis. It's akin to making commitments to public health while taking money from Big Tobacco — it just doesn't pass the smell test," he said.
Fossil fuel companies like Gazprom have been accused of using sport and art sponsorship as  platforms to boost their images as "culture players" while wielding soft power and taking advantage of lobbying opportunities.
Gazprom has a long history of sponsoring football competitions and teams, which it describes as "social projects".
The Russian gas company is the official partner of FIFA, the UEFA Champions League and a host of clubs including German Schalke 04, Serbian Crvena Zvezda and the Russian Zenit FC. Between 2012 and 2016, Gazprom also had a sponsorship deal with Chelsea FC, which is owned by Russian oligarch Roman Abramovich.
Gazprom has proudly promoted its sponsorship of football and created a separate website and Facebook page about its connections with the sport where it tells fans about the "virtues of natural gas".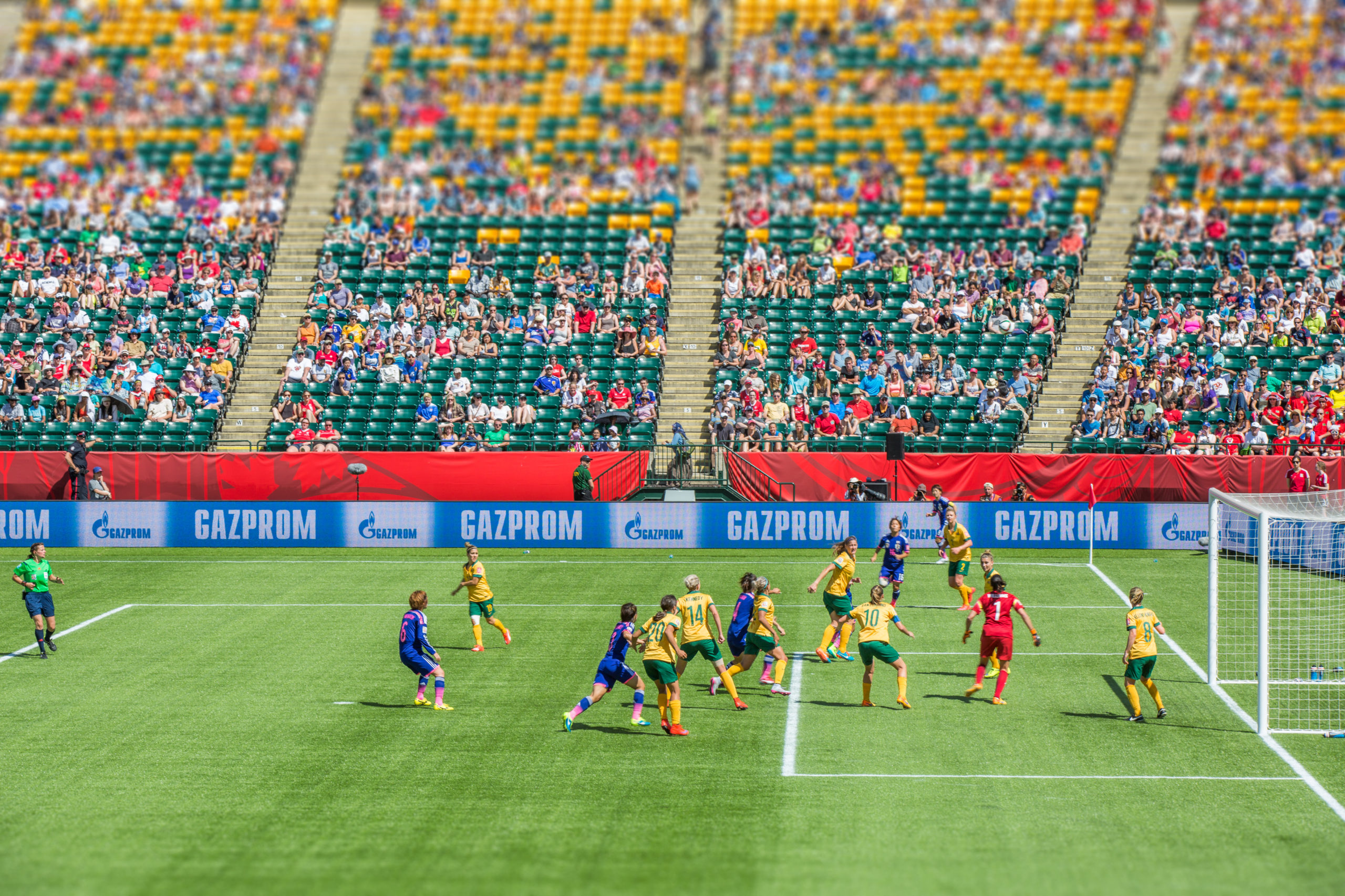 Gazprom sponsoring the 2015 FIFA Women's World Cup. Image Credit: IQRemix/Wikimedia Commons/CC BY–SA 2.0
Wojewoda, of 350.org said: "This shows that gas companies are starting to feel like they have to justify their actions and are buying social licences because of the emerging realities that gas are as much of a danger for climate change than other fossil fuels."
He accused fossil fuel companies like Gazprom of causing "unprecedented harm to people's lives and livelihood through extractive activities and their emissions".
"They get people to think that they continue their extractive activities because they are doing other good things such as sponsoring the football World Cup. But the reality is that they are responsible for the main climate catastrophe that we are heading into," he said.
Pointing to scientific research that showed the impact of climate change on sports, he added: "The World Cup brings people together while these companies are tearing the world apart. It's such a shame."  
Wojewoda called on FIFA to "break its ties" with fossil fuel companies and follow the example of other global institutions which have divested their money from oil and gas.
He urged football fans to put pressure on their clubs to move away from financial sponsors involved in polluting activities. "If fans start to speak up for the sport that they love, that is how it's going to change," he said.
Around the world, some fans are already speaking truth to power to their clubs.
Last year, Coritiba football fans in Brazil opened a banner during a Brazilian championship game demanding the club divest from fossil fuels.
In the UK, fans have also previously shown their ability to petition their clubs over ownership and managerial issues. Could climate change be the next step?
In the past, owners have also aimed to make their clubs more eco-friendly.
In 2012, Forest Green Rovers, a small football club near Bristol was bought by Ecotricity owner Dale Vince with the aim of making it the world's first zero carbon club.
Earlier this year, it won a sustainability in sport award for its environmental initiatives including launching a fully vegan menu, installing solar panels, creating an organic pitch and using solar powered robot lawnmower.
Football marketing fossil fuels
FIFA sponsorship offers companies different degrees of visibility and exposure.
The top package is reserved for partners, which include Gazprom, Qatar Airways, Hyundai and Kia Motors, Coca-Cola, Chinese conglomerate the Wanda Group and Visa.
As a FIFA partner, companies receive prime advertising spots and marketing opportunities and get to push their products in front of a global audience of millions of people.
Each partner has its own promotional page on the FIFA website. Only Coca-Cola mentioned efforts to become more sustainable and tackle climate change on its page.
In contrast, Gazprom boasts of having "the world's largest natural gas reserves" and spells out the extent of its fossil fuel operations from shale gas to being "one of Russia's four largest oil producers".
In 2013, Gazprom began the first oil production from the Arctic shelf, a project strongly opposed by environmental activists who expressed serious concerns over the company's safety records, the lack of corporate transparency and the risk of environmental damage.
At the time, Greenpeace warned "the clock is ticking on a major accident in the region".
The same year, Gazprom signed a sponsorship deal with FIFA running until the end of this year.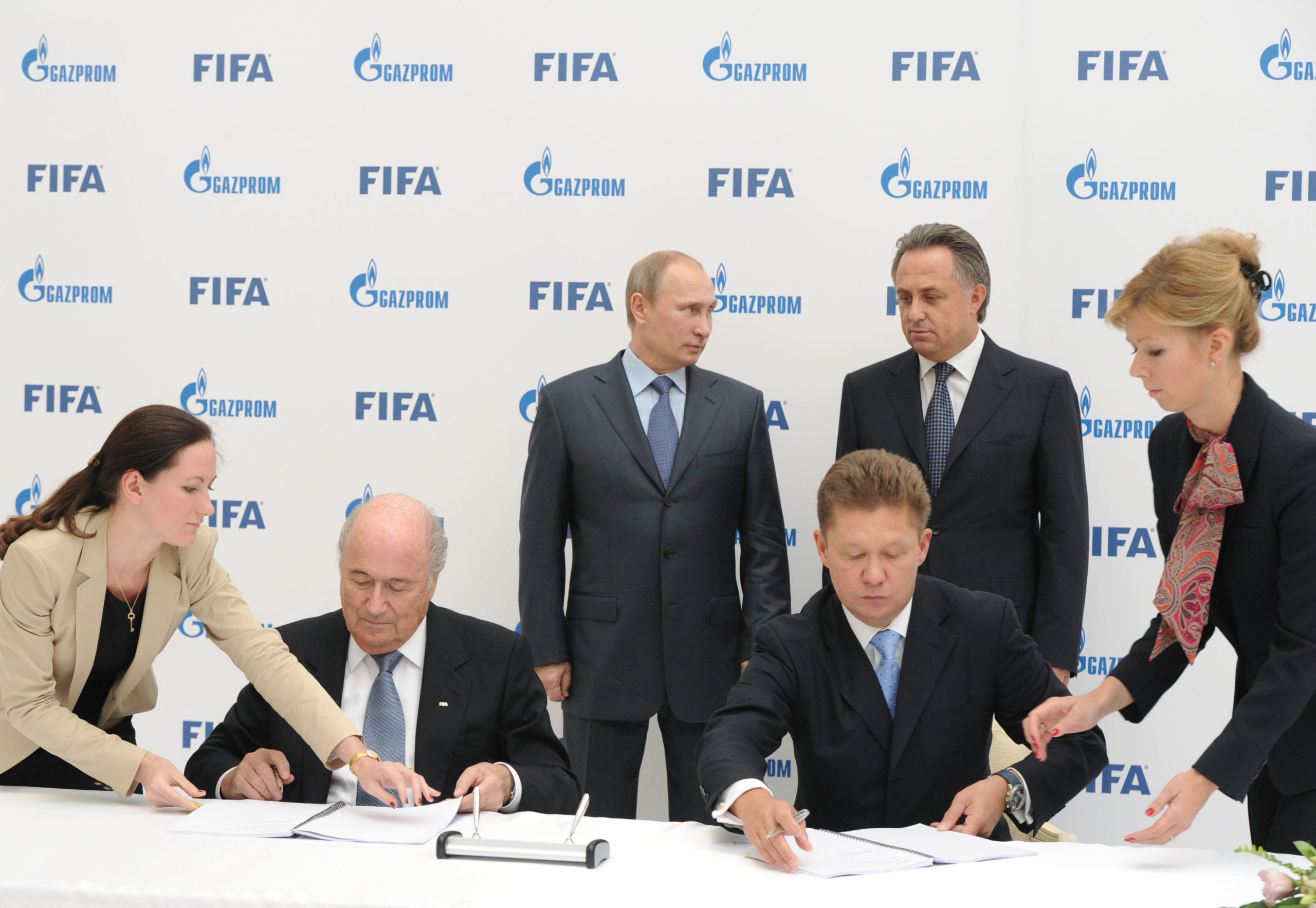 Former FIFA president Joseph Blatter and Gazprom management committee chairman Alexey Miller sign official partnrship deal in front of Russian President Vladimir Putin and Russian sports minister Vitaly Mutko (back). Image Credit: Gazprom 
Gazprom is also known for its close ties to the Kremlin and President Vladimir Putin and recently the company has been criticised for its role in the conflict in Eastern Europe.
The company's Nord Stream 2 project will see a gas pipeline run from Russia to Germany through the Baltic Sea. Critics, including the US and UK foreign secretary Boris Johnson, warned the pipeline will increase energy dependency on Russia and threaten European energy security.
Environmentalists denounced the project as a "great gas lock in" with new gas infrastructure locking the Europe into decades of fossil fuel consumptions.  
Although gas emits less carbon dioxide than other forms of fossil fuels such as coal and oil, scientists have warned that half of the world's gas reserves have to stay in the ground to prevent dangerous global warming of more than two degrees.
Gazprom did not respond to DeSmog UK's request for comment.
UN

Climate Change gives a hand to

FIFA
As part of its collaboration with UN Climate Change, FIFA is encouraging ticket holders to offset their carbon emission resulting from their travel to Russia for free and have the chance to win two tickets to the final. But there are problems with the scheme.
For each ticket holder signing up to the initiative on its website, FIFA said it will offset 2.9 tonnes of carbon dioxide – estimated to be the average emission per ticket holder travelling to Russia from abroad.
The scheme will be capped to a maximum of 100,000 tonnes of carbon being offset – too little to offset the travel footprint of hundreds of thousands of people expected to attend the event.
This means fewer than 34,500 fans could offset their travel tickets against the hundreds of thousands of people expected to attend the event. During the 2014 World Cup in Brazil, more than 3.4 million people attended the games.
FIFA has not yet announced the list of offsetting projects but said they would be "verified low-carbon projects in Russian and abroad".
According to expert estimates commissioned by FIFA, this year's World Cup is expected to generate more than 2.1 million tonnes of carbon dioxide – with close to 75 percent of emissions resulting from international flights to Russia and travel between different host cities where the games are taking place.
FIFA has also pledged to offset "all unavoidable emissions over which it has operational control" estimated to be just above 243,000 tonnes of carbon or 11.2 percent of its overall emissions.
Offsetting schemes are complex and often controversial initiatives. The UN offsetting mechanism to which FIFA has signed up under the Climate Neutral Now pledge is one that has been marred by controversy.
A 2016 study by the environmental research institute Öko-Institut for the European Commission found that there were "fundamental flaws" in the UN's clean development offsetting mechanism.
The report suggested that only seven percent of potential certified emissions reductions credits had a high likelihood of delivering "real, measurable and additional" emission reductions.
Kelsey Perlman, policy officer at Carbon Market Watch, said: "If FIFA plans to continue initiatives with offsets surrounded by concerns of fraud and inefficiency, it's hard to see these efforts as more than greenwashing."
She added "transparency" was really important and that FIFA should be publishing a detailed list of offsetting projects to be scrutinised.
Perlman added that if FIFA was serious about taking action to reduce its emissions it should move away from complex offsetting schemes and focus on providing finance to green projects instead.
A spokesman for FIFA told DeSmog UK: "FIFA is at the forefront of sports organisations when it comes to environmental protection and offsetting measures.
"Since 2006, there have been projects put in place to measure and mitigate the environmental impact of those events, not only in relation to climate change but also in other areas relevant to sustainability, such as waste management, recycling, and green stadiums."
Welcoming FIFA's collaboration with the UN Climate Change, Patricia Espinosa, executive secretary of UN Climate Change said she "commended FIFA for leading by example in reducing climate impact and encouraging football fans to act on climate change".
But campaigners have raised concerns over the UN Climate Change being used as a greenwashing platform at a time when FIFA continues to take sponsorship money from companies which own products are contributing to the climate crisis.
Bragg, of Corporate Accountability, said: "In the case of FIFA, the partnership with the UN Climate Change (which already risks being a greenwashing platform) on one hand and sponsorship from the fossil fuel, airline industries on the other is clear contradiction."
He added that pledges and voluntary commitments such as Carbon Neutral Now were "highly problematic" and "deliver more for corporate branding than they do for action".
"First, these pledges are often used as greenwashing platforms. And second, such pledges can often supplant or displace real and enforceable government regulation," he said.
A UN Climate Change spokesman told DeSmog UK it did not receive anything from FIFA in exchange of the association signing up to its scheme.
He added: "The aim of the Carbon Neutral Now Pledge is to encourage companies and organisations, whatever their current level of emissions, to engage in action against climate change."
FIFA

sponsorship: What you get for your money  
As part of their sponsorship deals with FIFA, both Qatar Airways and Hyundai are providing transport opportunities for football fans attending the World Cup.
Qatar Airways has launched travel packages to Russia but the offer does not mention the UN Climate Change offsetting initiative which FIFA has signed up to. The company did not respond to the company's request for comment.
Hyundai will also provide "a large fleet of modern vehicles". Yet, the company does not say whether the fleet will include hybrid or electric vehicles and Hyundai did not respond to DeSmog UK's questions on the issue.
During the last World Cup in Brazil, Hyundai and Kia Motors said they provided 1,432 passenger vehicles, and 2,800 buses.
On its website, Qatar Airways states it is "continually improving how we manage our impact on the environment and actively participate in aviation's approach to tackling climate change" including through fuel optimisation programmes.
Hyundai has developed a range of hybrid and electric cars and states on its website: "When it comes to reducing emissions and developing alternative-fuel powered cars, Hyundai are ahead of the curve."
Other FIFA sponsors to the event include bier company Budweiser, fast-food giant McDonalds, Chinese electronic manufacturer Hisense, Chinese dairy company Mengniu and Chinese telecommunication company Vivo.
Chinese firms have secured an unprecedented presence at the event after western firms pulled out of sponsoring the event following revelations about the endemic corruption at the heart of football's governing body.
A smaller sponsorship package has also been offered to regional sponsors which include Russian diamond exploration and production company Alrosa, a partially state-owned company which focuses on high exploration potential regions in Russia and Africa.
Another sponsor Russian bank Alpha Bank was rumoured to have ties with Donald Trump. A US cybersecurity firm which investigated the claim later said it did not find any evidence to substantiate the claims.
Russian Railways and Rostelecom are other regional sponsors of this year's World Cup.
Image Credit: Russian President Vladimir Putin holding the FIFA World Cup trophy at a pre-tournament ceremony in Moscow. www.kremlin.ru/Creative Commons/CC BY 4.0