Hundreds of people staged a peaceful sit-in and blocked the road in front of the UK Parliament in a symbolic act of rebellion against the UK government, accusing it of inaction in the face of climate breakdown and ecological crisis. The Metropolitan Police said 15 people have been arrested.
This was the first large scale public action of the environmental group Extinction Rebellion, which calls for mass and nonviolent civil disobedience as a means to put pressure on the government to take rapid and unprecedented action to tackle the climate crisis.
Campaigners and concerned citizens, including families and elderly people, joined the protest in Parliament Square in London today to demand radical change in the light of climate scientists' warning that humanity has 12 years to take rapid and transformative action to prevent the worst impacts of climate change.
---
Like what you're reading? Donate here to support DeSmog UK's journalism today 
---
'

Rising up'

In an emotional atmosphere, there were songs, hymns and poetry calling for an end to the devastation of the planet. While some participants had long been involved in the environmental protection movement, others were taking part for the first time.

Abi Burdess, a writer and a mother of two, told DeSmog UK that reading the report by scientists from the UN Intergovernmental Panel on Climate Change (IPCC) had been a wake-up call.

The report, published earlier this month, warned that the global economy has to move away from fossil fuels by 2030 if countries are to limit the global temperature rise to 1.5 degrees above pre-industrial levels – a target which could still have significant impacts but which scientists say is the top-end of a safe limit of warming.

Burdess accused the UK government of "criminal negligence" over the lack of response to the report.

"We need leadership that will confront the problem directly and explain to people that they will have to choose between their cars or their kids. There is a window of opportunity to do something about the climate crisis but it has to happen now. We need the equivalent of a World War II effort, where everyone pulls together", she said.

"I have realised that the threat won't be faced just by my grandchildren but by my children too," she said tearful.

Burdess said she supported peaceful civil disobedience action, adding "this is the only way to shift the discourse and to get the government to take notice".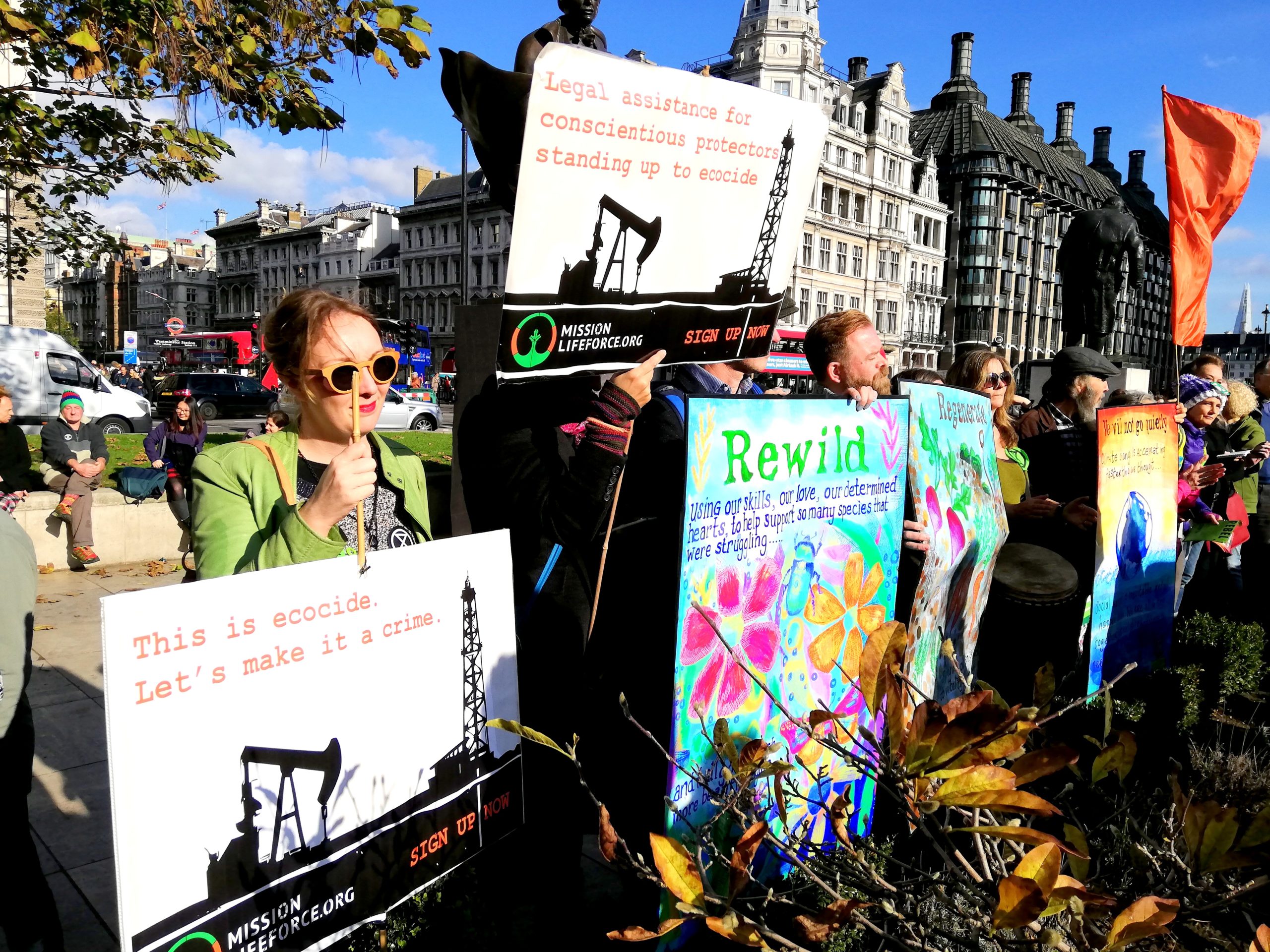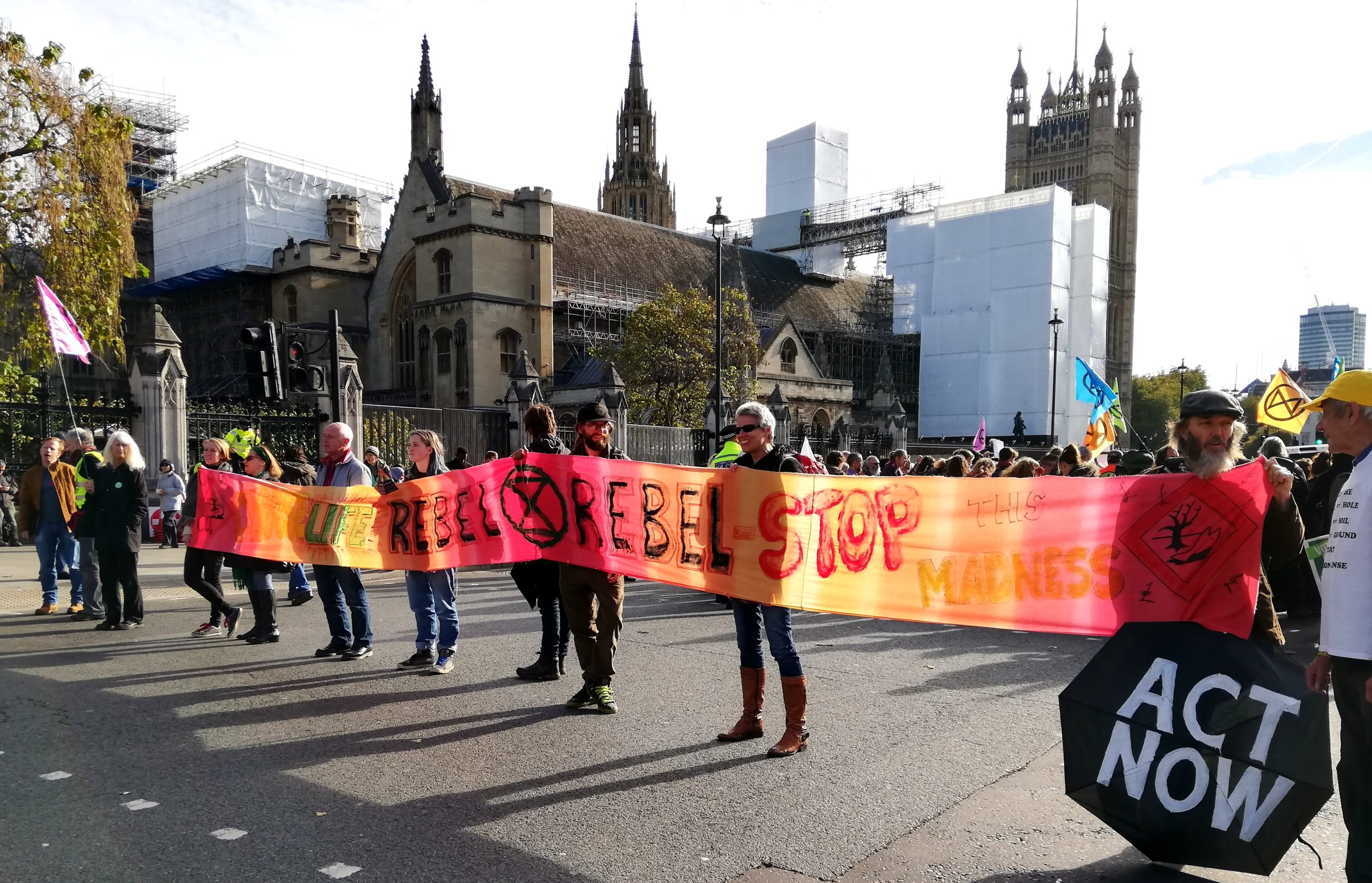 Image credits: Chloe Farand
Support
A number of high profile writers, commentators and politicians came out in support of the movement.
Greta Thunberg, a 15 year-old activist from Sweden who is refusing to go to school in protest against the Swedish government's lack of action to tackle the climate crisis, travelled to London for the event.
"If I live until I am 100, I will live until 2103. We have to think about the future beyond 2050," she said, adding: "You can't save the world by playing by the rules because the rules have to be change. Everything has to change and it has to start today. It is now time for civil disobedience. It is now time to rebel."
Here is Greta, who travelled from Sweden and is now standing in defiance in front of the UK Parliament. #extinctionrebellion pic.twitter.com/qajIAf2uKW

— Chloé Farand (@ChloeFarand) October 31, 2018
Green MP Caroline Lucas and Green MEP Molly Scott Cato also attended the rally to support the Extinction Rebellion movement.
"I can't stress enough how important it is that you stand-up for what you believe in. Thank you for what you are doing and it is so important that politicians inside Parliament listen to what you have to say," she said.
Addressing the crowd, Labour MP Clive Lewis, the shadow minister for sustainable economics, said he supported the movement and said that as the father of a seven-month-old daughter, "I often ask myself what she will one day think about what I have done and not done in Parliament to solve this crisis"."I don't want you to break the law but I want to change the law so that the people who destroy the climate end up behind bars," he added.  
Civil Disobedience
Guardian columnist and environmentalist George Monbiot also stood in front of the block traffic telling the crowd that the rebellion had started.
Monbiot joined protesters as the crowd of several hundred staged a sit-in front and blocked the road in front of Parliament.
Coming into London on the train now for #ExtinctionRebellion. I suspect this is the start of something very big.

— GeorgeMonbiot (@GeorgeMonbiot) October 31, 2018
Guardian columnist and environmentalist @GeorgeMonbiot addressing the crowd of campaigners blocking the road in front of Parliament demanding the UK government respond to #climatechange breakdown and ecological crisis. #extinctionrebellion pic.twitter.com/rHHjRRfnNO

— Chloé Farand (@ChloeFarand) October 31, 2018
Police officers surrounded the protesters and repeatedly demanded they moved back onto Parliament Square because they were obstructing traffic.
A handful of protesters lay down on the ground in front of Parliament, refusing to move.
Lying on the ground, Felix, 28, who did not want to give his last name, told DeSmog UK that direct action affects change and that this movement behind Extinction Rebellion was going to grow.  
Taking part in his first civil disobedience action, Felix said he felt "a bit shaken" but that he was ready to be arrested and would stay on the ground for "as long as it takes".
"This is going to be a non-violent rebellion, that's our hope. It should engage as wide a range of people as possible, including activists and every concerned citizen," he said.
Lying beside him, Bissera, 24, said: "It is time for radical action because I feel like my voice hasn't been heard. And it hasn't been heard for too long and there hasn't been an adequate response from our governments.
"It is time for us to be heard and if it takes lying on the floor then I will do that." Although Bissera said she wasn't quite ready to be arrested, she said she felt "slightly tensed".
Bissera said that although civil disobedience was not the only form of action to tackle climate change and put pressure on government, evidence has shown it to be effective.
Police officers eventually moved in on protesters who refused to clear the road. The Met Police told DeSmog UK 15 people had been arrested for obstructing the highway. 
---
Like what you're reading? Donate here to support DeSmog UK's journalism today 
---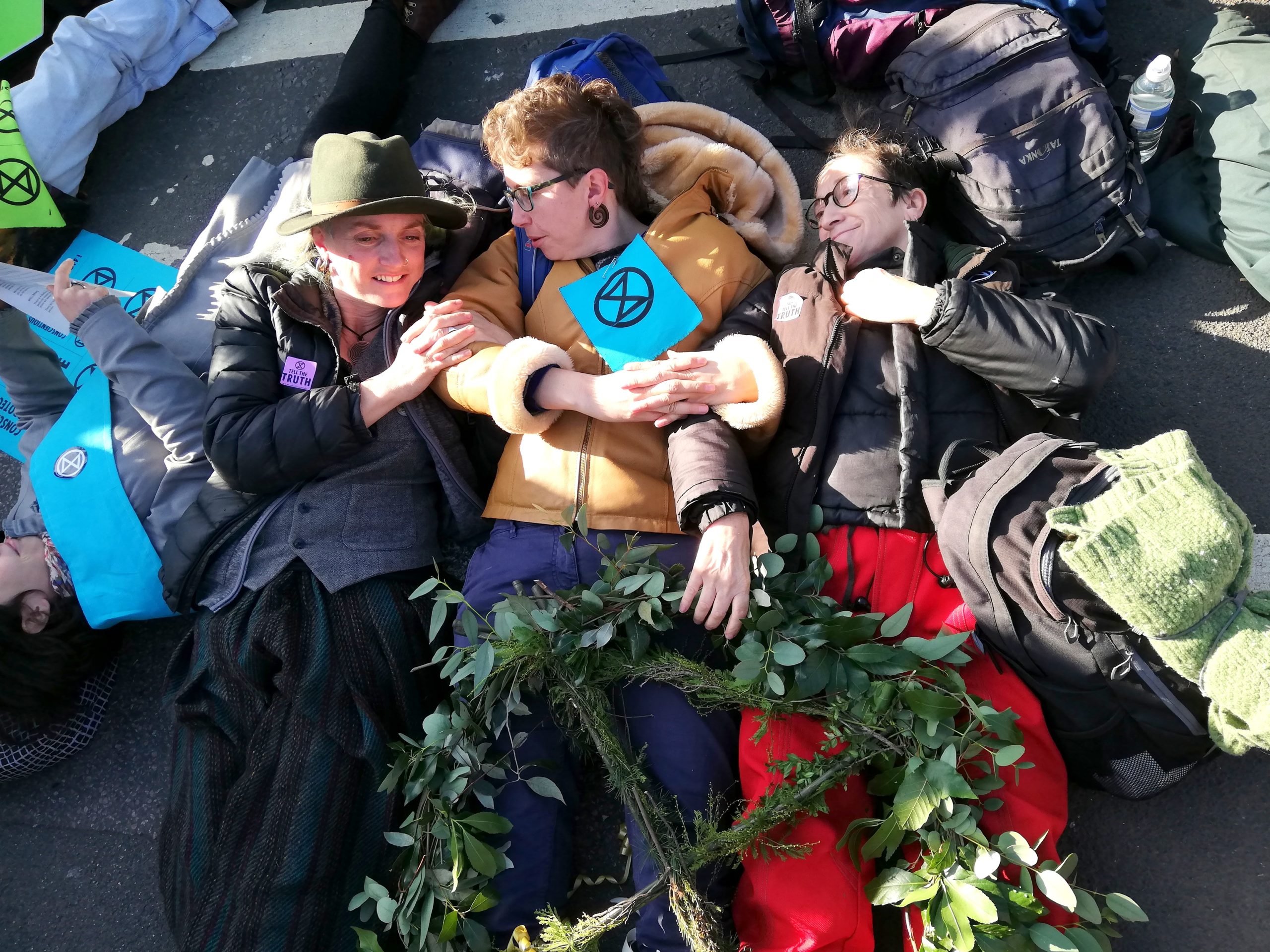 Image credit: Chloe Farand
Demands
In its declaration of rebellion against the UK government, the campaign group Extinction Rebellion accused the government of being "wilfully complicit" in "casting aside the common interest in favour of short-term gain and private profits".
The declaration states: "When government and the law fail to provide any assurance of adequate protection, as well as safety and security for its people's wellbeing and the nation's future, it becomes the right of its citizens to seek redress in order to restore dutiful democracy and to secure the solutions needed to avoid catastrophe and protect the future. It becomes not only your right, it becomes our sacred duty to rebel".
Extinction Rebellion demands that the UK government reduce carbon emissions to net zero by 2025 – a demand well in above the existing government target of reducing emissions by 80 per cent compared to 1990s level by 2050.
The movement is calling on the government to "admit the truth about the ecological emergency" and to reverse all policies "inconsistent with addressing climate change" and work with the media to communicate with the public.
The group also calls for the creation of a national Citizens' Assembly to oversee "the changes necessary for creating a democracy fit for purpose".
Extinction Rebellion argues that despite scientific evidence that shows society has to move away from an extractive growth model, the UK government is carrying on with business as usual.
The group accuses the government of "criminal negligence" for failing to act on the immediate climate and ecological crisis face by humanity.
It is launching a week of peaceful action and civil disobedience from November 12 culminating in a sit-in protest in Parliament Square on November 17.
The group said it has plans to bring large sections of London to a standstill and that almost 500 people have signed up to be arrested as part of the campaign.  
Stuart Basden, from Extinction Rebellion, said the group "did not take the step of disrupting the lives of Londoners lightly" but that "given the inaction by successive governments to respond to the climate crisis we face, we have to raise the alert".
He added: "We feel deeply that if we come together as ordinary people and communities in the limited time we have available to affect change, we can face this crisis together. The first step is to ensure people are fully informed of the extreme gravity of the situation."
Extinction Rebellion's declaration of rebellion comes a day after a report by the WWF found that many species' populations have declined on average by 60 percent between 1970 and 2014 largely due to human activity.  
The report said: "Decision makers at every level need to make the right political, financial and consumer choices to achieve the vision that humanity and nature thrive in harmony on our only planet."
The WWF called for "a new global deal for nature and people" to halt wildlife decline, tackle deforestation, climate change and plastic pollution and is backed by "concrete commitments from global leaders and businesses".