Lawyer David Schnare has made a career of suing and harassing climate scientists, abusing the Freedom of Information Act (FOIA) to demand masses of scientists' emails and wasting people's time.
Much of this work has been executed via a dark money-funded 501(c)(3) "public charity" called the Energy & Environment Legal Institute (EELI), where he was General Counsel among other roles. 
Schnare's work at EELI was often in conjunction with another shadowy group he founded, the Free Market Environmental Law Clinic (FMELC), which he co-founded in 2011 with long-time associate Chris Horner. These two groups dispute the scientific reality of climate change, and have made a business of targeting climate scientists with invasive and harassing lawsuits.
FMELC recently imploded in spectacular fashion. Embroiled in multiple lawsuits and mired in infighting, the operation and legality of the "public charity" FMELC have been in heated dispute.
Recently, Schnare was ordered to disgorge $630,000 from FMELC, whose bank account he is alleged to have used as his own personal bank.
While the source of all this money is unknown, Schnare and his groups have historically been bankrolled by fossil fuel interests, including Alpha Natural Resources, Arch Coal, Peabody Energy, and others undisclosed via the "dark money ATM" Donors Trust. (More on what we know about the funding sources is below.)
What did they need all this money for? As part of their campaign of harassment, for many years, Schnare, EELI, and FMELC have pursued a court case against the University of Arizona and climate scientists Malcolm Hughes and Jonathan Overpeck, seeking the release of the scientists' emails regarding their involvement in the development of peer-reviewed papers regarding the climate "hockey stick" circa 1999. This lawsuit is yet one more in an endless stream of denier attacks on the well-established temperature record science.
Now, FMELC has been consumed in its own litigation, a voluminous, mind-numbing legal battle between Schnare and another lawyer, Matthew Hardin, over the legal control of FMELC and its financial assets. The court filings were first summarized by:
Lachlan Markey, Daily Beast, Ex-EPA Official's Legal Advocacy Outfit Embroiled in Vicious Leadership Struggle 
and John Schwartz, NY Times, He Sues to Discredit Climate Scientists. Now He's Being Sued by His Allies. Schwartz's article begins:
"David Schnare's conservative legal group seeks to expose science fraud. But it appears to be imploding amid allegations of financial mismanagement, attempted extortion and faked documents.
… 
The legal battle sprawls across three civil lawsuits filed against Mr. Schnare by Matthew Hardin, 28, the chairman of Free Market's board. Neither side recognized the other's claim of control, so the fight began with Free Market essentially suing itself.
If that sounds confusing, it certainly was to Chief Judge Bruce D. White of Fairfax County Circuit Court. "We have a plaintiff and defendant who are the same party," he said at a brief hearing here last month. "That's not something I see every day.""
Below is a timeline of the development of FMELC — originally called the George Mason Environmental Law Clinic (GMELC) — in which I note the confusing course of events. As far as I can surmise, Schnare was essentially the sole practitioner behind FMELC, and effectively subcontracting to EELI in various roles, presumably getting paid, but also transferring money from FMELC to EELI.
The money flows are murky, and many questions remain about this activity. Schnare repeatedly obfuscated FMELC's financial information, but some clarity can be obtained by reviewing the court filings and IRS Form 990s.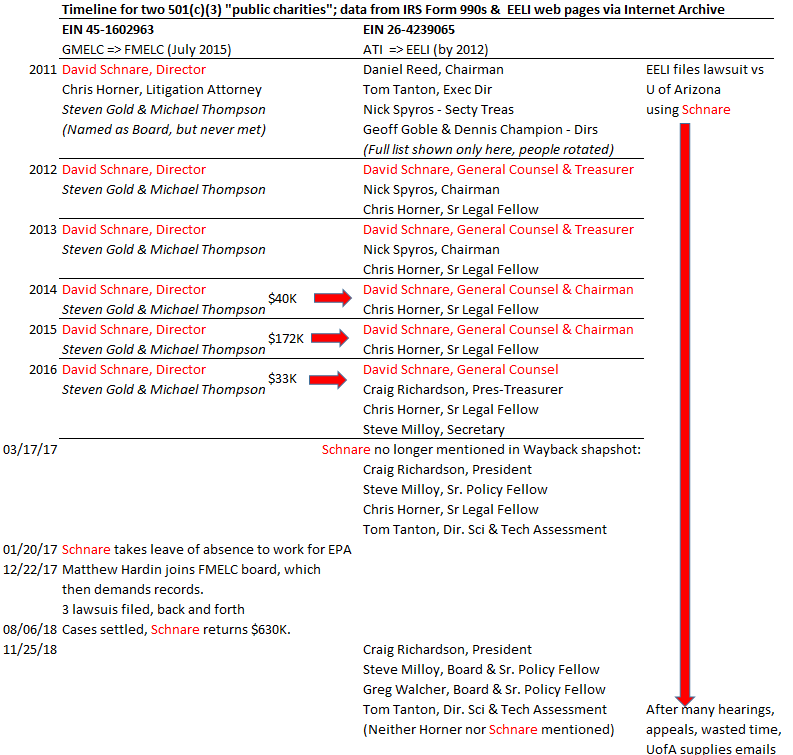 Hardin's April 2018 civil complaint suggests that Schnare acted as if FMELC was his personal piggy bank, p. 43 (emphasis added):
"217. At the January 27, 2018 meeting, Schnare stated a willingness, should all of his conditions be met, to turn over "$600,000 or so" of the, at the time, claimed $877,270.20. …""

218. At this January 27, 2018 meeting, Schnare informed Hardin that if the urge strikes him, after seeing how his demands are received, Schnare could make himself sole member, and,
"If l did; all that money in the bank, is mine, personally."

219. Schnare already confessed, moments before, that "it has never been mine."

220. Schnare stated later, despite that "I could do any fricking thing I wanted", he did not want to do this, as "That is not what I want to have to go in front of a judge and have to deal with."

221. One consistent thread running between these threats and demands is Schnare's refusal to allow any party to review Free Market's financial history

222. Schnare's self-created troubles with Free Market's finances have, like his fear of exposure for his original errors in Free Market's legal organization, proved to be compounding factors in the original malpractice, and drivers of the recent behavior further compounding his malpractice."
End of the cases — Schnare forced to give back his piggy bank
On August 27, 2018, a Virginia state judge entered an order (view excerpts) declaring that the "Parties have entered into a Settlement Agreement" under which Schnare and his co-defendant Chaim Mandelbaum, another attorney who joined FMELC, would return $630,000.
The judge dismissed the three related cases "with prejudice," meaning do not come back, but it is worth examining the cases to get more insight into Schnare's behavior.
Schnare wastes scientists' time, but calls requests to him "burdensome"
In the University of Arizona case mentioned above, Schnare sought to use open records laws to obtain 13 years of emails from two climate scientists at the University of Arizona. The case has been cited by legal scholars as a prime example of legal abuse, and it has been a massive time suck for the university and its scientists.
Dr. Hughes testified it took him ten weeks to go through all the emails, and he lost an entire research summer to reviewing old emails as well as losing a grant that expired. Dr. Overpeck testified it took him six weeks to go through everything and he was unable to use his sabbatical. Recent Arizona court filings in this case show that document review is still ongoing; a court has ordered that the university produce the first set of emails by November 30. 
(In the course of this University of Arizona litigation, Schnare also filed falsified documents with the court, as part of his typical strategy that imposes huge timewasting efforts and expense on scientists.)
Meanwhile, in the Virginia litigation over FMELC, in filing-2, EXHIBIT B, Schnare responded to 46 requests for documents, denying almost all. Some of these may be fair, but basically, he tried to reject almost all discovery, despite his own career of trying to force far less relevant disclosures from climate scientists.  A rundown of his objections: 
  5         overly broad and unduly burdensome
15         more convenient, less burdensome, and less expensive effort (to get from Plaintiff)
  9          unreasonably cumulative and duplicative, plaintiff already has or will have them.
  2          discovery of electronically stored information is not reasonably accessible because of undue burden of cost
  1          vague and ambiguous
  1          personal income tax returns are protected by a qualified privilege
12          has none
  1          Document attached
46        Total
Schnare's opponent in the Virginia case, Matthew Hardin, wrote, in filing-2:
"These discovery responses were almost entirely evasive and non-responsive." 
Governance, none?
The IRS actually expects real 501(c)(3) public charities to have real Boards, not shams. Schnare's Form 990s listed Steven Gold and Michael Thompson as board members every year, not proof that the board was a fake, but a suggestion that board activity was less than robust.
In his own legal briefs in the Virginia case, Schnare himself asserted:
"In the instant case, the Law Clinic was never incorporated. It never had a Board of Directors that was qualified to supervise or direct the Law Clinic. Regardless of the lack of qualification, the Board never took any action to direct or manage the Law Clinic for the first 6 years of the Law Clinic's existence. Indeed, from 2011 until late in 2017, the Board never even met."
GMELC/FMELC IRS Form 990s were at best misleading, as in 2015 & 2016 Part VI had "Yes" boxes checked:
Reading this, one might think there actually was a governing body that had meetings.

Dark money — $ to both

FMELC

and

EELI

, but also

FMELC

=>

EELI
As usual, such "charities" do not identify the sources of their funds, but the Kochs' and their allies' primary "anonymizers" Donors Trust and Donors Capital Fund were used. The IRS Form 990s are rather opaque, since Schnare is a key person in both FMELC and EELI.
Donors Trust supplied $750K to FMELC, 30% of its total income, most of which went to the vague "Legal" category, but $245,593 got transferred to EELI, almost 10% of its income. FMELC (Schnare) acted as legal counsel for EELI, which spent 50+% on Legal and Management.
With poor governance and money sloshing back and forth, it is hard to know how much landed in Schnare's pockets — perhaps why Hardin asked for his tax returns.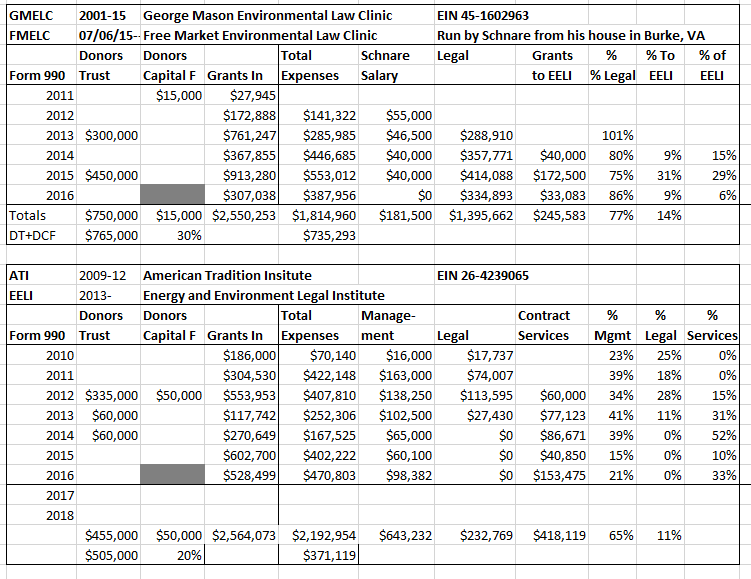 "Falsus in uno, falsus in omnibus"
This legal principle says that a witness who testifies falsely on one thing is not credible on others. Schnare submitted a court filing with false words attributed to Steve Schneider, the FMELC court cases are filled with allegations of misbehavior, and he had to return the money he claimed he could keep.
The University of Arizona will soon release scientists' emails (per the EELI open records lawsuit), and should Schnare comment on them, bear this history in mind.