2018 is set to rank as the fourth warmest year on record — and the fourth year in a row reflecting a full degree Celsius (1.8° Fahrenheit) temperature rise from the late 1800s, climate scientists say.
This was the year that introduced us to fire tornadoes, bomb cyclones, and, in Death Valley, a five day streak of 125°F temperatures, part of the hottest month ever documented at a U.S. weather station.
2018 also brought the world's highest-ever low temperature, as nighttime temperatures fell to a sizzling 109°F in Quiryat, Oman, on June 28, smashing a 2011 record-high low.
A startling 95 percent of the oldest and thickest Arctic sea ice is now gone — and we're losing Arctic ice at a rate of 14,000 tons per second, according to recent research, three times as fast as roughly three decades ago.
It was a year notable both for its overwhelming, climate-fueled impacts as well as its gut-wrenching predictions for what climate change still has in store for us if we fail to act. So much happened, frankly, that it's been hard to keep it all straight.
Stark Warnings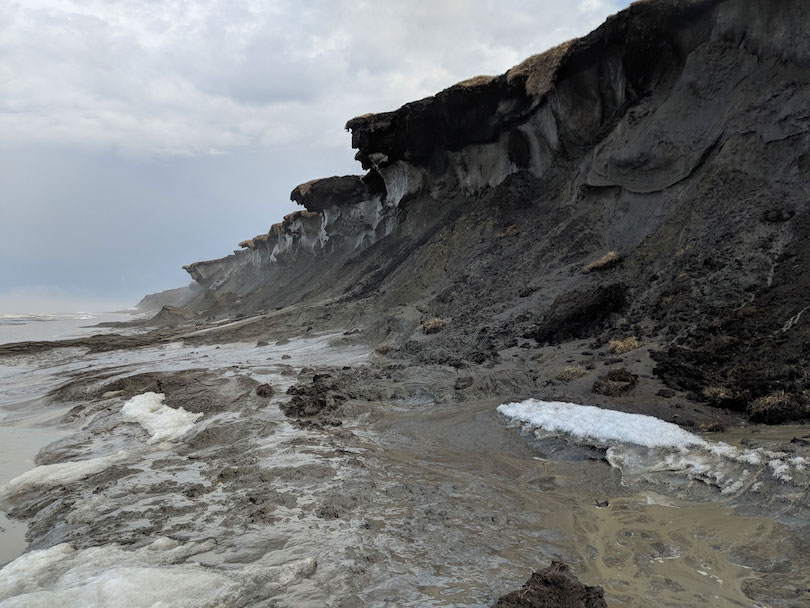 Actively eroding coastal permafrost bluff on Barter Island, located on the northern coast of Alaska, July 3, 2018. Credit: Shawn Harrison, U.S. Geological Survey, public domain
The year delivered increasingly powerful warnings from scientists and international agencies about the need to shift away from fossil fuels and slash greenhouse gas emissions. In the U.S., 2018 saw a presidential administration and Republican-controlled Congress packed with politicians and administrators who refuse to recognize the scientific consensus that the climate is changing because of fossil fuel pollution and other human activities.
(How strong is that consensus? We've known for years that the probability that greenhouse gas pollution is causing climate change is more than 95 percent — and that's according to a panel of 1,300 scientific experts from all over the world who were brought together by the United Nations.)
In fact, in 2018, the Trump administration's own Environmental Protection Agency published a 1,656 page National Climate Assessment, which warns of hundreds of billions of dollars in damage on the horizon from climate change.
The Trump administration sought to bury that report — but it couldn't bury a UN report, published in October, which warned that we have 12 years to slash greenhouse gas emissions worldwide if we're to stave off the worst impacts of a changing climate.
"This report by the world's leading climate scientists is an ear-splitting wake-up call to the world," UN Secretary-General António Guterres wrote in a statement. "It confirms that climate change is running faster than we are — and we are running out of time."
The new @IPCC_ch report is a wake-up call to the world: it confirms that climate change is running faster than we are – and we are running out of time. Urgent & ambitious #ClimateAction is the only answer. https://t.co/pZMrdetyky

— António Guterres (@antonioguterres) October 8, 2018
Greenhouse gas emissions had climbed to a record high in 2017, after a three year period where carbon emissions held relatively steady. Levels of methane, another powerful greenhouse gas, also broke records in 2017, following a relatively steady period of recorded global levels from 1999 to 2006.
"We are already seeing the consequences of 1°C of global warming through more extreme weather, rising sea levels, and diminishing Arctic sea ice, among other changes," added Panmao Zhai, who helped prepare the Intergovernmental Panel on Climate Change report for the UN.
Indeed, 2018 brought some of the worst natural disasters in U.S. history — many of them linked to climate change, scientists have said.
California Wildfires
In November, Paradise, California suffered a horrific wildfire that killed at least 85, destroyed 14,000 homes and seared images of traffic jams on roads surrounded by walls of fire into the minds of millions, as those fleeing posted terrifying videos of their escapes online.
The fire was hot enough to melt the wheels of cars left behind — and the cars of some who escaped emerged from the inferno with melted headlights and rear bumpers.
In southern California, the Woolsey Fire near Malibu killed three and burned 1,600 buildings, including homes belonging to Neil Young, Miley Cyrus, and other celebrities, and leaving a dark scar visible from outer space in NASA images.
"California is vulnerable — not because of poor forest management as DT (our so-called president) would have us think," Neil Young wrote in a statement calling for action on climate change after his home was destroyed. "We are vulnerable because of Climate Change; the extreme weather events and our extended drought is part of it."
The Camp Fire was the most deadly wildfire in the U.S. in a century, spurred by a long-running drought and the spread of tree-killing bark beetles into newly warming regions — which together left 129 million dead trees in the parched state.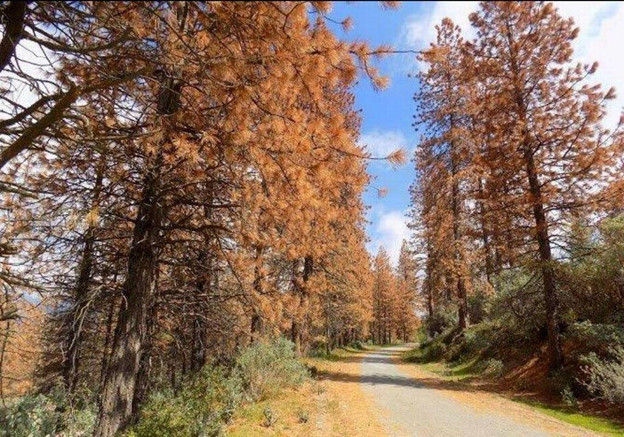 Dead trees along a mountain road in the Sequoia National Forest in November 2016. Credit: U.S. Forest Service
But while some in Paradise plan to rebuild, to literally raise their town from ashes, a less-noticed piece of the U.S. was more permanently wiped off the map. An 11-acre Hawaiian island virtually disappeared below the waves, the victim of sea level rise and Hurricane Walaka.
California was hardly the only place to experience extraordinary wildfires in 2018. The Mallard Fire in Texas in May grew so hot that it formed its own pyrocumulous clouds, or fire clouds, which caused a supercell thunderstorm and one-inch hail north of Wheeler, Texas.
And in July, wildfires burned inside the Arctic Circle following an unprecedented drought, with locals in Sweden comparing the glow from the blaze to the Northern Lights. Horrific wildfires also burned across Greece in July, killing 100 people and forcing hundreds more to flee into the sea to escape the fire.
A #firenado came dangerously close to these emergency vehicles as they battle the Carr fire near Redding, California. The Carr fire continues to spread and has now burned over 28,000 acres and is only 6% contained. pic.twitter.com/H4aaKavD9c

— CNN Weather Center (@CNNweather) July 27, 2018
The year began with the Montecito mudslides on January 9, which killed 27 Californians and destroyed 130 homes, after a 200 year rainstorm dumped a half inch of rain in just five minutes onto steep slopes which were stripped barren of vegetation by the Thomas wildfire, which in early January became — at the time — the largest wildfire in California's history. That one-two punch bore the fingerprints of a changing climate.
"It wasn't just the drought; it wasn't just the fire; it wasn't just the rain. It was the compound effect," Leah Stokes, a climate policy researcher at UC Santa Barbara, told The Independent in January, discussing the Montecito disaster. "Climate change causes all kinds of abnormal events — you can really think of it as 'climate disruption' or 'global weirding.'"
Flooding and Hurricanes
2018 saw an unusually high number of violent storms, particularly in the Pacific, which saw "the most intense hurricane season ever recorded," according to Popular Science, including 10 storms that reached Category 4 or 5.
Climate scientists proposed the creation of a "Category 6" for hurricanes more powerful than any yet seen. "Scientifically, [six] would be a better description of the strength of 200 mph (320km/h) storms, and it would also better communicate the well-established finding now that climate change is making the strongest storms even stronger," climatologist Michael Mann told CBS News.
The Atlantic coast was hit by two of the most devastating storms to hit the continental U.S., following a 2017 in which three Category Four storms, Harvey, Irma, and Maria, smashed all records for hurricane damage and did over $300 billion in damage.
A year after Maria, Puerto Rico was still recovering, and the official death toll was recognized this year as 3,057 people — after Governor Ricardo Rossello accepted a report raising the number of recognized deaths from 64.
This year's worst Atlantic hurricanes, Michael and Florence, left much of the southern U.S. underwater at points.
Michael, America's strongest-ever October hurricane, carried sustained winds of 155 miles an hour and struck the Florida panhandle, flattening towns like Mexico Beach.
HURRICANE MICHAEL'S WRATH: Stunning drone footage shows the cleanup in Mexico Beach, Florida, after the storm ravaged the city. https://t.co/NYUy3F1kJ0 pic.twitter.com/lkNcRkMjpI

— CBS News (@CBSNews) October 14, 2018
Florence, meanwhile, spurred officials to call for the evacuation of over 1 million people, then left parts of the Carolinas flooded for weeks, after it slowed to a crawl and deluged over 8 trillion gallons of water into the region.
"When people say the wildfires, hurricanes and heatwaves they're experiencing are unlike anything they've seen before," Brenda Ekwurzel, director of climate science at the Union of Concerned Scientists, said in a statement in November, "there's a reason for that and it's called climate change."
Even before Florence hit, one study found that the storm would be 50 miles wider, and dump 50 percent more rain, because of the impacts of burning fossil fuels and other greenhouse gas pollution.
Heatwaves and Noreasters
The year started with a prolonged run of winter storms in the Northeastern U.S., including winter storms dubbed Riley, Quinn, Skylar, and Toby, which some researchers warned may have been tied to climate change — showing just how inapt a term "global warming" can be. When the jet stream began to wobble, it allowed cold air that would normally be trapped over the Arctic to make its way down to the continental U.S. — making the weather warmer up north and colder farther south.
The cold spell was so pronounced in New York and southern Canada that Niagara Falls froze on New Year's Day.
That freezing weather was followed by a summer heatwave that prompted heat warnings for 100 million Americans in the summer, and caused 93 deaths in Montreal.
Over 30,000 people were hospitalized in Japan for heatstroke as summer temps soared there as well.
And while droughts hit hard in Germany, drying up the Rhine river, Baltimore, Maryland has seen nearly 70 inches of rain. A flash flood in Ellicott City, Maryland, swept away cars as roadways abruptly became rivers.
"The evidence, if we needed any more, continues to stack up. The record-high heatwaves, record-low Arctic sea ice, above average tropical cyclones and deadly wildfires are an alarm bell impossible to ignore," Jens Mattias Clausen, who represented Greenpeace at the UN COP24 climate talks in Poland, told The Guardian this month. "It's no longer our future that is in peril; our today is at risk."
Main image: Aerial view of Florence, Nichols, Conway and Waccamaw, South Carolina, impacted by floodwaters, September 21, 2018, following Tropical Storm Florence. Credit: South Carolina Air National Guard, public domain