When the incumbent Democratic Governor Kate Brown defeated Republican Knute Buehler in a contentious race for Oregon's governorship, many in the state's climate movement let out a momentary sigh of relief. Brown had promised to "lead on climate" while Buehler had pledged his support for new fossil fuel infrastructure.
Now, residents are working to hold Governor Brown to task over what they see as the most pressing climate issue facing the state: the proposed Jordan Cove liquefied natural gas (LNG) export terminal and its Pacific Connector Gas pipeline. Backed by the Canadian company Pembina Pipeline Corporation, the project would transport natural gas extracted via hydraulic fracturing (fracking) from Colorado to Oregon's coast, where it would be super-cooled into liquid form and loaded on ships to international markets.
Thousands, Including Several Tribes, Voice Opposition


More than 1,500 people showed up at a hearing in Jackson County, Oregon, to oppose Jordan Cove LNG and the Pacific Connector pipeline. Credit: Allen Hallmark
Gov. Brown has remained neutral on Jordan Cove, prompting a range of efforts from activists to sway her against it. For example, Jordan Cove opponents interrupted her 2019 swearing in ceremony and took to the streets with protests. In addition, since the new year, thousands of residents have flooded Department of State Lands regulatory hearings to oppose the project, which they say would jeopardize major fresh waterways and marine areas in the state.
According to Rogue Climate, which has helped mobilize opposition to the project, over 3,000 residents, including landowners, ranchers, tribal members, youth, local businesses, and representatives of the Pacific Coast Federation of Fishermen's Associations, attended hearings in opposition.
Klamath Tribal Council Chairman Don Gentry told DeSmog that the tribal council believes "we need to exhaust every administrative opportunity that we have to express our opposition to the project and hopefully the permits and licensing will be denied."
The Tribe has participated in the regulatory process throughout, he says, and brought up a host of concerns at the most recent hearings. Those concerns include the pipeline's "potential to disturb human remains and cultural sites" (such as a historic village on the Klamath River), "risks to the [Klamath] River itself," the Tribe's effort to rehabilitate the river's salmon run, risks to wildlife, and generally, the perils the pipeline in particular poses for tribal aboriginal territory, as protected by U.S. treaty.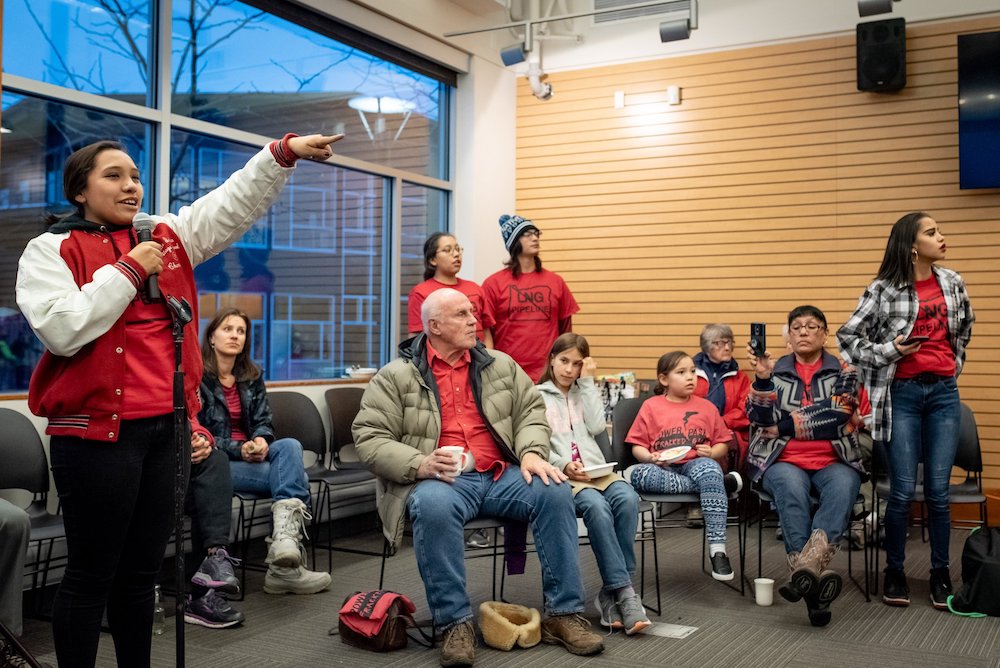 Hannah Schroeder, chair of the Klamath Tribes Youth Council, speaking to Jordan Cove LNG and pipeline opponents the night of the Department of State Lands hearing in Klamath County. Credit: Sherri Kies
Klamath Tribal Council is not alone. The Yurok and Karuk tribes in Northern California are staunchly opposed, while the Oregon-based Confederated Tribes of the Coos, Lower Umpqua, and Siuslaw Indians are neutral.*
Jordan Cove's Many Ups and Downs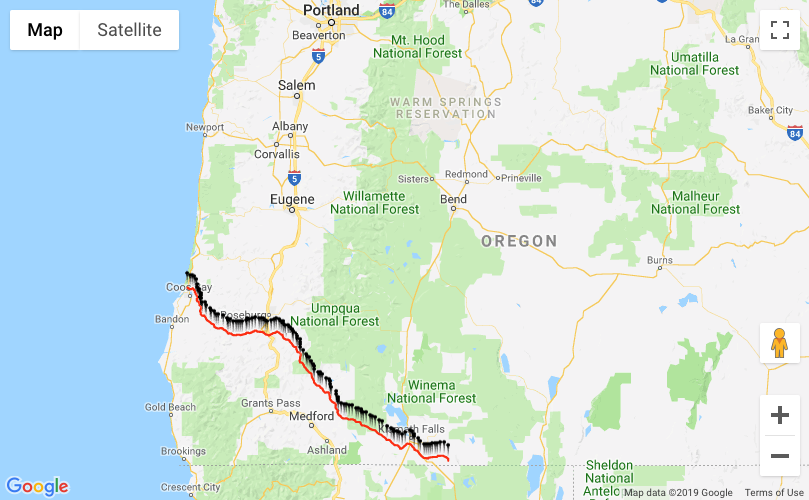 Map of the proposed Pacific Connector pipeline's path in Oregon, starting in Malin and ending at the Jordan Cove LNG terminal sited for Coos Bay.
Since the $10 billion project was initially proposed in 2007, it has hit several obstacles which threatened to derail it. In 2016, the Federal Energy Regulatory Commission (FERC) denied a permit, key politicians including U.S. Senator Jeff Merkley have come out against it, and in late 2018, the Oregon Department of Energy recommended against the export facility going forward as proposed. And just this week, a county judge in Oregon reversed a decision to extend a permit for the pipeline.
But the fight is far from over. In 2017, not long after FERC denied the project a permit the year prior, Don Althoff, then-CEO of the parent company Veresen (now Pembina), met with President Donald Trump and the founding director of Trump's National Economic Council, Gary Cohn, of Goldman Sachs.
Shortly thereafter, Cohn announced: "The first thing we're going to do is we're going to permit an LNG export facility in the Northwest."
Support from the fossil fuel industry spans the length of the pipeline, from Colorado to Oregon. Pac/West, a major pro-fracking lobbying and communications firm active in Colorado has also been operating in Oregon. The firm has gone so far as to have Oregon state legislation proposed officially on its behalf, which would have blocked local governments from interfering with fossil fuel infrastructure projects, such as Jordan Cove.
This legislation was in response to a 2017 county "Community Bill of Rights" ballot initiative in Coos County, Oregon, the site of the proposed Jordan Cove LNG terminal. If passed, the local law would have outlawed industrial fossil fuel projects and established legally enforceable rights for local ecosystems. Jordan Cove LNG spent an unprecedented $596,155 in cash and in-kind contributions to help defeat measure, according to the Oregon Secretary of State website.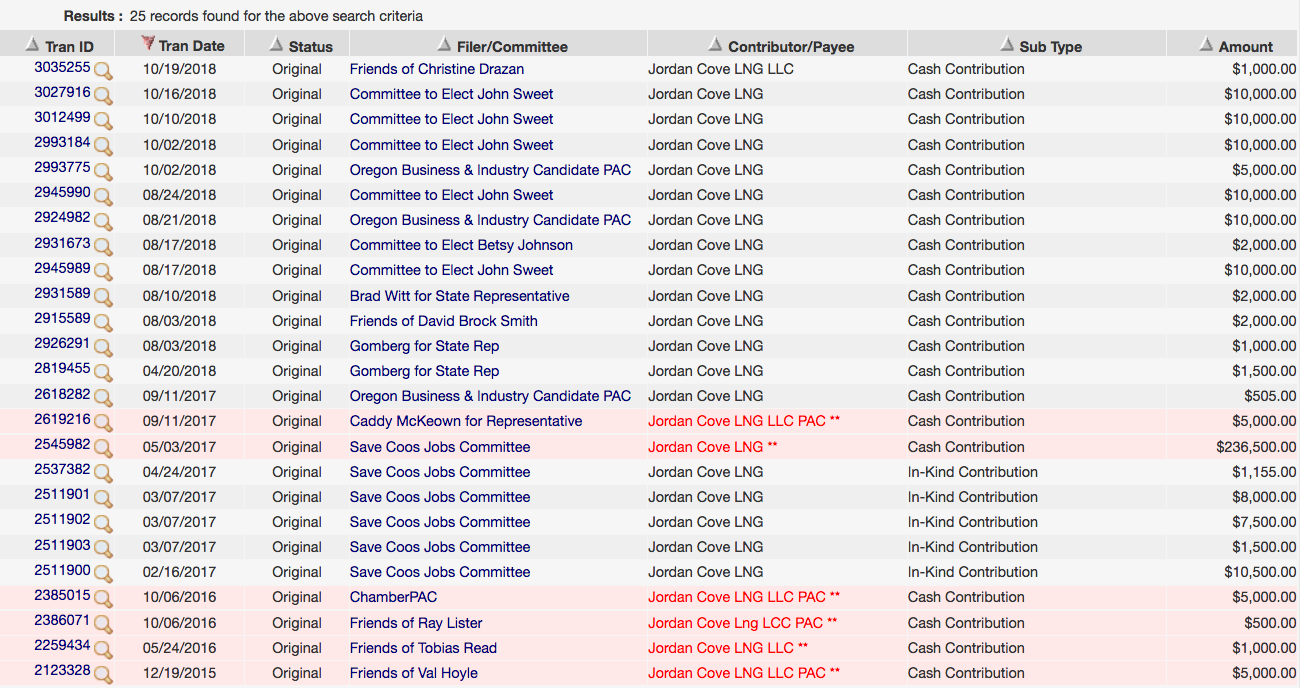 Jordan Cove LNG campaign contributions from 2015 to 2018. Credit: Oregon Secretary of State website
Jordan Cove's contributions to a variety of political campaigns have continued to flow. In 2018, Jordan Cove LNG gave $216,500 to campaigns, according to the Oregon Secretary of State website. But it wasn't enough to stop the election of some politicians, like new state Senator Jeff Golden, from campaigning and winning on an explicit platform to oppose the project.
What's Next
The current comment period for the Oregon Department of State Lands permitting process ends on February 3. Allie Rosenbluth of Rogue Climate says the department may make a decision on whether to give its approval, as soon as March 5, but expects an extension.
Also on the horizon are the Federal Energy Regulatory Commission's Draft Environmental Impact Statement coming as soon as February 15 and Oregon Department of Environmental Quality decision on whether to grant the project a Clean Water Act permit, expected September 25.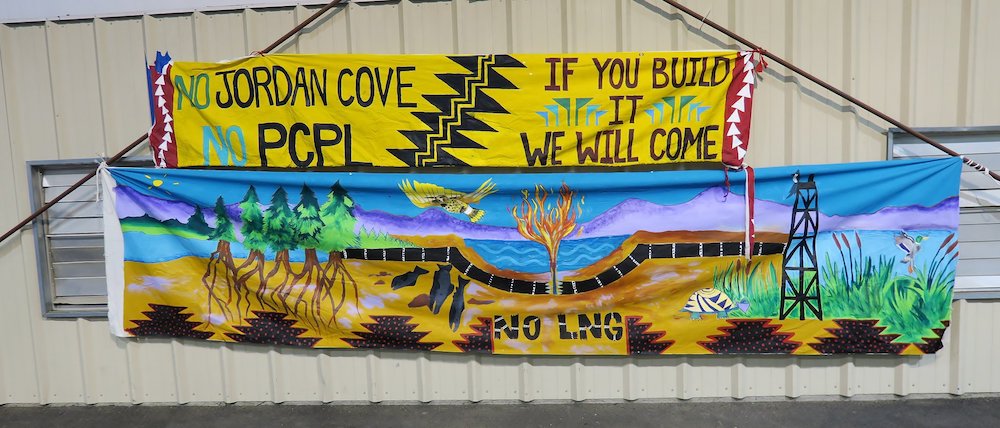 Murals opposing the Jordan Cove LNG terminal and Pacific Connector pipeline hang near the site of the Jackson County Department of State Lands hearing. Credit: Allen Hallmark
And that means more hearings.
"The bottom line is we want to stop the project," said Klamath Tribal Council Chairman Gentry, "so whatever tools are available to do that — so I'm not ruling out anything."
Update 1/24/2019: This story was updated to correct the position and name of the Confederated Tribes of the Coos, Lower Umpqua, and Siuslaw Indians. We regret the error.
Main image: A protest against the Jordan Cove LNG terminal and Pacific Connector pipeline corresponding with the Department of State Lands hearing in Salem, Oregon. Credit: Rick Rappaport, used with permission