The Trump administration just took a big step closer to handing the Koch network one of it biggest wins yet under this presidency. Bloomberg has reported that there will be no deal between the Trump administration and California on fuel efficiency and emissions standards for cars and light vehicles.
This move sets the stage for the U.S. Environmental Protection Agency (EPA) to attempt to revoke California's special waiver under the Clean Air Act, which allows the state to set its owns standards that are more stringent than federal standards.
With the waiver in hand, Mary Nichols, chair of the California Air Resources Board, has signaled that California would continue to enforce current greenhouse gas emissions standards, despite the EPA's plan to freeze the standards at 2022 levels. The Clean Air Act waiver also allows any other state to adopt California's standards, which 13 other states and the District of Columbia have done.
California's right to establish its own emissions standards has long been in the crosshairs of the Koch network and other groups tied to petroleum-based liquid fuels. Last March, for instance, representatives from 11 groups, eight of which have known financial and personnel ties to the Koch network, sent a letter to then-EPA administrator Scott Pruitt asking that he revoke California's waiver.
The groups included the Competitive Enterprise Institute (CEI), the 60 Plus Association, Frontiers of Freedom, and the Taxpayers Protection Alliance (TPA), part of the network of front groups funded by the Koch brothers and their donor network through the Center to Protect Patient Rights (now called American Encore), and Freedom Partners.
At the time, Nichols told DeSmog that she didn't think the EPA would come after California's waiver, dismissing the groups' letter as public relations with no legal footing.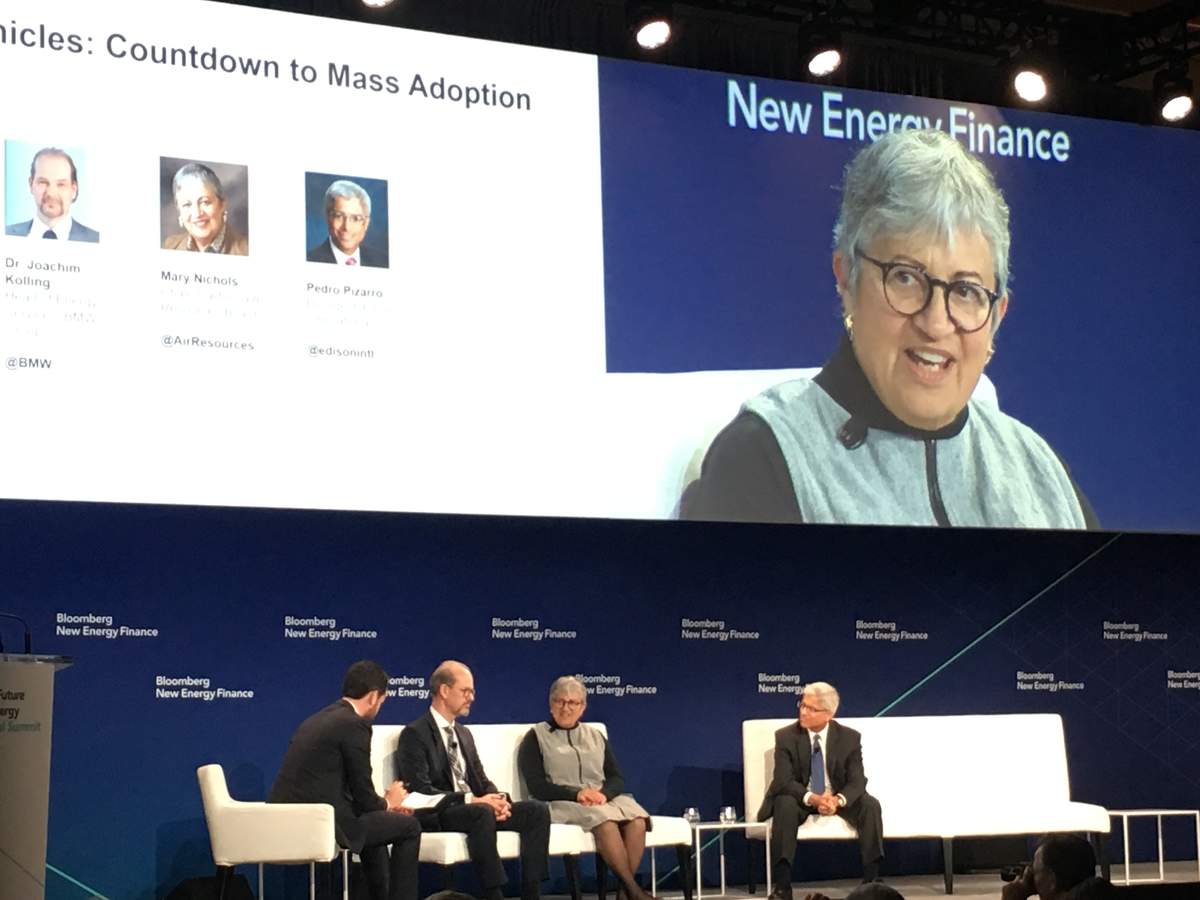 Mary Nichols (second from right) speaking on a panel about electric vehicles at the BNEF Future of Energy Summit. Credit: Ben Jervey
Then, in May 2018, three former members of President Trump's transition teams — all of whom work or worked with Koch-funded and Koch-founded organizations — sent the president another letter, which also argued for the EPA to withdraw California's legislated right to set its own tailpipe emissions standards.
As DeSmog reported at the time, that "letter was signed by Tom Pyle of the Institute for Energy Research (IER), Myron Ebell of the Competitive Enterprise Institute, and Shirley Ybarra, a former fellow at the Reason Foundation. All three organizations have close Koch ties, and Pyle was himself a lobbyist for Koch Industries, the petrochemical empire privately owned by billionaire brothers Charles and David Koch."
Legally, under the Clean Air Act, the EPA is required to grant California a waiver on air pollution emissions standards if the state has "compelling and extraordinary circumstances," which California argued a decade ago, and which the Obama administration agreed that it does.
To revoke the waiver, the EPA would legally have to prove that those circumstances are no longer there. (We got into more detail about California's waiver last year.)
This promises an inevitable legal challenge. To satisfy the courts that the waiver could legally be revoked, the EPA would need to produce a comprehensive and scientifically rigorous analysis. Which, thus far, the agency has yet to commence.
With California holding its ground and the Trump administration set on rolling back the standards, the auto industry is faced with its worst nightmare — regulatory uncertainty. It also faces the unwelcome prospects of having dueling standards for California and the 13 states that signed onto its standards, which together represent more than 40 percent of the American auto market.
Consumers are also expected to pay the price for these rollbacks and any attack on California's authority. According to a model created by Energy Innovation, a San Francisco research firm, a freeze at the current mile-per-gallon level will cost consumers $64 billion through 2030, and $282 billion by 2040. By 2050, all that extra fuel would add $475 billion to household budgets, or about $1,500 for every American.
Who wins from rolling back the standards and revoking California's right to set its own standards?
Companies who refine oil and sell gasoline, many of whom were exposed in a damning New York Times investigation last fall, which uncovered the broad and deep campaign by the Koch network and gasoline producers like Marathon to roll back the Obama-era fuel efficiency standards.
As Marathon's CEO told shareholders in December, the Trump rollback would force Americans to buy an extra 350,000 to 400,000 barrels of gasoline every day.
Main image: Cal license plate. Credit: Ryan Greenberg, CC BY–NC 2.0