The past two years, 2017 and 2018, brought the U.S. two major youth-led movements. The first was borne out of the March for Our Lives, which saw hundreds of thousands rallying for gun violence prevention in D.C. and across the country. The second was the Sunrise Movement.
While founded in 2017, the Sunrise Movement came to prominence in late 2018 with its news-grabbing protests demanding climate action on Capitol Hill. But rather than railing against Congress's many climate science deniers, this environmental group gained attention with a sit-in of the office of Democratic leader Nancy Pelosi, where dozens of youth, joined by Rep. Alexandria Ocasio-Cortez, called for a Green New Deal to rise to the challenge of climate change.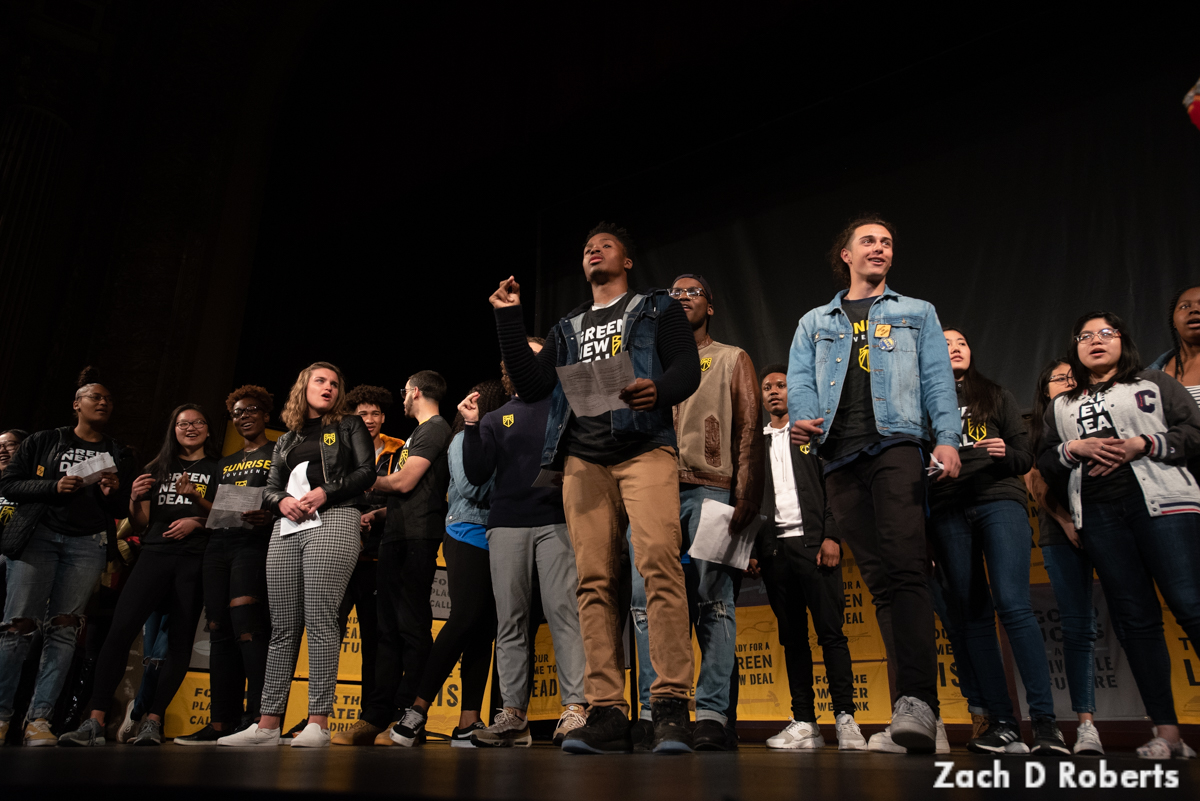 Local members of the Sunrise Movement take to the stage to sing and add their voice to the speakers.
In an attempt to build on their early momentum, the Sunrise Movement launched a national tour of U.S. cities on April 18 with a sold-out rally at the Strand Theater in Boston. Very few Republican names were mentioned.
Speakers brought up President Donald Trump's name but Pelosi's came up just as often — and not as an ally. That said, the movement's young leaders do hope to reach generations beyond their own.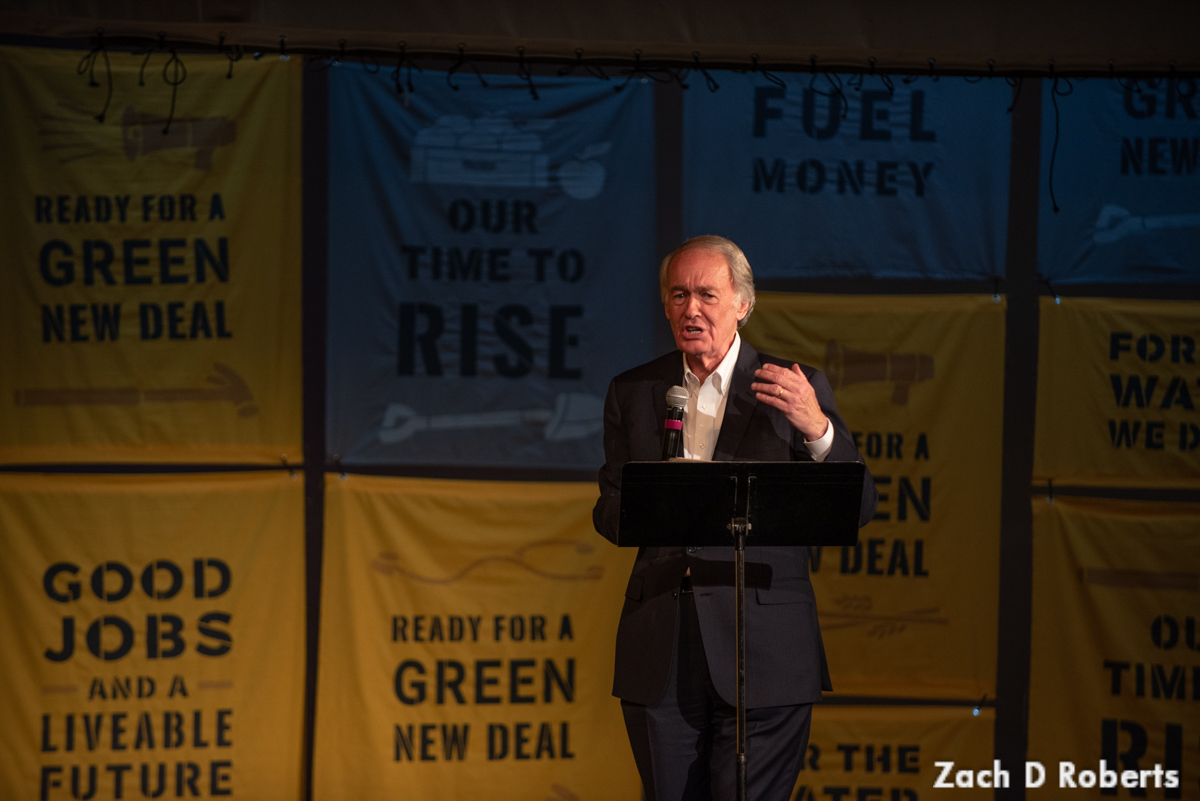 Sen. Ed Markey of Massachusetts spoke at the Road to a Green New Deal tour launch in Boston on April 18.
One of the rally's speakers included Senator Ed Markey of Massachusetts, who sponsored a Green New Deal resolution with Rep. Ocasio-Cortez in February. Markey told the audience, who gave him a standing ovation, that it was appropriate "this whole [Sunrise Movement] national tour is beginning right here in Boston and it should begin here in Boston because we are the city of revolutions."
Markey, like several others that day, connected the Green New Deal symbolically to larger progressive causes such as healthcare. He said that acting now — before the worst symptoms of climate change arrive — is the only way for this youngest generation to have a future.
"Make no mistake, the planet is running a fever," he said. "There are no emergency rooms for planets. And we have to put in place the preventative care, the protections to ensure that we avoid the worst, most catastrophic consequences, of climate change impacting our planet."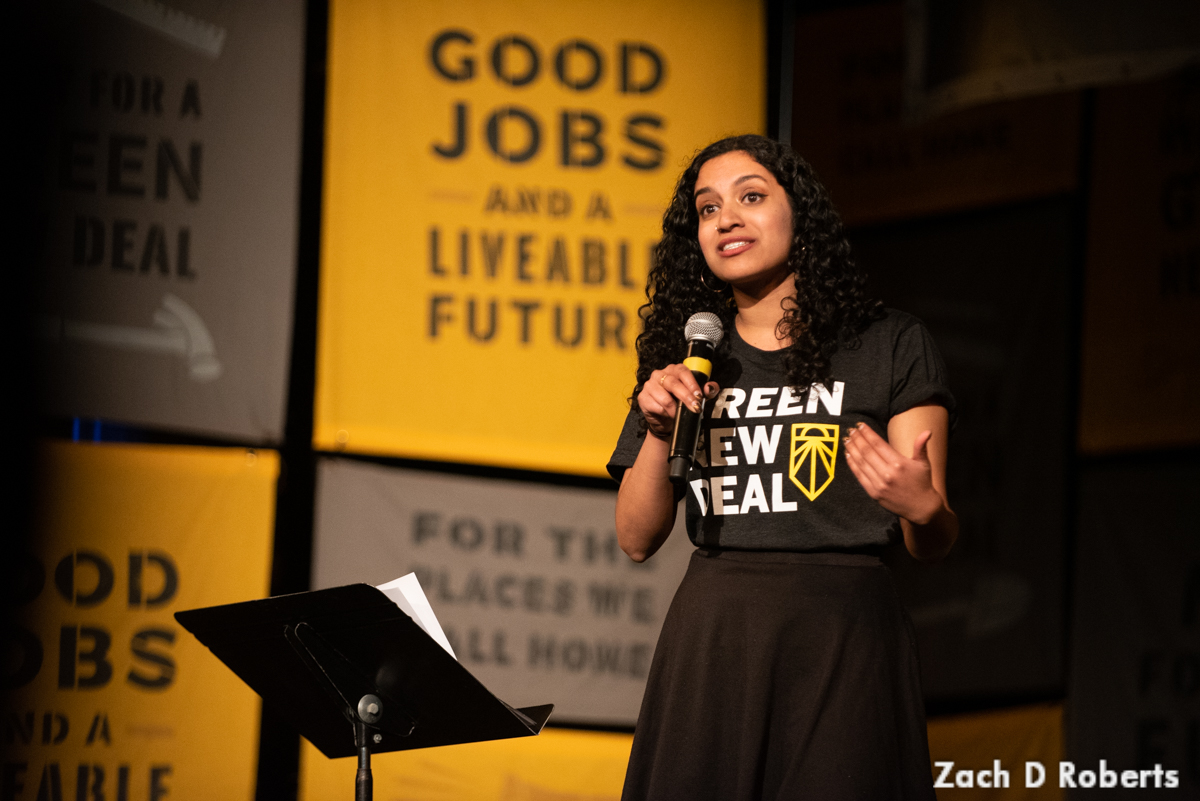 Varshini Prakash is executive director and cofounder of the Sunrise Movement.
The Sunrise Movement was co-founded by Varshini Prakash in 2017 with just eight members, all under the age of 26. Since then, as Prakash told me, the organization's numbers "have positively exploded. We now have over 200 chapters across America of Sunrise members in Alaska, in Massachusetts to Maine to California, to Michigan and Pennsylvania."
The crowd at the rally in Boston was more diverse in age, and in color, than the environmental movement has been historically. That was something that Reverend Mariama White-Hammond noted in her speech to the rally, and called out again in an interview afterward.
The Reverend is a founding pastor at the New Roots AME Church in Dorchester, Massachusetts, where she preaches regularly about climate change.
Dorchester, a neighborhood in Boston, is considering a multi-pronged approach to protecting its corner of the city from flooding due to rising sea levels and catastrophic storms. A MassLive article from 2018 lays out the plans, from expanding tidal marshes to a goal of carbon neutrality.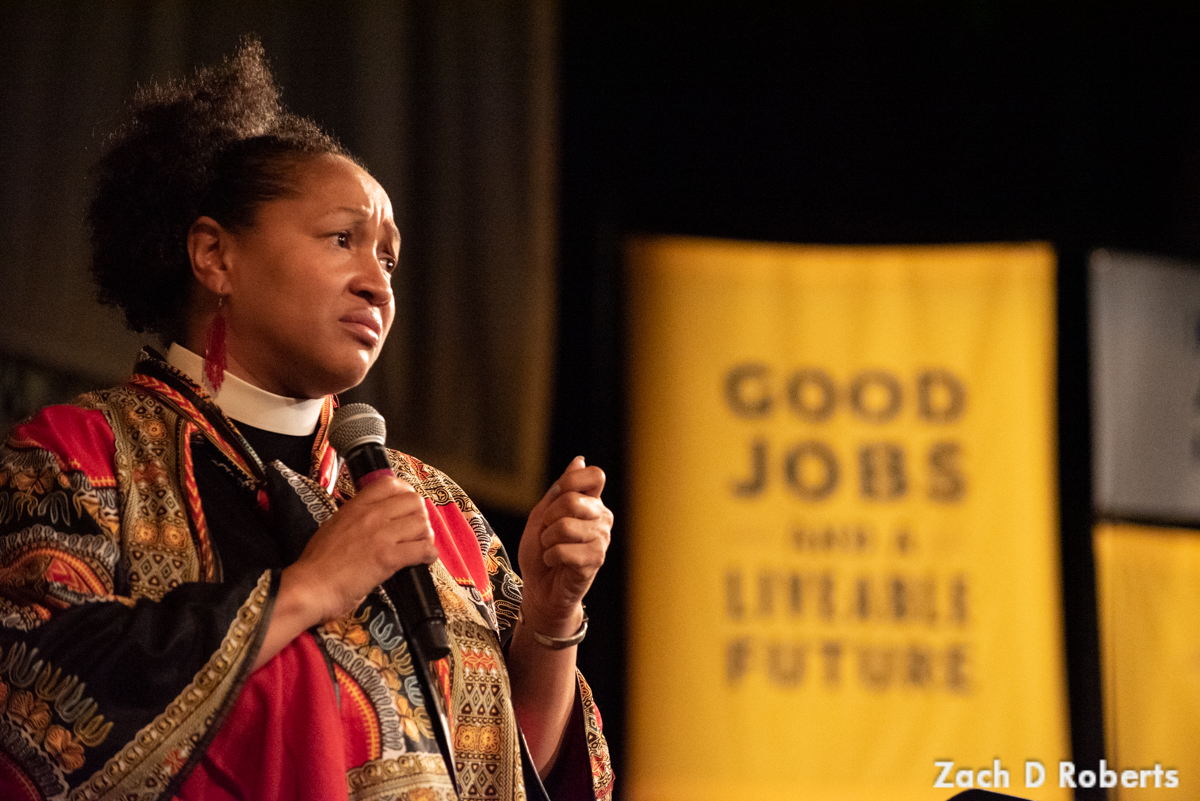 Reverend Mariama White-Hammond is a founding pastor at the New Roots AME Church in Dorchester, Massachusetts, and spoke at the April 18 launch of the Sunrise Movement's Green New Deal tour in Boston.
Reverend White-Hammond emphasized the importance of discussing climate change in a real, practical way that touches people's everyday lives, rather than focusing just on polar bears and melting glaciers. Those sorts of things don't always connect with people who are just getting by, and looking at higher gas prices, she said.
"Our neighborhood is very susceptible to climate change, particularly both in terms of us not being far from the water, but also that we have a lot of concrete and so we will have to deal with the urban heat island effect and how that will affect a lot of our communities," White-Hammond said. "Many of our houses don't have air conditioning. So climate change is very real" in directly affecting daily life.
This is why she says she supports the Green New Deal and its socio-economic approach: "What I like about the Green New Deal is that it is looking at how we address very real economic inequities. How we addressed the fact that there are many communities where people don't have jobs and how we do that in a way that also builds us to the kind of climate future that we need."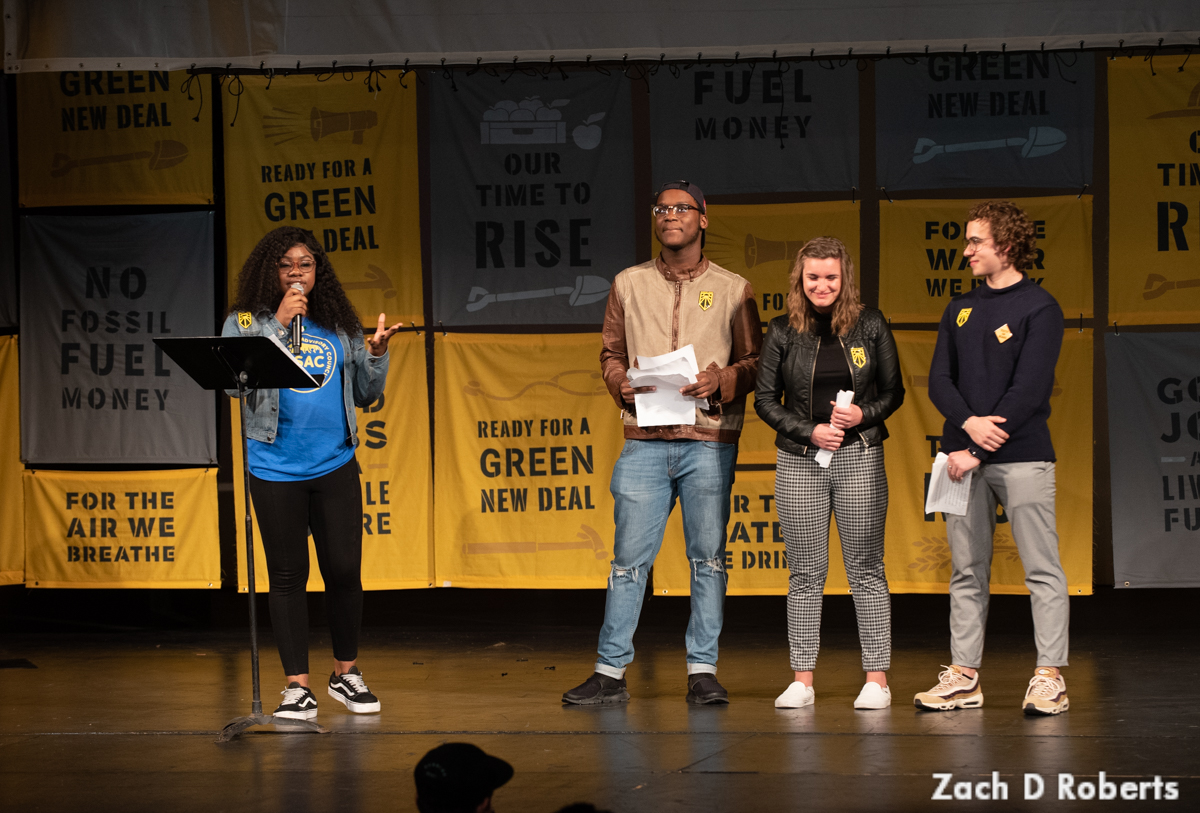 Members of the Boston Student Advisory Council and Sunrise Boston tell their stories on why they decided to join the climate movement. 
Just as the March for Our Lives injected new energy into a gun control movement that seemed to be stagnating despite continuing mass shootings, the Sunrise Movement is trying to do the same for climate action. Its members feel that after eight years with a President who understood climate science but whose administration only brought minimal changes to address it — which President Trump has been quick to undo — a new generation of activists want to bring a shake-up to efforts to prevent the climate crisis.
They want to create a movement that also looks like the people who will be most dramatically affected by what they are fighting to prevent.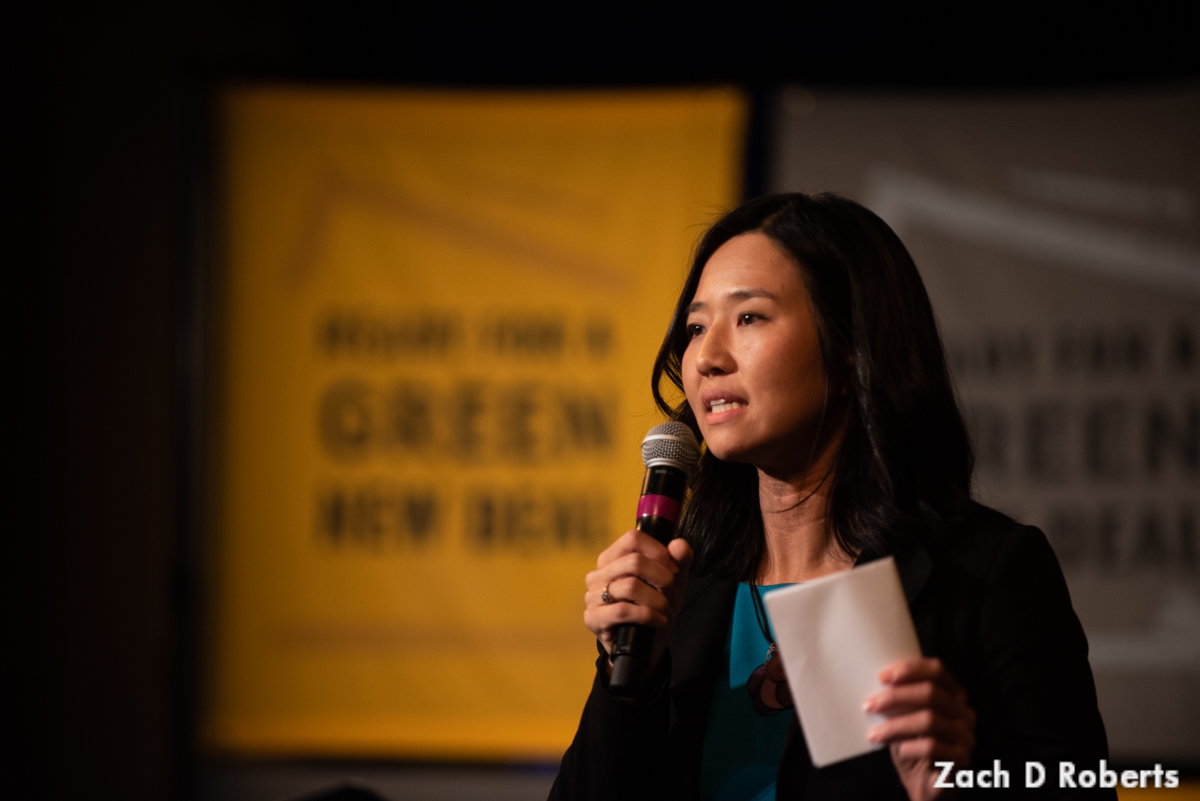 Boston City Councilor Michelle Wu speaks about the changes needed for Boston to survive climate change.
Some vanguards of the earlier environmental movement seem to be embracing the potential for this change, including Senator Markey, who brought Sunrise's Prakash as his one guest to the 2019 State of the Union address.
As Reverend White-Hammond told me, "This is a moment where the stakes are high and I've always had faith in young people to respond when the stakes are high."
The Sunrise Movement already has a nationwide presence, which this "Road to a Green New Deal Tour" is meant to showcase. Upcoming stops in April include Detroit, Michigan; Des Moines, Iowa; and Los Angeles and Chico, California. The full tour and links to related town hall events are available at sunrisemovement.org/tour.
In the coming months, Sunrise also is organizing a mass action outside of the Democratic presidential primary debates in Detroit in July, citing the complete lack of questions about climate change at Trump and Hillary Clinton's debates in 2016.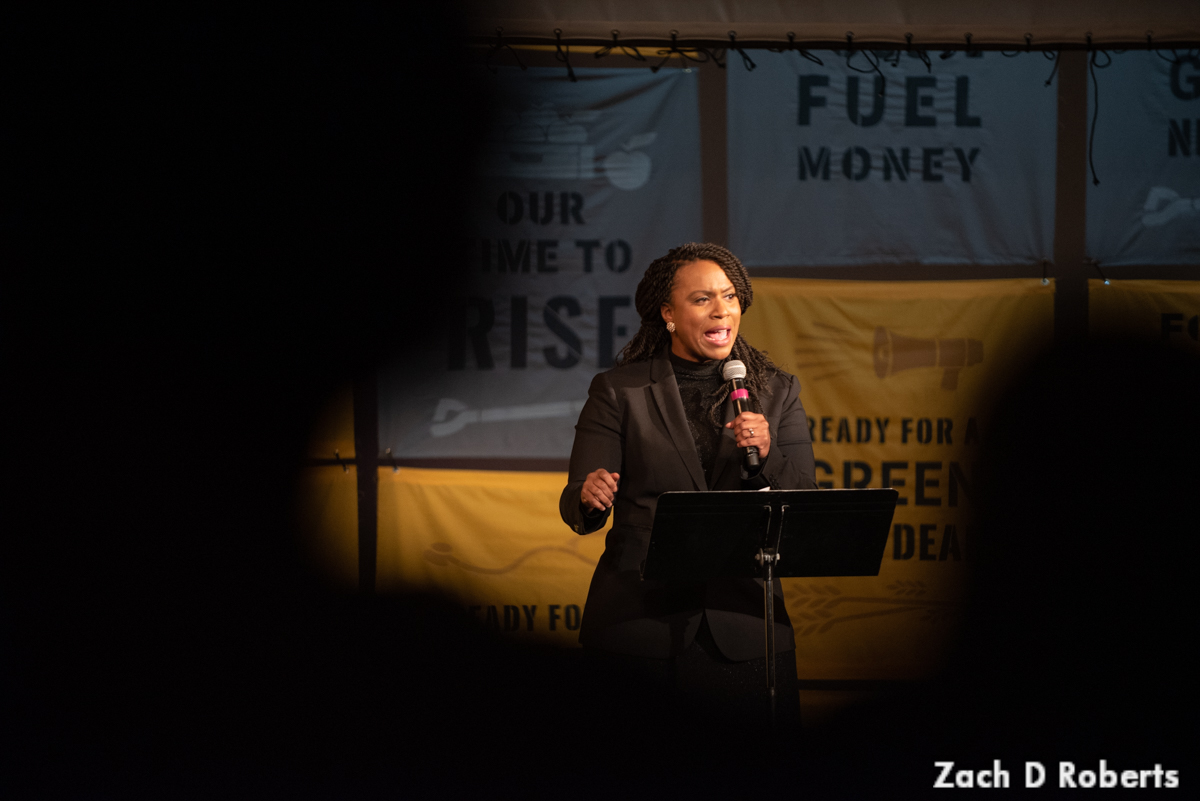 Congresswoman Ayanna Pressley (MA-7) is an original co-sponsor of the Green New Deal Resolution.
Despite its early focus on Democrats, the organization is looking to engage both major political parties. This is a revolution that has been in the making for decades, Prakash told me, because politicians have failed to take action on climate change and recognize it as an existential threat.
"It is life or death for our generation," she said, "and now we're sitting in and we are standing up and we are saying that enough is enough. We need action."
Main image: Reverend Mariama Hammond-White is joined by local Sunrise Movement activists on stage for a song at the Boston launch of the Road to a Green New Deal tour April 18, 2019. Credit: All photos by Zach D. Roberts for DeSmog