Duke Energy, the nation's largest investor-owned electric utility, claims to be a climate and environmental leader, but a closer look reveals a dirty energy portfolio and consistent efforts to preserve a fossil fuel-based future.  
While the utility's CEO, Lynn Good, writes in Duke's 2018 Sustainability Report, "Duke Energy has been leading the charge to a cleaner energy future while helping our communities thrive," a newly published report by the nonprofit Environmental Working Group (EWG) tells a much different story.
By examining Duke's current electric generating portfolio, the company's actions, and key regulatory findings, EWG paints a picture of a utility that has been extremely slow to transition to renewable energy resources and that actively fights against customers' ability to generate their own carbon-free electricity.
According to Duke's 2018 Annual Report, of all of the electricity delivered to its 7.7 million customers, only 2 percent was generated from renewable resources.
Meanwhile, a total of 65 percent of Duke's electricity was generated from fossil fuel-fired power plants: 31 percent from coal and and 34 percent from natural gas and fuel oil. The other 33 percent came from nuclear plants.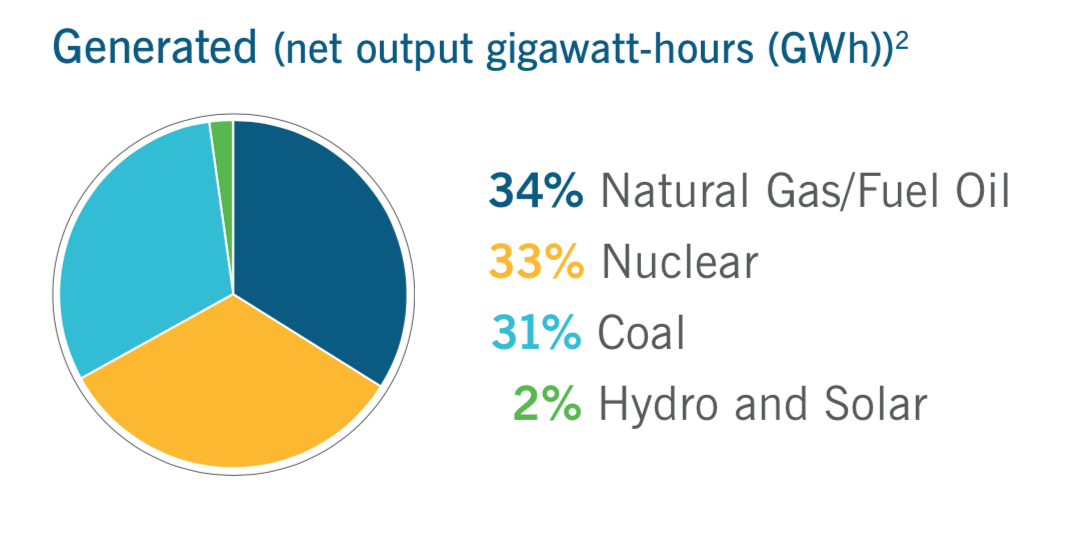 Credit: Duke Energy 2018 Annual Report
How does Duke stack up to national averages? According to the U.S. Energy Information Administration (EIA), 17 percent of all electricity generated nationally comes from renewable resources, or more than eight times higher a percentage than Duke.
"We have a company that certainly puts forth a public face that is being green and being concerned about climate change," said Kerwin Olson, executive director of Citizen Action Coalition, Indiana, on a conference call announcing the report. "Yet, all of their capacity, except for a paltry amount of hydro and solar, comes from fossil fuels."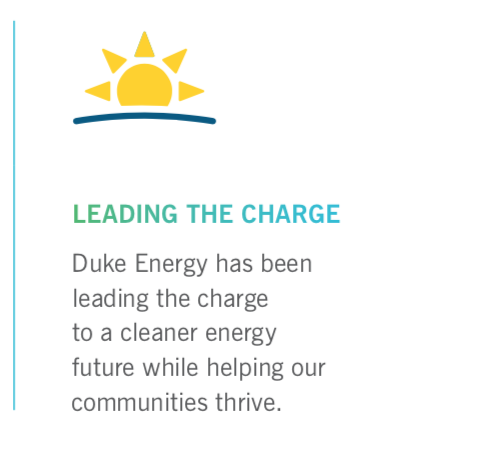 Credit: Duke Energy 2018 Sustainability Report
The EWG report also examines Duke's planning documents and finds that by 2030, the company aims to deliver to its customers an electricity portfolio with just 10 percent coming from hydropower, wind, and solar generating facilities. In other words, by the end of the next decade, Duke will deliver a considerably smaller percentage of renewable energy than the average American electric customer receives today.
Also made clear through the EWG analysis is that the company isn't just slow to move to renewables, but the utility is actively locking in a fossil-fueled future. Duke is moving away from coal-fired power plants, as they have become increasingly uneconomical and as the utility has recently faced a number of lawsuits from the U.S. Environmental Protection Agency over Clean Air Act violations.
However, this generation is being replaced almost entirely by natural gas plants.
Credit: Duke Energy 2018 Annual Report, page 26.
Investor-owned utilities make the vast majority of their profits off of the facilities and infrastructure they own, so Duke is incentivized to replace centralized coal plants with centralized natural gas facilities. In addition, Duke and its various subsidiaries are able to pass along the costs of natural gas pipelines to the customer base, while collecting a profit for investors, and EWG identifies a number of instances in which the company is pursuing the approval and construction of new pipelines.
In Ohio, ratepayers are being asked to pay for a controversial new natural gas pipeline that will run through a number of residential neighborhoods in Cincinnati. Duke has also proposed new natural gas pipelines in North Carolina, Florida, and Viriginia.
Duke Energy Is Fighting Consumers' Demands to Go Solar
Duke Energy has also consistently fought the spread of rooftop solar installations in its service territories.
In most states, this has involved lobbying to cancel or weaken net metering programs and to increase fixed monthly charges on electric bills, both ways to cripple the economics of distributed solar. Net metering programs essentially allow customers to sell excess solar power back to the utility for credit on their electric bills, providing owners of rooftop, backyard, or community solar arrays a way to benefit from all of the value that their solar energy provides.
Without a net metering contract — or with a net metering program that doesn't compensate solar producers for the fair market value of their generated electricity — the financial incentive for individuals and communities to install photovoltaics is considerably diminished. Monthly charges, on the other hand, are fixed fees on every customer's monthly bill, which cannot be credited by excess solar sales. The higher the monthly charges, the weaker the financial case for distributed solar.
Throughout its service territories, Duke and its subsidiaries have lobbied for weaker net metering programs and for higher monthly charges. The EWG report identifies such efforts in North Carolina, South Carolina, Indiana, Ohio, and Florida.
Duke "is using its political influence to add charges on customer bills that send the wrong price signal to its customers," Grant Smith, senior energy policy analyst at EWG, said on the conference call. "It seems fixated on running a 20th-century power mix."
Main image: Cover photo of the report "Public Energy Enemy No. 1." Credit: Environmental Working Group