Today President Donald Trump appeared at Louisiana's $10 billion Cameron Liquefied Natural Gas (LNG) export facility to promote LNG exports and American "energy independence."
Trump's visit to the Cameron Parish terminal comes the day after his escalating trade war, which he called "a little squabble with China," led China to raise tariffs on U.S. LNG from 10 to 25 percent — a major blow to the U.S. industry, which could slow America's massive plans to expand LNG export facilities.
Pretty cool backdrop for President Trump's event here at this LNG facility in Louisiana this afternoon. pic.twitter.com/L3E9HeFuTO

— Sarah Westwood (@sarahcwestwood) May 14, 2019
Last year China was the fourth largest importer of U.S. LNG. This year, however, with the 10 percent tariffs, only two ships have delivered U.S. LNG to China, and industry experts expect the 25 percent tariffs to likely end China's purchases from the U.S.
"I expect they will have a hard time landing a tanker carrying U.S. LNG in China if they impose a 25 percent tariff on it," Jack Weixel, senior director at industry analysts IHS Markit told Reuters.
While Trump is touting the LNG industry's job creation in Louisiana, his tariffs have not been well received by the gas industry.
Charlie Riedl, the executive director of the Center for Liquefied Natural Gas, expressed his displeasure with the tariffs, saying, "We are deeply troubled by the ratcheting up of China's tariff and would like to see the two countries reach a resolution quickly, which is in the best interest of all parties." Riedl is joining Trump in Louisiana.
And Stephen Comstock, a director at the oil and gas industry lobbying group the American Petroleum Institute, released a statement opposing the tariffs and noting that they were hurting American workers and consumers.
"These retaliatory tariffs dampen the prospects for the growing U.S. LNG investment, hurt U.S. workers, and benefit America's foreign competitors," Comstock said. "Studies show that the U.S.-China trade dispute is hurting [the] U.S. economy and consumers."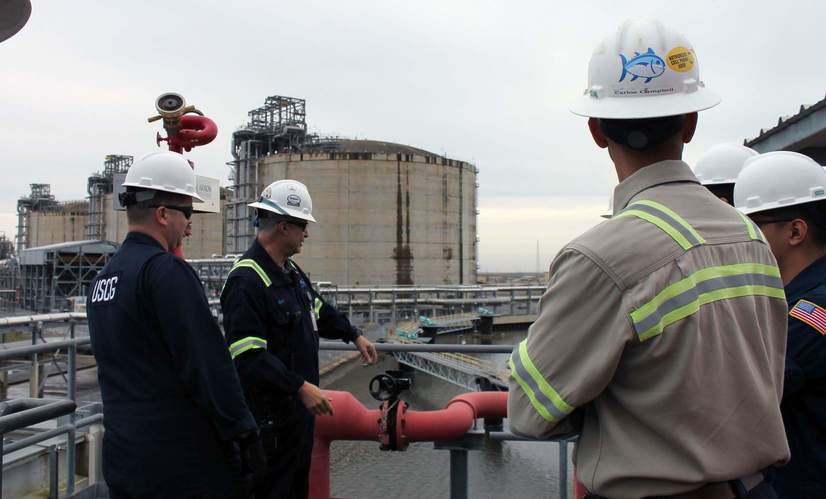 U.S. Coast Guard inspects Cameron LNG Facility in preparation for first LNG export. Credit: U.S. Coast Guard/MSU Lake Charles, public domain
Tariffs Likely to Impact Planned

LNG

Export Facilities
The U.S. is awash in excess natural gas right now. This flood comes from fracking for natural gas in shale formations like Pennsylvania and Texas, as well as from the "associated gas" that accompanies oil production.
Texas is producing so much gas alongside its booming oil production that companies are actually paying others to take the excess fossil fuel. Many choose to just burn the gas (known as "flaring") or vent it (and the powerful greenhouse gas methane) directly into the atmosphere.
Mexico has been one market for U.S. natural gas, which is easily exported via pipeline and does not require the processing to super-cool the gas and convert it to LNG, but the industry has bet its future on massively increasing LNG exports.
Louisiana governor John Bel Edwards recently trumpeted the more than 12 LNG projects in various stages of progress in Louisiana, all export facilities poised to take advantage of U.S. natural gas glut and "new markets around the world." Gov. Edwards even created a special campaign ad for Trump's visit, noting the planned growth and claiming Louisiana is "moving in the right direction."
According to the U.S. Energy Information Administration, LNG export capacity in America is expected to double to almost 8 billion cubic feet per day (bcf/d) by the end of this year. Exports are expected to average around 5.2 bcf/d this year. However, those predictions were made before the new Chinese tariffs.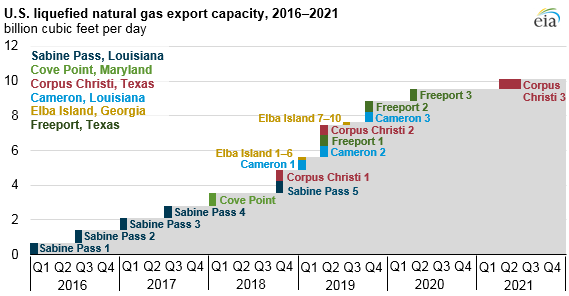 U.S. Liquefied Natural Gas Export Capacity 2016-2021. Source: U.S. Energy Information Administration
The expansion of the U.S. LNG industry is based on expected Chinese demand. The 10 percent tariffs announced late last year were already affecting financing decisions for new U.S. LNG projects and the expectation is that the new 25 percent tariffs will have a greater impact — as the American Petroleum Institute noted. Financing for these massive projects normally requires agreements in place with the customer who is slated to buy the LNG. In many cases, that customer was China.
So, while the short-term impacts of the new Chinese tariffs are evident, the long-term impacts could mean new American LNG export facilities won't be financed or the industry may risk overbuilding export capacity. A report from BloombergNEF published last week already predicted that global LNG export capacity will significantly outstrip actual demand this year and that structural imbalance is expected to continue through 2022.
However, today Trump was joined at Cameron LNG by European Commissioner for Energy Maros Sefcovic to push LNG exports to Europe, and the Senate is considering a bill to support European gas projects. Environmental groups criticized the move.
"As our planet teeters on the brink of climate chaos, America should be leading the international drive for clean, renewable energy, not trying to hamper it by flooding the cross-Atlantic market with dirty fossil fuels," Food & Water Watch Executive Director Wenonah Hauter said in a statement about the visit.
Climate vs. the

LNG

 Industry
While many (including former Secretary of State John Kerry) still claim that natural gas is a "bridge fuel" to a renewable future, scientists have shown that gas can rival coal's impacts on the climate. Late last year, the International Energy Agency warned that building new fossil fuel infrastructure is incompatible with international climate goals. 
While the new tariffs could slow the growth of the U.S. LNG industry, China will have no problem getting the LNG it needs from other suppliers, such as Australia, Qatar, or Russia.
The current fracking boom in America — often overseen by foreign-owned companies — has turned the country into a major exporter of oil and natural gas. These exports alone are not compatible with international climate goals, but the planned increases will make any attempts to limit warming to 1.5°C (2.7°F) impossible.
Both the governor of Louisiana and President Trump talk about jobs and energy independence while saying that increasing LNG exports will move the country in the "right direction." Meanwhile, the realities of a rapidly changing climate are readily apparent in Louisiana, the rest of the U.S., and around the world.
The majority of mainstream media coverage of the LNG industry fails to even mention the potential impacts on the climate, beyond referring to LNG as a "bridge fuel."
Meanwhile, proponents of the Green New Deal are blasting middle-of-the-ground climate plans, and Bill Nye neatly summarized the situation in his recent appearance on John Oliver's Last Week Tonight.
Nye cuts to the chase: "The planet's on fucking fire." And LNG is more fossil fuel for the fire.
Main image: President Trump speaking at the Cameron LNG export facility on May 14, 2019. Credit: Phinizy Percy, with permission