House Democrats in the Energy and Commerce Committee are actively investigating the oil industry's role in shaping the Trump administration's proposed rollback of greenhouse gas and fuel economy standards for cars and light duty trucks.
On the eve of today's joint hearing of two House Energy and Commerce Subcommittees on the proposed rollback, Chairman Frank Pallone, Jr. and the chairs of the Subcommittees on Consumer Protection and Commerce and on Environment and Climate Change announced the investigation.
Along with Consumer Protection and Commerce Subcommittee Chair Jan Schakowsky and Environment and Climate Change Chair Paul Tonko, Pallone sent letters to oil and gas companies, trade groups, and advocacy groups demanding information on their contacts with the Department of Transportation (DOT) and the Environmental Protection Agency (EPA) regarding their support of the administration's proposed Safer Affordable Fuel-Efficient (SAFE) Vehicles rule. The Congressional leaders also asked for information about "the troubling, secret lobbying and social media campaign that reportedly occurred leading up to its release," as they wrote in the letter.
Letters were sent to Marathon Petroleum, the American Fuel & Petrochemical Manufacturers (AFPM), the American Legislative Exchange Council (ALEC), Energy4US, and Americans for Prosperity.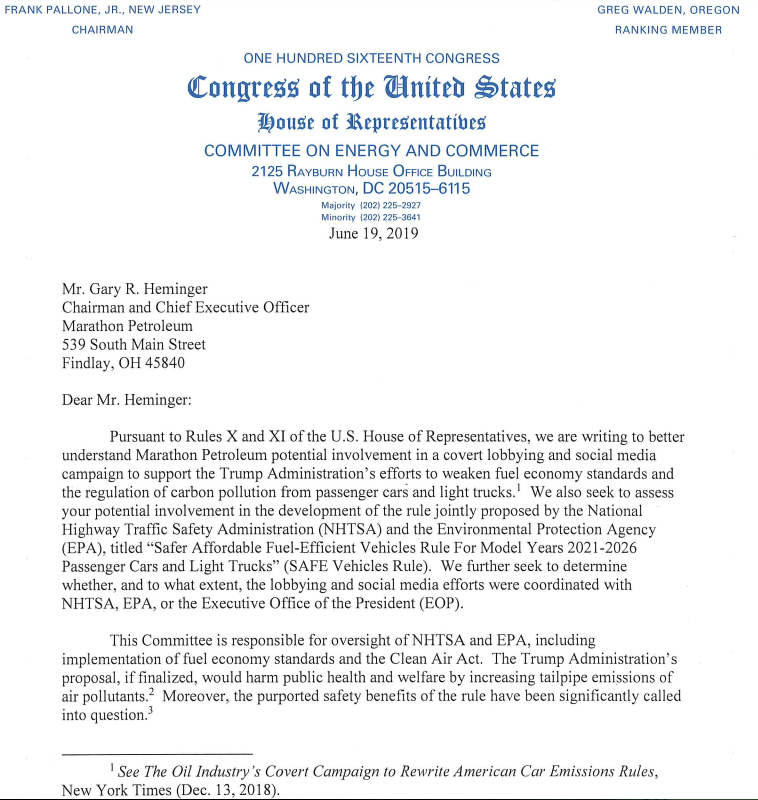 The covert social media and lobbying campaign described in the letters was first exposed in a December 2018 New York Times investigation, which described how Marathon Petroleum and the AFPM worked with other advocacy groups to circulate letters to Congress and the administrative agencies to support a rollback of the standards that is stronger even than the automakers were seeking.
The New York Times also revealed that AFPM launched an unregistered, unincorporated front group called Energy4US, which ran Facebook ads asking supporters to "Support Our President's Car Freedom Agenda" and sending form comments to the DOT.
Researchers at DeSmog's KochvsClean project connected the front group to more than one-quarter of all public comments that the DOT had received on the proposed rule, while also revealing that the Consumer Energy Alliance was connected to the campaign.
Records provided to The New York Times by the watchdog group Documented also revealed Marathon's efforts to gain support from Republican state legislators for the proposed standards rollbacks.
Additionally, researchers at Documented have since surfaced records that revealed that AFPM was recruiting Republican Governors to sign onto a public comment letter supporting the weaker fuel efficiency standards. Back in January, DeSmog described AFPM's efforts in deep detail, efforts that also included "shopping around" a pre-written op-ed with language borrowed from the American Energy Alliance, a free market advocacy group run by a former Koch Industries lobbyist. 
'Lack of cooperation, lack of documents, lack of disclosure' from
DOT

and

EPA

Pallone said on Wednesday that "the oil industry is the only winner" from the revised rules, and reiterated that it was his committee's oversight responsibility to figure out why the agencies settled on a rule that, according to the letters his office sent, "would harm public health and welfare by increasing tailpipe emissions" and "increase U.S. petroleum consumption by 500,000 barrels per day."

The letters to the oil groups follow a series of letters sent by various Democratic members of Congress to the DOT and EPA demanding similar records. At the hearing Thursday morning, Rep. Pallone chastised National Highway Traffic and Safety Administration head Heidi King and the EPA air chief Bill Wehrum for their agencies' lack of transparency and for refusing to yet provide records of meetings and communications with Marathon, AFPM, and other oil-funded advocacy groups.

Representative Diana DeGette of Colorado, Chair of Commerce's Oversight and Investigations Subcommittee, blasted the agencies' "lack of cooperation, lack of documents, and lack of disclosure."
As a follow up to E&C's investigation into troubling lobbying claims involving the Admin's action on #CleanerCars, O&I Chair @RepDianaDeGette pushed @EPA's Assistant Administrator Wehrum on his office's coordination with Big Oil.

Spoiler: He was anything but transparent. pic.twitter.com/edGx8gsoZ2

— Energy and Commerce Committee (@EnergyCommerce) June 20, 2019
Rep. Pallone and his Energy and Commerce colleagues hope to use their Congressional authority to secure the information that the agencies have not released.
Below are copies of the letters that were sent:
As part of the investigation, the Congressional leaders requested copies of all communications related to the proposed rollback between the oil industry and any current or former EPA, NHTSA, and Executive Office of the President (EOP) officials, giving the industry groups a July 3, 2019 deadline. 
Main image: House Energy and Commerce Committee Chair Frank Pallone, Jr. during Thursday's hearing on the Trump administration clean car standards rollback. Source: Energy and Commerce Committee, Public Domain