President Donald Trump spoke to "America's environmental leadership" in an address today, where he lived up to predictions and described the country's air and water as clean ("crystal clean" even).
The speech started late, and with a reference to the heavy rains that have flooded Washington, D.C., which today's Washington Post noted were unusual and consistent with the changes predicted by climate scientists.
The rest of the world may be forgiven some skepticism about America's environmental leadership — particularly under Trump. Within six months of taking office, Donald Trump had announced that he planned to pull the U.S. out of the Paris Agreement, the world's framework for coordinating the international response to climate change, which scientists and world leaders have described as the most consequential environmental issue of our time.
Disaster Politics
Because of the 535 billion metric tons of carbon dioxide we have spewed into it over the last century, the world's atmosphere is warmer and thus holds more moisture, creating more intense rainfall events in already-wet areas. https://t.co/5wC5xvpcwV

— Emily Atkin (@emorwee) July 8, 2019
Trump's time in office has also seen scores of disasters, both at home and abroad, linked to a changing climate:
2017 brought a trio of hurricanes to the U.S., including Harvey, Irma, and Maria, which as of January 2018 were listed by the National Oceanic and Atmospheric Administration as in the top five costliest hurricanes in

U.S.

history. Nearly 3,000 died in Puerto Rico alone from Hurricane Maria — and the federal response has remained underwhelming. "Only a fraction of the money approved by Congress through

FEMA

has been delivered, just $380 million of permanent recovery work, a failure that belies President Trump's complaints that the territory and its 3.2 million

U.S.

citizens have received too much money," The Washington Examiner reported in June.
2018's wildfire season was the deadliest in California's history, decimating the town of Paradise — and also causing economic losses tallied by AccuWeather at $400 billion. Trump made international headlines when he visited and mistakenly called the town, where at the time 71 were known dead and 1,000 remained unaccounted for, Pleasure instead of Paradise.
This year, historic flooding along the Mississippi River, made worse by climate change, has shattered records set by flooding in 1993. Cleanup costs are estimated at more than $2 billion and farmers have warned of a "train wreck" growing season, citing the floods and Trump's trade war with China.
The impacts from each of those disasters can linger for years or decades. In June, Politico described Paradise, California, where 14,000 homes burned as "little more than a large charred debris removal site," adding that federal disaster assistance had been long-delayed.
Ignoring the death toll and the impact on the lives of those whose homes and neighborhoods burned, Trump today recalled his personal reaction to the catastrophe in cartoonish terms. "I went to the fires in California," Trump said, "and I said, 'it's also management, it's a lot happening, but it's management. You can't have dirty floors.'" He added that he'd spoken to the governor of California and "the process of cleaning is now really taking place" and claimed that other countries don't have forest fires because of their forest cleaning methods — an extended callback to his own earlier remarks about raking that were mocked as both nonsensical and tone-deaf.
At the time, Trump had also denied that the Paradise fires were impacted by climate change. "Research shows that climate change is making California's wildfires worse," a Washington Post fact check found. "If it continues unabated, scientists say, disasters like the Camp Fire will happen again."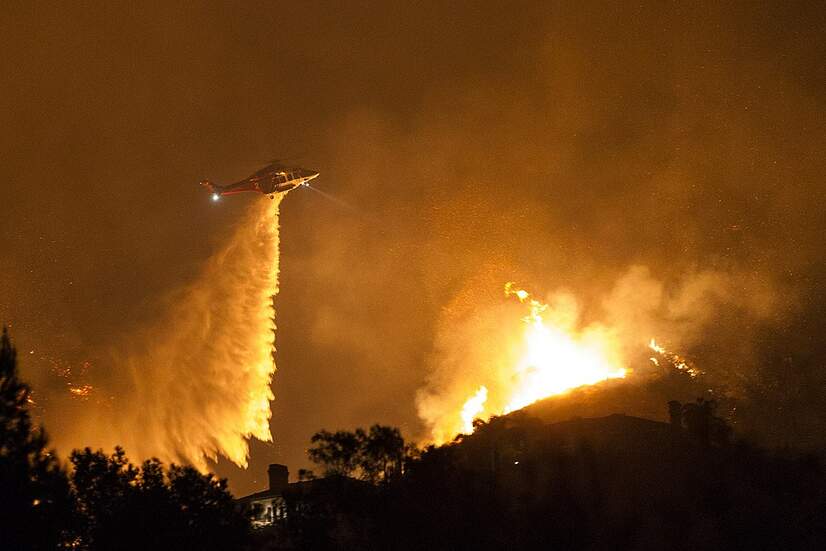 A Los Angeles Fire Department helicopter drops water while fighting the La Tuna Fire in the Verdugo Mountains above Burbank California, September 2, 2017. Credit: Scott Liebenson, CC BY–SA 2.0
The economic impact from climate change is growing as well — though that toll drew no attention in Trump's environmental leadership speech.
Each year, extreme natural disasters drive 26 million people worldwide into poverty and shave $520 billion from the world's economy, according to a 2017 World Bank report.
The world's 10 worst climate-linked diasters in 2018 caused $84.7 billion in damages, not counting uninsured losses and the impacts on economic productivity, a report by Christian Aid found. "Despite the severity of the extreme weather that struck the world, 2018 is unlikely to be exceptional," that report said. "In fact, it may soon seem a mild year."
Climate-linked disasters are now occurring once a week, United Nations officials warn, the Guardian reported yesterday.
Short Thread.
Dear Media,
Trump is supposedly giving an "environment" speech Monday.
If he says the #climate is not changing, he's lying.
If he says it's changing but not because of humans, he's lying.
If he says it's changing but won't be bad or cost too much to fix, he's lying

— Peter Gleick (@PeterGleick) July 7, 2019
Trump Touts Lowering U.S. Greenhouse Gas Emissions … Which Are Rising
During his speech today, Trump instead touted the country's record on greenhouse gas emissions during his time in office.
"Every single one of the signatories to the Paris climate accord lags behind America in overall emissions reductions," Trump claimed. "For this reason, I withdrew the United States from the unfair, ineffective, and very, very expensive Paris climate accord."
The claim on emissions reductions is similar to a note previously hit by top Trump administration officials. "Thanks to President Trump's regulatory reform agenda, the economy is booming, energy production is surging, and we are reducing greenhouse gas emissions from major industrial sources," said (then-acting) Environmental Protection Agency Administrator Andrew Wheeler in a statement last year. "The Trump administration has proven that federal regulations are not necessary to drive CO2 reductions."
But, Vox reported in January 2019, that's old news. 
"The Rhodium Group on Tuesday reported that U.S. energy-related greenhouse gas emissions rose in 2018 by 3.4 percent, the second-largest margin in 20 years, reversing a three-year decline," Vox reported. "Even though cleaner energy sources like wind and solar are expanding rapidly, it's not enough to keep emissions overall from rising: Power sector emissions still grew by 1.9 percent last year. That increase came even though the United States retired 16 gigawatts of coal-fired power capacity and saw coal consumption dip to its lowest levels in 39 years."
Before Donald Trump and his Oil and Coal All-Star Cabinet tout their assault on the environment in a speech today, check out the facts about the most anti-climate administration in history in my report w/ @SenWhitehouse: https://t.co/7fkGTfTwGK https://t.co/FKVMypd4OL

— Ed Markey (@SenMarkey) July 8, 2019
U.S.

Is Number One?

Trump was joined at today's address by a parade of lower-ranking officials who praised Trump and his environmental record — but at times flubbed their facts.

"We're seeing, on your watch, America becoming the number one producer of oil and gas in the world," said Energy Secretary Rick Perry as he took the podium beside Trump. "We're seeing emissions being reduced around the world," he continued.

Sec. Perry's first statement checks out as true (at least for late 2018 into 2019) — but the second is flat wrong. Last year, the world's climate emissions rose to an all-time high of 37.1 billion tons of CO2 air pollution. "Almost all countries are contributing to the rise," The Guardian reported, "with emissions in China up 4.7 percent, in the U.S. by 2.5 percent, and in India by 6.3 percent in 2018." Global energy demand was also up, by 2.3 percent, in 2018, according to the International Energy Agency, which adds that 70 percent of that energy came from fossil fuels, and that those fossil fuels were the cause of 2018's record-shattering greenhoues gas emissions.

Trump's speech also called attention to the issue of the red tide in Florida, which in 2018 closed beaches in Palm Beach where Trump's Mar-a-Lago is located. DeSmog's Julie Dermansky reported on the toxic algae blooms that struck Florida that year, noting their connection to climate change. "While both types of toxin-producing algae are normal parts of their environments, the crisis is not," she wrote in a photo essay on the blooms. "Water pollution and climate change are fueling this supersized toxic algae mess."

Trump's speech also touted the country's clean air and water — while offering little to no acknowledgement of the many Americans who still breathe polluted air and have little-to-no access to clean tap water.

And that, for the record, is no small slice of the country. In March, Business Insider listed 11 American cities, home to millions, that have been affected by unsafe drinking water, including not only Flint, Michigan (where prosecutors this month dropped criminal charges), but also Pittsburgh, Milwaukee, and even Washington, D.C. Rural areas have also faced struggles with clean drinking water. In many places, these problems began long before Trump was elected — but Trump campaigned heavily on rolling back regulations designed to protect the environment, workers, and anything that industry might find objectionable.

The New York Times tallies 83 environmental rules currently facing cuts under Trump's leadership.

"It's fitting that President Trump is promoting his awful environmental record on the same day that the White House is flooding after a historic storm," said Democratic presidential candidate Jay Inslee, who is running on a platform centered on combating climate change. "Trump has rolled back critical environmental regulations, repeatedly denied that climate change even exists, all while subsidizing the fossil fuel industry."

Main image: Candidate Donald Trump spoke at an oil and gas conference in September 2016. Credit: 

©

Laura Evangelisto