While most of Louisiana was spared Barry's wrath last week, Isle de Jean Charles, a quickly eroding strip of land among coastal wetlands in the Gulf of Mexico, was not. A storm surge swept over the island, about 80 miles southwest of New Orleans, early in the morning on July 13 before Barry was upgraded from a tropical storm to a category 1 hurricane.
On July 15, I met with Albert Naquin, Chief of the Isle de Jean Charles Biloxi-Chitimacha-Choctaw Tribe (IDJC) and Wenceslaus Billiot Jr., the Tribe's deputy chief, to travel to the island and assess the damages. That afternoon, we made our way through the receding waters that still covered Island Road, the only route connecting the island to the mainland. Days after the storm, some parts of the road on the island were still submerged in three feet of water.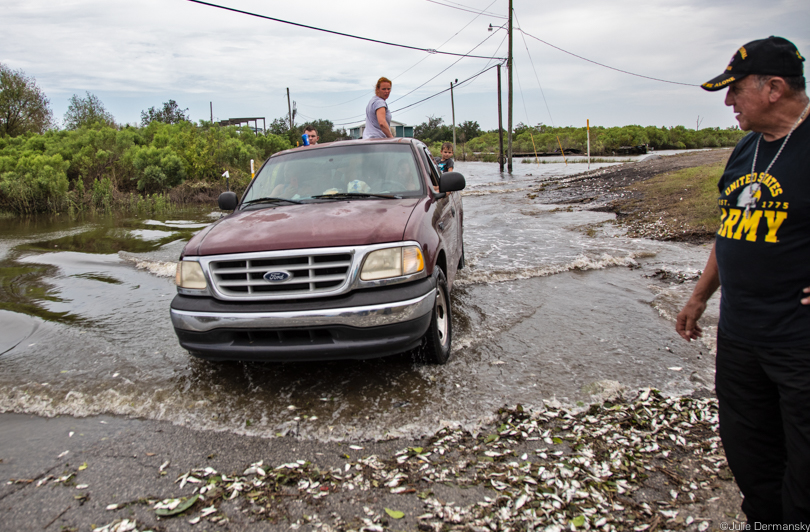 Albert Naquin, Chief of the Isle de Jean Charles Biloxi-Chitimacha-Choctaw Tribe (IDJC), on the island standing near dead fish in the floodwaters.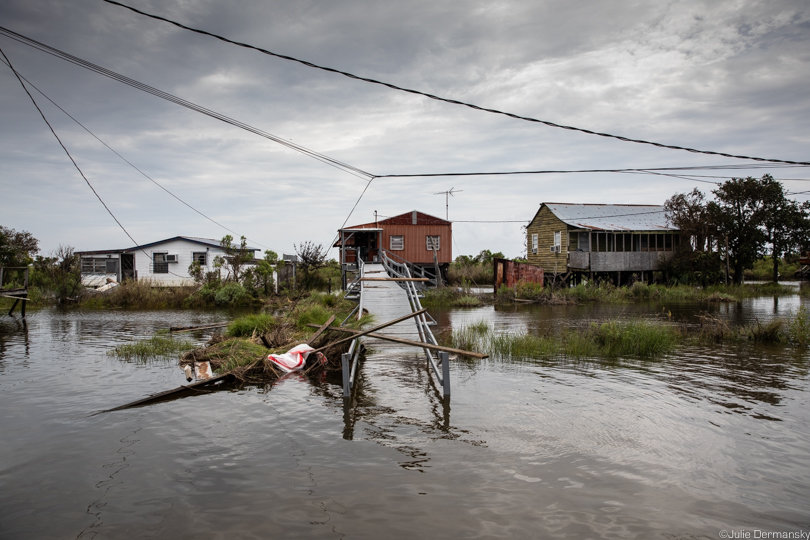 Fishing camps and permanent residences on the island were difficult to access on July 15, due to remaining floodwater following Barry's storm surge.
The Isle de Jean Charles received worldwide attention in 2016, when the IDJC Tribe helped the State of Louisiana secure a $48 million federal grant to resettle the disappearing island's residents.
The resettlement project drew considerable notice from both the media and those looking for models to relocate other coastal communities due to sea level rise quickened by climate change. Years later, however, the Tribe can point toward little progress in permanently relocating the less than 20 families remaining on the island — most of which belong to the IDJC Tribe.
"It is three and a half years after winning the grant, and no new housing has been built," Naquin pointed out. "Everyone thinks the Tribe is rich, but we didn't get a penny from the grant money." 
The Louisiana Office of Community Development (OCD), the agency in charge of the project, began retooling the original proposal shortly after securing federal funds, and since then, relations between the island's main Tribe and the State have been strained.  
The tribal members were dubbed the nation's first "climate change refugees," a moniker that the IDJC Tribe thinks hurts them. "The State got the money, not the tribe," Naquin points out. The tribal members remaining on the island have either turned down the State's relocation plan or are still on the fence. He fears that calling them climate refugees gives the false impression that everyone has left the island, and that no one needs help anymore, which isn't true. Most of the remaining tribe members on the island have little money, and in the aftermath of a storm, they need help more than ever.
The only thing the State and Tribe seem to agree on is that the island's demise is steadily approaching. Since 1955, the Isle de Jean Charles has lost 98 percent of its area due to a combination of levee construction, coastal erosion, sinking land, rising seas, and damage from hurricanes worsened by climate change. Of the island's previous 22,400 acres, only 320 acres remain today.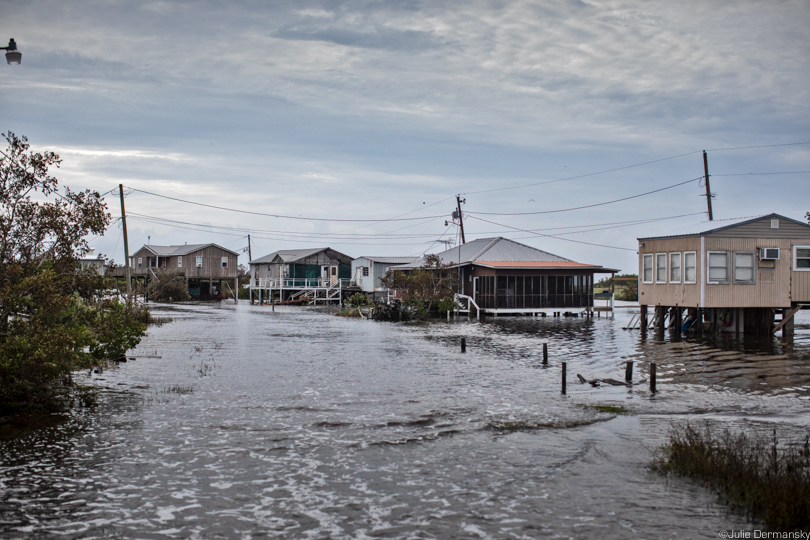 A stretch of Isle de Jean Charles that remained flooded on July 15, two days after storm surge inundated the island.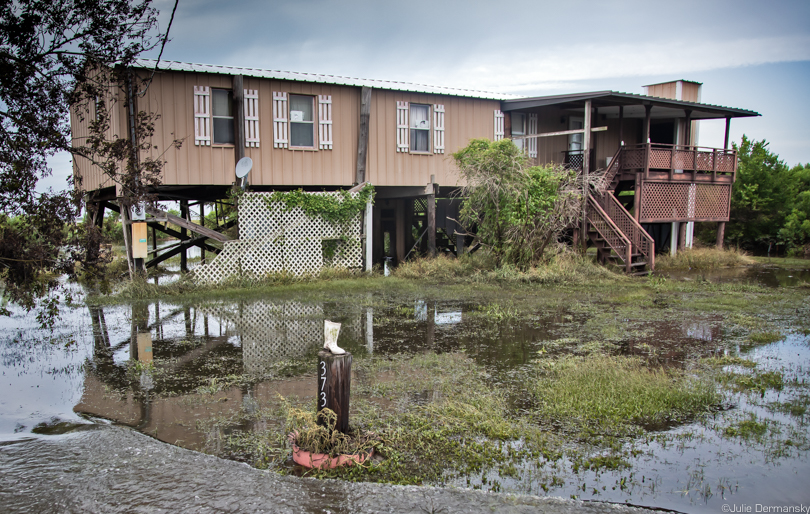 A raised home on Isle de Jean Charles with a fisherman's boot used as a marker out front.
With many island properties still not accessible when we visited the island, the Chief and his deputy could perform only a preliminary assessment of the damages. "At least nine of the tribe members' residences were completely submerged by the surge, but others that didn't take on water still clearly need repairs," Naquin said. Many bridges and stairs leading to homes were destroyed by the storm waters, making it impossible to know the extent of potential damage.
Naquin and Billiot started making calls to find the tools and labor for repairing those bridges and stairways that need to be fixed before   people can safely get back into their homes. "FEMA won't be coming here," Naquin said of the federal disaster agency. "The State wants the remaining tribe members to sign up for its resettlement project, so any repairs that need to be made we have to take care of ourselves."
I met Gilles Dardar, who was one of 11 residents the U.S. Coast Guard airlifted off the island early Saturday morning. He returned to assess the damage to his home. "I have never seen the water come in so fast. There was over four feet of water in my house within 30 minutes," Dardar said. "I have nothing left."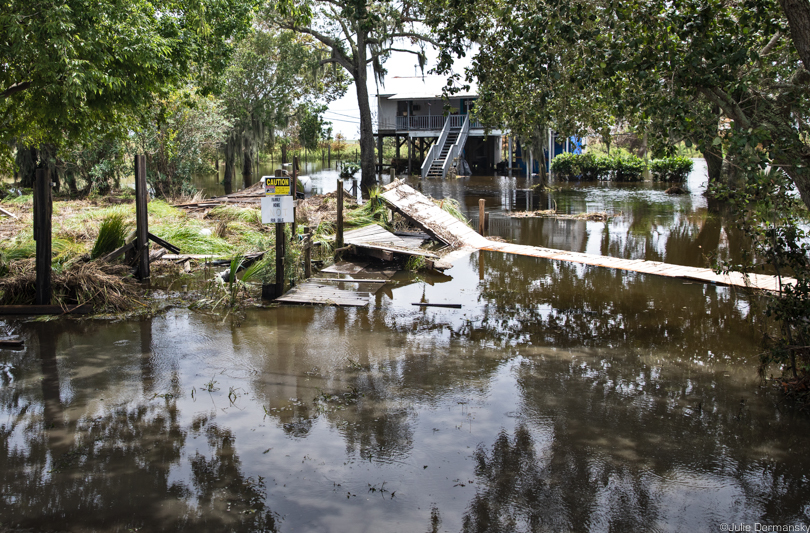 One of the many destroyed bridges that must be rebuilt before some of the island's residents can return to their homes.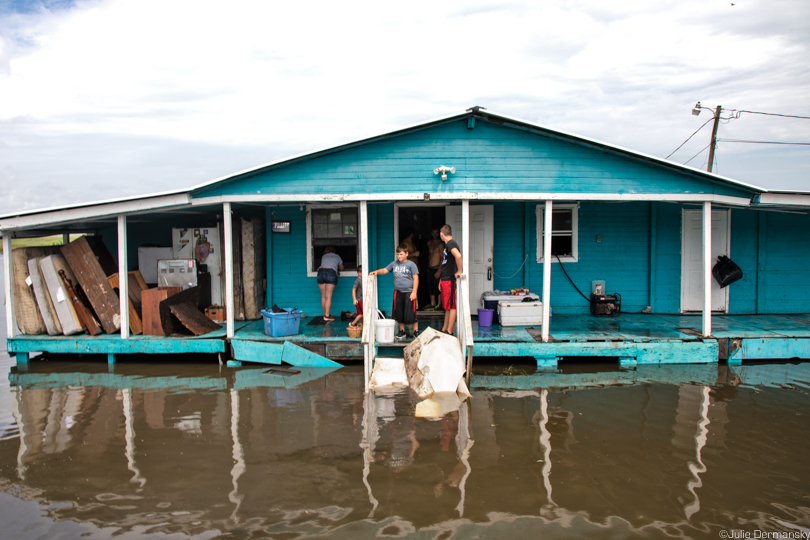 A family inspects a flooded home on Isle de Jean Charles on July 15.
Until now he has resisted joining the State's resettlement project, opting instead to remain on the island, but after the storm, Dardar says he has reconsidered. "They offered to put me in a homeless shelter in Houma in a room with three other men," Dardar said, a post-storm housing offer he rejected. He hopes that if he signs up for the state's resettlement plan, which provides temporary housing while the project's permanent housing is being built, he will be assigned new living arrangements quickly. However, Dardar says he has no intention of going to a homeless shelter despite his flood-damaged house on the island. 
Members of the OCD team have been in touch with impacted island residents before and after the storm. "The OCD staff is on the island today," OCD's communications director Marvin McGraw said in an email July 17.
"We have been in daily, sometimes many times daily, contact with the three families who were airlifted on 7/13 and other current residents, most of whom are still evacuated."
He told me that the agency has checked to see if island residents have supplies, support, and information they may need, and if they do not, OCD will put them in touch with the organizations or resource centers that can fulfill those needs.
"We have offered information on the Optional Relocation Assistance Program and are working as quickly as possible to re-house residents. We have sent contact info for Crisis Cleanup, an organization assisting residents in helping de-muck, tear out drywall, flooring, etc. We have facilitated stays in a private shelter/hotel in Houma, provided information about a local food bank, supplied residents with updated information on Island Rd being cleared, and distributed a Houma-based crisis hotline number with all manner of health needs assistance," McGraw wrote, pointing out that "two new leases will be signed this week." 
"The state got $48 million dollars to resettle island residents and OCD can't even put a handful of them impacted by the storm in hotels?" Chantel Comardelle, the IDJC Tribe's executive secretary, said on a call. "The private shelter in Houma is not a hotel, it's a homeless shelter."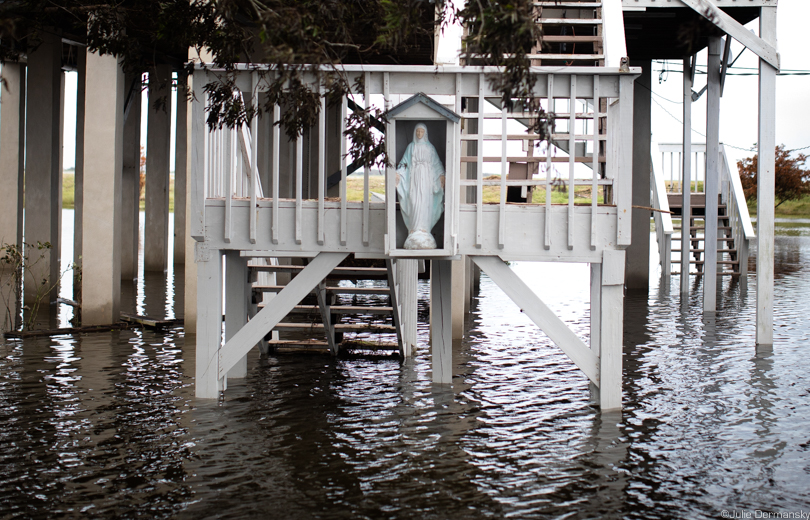 A raised home on Isle de Jean Charles that was spared by Barry's storm surge.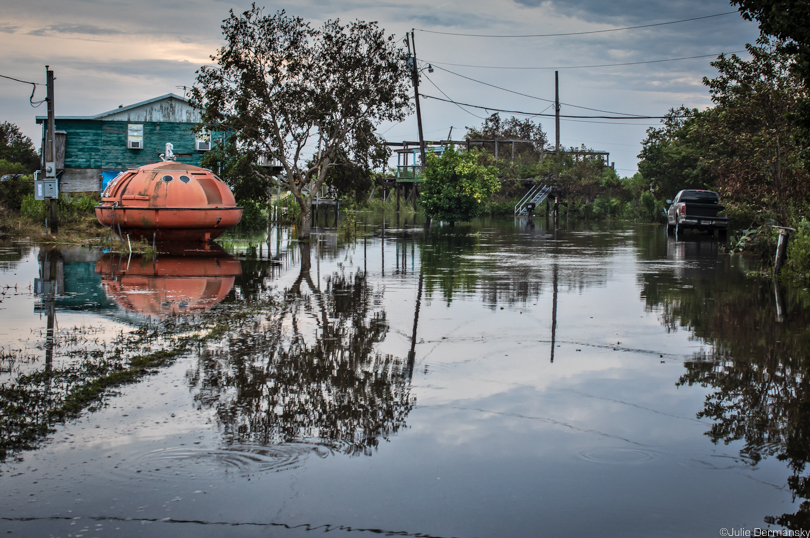 A bright orange survival pod from an oil rig, a landmark on Isle de Jean Charles, across from Edison Dardar's home, in standing water on July 15.
She and Chief Naquin are worried that the State is going to use this disaster to get people to sign up for its resettlement project, which would further disperse the already scattered tribe. The IDJC Tribe's original resettlement proposal not only would keep together tribal members still on the island, but would also reunite members who left the sinking island for the mainland previously. 
They still hope to create a resettlement community like the one first envisioned, rather than the State's version, which prioritizes housing for current island residents and those who left the island after Hurricane Isaac in 2012, and then ultimately opens up the new development to anyone who wants to move there. Though tribal members who left the island prior to 2012 would receive a free parcel* of land to build a home in the State's planned housing development, many tribe members have reservations about the eventual desirability of the State's project, while others doubt it will ever be built.
"The tribe members who have resisted the State's offer till now clearly didn't want to move, but now might sign anything put in front of them," Comardelle said. She fears that the State is going to take advantage of the disaster, when people aren't thinking clearly, to push them toward its resettlement offer.   
"This Saturday, we hope to be able to round up the supplies and manpower needed to at least make the initial repairs for people to access their homes safely," Naquin said, in an attempt to get residents who want to stay on the island back home.
Comardelle's grandmother, Denecia Naquin Billiot, who evacuated before the storm, is anxious to return. Her island home is one of many needing a new bridge before she can go back.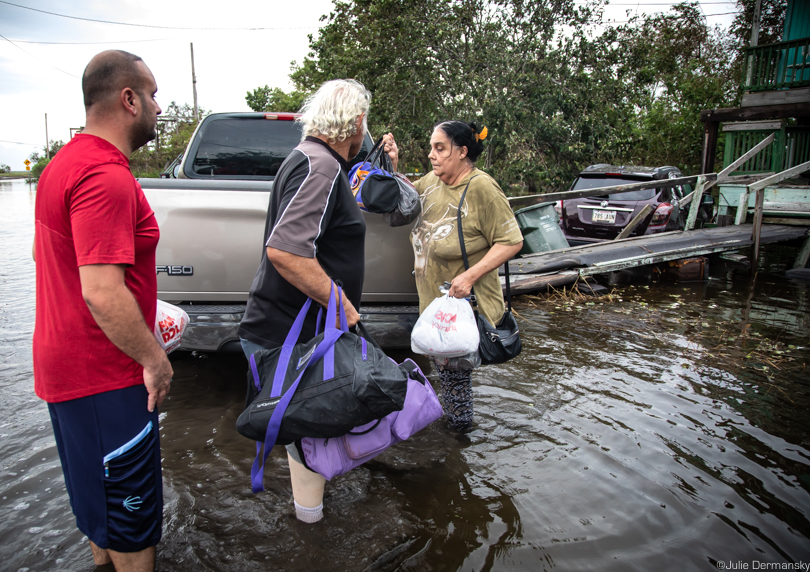 Edison and Elizabeth Dardar with their son Robert making their way back home.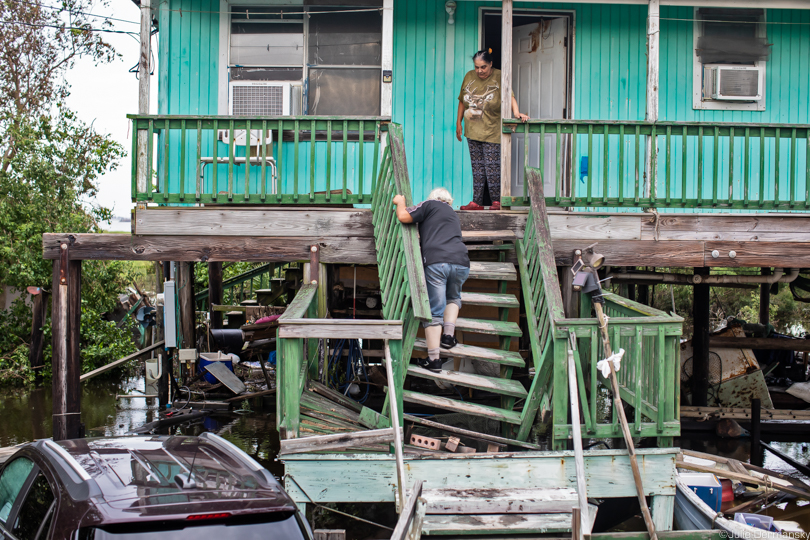 Edison Dardar climbing broken stairs to get into his home on the Isle de Jean Charles.
Tribe members Edison and Elizabeth Dardar, who were evacuated by the Coast Guard, returned to their home on July 15, despite the fact that their house needed substantial repairs. I photographed them as they climbed up badly damaged stairs to get into their home, while their son Robert helped his parents. They have no intention of moving, despite this latest storm. "After two nights in Houma, I'm glad to be back," Edison Dardar said. 
"This resettlement project was meant to be a model for other coastal communities that will be facing displacement due to climate change, " Naquin said, "but three and a half years later, people still don't have new homes. It is really depressing." For now, he doesn't have time to worry about what the State is doing. He is in full storm recovery mode.
"For those who want to help, they can check the tribe's website," Naquin said. "After we make a more detailed assessment, we will post a list of what is needed. Anyone who wants to bring building supplies and who has carpentry skills is welcome to lend a hand this coming Saturday."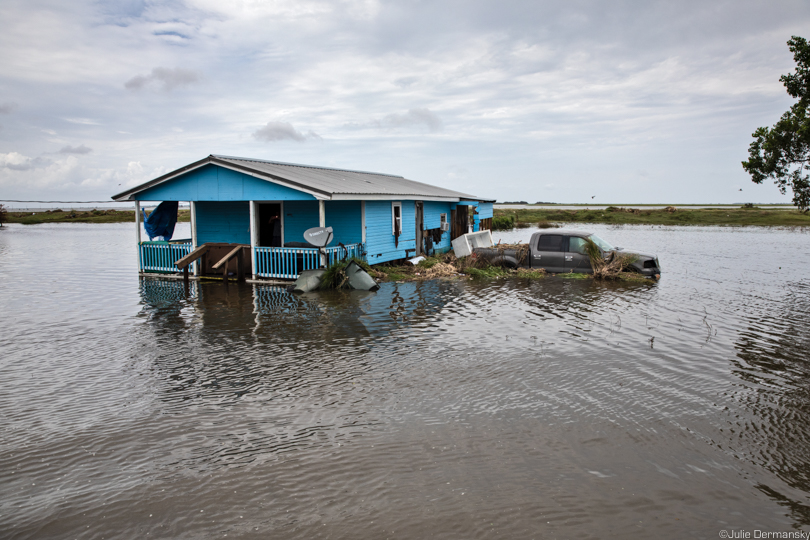 Flooded home on Isle de Jean Charles.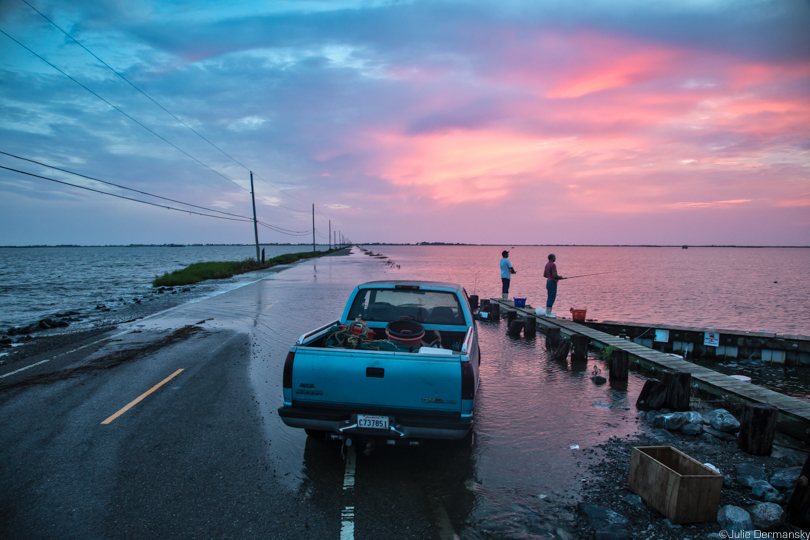 Men fishing on Island Road on July 15 at sunset. The road no longer had standing water on it the next day.
*Updated 7/18/19: This story was updated to correct the fact that Isle de Jean Charles residents who left before 2012 would not have to pay for a parcel of land in the State's resettlement development.
All photos and video by Julie Dermansky for DeSmog