Four years after New York announced the state was banning hydraulic fracturing (fracking), Tioga Energy Partners, LLC has filed an application with the state to frack for natural gas, but there's a catch. The company is proposing to swap propane into the industry standard mix that usually calls for water.
Environmental advocates consider this application to use liquefied petroleum gas (LPG), and specifically a propane gel, an attempt to circumvent New York's 2015 ban on fracking for fossil fuels.
This idea was first proposed the same year the state banned high volume hydraulic fracturing. At the time, pro-fracking industry news site Marcellus Drilling News described it as "a brilliant move by the landowners in Tioga County."
But New York's activist community, which led the years-long effort to secure the prohibition on fracking in the first place, doesn't agree, according to Yvonne Taylor of the nonprofit Seneca Lake Guardian.
"New York is a front runner in the charge to wean ourselves off of fossil fuels while we stare down a Global Climate Emergency," Taylor told DeSmog via email. "Governor Cuomo's Climate Leadership and Community Protection Act (CLCPA) was recently signed into law and is designed to transition New York off of fossil fuels in the next 30 years. Approval of using propane to extract fracked gas flies in the face of this initiative, and must be flatly denied."
A broad coalition of groups is opposing the potential propane fracking project. Sixteen organizations, including Earthjustice, Catskill Mountainkeeper, Riverkeeper, and the Sierra Club, signed an August 2 letter voicing concerns over the proposal to the New York State Department of Environmental Conservation (DEC). The letter describes the risks of LPG fracking, such as "…groundwater contamination, radioactive wastes, dangers in transport of LPG, harmful air emissions, and direct and indirect impacts upon public health."
The list doesn't sound all that different than the rash of issues faced by New York's neighboring state of Pennsylvania, which has welcomed fracking and now grapples with radioactive contamination, air pollution, water pollution, and cancer clusters.
Propane Fracking: Better for the Environment?
Tioga Energy Partners, LLC, which was formed by a group of landowners in Tioga County, New York, is pushing to use propane gel as a fracking fluid and hired the firm Couch White LLP to prepare a draft scoping document as part of New York's environmental review process. In the document, Couch White makes the case for propane fracking by arguing that the process presents far fewer environmental issues — from sourcing and trucking large volumes of freshwater to flaring and dust — than simply fracking with water.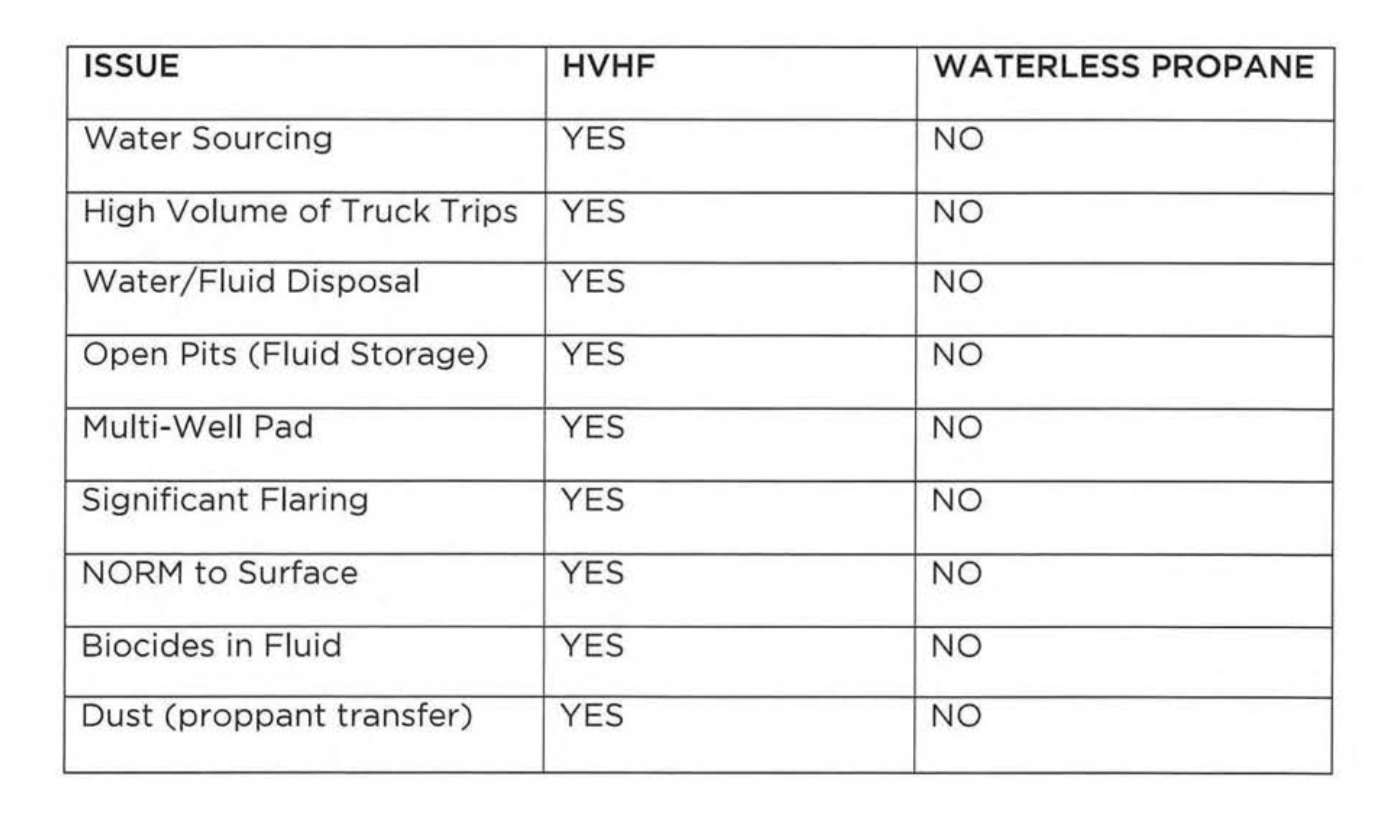 A table listing potential mitigating effects of the Tioga Energy Partners proposal to use propane gel as a fracking fluid instead of water. Credit: Couch White LLP Draft Scope of Issues
This "lesser of two" evils approach is apparently all Couch White has to work with. Yet the table representing this case makes some questionable claims.
For starters, the firm claims that, unlike with banned hydraulic fracking, fracking with propane would not require significant flaring, or burning of natural gas. However, the plans for this propane fracking project include flaring for 15 days, which is a typical length of time for natural gas wells. Texas allows 10 days of unlimited flaring for new wells and Wyoming allows 15 days. Despite those stated limits, in many oil-producing states, including Texas, flaring happens for much longer and is essentially unregulated.  
While fracking with propane does not require the large amounts of freshwater currently used by the fracking industry, water does have the advantage that — unlike propane — it doesn't explode.
Even though propane fracking has not been used on any scale comparable to hydraulic fracking, its dangers are already apparent. When propane leaks, it can explode and cause fires, and it already has during early attempts to use the technology in Canada. One 2011 explosion burned about a dozen workers in Alberta, with three others injured while using the technique already that year.
The DEC noted this worker safety risk in its April 2019 letter to Tioga Energy Partners as part of the state environmental review process. The state agency concluded its letter by pointing out that "…Tioga Energy's proposed actions could have potentially important and significant adverse impacts on human health and safety. This includes public health and safety of onsite workers."
Fracking With Water Is a Bad Investment. Fracking With Propane Is Worse
DeSmog has documented the failing economics of fracking for oil and gas in the U.S. A combination of the process's high costs and low oil and gas prices has resulted in the industry spending approximately a quarter trillion dollars more than it has made in the past decade. And this trend continued in the first quarter of 2019.
Shale Failures Mounting: 'Game Clock Has Run Out' With Creditors https://t.co/8z3zVVdd0J

— David Wethe (@DavidWethe) August 15, 2019
The shale industry has tried many ways to turn fracking, which has succeeded in producing record volumes of oil and gas, into a profitable investment. If propane fracking were the key that allowed shale oil and gas producers to make money, it would be in widespread use. But that simply isn't the case.
In 2011, the U.S. fracking boom was just ramping up, and according to an article published by Reuters, the industry was examining a "new waterless fracking method" using propane, but the costs weren't panning out. Sandra Steilo, a spokeswoman for the Canadian Ministry of Energy and Mines, said, "As far as we're aware, the technology has so far not proved cost-effective for gas wells."
GasFrac Energy Services, Inc. owned the propane fracking technology, and in 2015 the company was optimistic about drilling a test well with it in Ohio.
"We think that we've got the right formula for the Utica [Shale] in the oil window and we are very excited," GasFrac president Jason Munro said at the time.
He was wrong. The test well was very expensive and produced half of what nearby wells produced using water to frack. GasFrac has since declared bankruptcy and had its assets acquired by another company, which has decided to "mothball" the technology rather than pursue it.
Propane fracking seems a lot like traditional hydraulic fracking in that it poses many risks and is not economically viable.
Since New York banned fracking, the state has become a leader in addressing climate issues, aiming to have 70 percent of its power from renewable energy by 2030, phasing out coal power plants, and welcoming plans for two offshore wind power projects. Increasing the production of fossil fuels, whether by fracking with propane or water, directly conflicts with the state's climate goals.
The public comment period for the draft scope of the environmental impact statement closed on August 2. The Department of Environmental Conservation website states that the public comments are under review and will post the final scope on this its website "in the near future."
Main image: A 2012 anti-fracking demonstration in Manhattan, New York City, organized by CREDO Action and New Yorkers Against Fracking. Credit: Credo Policy Summit, CC BY 2.0