In DeSmog UK's first ever audio feature, Soila Apparicio went to find out how the rise of XR and Greta has changed climate activism on the frontlines…
If I asked you to picture a climate activist in your mind, what would they look like? All summer, climate activists from Extinction Rebellion and the school strikes have been filling our screens, on news reports and social media timelines. Sometimes, all the images seem to blur into one.
But climate activism is changing. What I wanted to know is: how? What does climate activism look like following the rise of school climate strikers and mass arrest protests?
So, I went to two very different places where climate activists were keeping up the pressure on fossil fuel companies: A field in Broxbourne, north of London, and a roadside in Blackpool, in England's north-west.
"When you all come together in a field like this, you feel the [same sense of] empowerment that you feel at a protest; you realise you really can change the issues that affect your life," said Cameron Joshi, a confident, smart-looking, youth activist from the group Our Future Now, who was at the Power Beyond Borders camp in Broxbourne.
Around 600 people attended the festival-like gathering, organised by climate justice group Reclaim the Power. The field was overlooked by Rye House Power Station, run by energy company Drax.
One reason the camp's location was so close to that Drax power station was to bring attention to the company's plans to build new gas-fired plants, which campaigners want the government to reject. "Not enough people are talking about … the issue of gas specifically," said Charlie, a young campaigner from Reclaim the Power's media team, who didn't want to share his last name.
Energy from gas will "lock us into burning fossil fuels for decades to come" and this is not compatible with current climate targets, he added.
---
Like what you see? Become a patron today!
---
A spokesperson from Drax offered a familiar justification for the plans, saying that "natural gas has an important role to play in supporting the transition to a net-zero carbon economy. Building new, more efficient gas power stations will help the UK to meet its climate objectives while ensuring homes and businesses have the power they need at a price they can afford."
The protestors acknowledge that in current conditions, gas power is necessary, but "what we need to do is completely transform our energy system as a whole," said Pascale Robinson, a young campaigner from Manchester, who works with Reclaim the Power and has been helping to organise and set up the camp.
"It's much easier to have that awareness that things need to change, but [not just make it] directed at personal choices." Robinson believes that companies that say that they are using biomass as a resource "is not good, so we need to make sure we phase out all fossil fuels as soon as possible."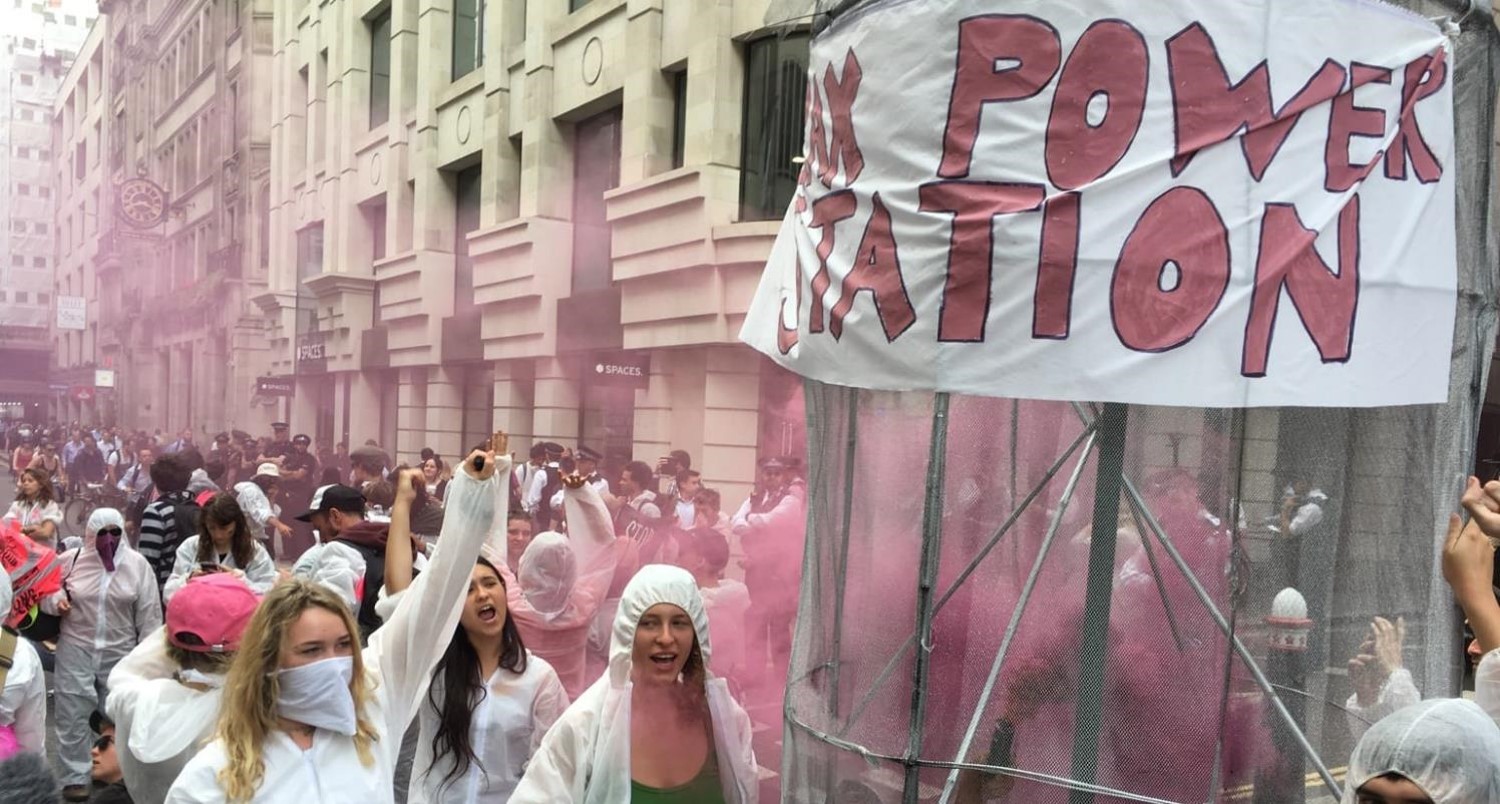 Credit: Reclaim the Power
The camp is only a five-day event, its purpose almost to regroup, to gather and plan the next steps after this summer's headline-grabbing events.
But in Preston New Road, a roadside protest against fracking, people have been present and campaigning on site, every day, for almost three years.
It's a very different place.
Coming together
"It's important for us all to be there and for people to see that we're still there," said Rebecca Daniels, a Blackpool resident who has been campaigning against fracking with her family for about three years. "If it's not in the public eye then it gets pushed to the side and people forget about it because everyday life steps in."
Barbara Fish, a great-grandmother who is easy to spot thanks to her bright blue hair, retired in 2017 after becoming more involved in anti-fracking protests.
Fish gave up her job because she felt that she had reached a stage of her life where she had to make a difference for her children and grandchildren's generations. "I had to try to put right what I felt my generation was doing wrong: destroying the climate, destroying the planet," she said.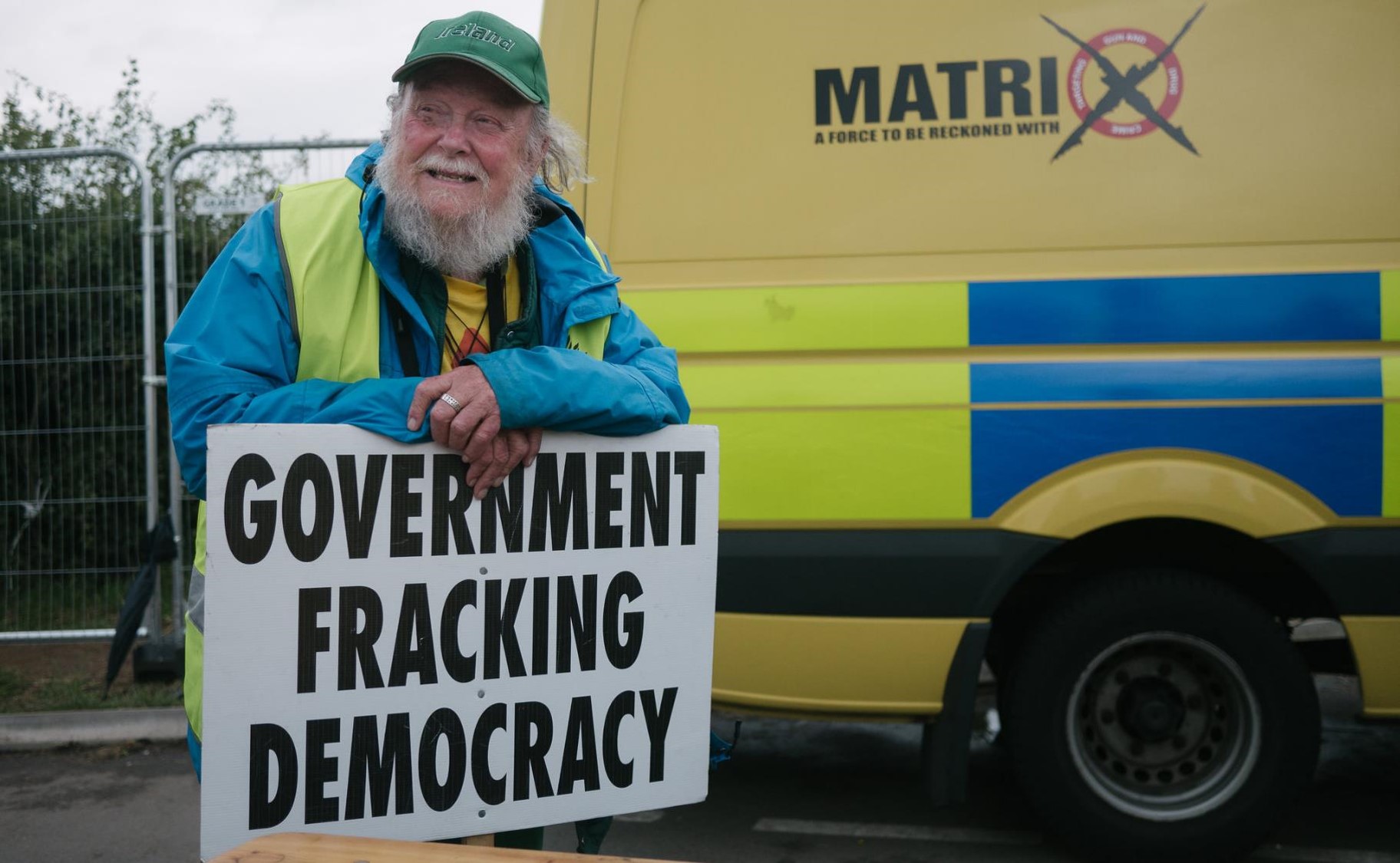 Credit: Reclaim the Power
The campaigners on Preston New Road are fighting a frontline battle against the fossil fuel industry every day, and you can feel that tension; you feel how important it is to them.
"My drive for being here was the broader picture," said Hamish Aines, an open and knowledgeable campaigner who lives on the other side of the county and has been visiting the roadside protest on-and-off for two years. He waved at passing cars as he told me how "fracking was a really painful experience. We're going to need people to be working together [to put a stop to it]. We have no choice, we have to step up."
Miranda Cox, until recently a local independent councillor, visits the roadside up to four days a week. Cox, like most here, is angry, but happy to share the experiences. She also acts as a liaison between police and protestors, as many now refuse to speak to officers that they feel are protecting the interests of fracking company Cuadrilla above the public.
Cox agrees that it's going to take protestors' constant presence to achieve the campaign's goals. "It's all very well individuals making changes, we can make a small impact, and we need to do that," Cox said. But she also thinks there needs to be something more: "We need direction, we need leadership."
For many, that leadership has come in the form of Extinction Rebellion, which many campaigners at both the Broxbourne camp and on the Blackpool roadside say has been an inspiration.
Gail Bradbrook, a co-founder of Extinction Rebellion, has been supporting the Preston New Road protest for a number of years. Although she said she is tired after today's visit, she spoke with that same anger, energy, and urgency that all the activists in Blackpool had. She is also aware of the debt Extinction Rebellion owes to previous protests, like the one at Preston New Road:
"The anti-fracking movement in the UK, there are many of thousands of people involved in it, and we have to remember that Extinction Rebellion is built on the shoulders of an environmental movement that's been going on for many years." 
Strength of character
From my visits, it's clear that the image of climate protestors we see via the media is often too simplistic. A climate activist isn't one type of person at one type of protest. Anyone at any point in their life can become an activist.
But there are some commonalities – more to do with character type than anything demographic. What I found in everyone I spoke to is that being a climate activist is tough, and the people that do it are up for the challenge. Being present, whether online or on the roadside, can be bruising, quite literally.
It's clear that above all, these people share a core belief: that now is the time to act, and that it must be done together.