Chinese giant Wanhua Chemical officially withdrew its plans to build a $1.25 billion plastics manufacturing complex in St. James, Louisiana, in the heart of the already industrialized Cancer Alley. The news bought relief to opponents of the plant. 
"I'm glad they won't be coming," Eve Butler, a lifelong resident of St. James Parish, told me in a call. "I live straight across the river from where the plant was going to be built." Butler was part of a group of residents, local community groups, and environmental advocacy nonprofits that took part in a concentrated battle to stop the Wanhua plant from being built. 
Butler has no doubt that the sustained pushback by opponents of the project, who attended public meetings and spearheaded legal challenges against the parish's approvals, played a role in Wanhua's decision.
Wanhua made no mention of the local opposition to the project in withdrawing its land use application. In an email sent September 4, William Day of Wanhua Chemical US Operations LLC notified St. James Parish officials of the company's withdrawal of its land use permit application. Day wrote: "We appreciate the relationship we have with the St. James Parish leadership and wish you the best. As you are aware, the project scope has changed and a new project location is under review. Given these two changes to the project, Wanhua respectfully withdraws the application."
The withdrawal came before the Parish Land Use Commission was set to hold a meeting to reconsider the permission it had already granted, and before the parish went to court over a lawsuit filed by the Tulane Environmental Law Clinic, representing Butler, St. James pastor Harry Joseph, and two environmental groups, RISE St. James and the Louisiana Bucket Brigade.
The clinic asserted that the project would emit chemicals much more dangerous than Wanhua had communicated. It also stressed that the company's controlling interest is held by the Chinese government, not a U.S.-owned company, as a representative from Wanhua Chemical U.S. Operations suggested. It challenged the parish council in an open meetings lawsuit in July.
Wanhua Chemical did not respond to a request for comment.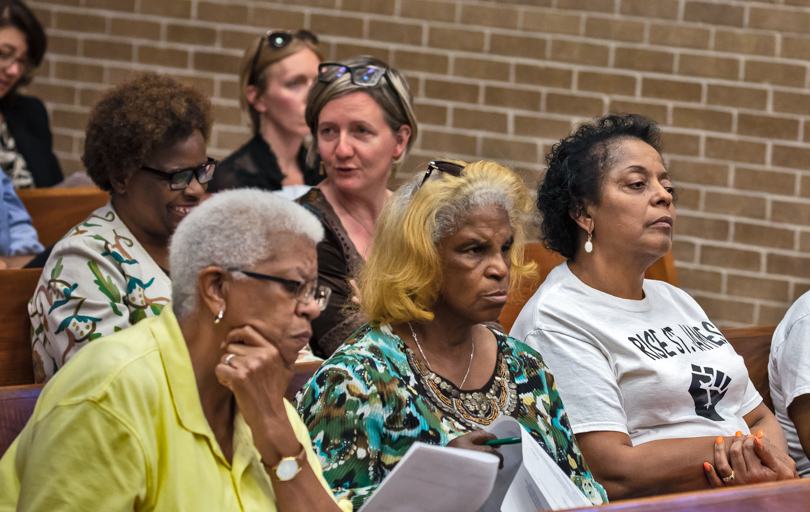 Opponents of Wanhua's plant including St. James Parish residents, Anne Rolfes with the Louisiana Bucket Bridge, and representatives of the Tulane Environmental Law Clinic at an April 29 parish planning commission meeting.
"The residents of St. James and their partners, who we represent, fought hard to stay involved in the Wanhua proceedings, and to stay informed, taking their fight all the way to court to enforce the Open Meetings Law," Lisa Jordan, a lawyer with the Tulane Environmental Law Clinic, told me via email. "Their success on both fronts — even providing information to the parish that it otherwise would not have had — no doubt played a role in the series of events that led to Wanhua's withdrawal. We are thrilled that their efforts paid off. We will be assessing the best way to expeditiously and justly resolve the Open Meetings Law suit and will engage with the parish to that end."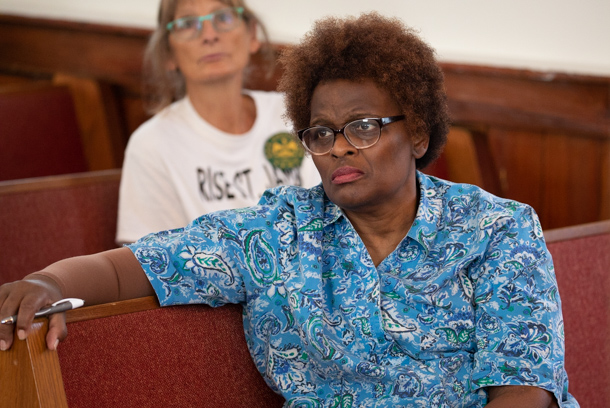 Eve Butler at a community meeting in St. James on July 7, 2019.
Butler is grateful for everyone who helped push back against Wanhua's plans, which would have increased the pollution burden on a largely low-income, African-American neighborhood already surrounded by oil storage tanks. She credits Wilma Subra, Louisiana Environmental Action Network's technical adviser, for explaining the risk to the districts in St. James where the plastics plant's emissions would have the highest impact. Among its pollutants would have been phosgene, a colorless gas used in chemical warfare during World War I.
Other toxic chemicals the Wanhua plant would have released include benzene and toluene, which can have both acute health impacts, such as rashes, wheezing, upset stomach, and nervous system effects, and chronic health impacts, like cancer and damage to developing fetuses.
Though Butler doesn't blame the parish council for at first embracing Wanhua's proposal, she gave its members credit for hitting pause when confronted with troubling new information about the project.
"The council didn't know. In the future, I hope they require an environmental impact study to be done before signing off on the next plant that wants to build here," she said. "With so much industrial development already in this area, it isn't just about the emissions one plant will put out. It is about the total amount of pollution our community is faced with. That needs to be looked at before new plants are permitted here." 
Though Wanhua has withdrawn its application for now, the company says it is considering other locations in Louisiana, and may reapply in St. James, but with a smaller project than initially proposed. "We plan to continue to remain vigilant," Butler told me, because she says she wouldn't be surprised if Wanhua tries again. 
Foreign petrochemical and plastics corporations continue to flock to not only Louisiana, but to expand into the Ohio River Valley, to take advantage of the low cost of natural gas and associated feedstocks produced by fracking. Such petrochemical development is an enormous source of pollution and a major driver of climate change. 
Most Louisiana politicians backed Wanhua's project, as did The Baton Rouge Advocate. Kendall Dix, with Healthy Gulf, called out their short-sightedness in an editorial today: "The true beneficiary of this build-out — other than mostly foreign-owned chemical companies themselves — has been the construction industry. In a typical chemical plant or oil terminal project, only 10-15 percent of the jobs will be permanent. The rest are construction workers who get a few months of employment before they're sent packing."
"Creating a few new jobs should not be a justification to make our living conditions more dangerous than they already are," Butler said. "I'm not against industry, I'm just against more coming here. St. James is full."
The St. James Parish Planning Committee's March 25 meeting when Wanhua's plant's land use application was being considered. Credit: All photos by Julie Dermansky for DeSmog.