Millions of people across the world took to the streets in a global climate strike today to protest the climate crisis and demand an end to the age of fossil fuels. 
In London's Parliament Square, thousands of children and adults gathered to protest the government's lack of action on the climate crisis.
"This is happening to my generation, and I'm not going to sit here and watch the world burn," said 15-year-old Elizabeth Marriott, who was on her first school strike. "I needed to add my voice to this." 
Sophie, her 16-year-old friend, agreed. "We need everyone in this," Sophie said. "Even our school encouraged us to go."
Elizabeth and Sophie are not alone, with strikes taking place in more than 150 countries today, supported by organisations such as Greenpeace, Amnesty International, and Extinction Rebellion.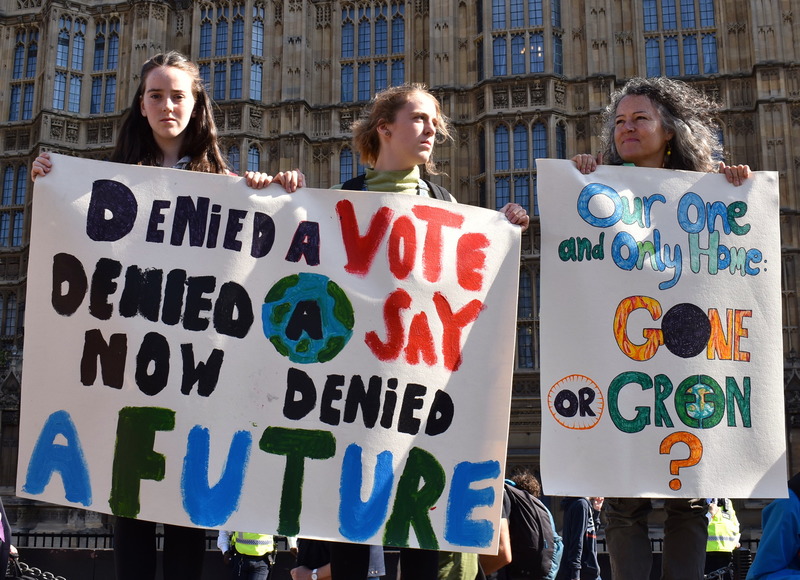 For 32-year-old Hannah, who joined the strike with her 10-month-old baby Ruben, the protest was particularly poignant, thanks largely to the involvement of youth.  "Having a baby made me much more conscious about mine and his future," she said.
Climate justice is at the heart of the demands being made by strikers: the notion that the transition to a zero-carbon economy should be fair and inclusive was a serious consideration for many on the streets of London today. 
Sarah, 33, who had been encouraged to strike by her boss, said: "The impact of intergenerational action here is important because it shows that it's not just a future issue, it's an issue that deeply affects those who are poor and people of colour especially."
Alice, a 22-year-old student at Bristol University, believes that people in the Global North have a duty to protest in the name of those who are unable to do so, perhaps because they live in poverty, face losing their jobs, or are subject to repressive government regimes. "We all have a duty to do something. It's about supporting those in other parts of the world who are less able to," she said. "We need to see people as our fellows to solve this crisis together."
Friday school strikes for the climate were first inspired by 16-year-old Greta Thunberg. Today goes further, inviting people of all ages, not just school strikers, to get involved. Even workers from Amazon have joined the strike, the first time in the company's 25-year history that its employees have participated in a walkout demonstration.
At the London strikes, I did not find any Amazon workers, but there were plenty of other industries represented.
Software developer Joe, 32, who did not want to give his last name, joined the strike holding a "Tech Workers for Climate Justice" sign. He said: "Tech has to bear some responsibility for the climate crisis. We have to be coming up with more solutions."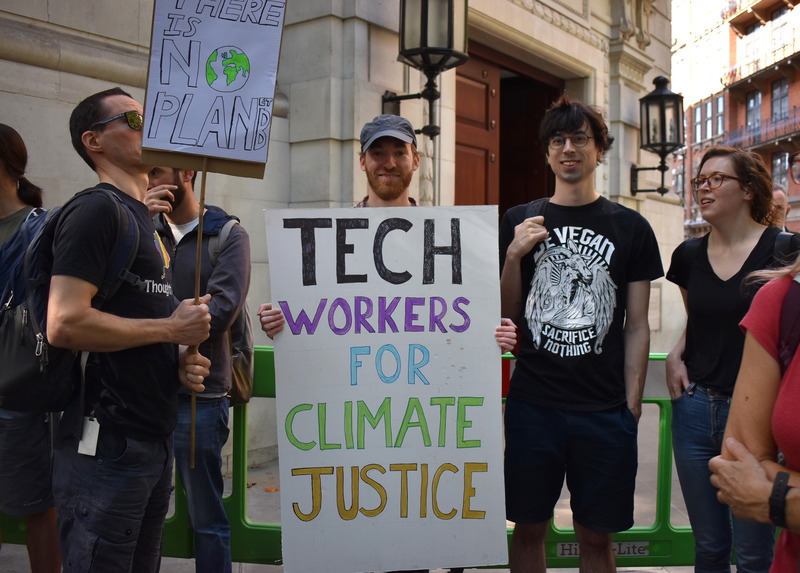 Matthew Kershaw, 45, was "embarrassed that it had to take school kids to get [climate action] going," he said. Kershaw has three children, but he's not just here for them, he says. "I'm here for everyone. We all have to step up. We have to set an example for the rest of the world. How can we expect others to take action on the climate if our house is not in order?"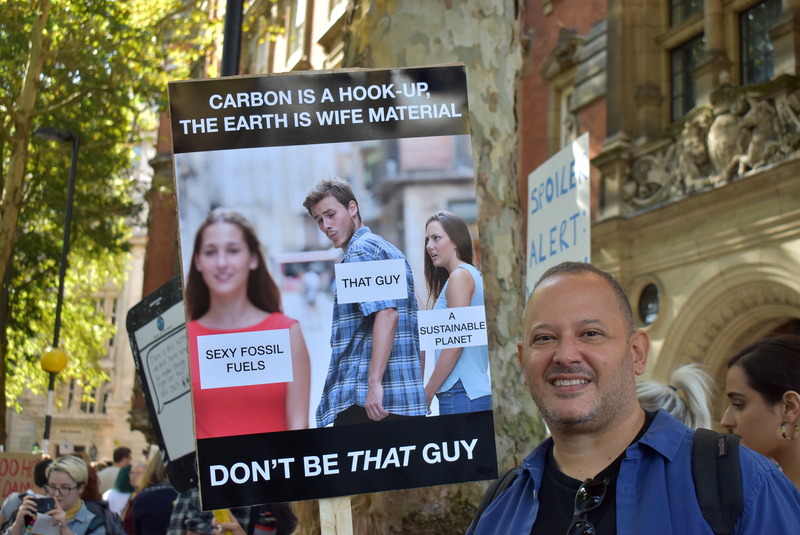 One 60-year-old protester who did not want to be named, believed that technology needed to be made more accessible. "Renewable energy needs to be everywhere; clean, carbon-free transport needs to be everywhere; and we can't put high prices on these things," they said.
The strikes come just three days before a United Nations climate change summit in New York, where many world leaders, including the UK's Boris Johnson, are expected to make new climate pledges. Another global strike is planned for September 27th 2019.
Photos: Soila Apparicio