This story is part of Covering Climate Now, a global collaboration of more than 250 news outlets to strengthen coverage of the climate story.  
Greta Thunberg, the 16-year-old Swedish climate activist, inspired millions of students worldwide to take part in climate strikes on Friday, September 20 to demand politicians take urgent steps to stop climate change. An estimated 250,000 strikers marched in New York City from Foley Square to Battery Park. 
The global climate strikes took place before the United Nations Climate Summit in New York City. The opening session of the summit is on September 21, with the fitting kickoff: Young People at the Frontlines. Greta Thunberg will be addressing the assembly on September 23.
Many of New York City's student strikers expressed fear about their future when I asked them about their motivation for joining the strike.
"Climate change is scary. I want a future without being afraid of the air and water being polluted," Aminah El-Amin told me. She is an 11th grader at the Institute for Collaborative Education.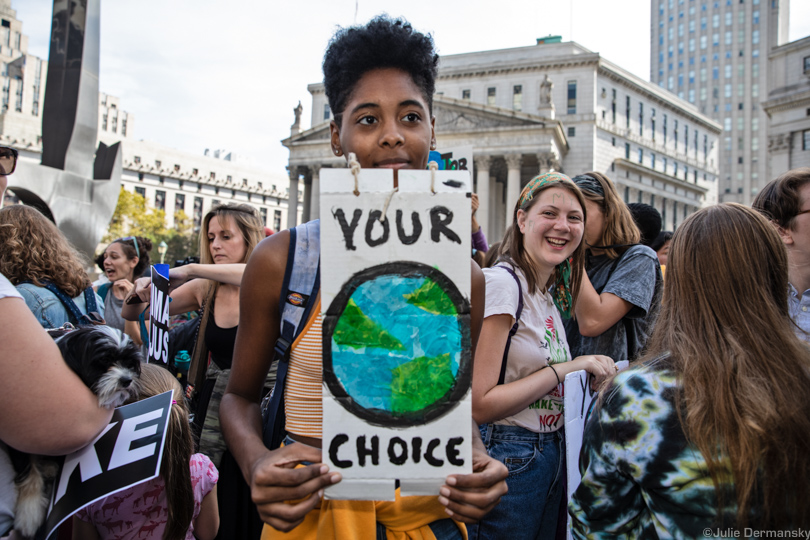 Aminah El-Amin at Foley Square. 
Many held signs saying, "There is no planet B." One sign said, "Climate now, classes later."
There were many anti-Trump signs too.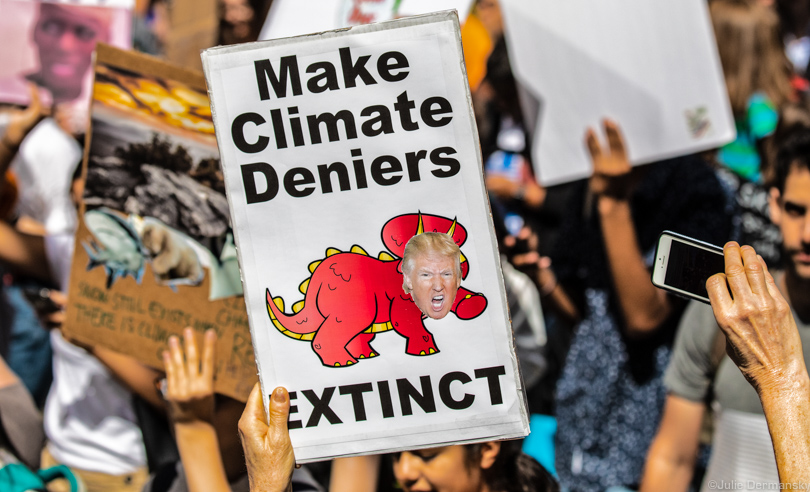 Anti-Trump sign.
Nemonte Nenquimo, co-founder of Alianza Ceibo, came from Ecuador to take part in the strike. Her group marched with the Guardians of the Forest, a group of indigenous communities around the world.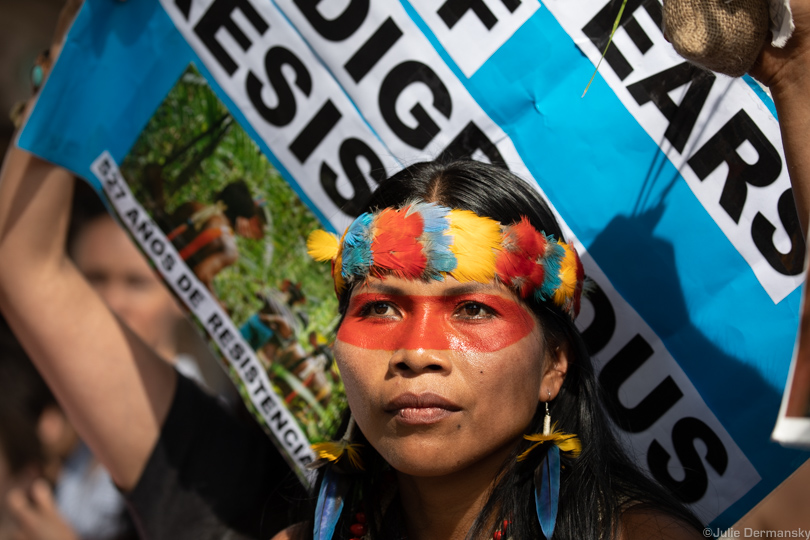 Nemonte Nenquimo, co-founder of Alianza Ceibo.
Activists young and old marched for over a mile, chanting "Climate Action Now" and "We want climate justice," before gathering in the park for a rally with music and speeches.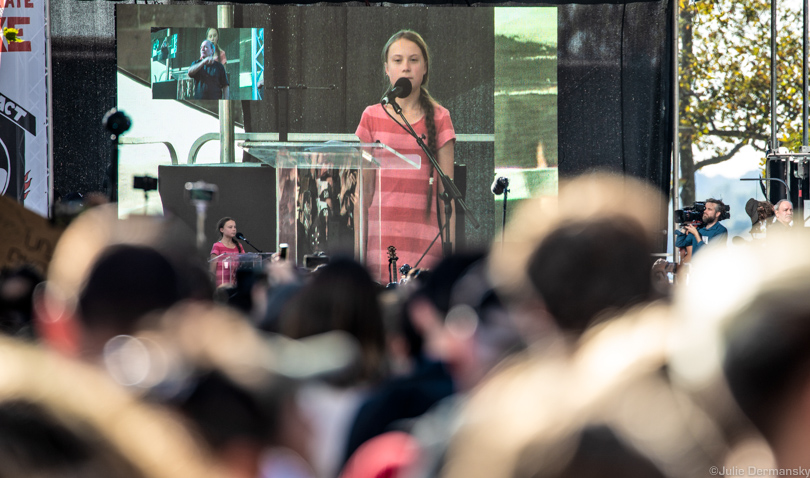 Greta Thunberg on the stage in Battery Park.
When Thunberg took the stage in Battery Park, the crowd roared. She thanked and praised those who turned out. "Right now we are the ones who are making a difference. If no one else will take action, then we will," she said.  
"If you belong to that small group of people who feel threatened by us, then we have some very bad news for you, because this is only the beginning. Change is coming whether they like it or not," she warned. 
According to 350.org, four million people participated worldwide in the climate strike.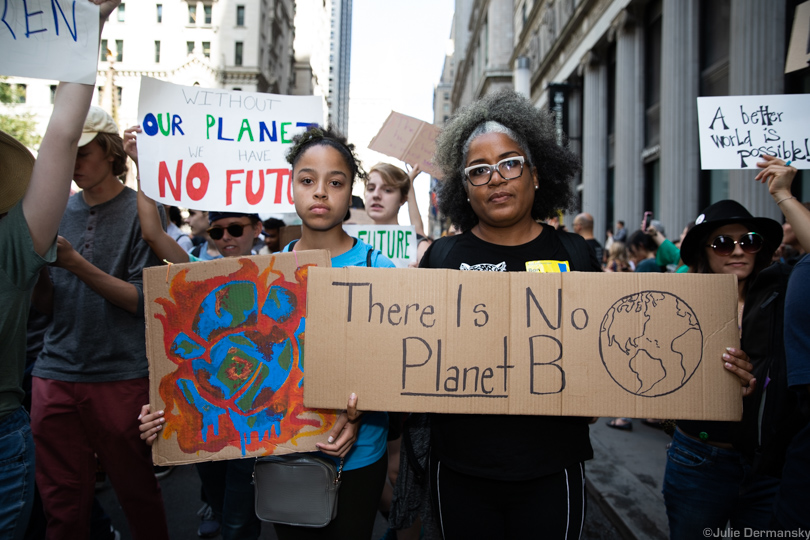 Simone and her daughter Selah Ealey, who goes to Valley Stream High School.
"I'm very angry and we need to be heard," high school student Selah Ealey said while marching past Wall Street.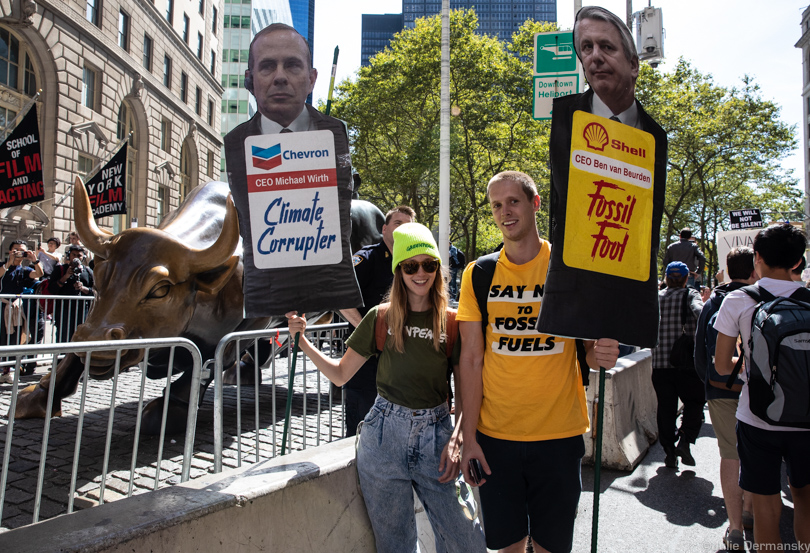 Activists at the Bull in lower Manhattan.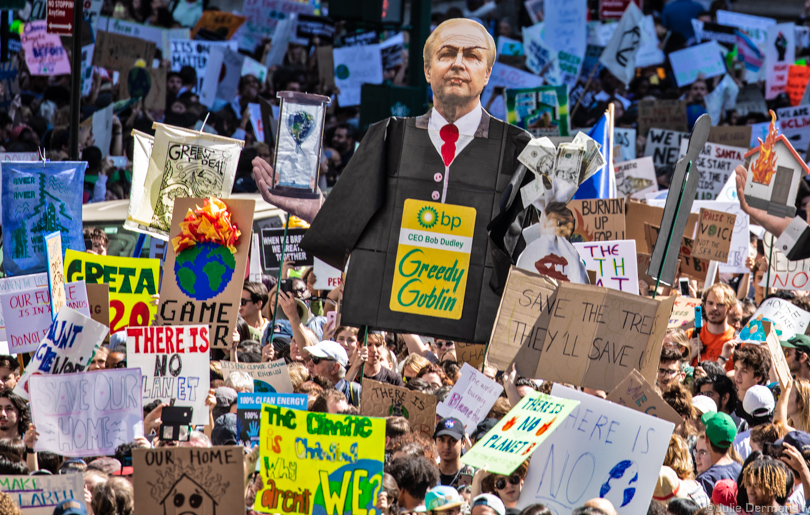 Climate strikers in New York City.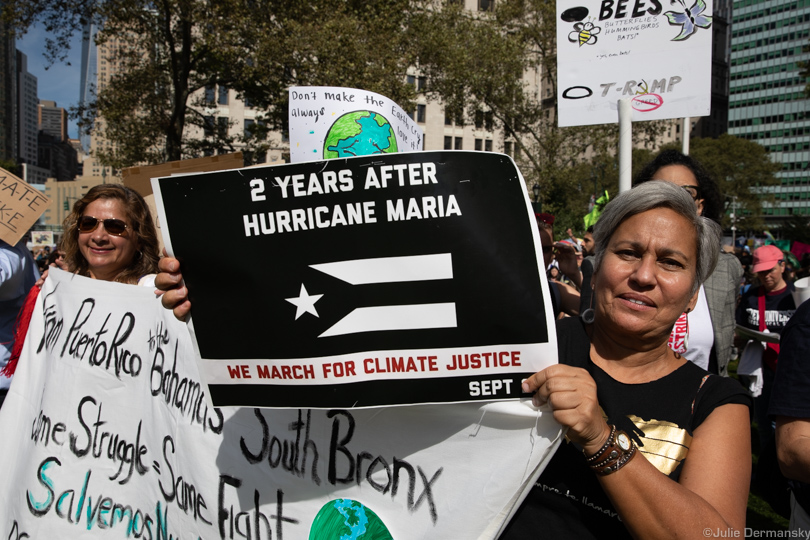 Activists bringing attention to victims of Hurricane Maria on the anniversary of the storm.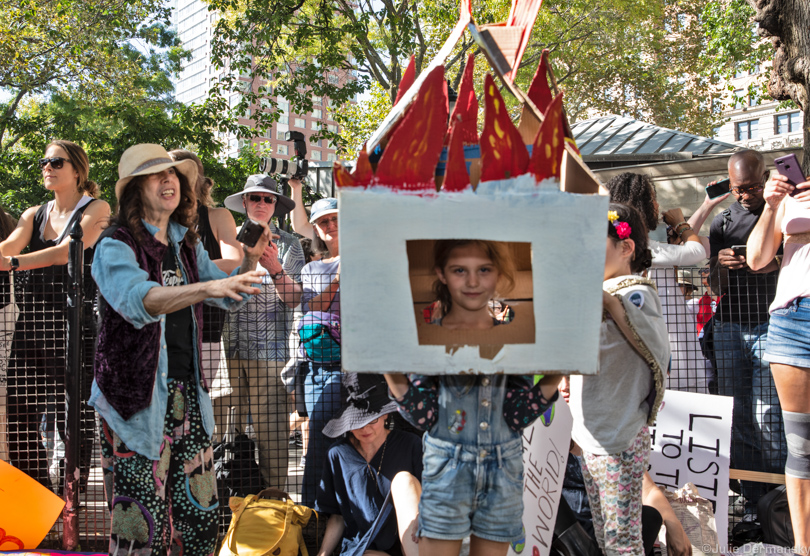 6-year-old Lila Ward has been striking with Greta since she arrived and is part of the 'Fridays for Future' Movement.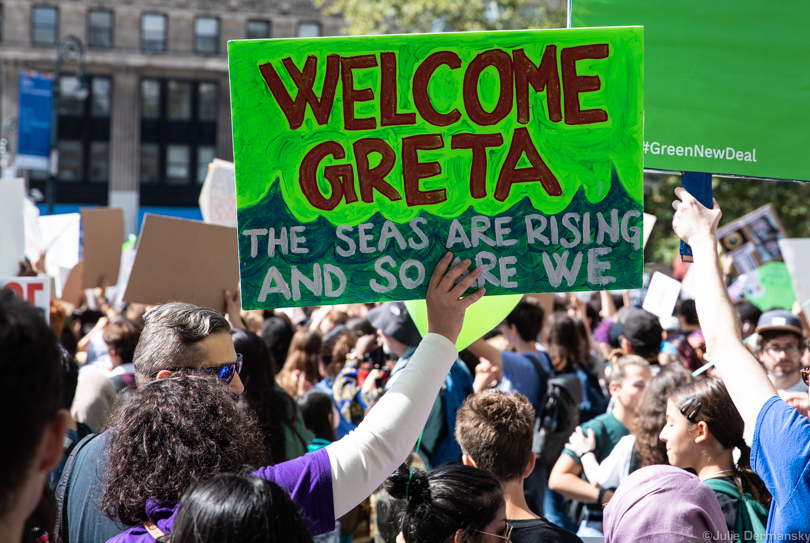 Sign welcoming Greta to NYC.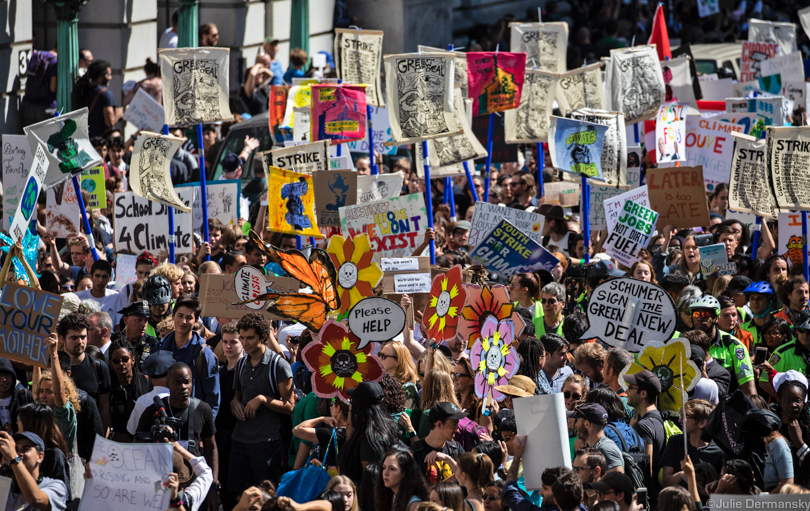 Marchers in the Climate Strike in NYC.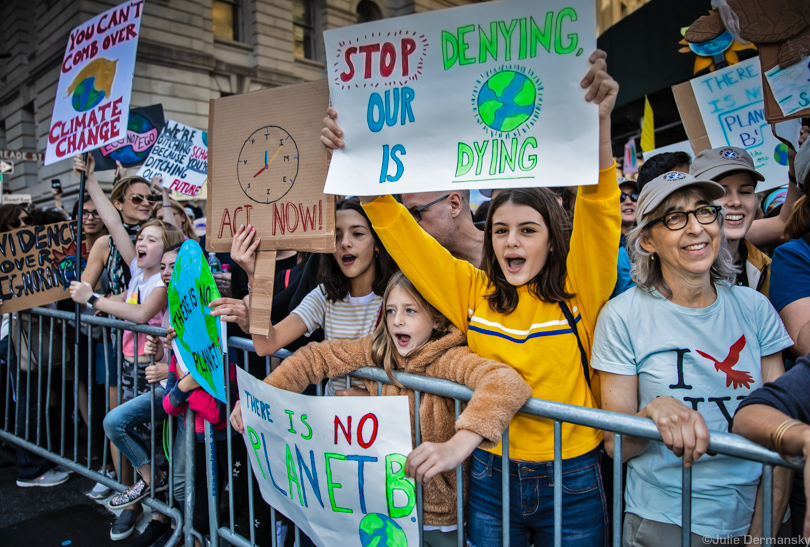 Youth line the streets in downtown New York during the climate strike.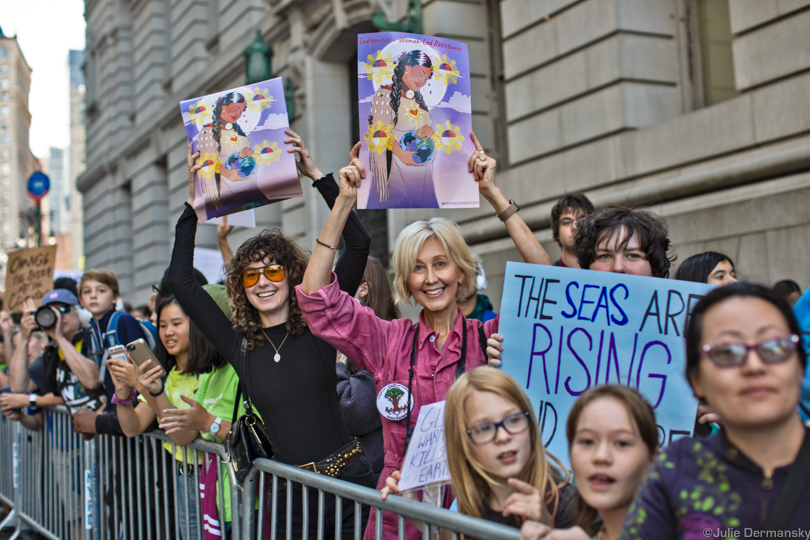 Janet MacGillivray, founder of Seeding Sovereignty, and her daughter Madeleine at the Climate Strike.
Main image: Start of the Climate Strike March. Credit: All photos by Julie Dermansky for DeSmog