Mounting concerns over pollution, public health, and the expansion of the petrochemical industry came to a head when two activists were detained in Baton Rouge, Louisiana, on October 30, the last day of a two-week protest against environmental racism in Louisiana's Cancer Alley.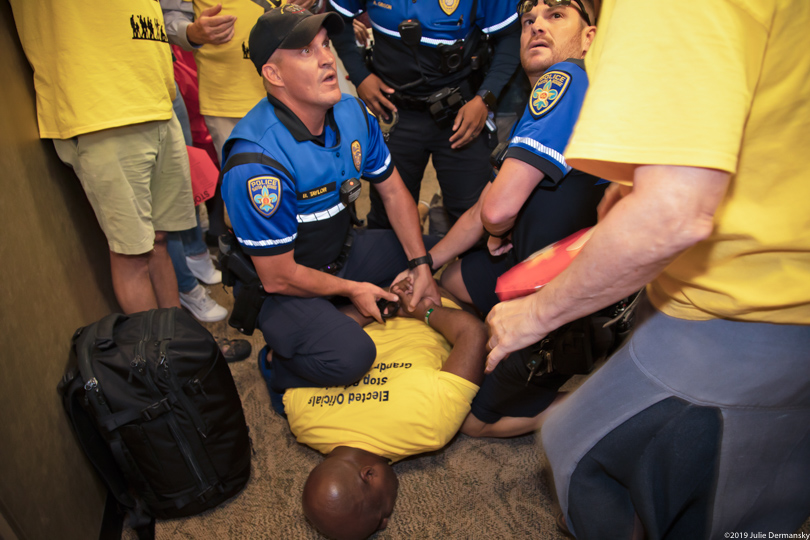 Pastor Gregory Manning, with Justice and Beyond, a New Orleans based civil rights advocacy group, pinned to the ground while being handcuffed.
Pastor Gregory Manning, who is legally blind, and Sakura Kone were singled out by police for refusing to leave the hallway outside of the Louisiana Association of Business and Industry (LABI) office where about 40 activists continued with an impromptu rally after being asked to leave. The group had hoped to confront LABI's head over the association's influence in state politics and regulations. 
Kone was given a citation and released outside, while Manning was taken to jail. According to a release from Manning's group Justice and Beyond, Pastor Manning, who is being charged with a felony count of inciting a riot, and Kone will be arraigned on November 5 in Baton Rouge City Court.
The police officers' actions infuriated members of the Coalition Against Death Alley (CADA), a group of Louisiana residents and members of various local and state organizations behind the protest. The coalition focuses on fighting against and bringing attention to the petrochemical industry's expansion that is underway in Louisiana.

Robert Taylor and Pastor Manning speaking before Manning was detained.

Pastor Manning and Sakura Kone being detained.
Louisiana's Cancer Alley, also known as the "Petrochemical Corridor," is an 80-mile stretch along the Mississippi River with over 100 petrochemical plants and refineries between New Orleans and Baton Rouge. The Louisiana government is welcoming an increasing number of industrial facilities to this corridor in primarily African-American communities.
Seeking Environmental Justice for Cancer Alley
CADA's protest focused in large part on the struggles of the communities in St. James and St. John the Baptist Parish, both on the Mississippi River's banks and both frontline battlegrounds for environmental justice in the shadow of heavy industry.

Sharon Lavigne, a lifelong resident of St. James Parish, marching with CADA in downtown Baton Rouge on October 30.
Sharon Lavigne, CADA member and founder of RISE St. James, a community organization opposing the Taiwanese-owned Formosa plastic manufacturing complex proposed in St. James, was shaken after police violently took down Pastor Manning a few feet away from her. "Why are they arresting Rev. Manning, who is trying to protect us, instead of the polluters who are poisoning us?" asked Lavigne later that day on a call announcing Manning's release from jail.
CADA member Robert Taylor, director of the Concerned Citizens of St. John, is fighting for an existing polluter in his community to lower its emissions or close. His group is pushing the Denka Performance Elastomer plant to lower its emissions of the toxic chemical chloroprene to the level deemed safe by the Environmental Protection Agency (EPA).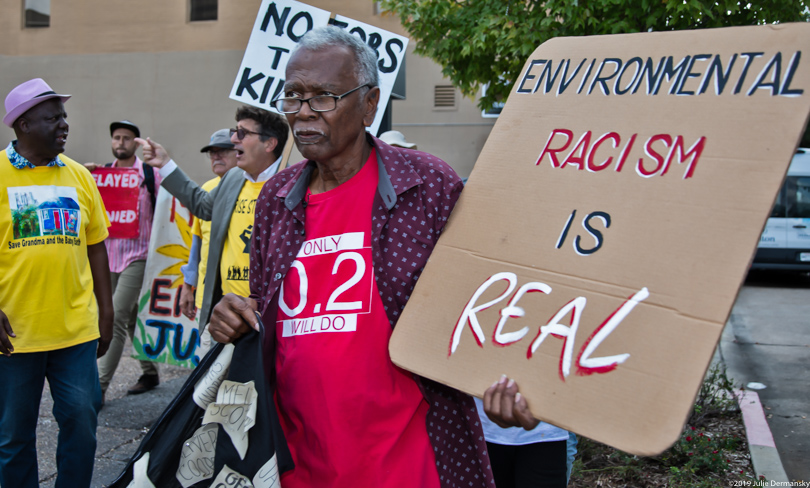 Robert Taylor on a street in downtown Baton Rouge marching with CADA after Pastor Manning was detained.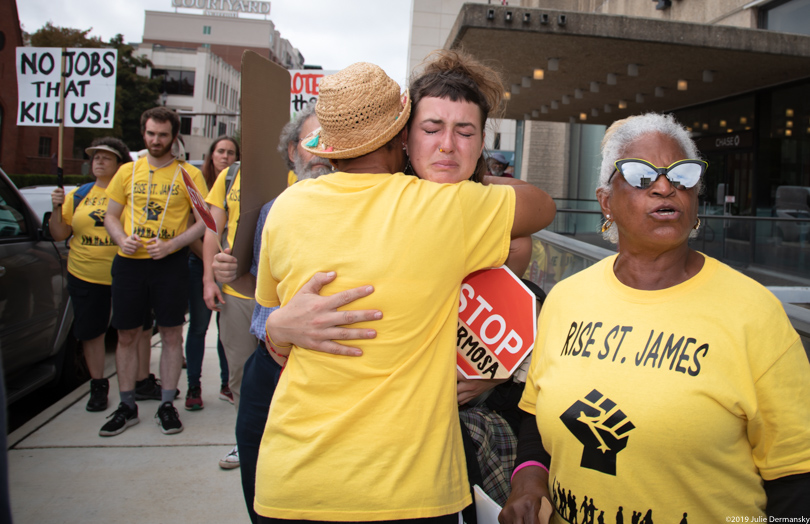 CADA members on the street outside of the LABI office after Pastor Gregory Manning was taken away in a police car.
Taylor was furious at the way the police handled Pastor Manning while detaining him. "They did their classical take down of that stubborn negro, with their knees in this man's back with him down on his face, helpless, handcuffed behind him, with their knees in his back, twisting his arms, and he's screaming," Taylor said to me, while the protesters regrouped at a park a few blocks away from the LABI office. 
Over the last two weeks, CADA marched and held protests at numerous locations in New Orleans and the river parishes, addressing diverse social issues plaguing Louisiana, from voter suppression to environmental justice.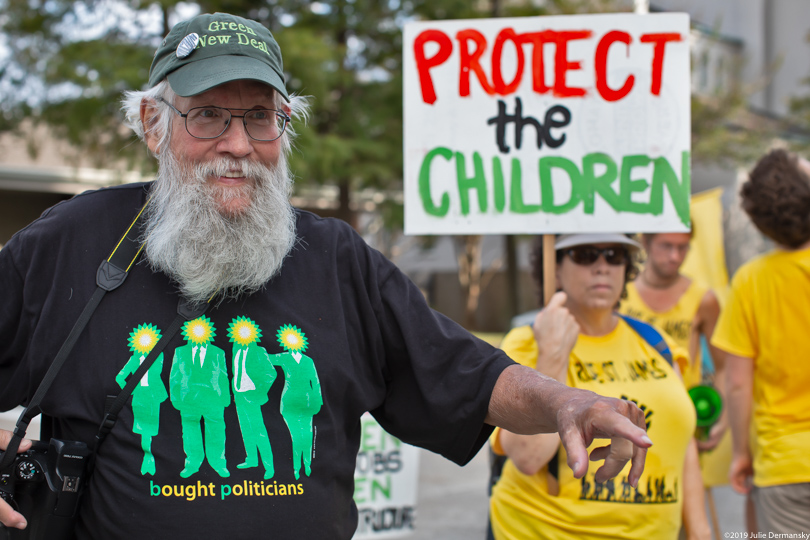 Daryl Malek-Wiley, New Orleans Sierra Club representative, with CADA in Baton Rouge on the last day of its two week protest in front of the building where the Louisiana Chemical Association (LCA) has its office.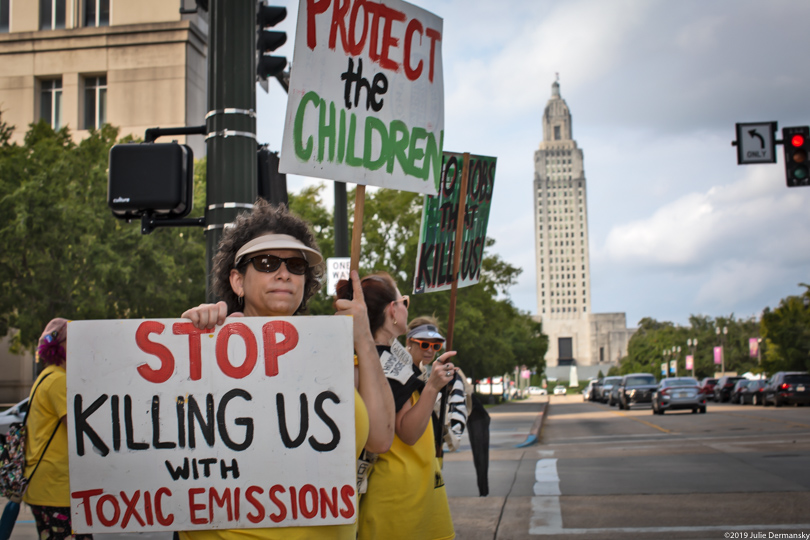 Cindy Russo, an environmental activist with CADA in Baton Rouge protesting in front of the building where the Louisiana Chemical Association (LCA) has its office near the state capitol.
A New Plastics Complex in St. James
While Lavigne and Taylor support the coalition's broader work, each remains focused on protecting their own communities. 
If the Formosa plastics complex is built in St. James, Lavigne fears the already degraded air quality at her home, near several petrochemical plants and oil storage tanks, will become a death trap. Many of her neighbors have died of cancer and respiratory illnesses associated with the types of emissions released from the existing facilities.
This summer, Lavigne's activism helped turn out a large crowd opposed to Formosa's proposed $9.4 billion industrial complex, which is called the "Sunshine Project" due to its proximity to the nearby Sunshine Bridge.
At a July 9 Louisiana Department of Environmental Quality (LDEQ) public hearing, dozens spoke out against granting five air quality permits to Formosa. In addition, the agency received 15,000 comments against the project.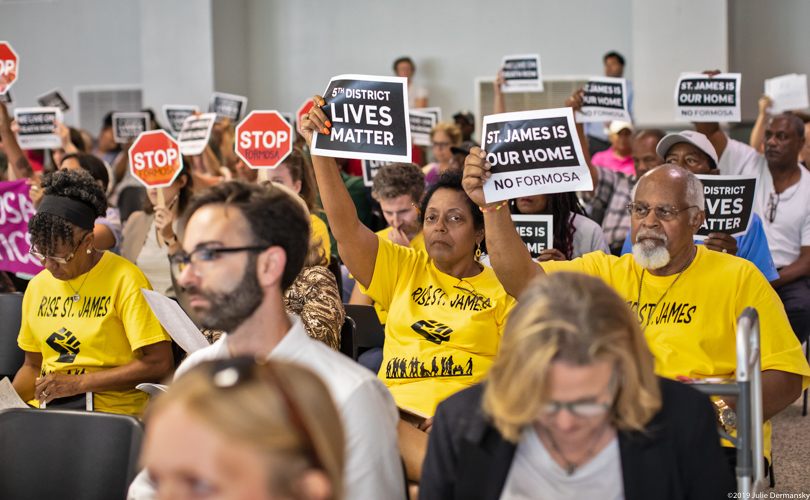 Sharon Lavigne with members of RISE St. James at the July 9 LDEQ permit hearing.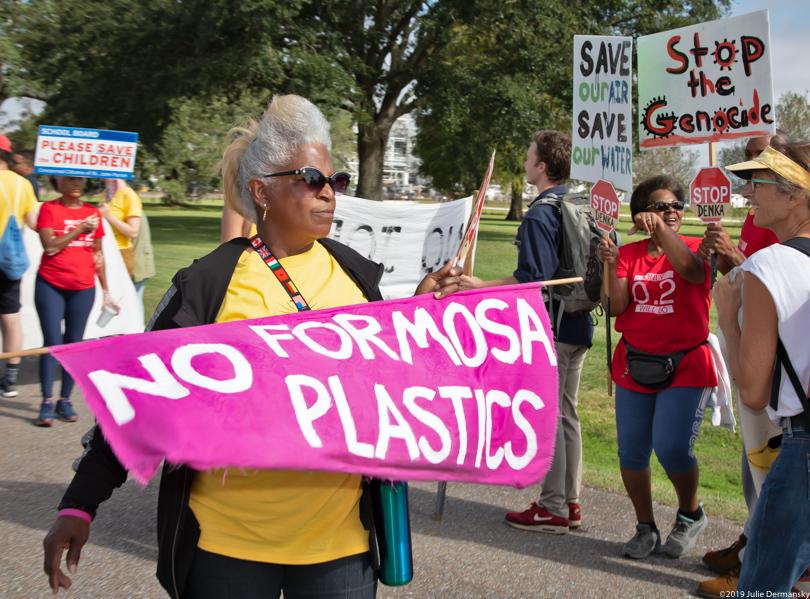 Gail Leboeuf, a St. James resident and member of both RISE St. James and CADA, protesting in front of Denka's synthetic rubber plant on October 19.
LDEQ's decision on the permits could come any day, but many do not expect a decision to be made public until after the upcoming runoff election for governor on November 16. 
Democratic Governor John Bel Edwards, who has disappointed environmentalists with his ongoing climate science denial stance and his readiness to welcome even more polluting industrial projects to the state, is facing off with Republican businessman Eddie Rispone. 
Though CADA members expressed displeasure with Edwards during a five day-long protest in June, the group voiced support for him for governor over Rispone, a self-proclaimed Trump loyalist, over fears the latter would roll back already weak state environmental protections. 
Air Pollution Concerns for Students in St. John the Baptist Parish
For years, Taylor's group has pleaded for regulators to require the Denka neoprene manufacturing plant in St. John the Baptist Parish to lower its emissions of chloroprene, a likely human carcinogen, to 0.2 micrograms per cubic meter, the level the Environmental Protection Agency (EPA) suggested as safe.
While the factory has greatly reduced chloroprene emissions, which previously registered over 700 times the EPA's suggested level, the levels remain higher than recommended.
As a result, the citizens group is now focused on protecting the community's children who attend school near the synthetic rubber plant. The group is demanding that the 400 students at the Fifth Ward Elementary School, about a quarter mile from the plant, be moved in the meantime.
This summer, the St. John the Baptist School Board discussed possibly relocating the students, but no concrete actions have materialized.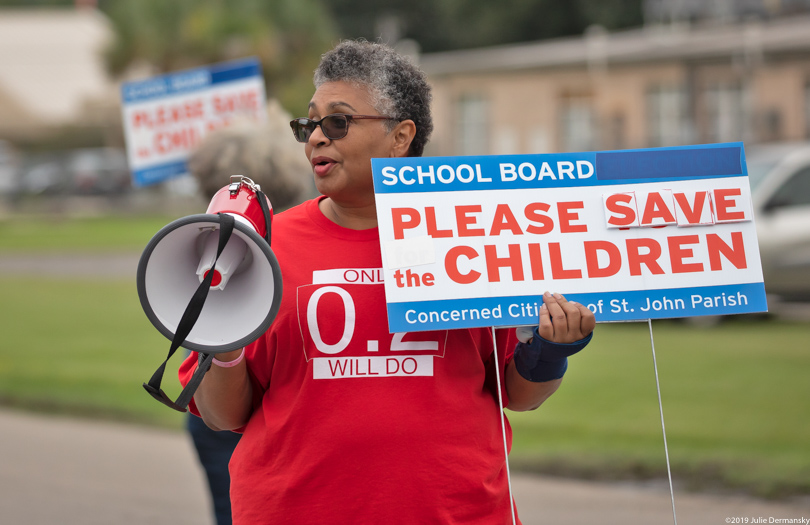 Robert Taylor's daughter Tish, a member of the Concerned Citizens of St. John and CADA, on the fourth day of the coalition's two-week protest outside of the Fifth Ward Elementary School near Denka's plant.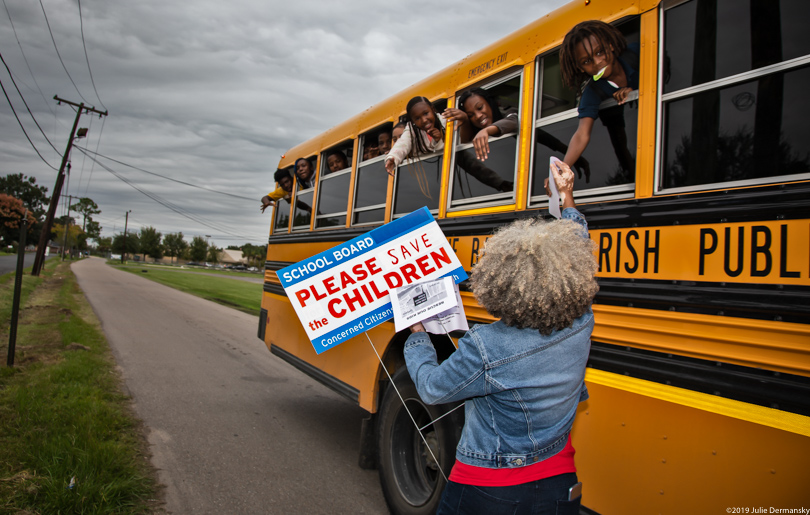 Lydia Gerard, a member of the Concerned Citizens of St. John, giving Fifth Ward Elementary School students information for their parents during CADA's protest, with an invitation join the group for dinner.
"The School Board has started the process of putting together a redistricting plan that could include moving students from Fifth Ward Elementary," Jennifer Bouquet told me on behalf of Patrick Sanders, the school board's president.
Taylor is frustrated the school board president hasn't committed to moving the children out in a timely fashion. Talk of developing a redistricting plan is not acceptable to him. He believes that such a plan could take years to finalize and the children should have already been moved out of harm's way. 
A recent reading from the EPA's ongoing air monitoring outside the school showed a level over 20 times above the EPA's suggested level, which is not legally binding. "Anything higher than 0.2 is too high," said Wilma Subra, with the Louisiana Environmental Action Network, who has been working with the Concerned Citizens group since its inception in 2016.
In 2016 the community became aware of the EPA's National Air Toxics Assessment, which evaluates air contaminants and estimates health risks and found that residents near Denka's plant have a lifetime risk of cancer from air pollution 800 times above the national average. 
Since that time the LDEQ and the state's health department have downplayed the health risks of chloroprene emissions. Louisiana's state health officer Dr. Jimmy Guidry has stated that the emissions do not present a health emergency and that the children at the Fifth Ward Elementary School are not in harm's way.
However, in July, the University Network for Human Rights released a health survey with findings that suggest cancer and illness levels are unusually high for those living close to the plant.
Though Denka disputed the report's findings, the governor's administration promised to conduct a "comprehensive study" to determine if people living near the plant have elevated rates of cancer.
Overcoming Obstacles
Lavigne and Taylor have expressed gratitude to CADA members who have joined their communities' fight as well as disappointment that more river parish residents have not joined them. They told me that many community members won't speak out in public because they or someone in their family works in the petrochemical industry.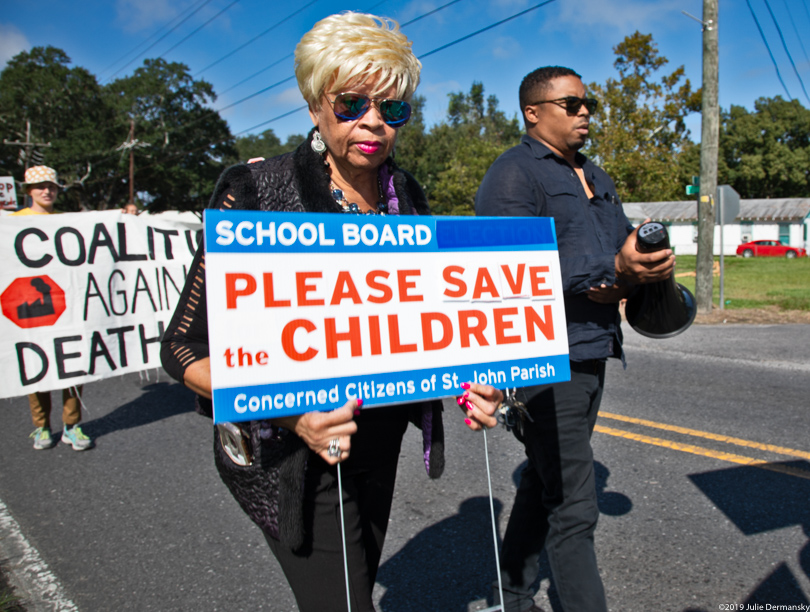 Members of the Concerned Citizens of St. John march with CADA from the Fifth Ward Elementary School to the Denka Performance Elastomer plant on October 19.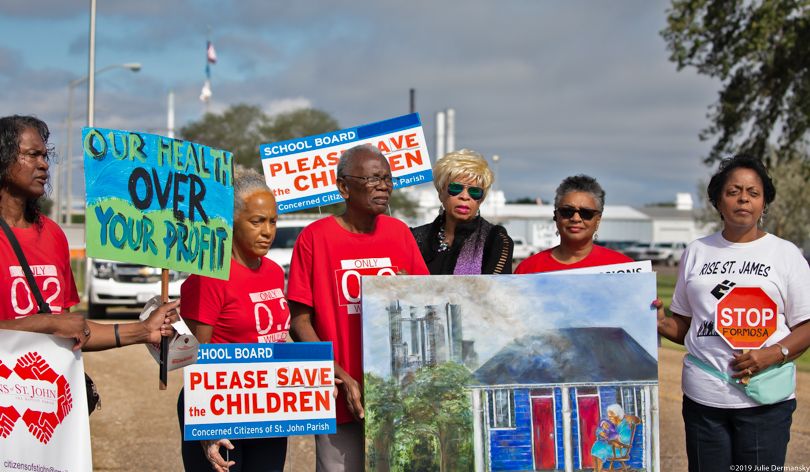 Members of the Concerned Citizens of St. John join CADA for a rally in front of Denka's plant on October 19.
Taylor's ongoing activism caught up to him on the sixth day of the sustained CADA protest. During a rally in front of the Denka Plant, he was overcome by the heat and taken by ambulance to a hospital for heat exhaustion. While recovering, Taylor, who recently turned 79, told me that he plans to fight as long as it takes until his community's children are safe.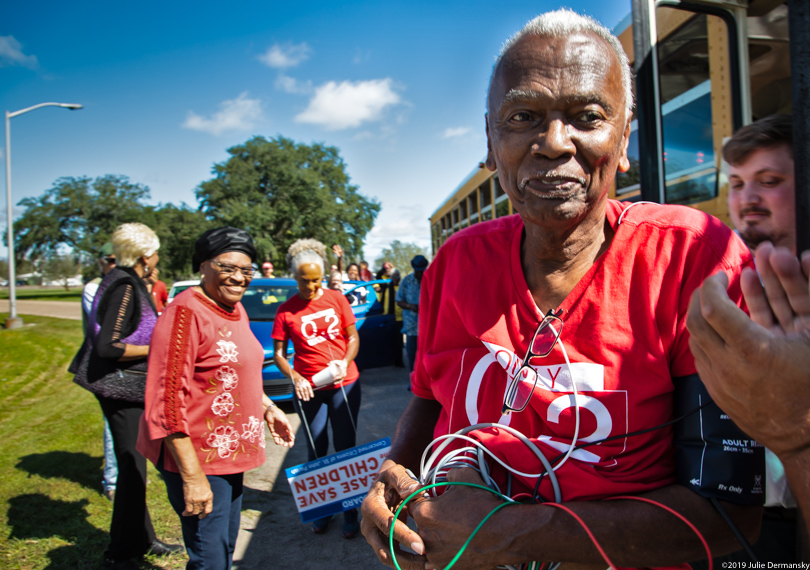 Robert Taylor, who suffered from heat exhaustion during a protest on October 26, is helped off CADA's bus after receiving medical attention.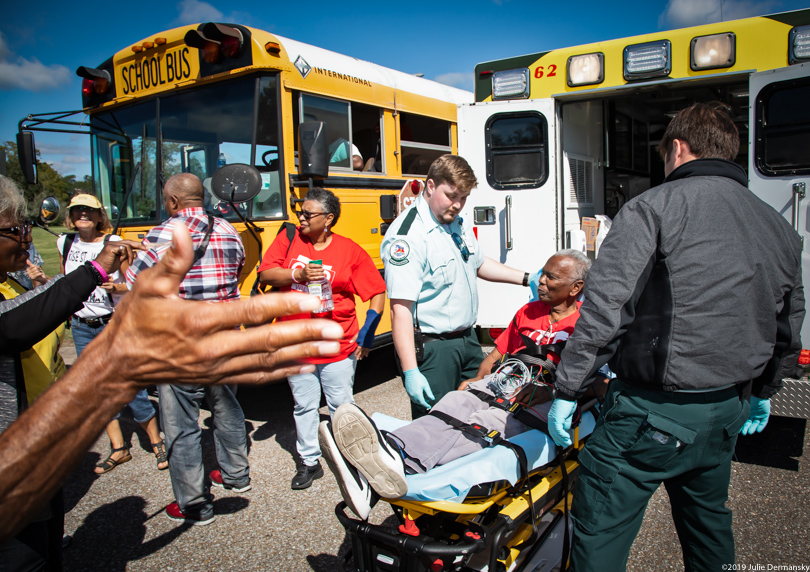 Robert Taylor, after collapsing due to heat exhaustion, is loaded into an ambulance in front of the Denka Performance Elastomer plant.
"It is bad enough that we have breathed in this poison for decades without knowing it was a carcinogen," he told me from the hospital where he spent a night recovering, "but knowing how bad the air is and letting the children go to school so close to the plant is unacceptable."
"I will fight to move the children out of harm's way no matter the cost to me, because they are worth it," he said. 

Robert Taylor speaking at a CADA rally in front of Denka's plant.
Main image: Police officer telling protesters that they need to clear the hallway outside of LABI's office in downtown Baton Rouge, Louisiana, on October 30. Credit: All photos and video by Julie Dermansky for DeSmog