On Saturday, November 16, 29 people were arrested in a rally at a massive natural gas-fired power plant, the Cricket Valley Energy Center, that is being constructed in a picturesque rural valley of farms and forests near the New York-Connecticut border, about 80 miles north of New York City.
"This is my first arrestable action, I am definitely excited," said 18-year-old Lucinda Carroll, who wore thick mittens and numerous layers to brace against the sub-freezing cold and was one of 10 people chained to a neon green and yellow tractor.
"With each new report that comes out, and each new article that comes out I get angrier and angrier," said Carroll, a student at nearby Vassar College. "I've spent plenty of time going to marches and rallies, I think at some point you have to take a leap of faith."
Those arrested ranged in age from 18 to 77, according to the Dutchess County Sheriff's Office. Twenty-five people were charged with trespassing, while four individuals, including two local farmers, were charged with criminal trespass for climbing a ladder on the side of a towering 275-foot Cricket Valley smokestack to unfurl streamers that flapped in the wind above the gas plant.
"It looks like Dracula's castle in the middle of sweeping farmland," said Kim Fraczek, the director of Sane Energy, one of a multitude of New York and Connecticut-based advocacy groups involved in the rally. "It's pretty grotesque."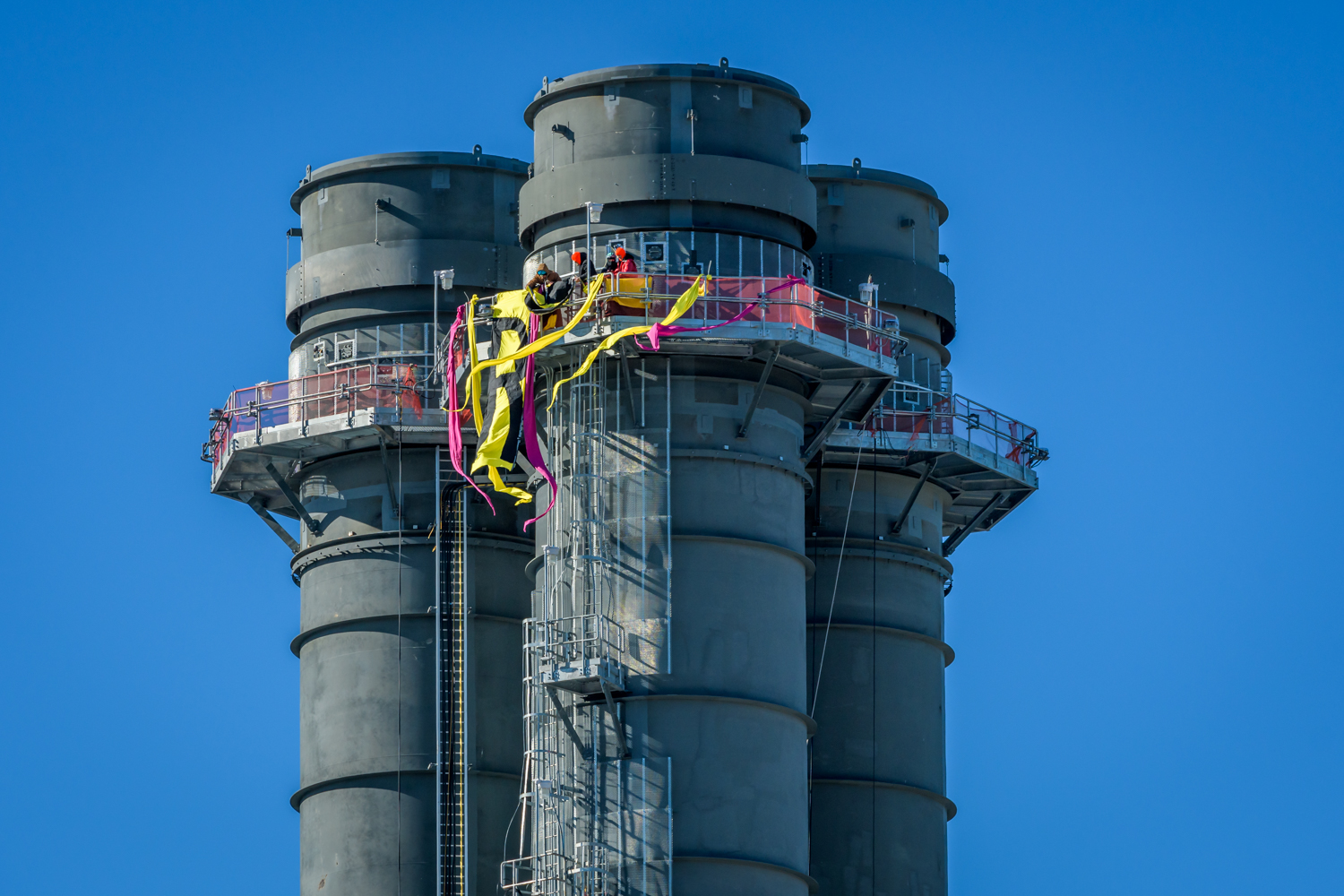 On November 16, four protesters, including two local farmers, climbed a 275 foot tall smokestack to halt construction of the Cricket Valley natural gas power plant. Credit: Erik McGregor 
Activists Cite Recent Climate Reports
The estimated $1.58 billion Cricket Valley Energy Center is being developed by a power generating company called Advanced Power that has projects in Belgium, Hungary, the U.S. and elsewhere. Cricket Valley will draw gas from the Iroquois natural gas transmission pipeline and use a combination of turbines and generators to produce 1,100 megawatts of power. Project director Scott Curry tells DeSmog the plant will become fully operational in early 2020 and be "one of the lowest-impact facilities of its kind, providing energy to 1,000,000 homes."
But organizers and attendees of Saturday's rally take issue with just how low-impact the project will be. They are demanding that the state reexamine the plant's environmental impact statement, approved by the New York State Department of Environmental Conservation in October 2012, given the array of dire new climate reports have been issued in the interim by the UN, the U.S. government, and numerous other agencies and academic institutions.
"The permit was approved nearly a decade ago based on old climate science," said Fraczek. "We are asking for a new environmental impact statement based on new science."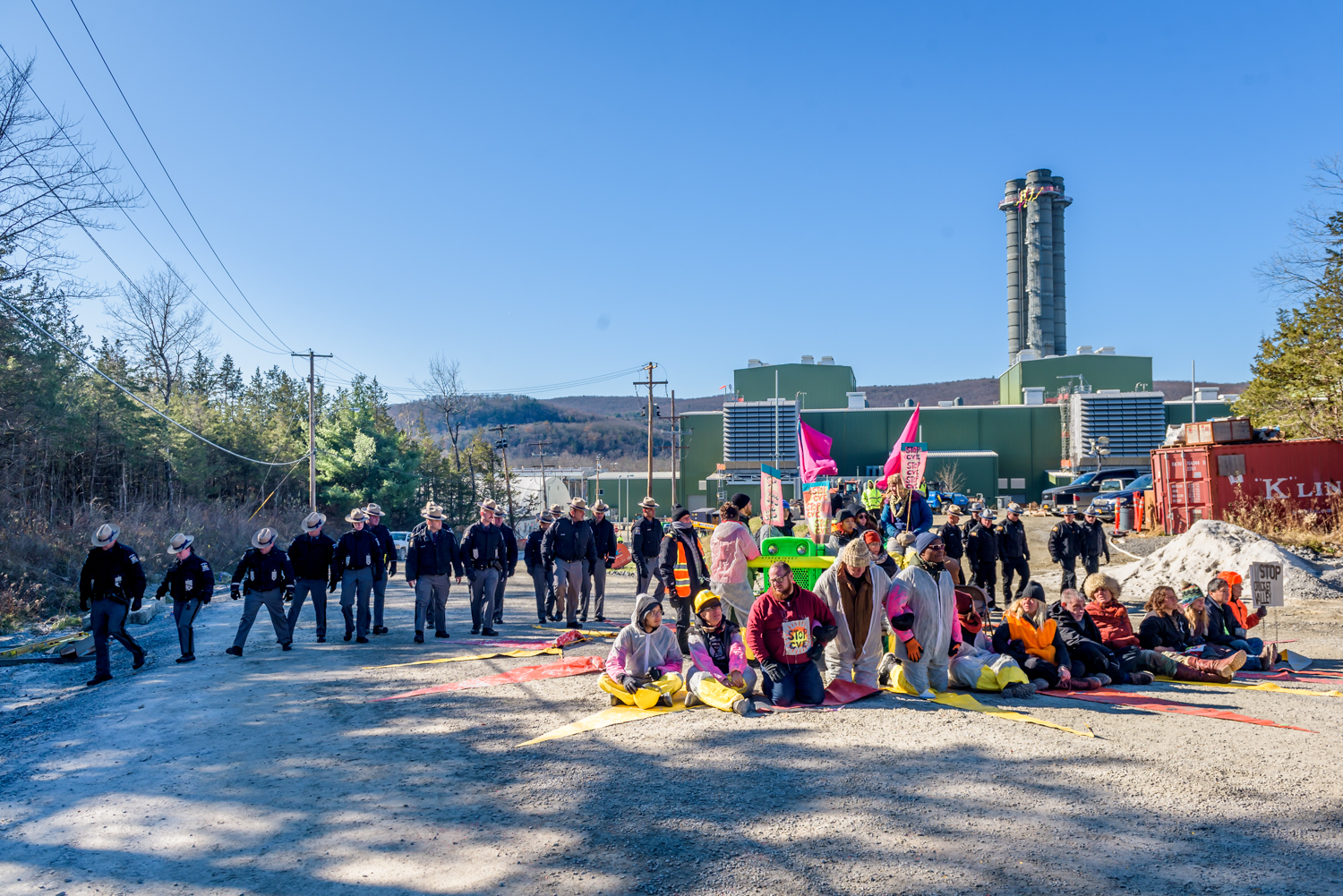 By the end of the event, 29 people had been arrested for tresspassing and criminal tresspassing at the Cricket Valley Energy Center, a natural gas power plant under construction in New York's Hudson Valley. Credit: Erik McGregor 
"Back in 2011, if I was told this plant is the latest greatest natural gas-fired power plant and replacing old coal I probably would have said, 'That's a great thing,'" said Bill Kish, who lives about 20 miles north of the plant in Millerton, New York. "But as I read the UN report and the latest science I started to become really upset, because it seems to me we are not lowering emissions at all."
Kish is a software engineer and as he awoke to the emissions issue raised by the proposed power plant, he created the website stopcricketvalley.org. It was his tractor that blocked the entranceway to the plant on Saturday. His arc as an activist mirrors a trend evident in others at the rally and playing out across the United States. As laws spring up in statehouses like those in North Dakota and Pennsylvania aimed at stopping the exact type of activism that occurred at Cricket Valley, a growing wave of activists has risen to intentionally put themselves on the front lines.
"These pollutants are going to hang low and drift around in this valley and blanket the area," said Kish, who was among the arrested. "There is an elementary school and a high school right down the road." The plant's permit enables it to emit every year nearly 400 tons of particulate matter, almost 20 tons of sulfuric acid, 118 tons of volatile organic compounds, and the equivalent of 3.6 million tons of carbon dioxide. The campus of the Dover Union Free School District, which houses both a high school and elementary school, is located less than a mile away in the same valley.
"Natural gas-powered electric plants provide clean reliable energy by replacing older coal burning plants while supporting the power needs of the community when solar or wind are unavailable," Cricket Valley's Curry told DeSmog. "All are invited to contact us via our website, www.cricketvalley.com, by phone, or by email, rather than compromising the safety of the men and women working at our facility and the public."
Lawsuit Challenges Cricket Valley's Permit
When asked by DeSmog if emerging climate science should indeed inspire a re-analysis of the facility's permits, the New York State Department of Environmental Conservation stated, "DEC does not comment on pending litigation." But the agency did not provide any information on the nature of the suit.
DeSmog has learned that the lawsuit was filed in October by Michael Sussman, famed civil rights attorney and 2018 Green Party candidate for New York state attorney general. "I filed a lawsuit against DEC and Cricket Valley contending that their environmental impact studies have been superseded by major changes in state policy and the science involving climate change, global warming, and fracking," said Sussman.
New York Governor Andrew Cuomo has put forward a raft of prominent renewable energy projects, including proposals for major wind farms off the coast of New York. However, critics like Sane Energy's Fraczek say letting Cricket Valley go online would sully that green record. "It is not too late to shut this plant down for good, and that is our plan," she said.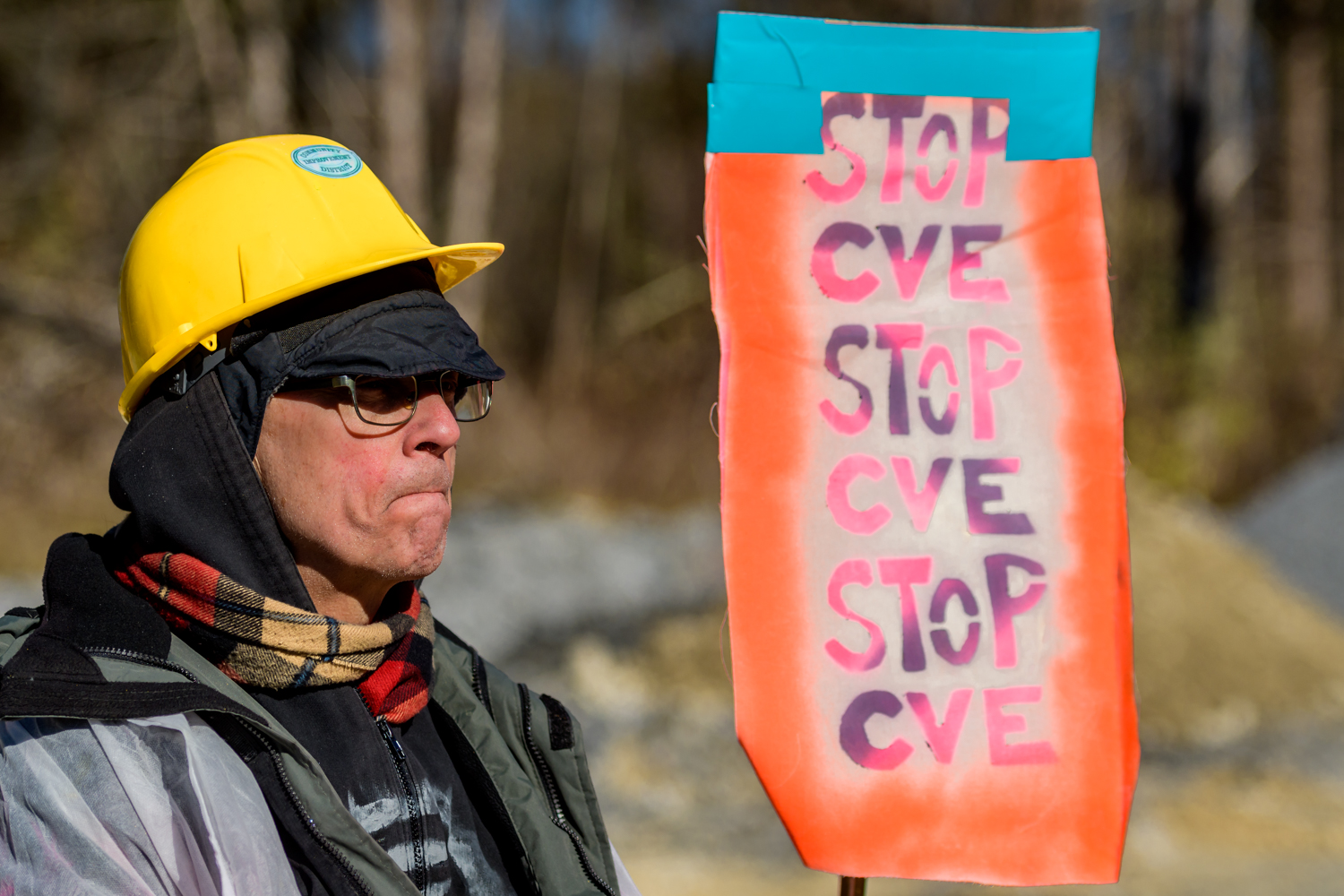 John Keller was one of many who came from New York City for the protest. Protesters point to new climate science as reason to re-evaluate Cricket Valley's environmental impact statement, which was approved by New York in 2012. Credit: Erik McGregor 
On Saturday, back at the entranceway to Cricket Valley, Vassar student Lucinda Carroll awaits the inevitable arrest, amid a festival-like atmosphere that included a local activist brass band called the Tin Horn Uprising and Reverend Billy and the Stop Shopping Choir.
"I think that unless everyone who is at least slightly informed takes bolds steps, we don't have any hope," said Carroll. "You have to look at everything else in your life and realize that all of that will not exist if we don't do this. It really is now or never."
Main image: Residents and supporters from across the Northeast used a tractor blockade to protest construction of the Cricket Valley Energy Center, a proposed natural gas plant in New York's Hudson Valley. Credit: Erik McGregor