The year is almost over, and — in so many ways — we are in a different place now than when the year began. 
For many people, it feels like something has shifted when it comes to climate action. This has been a year of unprecedented activism, from Greta Thunberg to Extinction Rebellion, and the UK set a goal to reduce emissions to net-zero by 2050. 
Equally, much has stayed the same. The Conservatives have just won five more years in power – and whether they are serious about climate action remains to be seen. With serious commitments once again unforthcoming on the international level, the 1.5C temperature goal still looks way out of reach – and lobbyists and polluters have been working hard to ensure it stays that way.
It's been quite a year. But in the name of nostalgia, we feel obligated to relive it just a little. So here are DeSmog's biggest stories of 2019.
A Greta year
This can perhaps be summed up by one day in December: Greta Thunberg was named Time's Person of the Year 2019, and Donald Trump hated it. 
After the teen activist predictably won the plaudit, the President of the United States – who himself took the position in 2016 – (equally predictably) tweeted that Thunberg had an "Anger Management problem" and needed to chill. 
Trump  wasn't the only one to be wound up by the Greta Effect this year. Arron Banks, bankroller of Brexit, tweeted that "freak yachting accidents do happen" just as Thunberg embarked upon her journey across the ocean to America to attend the UN Climate Action Summit. 
DeSmog looked at the network of people and organisations that have attacked Greta and the wider ideological bonds that bind them. The article even made it into Teen Vogue, as part of DeSmog's involvement with the Covering Climate Now initiative, intended to boost climate coverage ahead of September's UN climate summit.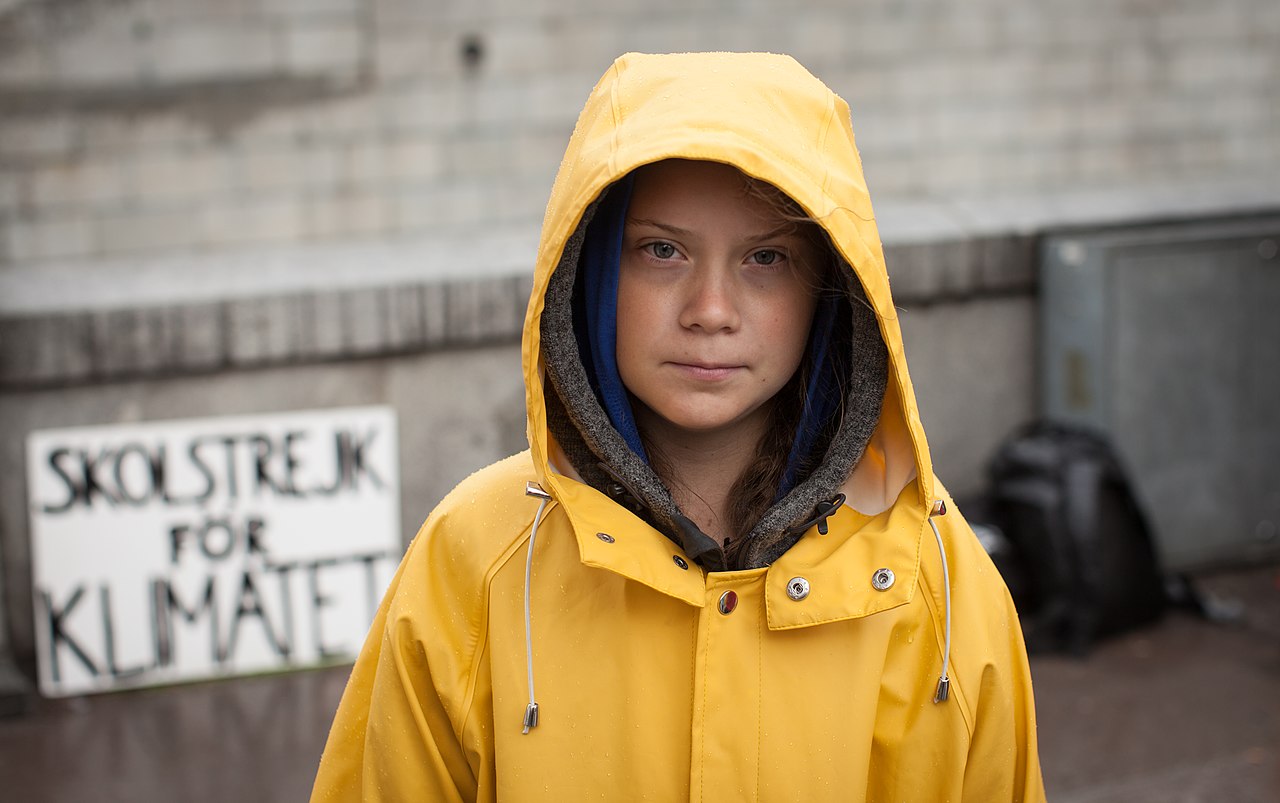 Credit: Anders Hellberg/Wikimedia Commons CC BY–SA 4.0
While Thunberg dominated headlines around the world, she is not the only activist to have exploded onto the scene this year. Extinction Rebellion and the school strikes Thunberg inspired disrupted society and urged governments and citizens to think about climate change more urgently than ever before. 
DeSmog covered their emergency in a special series called The New Climate Activism in September, looking at these trends and why they matter. We were also there to witness these developments on the ground, including the countrywide protests launched by Extinction Rebellion and efforts to prevent fracking taking place in Lancashire. Our investigation into the delays of a review of official guidance for policing fracking protests was covered by the Guardian in April.
During the year, local councils gave signs they were getting the message, with councillors across the country voting in favour of declaring a climate emergency. It all sounded great, but it was less clear what this meant in practice, so DeSmog investigated. Turns out, many councils had, in fact, allocated more money towards tackling the climate crisis as a result of these declarations – and many more intend to do so during 2020. It's one to watch.
The BoJo show
In case it escaped your attention, there was a general election this year, and the Conservatives won. 
Ahead of the election, DeSmog worked alongside the Guardian to investigate MPs' voting records on climate change and who received what donations from the fossil fuel industry. Spoiler: The Conservatives fared badly in both. 
Yet despite all the talk that this would be a 'climate election' – and despite the Conservative manifesto being notably weaker on climate change and the leader himself failing to turn up to Channel 4's climate change debate – Boris Johnson swept to victory with a sizeable majority.
Climate change may have been an important issue for many people, but concerns around Brexit drowned out substantial discussion of other issues. Yet climate denial and Brexit are closely linked. Over the past four years, DeSmog has tracked over 2,000 connections between its actors operating at the highest levels of political and corporate life in the UK, US and Europe. And in June we finally released our definitive network map of how Brexit lobbying intersects with climate science denial — we'll keep updating it in 2020 as the political scene evolves.
---
Read all of DeSmog's General Election coverage here
---
Of course, Boris Johnson had already been prime minister since July this year, when he took over from Theresa May. His first cabinet contained many politicians with connections to the pro-Brexit, anti-regulation, anti-climate action campaign groups that operate out of 55 Tufton Street. We mapped those connections here. 
DeSmog also added a few key profiles to our Disinformation Database, including some of the main players in this new government, including Liz Truss, Esther McVey, and Priti Patel. Maintaining these is a heck of a job in the current political climate, but we promise we'll be doing that and adding many more in 2020.
Britain abroad
With the UK currently on track to blow its carbon budgets, a cabinet containing multiple climate science deniers, and a PM that not even the Committee on Climate Change is sure cares sufficiently about climate change, clearly, the UK's domestic climate change policy leaves something to be desired. 
And overseas, the picture is no better. The UK gave over £2 billion of support to fossil fuel projects abroad over the course of a year through the government's export credit agency, we revealed along with the Guardian in June. Earlier in the year, DeSmog's editor Mat Hope was invited by the school strikers (who were moonlighting as Editors of the Guardian's comment section) to offer his two cents on the matter – the actions amounted to "climate atrocities abroad,'' he said.

It's not just the British government behaving questioningly abroad. In Kenya in October, we revealed that British company Tullow Oil was under fire for wasteful spending related to community projects that was intended to compensate for damage done by oil exploration — a scoop that was covered by Business Daily Africa.
The international issues very much didn't stop there. The world of international climate diplomacy had a shock in November when Chile announced it would no longer host December's round of UN climate negotiations, known as COP25. Madrid offered to host the conference last minute – but all did not go smoothly, with polluters making their presence known and NGOs getting barred from the proceedings following an unauthorised protest. 
Next year, the conference will move to Glasgow, Scotland, in what promises to be another interesting challenge for Boris Johnson's new government. We'll be there.
Lobbyists gonna lobby
The growth of climate activism throughout the year provoked a predictable backlash from lobbyists promoting climate denial and fossil fuels – many of whom are funded by the Koch family's foundations. That fact was given a new lease of life in August, when David Koch died. Shortly before, DeSmog created an extensive database with individuals linked in some way to the Koch brothers.
Over the summer, we also published a series of investigations into the Global Climate Coalition – a fossil-fuel backed industry group launched in 1989 that was able to influence the UN climate science processes – after a cache of documents was released. 
That lobby group disbanded in 2002, but we also looked at a more recent lobbying effort to disrupt climate action: the Climate Intelligence Foundation. This Netherlands-based organisation has spearheaded efforts this year to derail efforts to set an EU-wide "net zero" emissions target, according to documents obtained by DeSmog. That investigation was covered by the Independent.
If the tactics used by fossil fuel lobbyists sounded familiar, it is because they have, in fact, been used already – by the tobacco industry. Research by Desmog, combining our climate disinformation database with the Guardian's tobacco database, revealed that 35 think-tanks based in the US, UK, Australia, and New Zealand promote both the tobacco and fossil fuel industries' interests.
Climategate anniversary
Inevitably, 2019 was an anniversary of something. But, as anniversaries go, it wasn't one to celebrate. 
November marked 10 years since the Climategate scandal, which rocked the world of climate science and potentially contributed to the failure of the UN climate conference in Copenhagen. In a series of articles, DeSmog looked at how it felt to be a climate scientist at the time, how the science has moved beyond the myths sparked by cherry-picked quotes, and revealed where those responsible for creating the smog clouding the climate debate are now. 
In a nutshell, that's what we're for. And we're already looking forward to doing it all again in 2020. We hope you join us then.
This work is expensive to produce, but we're determined to keep our content free for everyone. So if you like what you read, please help us do even more in 2020 by becoming a patron today!
Image: Channel 4