Every Friday for the last seven weeks, actress and activist Jane Fonda has held a rally and act of civil disobedience in front of the U.S. Capitol, calling for action on climate change. Each week she's been joined by different celebrities, journalists, and activists. Previous weeks have seen actors such as Law & Order's Sam Waterston, Fonda's co-star in Grace and Frankie, Lily Tomin, and Lincoln's Sally Field, to name a few.
This final week in Washington, D.C. did not see Fonda get arrested like five of the previous weeks. In her stead, West Wing's Martin Sheen and Joker's Joaquin Phoenix were arrested and ticketed in an act of civil disobedience alongside hundreds of other activists.
Fonda is moving her protest to Los Angeles starting February 7 and every Friday after that. She announced that #FireDrillFridays will be spreading across the country and those behind the movement will be creating activist kits for people to start their own localized actions.
Also at this week's protest were progressive author Naomi Klein, activist Eriel Tchekwie Deranger, Tribal attorney Tara Houska, Cherokee businessperson Rebecca Adamson, and Greenpeace executive director Annie Leonard.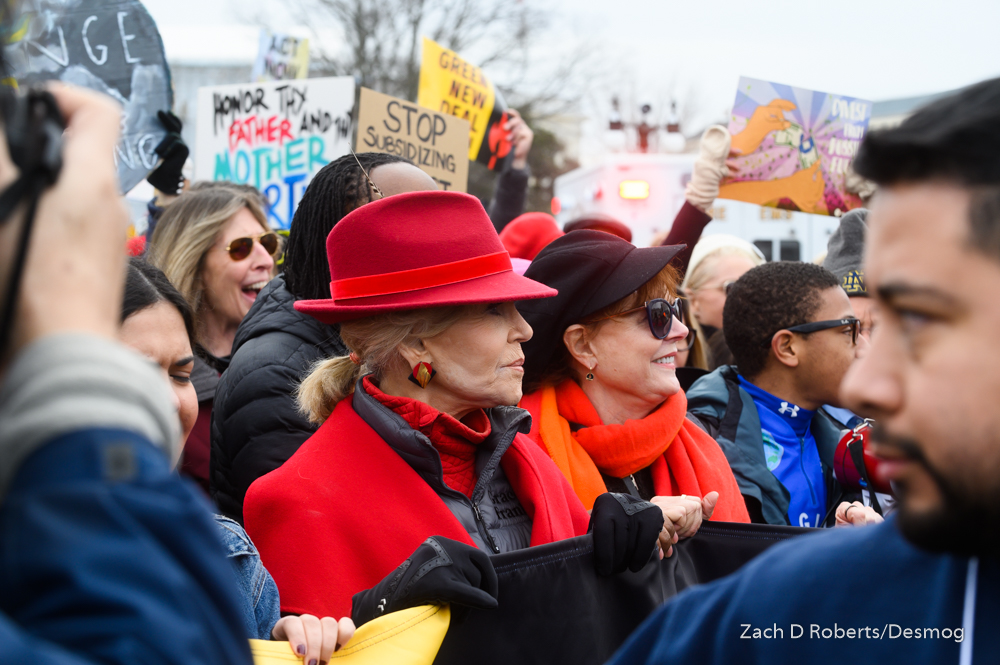 Jane Fonda is joined with actor Susan Sarandon as they march from their rally to the steps of the U.S. Capitol with hundreds of fellow activists behind them.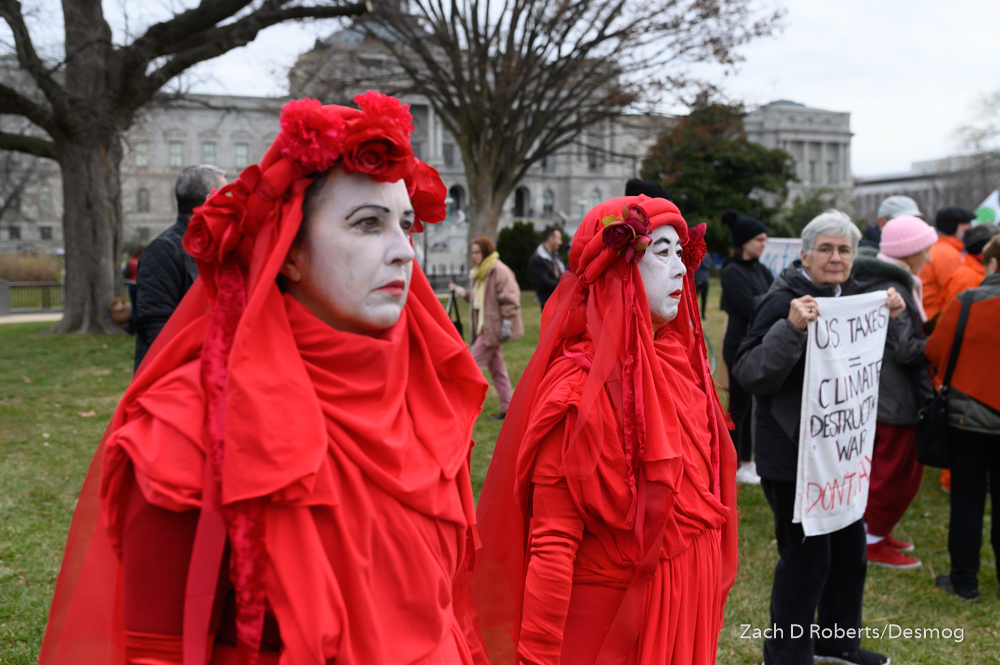 Two members of the Virginia Red Rebel Brigade stand silently the FireDrillFriday speakers talk to the crowd. They describe themselves as an "international performance artivist troupe dedicated to illuminating the global environmental crisis and supporting groups and organizations fighting to save humanity and all species from mass extinction."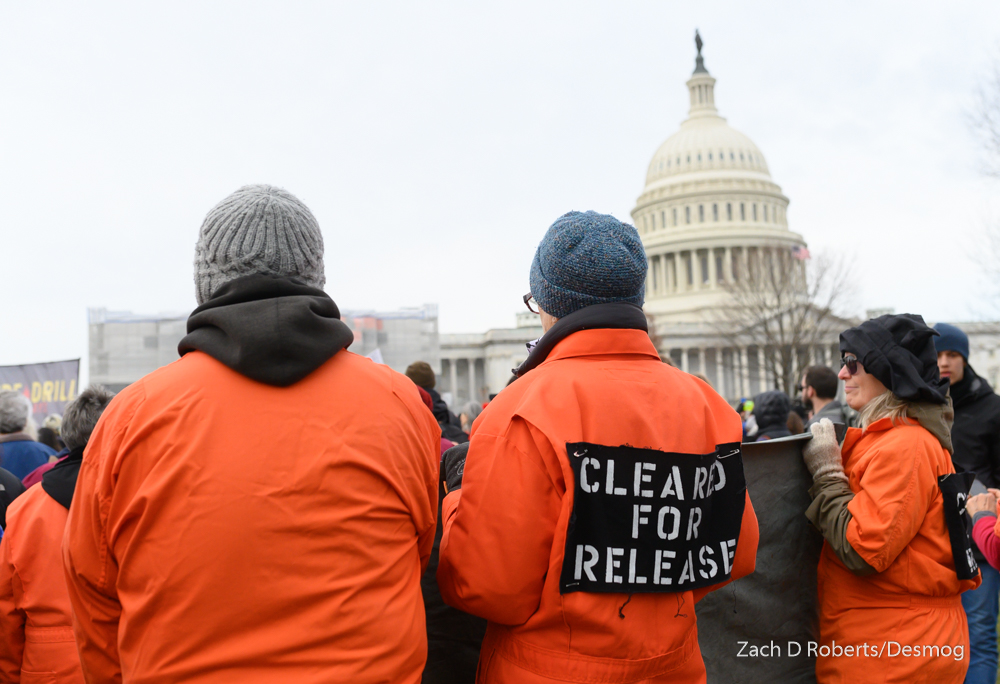 Many of the rally-goers were wearing orange jumpsuits, jokingly prepared for their imminent arrest at the hands of the Capitol police.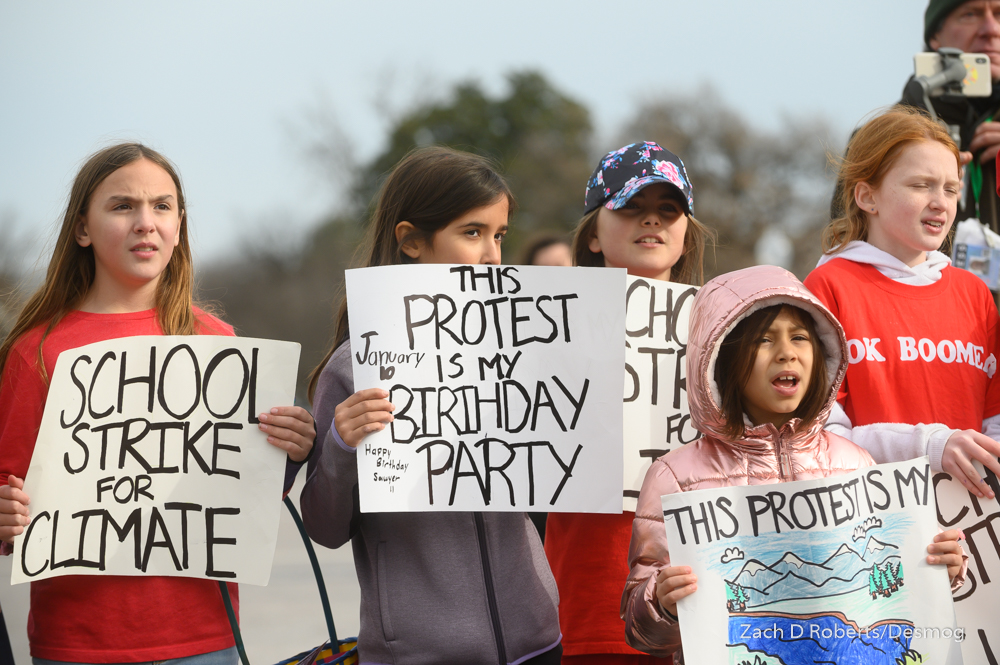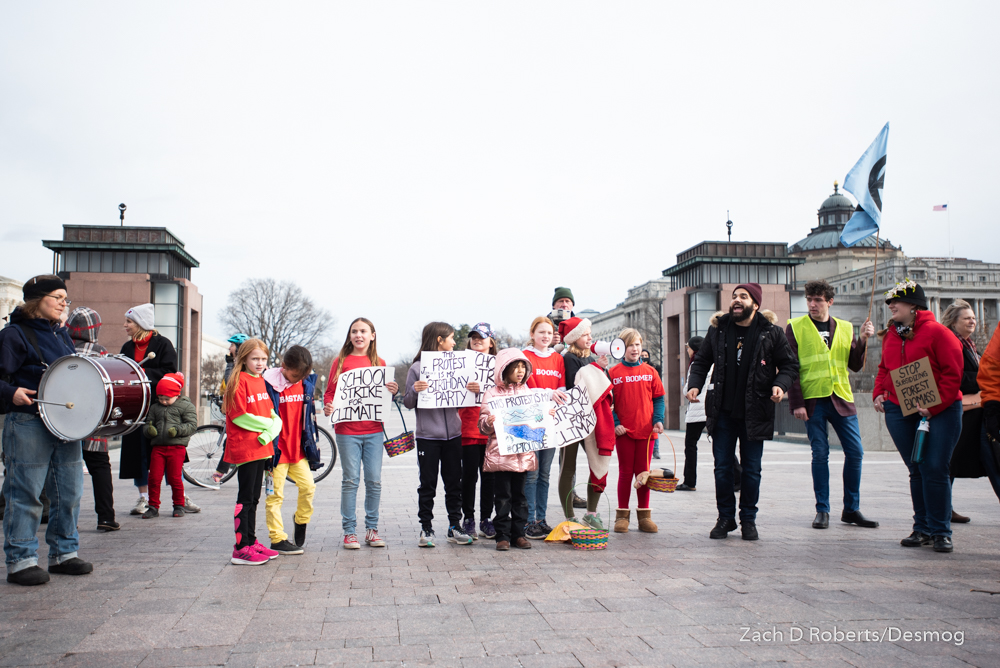 About a dozen or so children wore "OK Boomers" t-shirts, holding signs, singing songs, and chanting along with the crowd using small megaphones.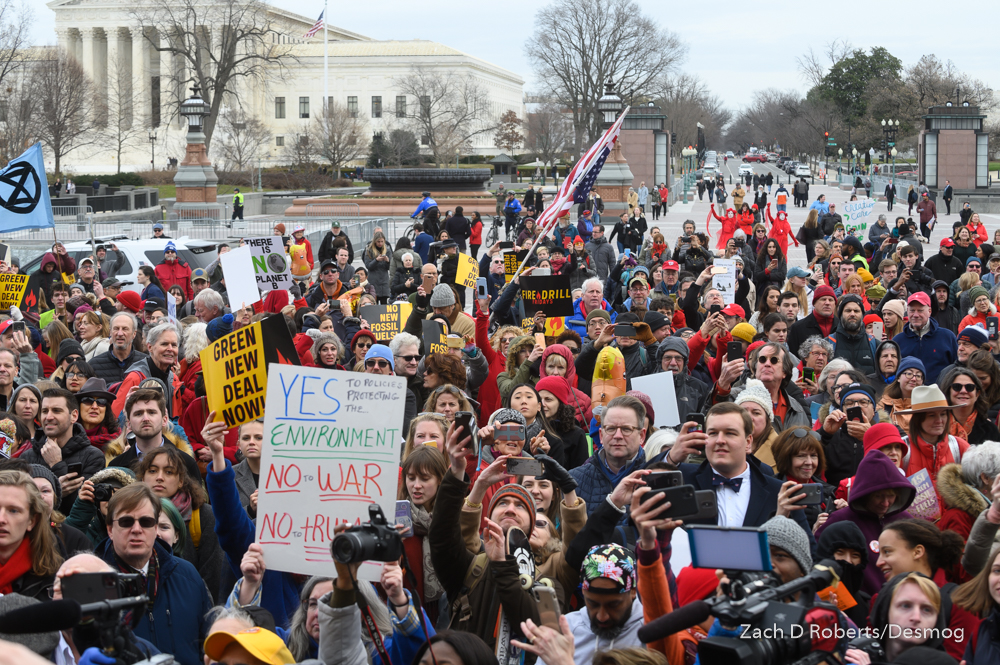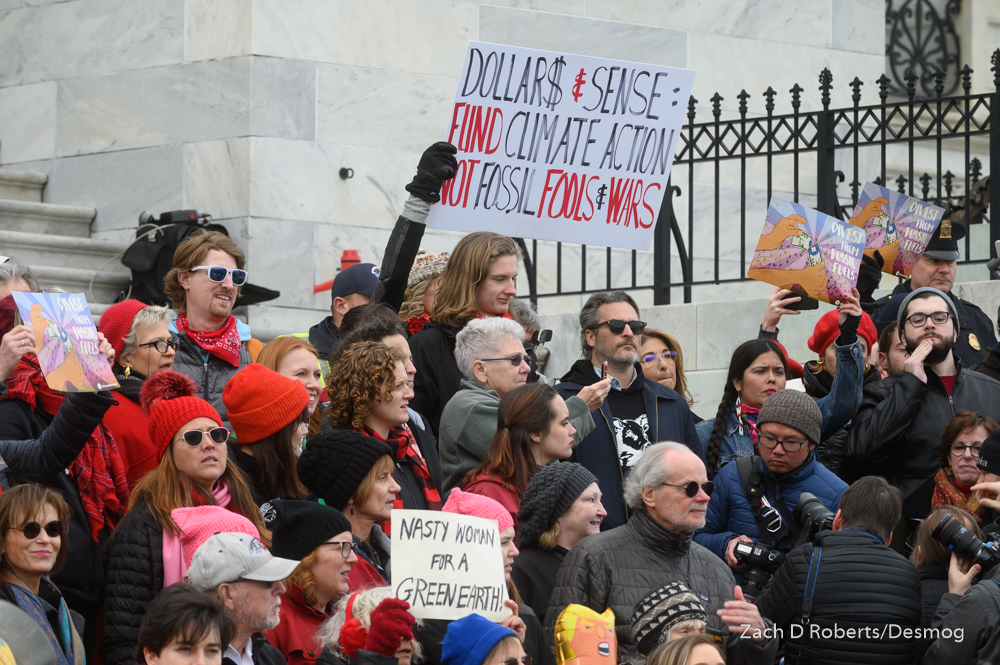 Hundreds of rally goers marched to the steps of the Capitol (a no-go area for police), with some staying on the steps and preparing themselves for arrest. The arrest amounted to a fine and a desk ticket, rather than handcuffs or jail. Nevertheless, these activists will still have a record and a memory of participating in civil disobediance for climate action.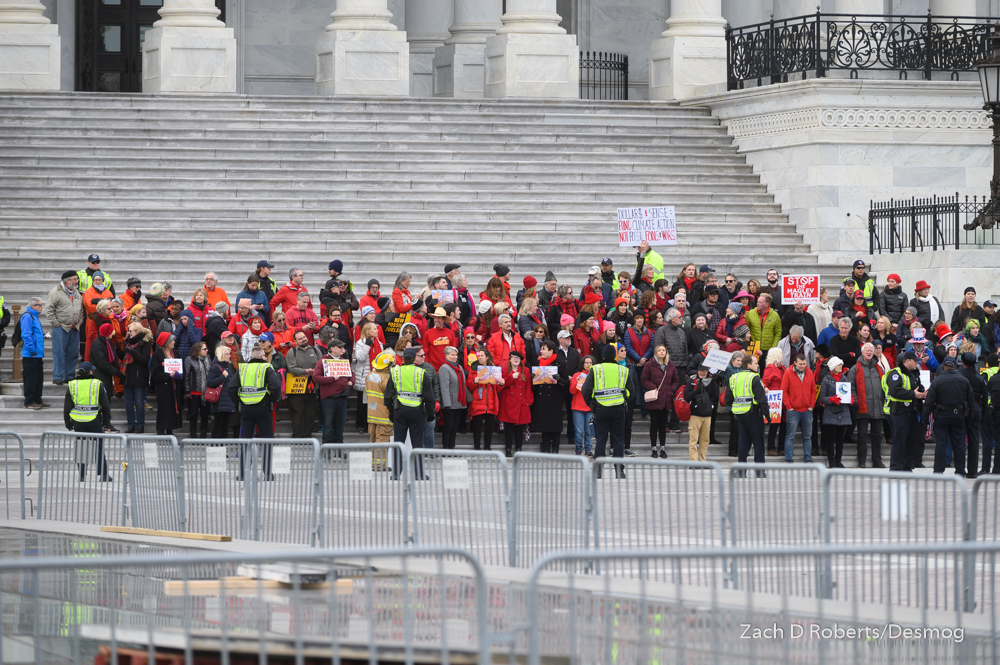 Capitol Police pushed back the press and others farther away from the arrests than anyone in attendance recalled compared to previous weeks. The police threatened both media and activists with arrest if they strayed closer.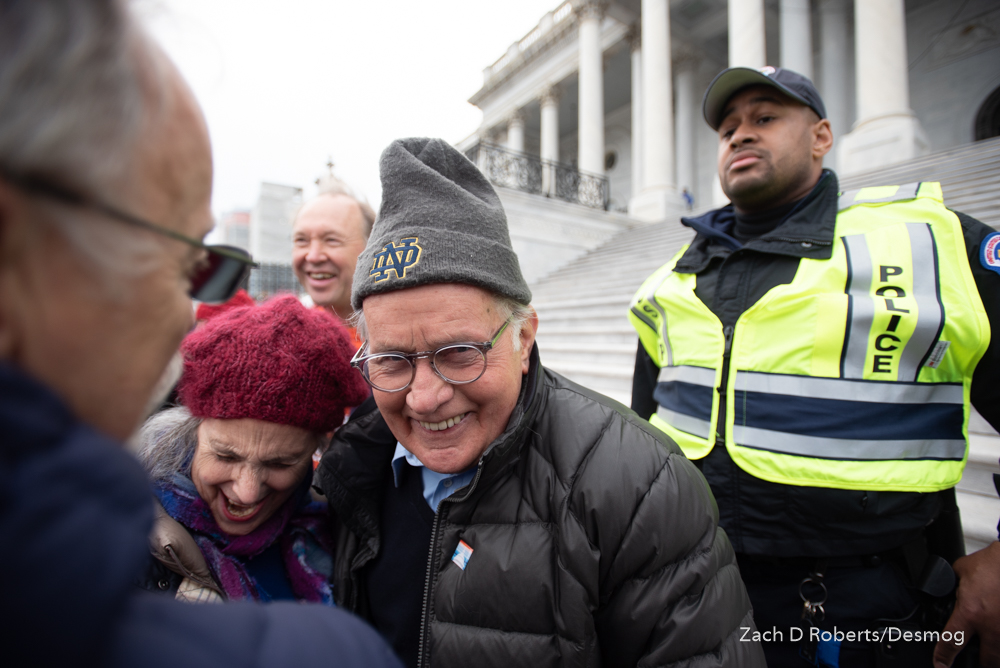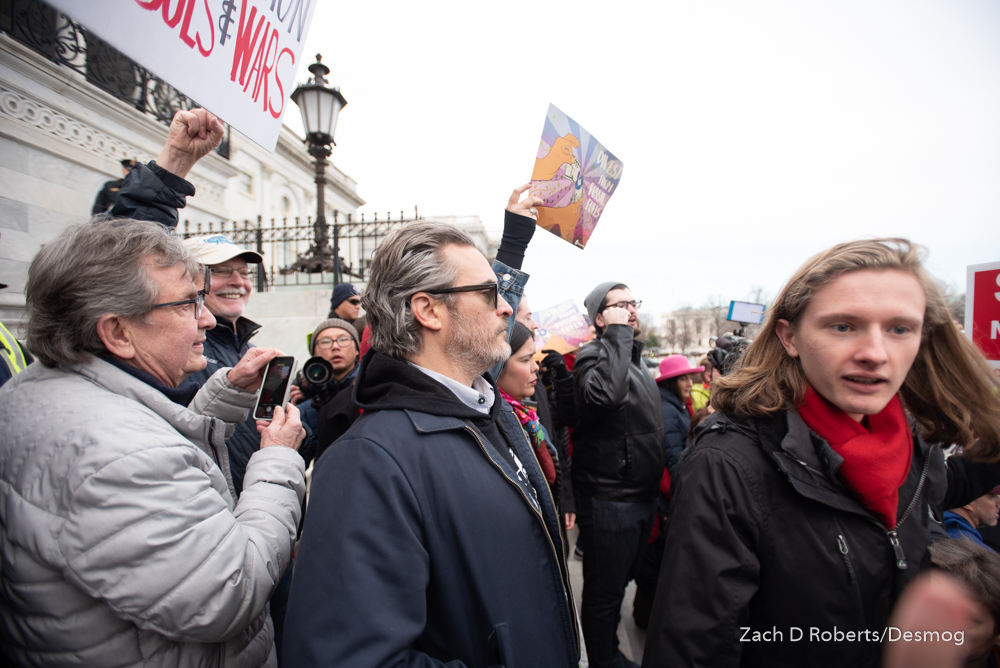 Martin Sheen and Joaquin Phoenix, the two actors anticipating arrest that day, dealt with fans and press in different ways. Sheen hugged and laughed with fans while Phoenix stood quietly and looked out into the crowd.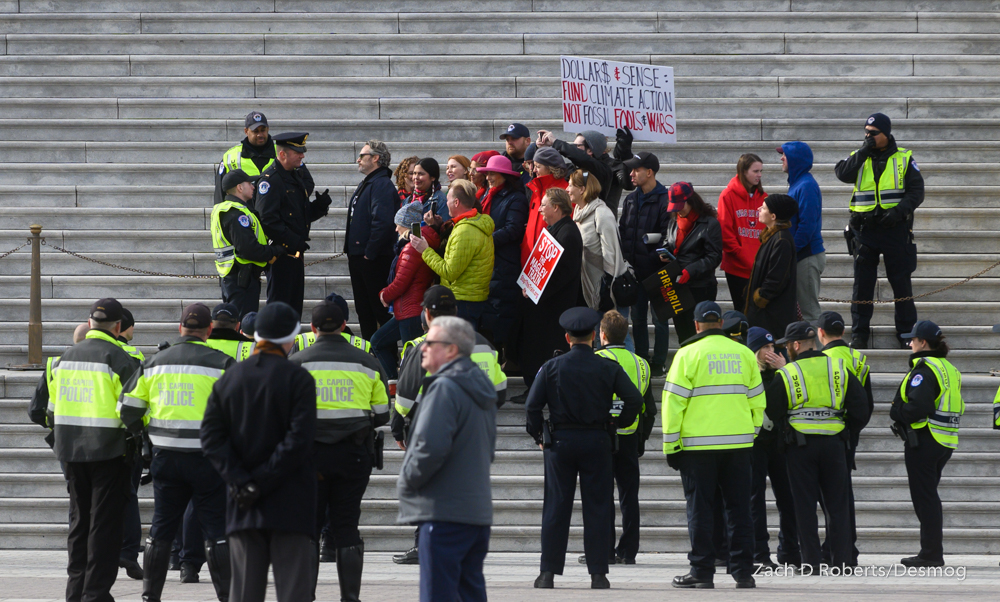 The scenes were striking as each of these award-winning actors and activists spoke to their arresting officers, with chanting fans and fellow activists behind them, waiting for their turn for arrest on behalf of climate action.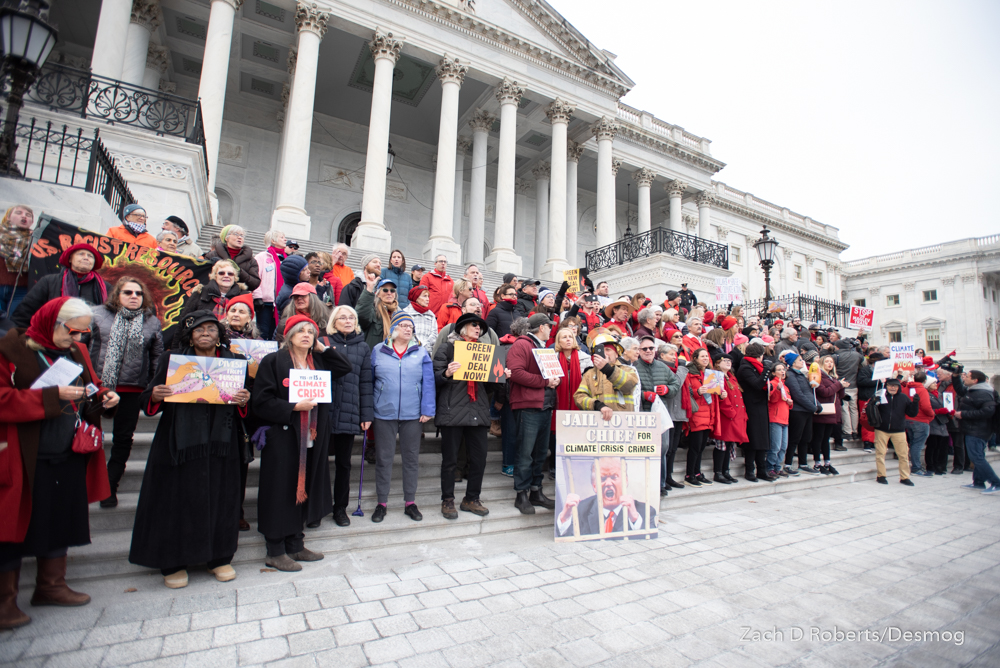 Main image: Actor Martin Sheen is detained by police on the steps of the U.S. Capitol during Jane Fonda's #FireDrillFriday climate rally on January 10. Credit: All photos by Zach D. Roberts for DeSmog