The UK government is continuing to fund fossil fuel projects abroad through a little-known investment group, despite recent promises to scale back its foreign investments in polluting schemes.
Contributions from the Department of International Development were funneled through the Private Infrastructure Development Group (PIDG) to a wide range of high carbon projects, according to a report from environmental corruption watchdog Global Witness. 
The governments of the Netherlands, Germany, Australia, Switzerland and Sweden also gave to the fund. But contributions from the UK far outstripped these other sources, amounting to 70 percent of the money provided by members and owners of the fund between 2002 and 2018. The UK's contributions totalled more than $1 billion, Global Witness says.
"This is just the latest in a tapestry of government organisations that fund fossil fuels overseas. It actually doesn't help people in these countries," says Adam McGibbon, Senior Climate Campaigner at Global Witness. "Fossil fuels, as we all know, actually exacerbate poverty because they exacerbate climate change. They exacerbate extreme weather, droughts, food problems, and fuel conflict. These are all things that hinder development."
---
Like what you're reading? Support DeSmog by becoming a patron today!
---
PIDG says that its aim is to "combat poverty in the poorest and most fragile countries through pioneering infrastructure". Yet some 40 percent of its total commitments between 2002 and 2018, amounting to $1.46 billion, went to energy projects, and 51 percent of that was spent on fossil fuels. By far the largest recipients of this money were gas projects, although recent projects include oil power plants in Mali and Senegal. 
PIDG also invested in polluting projects beyond the energy sector. For instance, in 2015, it provided $30 million to a petroleum company in Pakistan to improve an oil refinery. 
Global Witness claims even the group's renewable energy investments could be problematic – a significant portion of its spending between 2002 and 2018 went on biomass and hydropower, which can be damaging for the climate and nature.
PIDG responded to the report saying that they perform emissions estimates for their investments and compare them to the alternatives, and that there is a net positive impact to the environment. It also claimed that fossil fuel investments were necessary "in the poorest and most fragile states as a transitional source of power". It has pledged to end its support for heavy fuel oil plants from 2019 onwards.
Global climate leader?
The investments in fossil fuels sit uneasily against the UK's claims to be a climate leader and contradicts the aims of the Paris Agreement, according to Global Witness. 
"It contributes to a situation where the Government, on one hand, spends aid money to mitigate climate change and help vulnerable countries, and on the other hand funds fossil fuel projects all over the world, making the problem worse for those same countries," the report says.
In 2014, the National Audit Office criticised the UK government for its lack of monitoring and control of how the PIDG was spending taxpayers' money.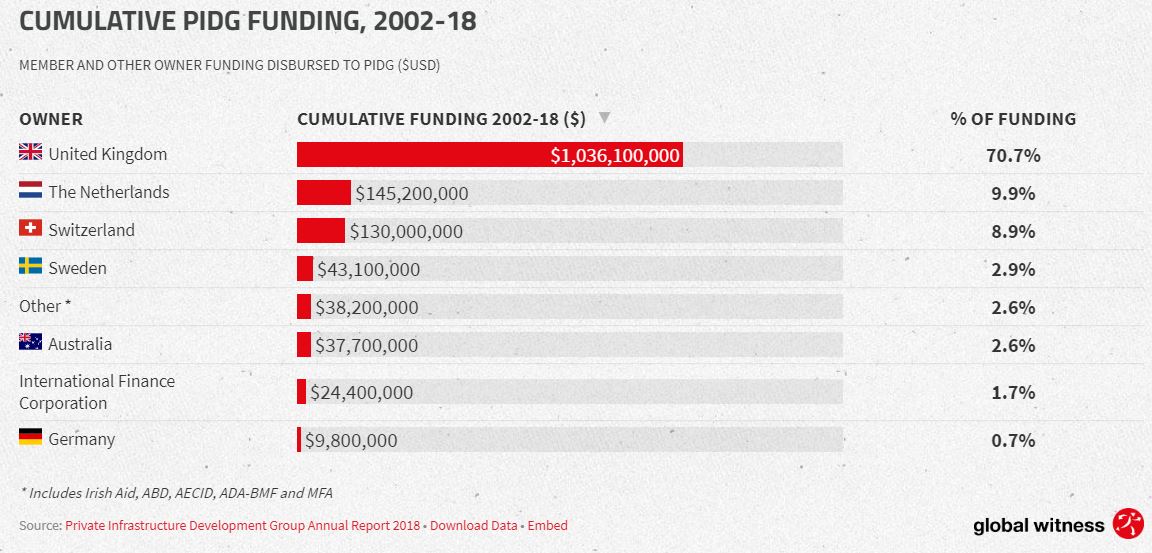 This is not the first time that the UK government has come under fire for its overseas investments in fossil fuels. The former secretary-general of the UN, Ban Ki-moon, is among those to criticise the UK for its "deeply concerning" support of polluting projects abroad through the UK Export Finance agency (UKEF). 
DeSmog recently revealed this funding rose to £2 billion in 2018-19 – an 11-fold increase on the previous year. A former UKEF Chief Executive sits on the board of PIDG, Global Witness notes. 
The government's climate leadership and fossil fuel investments are likely to come under particular scrutiny later this year when the UK hosts the UN climate conference in Glasgow, known as COP26.
"This is a wider pattern of government's support for fossil fuels that needs to end. Nobody really knows the full scale of this," says McGibbon. "There could be many more revelations about this, and the UK government would be much better off, as a credible host, to end all fossil fuel support across their overseas portfolio entirely."
Image: PXFuel.com/Public Domain