A new report from advocacy group Food and Water Watch argues that fracking and continued reliance on natural gas is detrimental to addressing climate change. The report, which calls out the fossil fuel industry's misleading narratives around natural gas, comes at a time when progressive members of Congress like Senator Bernie Sanders and Representative Alexandria Ocasio-Cortez are introducing a bill to ban fracking and when the industry is ramping up its public relations push around gas.
According to Food and Water Watch's (FWW) report, greenhouse gas emissions reductions from the power sector over the past decade are not as great as the gas industry claims. FWW researchers found that combined emissions from coal and gas power plants declined 10.4 percent over the last decade. If emissions continue to decline at this roughly 10 percent pace, the report says, they will not reach zero until 2100.
The report examines data from the Energy Information Administration (EIA), an academic emissions inventory, and a recent Cornell University study. FWW developed a model that evaluates life-cycle emissions of power production, including methane emissions from coal and natural gas production, processing, transportation, and end use. The organization's analysis is also based on a comprehensive synthesis of methane leak research.
NEW REPORT: If natural gas remains the dominant energy force it is today, greenhouse emissions from electricity production will rise for decades when we need drastic cuts. #BanFracking https://t.co/A8eRpTGGDN

— Food & Water Watch (@foodandwater) February 3, 2020
The methane emissions from natural gas, the data shows, are significant and have a greater climate impact than the carbon dioxide emitted at gas power plants. While natural gas burns cleaner than coal in terms of carbon dioxide emissions, a key problem with gas is that it is composed almost entirely of methane, a greenhouse gas that is 86 times more potent than carbon dioxide over 20 years in the atmosphere.
And all too often before it's ever burned, methane leaks out of oil and gas operations. According to the report, methane leaks are inevitable and occur throughout every stage of the supply chain. That finding has been backed up by research including a 2018 study in the journal Science that found oil and gas operations leaking 60 percent more methane than previously estimated by the EPA. 
"Even if every coal plant was decommissioned by 2030 and replaced by gas-powered electricity, greenhouse gas emissions would still continue to rise," Food and Water Watch states. "And if natural gas remains the dominant energy source through 2050, annual greenhouse gas emissions from the power sector will be higher in the coming decades than they are today." Electricity generation accounts for only about one-third of natural gas consumption, according to the report, with the remaining 65 percent going into plastics production and providing heat in buildings. Methane emissions from these uses, Food and Water Watch says, are obscured by the industry's touting of gas's role in reducing power-sector emissions as coal declines. 
The report also argues that replacing coal with gas plants locks in a system reliant on fossil fuels. "Supporting infrastructure like refineries and pipelines creates a fossil-oriented inertia that delays climate action," the report states. This view that gas perpetuates fossil fuel dependence is contrary to the idea that gas is a "bridge" to a renewable energy future.
Origins of the Bridge Fuel Narrative
"The bridge fuel sales pitch was invented by the American Gas Association [AGA] in 1988 and has had a lasting impact on the gas narrative," the Food and Water Watch report states. The report cites a 2017 paper by sociology scholar Dr. Anthony Ladd, who writes, "First crafted by the American Gas Association in 1988 to help 'green' the public image of the natural gas industry — just as the first scientific warnings about global warming were emerging — the clean energy bridge fuel discourse has been innovatively used to champion the use of natural gas, as well as nuclear power, based on their lower CO2 emissions than coal or oil."
Ladd's historical accounting of AGA originating the bridge fuel claim is confirmed by Washington Post archives from 1988: "Michael German, vice president of planning and analysis for the American Gas Association, refers to natural gas as a bridge fuel — the least harmful alternative while the world looks for other, longer-lasting solutions to the 'greenhouse' effect."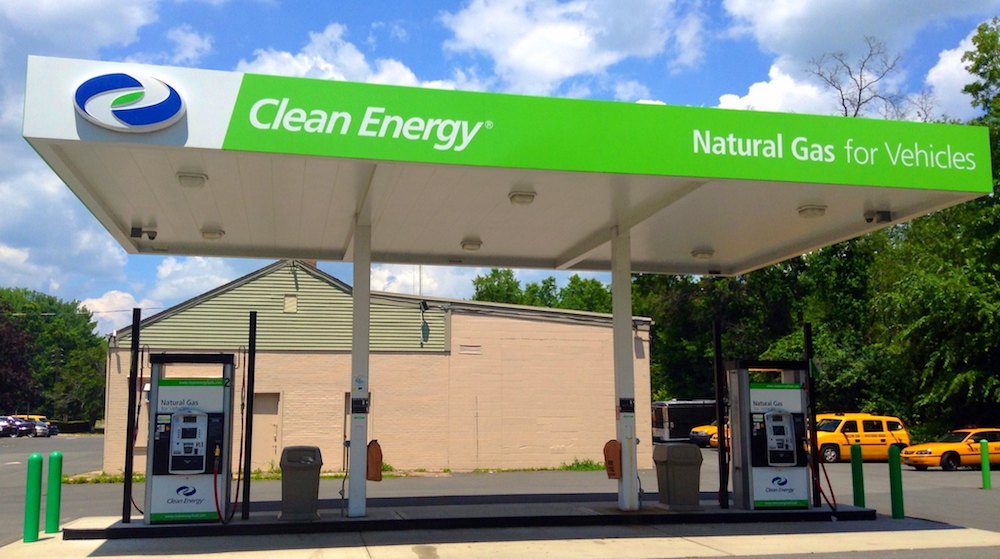 A natural gas fueling station in Bloomfield, Connecticut, July 2014. Credit: Mike Mozart of TheToyChannel and JeepersMedia on YouTube, CC BY 2.0
In 1992, former Enron chairman and CEO Kenneth Lay wrote to President Bush, referencing gas's role in reducing CO2 emissions: "Natural gas is our cleanest fossil fuel and through its increased use in electric power generation could play a major role in reducing CO2 emissions and delivering lower electricity prices to consumers."
Stanford research and science historian Ben Franta, who studies the history of climate science denial and fossil fuel disinformation campaigns, told DeSmog that the industry's promotion of gas as "clean" is rooted in efforts to avoid regulations restraining fossil fuel use.
"I do recall from my archival research that by the end of the 1980s and beginning of the 1990s, fossil fuel interests were discussing the promotion of natural gas as an industry-friendly alternative to reductions in fossil fuel use," Franta said. "It was, in a sense, part of the industry's counterproposal to discussions of reducing fossil fuel production and use. That counterproposal basically said: instead of binding agreements to reduce emissions, let's switch to natural gas, focus on efficiency, and carry out more research. The industry was successful in promoting these terms, which in practice have yielded expanded fossil fuel production, increased emissions, and ever-worsening damages."
Gas Is Not A Bridge Fuel
Despite the familiar framing of gas as a transition or bridge to a renewable energy future, both the fossil fuel industry and environmental activists say that framing is no longer relevant. Activists argue that renewables plus battery storage are already cost-competitive with gas, and say that increasing gas supply impedes rather than bridges the transition to carbon-free energy. "Increasing natural gas production simply continues a never-ending 'bridge,' displaces clean, renewable energy, and locks in dirty fossil fuel infrastructure for decades," FWW argues in its report.
The industry, on the polar opposite end of the spectrum, now claims that gas is not a bridge but the "destination," positioned to supply energy demand far into the future. A spokesman for the AGA said the industry does not view gas as a "bridge" and hasn't for the past decade. Former AGA president Dave McCurdy and American Petroleum Institute's Marty Durbin both referred to natural gas a "foundation fuel."
"We are only eighteen days into 2018 and we have already witnessed what some of us have known for a long time and others are reluctant to recognize: natural gas is our nation's foundation fuel."- AGA Chief Operating Officer Lori Traweek #StateOfTheEnergyIndustry pic.twitter.com/ss3lAUN23R

— AGA (@aga_naturalgas) January 18, 2018
In its recent "Energy and Carbon Summary" report, ExxonMobil cited "expanding the supply of cleaner-burning natural gas" as a "near-term action" it plans to undertake. Exxon's report mentioned that although renewable energy sources are expected to grow, "natural gas is expected to grow the most of any energy type."
The industry is clearly championing gas as the answer: to emissions reductions (which the FWW report challenges), to economic prosperity, and to energy security. A new organization, The Empowerment Alliance (TEA), emerged last year to promote exactly this message. TEA does not reveal its funding, though its talking points are basically the same ones used by groups like the American Petroleum Institute and the Independent Petroleum Association of America, both of which have been heavily promoting gas in social media and communications materials.
Momentum Builds for Fracking Bans, Leaving Gas Industry on Defensive
With the petroleum industry banking on gas playing a substantial role in the world's energy mix, it has already come out against calls to ban fracking from some Democratic lawmakers. Current U.S. Senators and Democratic presidential candidates Bernie Sanders and Elizabeth Warren have both said they would ban fracking if they are elected.
Sanders, along with Senator Jeff Merkley (D-OR) and Reps. Alexandria Ocasio-Cortez (D-NY) and Darren Soto (D-FL), recently introduced legislation that would ban fracking and the infrastructure enabling it everywhere in America. The "Fracking Ban Act" cites numerous concerns with the processes that have enabled a huge boom in U.S. oil and gas, including that "fracked natural gas is not a bridge fuel, as previously understood."
The oil and gas industry appears to be mounting a defense. Last November, the American Petroleum Institute (API) released a new video expressly opposing a fracking ban, part of a broader strategic campaign to dampen public support for a national ban and to brand the industry as the "natural gas and oil" industry, now putting gas front and center. API is also promoting an "energy for progress" campaign to counter the scientifically backed understanding that fossil fuels are the cause — not the solution — to the climate crisis.
This "energy for progress" branding, as climate reporter and HEATED publisher Emily Atkin recently pointed out, is curiously similar in wording to the names of liberal think tanks like Data for Progress and Center for American Progress. But the branding to resemble progressive groups or ideals doesn't stop there. At an industry conference in Houston on February 5, the CEO of Parsley Energy acknowledged that petroleum producers have a "massive perception problem," particularly among younger generations, and pitched the idea of a "shale new deal."
To appease the climate-concerned youth pushing for a Green New Deal, Matt Gallagher, CEO of the oil and gas company Parsley Energy, unveiled his pitch for a 'shale new deal' to change the negative perception around the industry.https://t.co/hiobEG6aEl

— Zahra Hirji (@Zhirji28) February 6, 2020
"We need a shale new deal," Parsley's Matt Gallagher said. "We need to highlight the benefits of America producing oil and gas and we're doing it with as little impact as possible." This phrasing presumably plays off of the Green New Deal, a popular policy framework among the left and younger generations for comprehensively addressing the climate crisis along with other social and economic injustices.
And fracking has no place in the Green New Deal framework. Senator Sanders, one of the leading advocates of the Green New Deal, pointed to the dangers associated with fracking, which the industry always omits in its promotional communications. "Fracking is a danger to our water supply. It's a danger to the air we breathe, it has resulted in more earthquakes, and it's highly explosive. To top it all off, it's contributing to climate change," Sanders said in a statement responding to the Food and Water Watch report. "This should be a no-brainer. If we are serious about clean air and drinking water, if we are serious about combating climate change, the only safe and sane way to move forward is to ban fracking nationwide."
Momentum is already building at local and state levels, with communities like Berkeley, California, and Brookline, Massachusetts, advancing with bans on gas in new buildings. New York Governor Andrew Cuomo has just announced that the state's fracking ban, first imposed in 2014, will become permanent. New York City announced on February 6 that it plans to ban all new fossil fuel projects and infrastructure and end the use of fossil fuels in large buildings by 2040. 
"The science is clear: fracking is a leading contributor to our climate emergency," said Ocasio-Cortez. "We must do our job to protect our future from the harms caused by the fracking industry and its methane emissions."
Main image: From the cover of Food and Water Watch's report, Fracking's Bridge to Climate Chaos. Credit: Food and Water Watch