Since he left his job with a local engineering company contracted by Tullow Oil to install drilling rigs, Erastus Ekeno has been running a pub, selling food and drinks to residents and visitors to this sun-baked township on the dilapidated highway to South Sudan. The profits were much more than the salary he used to earn as a welder in his former job, with sales of up to £280 a day – a tidy sum by local standards.
In mid-2019, Tullow started trucking oil to the port of Mombasa, nearly a thousand kilometres away. Prospects for the business looked good.
But that all changed around October, when Tullow abruptly stopped transporting the oil. In a matter of weeks, Ekeno's small venture started feeling the heat: there were no more drivers, mechanics and tradesmen sleeping in his small lodging behind his pub, or drinking and taking meals there.
"I could not afford rent due to low business," he recalls. Ekeno sent home two of his workers, leaving him to run the pub with his wife and a skeleton staff.
The worst was yet to come, however. In January 2020, Tullow commenced a staff layoff plan, sending home the first batch of workers. More are set to be sent home in March and May as the company prepares to significantly reduce its Kenyan investment, reportedly selling a large stake of its business to the controversial state-backed China National Offshore Oil Corporation (CNOOC).
The developments are sounding the death knell for Lokichar Township and the Turkana region's economy, which struggles to sustain the poorest population in all of Kenya, where more than 70 percent of the population subsist on less than one dollar a day.
Ekeno's story is familiar – a tale of short-term gain built on corporate promises preceding long-term destitution driven by the failure of oil production in the region.
---
Like what you're reading? Support DeSmog by becoming a patron today!
---
Hopelessness
The hopes of the largely pastoral region had been high since 2012, when Tullow began exploring for oil. But that optimism has faded and given way to hopelessness, made worse by what residents say is a failure by the company properly communicate its plans.
"First Tullow stopped trucking oil late last year on the pretext of bad roads, and we assumed this would resume in January after the rains subsided. But instead of resuming, we heard the news that they were sending people home. It's worrying we do not know what is happening; we do not know what next," Ekeno told DeSmog.
"We hear from rumour mills that Tullow is leaving soon but we do not know for sure since nothing has been communicated to us by their community officers. We hear these things on television. We can only wait and see," adds Ekeno.
It is not just Ekeno who is apprehensive. Another resident, Joyce Ekinyieng, says that with the scaling down of operations, the population of the town has hugely decreased – leaving the hospitality industry in a precarious position.
"Many houses are unoccupied at the moment," says Ekinyieng, who says that four of her mother's 10 rooms are empty, and the rents for the remaining spaces have fallen from £18 to £5 per room.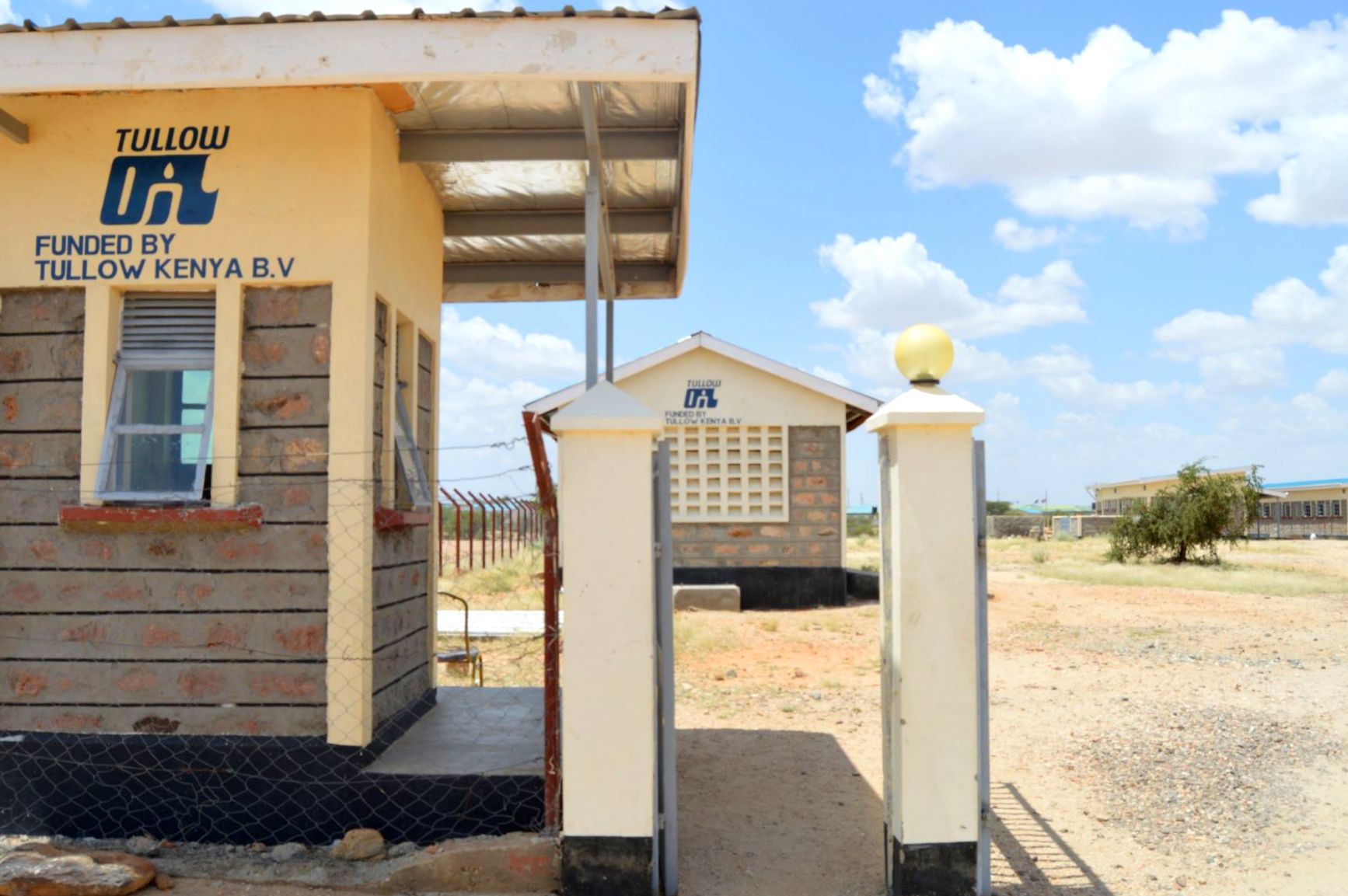 Image: A hospital funded by Tullow that residents say is not as well equipped as the company claims. Credit: Maina Waruru
Ekinyieng and Ekiru want Tullow to come clean on persistent allegations that there was not much oil here afterall, which is the reason the company is actually exiting.
Kenyan media outlets are calling Tullow's failure to meet expectations a "scandal". The Kenyan government last year decided production from the Turkana fields was unlikely to be sufficient to justify building a refinery.
But Tullow maintains that changes to its Kenya operations are a consequence of production issues across all its African and global projects.
Environmental concerns
Regardless of the ultimate size of the oil find, Tullow is facing allegations of overstating the value of its community projects, corruption, and environmental malpractice.
Tullow says it was undertaking the restoration of well pads, to "re-vegetate" some of the sites, by planting indigenous trees and watering them until they can survive on their own.
But residents want the company to fully rehabilitate the abandoned well pads by planting grassland shrubs and hardy plants which can be supported by Turkana's fragile ecosystem.
According to local activist Benson Nakuwa, Tullow is taking advantage of local residents' lack of awareness of their rights, leaving patches without tree cover.
"Contractors hired by Tullow to repair dry well pads seem to have been in a hurry to leave, doing reclamation work and leaving the sites before trees could grow. We now have bare patches with a scattered grass but not a single tree is yet to grow," he laments.
There are also accusations that a Tullow-built hospital is not resourced to the level the company claims, and that some of the water projects initiated by the company have already collapsed, leaving people and livestock thirsty.
The sites where the company is holding hazardous "drill cuttings" are causing the most concern, however, with many residents having no idea what the fenced compounds hold.
Drill cuttings can contain hazardous chemicals, including heavy metals and deadly bacteria that are harmful to soil, water and air quality. Tullow is clearly sensitive about the its drill cuttings site near the Twiga-1 well, with the company's staff following reporters that venture near.
At a dried waterway next to the metal and wire fence of the landfill, a young man herding his goats is oblivious of the potential danger to animal and plant life posed by the site, which gives off a strong stench. There is a settlement less than 500 metres away, with local women routinely walking past to collect water.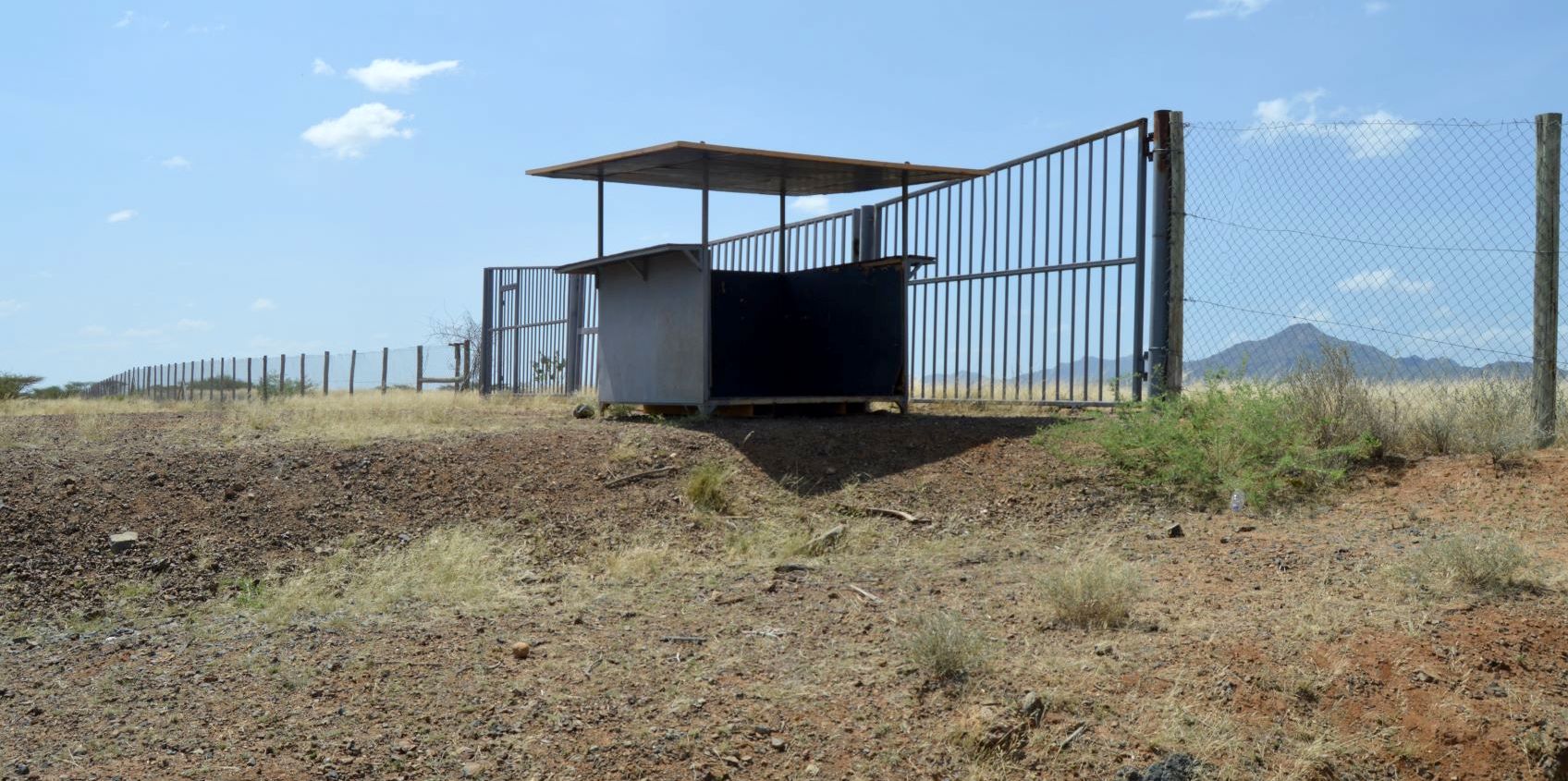 Image: A guardhouse by Tullow's drill cuttings site in Lockichar. Credit: Maina Waruru
Kenya has no laws governing the conduct of the oil industry with regard to the environment and handling of drilling waste. Nonetheless, Tullow's Managing Director for Kenya Operations, Martin Mbogo, told DeSmog that the company is "fully committed to compliance with Kenyan environmental legislation and good international practice in the area of waste management, and to working in compliance to national and county regulations."
Tullow says it has been using the Twiga-1 site, which is licensed by National Environmental Management Agency (NEMA), as a waste transfer station for drill cuttings. It claims it conducts regular monitoring at its sites, to assist in "building a picture of the environmental conditions in the area", using "values of the Dutch Pollutant Standards" as a basis for its activities, since Kenya lacks specific standards.
This does little to reassure the local community living with the drilling waste, however. As Nakuwa points out: "We have heard that the waste should be moved to far away from here, to a place far away from human and wildlife, maybe not even in this region. But we are not told anything, including when this will happen."
Image credit: © Tullow Oil