By Megan Milliken Biven
Imagine a sovereign nation with nearly 29 million citizens and the eleventh largest economy in the world. Now imagine that this nation's legislature only met to represent its citizens and their interests once every two years. The work of governance, regulation, and oversight are instead shifted to a relatively unknown cadre of boards. Boards whose leadership is a revolving door of the industries the government is supposed to regulate. If this were Venezuela, we Americans would deem it a corrupt Banana Republic and demand international intervention.
The hypothetical nation described here is in fact Texas. One of those state boards is the Railroad Commission of Texas, a little-known agency that oversees oil and gas activities across the state. Ryan Sitton is both current Railroad Texas Commissioner and founder of an oil and gas consulting company. Sitton, who recently lost reelection, regulates the very activities he personally profits from. On March 19, he published an opinion piece in Bloomberg, "The U.S. Must Protect Free Markets in the Oil Price War," which calls for protecting not free markets, but the oil and gas industry in Texas.
His article asks the federal government to allow oil and gas companies to behave like the OPEC cartel and limit oil production, raise prices on already suffering Americans during the COVID-19 pandemic, and continue with a status quo energy policy.
MUST READ OP–ED: "Texas could cut production by 10%, and if Saudi Arabia is willing to cut production by 10% from its pre-pandemic levels and Russia is willing to do the same," says @txrrc commissioner @RyanSitton | #OOTT https://t.co/NmEJvtGstp

— Javier Blas (@JavierBlas) March 20, 2020
Sitton attempts to mislead readers into thinking that our current oil and gas oversupply is a result of "forces completely outside of normal economic conditions" or the "shale revolution." The current oil and gas bust was in fact entirely predictable and the result of a coordinated and successful industry campaign to overturn the crude oil export ban. The Obama-Biden overturn made previously uneconomic and risky Permian Basin, Eagle Ford, and other shale investments appear like good investments, and so private equity flooded the oil patch and projects with razor-thin margins would quickly overtake Russia and Saudi Arabia. Voila — the global oversupply.
So, do we bail out an industry that lost on a bad bet? An industry that is automating jobs at breathtaking speed while telling workers and their families to tighten their belts? An industry that is responsible for maiming and killing 1,566 American oil and gas workers between 2008 and 2017? An industry that has unlawfully diverted over $40 million dollars in wages from 29,000 workers between just 2012 and 2017? Here we have an elected official who personally profits from his public service asking for a bailout. He's calling for government manipulation, and defines this call to action as a "market-based approach."
For almost a decade, I conducted economic analysis and regulated oil and gas activities for the U.S. Bureau of Ocean Energy Management, and I am now a researcher based in Vienna, Austria. And I have a better proposition for Americans, Texans, and oil and gas workers. Instead of bailing out irresponsible and reckless companies, let us instead put the talents and expertise of oil and gas workers to work cleaning up American communities.
The Environmental Protection Agency estimates that the oil and gas industry has abandoned or orphaned 804,000 oil and gas wells across Texas alone. Orphan wells are abandoned oil and gas wells for which no viable responsible party can be located. Private owners "orphan" wells, and leave the costs and responsibility to safely decommission and plug the wells to American citizens.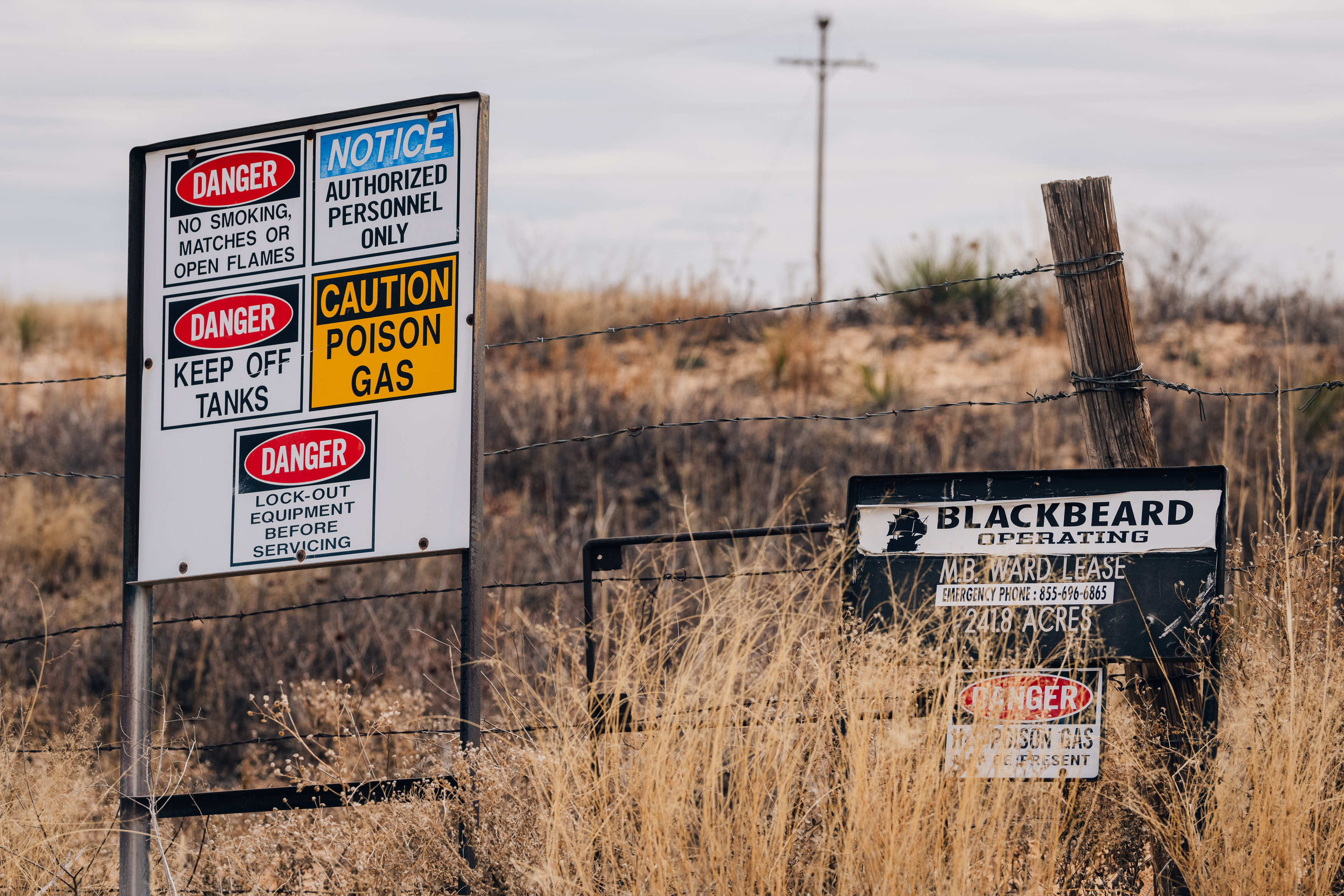 Signs warning of poison gas in Winkler County, Texas, in the Permian Basin. Credit: Justin Hamel © 2020
Idle oil and gas wells emit pollutants into the air including hydrogen sulfide, a colorless toxin that can be lethal, and volatile organic compounds that contribute to ground level ozone, a gas that exacerbates asthma, lung disease, and other respiratory ailments. As we may soon see as coronavirus spreads across America, exposure to this type of air pollution could make the virus particularly deadly to Americans living next to these wells.
My proposed "Orphan Well Act of 2020" would create a new national program and a national workforce of former oil and gas workers to rid our communities of the oil and gas industry's polluting orphaned wells and abandoned pipelines. We can put oil and gas workers back to work immediately and guarantee full employment for a century.  From project managers to roustabouts, these Americans deserve good salaries, benefits, and safety on the job.
The estimated 2.3 to 3 million orphan wells are scattered across the country: on tribal and private land near homes, on public land near schools and hospitals, and on federal land and waters. These wells emit noxious fumes, threaten groundwater, and depreciate property values. Orphaned oil and gas wells are a blight to American citizens.
Rather than bailing out the companies and investors that created this problem, let them experience the natural consequences of their decisions. Let them fail. Free Texans and Americans from dependency on an industry that promises nothing but endless booms and busts and automation.
Instead, let us invest in true energy independence and embrace the Texas wind renaissance, extending it from its fields to its shores.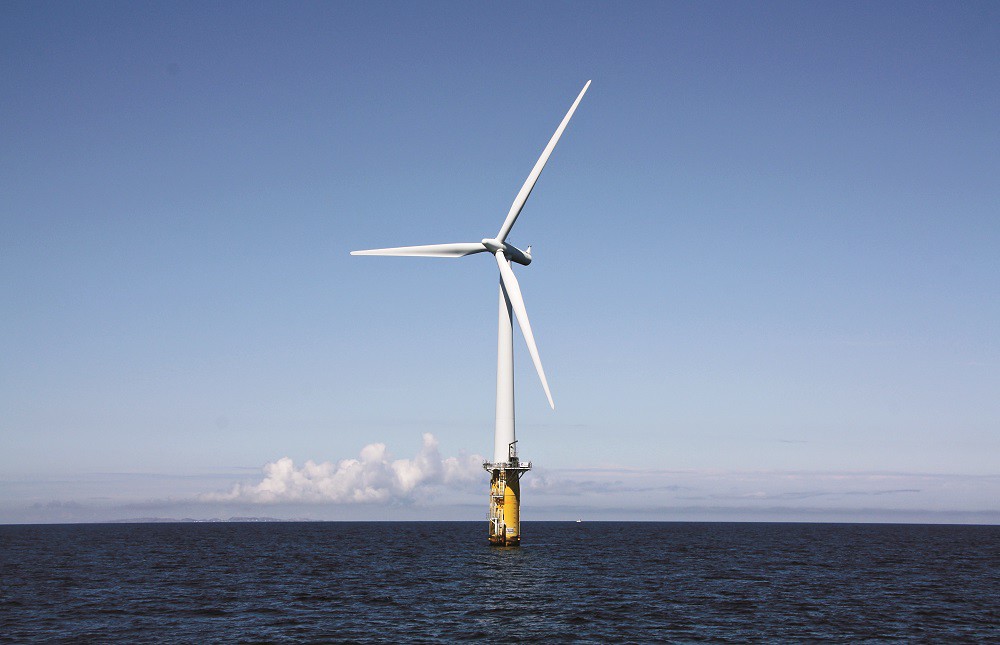 Offshore wind potential. Credit: Senu Sirnivas/National Renewable Energy Lab, public domain
In 2016, a National Renewable Energy Laboratory (NREL) offshore wind energy study estimated that three out of the top four states with the highest net offshore wind potential are in the Gulf of Mexico (Texas, Louisiana, and Florida). States along the entire Gulf Coast are home to a quarter of the nation's yearly offshore wind potential, which according to a co-author of the NREL wind study, represents nearly half of the U.S. total electricity consumption in 2017.
Let's clean up the oil and gas industry's mess and make our communities healthier and safer. We can and should create a national program and a federal workforce of displaced oil and gas workers to rid our communities of the oil and gas industry's polluting orphaned wells and abandoned pipelines.
Let us stop listening to people like Ryan Sitton who ask us to return to a status quo that enriches people like himself at the expense of American communities and our air, water, and land.
Megan Milliken Biven is a former policy analyst with the U.S. Bureau of Ocean Energy Management and current researcher based in Vienna, Austria.  For almost a decade, she conducted economic analysis and regulated oil and gas activities on the Outer Continental Shelf in the Gulf of Mexico. She is also publishing essays on the role of capital and climate change and the pathways to a just transition.
Main image: A roughneck operates the pipe ramp on Citadel Rig 6. Citadel moved into the Permian Basin after a downturn in Alberta. Reeves County, Texas. Credit: Justin Hamel © 2020