The $2 trillion stimulus bill that the U.S. Congress rushed to pass in order to respond to millions of job losses provided a once-in-a-generation opportunity for corporate lobbying. The oil and gas industry has been no exception, but some of the proposed initiatives are dividing the industry.
Crude oil prices went into a freefall in early March following the one-two punch of an OPEC price war and the meltdown of financial markets because of the coronavirus pandemic. In less than two weeks, prices of the oil benchmark Western Texas Intermediate (WTI) dropped from $45 to the low-$20s per barrel, plunging the global oil industry into a state of deep crisis. A tenth of global oil supply could become uneconomic to produce.
U.S. shale executives immediately went to Washington. Continental Resources' CEO Harold Hamm, who personally lost billions of dollars as his company's stock price dropped, reached out to the Trump administration for government help. Ideas have ranged from a tariff on imported crude in response to the Saudi-Russian price war, to low interest loans for drillers, to the Department of Energy buying oil for the Strategic Petroleum Reserve (SPR).
President Trump announced the SPR purchase to much fanfare, but the idea did not survive in the stimulus bill's final passage. Neither did the low interest loans, at least not directly, although the $500 billion for American businesses impacted by the coronavirus (which some have called a "slush fund") could function as a bailout for shale drillers.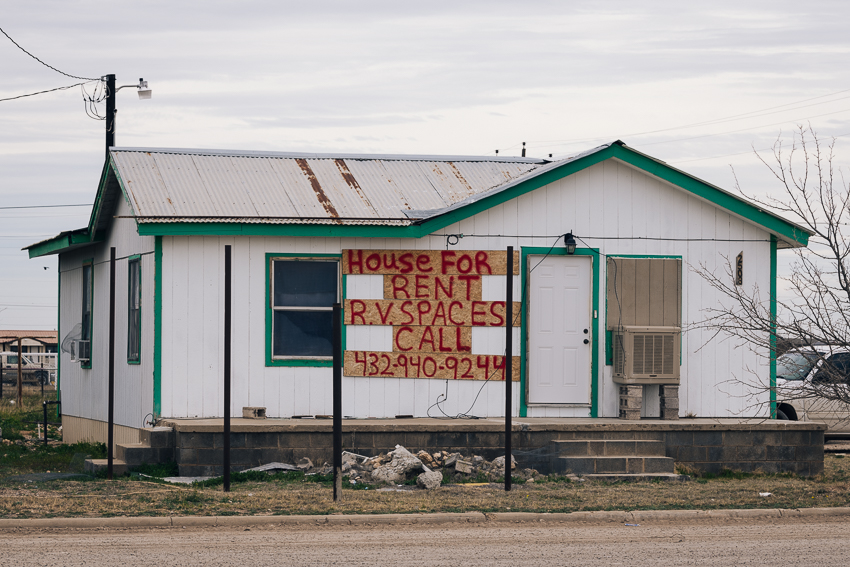 A sign advertising house and RV spaces for rent on a house in Coyanosa, Texas, in the Permian Basin, where the shale industry has seen a slowdown. Credit: Justin Hamel © 2020
Meanwhile, the idea of a tariff or a ban on imported oil remains alive and appears to be inching forward. On March 20, a group of Republican Senators urged the U.S. Department of Commerce to investigate "dumping" of oil by Saudi Arabia and Russia. "It is essential that the American government respond with decisive action," the senators led by Sen. James Inhofe (R-OK) wrote in a letter.
North Dakota Senator Kevin Cramer (R) pressed President Trump on a March 31 phone call to prohibit imports of oil from abroad, forcing refiners to instead buy oil from U.S. shale fields. It would be an "America first" policy, Sen. Cramer said, according to S&P Global Platts. "I don't think we lose a lot by considering a more protectionist oil policy now that we produce enough for our country's use for sure."
The logic is that refiners would have to buy American oil only, with some exceptions, providing an outlet for the massive surplus of oil coming from places like the Permian and Bakken shales. Sources from within the White House told S&P Global Platts that President Trump was considering the idea.
"I never thought I would be saying this: Maybe we have to have an oil [price] increase. Because we do. The price is so low now," President Trump said on a Fox News interview on Monday, shortly before calling Russian President Vladimir Putin to discuss, among other things, low oil prices.
Industry Infighting
While the U.S. government is looking for ways to prop up unprofitable drilling, the industry is not a monolith. The collapse of the oil markets appears to be leading to infighting from various factions within the fossil fuel industry. For example, the oil majors are content to let smaller shale oil drillers fail, as DeSmog has reported, which would allow them to snatch up the shattered pieces on the cheap.
But the idea of tariffs on imported crude or a more comprehensive ban on imports is creating another fissure in the industry. Refiners, many of which import from abroad, are dead set against the idea. Refiners "aren't seeking bailout relief from the government or financial stimulus, but they do need to avoid having additional hurdles thrown their way," Susan Grissom, Chief Industry Analyst for the American Fuel and Petrochemical Manufacturers (AFPM), said in a post on the group's website. AFPM is a lobby group for refineries and petrochemical producers.
AFPM's wish list includes "keeping the energy market free and open by avoiding embargoes or tariffs that would drive up consumer costs," Grissom said. A growing number of refineries are shutting down as oil consumption collapses.
But it isn't just refiners that oppose the tariffs. The shale gas industry is also against restricting imported oil. The Marcellus Shale Gas Coalition, a trade association, sent a letter to U.S. Secretary of Commerce Wilbur Ross on March 25, opposing tariffs.
"We have watched with some concern recent advocacy … to impose tariffs on imports of crude petroleum," the letter said. "Frankly, such remedies do little to address the condition of natural gas producers in Pennsylvania and elsewhere in our region."
The letter added that tariffs "may even do harm to natural gas producers" because it could "stimulate crude oil production which in turn would cause the production of additional incidental or 'free' gas to be produced out of those crude-oil plays."
As the letter states, in some ways shale gas drillers in Appalachia are in direct conflict with oil drillers in the Permian Basin. The fracking craze in West Texas targets oil production, but a gusher of "associated gas" comes up as a byproduct. The result has been a glut of natural gas that has contributed to a crash in prices nationwide.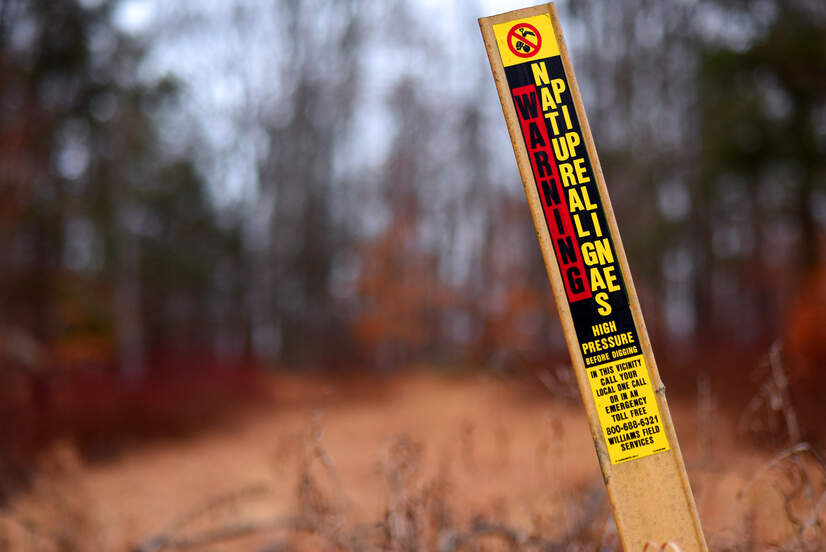 Pipeline warning flag. Credit: © 2016 Laura Evangelisto
Even before the global coronavirus pandemic, natural gas prices fell below $2/MMBtu, threatening gas drilling in Appalachia. Pittsburgh-based EQT, the largest natural gas driller in the country, said late last year that "a lot of this development doesn't work as well at $2.50 [per MMBtu] gas."
Prices are trading at roughly $1.70/MMBtu currently, and the gas industry finds itself in a crisis. EQT suspended its dividend on March 26 in order to deal with its debt load.
At the same time, in some ways gas drillers have more reasons for optimism than Texas oil drillers. That's because some forecasts suggest that gas prices will rise next year, precisely because some Permian oil drillers would be put out of business. Less oil drilling in Texas means lower gas production as well.
"[A]s we enter the 2020/21 winter, we expect production declines to be visible enough that gas prices will rally sharply in our view to help summer 2021 reach comfortable inventory levels," Goldman Sachs wrote in a report on March 24. The investment bank sees gas prices averaging $3.25/MMBtu in the summer of 2021, roughly twice as high as today's prices.
This is a welcome development for frackers in Pennsylvania, which is why they are trying to head off a tariff on imported oil, a move that could lead to more Texas gas produced than they'd like.  
Well-stated @thehill column: "Tariffs could actually harm natural gas producers."https://t.co/Zn1BU1jntK

— Marcellus Shale (@MarcellusGas) March 30, 2020
Lobbying Blitz to Continue
The U.S. Congress is already discussing a fourth round of pandemic-related stimulus measures, and the oil industry is pressing Congress to consider a suite of goodies, which will likely see the revival of the SPR initiative at least.
On many fronts, the various factions of the fossil fuel industry are in alignment, and are eager to capitalize off of the emergency atmosphere in the country. As The New York Times reported, the plastics industry has launched a campaign to roll back plastic bag bans, calling them a "safety risk" and citing flimsy research to single out unwashed reusable bags as "virus-laden," while disposable plastic is clean.
At least three states have passed new laws criminalizing protests of the fossil fuel industry. The oil lobby has used the global pandemic as justification to label pipelines as "critical infrastructure," imposing harsh fines and felony charges for any property damage from protesters.
The Trump administration is also easing off of enforcement of environmental violations and watering down fuel economy standards.
But the tariff on foreign oil has the distinction of being the quickest action that the Trump administration can take to aid failing oil companies, while also being one of the most divisive actions, pitting Big Oil against indebted shale, upstream producers against refiners, and gas against oil. As the crisis sweeps over the fossil fuel industry, the desperate calls for government help are dividing erstwhile allies.
Main image: A roughneck couples drill pipe to the drilling line on Citadel Rig 6. Citadel moved into the Permian Basin after a downturn in Alberta. Reeves County, Texas. Credit: Justin Hamel © 2020