At the same time a price war is raging in the global oil markets, a regional price war is playing out in the shale fields of Texas. The Texas oil war is between the major oil companies ExxonMobil and Chevron and the many independent shale oil producers.
In an unusual move this week, the CEOs of the shale oil companies Pioneer and Parsley sent a letter to the Texas Railroad Commission, asking the state oil and gas regulator to take an active role in limiting Texas oil production — a move Commissioner Ryan Sitton recently has endorsed.
Parlsey CEO Matt Gallagher explained the reasoning behind the request.
"If we keep producing until we hit a wall, with no proactive decisions, we're going to see single-digit prices across the country," Gallagher told the Wall Street Journal.
That's a much different tone from earlier this year when Gallagher predicted 2020 would finally be the year shale oil companies became profitable, highlighting just how much has changed in the U.S. oil business — and, of course, the world — in a few short months.
This request to limit oil production looks like another sign of desperation setting in for independent shale producers, who are feeling squeezed by corporations like Exxon and Chevron reportedly trying to thwart efforts to help the smaller companies.
The Wall Street Journal reported that both of these oil majors oppose any sort of production limits. Their strategy appears to be: Ride out the low prices, watch smaller companies go bankrupt, and then buy up the assets at a big discount.
Seems like this is only a family affair

Good luck getting $XOM $CVX $EOG and others to join in this one #OOTT #Opec #Permian https://t.co/e0C2TdZkfj

— Abhi Rajendran (@ARaj_Energy) March 30, 2020
This week, Commissioner Sitton announced a meeting planned for April 14 to discuss limiting Texas oil production, with an expected follow-up on April 21, when the three commissioners could make a decision.
Whatever happens in the short term, there will still be plenty of oil in the Texas shale fields after this is over, points out Daniel Yergin, an oil historian and vice chairman of oil industry consulting group IHS Markit.
"Companies go bankrupt, but rocks don't go bankrupt," Yergin told Bloomberg recently. "When this all shakes out, there will be other people to develop shale."
Exxon and Chevron seem poised to become the next big players developing much of that shale, but an important question remains: Can anyone make a profit producing shale oil?
Even Warren Buffett Is Losing in the Texas Oil Business
Last year, there was a different war going on in Texas shale — a bidding war. Chevron was in the process of buying independent shale producer Anadarko and had offered $33 billion for the company, which would have greatly increased its holdings in the Permian shale play. However, before the deal was finalized, the large independent oil company Occidental Petroleum outbid Chevron with an offer of $38 billion.
Chevron chose not to engage in the bidding war and was rewarded with a $1 billion payout from Anadarko for breaking the initial agreement. At the time, Chevron received praise for not overpaying for Anadarko, and speculation followed that Chevron might acquire another company instead. Both Parsley and Pioneer were mentioned as potential targets for acquisition.
In order for Occidental to make its winning bid, the company had to approach Warren Buffet and convince him to lend Occidental $10 billion — something he reportedly did after just a 90 minute conversation.
When explaining his investment, Buffett said it was a bet on oil prices rising, but that "it's also a bet on the fact that the Permian Basin is what it is cracked up to be."
However, as DeSmog has documented, increasing evidence points to the best acreage in the Permian already having been drilled and wells not producing as much oil as initially forecast. Ultimately, Buffett may find that the Permian is not what it is cracked up to be.
"Warren Buffett gets it right a lot of the time, but a perfect storm has turned this into one of his rare awful bets so far."
– Kiplinger on WB 's losses from buying into Occidental Petroleum

— Hiram Purkeypile (@HiramPurkeypile) March 31, 2020
So far, Occidental's purchase of Anadarko has been a disaster, as the company's stock price has plummeted. Oscar Brown, one of the executives responsible for the deal, is now no longer with Occidental. Reporting on his departure, the Wall Street Journal refers to the Anadarko purchase as an "ill-timed acquisition." The idea has even been floated that Buffett might need to buy the company outright to protect his investment.
Now Occidental reportedly is exploring paying back Buffett with stock instead of cash, which would work out well for Buffett if the company survives and oil prices rebound. But that move would be a bust if Occidental doesn't survive the current industry turmoil. With approximately $40 billion in debt, and $11 billion of that coming due by 2022, Occidental is definitely in trouble at current low oil prices. The firm has slashed its spending and its dividend.
As Barron's reported recently, Morgan Stanley analyst Devin McDermott summed up the situation facing Occidental when he wrote that "high leverage and low oil prices have created a challenging backdrop" for the company.
Buffett now appears to be discovering exactly what the Permian is really all about — too much debt and no free cash flow to pay back that debt.
Perhaps due to Buffett's influence, Occidental is now one of the seven oil companies invited to the White House on April 3 to discuss options for the industry to address this financial crisis.
In the past, I've written about how shale CEOs continue to run money-losing businesses because they get paid big salaries and bonuses to do just that. True to form, the remaining Occidental executives received big bonuses specifically for the Anadarko acquisition. 
Exactly what would an oil CEO have to do in order to NOT get a big bonus? https://t.co/0thuM7Sq5O via @bopinion $OXY $WLL #OOTT

— Liam Denning (@liamdenning) April 2, 2020
Exxon Likely to Double Down on the Permian
In journalist Bethany McLean's book on the shale industry, Saudi America, she quotes Jeff Currie, head of commodities research at Goldman Sachs, as explaining why the Wall Street behemoth initially didn't think shale was a good investment.
"At the time, we dismissed shale because Exxon told us it would cost $125 a barrel to get it out and would never work," Currie said.
As the shale industry has lost money for over the past decade, Exxon appeared correct.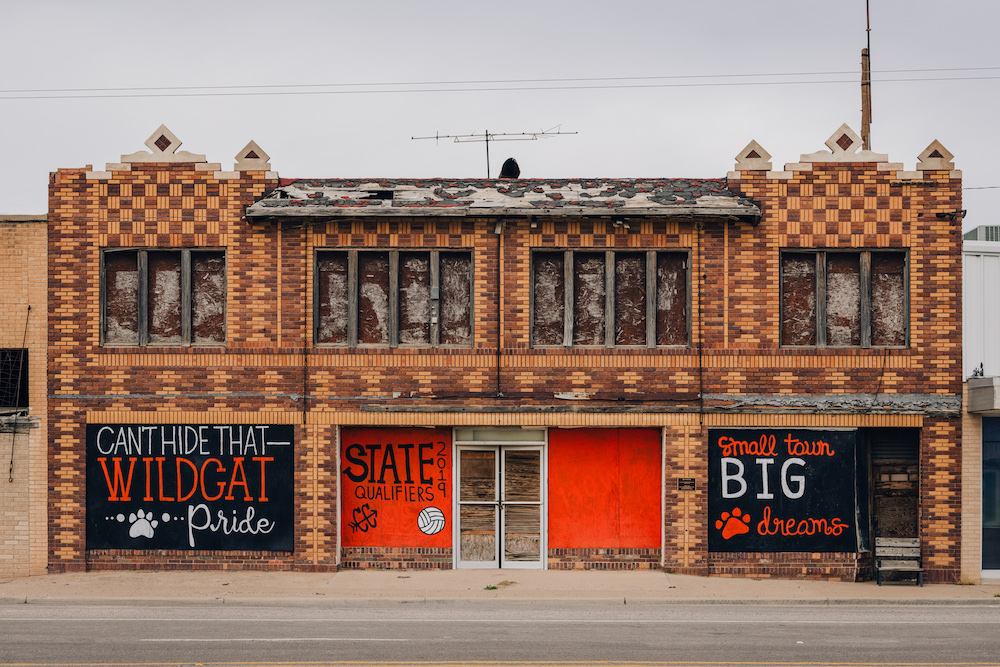 A sign reads "Small Town, Big Dreams" on the historic former Rig Theater in downtown Wink, Texas, in the Permian Basin. Credit: Justin Hamel © 2020
However, Exxon did try to enter the shale gas game in a big way in 2009 when it purchased the shale company XTO for $41 billion. At the time, the purchase was described as "a big bet on the future of the domestic natural gas market," but has turned out to be one of the worst acquisitions in the history of the industry — although Occidental's purchase of Anadarko may be a likely contender for that title in the future.
Since then, Exxon has purchased significant acreage in the Permian Basin for oil production, with the goal of producing a million barrels per day of oil from fracked shale wells. And it appears, according to shale executive Scott Sheffield, that Exxon is hoping to buy significantly more acreage after many of the independent shale companies go bankrupt.
Exxon has become far more optimistic in its projections about the shale oil business since Goldman's Jeff Currie made his comment about how it "would never work."
A year ago Bloomberg reported that Exxon planned to reduce the cost to produce shale oil in the Permian to $15 a barrel, citing the scale of Exxon's operation as justification for this claim.
However, a research note released last week by Goldman Sach's Equity Research highlighted the fact that Exxon, along with Chevron and ConocoPhillips, haven't figured out how to produce oil more cheaply than anyone else in the Permian. The research note pointed out that these major oil companies have not "demonstrated in aggregate that they are lower on the cost curve vs. the E&Ps." E&Ps refers to the independent exploration and production companies.
Dow Jones suffers worst first quarter ever. Only 1 Dow member, Microsoft, ended Q1 2020 in positive territory w/+0.01% while Boeing plunged >50% YTD, while Chevron and Exxon sank around 40% after oil suffered its worst quarterly beatdown on record. pic.twitter.com/7ZZwwT1Zns

— Holger Zschaepitz (@Schuldensuehner) March 31, 2020
And if it's unable to produce the oil more cheaply, Exxon is becoming more like the typical shale company. The oil giant is only generating enough cash flow to pay its dividend, and thus the $25 billion or so it plans to invest this year will have to be borrowed. "This is far from ideal but manageable given [Exxon's] balance sheet strength," Morgan Stanley's McDermott said of Exxon's current position, according to Barron's. 
Unlike the independent shale companies, Exxon will be able to continue borrowing to fund its operations, but at some point the corporation will need to make a profit on producing oil in the Permian to pay back that money — a business strategy that's proven elusive in the industry.
Weathering the Storm
Texas Commissioner Ryan Sitton ended his recent presentation about supply and demand issues in the global oil market by saying, "Those who are able to weather this storm I think are going to be in a good position."
Exxon and the other oil majors are likely to weather this storm while independent shale producers may rapidly go bankrupt.
Sitton also predicted that oil demand would return to its pre-crisis levels and continue to grow in the future. However, other analysis suggests that this crisis could be a turning point for oil demand and investors will turn to renewable energy.
Both Occidental and Exxon are betting heavily on the idea that Permian oil production will become profitable in the future, despite most of the best acreage having already been drilled. Both companies have borrowed, and continue to borrow, to double down on this bet. However, the evidence so far shows that Exxon's advice to Goldman Sachs at the beginning of the shale boom seemed sound when it predicted the economics of shale oil "would never work."
Oil majors like Exxon and Chevron are likely to win the war for the remaining acreage in the Permian, but signs suggest this may not be a war worth fighting.
Main image: A drilling rig on a former ranch outside of Barstow, Texas, in the Permian Basin. Credit: Justin Hamel © 2020