This story is a part of Covering Climate Now's week of coverage focused on Climate Solutions, to mark the 50th anniversary of Earth Day. Covering Climate Now is a global journalism collaboration committed to strengthening coverage of the climate story.
Around 2014, Somo Mohamed Somo, a 47-year old father of seven, accompanied a team of researchers conducting preliminary research ahead of a proposed coal power plant along the Indian Ocean in Lamu, a UNESCO World Heritage site on the northern Kenyan coast.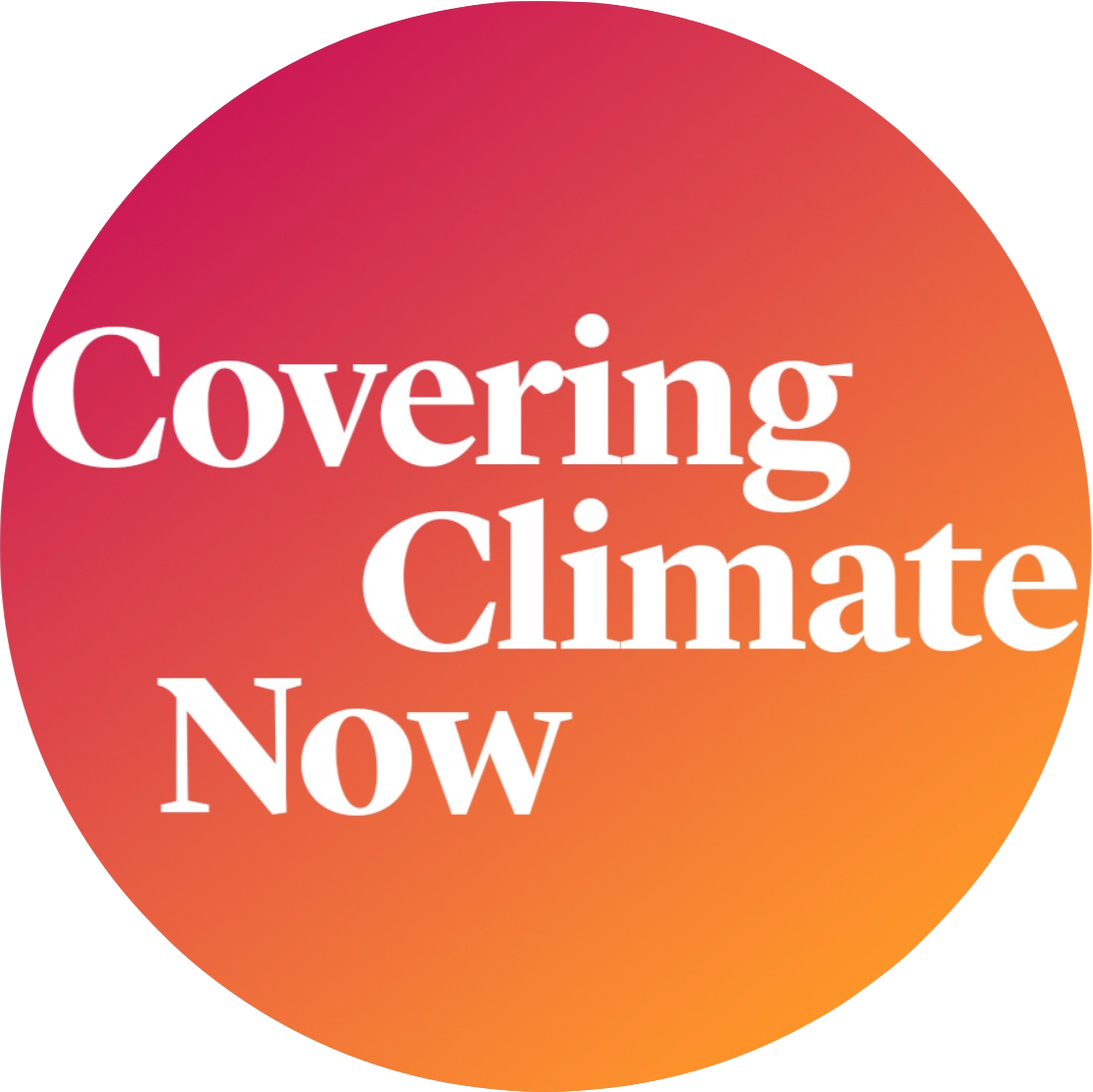 "I was deeply disturbed," says the chairman of the Lamu County Beach Management Unit Network. "They were investigating the wind direction, the Indian Ocean water temperatures, the sand, the mangrove and coral species, to have a record of how they would be affected by pollution once the coal plant was in operation."
Somo was accompanying the team to show them the fishing landing sites on which the fishermen rely. He enquired how the expected rising water temperatures would affect the fish breeding areas such as the mangroves and corals. He also asked how far the wind would push air pollution from the coal plant, and about the general health risks the community faced.
To date, Somo says the Lamu County Beach Management Unit Network has never heard back from anyone, despite promises to share the research findings, and claims to having been side-lined from every other meeting that took place about the coal plant in Lamu since then.
The coal plant remains a worrying spectre for the community. But there is some hope on the horizon.
Residents have been granted temporary respite through court rulings holding up the fossil fuel project's development. In the meantime, African NGOs and politicians are starting to get behind measures to prevent the continent from becoming the world's last great fossil fuel frontier — in particular, calls for "non-proliferation" of the world's dirtiest fuels, inspired by global efforts to wean countries off nuclear weapons.
It can't come soon enough.
---
Like what you're reading? Donate to DeSmog today!
---
Better options
Local and international efforts to stop new fossil fuel developments will have immediate impacts for communities like Somo's. Campaign group 350 says the proposed coal plant could potentially displace 120,000 people living in Lamu County.
"We depend on this ecosystem daily, and its overall health affects us," explains Somo. "Building the coal plant in Lamu would disrupt 23 fish landing sites and breeding areas for crabs, fish, prawns, and lobsters. Our main concern is on the overall emissions the plant would expose the community and the marine ecosystem to."
Famau Bwana Hamadi, a 73-year-old father of nine, worries that if the Indian Ocean water temperatures rise further, it will not only devastate his fishing business but his entire life.
"I used to earn Ksh4,000 a day (about $40), and now I can only afford about Ksh1,500 on a good day. For 49 years I have fished on these waters, I have educated my children without seeking any help. Do I now start asking them to feed me? I am not against development, but I want something sustainable. The island is rich in solar and wind. Why can't the government invest in those projects?"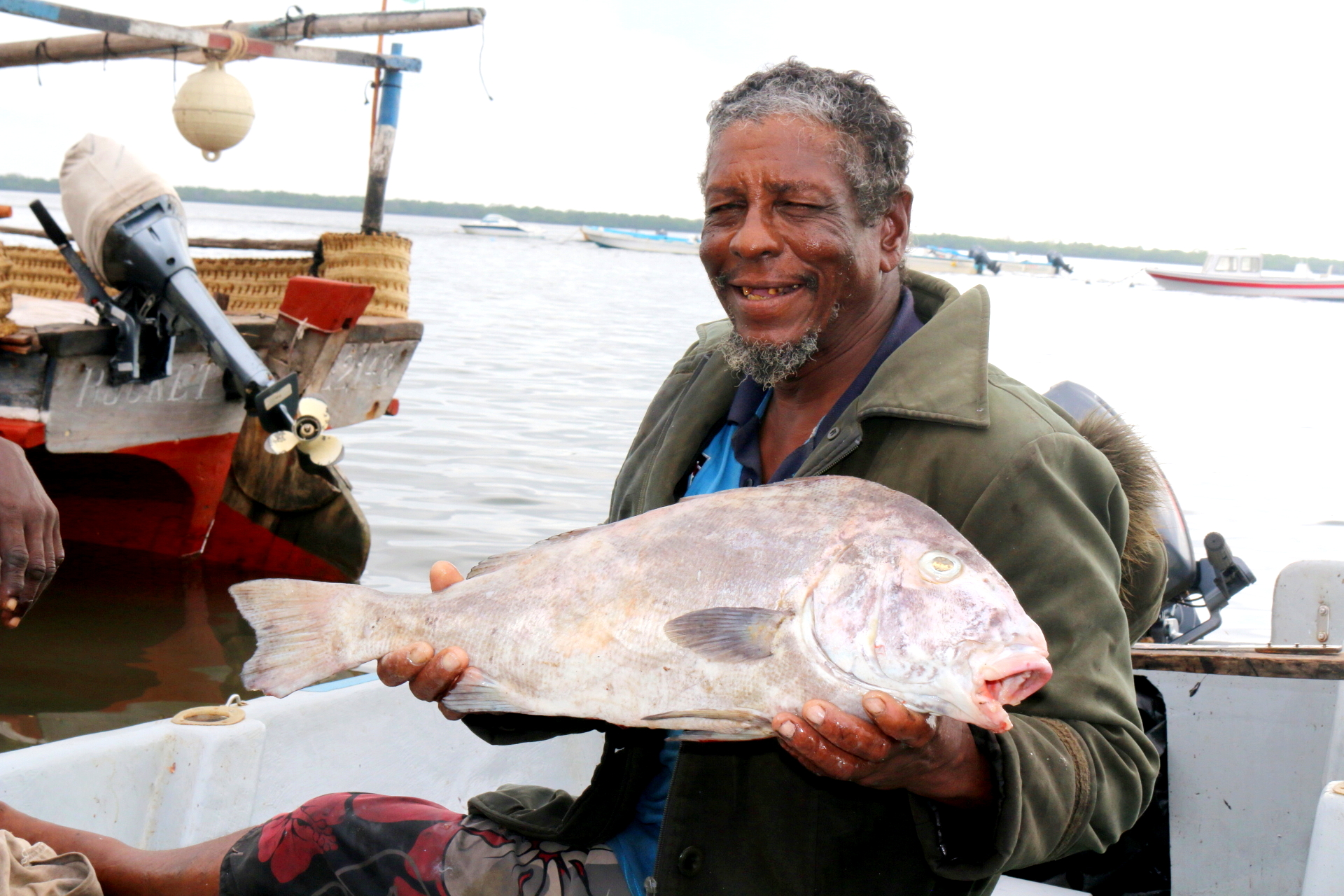 Image: Lamu resident and fisherman Famau Bwana Hamadi. Credit: © Sophie Mbugua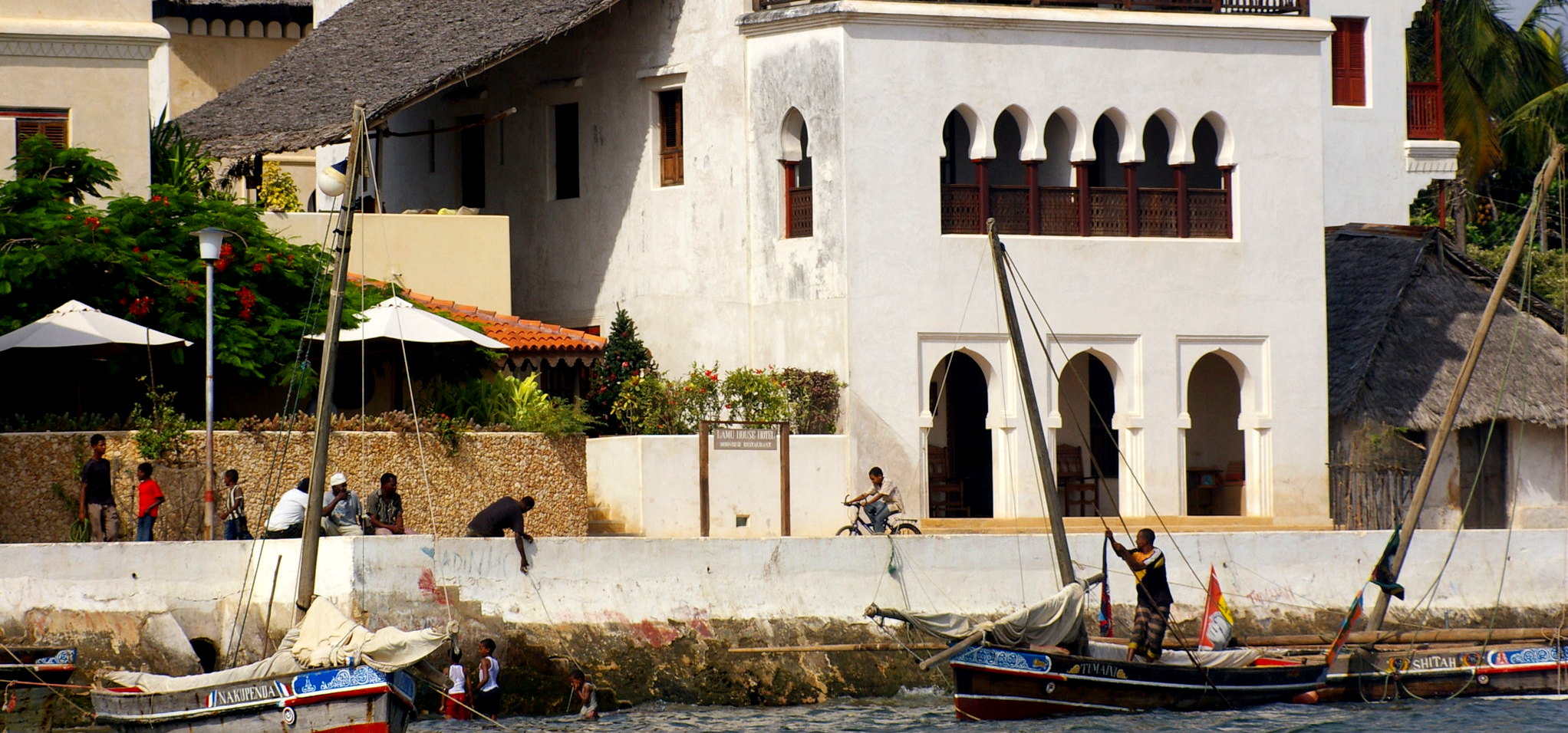 Image: Shela as seen from a dhow along the Lamu coast. Credit: Chief Moamba/Flickr CC BY–NC–ND 2.0
That sentiment is echoed by the chairperson of the Sauti ya Wanawake (Voice of Women) group, Raya Ahmed: "If the ocean dies, it's the women and children at the forefront of environmental degradation that will suffer. To us, these fishermen are our husbands, brothers, and fathers," she says.
Ahmed questions why Kenya, a signatory to the landmark Paris Agreement on climate action, would violate community rights to implement a high-carbon coal project instead of investing in cleaner options.
"Lamu has used donkeys as its main source of transport until lately, and the island still doesn't have any industry. The sea level is already rising, threatening our livelihood as the Indian Ocean water temperatures rise, yet we have done so little to contribute to global or even Kenyan emissions. Coal will kill our ecosystem, our livelihood, and expose us to health hazards. Why not wind or solar?" asks Ahmed.
Temporary respite
In June 2019, local communities got some respite when the National Environment Tribunal revoked a license granted to Amu Power, a consortium of Centum, Gulf Energy, and Chinese firms building the $2 billion coal plant, due to a technical fault with its environmental impact assessment.
But Abubakar El-Amudy, Director of local campaign group Save Lamu, is not convinced the communities are safe from the development yet. El-Amudy says the need for the Lamu coal power plant might be spurred again if exploration for coal at the Mui Coal Basin eventually takes place.
Discovered in 2005, the basin located in Kitui County, covers an area of 500 square kilometers, consisting of four blocks. Daniel Muoti, Program Officer at the Centre for Human Rights and Civic Education in Kitui County, says two blocks are valued at Ksh3.7 trillion (about $37 billion).
The Lamu coal plant, Kenya's first, was initiated in 2013, and was projected to generate 1,050 megawatts according to the country's Vision 2030 development blueprint. The projected installed capacity would have to increase by 19,200 megawatts by 2030, according to Kenya Electricity Transmission Company Limited (KETRACO).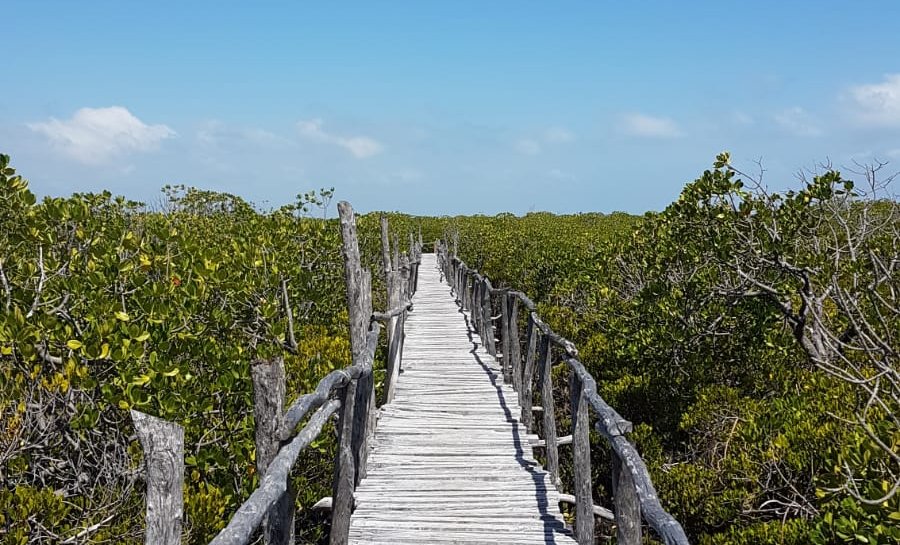 Image: A walkway through the mangroves on the Lamu coast. Credit: © Mat Hope
Back then, coal was seen as a cheap option to provide for Kenya's expected growth in energy demand. 
The Lamu coal plant intended to use bituminous coal sourced from South Africa and the Mui Coal Basin. David Obura, Director of Coastal Oceans Research and Development in the Indian Ocean (CORDIO), warns this type of coal burns poorly and has unusually high levels of pollutants, including carbon dioxide.
Kenya's Marine Environmental Organization Chairman, Mohamed Athman, says the plant would dramatically increase Kenya's national contribution to global carbon dioxide emissions.
Due to underlying land disputes, and a 2015 court ruling that an environmental assessment needed to be conducted with the involvement of communities, the county, and national government, not much development of the Mui Basin has yet taken place. There is increasing recognition that it will need to stay that way if countries are serious about meeting the goals of the Paris Agreement.
Non-proliferation
Given Africa's development needs, the path to limiting warming to 1.5°C isn't straightforward.
The African Group of Negotiators (AGN) was among the loudest voices at the UN's climate summits calling for that stringent, codified, goal, which is needed to safeguard the continent's food production, economic development, and ecosystems.
But the region's political leaders also need to prioritise economic development. Sometimes, that means falling back on the short-term benefits provided by the fossil fuel industry.
According to one estimate, Africa is endowed with about seven percent of the world's gas reserves and seven percent of the world's oil reserves. Some 70 percent of African exports are derived from oil, gas, and mineral sectors, accounting for about half of Africa's gross domestic product.
Fatima Denton, Director of the United Nations University Institute for Natural Resources in Africa, warns that some high-carbon energy production will be essential for Africa's economic growth. "Countries do not address urbanization problems without energy. Nine out of 10 countries depend on among other commodities, including fossil fuel and minerals for growth and revenues," she says.
---
Read more of DeSmog's Covering Climate Now stories on Climate Solutions
---
Given the region's tiny contribution to global emissions, developed economies must be willing to compensate and pay for the region to pursue alternative pathways if they want countries to change course. She argues:
"Africa's carbon footprint is roughly four percent [of global emissions], and is being asked to lock it and not grow it further as the carbon budget has been eaten into. If Africa does so, it means that the global north must make concessions in terms of the tools, financial incentives, and capacity for related needs they must put in place to enable Africa's energy transition."
But that doesn't mean Africa can't be a leader in preventing the spread of new high-carbon projects, implementing measures to avoid the region becoming the final fossil fuel frontier.
During the African Union summit held in Addis Ababa, Ethiopia, in February 2020, more than 25 African Non-Governmental Organisations (NGOs) criticised the deliberate proliferation of fossil fuels in Africa, calling on the continent's governments to prevent the production of new sources of coal, oil, and gas. 
"To achieve this, we have to ensure the rest of the world is not continuing to emit and that Africa takes a leading role in preventing the proliferation of fossil fuels," says Mohamed Adow, Director of thinktank Power Shift Africa.
Adow is among a steering committee advocating for a Fossil Fuel Non-Proliferation Treaty, aimed at keeping large portions of fossil fuels in the ground in line with a 1.5°C goal and modelled after the nuclear weapon non-proliferation treaty signed in 1968.
Following the same three-pronged approach, the committee highlights the need for international cooperation to prevent further the expansion of fossil fuels (non-proliferation), phase-out existing projects and infrastructure (disarmament), and fast-track a just and peaceful transition to safer and cleaner alternatives (peaceful use).
The committee has proposed a treaty that will require countries to fairly phase out the production of fossil fuels in recognition of the historical and current exploitation of reserves. Additionally, it has called for a new global registry of fossil fuels to globally map and assess those fossil fuel reserves which, if burned, would carry the world beyond 1.5°C of warming.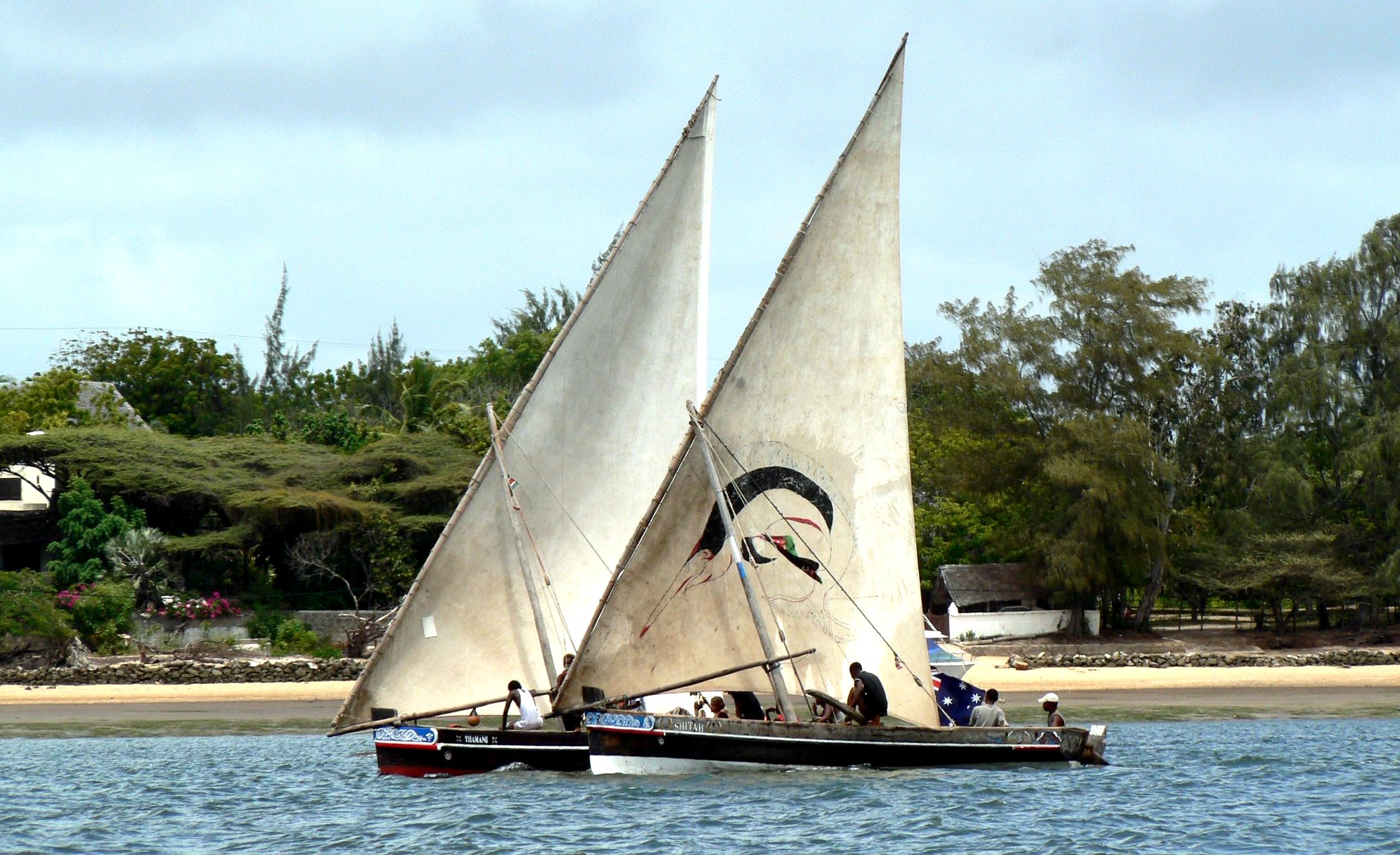 Image: Dhows along the Lamu coast. Credit: Richard Sims/Flickr CC BY–NC–ND 2.0
It's an idea that has been slowly gaining traction in the campaign world for a couple of years. And in Lamu, it has considerable local support. 
"The opportunities for Africa to create community-centred, accessible, affordable, and clean energy are immense. Yet we find our leaders signing up to expensive and environmentally devastating fossil fuel and nuclear energy projects that will bring few benefits to their people and will maintain vast inequality," says Francesca de Gasparis, Executive Director of the Southern African Faith Communities Environment Institute.
It is the kind of measure that the people of Lamu think is urgently needed — a policy mechanism with real bite. "We have had and signed so many conventions on water, climate, biodiversity protection as well as the Paris Agreement! Many are not legally binding hence remaining just on paper. The nations still do what brings them money," warns Athman.
But an international agreement to stop the proliferation of new fossil fuel projects would finally spell the end for the Lamu coal project, and save the communities that depend on the ecosystems it threatens.
As Somo says, "the call to end coal has united everyone from the youth to the women but having a treaty in place could help the community put the final nail on the coal power plant."
Read more of DeSmog's Covering Climate Now stories on Climate Solutions
Main image credit: 350.org/Flickr CC BY–NC–SA 2.0