Climate litigation is not going away any time soon.
Lawsuits demanding accountability and action on the existential threat of climate change continue to take hold across the world with some significant new developments and new cases emerging over the past year, according to a new report on trends in global climate change litigation.
That report, published July 3 by the London School of Economics' Grantham Research Institute on Climate Change and the Environment, provides an overview of climate change lawsuits around the world including key developments between May 2019 and May 2020. Grantham Research Institute maintains a database of global climate change lawsuits and in recent years has issued annual reports on trends in climate litigation.
Over the past three decades climate change lawsuits have spread across six continents with over 1,500 cases identified in 37 countries, according to the latest report. Most of these cases are in the U.S., though increasingly cases are emerging outside the U.S. including 26 new cases in the last year alone. The Global South (Asia, Africa and Latin America) has seen 37 cases of climate litigation to date.
While a majority of climate-related lawsuits are routine cases such as regulatory proceedings or challenges to fossil fuel permitting, cases are also being brought more strategically as a way to hold governments and companies accountable for damaging climate impacts. This kind of litigation against national governments and against fossil fuel companies has taken off in recent years.
New study out today on climate litigation across the world – shows humans rights are increasingly being used to support cases & that plaintiffs are using new strategies to bring lawsuits against major fossil fuel companies https://t.co/1tD7dVKlJ6 pic.twitter.com/7FO7DK4DiC

— Grantham LSE (@GRI_LSE) July 3, 2020
Continued Reliance on Human Rights Arguments
Organizations and citizens are targeting governments, and in a few cases fossil fuel corporations, with lawsuits claiming human rights violations relating to the climate crisis. The report finds an "uptick in litigation relying on human rights arguments over the past 12 months."
The ultimate success of the Urgenda climate case in the Netherlands (capped by the Dutch Supreme Court ruling in December 2019) provides even greater impetus for cases using human rights arguments to compel swifter greenhouse gas emissions reductions by national governments. Such cases are currently pending in Ireland, France, Belgium, Sweden, Switzerland, Germany, the United States, Canada, Peru and South Korea, according to the report.
Climate litigation is also seeing a "proliferation of cases involving young people," the report notes. In March 2020 a group of young people in South Korea filed a lawsuit against the South Korean government claiming constitutional violations stemming from inadequate emissions reduction policy. It is the first climate lawsuit of its kind in East Asia. In September 2019 Greta Thunberg and 15 other young people brought a climate change legal complaint before the UN Committee on the Rights of the Child against Argentina, Brazil, France, Germany and Turkey.
Young people are also suing governments in Canada and the U.S. using constitutional, rights-based arguments.
Human rights are starting to emerge in litigation or quasi-judicial proceedings against large fossil fuel companies – companies that researchers have identified as "carbon majors." A lawsuit in France against the oil company Total, for example, claims the company's business is not aligned with a French law requiring corporations to identify and mitigate risks to human rights and the environment. Furthermore, according to initial findings of an investigation by the Human Rights Commission of the Philippines, major fossil fuel companies could be deemed legally liable for human rights violations arising from climate change.
Diversifying Strategies in Lawsuits Against Carbon Majors
Most litigation against fossil fuel companies or "carbon majors" relating to climate change is in the U.S. These cases are increasingly being brought with diverse legal theories including two new cases filed in June 2020 under state consumer protection statutes.
The U.S. currently has over a dozen ongoing cases brought by local governments, as well as one state and commercial fishing association, seeking damages from fossil fuel companies to help pay for climate adaptation costs. These cases are brought under state nuisance and product liability claims, and recent court rulings including from two appeals courts, have favored the plaintiffs looking to advance their cases in state courts.
Other cases have been brought against companies claiming investor and consumer fraud as well as misleading advertising. A high-profile investor fraud case brought by the New York Attorney General against ExxonMobil was dismissed last year, but three other attorneys general have since brought similar cases focusing on consumer fraud claims. Most recently, attorneys general in Minnesota and Washington DC brought consumer fraud lawsuits against Exxon and several other Big Oil defendants. Exxon is the target of another recent lawsuit filed by an environmental group called Beyond Pesticides alleging misleading marketing and advertising.
Non-
U.S.

Climate Cases Tend to be More Successful

According to the report, 58 percent of climate litigation lawsuits outside the U.S. had outcomes identified as favorable to climate action.

"We have found looking at the data that outside of the United States, judges appear more inclined to support more effective climate action," report co-author Rebecca Byrnes, policy analyst at the Grantham Research Institute, said in a press release.

Even in cases that were not ultimately successful, like the landmark American youth climate lawsuit Juliana v. United States, there are indications that judges are grasping the gravity of the climate threat.

"What we're seeing in cases like…Juliana in the US Court of Appeals are decisions that did not rule in favour of the plaintiffs but that included statements that recognise the risks imposed by climate change, leaving the door open for future successes in different circumstances," added report co-author Joana Setzer, Assistant Professorial Research Fellow at the Grantham Research Institute.
Climate Protests and
COVID

 Impact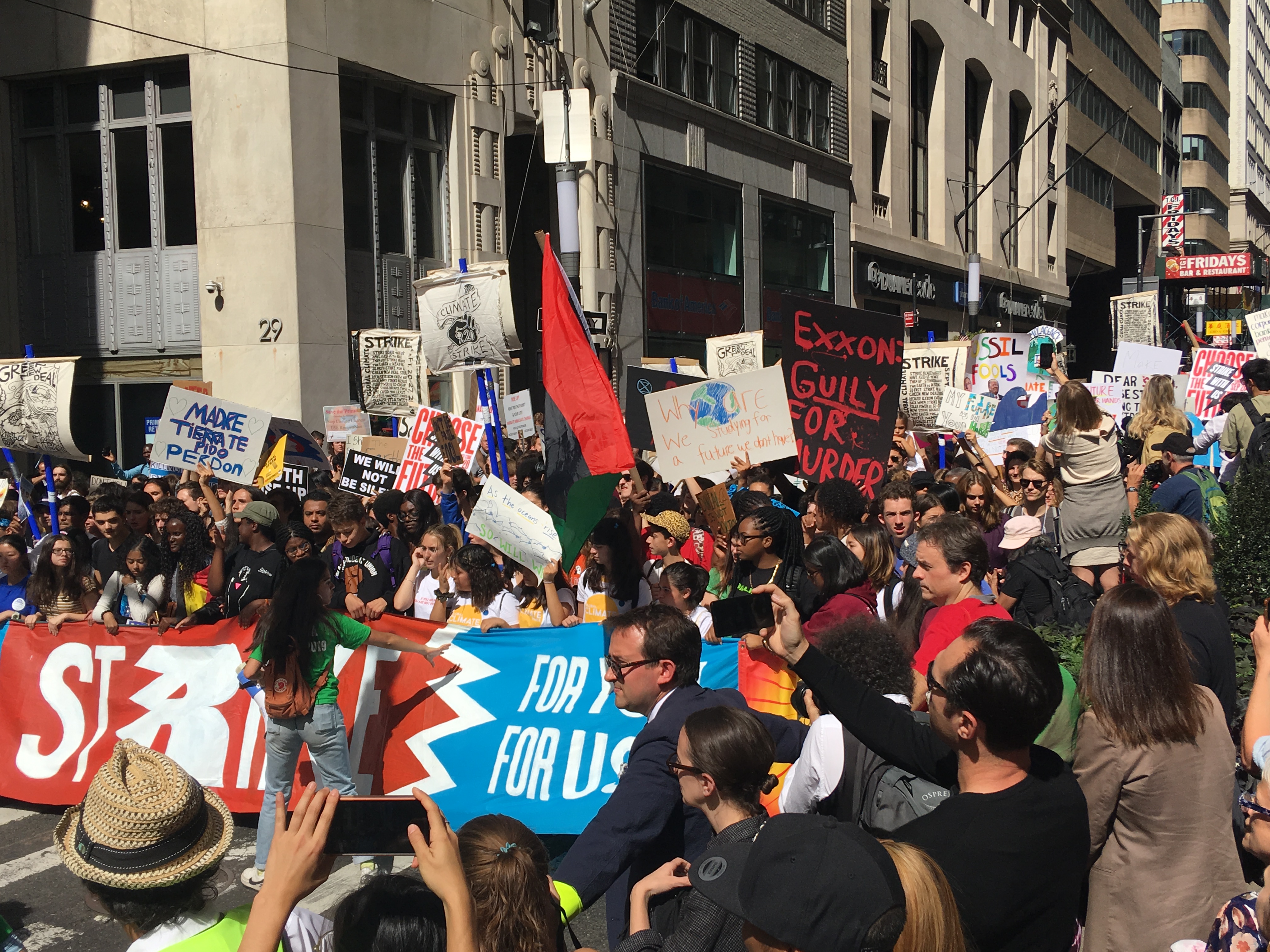 Youth climate strike takes to the streets in New York City in September 2019. Credit: Dana Drugmand
The report also notes that 2019 saw waves of direct action and climate change protests such as the Extinction Rebellion uprisings and youth climate strikes, which could work as a complementary strategy to litigation.
"In some countries, litigation and direct protest were blended, forming part of a broader strategy of environment and climate advocacy," the report states.
This year, with the Covid-19 pandemic upending global society, it is unclear how that crisis will impact climate litigation. According to the report, it could result in a dampening of legal activity, or it could instigate new litigation such as cases linking the public health crisis to the climate crisis. Economic recovery packages that lock in more high carbon development, for example, could be challenged in court. A British climate litigation nonprofit called Plan B sent a letter on July 7 to the UK government threatening legal action over the government's COVID recovery plans. Plan B says the plans, which it calls a "new deal for polluters," lock in a path towards 4˚C warming and violate the Paris Climate Agreement, the UK's 2050 target to reach net zero emissions, and the human right to life.
In the post-COVID era, as the Grantham Research Institute report concludes, "climate litigation may remain as important as ever."
Main Image: Climate litigation increasingly focuses on human rights violations stemming from the climate crisis. Credit: Dana Drugmand