Earlier this year, Warren Buffett's Berkshire Hathaway pulled out of a proposed liquefied natural gas (LNG) export terminal in Saguenay, Quebec. The project developer cited the "current Canadian political context" as the reason why Berkshire Hathaway bailed on them, including recent rail blockades led by hereditary chiefs of the Wet'suwet'en First Nation in British Columbia.
The rail blockades targeted an entirely separate fossil fuel project — TC Energy's Coastal GasLink pipeline, which would cross unceded Wet'suwet'en territory. The protests rapidly spread around the country, with students, environmental groups, and other First Nations joining the rail blockades in solidarity.
While far from British Columbia, the actions spooked investors in Energie Saguenay LNG. Without Berkshire Hathaway's promised $4 billion investment, the project has stalled.
As scrutiny over natural gas intensifies, "protests against LNG projects are becoming increasingly sophisticated and effective," Global Energy Monitor, an NGO that tracks worldwide fossil fuel projects, said in a new report.
For years, the U.S. and Canada have scrambled to take advantage of growing demand for gas worldwide, and the surplus of gas in North America added urgency to the campaign to export it to international markets. The U.S. government, across both the Obama and Trump administrations, has promoted gas exports due to the supposed multiple benefits: Gas exports create jobs, help allies in Europe, and offer a climate benefit by displacing coal abroad. The Trump administration even went as far as billing U.S. LNG as "freedom gas."
"Freedom gas?" "Molecules of U.S. freedom?" Trump's Energy Department unveils new nicknames for natural gas https://t.co/MEIL53LM4q

— TIME (@TIME) May 29, 2019
Much of the rationale is falling apart. The world has changed dramatically since many LNG projects originally received the go-ahead. The price of LNG in Asia — the so-called Japan-Korea Marker, or JKM —collapsed to just above $2 per MMBtu this year, while U.S. natural gas prices (using the Henry Hub benchmark) have traded at roughly $1.80/MMBtu. After factoring in the cost of liquefaction and transport, the window to export American LNG on the spot market has temporarily closed.  
But deteriorating economics pre-date the pandemic. The market was already souring last year as a wave of new projects came online and demand failed to keep up. Market prices in Europe and Asia declined by roughly 45 percent in 2019 as export capacity swelled, according to the International Energy Agency (IEA).
If the market was already weakening, the pandemic decisively pushed it into a depression. Even contracted cargoes have been canceled in growing numbers in recent months as the worldwide glut deepens. For July and August, LNG buyers overseas canceled around 80 cargoes from the U.S., and export terminals on the Gulf Coast are only operating at a fraction of typical capacity. The more exports decline, the more gas becomes trapped within the United States, deepening the glut.
Despite the negative direction, the gas industry and its financial backers continued to pour capital into new LNG terminals, at least until recently. Last year was a record year for investment and the trend continued into the early part of 2020. Globally, spending on LNG infrastructure soared to $196 billion between April 2019 and May 2020, up from $82 billion in the year prior, according to the Global Energy Monitor study.
The spending spree is now hitting turbulence. At least 11 major LNG projects from around the globe have run into some form of disruption, with problems stemming from low natural gas prices, heightened protest from impacted communities, as well as disruptions due to the spread of COVID-19, according to Global Energy Monitor. Delays and canceled investment decisions are mounting.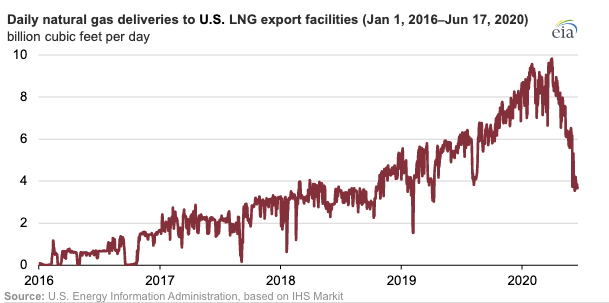 U.S. liquefied natural gas exports have declined by more than half so far in 2020. Credit: U.S. Energy Information Administration, based on IHS Markit data
Market analysts, including the IEA, caution that even though the pandemic will leave scars, the downturn is temporary. Rising demand in Asia means that the future still looks bright for LNG.
However, others warn that the downturn is not transitory. Global Energy Monitor warned that the "gas bubble" could pop. Massive LNG projects carry multi-billion-dollar price tags, with very aggressive assumptions about demand growth. China stands at the very core of every long-term demand forecast. If China pursues alternatives, or even finds gas supplies via pipeline from its neighbors, the rosy scenarios could badly disappoint.
"China is like the single point of failure for the LNG industry," Clark Williams-Derry, an energy finance analyst at the Institute for Energy Economics and Financial Analysis (IEEFA), told DeSmog. "In order to really inflate this market, it doesn't work without China."
If LNG developers only had to contend with market economics, their project risk would arguably look manageable. But increased scrutiny on fossil fuels and promises of green stimulus from governments around the world could accelerate the energy transition.
The disconnect between the climate science and investment trends is stark. According to a 2019 report from the United Nations Environment Programme (UNEP), the world is on track to produce 50 percent more fossil fuels by 2030 than is consistent with a target for limiting global warming to 2 degrees Celsius (3.6 degrees Fahrenheit).
"Many countries appear to be banking on export markets to justify major increases in production," the UN report said. "The net result could be significant over-investment, increasing the risk of stranded assets, workers, and communities, as well as locking in a higher emissions trajectory."
Put another way, the science says that global greenhouse gas emissions need to fall by half by 2030, from a 2010 baseline, yet the oil and gas industry is aiming for perpetual growth.
Industry proponents have long championed natural gas as a "bridge fuel" and a net benefit for the climate due to its lower CO2 emissions profile when compared to burning coal. That argument is increasingly out of step with the science, which over time has only become more damning for natural gas.
When asked to comment on the negative outlook for LNG, the American Petroleum Institute (API) responded to DeSmog by attaching a newly published report by the trade group, trumpeting the climate benefits of American LNG exports. "This study underscores what we have known for quite some time — that U.S. natural gas is a far cleaner option than coal for electricity generation, especially in key markets in China, Germany, and India," API Director of Market Development Dustin Meyer said in a statement to DeSmog. The report says global emissions could decline if the U.S. exported more LNG abroad.
The American energy revolution allowed the U.S. to transition away from coal to cleaner natural gas, reducing emissions to generational lows. Learn how the same can happen around the globe in our new report: https://t.co/4CzFKuranA pic.twitter.com/tSV9BpnNqe

— American Petroleum Institute (@APIenergy) July 10, 2020
Experts disagree. "API is simply ignoring the majority of science on methane emissions," Robert W. Howarth, Professor of Ecology & Environmental Biology at Cornell University, told DeSmog. Howarth pioneered research that finds that leaking methane negates the supposed climate benefit of gas over coal. He has a forthcoming study that finds that natural gas is actually worse for the climate than coal, using updated estimates on methane.
There is debate about the precise methane leakage rates, and some studies peg methane leakage at lower levels. But while most studies simply compare gas versus coal, there are additional climate penalties for LNG. Exporting U.S. gas to Asia requires liquefaction, an energy-intensive process that itself requires burning gas. "The best estimates I have seen say that to produce one unit of gas delivered as LNG requires 1.2 units of gas, with 0.2 being burned to power the liquefication," Howarth told DeSmog. The cargo then needs to be transported around the world and re-gasified after it lands in China. The entire process uses energy and opens up opportunities for leaking methane.
Perhaps most revealing is the fact that LNG projects are intended to operate for decades — wildly out of step with the emissions trajectory that the science says is necessary to avoid the worse impacts of the climate crisis. The bottom line is that LNG is a climate problem, not a solution.
"For a long time there was a naive belief that because gas is cleaner than coal, that LNG would be greeted with open arms," Clark Williams-Derry of IEEFA told DeSmog. "There is a major methane crisis. The global growth of the LNG industry is actually not compatible with the 2-degree scenario."
Maintaining the "bridge fuel" argument — or more recently, the argument that it's a "foundation fuel" — is becoming increasing untenable, both as the costs of renewable energy decline and scrutiny of gas and LNG rises. In late 2019, the European Investment Bank said that it would phase out funding for natural gas projects. More recently, Dominion Energy scrapped its Atlantic Coast pipeline due to the legal and market risk. And as the Saguenay LNG project illustrates, growing protests present a direct threat to the viability of new gas infrastructure.
The public pressure is made much more effective because the market bust clearly signals that the industry has overbuilt. As the industry funnels capital into new gas infrastructure, the risk of stranded assets increases.
The long list of LNG projects in the works "are being built for a world that will no longer exist by the time they are operating … and certainly in 10 or 20 years as we've steered dramatically away from fossil fuels," James Browning, communications director at Global Energy Monitor, told DeSmog. "So, the long-term economics of these projects don't make any sense."
Main image: Wet'suwet'en solidarity event and rail blockade in Toronto, Ontario, February 15, 2020. Credit: Cropped from original by Jason Hargrove, CC BY–NC 2.0