A Louisiana state appeals court has ruled that the Bayou Bridge Pipeline Company illegally "trampled" on the rights of landowners by starting pipeline construction without the landowners' permission. The pipeline company must pay the landowners $10,000 each plus attorneys fees.
"This is a victory not only for us but for all landowners," said Theda Larson Wright, one of the three Louisiana landowners who sued Bayou Bridge Pipeline Company (BBP) in September 2018. "All over the country, pipeline companies have destroyed people's land, often without even attempting to get permission, and dared the landowners to speak up. Well, we did. I hope this victory will encourage many others to as well."
The Bayou Bridge pipeline is a 163-mile pipeline through southern Louisiana carrying North Dakota crude oil to the Gulf Coast. It is the tail end of a pipeline network including the Dakota Access pipeline and is a joint venture of Energy Transfer and Phillips 66. The Bayou Bridge pipeline traverses ecologically sensitive areas such as the Atchafalaya Basin, the country's largest river swamp, which contains old growth trees and many endangered species.
BBP started construction, including bulldozing and clearing trees, in the Atchafalaya Basin on privately owned land without notifying landowners or obtaining legal rights to seize the land through what is called eminent domain. Only when property owners sued for trespassing did BBP begin the eminent domain proceeding. In December 2018 the trial court found BBP had trespassed but ordered a small fine of only $450 total for all landowners, while upholding BBP's expropriation or taking of the land under eminent domain. The landowners brought an appeal in September 2019.
The Louisiana Third Circuit Court of Appeal heard oral arguments on January 8 of this year. That court ruled on July 16 that BBP not only trespassed, but explicitly violated constitutionally protected property rights.
BREAKING: 3rd Circuit Court of Appeal for State of Louisiana ruled that Bayou Bridge Pipeline Company (BBP) violated due process rights of landowners when it constructed an oil pipeline across their property before acquiring legal rights to do so #BizHumanRights @NoBayouBridge https://t.co/Ey6Nr6xaF9

— Katherine Gallagher (@katherga1) July 16, 2020
"When BBP consciously ordered construction to begin on this property prior to obtaining a judicial determination of the public and necessary purpose for that taking, it not only trampled Defendants' due process rights as landowners, it eviscerated the constitutional protections laid out to specifically protect those property rights," the appeals court wrote in its decision.
The court awarded each of the three landowners $10,000 plus legal fees. The court did not rule against BBP's seizure of the land under eminent domain, however.   
"The rights of landowners are important, so I applaud this ruling," Katherine Aaslestad, one of the three landowners involved in the case, said. "But this is also about the abuse of eminent domain by private companies, and we need to keep our attention on that."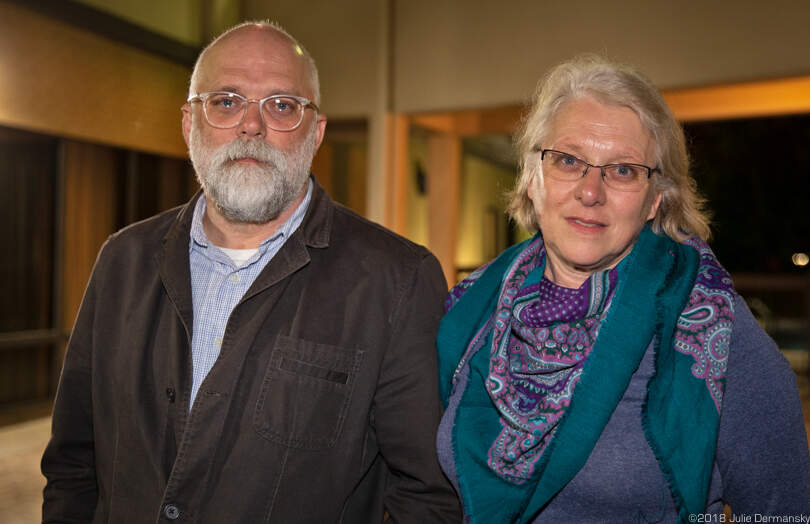 Siblings and plaintiffs Peter and Katherine Aaslestad in front of a hotel the night after a December 2018 court decision. 
Pam Spees, senior staff attorney at the Center for Constitutional Rights and one of the attorneys for the landowners, said the appeals court's decision sends a message to companies deciding to break the law on property rights.
"The court's decision rightly takes BBP to task for its blatant disregard and abuse of the law and landowners in Louisiana," she said. "BBP made a calculated decision that violating the law was cheaper than following it, and the lower court's ruling let them get away with it. This decision is an important reminder to companies like BBP, and more importantly to small landowners, that these rights mean something."
Alexis Daniel, a spokesperson for Energy Transfer, told Courthouse News the company does not comment on pending litigation. "We are proud of this project, which has been safely operating since March of 2019," Daniel said.
Main image: Dean Wilson, executive director of the Atchafalaya Basinkeeper, on the plaintiffs' land in the basin. Credit: All photos by Julie Dermansky for DeSmog