The Three Percenters, a loosely organized group of far-right militants, appear to have established a significant presence in North Dakota's Bakken oilfield, one of the most productive oilfields in the nation. "There is a lot of membership in the oil and gas industry up there," says Matt Marshall, a Three Percenter running for state legislature in Washington. "The fact that you have a lot of Three Percenters working in the oilfields of North Dakota is not surprising."
The Three Percenters are so named for the dubious historical claim that only three percent of American colonists took up arms in the Revolutionary War. Their adherents have frequently been involved with incidents of ​armed protests, hate speech, and ​threatening behavior across the U.S., and the group's members have shown up prominently at recent protests related to both pandemic response measures and police brutality.
In April, Marshall, wearing a colonial tricorn hat with bullets strapped to the side, and a Hawaiian shirt, helped lead a coronavirus stay-home order protest at his state's capitol in Olympia, Washington. Hawaiian shirts are described by the Anti-Defamation League as a coded reference to coming civil war, although Marshall denies the link.
He says he is aware of Three Percenters who are working in oilfields in Colorado, Texas, Wyoming, Oklahoma, and Alaska. And also according to Marshall, top officials with two North Dakota chapters, the North Dakota United Patriots Three Percenters and North Dakota Three Percenter Originals, work in the oil and gas industry.
"We are mostly blue-collar workers who want to put in a hard day's labor, support our family, pay a limited amount of taxes to get the services we require and at the end of the day be left alone," says Marshall. "I don't think there is any concern about having a bunch of threepers working in that industry," referring to an alternate name for the group.
But points of significant concern emerged in a multi-month DeSmog investigation that involved interviews with former Department of Homeland Security and FBI officials, and local residents of North Dakota, who live in a state still pumping out more than a million barrels of oil a day.
According to a whistleblower who contacted DeSmog, Three Percenters have established a prominent presence at a Bakken oil and gas facility regarded as critical infrastructure by the Department of Homeland Security. Militia-related patches, flags, and artwork have popped up across the Bakken oil patch, and a thriving gun culture among its workers has led to a Mad Max-mentality of chaos plaguing residents of the Fort Berthold Indian Reservation.
While federal security agencies and their partners have prioritized focus on the energy industry and produced a raft of reports in the past two decades on other risks to the nation's critical infrastructure, such as cyber security, natural disasters, and environmental activism, right-wing militia groups appear to be escaping close scrutiny.
There are also a lot of Hawaiian shirts, which look fun, but observers of the far-right say they have also become a code symbol for some, riffing off meme-speak for a potential Civil War. pic.twitter.com/dCyr34Onxv

— Mike Baker (@ByMikeBaker) April 19, 2020
"It certainly seems like a security vacuum," Michael German, a fellow with the Brennan Center for Justice, told DeSmog when informed about our reporting. German is a former FBI special agent who specialized in domestic terrorism and covert operations. "The FBI characterizes itself as a domestic terrorism agency and has been outspoken about prioritizing ecoterrorism as a threat, which is ridiculous because there are no deaths with any of the environmental threats," he said. "Yet somehow there does not appear to be an attempt to find out what the infiltration is of anti-government militia groups, and that is problematic."
At the same time, state legislators across the country, backed by the notoriously ultra-conservative American Legislative Exchange Council, have been devising laws to target environmental activists as terrorists.
"The FBI's approach of de-emphasizing investigations of white supremacist and right-wing militia violence while targeting resources at social justice movements and calling that extremism has existed for some time," said Hina Shamsi, director of the American Civil Liberties Union's (ACLU) National Security Project.
---
"What militias like this do is conduct surveillance and find facilities they will either need to take over or attack when 'shit hits the fan.'"
---
It's an approach that continues to play out at this very moment. In the midst of protests against the police killing of George Floyd and other Black Americans, President Trump has fanned the flames with tweets about "shooting" looters, calling MAGA supporters into action, and saying he intends to designate the amorphous leftwing anti-fascism movement Antifa as a terrorist organization.
Meanwhile, reports of right-wing militia members bringing weapons to protests allegedly in order to transform this moment into civil war have surfaced online. On May 31, Marshall's group sent perhaps a dozen members to a small town north of Seattle in response to rumors of an Antifa threat that never materialized. And neo-Nazis, through online networks, have suggested to followers that with police forces spread thin, the present moment would be an ideal one to strike energy infrastructure targets.
DeSmog's investigation indicates a culture of guns and paranoia has worked its way deep into the heart of America's third richest oilfield.
Guy with the III% group – far right militia group – here with a face shield and a full videocamera set up. pic.twitter.com/9EwEAZqQIq

— Elise Schmelzer is furloughed (@EliseSchmelzer) May 31, 2020
Domestic Terrorism Experts Troubled by Militia's Oilfield Presence
Paul Lehto is a 54-year-old former plant operator at the Lonesome Creek Gas Processing Plant, outside Watford City, North Dakota. During his tenure there in 2016, he says coworkers would "talk about automatic weapons all the time," gather in common spaces to watch social media videos that featured demonstrations of people firing sub-automatic machine guns, leave articles of clothing with Three Percenter insignia lying around the workplace, and regularly wear the militia's notorious patches, which typically contain the Roman numeral III, sometimes placed over a darkened American flag. During one conversation, he says a coworker spoke about hijacking a commercial jet.
Although Lehto says the comment may well have been in jest, it conveyed a "habit of thinking" that was worrisome and was part of his decision to eventually leave his job at the natural gas processing plant. "The constellation of issues around being a Three Percenter was probably the number one topic of conversation at work," says Lehto. "These guys are basically supportive of the idea of some sort of eventual civil war in the United States of America."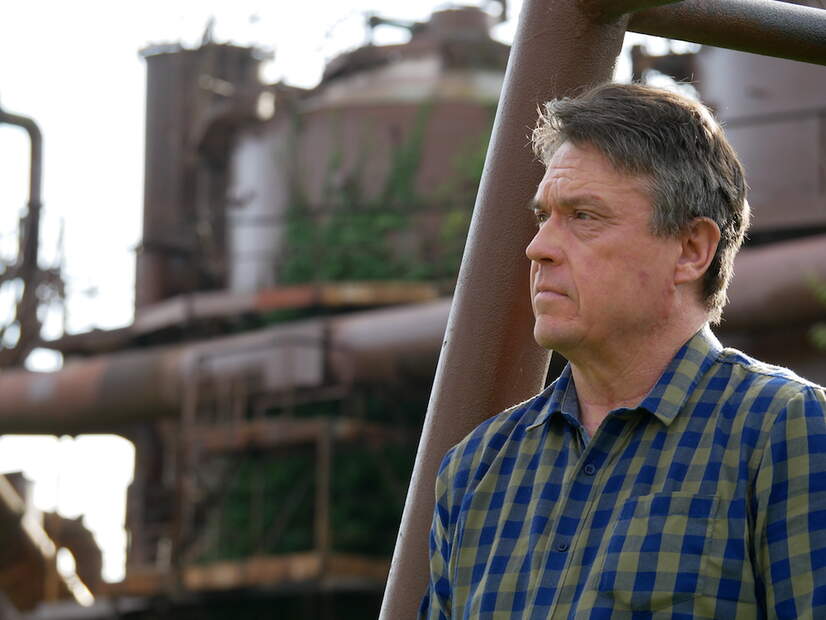 Paul Lehto, a ONEOK gas plant employee from 2015 to 2016, shown in 2019. Credit: DeSmog
Daryl Johnson, an expert on right-wing militia groups who from 2004 to 2010 served as the Department of Homeland Security's senior domestic terrorism analyst, told DeSmog that this was the first information he has received of right-wing militia presence in the oil and gas industry. He was deeply alarmed.
"These are operationally minded people with a paranoid worldview that believe at some point there is going to be a societal collapse," said Johnson, who authored the 2012 book, Right-Wing Resurgence: How A Domestic Terrorist Threat Is Being Ignored. "What militias like this do is conduct surveillance and find facilities they will either need to take over or attack when 'shit hits the fan.' When they are working, they are also thinking about what else they would need to do to bring the plant to its knees. They may follow the order of their commander or act on a lone wolf instinct, and their allegiance lies not with their employer but with the militia, although they might think they are doing something righteous and good for the country."
Lehto says that during the day shift, more than half of the 20 to 25 workers stationed at Lonesome Creek would either be wearing Three Percenter regalia and openly supportive of the militia, or be workers that he considered to be sympathizers. Three Percenters came to work there from North Dakota, Oklahoma, and Texas, says Lehto.
"I heard one Three Percenter expressing frustration and astonishment that HR did not hire his recommendation for a fellow Three Percenter, saying, 'He is qualified, he has a great resume, and he is a Three Percenter, I just don't understand why they turned him down,'" says Lehto. "Implied was that he had prior success with this."
On the night shift Lehto managed the $600 million plant with just two other workers, one of whom was an active Three Percenter, the other a sympathizer. "I was just being constantly reminded of the Three Percenter presence," says Lehto.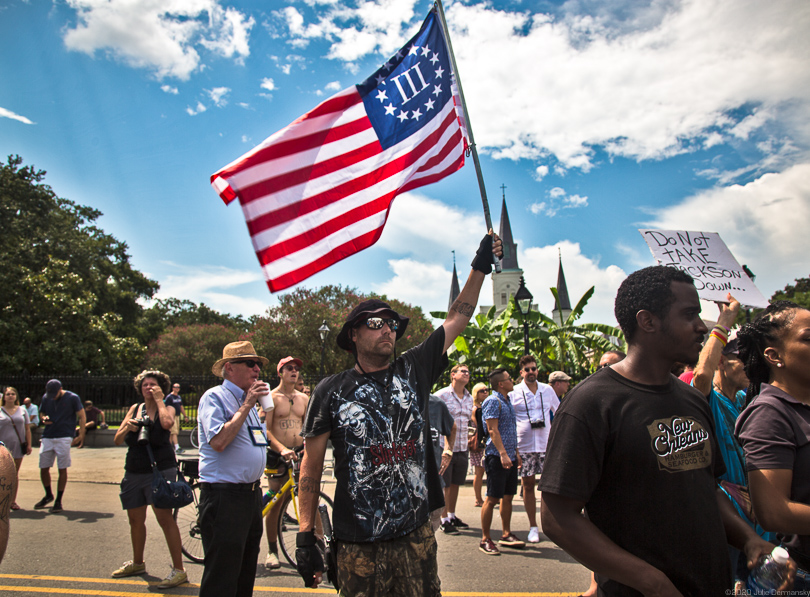 New Orleans, August 19, 2017. A man waves a Three Percenter flag as counter-protesters and protesters clash at the conclusion of the march organized by Take 'Em Down NOLA," an event held in solidarity with Charlottesville, days after the deadly Unite the Right rally. Credit: ©2017 Julie Dermanksy
"I find it concerning that it is not just one, or two, or three, it is more like half the plant that are Three Percenters or supporting them rhetorically," says Johnson. "There is a threat capability calculation we use in intelligence — capability plus intent equals threat," he continued. "The Three Percenters definitely have capability, and they definitely have made their intent known, and the fact that they have access is even more concerning. Having the insider knowledge of how that plant operates, where that gas comes from and where it is going is all information an adversary can use for maximum threat and maximum damage. They can sabotage the plant or pipelines running from it, which may not cause a lot of deaths but can disrupt the energy supply."
Furthermore, added Johnson, "There is also a counterintelligence threat. They have intel on critical infrastructure that, shall the need arise, they can share with people who don't need to know."
---
Donate to support DeSmog investigative journalism.
---
A 2008 Department of Homeland Security report on insider threats to critical infrastructure says insider motivations can come from, "some combination of: revenge for a perceived wrong; radicalization for advancement of religious or ideological objectives; or simple illicit financial gain." Companies who run infrastructure like energy pipelines may misunderstand insider risks and have a financial incentive to downplay them. "Insider incidents can cause lost credibility with shareholders, employees, and customers, and negatively effect to [sic] shareholder values," the report states. "It appears corporate leadership neither completely appreciates the risk nor realizes the potential consequences."
The Lonesome Creek plant is operated by the Oklahoma-based oil and gas service company, ONEOK, and came online in 2015 to process the growing surge of natural gas and natural gas liquids being pumped from the booming Bakken oilfields. The plant, like all gas processing plants, is considered "critical infrastructure" by the Department of Homeland Security.
This designation goes back to the Patriot Act of 2001, which defines the term as "systems and assets, whether physical or virtual, so vital to the United States that the incapacity or destruction of such systems and assets would have a debilitating impact on security, national economic security, national public health or safety, or any combination of those matters."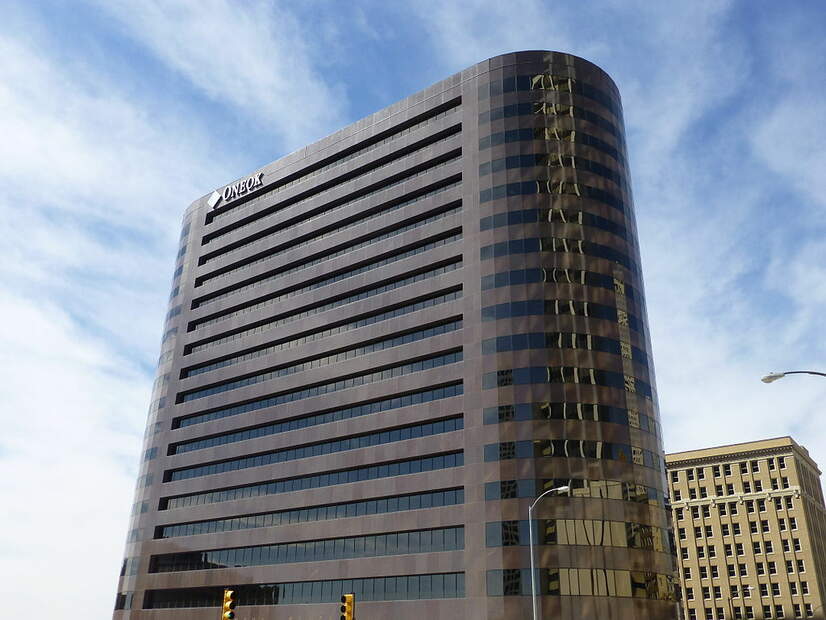 ONEOK is headquartered in Tulsa, Oklahoma. Credit: Joseph Wingenfeld, CC BY 2.0
A risk assessment of the Lonesome Creek Plant by ONEOK says a "worst-case scenario" would involve "a release of 368,536 pounds of flammable mixture" from a large storage tank and generate a wave of destruction more than a half-mile in radius.
While the risk assessment states that ONEOK has "numerous controls to prevent such releases and to manage their consequences," they are not described in the document. Silverio Caggiano, an Ohio Fire Chief who works regularly with the oil and gas industry and has more than two decades of experience related to Hazardous Materials and Weapons of Mass Destruction, laid out reasons for continued concern. "You would need to have a pretty good background in chemistry to do something specific with a certain gas based on its properties, but if you've got a bunch of guys there that are all in cahoots and they decide they want to take shit out, they can pretty much do anything they want," said Caggiano. "A person working within the system knows how the system runs."
---
"From a security standpoint the Three Percenters are probably among the most worrisome groups … it is not whether there will be a right-wing attack, it is when."
---
In replies to specific questions by DeSmog, ONEOK did not describe what the "numerous controls" were at the Lonesome Creek facility intended to prevent a "worst-case scenario," nor did the company respond to requests to speak with present workers at the plant. "ONEOK expects all of our employees to know and abide by our company policies and to embrace the company's core values of Ethics, Quality, Diversity, Value and Service," the company explained, in a statement to DeSmog. "ONEOK's Violence-Free Workplace Policy prohibits violence, violent acts, and threats of violence. ONEOK has implemented numerous safety and security practices to safeguard our facilities and to comply with applicable law. Clearly, the scope and nature of many of these practices and safeguards must remain confidential. We support, cooperate, and frequently coordinate with federal, state, and local law enforcement to anticipate and plan for potential security events. Furthermore, ONEOK has worked with several state legislatures to enact legislation to protect energy infrastructure from hostile actions."
But Michael German, the Brennan Center for Justice fellow and former FBI special agent, pointed out that this legislation is typically enacted with environmentalist protest groups in mind, not militia-minded employees.
The American Legislative Exchange Council has crafted a "model" bill based on Oklahoma's HB 1123, which calls for citizens to receive a felony sentencing, $100,000 fine, and/or 10 years in prison if their actions "willfully damage, destroy, vandalize, deface, or tamper with equipment in a critical infrastructure facility." The bill has been replicated across the country including in Ohio, Alabama, Kentucky, Minnesota, Pennsylvania, Louisiana, and Iowa, where reporting by DeSmog in 2018 revealed that corporate backers included Koch Industries, the American Petroleum Institute, and many other oil and gas and pipeline companies.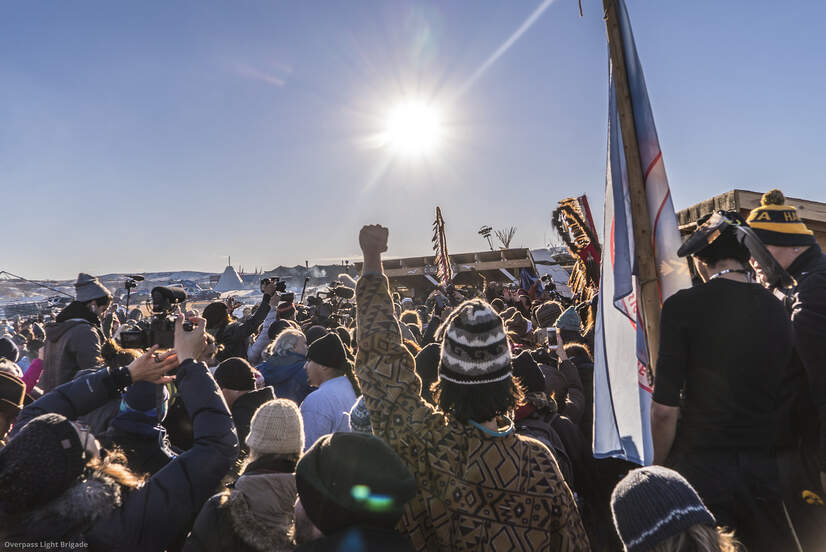 Opponents of the Dakota Access pipeline gather at Standing Rock in North Dakota, December 4, 2016. Credit: Joe Brusky, CC BY–NC 2.0
The FBI told DeSmog that the agency meets frequently with members of the private sector to make them aware of potential threats and to provide information on how to enhance their security.
"We have no comment on threats to specific industries or any groups," said an FBI spokesperson. "Our focus is not on membership in particular groups but on individuals who commit violence and criminal activity that constitutes a federal crime or poses a threat to national security. The FBI can never initiate an investigation based solely on an individual's race, ethnicity, national origin, religion, or the exercise of First Amendment rights."  
However such statements go against research done by the ACLU, which unearthed records indicating that in the early 2000s the FBI targeted environmental groups, animal rights groups, and anti-war groups in a way that violated their First Amendment rights. A review of these episodes, published in 2010 by the U.S. Department of Justice's Office of the Inspector General, concluded that while the FBI did not target groups for investigation based on First Amendment activities, the basis for opening some of the investigations for certain individuals was "factually weak," the FBI "extended the duration of investigations involving advocacy groups or their members without adequate basis," and "in a few instances the FBI improperly retained information."
"What Congress should do in our opinion," says Hina Shamsi, the ACLU security expert, "is ask the FBI why it targets groups like this as opposed to those who have carried out white supremacist violence."
The Rise of the Three Percent
In our investigation to determine the extent of Three Percenter involvement in the oil and gas industry, DeSmog discovered that the right-wing group has increasingly taken a pro-oil and gas stance, railed against the perils of the "Green Deal Manifesto," and openly defended the oil and gas industry and its legislative enablers. They have also intentionally stepped into the limelight.

New Orleans, May 7, 2017. After a march organized by Take 'Em Down NOLA celebrating the removal of Confederate memorials was met with pro-Confederate monument supporters. Someone brought a Three Percenter flag to the event. Credit: ©2017 Julie Dermanksy
The Three Percenters were founded in 2008, part of a wave of right-wing militia groups that sprang up during Barack Obama's rise to the presidency. The group, according to Daryl Johnson, the former Department of Homeland Security analyst, is "a hybrid organization which blends the tactical elements of a militia, the logistical expertise of the prepper community, and the 'off the grid' mindset and outdoors resourcefulness of survivalists." It has a command structure and claims chapters in every U.S. state.
Three Percenter adherents have engaged in self-appointed, heavily armed "border patrols," assisted in the armed occupation of the Malheur National Wildlife Refuge in Oregon in 2016, and attempted to detonate a car bomb outside a bank in Oklahoma City in 2017. Three Percenters also had members in tactical gear armed with semi-automatic rifles at the deadly Unite the Right rally in Charlottesville, Virginia, in August 2017, although its National Council later issued a statement distancing itself from the rally's white supremacists and neo-Nazis.
In Oregon, in June 2019, after Governor Kate Brown called state police to return Republican state legislators who fled the Capitol to avoid voting on a climate bill, it was Three Percenters who, in a series of Facebook posts, vowed to defend the legislators and referred to the Democratic governor as a fascist and compared her to the Nazi party. Just north, in Washington, Three Percenter Matt Marshall is on the local schoolboard, holds a prominent position in his county's Republican party leadership, and if elected to state congress, vows to, "Drain the Evergreen Swamp."

New Orleans, August 19, 2017. A man holds a Three Percenter flag at the conclusion of the Charlottesville solidarity march organized by Take 'Em Down NOLA, which was met with counter-protesters. Credit: ©2017 Julie Dermanksy
In 2018 in Louisiana, U.S. Congressman Clay Higgins, during a near-hysterical speech at the "Expanding Global Gas Infrastructure" seminar, made a number of oblique references to the militia. "Some of us refer to ourselves as 'Three Percenters,'" Higgins, a former police officer, announced to the oil and gas industry representatives. "You, ladies and gentlemen, are the Three Percenters of the modern era…Together, as the Three Percenters, we represent everything that's right about this world, and we stand against everything that's wrong."
"Welcome to the war for the future of our planet," the Congressman continued. "My role as your representative is to be not just your ally, but your warrior. Please allow the service of my office to represent the point of the spear that you wield. We'll knock down every bureaucratic wall. We'll kick down every federal barrier." In a series of emails sent in early May, DeSmog asked Higgins' staff about the Congressman's connection to the militia group but has yet to receive a reply.
Three Percenters also took swiftly to the terrain of the coronavirus. An article posted in April by the Anti-Defamation League noted that, "Three Percenters were identified at protests in Idaho, Tennessee, and Ohio." At the Washington protest that Three Percenter state congressional candidate Matt Marshall helped organize, many teens and children were in attendance and few people were wearing masks. Social distancing was scant, and was visibly mocked by attendees.
"Open up, Inslee!" Marshall shouted in a video he livestreamed, the cry directed toward the state's famously pro-climate governor.  "We are swarming the Capitol right now, we have people everywhere."
The Mountain West and Upper Midwest may be a hotbed of Three Percenter activity. Men associated with an Illinois chapter were charged by the FBI in the bombing of a Minnesota mosque in 2018, attempting to "scare" Muslims away from living in the United States. That same year, the Minnesota chapter of the Council on American-Islamic Relations called for an investigation into a YouTube video that showed men with the "North Dakota III% Security Force" firing shots at a model of a mosque that then explodes.
"Being a Three Percenter is a way of life," states the Colorado chapter's Facebook page. "Remember, we do not seek after violence, but if violence is ever called for, WE are the III% of the population that will stand and fight against a tyranny."
A 2019 article published in Combatting Terrorism Center Sentinel, a prominent research journal of the United States Military Academy at West Point, notes that, "From September 2, 2011, to December 31, 2016, right-wing extremists were responsible for three times as many attacks as those inspired by jihadi ideology." But the response to this threat by U.S. security and law enforcement officials, the article states, has been insufficient, "complicated by First Amendment-protected speech and association rights, which prevent state agencies from interfering with domestic extremist groups." Also hampering efforts, the West Point article notes, is an inadequate budget from the Trump administration, and a refusal by the administration to appropriately prioritize the threat from domestic terror groups.
The Three Percenter movement, despite being grounded in the mythology of the American Revolution, has even spread across the border to Canada, where every single province now has a chapter. Rhetoric from the Three Percenter group in Alberta, which contains the nation's most productive oilfields, is violently anti-Muslim and anti-immigrant and particularly disturbing, says David Hofmann, an assistant professor at the University of New Brunswick and fellow with the school's Gregg Centre for the Study of War and Society.
"From a security standpoint the Three Percenters are probably among the most worrisome groups," says Hofmann. "In conversations with my colleagues it is not whether there will be a right-wing attack, it is when."
---
Donate to support DeSmog investigative journalism.
---
Marshall, the Washington state Three Percenter leader, made a distinction between different groups within the movement. For example, he said the Three Percent Security Force, which is based in North Dakota and made the video of members shooting a mosque that exploded, is a fringe element of the movement, "absolutely crazy, absolutely lunatic, anti-government extremists."
"The Three Percenter movement has multiple flavors," Marshall says. "They are abusing the game, they are a minority in the Three Percenter movement, and the rest of us are all upset because it makes us look bad."
"Clearly we are not trying to hurt this country, many of us have gone to war for this country," Marshall continued. "I know my FBI antiterrorism agents because I talk to them so much, they come and ask us questions because they get reports on us. But I can also tell you that they understand what we are about and what we are going for and what our goals are." He added, "I can tell you the great majority of our organization are current or former military, current or former law enforcement, and we have multiple members that hold a TS/SCI clearance, which is one of the highest security clearances you can get."
"We at least in our Three Percent groups make sure nobody talks about romanticized civil war," he said. "I do believe one is coming but I absolutely don't want it. I have been to war, I have seen what happens and I do not want one happening in this country." Any government agency focusing on the general Three Percenter groups are wasting their energies, said Marshall, and at a huge taxpayer's expense.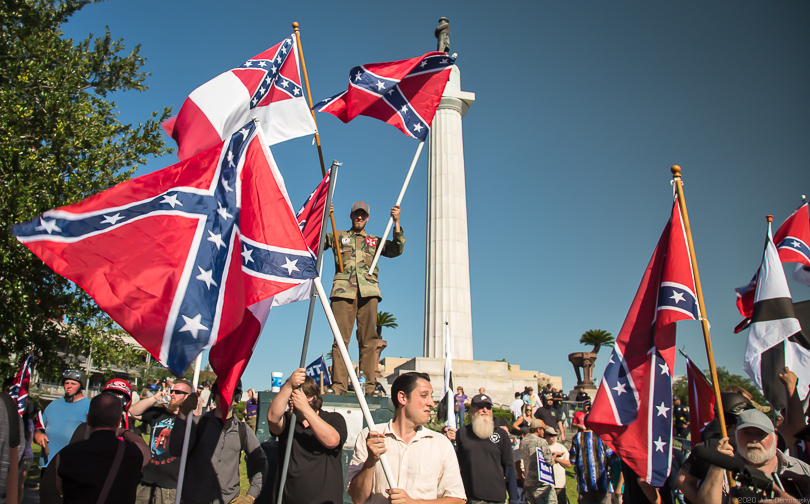 New Orleans, May 7, 2017. Pro-Confederate monument supporters with Confederate flags stand at the ready to confront supporters of the group Take 'Em Down NOLA, who marched celebrating the removal of Confederate monuments before a statue of General Lee was later removed from the pedestal on May 19, 2017. A Three Percenter flag was also present at the May 7 event. Credit: ©2017 Julie Dermanksy 
"There is indeed a spectrum of philosophies within any militia group and many adherents do not violate the law," says Michael German, the former FBI special agent, "but I would be concerned with anyone associated with a militant anti-government group if there is evidence of potential wrongdoing that does not appear to have resulted in an investigation by the FBI."
"Certainly, there are different types of militia groups with differing levels of paranoia and antigovernment sentiment," adds Daryl Johnson, the former Department of Homeland Security senior domestic terrorism analyst. "That said, I would argue that the group we're talking about at the gas plant is a potential concern given your informant's observations/allegations coupled with the III percent movement's more radical beliefs when compared to other militia groups."
The government's apparent lack of attention on the issue is of concern to other watchdogs. "The U.S. government increasingly acts like a tool of fossil fuel companies and oligarchs," Basav Sen, Director of the Climate Policy Project at the Institute for Policy Studies, a progressive Washington, D.C. think tank, wrote last October. He added, "the slide into extractivist authoritarianism in the U.S. is part of a worldwide trend."
Sen pointed to a number of issues that promoted a linkup between the fossil fuels industry and the far right. Each group favors a hands-off approach to government meddling and regulation. And in a trend that has become more pronounced under the Trump administration, with its constant mention of the nation's newfound fracking-led oil and gas dominance, support of the fossil fuels industry has been promoted as patriotic duty. Oil and gas industry workers are made to feel they are part of a great mission, says Sen, and those who critique them, such as pipeline protesters or climate marchers, are sworn enemies, or even terrorists. This enables the federal government to place individuals on watchlists and, as seen with Indigenous-led protests at Standing Rock and elsewhere has helped to encourage a dangerous operating environment in which federal law enforcement has relied on outside groups, including actual militia members, to help with security work and law enforcement.
"As we head toward a renewable world and fossil fuels become less competitive, it makes perfect sense that the global elite and fossil fuels industry will turn to the far right, whether indirectly or directly, for protection," says Sen. "The fossil fuels industry is going to need escalating levels of subsidies to survive, and one form of subsidy is this massive tax-funded private security force."
Perhaps nowhere has the use of mercenary-like private security forces been more heavily employed than against Indigenous communities in the United States.
---
"If you throw a Three Percenter patch on you can stand in a government building with an assault rifle all damn day and nobody will bother you."
---
Michael German, the former FBI agent and security expert, says this is already occurring.
"What we saw in North Dakota during Standing Rock is groups organized as professional companies doing security work for law enforcement agencies," says German. "This is quite troubling. Furthermore, there have been situations, such as happened at a rally in 2017 in Portland, where militia members have actually been caught on film helping Department of Homeland Security officials arresting counter protesters."
Tensions with Oilfield Workers at the Fort Berthold Indian Reservation
James Brugh lives with his family in the community of Four Bears on western North Dakota's Fort Berthold Indian Reservation, home to the Mandan, Hidatsa and Arikara Nation, in the heart of the Bakken. The 35-year-old Brugh says his community has been infiltrated by oilfield service workers who ignore "no trespassing" signs, carry high-powered rifles and handguns hidden in their vehicles, and often have a cavalier and racist attitude.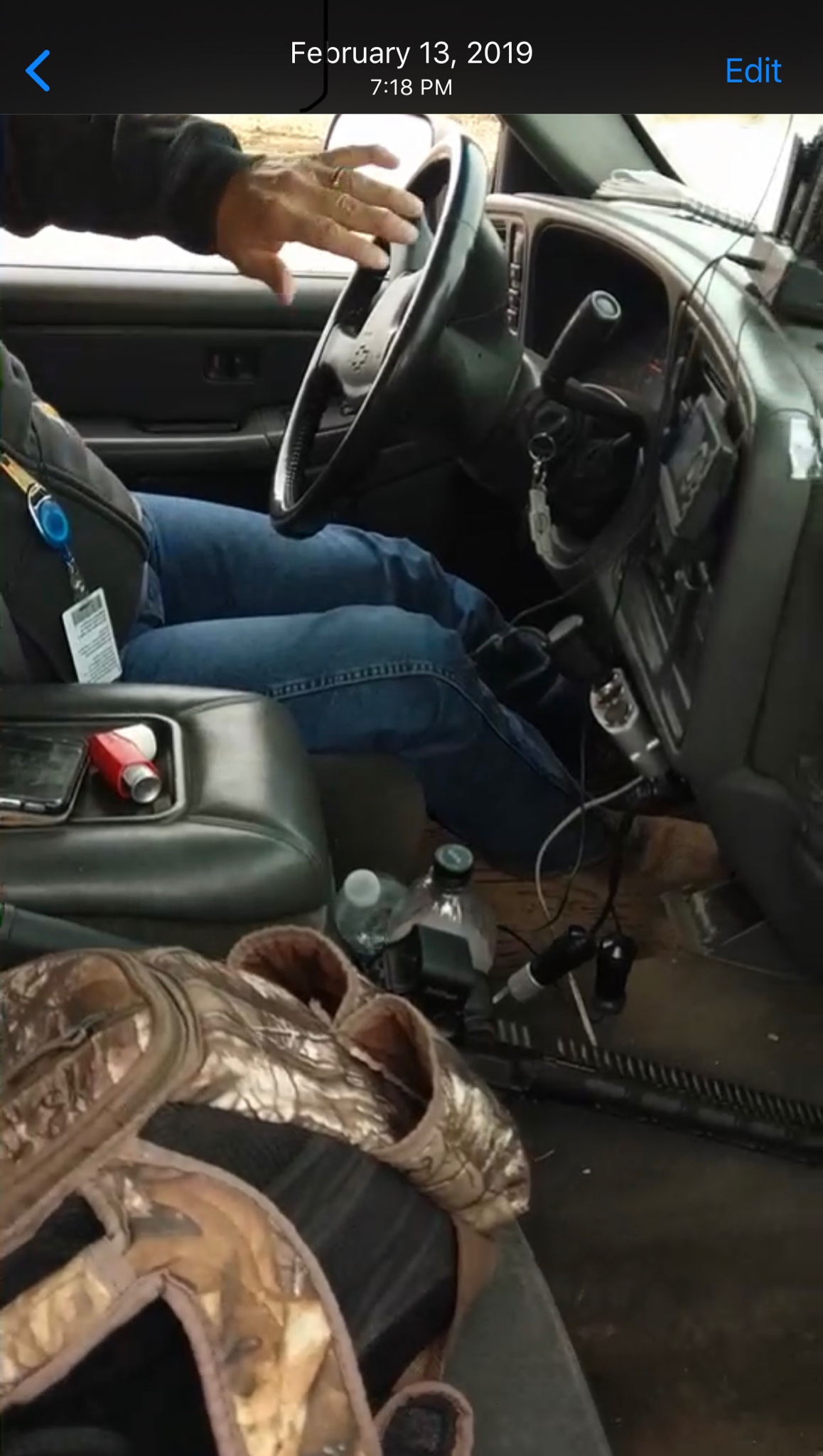 An oilfield service worker carrying a chambered rifle (middle, from left to right) in the front seat of his vehicle on James Brugh's property on the Fort Berthold Indian Reservation in North Dakota. Credit: James Brugh
"It's like the second coming of the cavalry, they treat our land like it's the Wild West," says Brugh. "These guys come here to the rez at Fort Berthold thinking they are soldiers of fortune, with this wild gunslinger mentality. I have heard enough of these guys talking about us like we are subhuman, like we are not people." Brugh has met a number of Three Percenters working in the oil and gas industry, and early on in the Bakken boom, around 2015, was even drawn to the movement as "a rebellious and entertaining part of the American fabric," before noticing that "this Three Percenter crap had taken a turn." 
Brugh lives in a home surrounded by oil and gas development. Pollution is so bad that last December, while his wife Victoria was seven months pregnant, the couple received a letter from an obstetrics and gynecology doctor they had visited in Bismarck recommending that Victoria "relocate for the remainder of her pregnancy." But the family couldn't, as they had nowhere else to go.
One particularly harrowing event occurred at a 12th birthday party last year for one of Brugh's daughters. His wife was several months pregnant at the time. Brugh says an oilfield worker with Nine Line Oilfield Services, a Montana-based company, trespassed onto his property and started acting aggressively. On more than one occasion, Brugh says he has witnessed a firearm in the front seat of an oil and gas worker's company vehicle, and in this instance, he was concerned this worker may have been reaching for a gun.
"I have been saying this for a long time," says Brugh, "there is this mercenary mentality of a lot of these guys up here." The phrase Nine Line refers to a medevac request for a soldier who is injured on the battlefield.
Three Percenter sympathy is apparently mainstream enough in this part of the country that its insignia has even been used to help brand an oil country restaurant. DeSmog discovered that in 2014, a Pennsylvania-based graphic designer created images to be used for the Hard Ride Saloon, a now-closed bar in the heart of the oil patch, in Alexander, North Dakota. One image, "American Patriot 1," shows a zombie oilfield truckdriver with a smoking shotgun. The Roman numeral "III," commonly used to denote the Three Percenters, is emblazoned on the license plate and also in bones on the truck's grill. "American Patriot 2" features a muscular skeleton draped in ammo and a tattered American flag, menacingly clutching a semi-automatic rifle. The third graphic, "Roughneck Zombies" features several zombie oilfield workers and a toppling oil derrick in the background.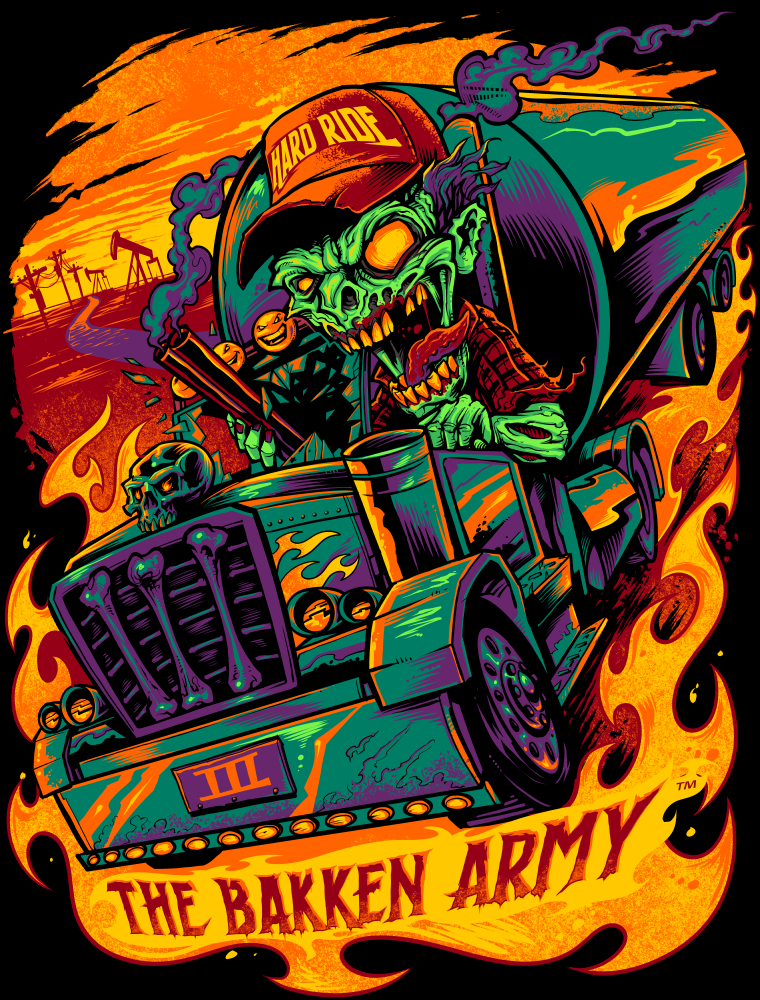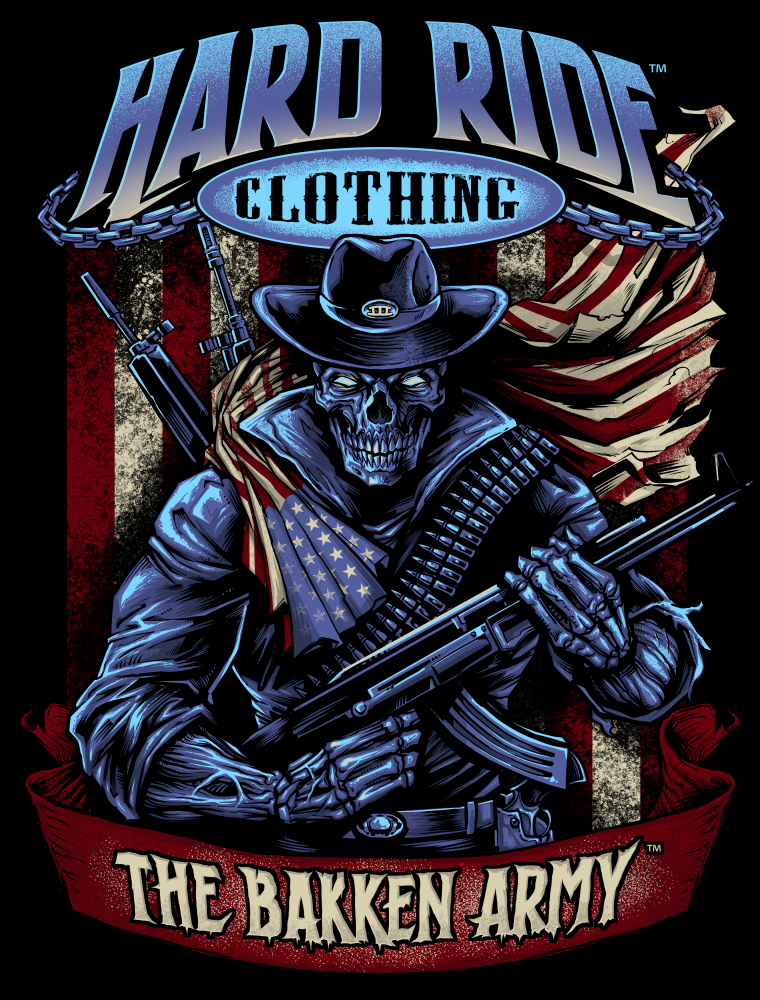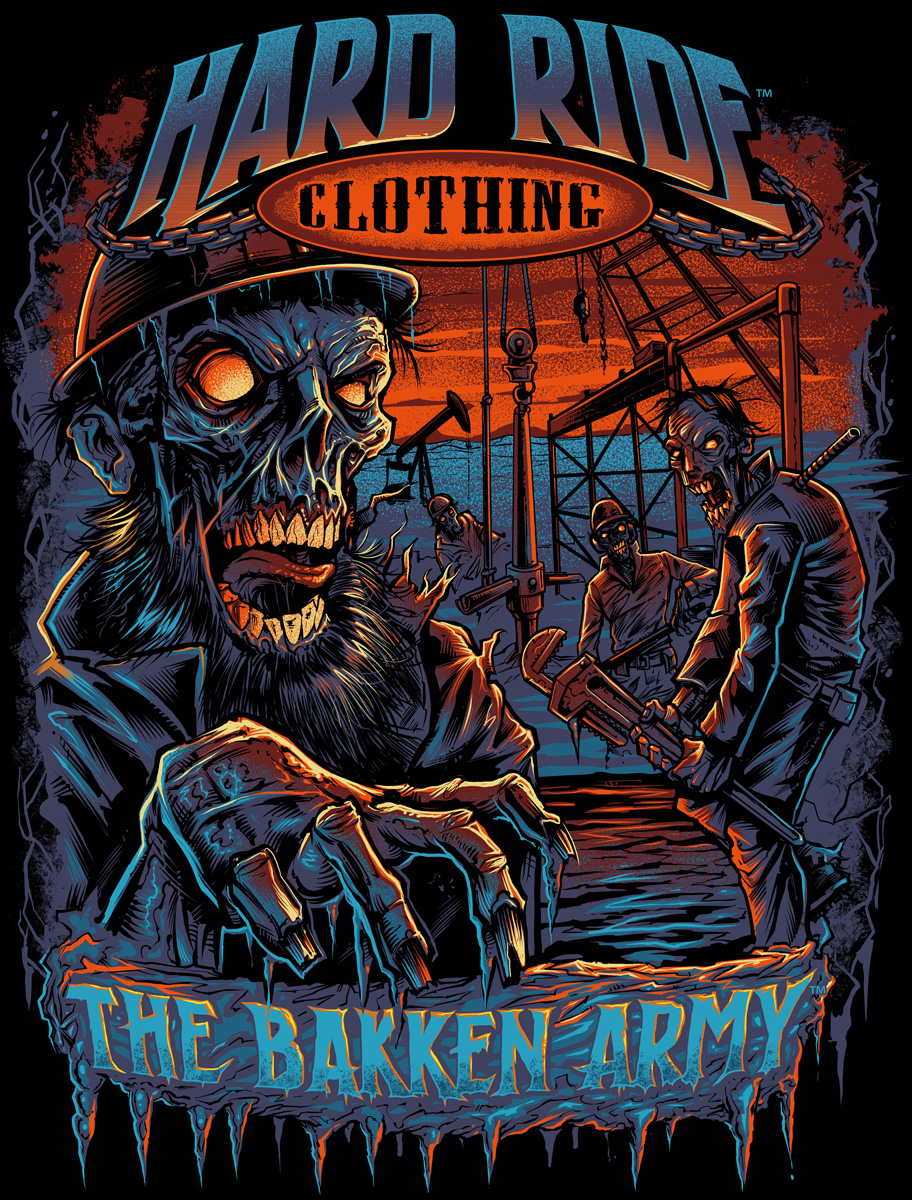 Graphics featuring Three Percenter insignia and oilfield references created for the Hard Ride Saloon, a now-closed oil country bar in Alexander, North Dakota. Used with permission
DeSmog questioned the Department of Labor on whether or not its Occupational Safety and Health Administration (OSHA) had rules regarding oil and gas workers carrying firearms in company vehicles or on the jobsite. "OSHA doesn't have the authority to grant permission to carry firearms on a worksite," stated a spokesperson. "These questions would be best answered by the Bureau of Alcohol, Tobacco, Firearms and Explosives." ATF spokeswoman April Langwell said: "We do not regulate firearms at oilfield facilities." The FBI did not address a set of DeSmog questions on the issue. When the company was contacted by phone, a Nine Line official told DeSmog they were "not interested in participating in this story."
"From my perspective he was trespasser 999," says Brugh. "We have done everything we have done to indicate this is private property. Private property is private property, and some people take that very seriously." But apparently, not on Native American reservations like Fort Berthold, laments Brugh. "We have no jurisdiction, we have no authority," he says.
With protests against police brutality sweeping the nation, this dichotomy of privilege has become even more visible.
"If you throw a Three Percenter patch on you can stand in a government building with an assault rifle all damn day and nobody will bother you, but if you are a minority you can peacefully protest and be met with this military force," says Brugh.
Concerns About Three Percenters: From 2016 to 2020 and Beyond
Meanwhile, Paul Lehto, the former ONEOK plant operator, did manage to leave the oilfield. Sometime in the spring of 2016, he says he filed a report to an independent third-party reporting system called EthicsPoint detailing his discomfort over the presence of militia members at the gas plant. ONEOK did not specifically reply to questions from DeSmog asking whether or not the company has ever received a complaint of this nature. But Lehto says that he never heard back, and the militia presence, connected with the other safety issues he observed, continued to weigh on his mind. On July 23, 2016, he sent an email to ONEOK, notifying the company that he was leaving.
"Oneok makes remarkably strong statements and claims about safety," he wrote. "All I've attempted to do is follow that." A reply he received three days later from ONEOK human resources attorney Kenneth Short appears to acknowledge Lehto's concerns about militia activity at the plant.
"In your July 23, 2016 resignation email to Kris Rafferty you stated that you are aware of safety and/or ethical concerns," the ONEOK letter stated. "Furthermore, in your exit interview you stated you are aware of illegal and/or unethical activities. Please provide a detailed list of any unsafe, illegal, or unethical activities, of which you are aware…so that the Company may address such matters, if necessary."
Lehto replied to Short that same day, via email, explaining that, "while Oneok does regularly solicit information in the area of ethics, safety, and legality, there is very little evidence in my experience of either taking action on them or even responding in a substantive manner."
In a nation increasingly at odds with itself and running high with emotion, it is this ignoring of risks and selective trampling of rights, including for protesters and people of color, that can potentially lead to an explosion, whether literal or figurative. "The whole Trump strategy has been to whip these people into a frenzy and give them the perfect way to fight back against the left," says Daryl Johnson, the former Department of Homeland Security domestic terrorism analyst.
"This administration has been quick to label Antifa a terrorist group, which it is not, while the far right has killed people and they have been very reluctant to use the terrorist label," adds Johnson. "It is ignorance, it is hypocritical, it is not responsible either, and it is inaccurate." 
When it comes to the situation Lehto described with Three Percenters at ONEOK's Lonesome Creek plant in North Dakota, Johnson believes the matter should be examined by the FBI. "What we appear to have here is an operational threat environment, and I think there is definitely a potential criminal case," he says.
Main image: New Orleans, August 19, 2017. A Three Percenter flag is visible as counter-protesters and protesters clash at the end of a march and rally opposing white supremacy and held in solidarity with Charlottesville, days after the deadly Unite the Right rally. Credit: ©2017 Julie Dermansky