The standard, pre-operational testing of a new natural gas compressor station in the Massachusetts community of Weymouth, south of Boston, had barely begun last week when a gasket failure prompted an emergency shutdown of the facility and resulted in an unintentional gas leak. Weymouth's compressor station, once open, would keep gas pumping through a regional pipeline system, but even before this gas leak, its road to get there has been bumpy, with outcries over its air pollution permit and health concerns from the surrounding community.
Enbridge, the Canadian-based energy pipeline corporation behind the controversial Weymouth compressor station, sent a written notice to Massachusetts state regulators on Friday, September 11 informing them of the mechanical failure and "unplanned" gas release. The compressor station's approval plan requires this notification when there is an unplanned gas release exceeding 10,000 standard cubic feet in volume. According to Enbridge, 265,000 standard cubic feet of gas and 35 pounds of volatile organic compounds (VOCs) were leaked during the incident.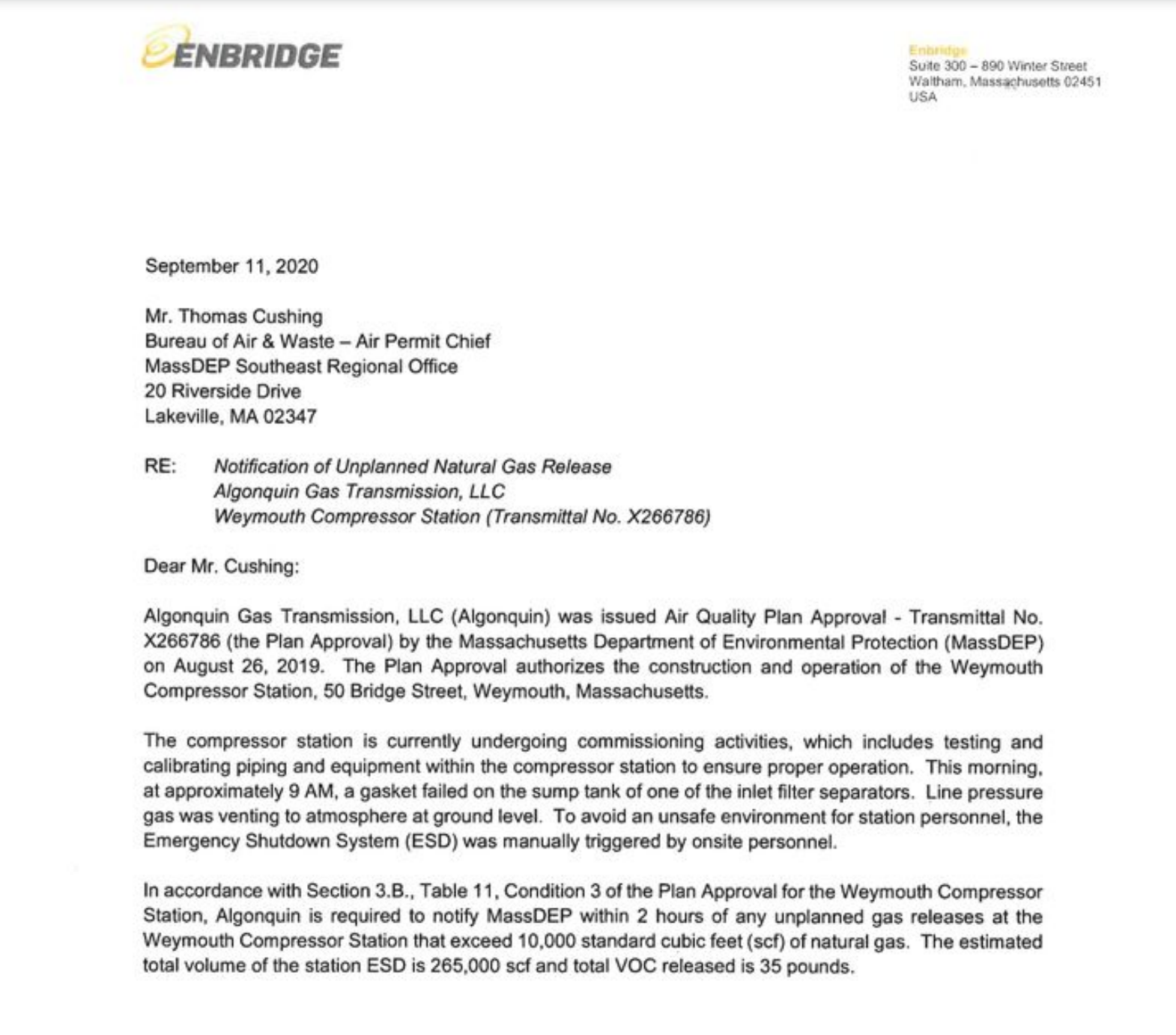 Screen shot of Enbridge letter sent to a Mass. Department of Environmental Protection official on September 11, 2020
Natural gas, also known as fossil gas, is composed almost entirely of methane, a powerful greenhouse gas that has roughly 86 times the warming potential of carbon dioxide over the short-term. Both planned and unplanned gas releases in pipeline infrastructure like compressor stations add methane to the atmosphere, contributing to the ongoing climate crisis. Emissions of VOCs and chemicals including some known carcinogens are also common with gas compressor stations. Explosions and fires have occurred in gas systems, including compressors, all over the country.
Activists opposed to the Weymouth compressor have repeatedly raised a number of climate, health, and safety risks. The contentious project has seen sustained local protests and direct action for the last several years. Earlier this year, Boston University Professor Nathan Phillips, an environmental researcher, went on a two-week hunger strike to raise awareness of the compressor's public health and safety hazards.
But federal and state regulators have apparently ignored these concerns. The Federal Energy Regulatory Commission (FERC), which initially approved the project in 2017, granted permission in late November last year for Enbridge subsidiary Algonquin Gas Transmission to begin construction on the compressor.
Massachusetts permitting authorities such as the Office of Coastal and Zone Management and the Department of Environmental Protection (DEP) have also green-lighted the project. In June a federal appeals court overturned the project's air quality permit, finding that the DEP erred in approving it, but on August 31, the court reversed its decision and reinstated the permit.
The compressor station is part of Enbridge's Atlantic Bridge pipeline carrying fossil gas through the Northeast region and into Canada, where it could be exported. The liquefied natural gas (LNG) export facility in Nova Scotia, however, has not yet been built and it is unclear exactly where the gas is going as several utility companies that originally signed onto the project have since said they do not need the Weymouth compressor to meet customer gas demand. 
"The question of where the gas is going is totally up in the air," Alice Arena, Weymouth resident and president of the community group Fore River Residents Against the Compressor Station, told DeSmog.
Here's US Senator Ed @SenMarkey asking why @Enbridge's #WeymouthCompressor station is still being considered given MA's own gas utilities don't need it. In my 3+ years reporting on this scandal-ridden project @MassGovernor never provided commented. Will he answer Sen. Markey? https://t.co/WvvnN191k8

— Itai Vardi (@itai_vardi) November 4, 2019
Enbridge is starting testing procedures on the compressor ahead of it becoming operational, which the company is expecting later this year. Testing of the compressor will run through October 1 and involves calibrating piping, venting gas, and running an emergency shutdown test, which had been scheduled for Saturday, September 12.
But an unplanned, manual emergency shutdown happened the day before on September 11 due to the gasket failure. Arena told DeSmog the company does not yet have a fully operational system for emergency shutdowns.
"Why are they being allowed to fool around with live gas flowing through the pipes when they do not have a functioning emergency shutdown system?" she said.
Enbridge did not respond to a DeSmog inquiry asking if a gasket failure is fairly common issue in new compressor stations and if Saturday's planned emergency shutdown went ahead as scheduled. Arena told DeSmog that testing procedure has been postponed to later this week.
Shut it down. https://t.co/PaNCB1EpTc

— Ed Markey (@EdMarkey) September 11, 2020
In the wake of the gas leak, several federal lawmakers representing Massachusetts, including Sen. Ed Markey and Rep. Stephen Lynch, have called for the not-yet-open facility to be shut down. Rep. Lynch, whose district includes Weymouth, wrote a letter Monday to U.S. Secretary of Transportation Elaine Chao urging the Department of Transportation to "immediately suspend" the opening and operation of the compressor station. 
After the accidental leak of 260,000 cf of natural gas in Weymouth I have urged the @USDOT @SecretaryElaineChao to immediately suspend the opening & operation of the Weymouth Compressor Station to allow for a thorough & complete review of the site and the safety of that facility. pic.twitter.com/HsBx7NMegd

— Rep. Stephen Lynch (@RepStephenLynch) September 15, 2020
While Enbridge reported the gasket failure incident to DEP, local residents and town officials were not notified directly and immediately. "The company reports to the DEP, the DEP then has to notify the town, and then the town has to notify the residents. So by the time it hits the residents, [the news] is three to four hours old," Arena told WBUR. As the town of Weymouth noted in a comment on a Facebook post with Enbridge's letter to DEP, "we had no notice and no way to activate our [emergency] code red notification system."
The Weymouth compressor's gasket failure resulted in gas venting at ground level, a potentially dangerous situation that could have led to a fire or explosion had there been a spark or static electricity. 
"I think it's important that everyone in the town know that they've already had an accident and they're not even operating," Arena told DeSmog.
The incident occurred just two days ahead of the two-year anniversary of a gas system explosion in the Merrimack Valley, an area north of Boston, that damaged over 130 properties and caused the death of 18-year-old Leonel Rondon of Lawrence, Massachusetts. Overpressurized gas pipes led to the explosion on September 13, 2018. The owner of that gas system, Columbia Gas, has since been ordered to pay a $53 million fine and is prohibited from conducting business in the state. Eversource, another energy utility company, has agreed to purchase Columbia's gas assets in Massachusetts for around $1 billion.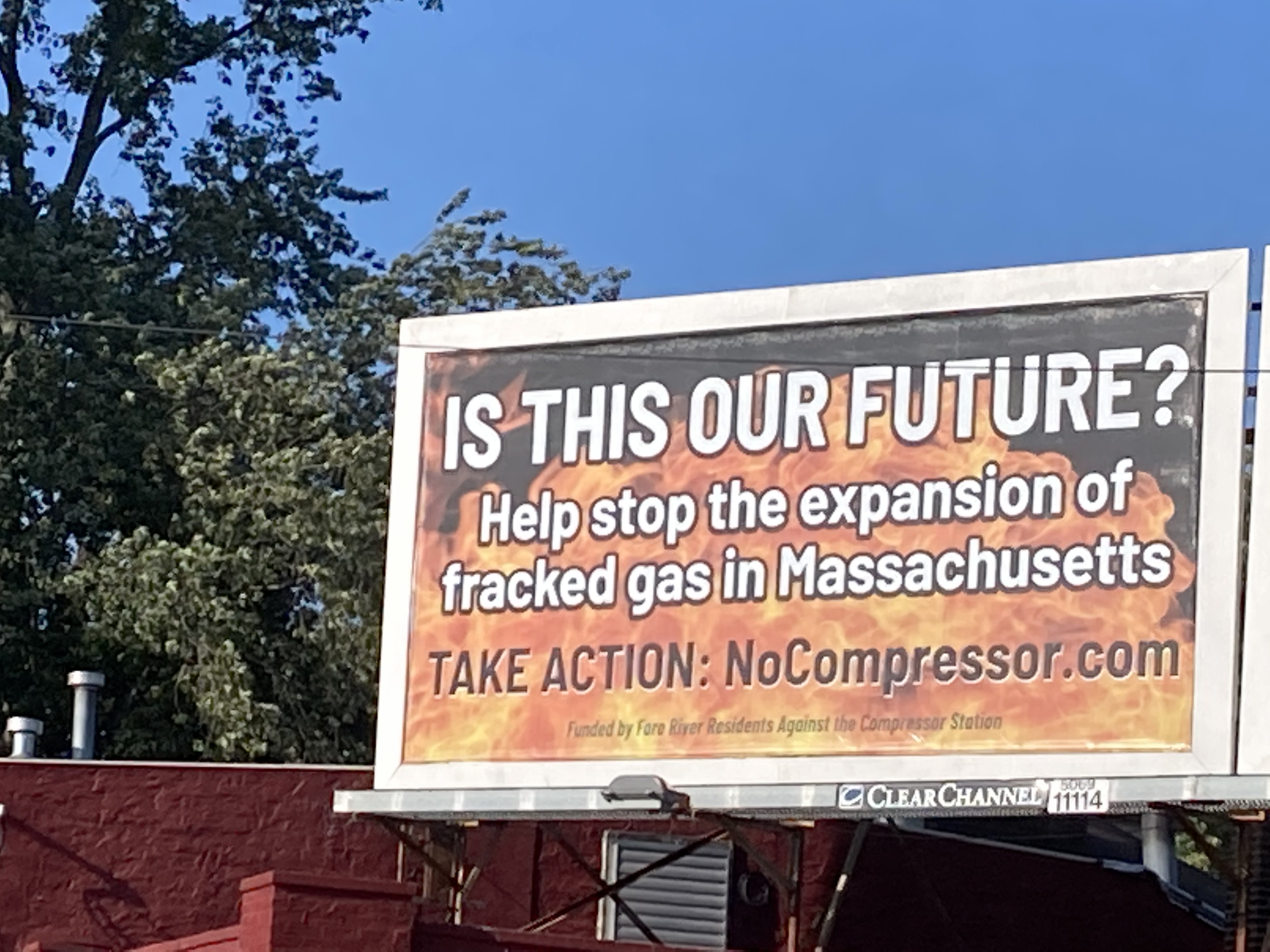 Billboard in Weymouth, Massachusetts. Credit: Dana Drugmand
The Weymouth compressor gasket failure also came at a time when unprecedented wildfires, worsened by the fossil fuel-driven climate crisis, are ravaging the Western U.S. 
"We are in such a climate crisis right now. Doing this now, anything to do with fossil fuels is just folly, it's ridiculous and [Enbridge] knows it," Arena said.
"There was never ever any need or excuse for this [compressor], other than the greed of the corporation," she added.
Main image: Community activists opposing the Weymouth compressor station drive by the facility on September 12, 2020, the day after its emergency shutdown and unplanned gas leak. Credit: Fore River Residents Against the Compressor Station (FRRACS) via Facebook