On Wednesday, September 23, several members of Congress introduced a resolution in both houses that supports the principles and demands of the 21 youth suing the U.S. government in the landmark constitutional climate case Juliana v. United States. Titled the "Children's Fundamental Rights and Climate Recovery Resolution," this Congressional resolution, though nonbinding, demonstrates one way that Congress can play a key role in supporting the growing calls to hold the federal government and fossil fuel companies accountable for the devastating damages of the climate crisis.
In January, a divided federal appeals court dismissed the Juliana youth lawsuit, but the youths have asked the full court to review that dismissal and a decision is still pending.
Young people like the Juliana plaintiffs and communities across the country have turned to the courts in filing lawsuits demanding climate accountability. More than 20 municipalities and states are suing major oil and gas companies like ExxonMobil over the fossil fuel industry's campaigns to discredit climate science, deceive the public on climate risks, and delay policy action to reduce greenhouse gas emissions. The young people suing the U.S. government in Juliana argued that the executive branch has promoted a fossil fuel energy system that contributes to dangerous climate change, putting their constitutional rights like rights to life and liberty at risk.
In both types of cases, Congress could signal its support for the youth and communities going to court over the climate crisis. That idea is essentially what the new concurrent resolution on children's fundamental rights is about, a symbolic gesture backing the demands of the Juliana youth plaintiffs.
"The youth seek protection of their constitutional rights to life, liberty, property, and equal protection under the laws, which includes a climate system capable of sustaining human life," Congresswoman Pramila Jayapal (WA-07), one of the original House sponsors of the concurrent resolution, said in a press release. "Everyday I see catastrophic climate-related events escalating. This resolution is more important than ever because children's rights are at stake."
As the co-chair of the United for Climate and Environmental Justice Task Force, I'm proud to help introduce this resolution recognizing the fundamental rights of children. Every child deserves access to clean air and clean water. We must protect their health and their futures. https://t.co/Jl4gxdsOoi

— Rep. Pramila Jayapal (@RepJayapal) September 23, 2020
The resolution recognizes that the climate crisis disproportionately affects the health, economic opportunity, and fundamental rights of children and calls on government agencies tasked with implementing climate and energy policy to develop a science-based climate recovery plan, which involves rapidly slashing emissions and working to draw down atmospheric carbon dioxide concentrations to under 350 parts per million by 2100. The resolution is sponsored by Rep. Jayapal along with Reps. Jan Schakowsky and Bobby Rush of Illinois and by Senator Jeff Merkley (D-OR). Additionally, 57 members of Congress including seven Senators and 50 House members have already signed on as co-sponsors. The resolution has also been endorsed by 50 organizations working in areas of climate, human rights, public health, law, labor, minority rights, business, and faith.
During a virtual press conference on Wednesday, several of the Juliana plaintiffs spoke to how the climate crisis is already impacting them, such as with the recent unprecedented wildfires ravaging the western U.S. that left Oregon teens Avery McRae and Isaac Vergun unable to go outside and freely breathe fresh air.
"Our lives are at stake, my ability to breathe clean air is stake," Avery explained. "My future and the future of humanity is at stake."
All Three Branches of Government Needed in Climate Fight
While a congressional resolution doesn't have the force of law behind it, the statement sends a message that at least some members of Congress recognize the intergenerational injustice inherent in the climate crisis and the comprehensive action required to address it. As one of the youth plaintiffs and one of the Congressional sponsors said, all branches of government must be involved in addressing the crisis.
"It's going to require systemic change and all three branches of government," Vic Barrett, a 21-year-old plaintiff originally from New York, said during the press conference.
"To attack the climate crisis head-on, all three branches of the federal government have to comply with the unique and vital roles each plays in upholding our constitution," added Rep. Jayapal.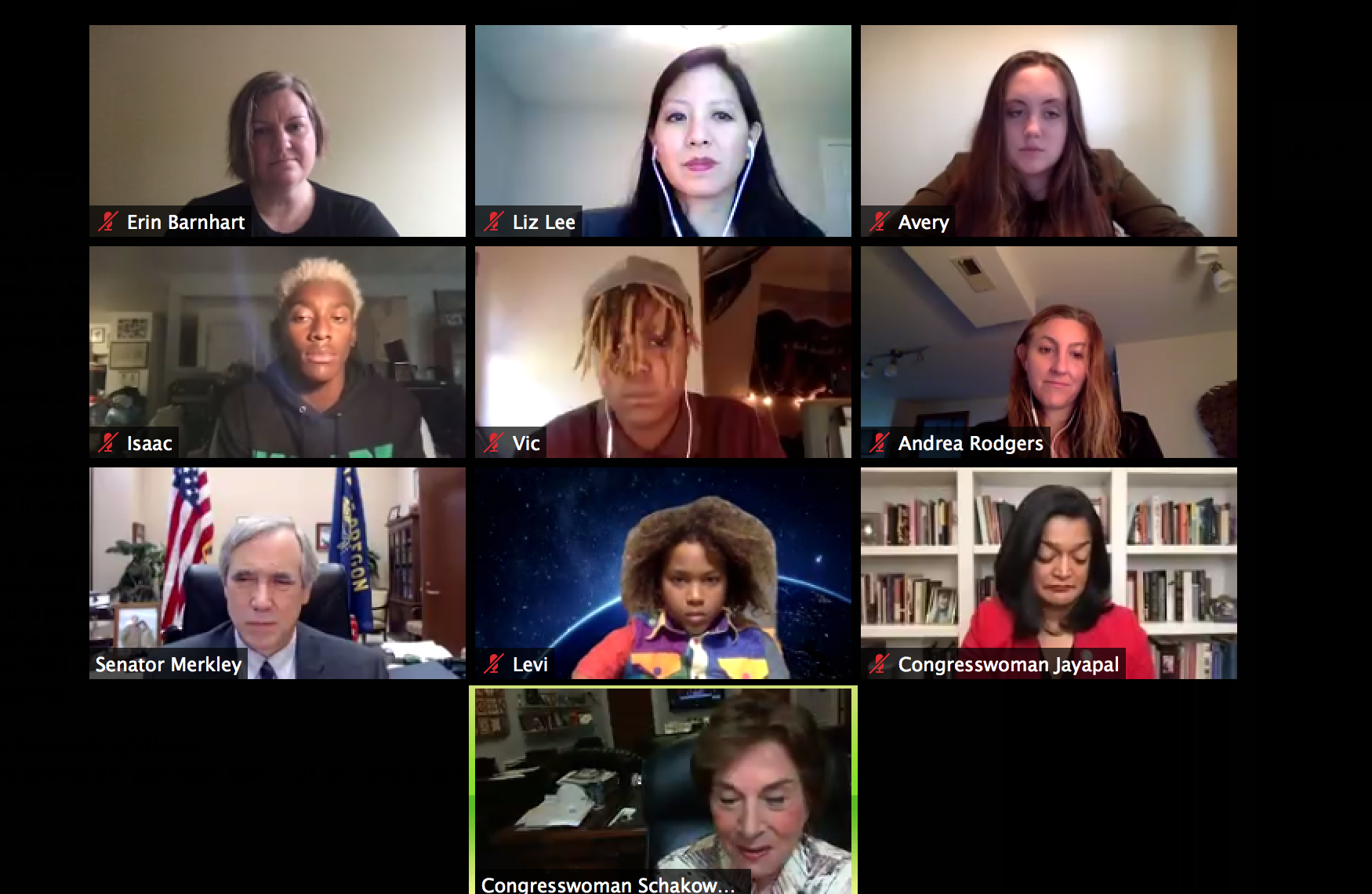 Screen shot of Zoom press conference on September 23, 2020 introducing the Congressional resolution on Children's Fundamental Rights and Climate Recovery.
The U.S. Department of Justice and fossil fuel industry have defended against climate lawsuits by arguing that courts cannot solve the problem, placing sole responsibility on authorities like Congress and international negotiations, even though these forums have been heavily swayed by industry money and lobbying. When a panel of judges dismissed the Juliana case earlier this year, they said the youth must make their case to the political branches of government, despite the reality that polluting interests have made bold federal climate action nearly impossible.    
Lawyers supporting climate lawsuits against the federal government and against fossil fuel companies say that courts do have a key role to play in the context of climate change, separate but complementary to that of Congress.
"It is now incumbent on the judicial branch to ensure that the fundamental rights of children are protected," Julia Olson, lead lawyer for the Juliana youth plaintiffs, said in the press release on the Congressional resolution.
Opposing Liability Waivers and Investigating Fossil Fuel Industry Deception
"Accountability lawsuits are a critical part of what we need going forward along with climate legislation," attorney Pam Gilbert of the Washington, D.C.-based law firm Cuneo Gilbert & LaDuca, LLP, said during an online briefing Tuesday on the topic of Congress and climate litigation.
That briefing, hosted by the Center for Climate Integrity and Chesapeake Climate Action Network, focused on the role of Congress in efforts to hold major fossil fuel companies accountable for climate deception and climate damages. There are currently more than a dozen lawsuits pending that seek to make these companies pay for some of the enormous costs associated with climate change, like building sea walls to guard against rising seas and flooding.
As Rep. Jamie Raskin (MD-08) noted during the briefing, protecting access to the courts by refusing to include legal immunity for the fossil fuel industry through legislation is something Congress can do to support these lawsuits, which are grounded in the "polluter pays principle."  
"If [polluters] inflict damages, they have to pay for it," Raskin said.
In May the Maryland Congressman authored a letter signed by 60 House members opposing liability waivers sought by the fossil fuel industry during negotiations over coronavirus economic relief measures. This opposition to liability waivers (basically a get-out-of-jail-free card) for polluters also made it into a statement in the House Democrats' climate action plan released in late June.     
"I want to make sure Congress is doing everything we can to stop efforts to interfere with [these climate] lawsuits proceeding," Raskin said during the Tuesday briefing, titled "The Fight for Polluter Accountability: Congress and Climate Litigation."
Last year, @RepAOC & I led the first hearing on Big Oil's history of climate denial. As early as the 1960s, @Exxon_Knew burning fossil fuels caused climate change. Climate restoration will cost trillions & America can't afford to shield the main culprits. https://t.co/ZXf1Wrpr2L

— Rep. Jamie Raskin (@RepRaskin) July 1, 2020
Additionally, Raskin (who is also one of the 50 House co-sponsors on the resolution supporting the Juliana plaintiffs) led a hearing last October in the House Oversight Committee, the first House hearing probing the oil industry's campaign of deception around climate science. Holding more of these kinds of investigative hearings is another way Congress can support demands for climate accountability.
"Much more can and should be done by Congress to investigate what this [fossil fuel] industry did to manipulate climate science in order to protect their profits," said Gilbert, the attorney who supports the Center for Climate Integrity, an initiative advocating for climate liability lawsuits against the fossil fuel industry.
"Allowing fossil fuel companies to escape accountability for decades of deception will set a terrible precedent," she said. "Congress has an important role to play here both in [leading] investigations and protecting access to the courts." 
Main image: Kelsey Juliana (age 24) and Levi Draheim (age 13), the oldest and youngest of the Juliana 21 youth plaintiffs, pass by the U.S. Capitol building in September 2019. Credit: Robin Loznak and Our Children's Trust, used with permission