Photography by Peter Bennett
On a busy corner in Vista Hermosa, a neighborhood just west of downtown Los Angeles, early signs of construction have begun on a 7-story, 64-unit apartment building called Firmin Court. The project's developer, the Decro Group, has pledged that the new building, which is one of six active multi-family developments under construction in a five-block radius, will provide supportive and affordable housing for "chronically homeless individuals, persons at risk of becoming homeless, and low-income families."
At a time where affordable housing ranks as a top concern for Angelenos, many see projects like these as signs of progress.
What they may not know, however, is that Vista Hermosa lies on the remains of the Los Angeles City Oil Field, a four-mile stretch of land that housed thousands of active oil derricks in the early 20th century. As residents of the predominately working-class, Latinx neighborhood haul their groceries up the narrow urban streets and their children play chase in driveways, hidden beneath them are shallowly buried oil wells, idle but potentially treacherous. These deteriorating wells have a history of leaking dangerous fumes such as methane, a highly explosive greenhouse gas, and hydrogen sulfide, a toxic gas that has been associated with ailments ranging from lightheadedness and respiratory issues to sudden death.
Authorities say disrupting the soil and placing structures on these ancient wells amplifies these risks for current and future residents. But real estate developers have flooded to the area, due in part to the introduction of new affordable housing incentives and recent legislative changes that allow for an expedited development process and higher density housing.
Agencies Pass the Buck on Approving New Construction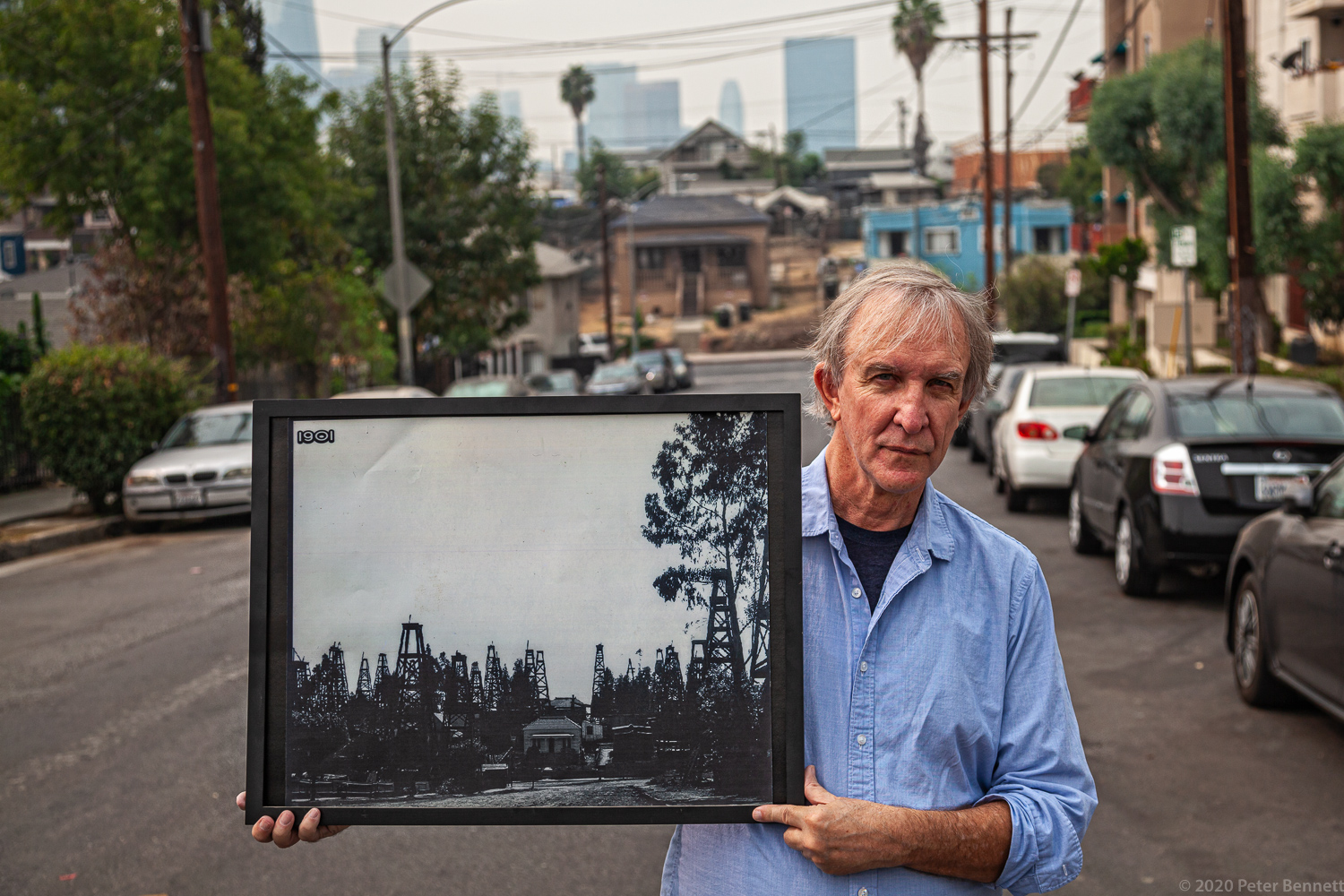 Resident Thomas Gustafson holds a photo from 1901 in front of an original home on Los Angeles' Edgeware Road and Court Street, once surrounded by oil derricks.
Although dense multi-family development is a relatively new trend in Vista Hermosa, people have been living with oil here for a long time. In the early 20th century, homes were built around operating derricks, says Elena Miranda, a geologist at California State University at Northridge. "The tendency [today] is to build right on top of wells," she says, "and that's the new development here that makes it so dangerous."
While the California Geologic Energy Management Division (CalGEM), the state agency that oversees oil activity in California, requires that developers adequately cap all wells on a property prior to construction, the agency officially opposes placing buildings over wells. "The concern about building over any well — even those that are plugged and abandoned (permanently sealed) to today's highest standards — is that over time wells can degrade, which may allow gas, oil, and water to surface and pose a potential hazard in the future. Although that process can take decades, it is nonetheless important to maintain access to wells in case of a future leak," says Uduak-Joe Ntuk, State Oil and Gas Supervisor for CalGem, in an email.
The issue is that toxic gases can build up in spaces beneath buildings, gases including methane, which is difficult to detect by odor. If enough methane accumulates, a small spark can cause a massive explosion.
The city has allowed new construction in Vista Hermosa for decades, despite knowing that the leaky wells posed dangers. In 1996, under pressure to build new schools, the Los Angeles Unified School District (LAUSD) fast-tracked construction of a new school on a 35-acre neighborhood tract, concluding essential environmental studies only after construction had begun. Construction was halted after environmental engineers detected methane and hydrogen sulfide seepage in the new facility's main electrical vault room — just prior to turning on the power. Ultimately it took the district more than 20 years to complete the school, which opened in 2008, at a cost of more than $300 million in combined construction expenses and litigation (after the school district pursued a host of messy and unsuccessful lawsuits).
Current Vista Hermosa residents fear that the rush to build affordable housing over the old oilfield could have similar or even worse results. But across city government, no one is taking responsibility for making sure that doesn't happen, says neighborhood activist Danny Luna. "The city and state should be vigilant. The developers should be vigilant. But the only ones that are actually vigilant are the community members."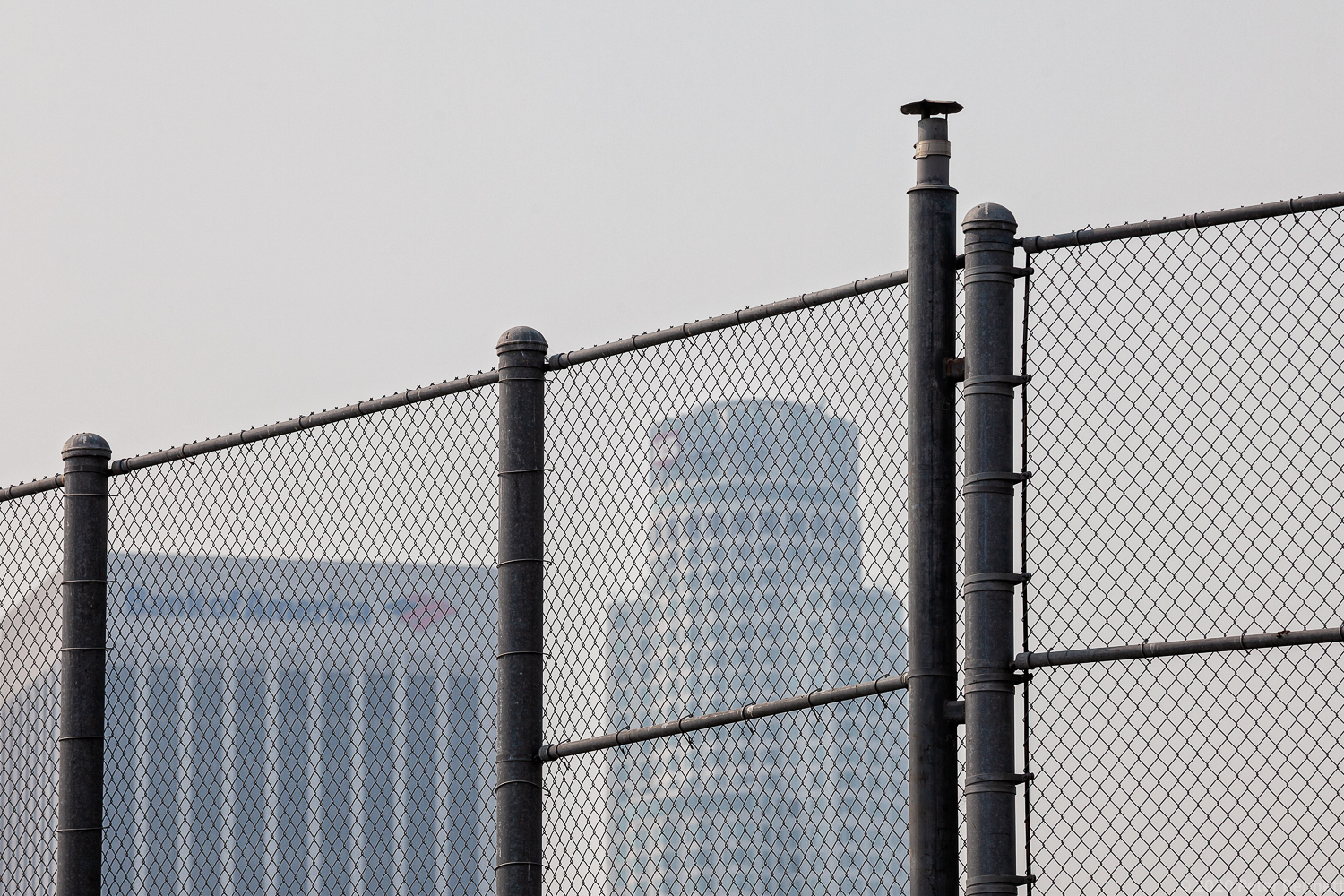 One of many methane vents that circle the athletic field at the LA Unified School District property.

Resident Mercedes Yolanda Cooper holds a 1905 photo of the intersection of W. 1st Street and Belmont Ave. Today, though not visible, the oil wells lie shallowly below the ground.
LA building codes explicitly preclude developers from building over idle oil wells. But according to  CalGem's Ntuk, while the agency can make recommendations and determine whether defunct wells meet and remain in compliance with state abandonment requirements, it has no authority to prevent construction over wells. That power instead belongs to the Los Angeles Department of Building and Safety (LADBS), he says.
However, Jeff Napier, a LADBS spokesperson, says it is the Los Angeles Fire Department (LAFD), in consultation with CalGem, that has the authority to issue clearances for building over wells. LAFD did not respond to a request for comment.
Vista Hermosa resident Rosalinda Morales, who has called the neighborhood home for more than 60 years, likens this avoidance of responsibility by local agencies to a game of political hot potato. "No wants to be left with the liability of putting residents in harm's way."  
Advancing Affordable Housing Legislation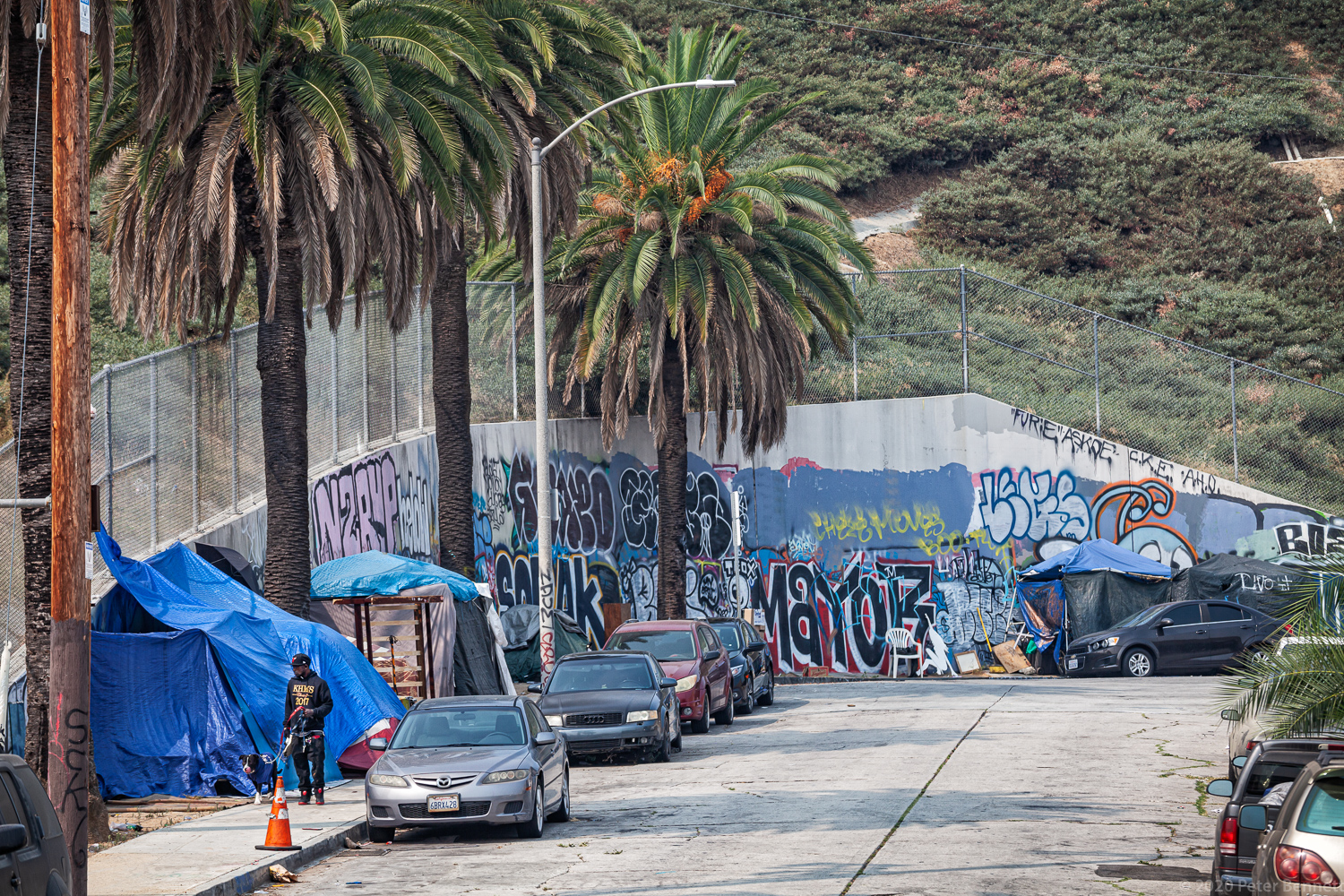 An encampment for people experiencing homelessness along Emerald Street in the Vista Hermosa neighborhood of Los Angeles.
While the Vista Hermosa neighborhood struggles with the public health concerns of living over deteriorating oil wells, the city as a whole is in the midst of an affordable housing crisis. According to the Los Angeles Homeless Services Authority, the city saw a 16 percent increase in homelessness in 2019 — a total of approximately 40,000 people living on the streets — underlining the need for affordable housing, in a city where rents continue to rank among the highest in the country. According to a 2019 report from the California Housing Partnership, the biggest driver in this crisis is a lack of inventory of affordably priced homes. In response to this, taxpayers fund programs like Proposition HHH and Transit Oriented Communities, which provide developers with incentives for building affordable housing, including increases in building density, height bonuses, and reduction of parking requirements. Such incentives make it possible for developers to build in areas like Vista Hermosa, where the costs of environmental remediation previously would have been prohibitive.
Vista Hermosa residents like Luna are troubled by a 2019 environmental rollback by the state, AB1197, that exempts homeless housing developments in the City of Los Angeles from the mandates of the California Environmental Quality Act (CEQA). Arguably California's broadest environmental law, CEQA requires builders to assess the environmental impacts of new development and find ways to avoid or mitigate them.
The political will to rollback CEQA has continued into 2020. In January, Assemblyman Miguel Santiago, who represents District 53 bordering Vista Hermosa, introduced a new piece of legislation, AB1907, to further expand CEQA exemptions to now include all affordable housing.
Rosalinda Morales says rolling back these regulations could be catastrophic for the neighborhood, because the CEQA exemption gives developers permission to ignore some of the environmental implications of building over the oil wells. "Developers don't understand the idiosyncrasies of developing in this area," Morales says. "Every time they open these 100-year old oil graves, they are exposing us to life-threatening toxins." She wants developers held to strict environmental regulations to ensure the safety of the community.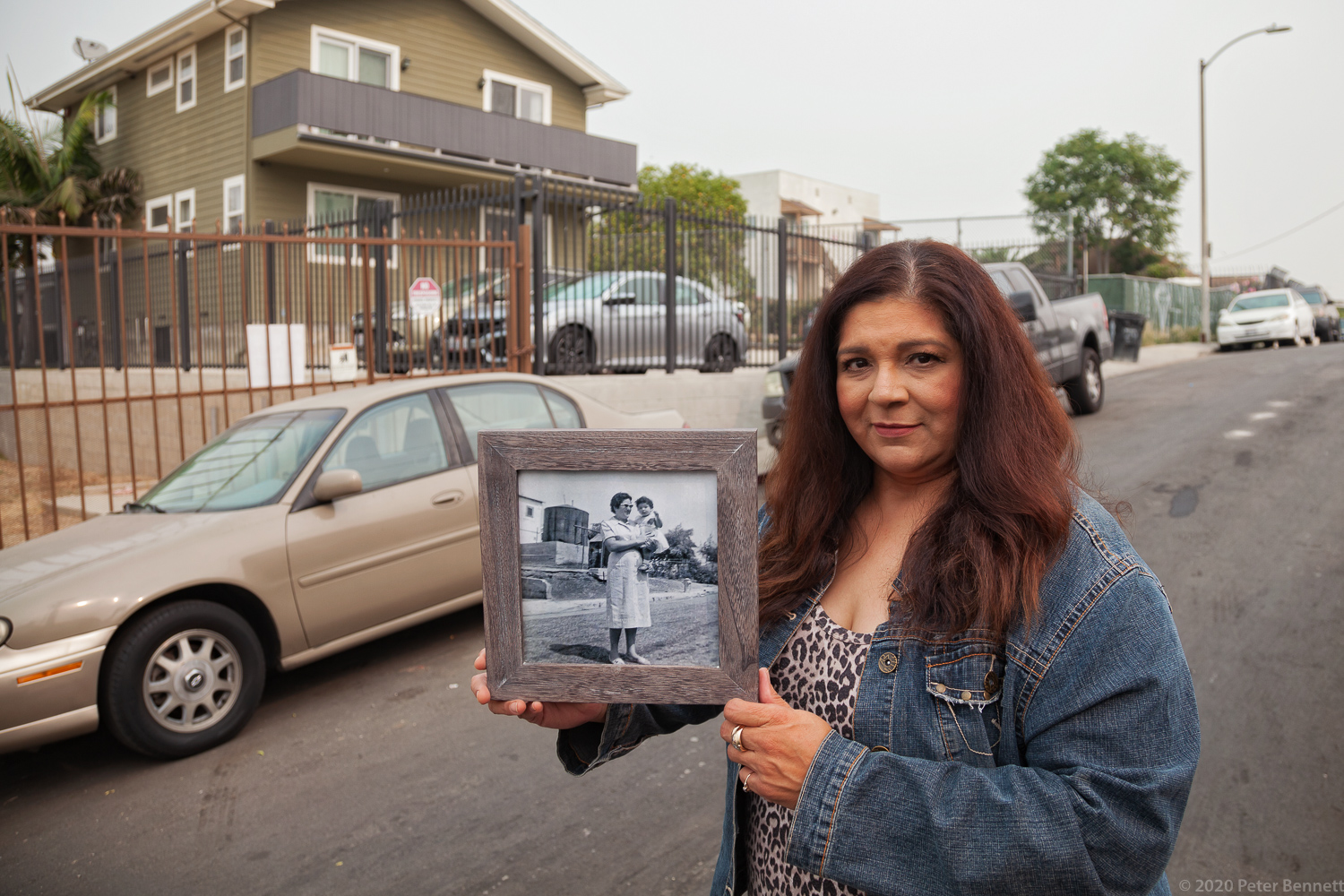 Lifelong resident and neighborhood activist Rosalinda Morales stands on Firmin Street in the same location as a photo from 1958 of her aunt holding her in front of an oil tank. Dozens of abandoned wells still lie under homes and below ground along Firmin Street.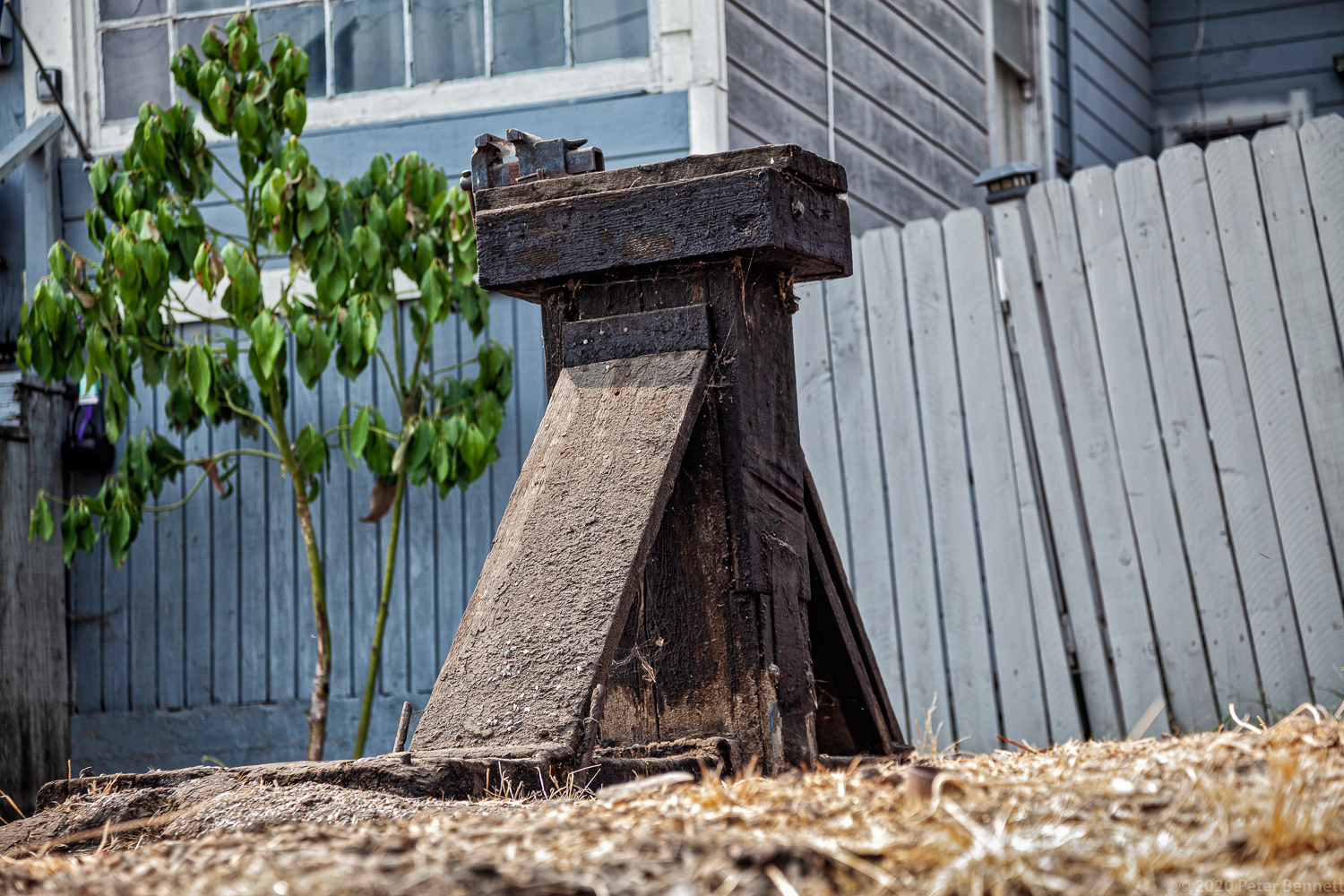 An old wooden base, once part of machinery used for oil production, sits in the front yard of a home along Court Street.
A consortium of environmental groups led by the Sierra Club of California opposes these proposed CEQA rollbacks.
"Low-income communities also rely on CEQA to ensure that new affordable housing is safe and healthy, and that the most vulnerable residents are not inadvertently exposed to toxic hazards and other dangers in their own home," the groups wrote in a 2019 letter to California state legislators as well as Governor Gavin Newsom.  "We must resist changes to CEQA that would allow an abbreviated or weak environmental review process that fails to identify significant health impacts."
New Developments, Old Problems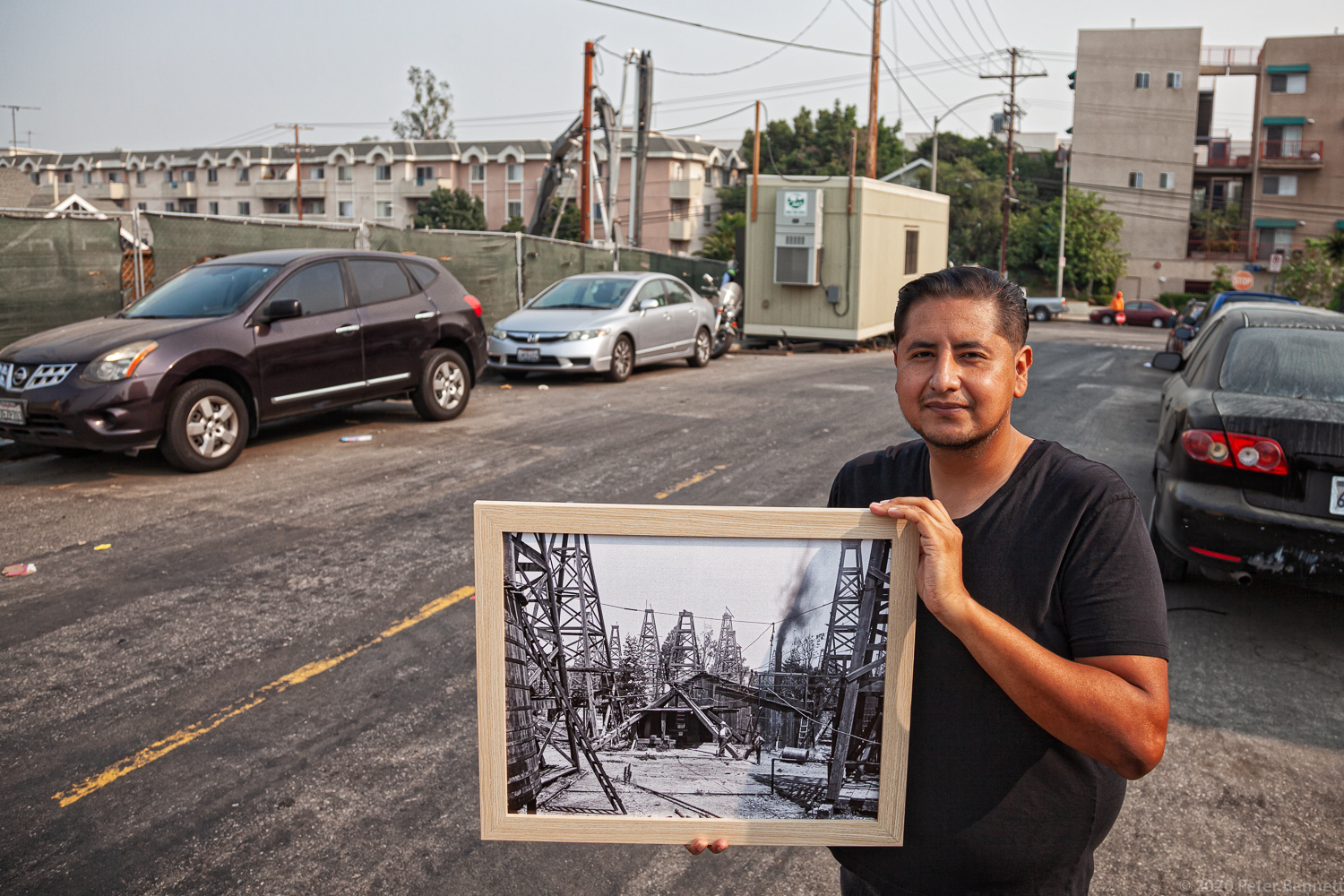 Resident and neighborhood activist Danny Luna holds a photo from 1904 of the intersection of Toluca and Court Street — an area of Los Angeles once dotted with oil derricks. Today, it is the location of a 120-unit development by Aragon Holdings.
One of the affordable housing projects in Vista Hermosa is a 120-unit, two-parcel development by Vancouver-based developer, Aragon Holdings. Both sites have a history plagued by litigation and emissions complaints.
In 2001, when oil wells were still pumping on the site, neighboring residents began complaining of a pervasive smell, which turned out to be highly toxic hydrogen sulfide. Shortly after completing government mandated repairs on the wells, the owner closed down oil production on the site.
A few years later, a new developer, Richard Paek, purchased the property with plans to build a 78-unit apartment building on the site. But the costs to clean up the site far exceeded expectations, and in 2009, Builder's Bank foreclosed on the property.
Initially the bank found no interested buyers for the tract, due to the complexity and cost to develop. Estimates indicated that it would cost at least $1 million simply to remediate the toxic site, which would render a new development unprofitable. But in 2015, Builder's Bank found a buyer: Aragon Holdings, which paid $2.25 million for the property.
CalGem maps indicate that there are least 10 deteriorating wells on the Aragon parcels. Prior to developing on a property on the Los Angeles City Oil Field, the city requires that builders hire an environmental engineer to survey the property for old wells and contamination and, subsequently, hire an oil well specialist to properly plug and abandon any wells found.
Fred Shaffer, lead developer for the Aragon project, stated that after an "extensive review" of the site, the firm found just six of the wells on the CalGem map and properly capped them. CalGem may be mistaken about the presence of four more, he said. 
But Chris McCullough, a former CalGem district deputy for Southern California, expresses uncertainty about Aragon's investigation of the site. "There were other wells that were indicated on CalGem's map, but the developer stated that they had a geologist on site and were not able to locate those wells," McCullough says. "I can't say whether their efforts were adequate or not. At that point it becomes the responsibility of the city or the local permitting agency as to whether or not they will allow them to continue."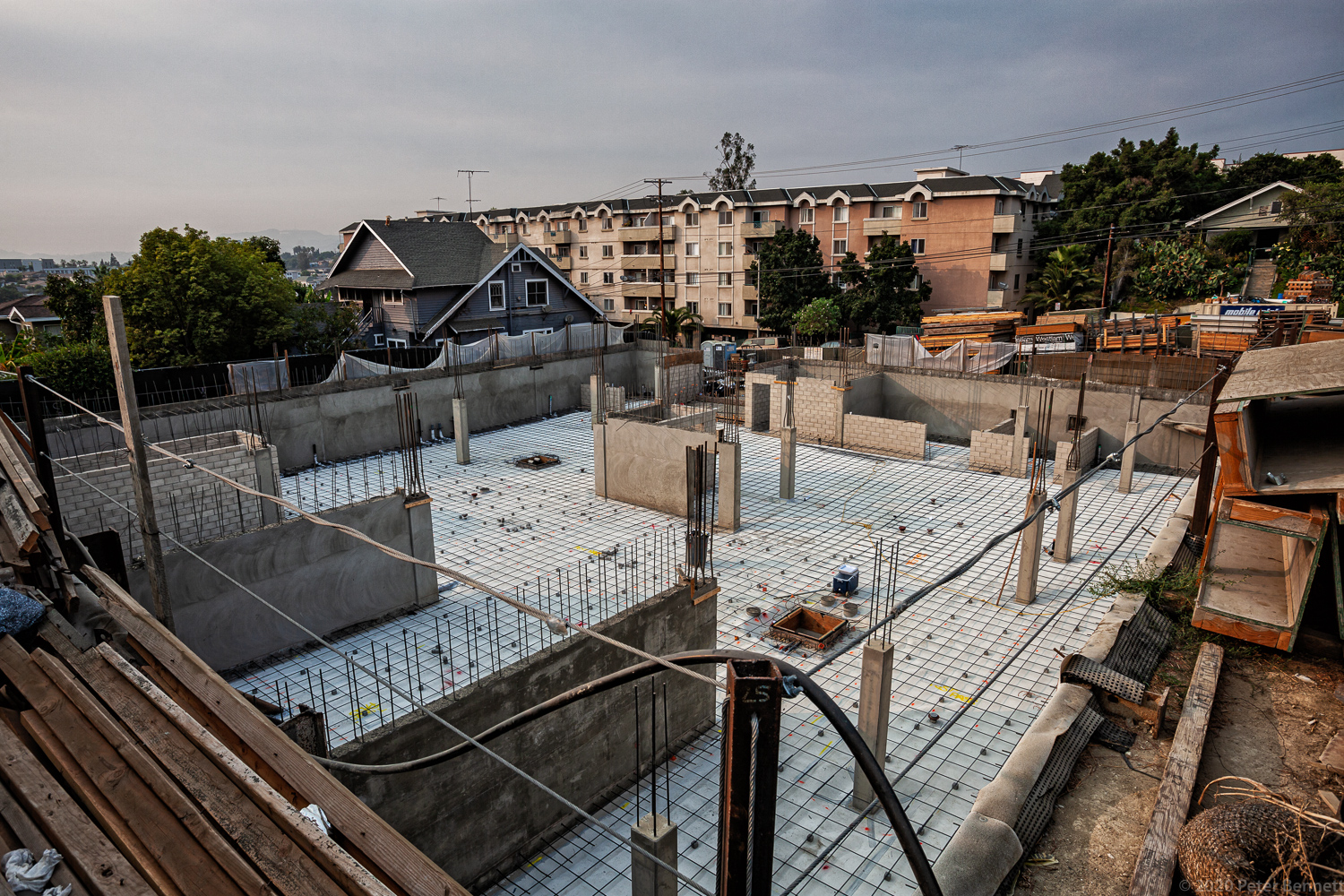 One of two developments being constructed on Toluca Street by by Vancouver-based Aragon Holdings.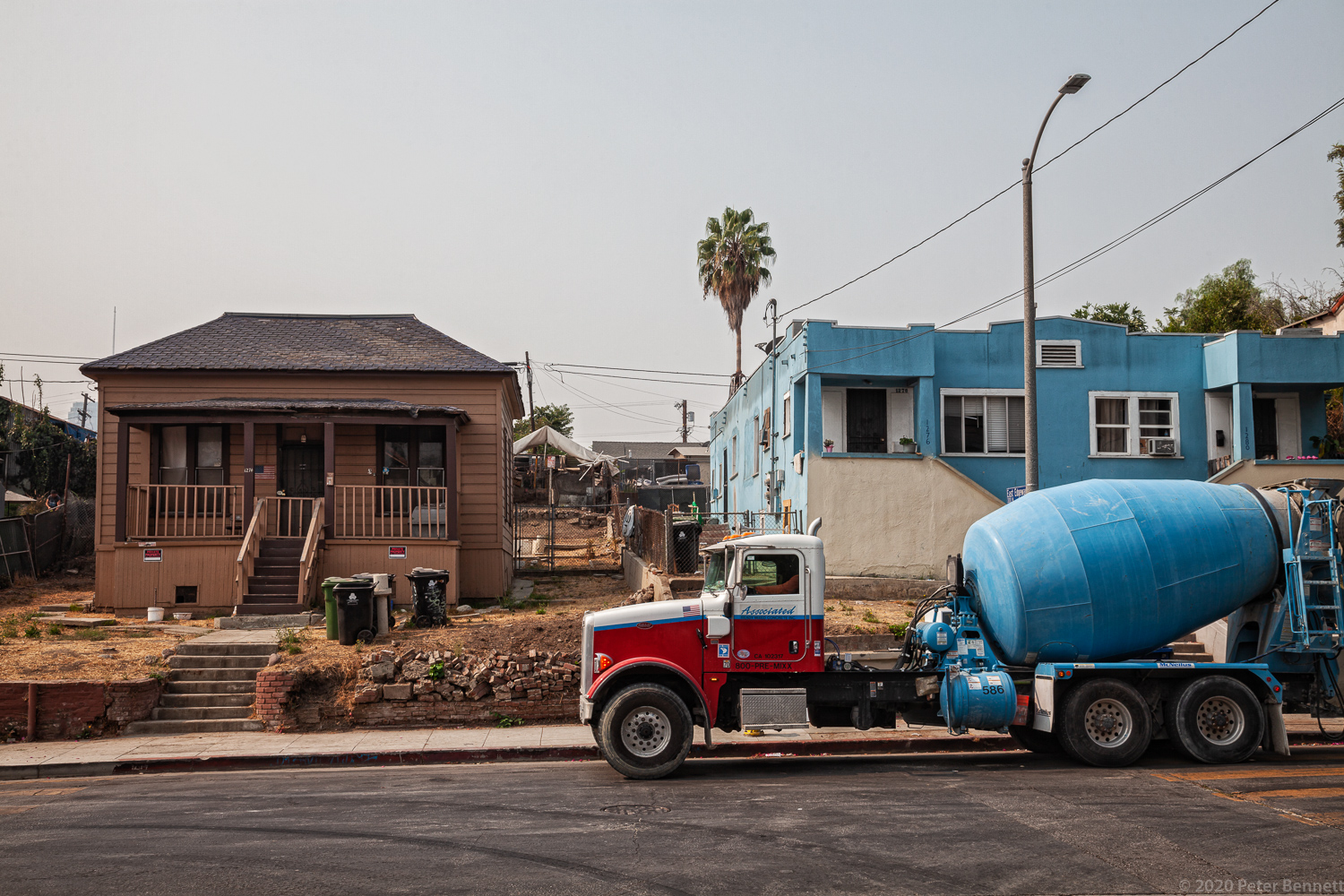 Cement mixer trucks line up in front of a home once surrounded by oil wells, to deliver their load to a construction site on Court Street.
At the moment, LADBS has accepted the findings of Aragon's environmental engineers and allowed the firm to proceed with construction directly over the six wells.
Luna, the Vista Hermosa activist, says that it is unacceptable for city and state officials to dodge responsibility for the community's safety. "Some developers deliberately cover up safety issues to save money," he says. "They are building on top of wells, with total disregard for current and future residents."
Constructing buildings over old oil wells, capped or not, "is just not a smart thing," says McCullough, "because gases that were naturally venting into the air and dissipating are now potentially getting trapped. If that gas were to build up and ignite, you have potential for catastrophic damage to structures and life."
Aragon does not appear to be concerned about this possibility. "It will not leak," Shaffer contends, saying that the firm has capped the wells to the highest standards, and installed the proper venting mechanisms and vapor barriers to prevent future problems. While CalGem has inspected and approved the capped wells, the agency maintains that future leaks are a very real possibility.  
"The building is on top of the capped well, below the basement portion of the building," says McCullough.  "Personally, I would be concerned about that. I wouldn't want to live in a building like that."
The capping process itself exposes residents to toxic substances. In December 2019, during capping operations on the Aragon building site, oil erupted out of a neighboring well, spilling about 10 barrels, or 420 gallons, of oil onto the residential street. According to CalGem, the pressure from the well capping process caused the eruption.
The oil leaked into a neighboring apartment and flowed down two city blocks, before emptying into a rain-capture drain.
According to McCullough, who was supervising such projects for CalGem at the time and has since retired, neither AllenCo, the well-capping subcontractor, nor Aragon reported the incident, which CalGem ultimately heard about from Vista Hermosa residents. AllenCo currently faces criminal charges for improperly capping deteriorating wells on another site in South Los Angeles.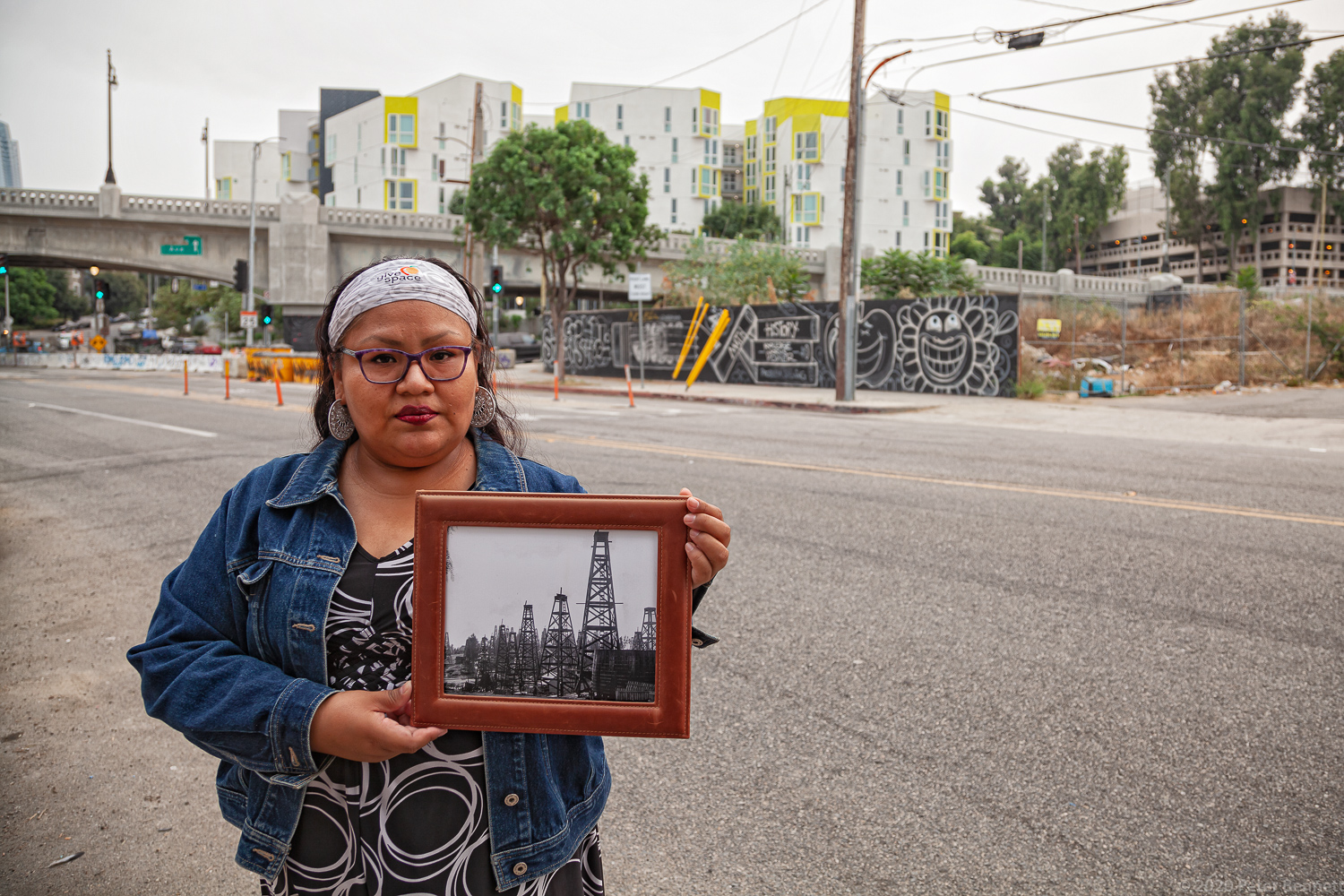 Resident Esther Salas stands in front of the future site of the Echo Park Hotel, on W. 1st Street and Glendale Boulevard, a 185-room hotel. She holds a 1901 photo of the area, showing oil derricks lining the road.
The Firmin Court housing project, located just blocks away from the Aragon development, is contending with similar environmental issues. But Decro Group CEO Ted Handel says the firm has taken all of the necessary precautions to safely develop on the site.
According to CalGem maps, there are at least three wells on the Firmin Court property. But environmental engineer Rodger Witham of Essel Environmental, the firm hired by Decro to investigate the wells, says that after "extensive searching as dictated by building and safety [rules]," his team has so far found only one, and capped it to CalGem and LAFD's satisfaction.  
"If we find another during grading, all work stops and we will properly abandon the well," Handel says.
According to Witham, at that point Decro will install a Level 5 methane mitigation system on the entire site, as LADBS requires. Such systems include a vapor barrier, and an extensive array of piping to vent any trapped gases out from under the building. In the case of a leak, he says, there are methane alarms that will sound. While acknowledging that this is his first environmental mitigation project over an oil field, Witham says he has followed all of the appropriate guidelines and regulations.
Moving Forward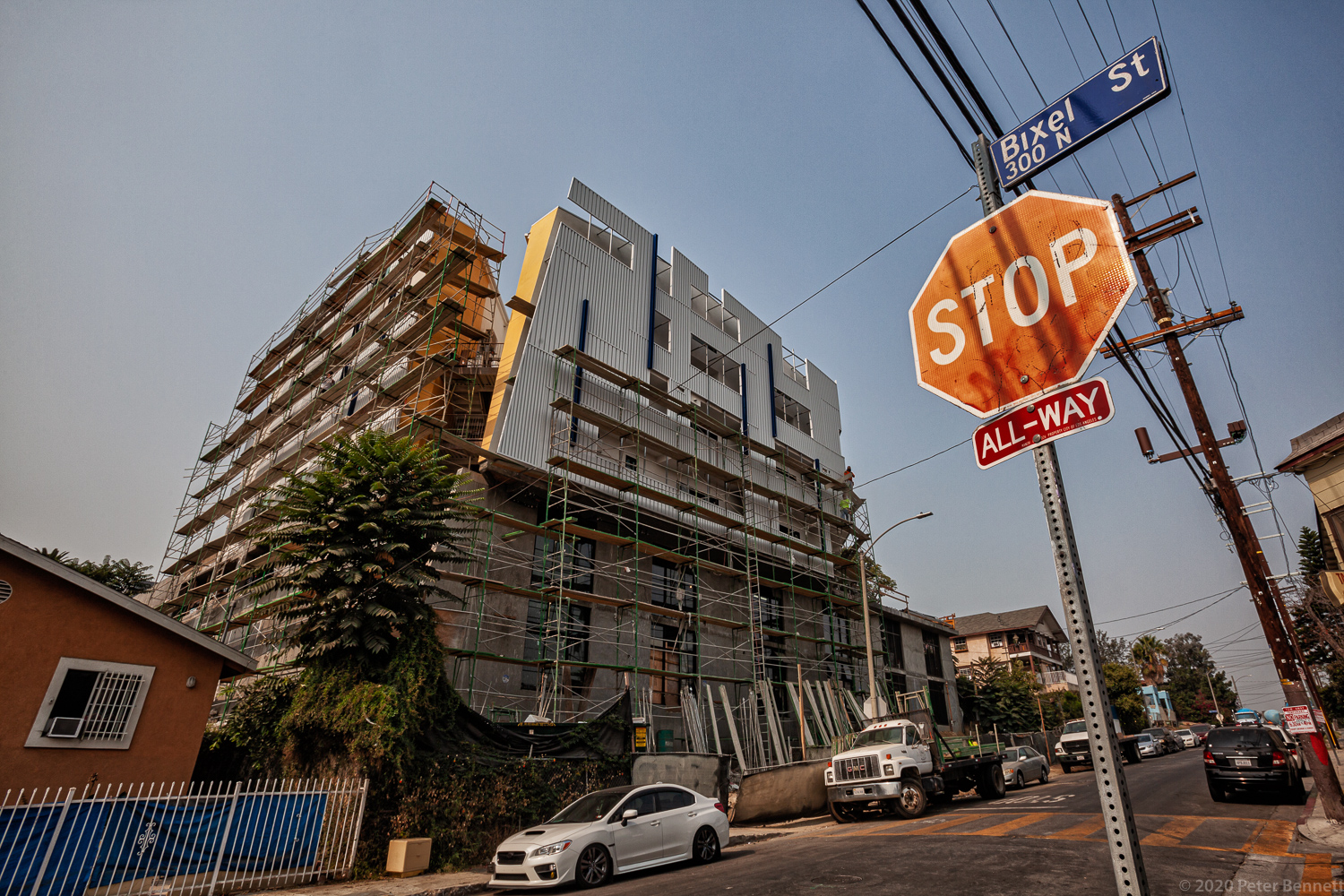 One of many new multi-unit residential developments being constructed in the Vista Hermosa neighborhood.
Ultimately, says Miranda, the California State University geologist, developing in this area is akin to experimenting on the Vista Hermosa community, because there is no long-term precedent for putting up residential buildings over such closely spaced ancient wells. Because the environmental findings come solely from the developer-hired environmental engineer, she says, "It's the equivalent of asking the banks to self-regulate."
McCullough, the former regulator, says that the upside to developing in this area is that it "gives the opportunity to go in and properly seal these wells rather than leave it in its deteriorated state." But it requires a lot of trust in developers, who residents have accused of taking shortcuts that disregard local community safety. "That's one of my biggest concerns," he says. "It's a big expense to cap these wells [and] the unscrupulous developers will find a well and just try to cover it back over rather than properly plugging it."
Residents, lawmakers, and officials all acknowledge the depth of the Los Angeles affordable housing crisis. But they still disagree over whether the Los Angeles City Oil Field is the right place to address it.  "If they keep developing like this, something catastrophic will happen and we will be the ones suffering for it," says resident Rosalinda Morales, who wants authorities to halt this development.
"I understand that most of the vacant land is where former oil fields are, but I think they can find a different place for it," McCullough says. When asked what should be done with the land over the field, he sighs. "Well, nobody will like it, but my idea for Los Angeles City Oil Field is to turn it into a great park. Move the houses somewhere else, where there are no wells."
Main image: Resident and activist Brenda Valdivia, who has suffered from lifelong health conditions that she attributes to old wells in the former Los Angeles City Oil Field, stands in front of the 120-unit development by Aragon Holdings. She holds a photo circa 1895-1901 of that area. Credit: All photos by Peter Bennett for DeSmog