"I will evacuate next time a hurricane is forecast to hit the area," Traditional Chief Shirell Parfait-Dardar of the Grand Caillou/Dulac Band of Biloxi- Chitimacha-Choctaw Tribe told me the day after Hurricane Zeta hit Louisiana's coast on October 28.
Like many in the storm's path, she was caught off guard when the storm intensified just before slamming into the coast. 
Parfait-Dardar's tribe is threatened by climate change regardless of hurricanes.  Like the remaining residents of the Isle De Jean Charles that still remain on the island, 30 miles west her tribe's land could be underwater in as little as 20 years. Inevitably many coastal communities will need to relocate due to sea level rise quickened by climate change. 
Standing next to a downed power line on Parfait-Dardar's driveway in Chauvin, Louisiana, about 70 miles southwest of New Orleans, she recounted the harrowing experience of being huddled together with her husband and children in the kitchen when 110 mph winds hit.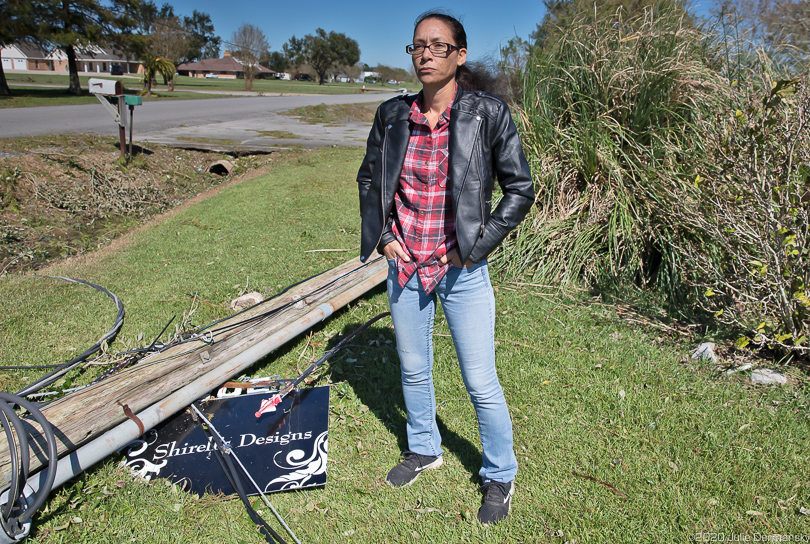 Chief Shirell Parfait-Dardar in her driveway on Oct. 29, 2020.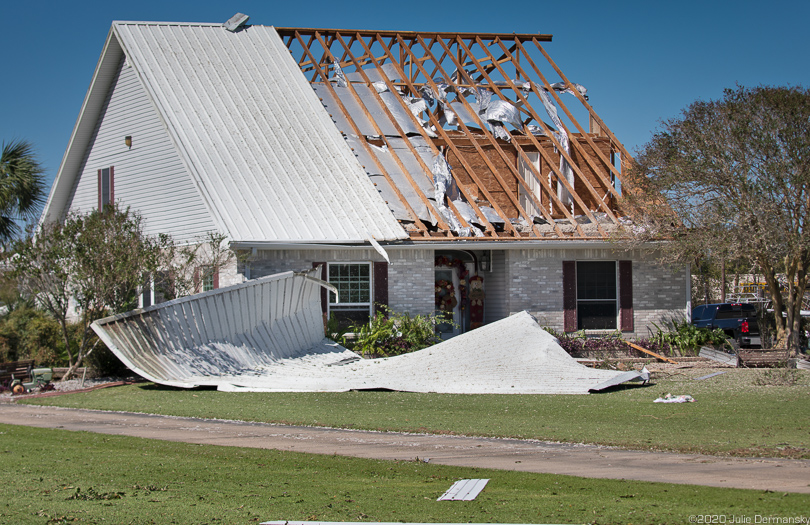 Home damaged by Hurricane Zeta across the street from Chief Shirell Parfait-Dardar's home.
"I would have evacuated if I knew a Cat. 2 storm was headed this way and advised tribe-members to do the same," Parfait-Dardar said. But she got word less than an hour before the storm came ashore in Cocodrie, 14 miles to the South, that her family was threatened. At that point, the best they could do was shelter in place. 
She was frustrated that no one from the government gave her a heads up of the coming danger once the storm's intensity increased from a low Category 1 to just shy of Category 3 strength. 
"This hurricane season shows forecasters can predict storms' paths much better than their strength," Parfait-Dardar said. 
She doesn't think their prediction models calculate climate change into the mix, and until that changes, she plans to move her family before the next hurricane heads her way no matter what category storm is predicted. 
"The science may indeed support that sentiment, at least to an extent," Pennsylvania State University climate scientist Michael E. Mann said.
"One thing we're finding is that tropical storms are much more likely to exhibit 'rapid intensification" (i.e. going from a moderate tropical storm to a major hurricane in less than 24 hours) over warmer and warmer ocean waters. This is a real challenge for forecasting because the hurricane forecasting models don't appear to capture rapid intensification episodes every well, and it might indeed be because of climate change-related factors not in the models (e.g. the penetration of heat further below the surface, which limits the churning up of cold waters that would otherwise slow/dampen development). The net effect of this is that it's hard to know days in advance just how much a hurricane may intensify before making landfall, and often the intensity forecasts underestimate the intensities of these storms, thereby underestimating the threat they pose to coastal communities and those impacts by the storms," Mann said.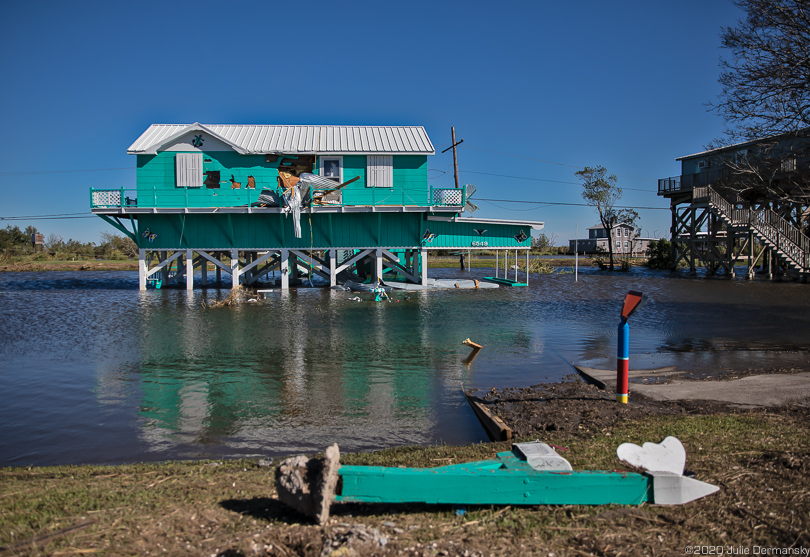 Damaged home surrounded by flood water following Hurricane Zeta.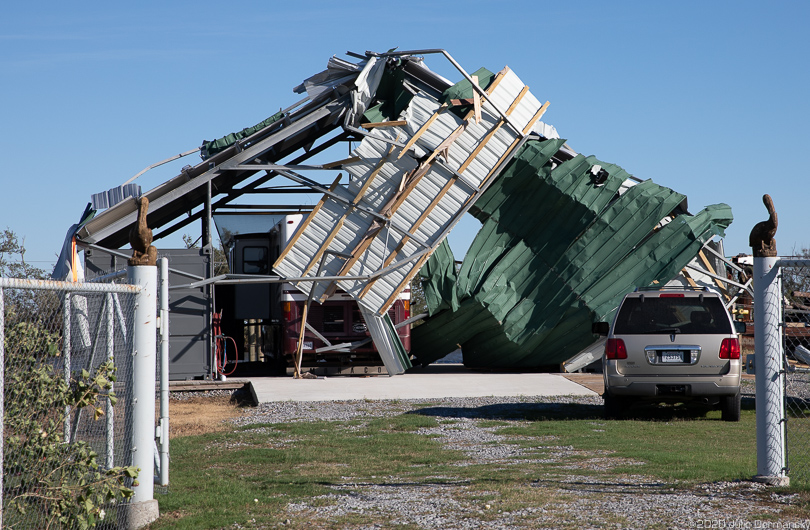 Structure destroyed by Hurricane Zeta's winds in Chauvin.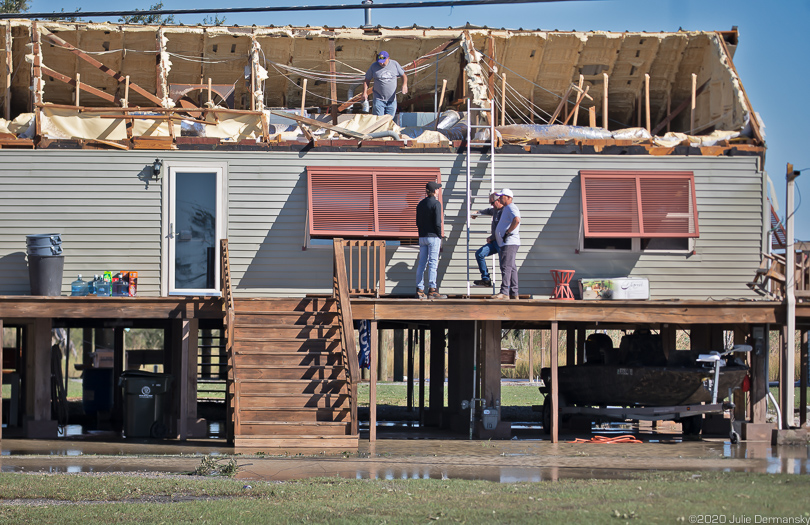 People working on a damaged home in Chauvin after Hurricane Zeta.
From Shirell's house, I drove south on LA 56 to document the damage. Several homes lost their roofs, and there were countless downed trees and powerlines. I spotted a couple of teams of workers cleaning up what smelled like crude oil spills at two facilities, Harvest Midstream, and S2 Energy Operating LLC  acquired by Krewe Energy.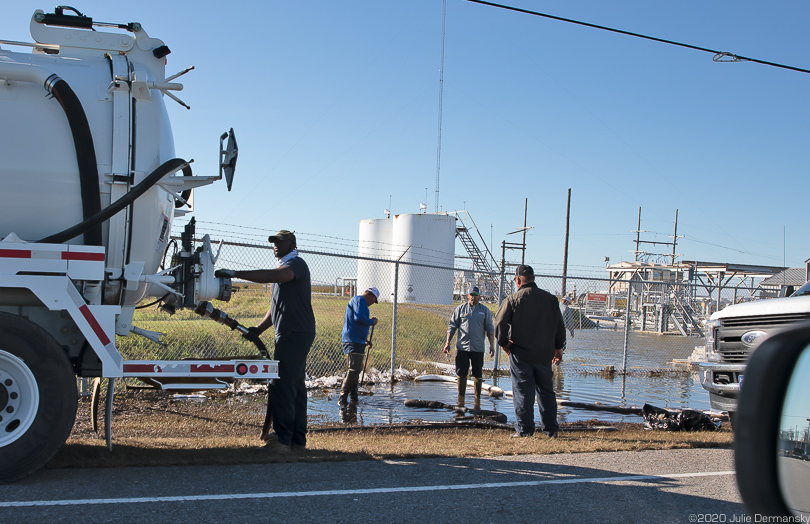 Cleanup crew at Harvest Midstream in Chauvin.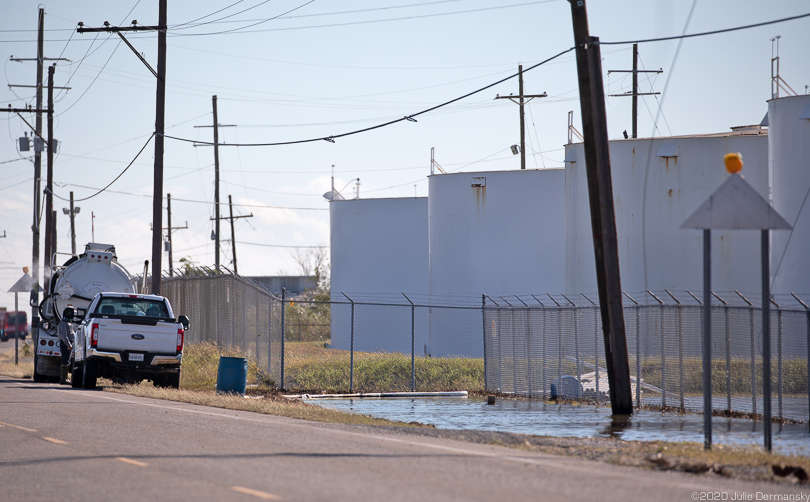 Boom at Harvest Midstream in Chauvin the day after Zeta hit.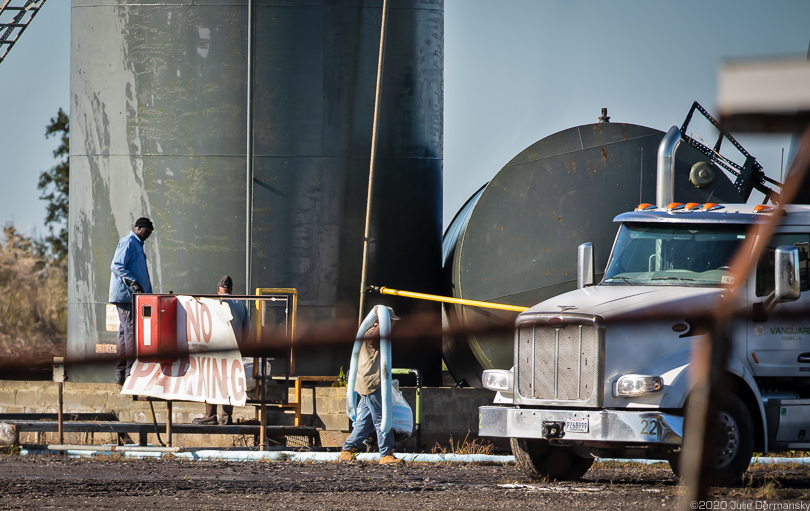 Toppled tank at Krewe Energy site.
I asked the Department of Environmental Quality (LDEQ) if they had any reports of oil spills or chemical releases following the storm. 
Gregory Langley, a spokesman for the LDEQ, didn't mention the two spills I found. He wrote that on Oct. 28 the agency responded to power losses at Shell Chemical, resulting in a flaring event, and Cornerstone Chemical lost power on the same day.   
Also he noted: 
· Jefferson Parish Water System reported a release of fluoride/acid. LDEQ responders reported that the release was neutralized with alkaline products.
· Storage tanks overflowed at Orleans SO. 30 gallons total to storm drain unrecoverable
· Storage tanks overflowed at Texas Petroleum in Lafourche Parish. 30 barrels released to secondary containment, being cleaned
· Gulf Inland Contractors reported a vessel sank in Terrebonne Parish. There was a small amount of diesel that migrated from the fuel tank but it was contained with boom. Any product within boom recovered with pads or with vacuum truck
·Hilcorp Energy in Plaquemines Parish reported tanks were flipped by the storm. 32 barrels unrecoverable during the storm
· Entergy in Orleans Parish reported fallen electrical transformers. The transformers ruptured and approximately 150 gallons of oil was lost in drainage.
· Harvey Gulf International in Lafourche Parish reported a vessel was struck by a barge and ran aground in Bayou Cochon. Some fuel was lost in the current. Remaining fuel was pump from the vessel. No release in the marsh.
Regulators at LDEQ and the Louisiana Department of Natural Resources (DNR) were still dealing with environmental issues from Hurricanes Laura and Delta when Zeta hit. Spokesman for DNR Patrick Courreges told me that like after Hurricanes Laura and Delta, DNR is concentrating on the hundreds of orphan wells — no longer in production and abandoned by their former owners — that were impacted by the storm. The agency is currently mapping out how many wells they need to check before dispatching inspectors.   
An environmental damage assessment for the damage caused by Zeta has barely begun. With regulators spread thin, a true assessment of the pollution from the storm is likely never to be done. 
The locations of many of the sites impacted by Zeta will prove to be more difficult to reach than the sites impacted by Laura and Delta, which in large part could be accessed by road, he explained. Many of the sites that need to be inspected in Zeta's wake are deep into the marsh or are offshore in lakes, far into open water. 
"Having three hurricanes strike in a month and a half would tax any agency," Courreges said. If anyone spots a leaking well before the agency does, he encourages people to call in the location. The agency will get to leaking wells first.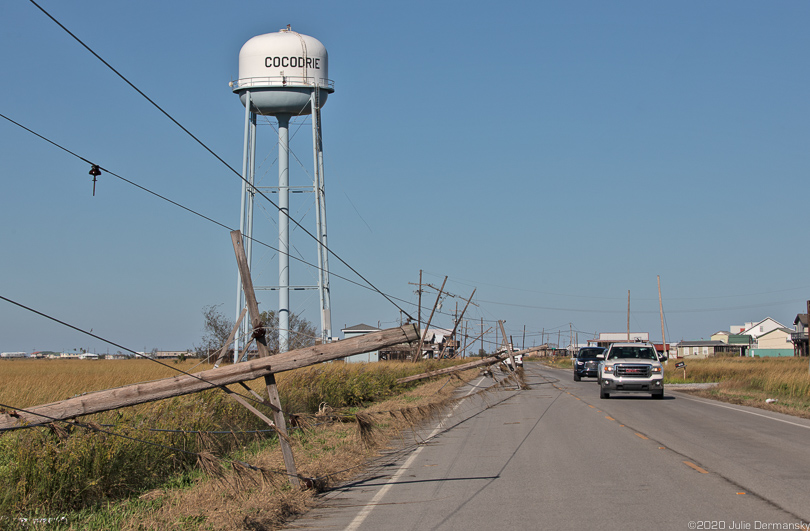 Downed powerlines in Cocadrie, LA where Zeta first came ashore.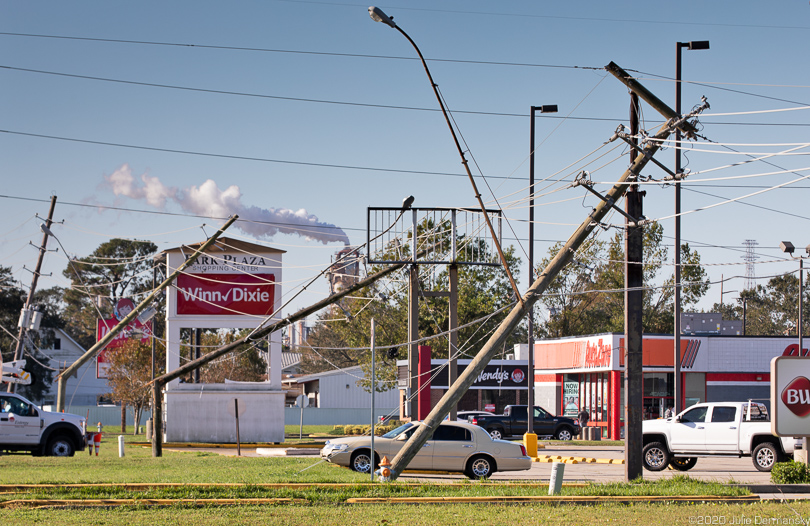 Downed powerlines in Chalmette LA, next to New Orleans, along Zetas fast moving path to the northeast.
Parfait-Dardar is concerned about pollution from the storm, but her first concern is making sure everyone has a roof over their head. As of yet, she hasn't gotten direct help for impacted tribe members by any local government agencies
Gov. John Bel Edwards established a Climate Initiative Task Force on August 19 this year that Parfait-Dardar was tapped to be on. In a state where many officials are science deniers, she figures she will have her hands full. 
The day before Zeta hit, she was disheartened to learn Republican legislators suspended the public health emergency declaration by the governor that sought to stop the spread of Covid-19, including mandates that people wear masks in public settings. Although the Governor is challenging this move, the need to push back against science deniers is something she sees as holding back those, like herself, who want to protect their community from the pandemic and a warming planet.  
Main image: Shrimp boat on its side in Chauvin toppled by Hurricane Zeta. 
Credit: All photos by Julie Dermansky for DeSmog