In October, New Mexico announced new rules that propose slashing the massive volumes of methane which the oil and gas industry is releasing into the atmosphere. However, the proposed regulations contain a major loophole that will directly benefit large oil and gas producers, as well as some of the world's largest investment groups. In addition, an Environmental Defense Fund (EDF) analysis shows the rules wouldn't make a meaningful dent in emissions of this potent greenhouse gas. 
New Mexico, along with West Texas, is home to the nation's most prolific, and polluting, oil and gas field, the Permian Basin. Even industry leaders have acknowledged that the Permian needs to address its wasteful practices of flaring (burning) and venting (directly releasing) natural gas, which is primarily methane. 
According to New Mexico's new methane rules, the goal is to push oil and gas producers to capture 98 percent of gas production by 2026. But an analysis of the proposed regulations by EDF concludes that the rules, as written, would exempt 95 percent of the oil and gas wells in the state, and thus reduce overall methane emissions by only 21 percent. 
As proposed, these regulations would give a pass to both low-producing oil and gas wells, known as stripper wells, and any wells producing less than 15 tons a year of emissions of volatile organic compounds (VOCs), a class of pollutants that the American Lung Association says can cause irritation to the eyes, nose, and throat; breathing difficulties; central nervous system damage; and cancer. 
While drillers don't pump large amounts of oil and gas from individual stripper wells, due to the sheer number of these wells in the U.S., altogether they produce approximately 19 percent of the oil and 12 percent of the gas drilled in America. 
Without existing comprehensive state regulations for methane emissions, New Mexico's oil and gas operations in the Permian Basin are leaking approximately 60 percent more methane than the national average, according to research published in April in the peer-reviewed journal Science Advances. This study also found that actual emissions are likely double the estimates from the federal government. The new estimates are based on satellite data, which is believed to be far more accurate than previous methods of estimating methane emissions — including relying on industry self-reporting.
The lead authors of the study, Harvard atmospheric scientist Yuzhong Zhang and EDF scientist Ritesh Gautam, explained the magnitude of the problem via email to Bloomberg: "Our study found that the quantity of methane emitted in the Permian Basin are [sic] the highest ever measured from any U.S. oil and gas basin. This is a really big deal from a climate standpoint."
Satellite data and ongoing field research offer unprecedented view of oil and gas pollution in New Mexico.

Find out how @NMEnvDep rules could be 3x stronger at cutting pollution by eliminating loopholes. https://t.co/5YXL2NM1lg #NMPol

— EDF Energy Program (@EDFEnergyEX) November 28, 2020
As DeSmog recently reported, a new report from the World Meteorological Organization notes that methane levels grew rapidly in 2019. Cornell University biogeochemist Robert Howarth estimates that the Permian's oil and gas fields in Texas and New Mexico have contributed approximately 10 percent of the global increase in methane emissions since 2010.
Instead of helping the climate, the loophole in New Mexico's proposed regulations will benefit a fossil fuel industry billionaire and top private investment funds.
Loophole Is Good for Hilcorp's 'Acquire and Exploit' Strategy
Billionaire Jeffrey Hildebrand has made it as high as number 73 on the list of richest people in America. He amassed his billions by building Hilcorp — the largest privately owned oil and gas company in the country.
When Hildebrand started the company in 1990, its business strategy was to "acquire and exploit" oil and gas assets — and while not a unique approach in the industry, it's one that performs best while unburdened by regulatory limits. One proven way to maximize the exploitation of oil and gas assets is to avoid regulations that limit a company's ability to pollute the environment. The oil and gas industry is known for opposing regulations, and the last four years of the Trump adminstration has benefited the industry greatly in its efforts to remove environmental and energy rules. 
The industry's excitement over the potential regulatory rollbacks expected (and delivered) after Donald Trump won the presidency in 2016 was summed up best by Stephen Brown, a lobbyist for oil refining company Tesoro. In early 2017, he told The New York Times, "It was like the dog that caught up with the UPS truck."
One particular target of the industry once Trump took office was eliminating new federal methane emission regulations, a move supported by leading industry lobby group, the American Petroleum Institute. That federal rule was rolled back in August of this year. Now, New Mexico's proposal to regulate methane emissions, which would exempt all oil and gas stripper wells in the state, makes a weak attempt to fill the regulatory gap left by the Obama-era rule. 
That's because when it comes to stripper wells in New Mexico, there is a lot to exploit. These low-producing wells actually represent the majority of oil and gas wells in New Mexico. And in the state, Hildebrand's Hilcorp is by far the largest operator of stripper wells, running 36 percent of the total gas stripper wells.


New Mexico oil and gas stripper well data (updated 8/12/2020). Source: State of New Mexico Oil Conservation Division


New Mexico gas stripper well operator data (updated 8/12/2020). Source: State of New Mexico Oil Conservation Division
No other company comes close to Hilcorp in terms of owning gas stripper wells; BP holds second place with just 786 wells to Hilcorp's 5,489. As a private company, Hilcorp doesn't have public shareholders that would reap its profits, but The Carlyle Group, one of the largest investment firms in the world, has plenty of shareholders and has partnered with Hilcorp in the state. As a result, the Carlyle Group would also benefit should New Mexico's new rules take effect as proposed.
The loopholes in those rules would leave Hilcorp and The Carlyle Group's massive holding of stripper wells free of emissions regulations in New Mexico. However, even if those regulations did apply, they still have to be followed. And Hilcorp has a track record of ignoring regulations as it exploits its fossil fuel assets.
In 2017, InsideClimate News reported on Hilcorp's track record of environmental violations in Alaska, citing an October 2015 report by the Alaska Oil and Gas Conservation Commission (AOGCC). In a letter to Hilcorp, AOGCC commissioner Cathy Foerster writes, "The disregard for regulatory compliance is endemic to Hilcorp's approach to its Alaska operations and virtually assured the occurrence of this violation. Hilcorp's conduct is inexcusable."
New data from @WMO confirms what we've known all along: We cannot rely on voluntary commitments from #oilandgas companies to #CutMethane. With global methane levels at a record high, we need IMMEDIATE federal action to curb pollution & #ActOnClimate NOW! https://t.co/tpL82poe3M

— PRB New Mexico (@PRBnewmexico) November 24, 2020
Environmental nonprofit Earthworks has been a leader in documenting the emissions of the oil and gas industry using specialized infrared cameras that reveal normally invisible methane emissions.
Videos from Earthworks clearly show Hilcorp's stripper wells located in the San Juan Basin in New Mexico actively leaking — and those leaks will continue unabated even if the state's proposed regulations become law.

Earthworks' video footage of methane leaks from a Hilcorp gas stripper well in the San Juan Basin, New Mexico. Credit: Earthworks
It's Not Really All About Small Companies
A common argument for leaving stripper wells unregulated is that these wells are owned by small operators who simply can't afford to install the costly equipment needed to reduce their methane leaks and control overall emissions.
Elizabeth Bisbey-Kuehn, chief of the New Mexico Environment Department's Air Quality Bureau, has made this argument herself. "When you have very small emitting sources, you have a very small amount of pollution you can control," Bisbey-Kuehn told the publication Capital and Main. "We cannot require regulations with controls that are so costly that it would put someone out of business."
While regulating methane pollution has the potential to put some financially unstable, small operators out of business in New Mexico, Hilcorp and The Carlyle Group are not among those at risk.
There's a similar case to made for operators of oil stripper wells too. Fossil fuel powerhouses Chevron and Occidental Petroleum (Oxy USA Inc) also own some of the most oil stripper wells in New Mexico. Would regulating New Mexico stripper wells shut down the likes of Chevron or Occidental? That scenario seems highly unlikely, even in a particularly rough year for the fossil fuel industry.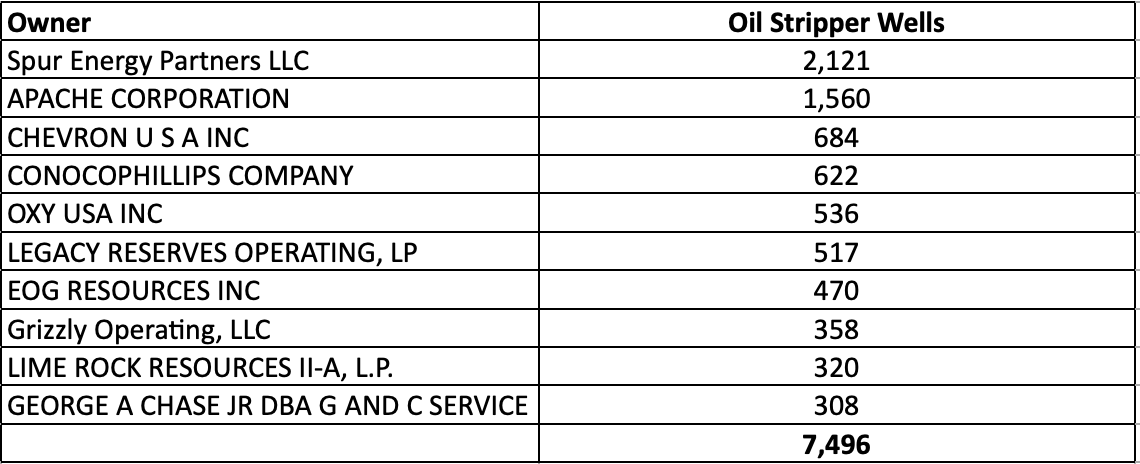 Top 10 operators of oil stripper wells in New Mexico (updated 8/12/2020). Source: State of New Mexico Oil Conservation Division
The top 10 operators of oil stripper wells in New Mexico own 46 percent of the total wells. And while Spur Energy Partners LLC, a Texas-based company formed in 2019 which owns the most oil stripper wells in the state, isn't as large as Chevron or ConocoPhillips, like Hilcorp, the company is financially backed by one of the largest investment firms in the world, KKR.
When trying to understand why New Mexico would allow these exemptions, it helps to know who stands to directly benefit the most from them — and that is a group of incredibly powerful and wealthy people.

Don Schreiber on his ranch in Blanco, New Mexico, in front of a gas well re-drilled in 2014 on Bureau of Land Management land he leases. Credit: Julie Dermansky ©2014
Don Schreiber is a ranch owner in New Mexico's San Juan Basin, a natural gas-rich formation, where Hilcorp operates. There are 23 gas wells owned by Hilcorp within a mile of his house. Schreiber told DeSmog that the idea that stripper wells are primarily owned by individuals and small operators is a myth.
"They were never owned by Fred and Wilma down there going to the mailbox to see if they were going to get their oil money check, so they could go to the movie show," said Schreiber. "That was never the case."
Methane Poses Climate and Public Health Risks
Methane emissions from the oil and gas industry are a clear and growing problem, both for the health of people and the climate. New Mexico's currently proposed regulations — which would cut these emissions 21 percent by 2026 — represent a small and incremental solution for a problem that climate scientists and activists say requires immediate and significant action to address methane's direct impact on the climate. Approximately 40 percent of global warming is attributable to methane emissions, according to a 2013 UN climate report.
In addition, for the people of New Mexico, there are also immediate health concerns from unchecked industry emissions. For example, studies have found that emissions from oil and gas sites often contain the VOC benzene, a dangerous carcinogen cited in studies finding that proximity to oil and gas wells is tied to increases in risk of cancer and respiratory ailments. Limiting oil and gas well emissions limits the amounts of benzene released into the environment. 
If New Mexico adopts the proposed exemptions in its final emissions rules, an estimated 115,000 New Mexicans will be living within a mile of wells that escape regulation, according to reporting by Capital and Main.
"That those wells are going to be exempted is terrible," Schreiber told DeSmog.
"It's bad enough that 23 wells that are within a mile of my house, 10 of them that I can see, are exempted by these regulations," Schreiber said. "What is the worst is that they are all, each and every one, owned by a billionaire."
The New Mexico Oil Conservation Commission has announced a virtual public meeting on January 4 to gather feedback on the proposed regulations for gas capture. The New Mexico Environment Department is expected to publish draft regulations this month for the rule exempting stripper wells
Correction: An earlier version of this article stated the goal of New Mexico's regulations was to reduce emissions by 98%. The stated goal of the regulations is to ensure that producers capture 98% of gas produced. 
Main image: Gas industry site on federal land in the San Juan Basin in northwestern New Mexico, where fracking was booming in 2014. Credit: Julie Dermansky ©2014