The 2020 Atlantic hurricane season had a record-breaking 30 named storms, so many that the National Hurricane Center ran through the standard list of names and moved on to the Greek alphabet with over two months of the season left. In all, 12 storms made landfall in the continental United States, with five hitting the Gulf Coast. I photographed the aftermath — the destroyed homes, damaged oil and gas sites, and contaminated wetlands — from four of those Gulf Coast storms, including Hurricanes Laura, Sally, Delta, and Zeta.
This selection of photos shows the devastating impact hurricanes have had primarily in Louisiana but also in Alabama and Florida, in an already difficult year beset by a pandemic and subsequent economic downturn. 
In its assessment of the 2020 storm season, the National Oceanic and Atmospheric Administration (NOAA) noted that "this historic hurricane season saw record water levels in several locations, including the Gulf Coast where Hurricane Sally brought the highest observed water levels since Hurricane Katrina in 2005 to Pensacola, Florida." That's in line with the 2018 National Climate Assessment, which described the southeast's coastal plain as "highly vulnerable to climate change impacts," including "the combined effects of changing extreme rainfall events and sea level rise."
The agency also congratulated itself for its improvements in technology and forecasting during this hurricane season. "The services provided by NOAA, alongside our emergency management partners, undoubtedly helped save many lives and protect property," U.S. Secretary of Commerce Wilbur Ross said in a statement. (However, during his tenure in the Trump administration, Ross, who oversees the department that includes NOAA, declined to endorse the agency's findings on climate science.)
Despite such technological improvements in forecasting, many residents of the Gulf Coast who were impacted by the 2020 storms are still facing the daunting task of rebuilding during a worsening pandemic.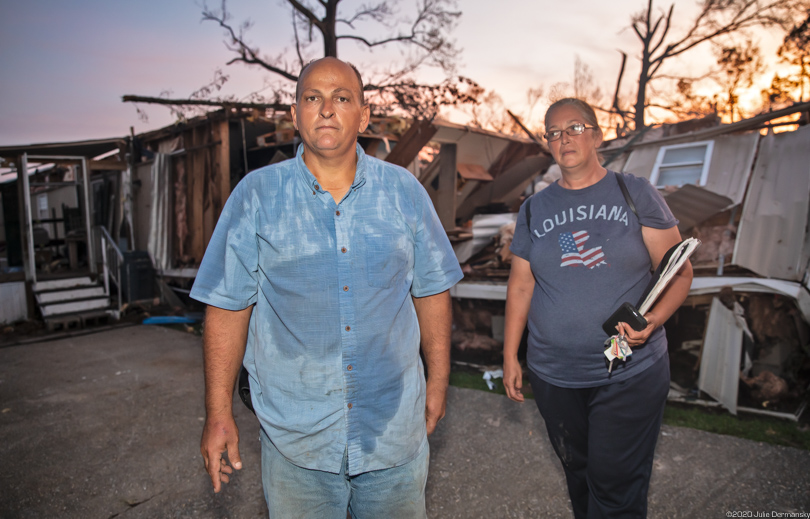 Steven and Mandy Lavergne stand in front of their home of 25 years, which was destroyed by Hurricane Laura. On August 30, several days after the storm, they said they had not encountered FEMA and had no place to stay.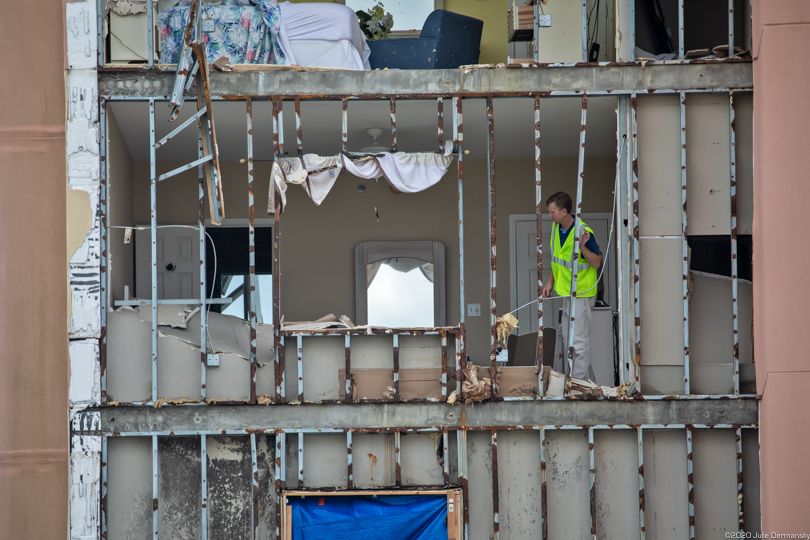 On September 17 in Gulf Shores, Alabama, a person peers out of an apartment building in the Tropic Isles complex, which lost its outer wall from Hurricane Sally's powerful winds.
Another effect of this year's storm season was that it managed to wipe away any lingering denial that climate change is primarily driven by human activity in statements made by Louisiana Governor John Bel Edwards, a Democrat. It was only on May 1, 2019, that Edwards told DeSmog he questioned what humans' role may be in causing climate change.
On August 19, 2020, Gov. Edwards signed a pair of climate-focused executive orders, one of which created a Climate Initiatives Task Force to research and recommend ways to reduce climate pollution across Louisiana. In a statement on the measures intended to cut greenhouse gas emissions and boost coastal resilience, the Governor's Office cited the Intergovernmental Panel on Climate Change (IPCC) when it declared that "greenhouse gas emissions are warming the planet and threatening human and ecological health and wellbeing." The statement went on to say that cutting those emissions can slow global warming as well as future sea level rise in the state.
The Climate Initiatives Task Force is made up of 23 members including representatives of the oil and gas industry, environmental advocates, local community members, scientists, and government officials. Among its members is a regional oil and gas trade association. "The Louisiana Mid-Continent Oil and Gas Association (LMOGA) is honored to partner with the broad coalition that makes up the Climate Initiatives Task Force in working toward solutions to address climate change," Lori Leblanc, interim LMOGA president, said in a statement. "Louisiana has long been a global leader in energy production, and this task force presents an opportunity to show the world that energy production and environmental stewardship go hand in hand. Through the efforts of this task force and the actions of LMOGA members, Louisiana can become a leader in climate change solutions."
November 9 marked the first meeting of the task force. At the meeting, Gov. Edwards cited the severity of the 2020 storm season as one key reason Louisiana needs to participate in a worldwide effort to reduce greenhouse gas pollution.
The task force's mission is to create a greenhouse gas reduction plan to cut the state's emissions by between 25 and 28 percent by 2025, and meet a "net zero" emissions goal by 2050. As NOLA.com reported, these goals are similar to those set by the United States as part of its pledge under the Paris Accord, which Trump officially left this November. President-elect Joe Biden says he plans to rejoin the international climate agreement on his first day in office.
As a whole, current national pledges to cut emissions fall far short of meeting the Paris Agreement's aims to limit global warming to well below 2 degrees Celsius (3.6 degrees Fahrenheit) and ideally 1.5 degrees Celsius (2.7 degrees F). Still, many environmental advocates are voicing relief that the Biden administration plans to play an active role in engaging with the accord.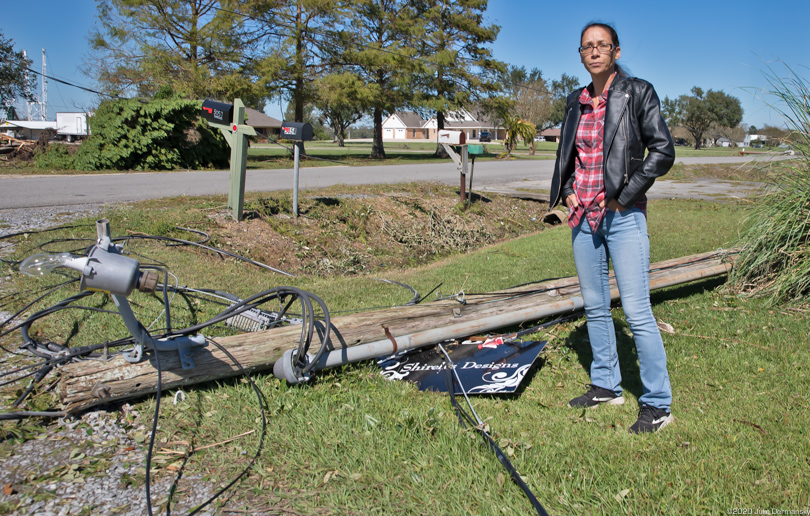 Chief Shirell Parfait-Dardar in her driveway in Chauvin, Louisiana, on October 29, 2020, following Hurricane Zeta.
Traditional Chief Shirell Parfait-Dardar of the Grand Caillou/Dulac Band of Biloxi- Chitimacha-Choctaw Tribe is the only Indigenous community member appointed to the Climate Initiatives Task Force. Her tribe lives along the disappearing coast southwest of New Orleans, and faces the inevitable need to relocate as rising seas, worsened by climate change, encroach on their traditional lands. She is skeptical that the state task force can accomplish much after hearing Chuck Carr Brown, Secretary of the Louisiana Department of Environmental Quality, referring to the fossil fuel natural gas as a "bridge fuel" at the kick-off meeting
Nevertheless, Parfait-Dardar says she is committed to doing all she can to stop the worst of global warming from happening and to protecting her Gulf Coast community.
"We are supposed to be getting away from extractive processes that are destroying life on the planet as we know it," she told me on a call after the November meeting. With so many people around Parfait-Dardar's community in South Louisiana still recovering from this year's destructive storms, she finds it difficult to remain optimistic that the task force will be able to usher in the urgent change needed to protect coastal communities like hers. She said a sense of urgency for change was missing from the discussion at the task force's initial meeting. However, she is hopeful that future generations will do what needs to be done for life on the planet to thrive.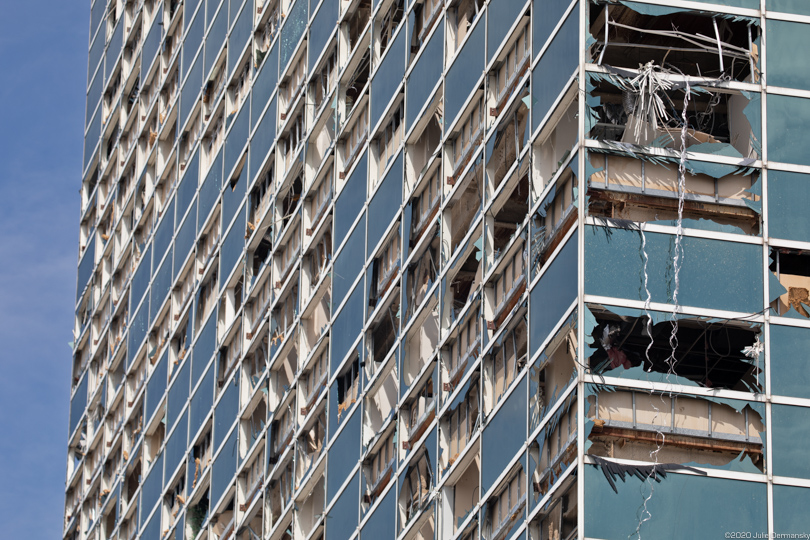 Broken windows at the Capital One office building after Hurricane Laura made landfall in Lake Charles.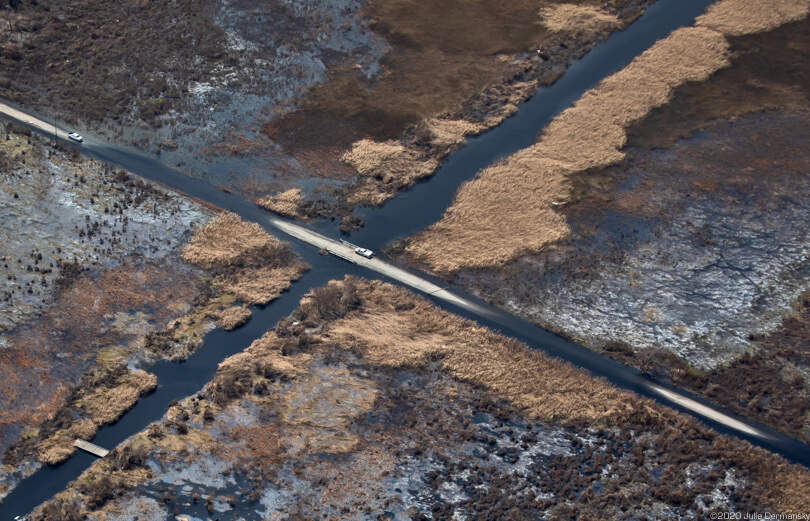 Road in Cameron Parish with remaining floodwater from Hurricane Laura and surrounded by oil-coated wetlands.
Laura was the most destructive hurricane of the 2020 Atlantic storm season. It made landfall in southwest Louisiana's Cameron Parish on August 27 as a Category 4 storm, reaching this intensity in just 24 hours. The hurricane brought 150 mile-per-hour winds and was among the highest Gulf Coast storm surges ever recorded, at more than 17 feet.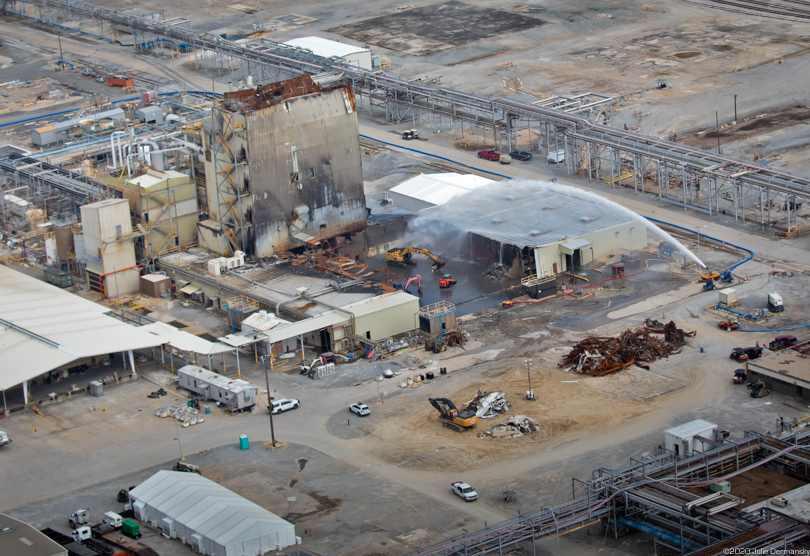 Water being sprayed on BioLab Inc., a chlorine plant in Westlake, Louisiana, on September 3, 2020. The plant caught fire and released toxic chlorine gas after Hurricane Laura.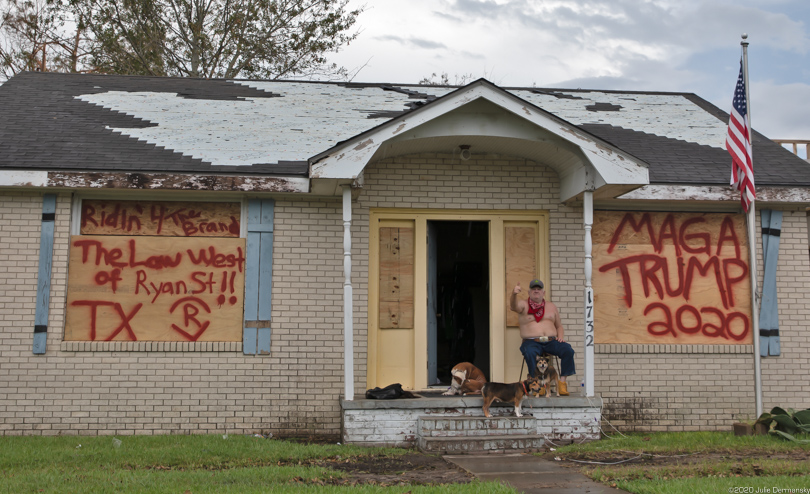 A Trump supporter in a home damaged by Hurricane Laura in Lake Charles, Louisiana.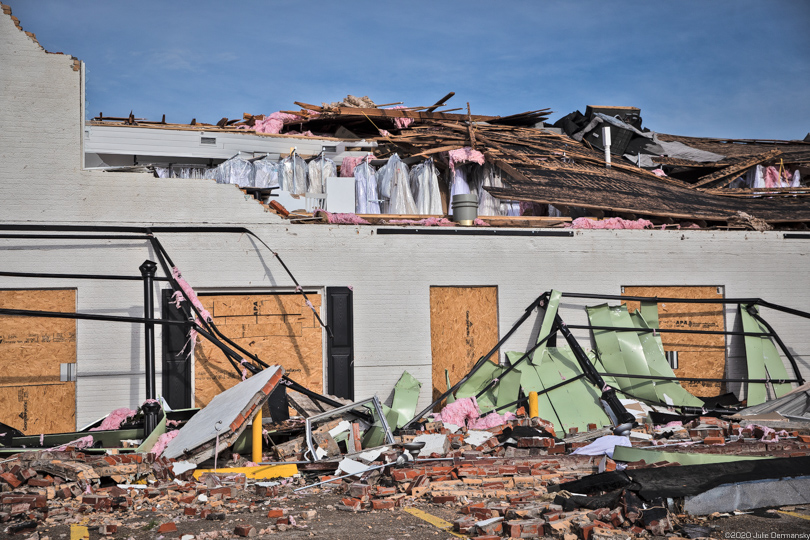 Wedding dress shop in downtown Lake Charles damaged by Hurricane Laura.
Next, Sally struck in Gulf Shores, Alabama, on September 16, as a Category 2 storm, affecting the Alabama Coast and nearby Pensacola, Florida. According to the Washington Post, Hurricane Sally dumped between 20 and 30 inches of precipitation, battered with gusts of wind up to 123 miles per hour, and inundated portions of the coast with six feet of storm surge.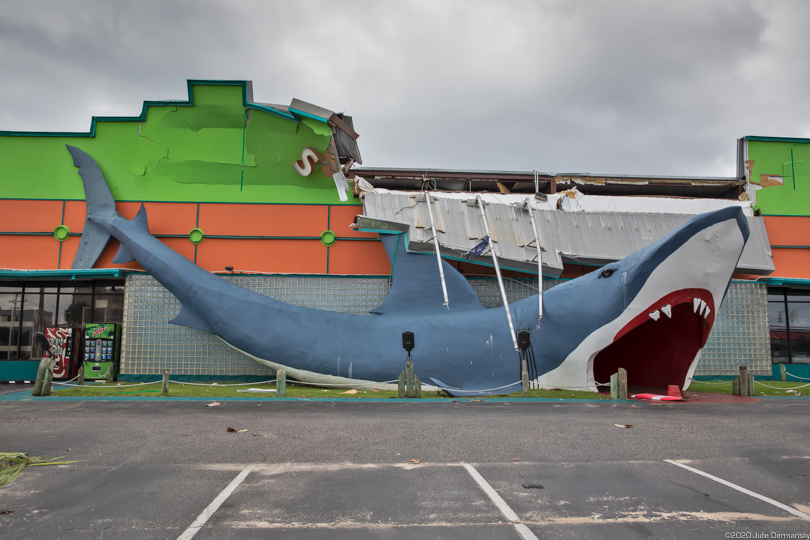 Damaged gift store, Souvenir City, in Gulf Shores, Alabama, following Hurricane Sally on September 17.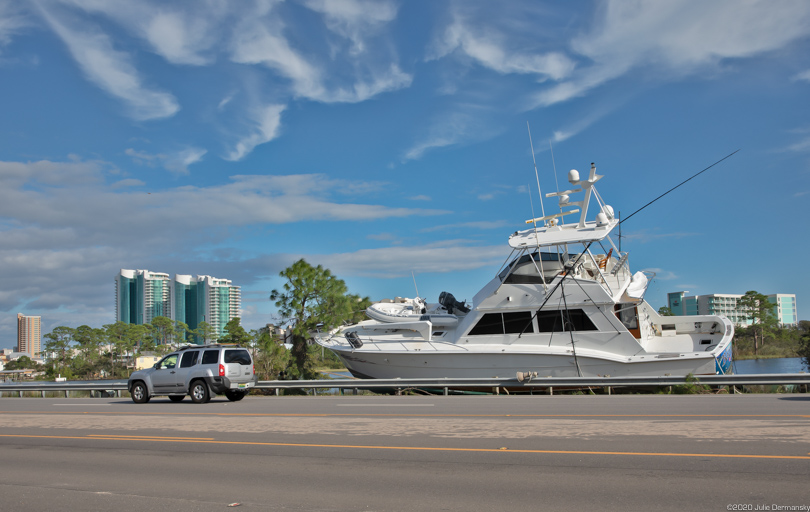 Boat washed up on a street in Orange Beach, Alabama, following Hurricane Sally.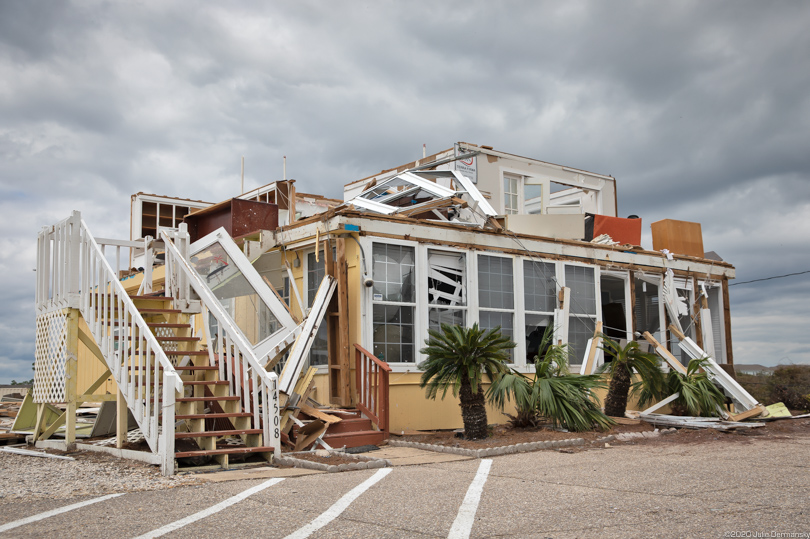 Damaged building in Perdido Key, Florida, on September 17, after Hurricane Sally hit the area with high winds and a surge of six feet.
A few weeks later on October 9, Hurricane Delta made landfall in Creole, Louisiana — an area only 13 miles east of where Hurricane Laura had struck 43 days earlier. This portion of southwest Louisiana is filled with oil and gas industry infrastructure, from wells and rigs to pipelines and tanks. The pair of storms left an oily mark on the area's already threatened coastal wetlands.
This second hurricane unleashed more heavy wind, rain, and floodwaters on this battered region straddling Louisiana and Texas. Storm surge hit nine feet, rainfall peaked at 16 inches, and wind speeds approached 100 miles per hour, the Washington Post reported.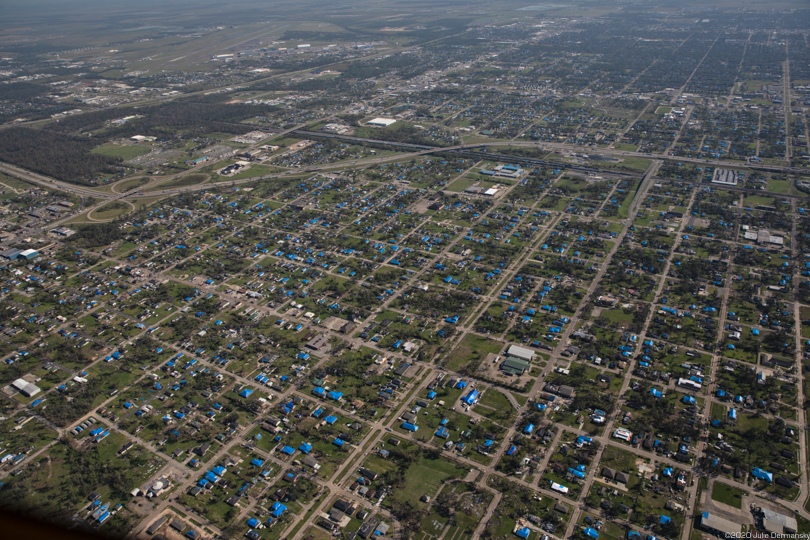 Blue tarps are visible on damaged homes following Hurricane Delta, in the Lake Charles area of southwest Louisiana, in mid-October.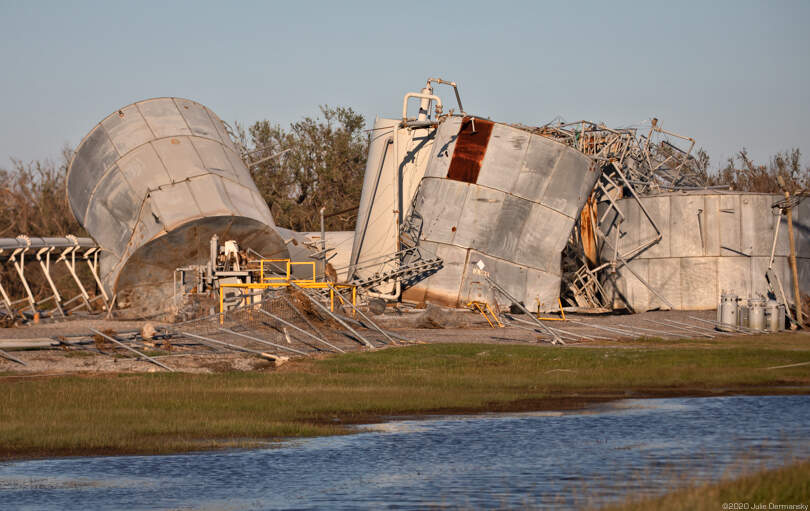 Destroyed oil tanks in Creole, Louisiana, after Hurricane Delta.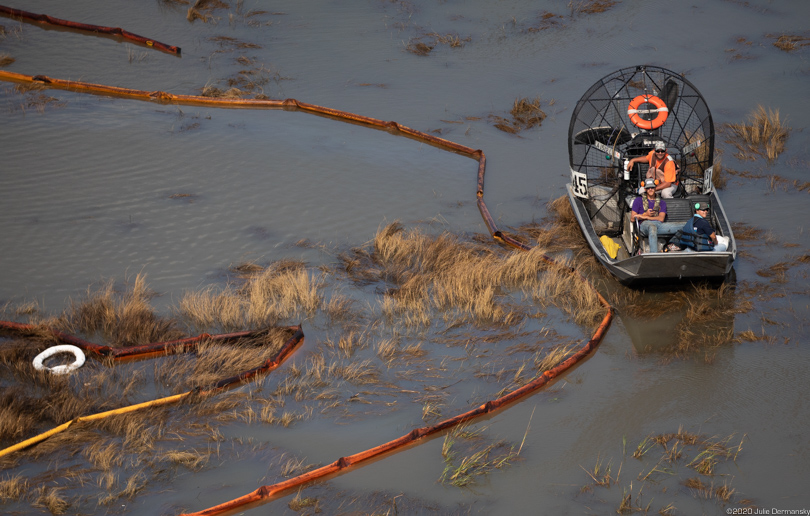 Oil cleanup taking place in Creole, Louisiana, following Hurricane Delta's powerful winds and floodwaters.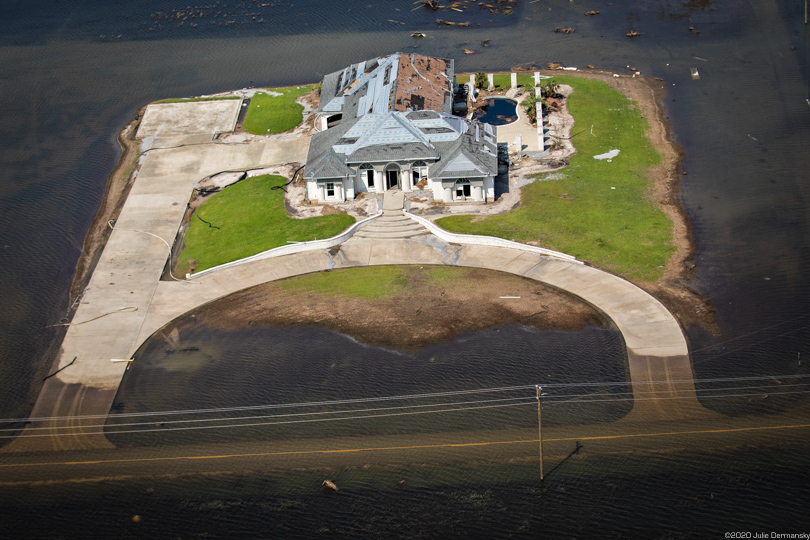 A home in Creole, Louisiana, still standing after Hurricane Delta and Hurricane Laura hit the same area in southwest Louisiana on the Gulf Coast just weeks apart.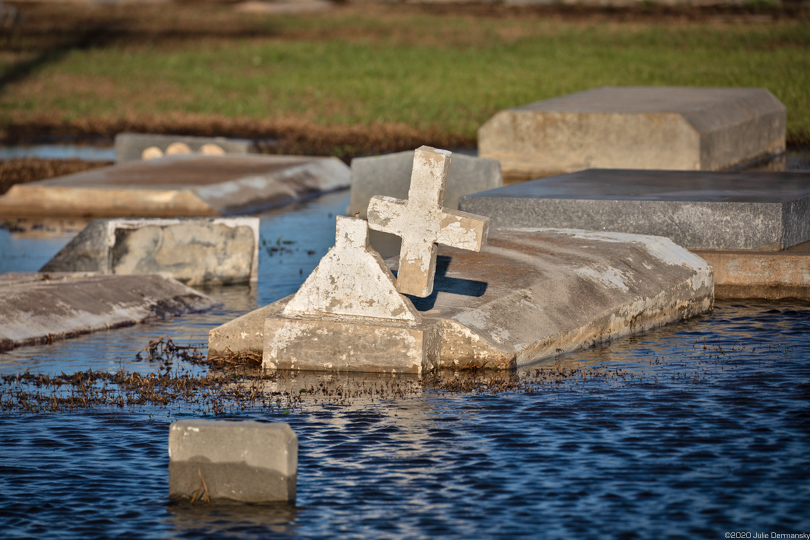 Flooded cemetery in Creole, Louisiana.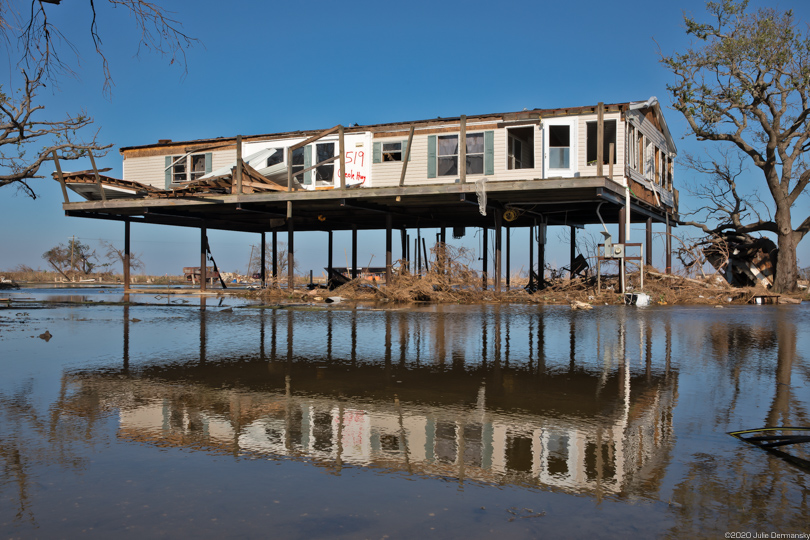 Damaged home in Creole, Louisiana, following Hurricane Delta.
The last hurricane of the Atlantic season to impact Louisiana was Zeta, arriving on October 28 in Cocodrie, Louisiana, as a Category 2 storm after hitting Mexico a couple days before. The storm then traveled over New Orleans and passed over Mississippi and Alabama beaches before weakening into a tropical storm. Its winds reached 110 miles per hour, and at one point, 2 million people across the Gulf were impacted by power outages from Zeta.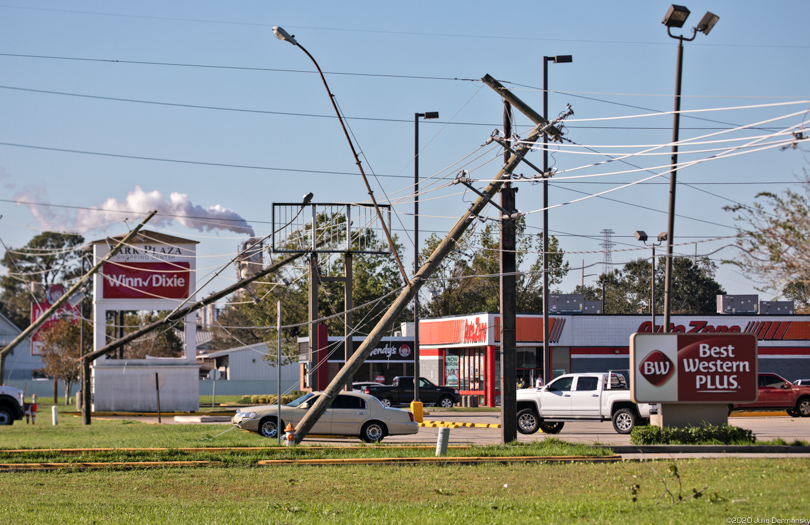 Downed powerlines in Chalmette, Louisiana, next to New Orleans, along Zeta's fast-moving path to the northeast.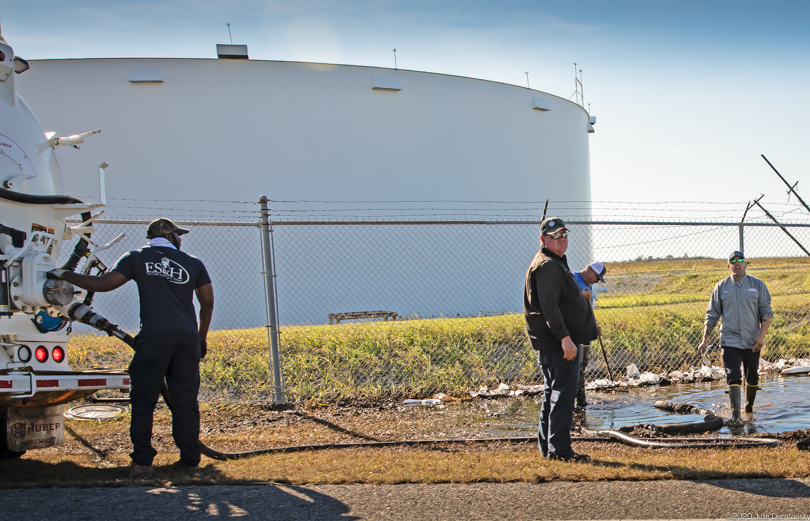 Clean-up crew at Harvest Midstream, cleaning up an oil spill in Chauvin, Louisiana, following Hurricane Zeta in late October.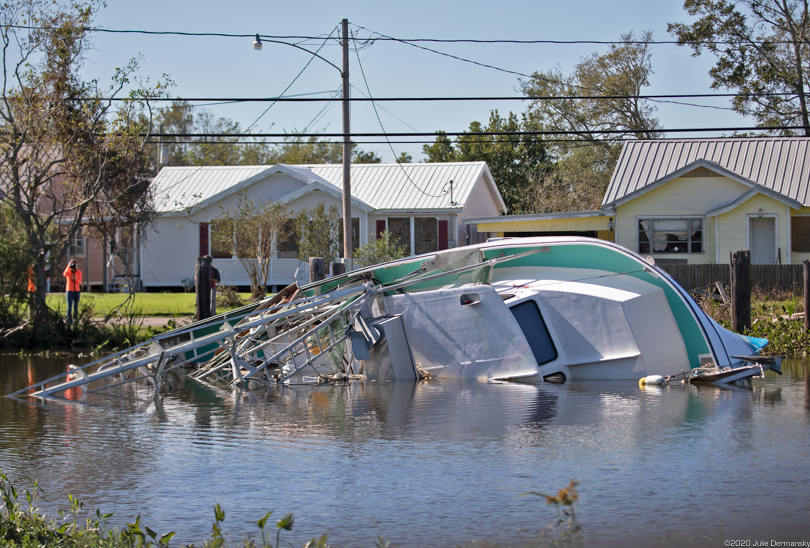 Shrimp boat in Chauvin that was toppled during Hurricane Zeta. 
Main image: A flattened home spotted after Hurricane Delta in the wetlands of Cameron Parish, Louisiana, on October 12. Credit: All photos by Julie Dermansky for DeSmog