Two enormous fossil fuel projects in the Pacific Northwest suffered devastating setbacks on Tuesday, severely dimming their prospects of ever moving forward.
On President Donald Trump's last full day in office, the Federal Energy Regulatory Commission (FERC) met with a packed agenda, making key decisions on multiple pipeline projects and other matters affecting electricity markets.
One of the most significant decisions FERC issued was related to the Jordan Cove LNG export terminal, and the associated Pacific Connector Gas pipeline. The proposed project would export natural gas to Asia from a terminal on Oregon's coast.
Roughly an hour after FERC's decision, a separate decision from the state of Washington dealt a major setback to another giant fossil fuel project in the Pacific Northwest. Washington's Department of Ecology shot down a critical environmental permit for what would be one of the largest gas-to-methanol projects in the world.
The fossil fuel resistance movements in the Pacific Northwest are often referred to as the Thin Green Line — the wall of opposition along the Pacific Coast, blocking exports of North America's vast fossil fuel reserves. Taken together, the dual blows to Jordan Cove LNG and Kalama methanol on January 19 are decisive victories for these movements and another testament to its strength.
Jordan Cove

LNG

 Terminal
FERC upheld the Oregon Department of Environmental Quality's (DEQ) denial of a key water permit for the proposed Jordan Cove LNG export terminal. Originally, a Clean Water Act permit was denied in May 2019 at the state level, so Jordan Cove turned to FERC in the hopes that the federal agency would waive the state's authority; the company argued that Oregon waited too long to make its decision.
The gambit didn't work. The five-member commission voted unanimously on Tuesday to deny Jordan Cove's request, arguing that the company never completed its request for a water permit to Oregon's DEQ, and thus, the state couldn't have waived its authority to decide on the permit.
Regarding Jordan Cove, I want to underscore my support for today's unanimous @FERC order holding that Oregon has not waived its authority under section 401 of the Clean Water Act.

— Rich Glick (@RichGlickFERC) January 19, 2021
The end result is that Jordan Cove LNG and its parent company, Pembina, remain stuck, with the project now running out of options to gain approval. Having suffered multiple denials at the state level, and still lacking other federal permits, there is no clear way forward. A spokesperson for Jordan Cove was not immediately available for comment.
The coalition of landowners, environmental groups, and Indigenous tribes that have been opposing the project for more than 15 years, celebrated the news. 
"The FERC decision is very encouraging. It is certainly our hope that Pembina will give up on this devastating project once and for all," said Chairman Don Gentry of the Klamath, Modoc, and Yahooskin Tribes.
Jordan Cove LNG would instantly become Oregon's largest source of greenhouse gas emissions if constructed.
Opponents, however, remain on guard. Pembina still has the right to use eminent domain to condemn land for the project, based on an earlier approval from FERC, even though it lacks multiple key permits.
But FERC's latest decision means the project's odds of going forward look increasingly dim. "I think it's really important, especially in 2021, to celebrate every win along the process. This is a big step in the right direction. So, we are definitely celebrating that," Allie Rosenbluth, campaign director at Rogue Climate a southern-Oregon based organization opposing the project, told DeSmog.
"We know that this project is often referred to as the zombie project, for good reason," she said, referring to the fact that the project seemed to die more than once, only to come back to life. "We are not going to stop fighting Jordan Cove LNG until Pembina cancels it for good."
Today's unanimous FERC decision on Jordan Cove is a win for protecting the South Coast because it reinforces Oregon's environmental laws and reflects local community input for strict adherence to the Clean Water Act: https://t.co/Qnl8N6HqUI

— Ron Wyden (@RonWyden) January 19, 2021
At every stage of the regulatory process, I have insisted that the Jordan Cove LNG project must meet Oregon's rigorous standards for protecting the environment, or it cannot move forward. I'm pleased that the Federal Energy Regulatory Commission validated that approach today. https://t.co/5kwb8N7Kfv

— Governor Kate Brown (@OregonGovBrown) January 19, 2021
Kalama Petrochemical Plant
Meanwhile, the methanol project proposed for Kalama, Washington, would process fracked gas piped in from British Columbia, turning the gas to methanol (a liquid fuel) and then export the product to Asia where it would be used to manufacture plastics or be burned as fuel. If built, the facility would instantly become one of the state's largest greenhouse gas emitters, a red flag in a state that has committed to slashing its emissions by 45 percent by 2030.
The project's sponsor, Northwest Innovation Works (NWIW), however, has spent years arguing that the methanol project would be a net win for the climate because it would displace dirtier projects in China. To help make its case, the company lined up powerful political support within the state, as DeSmog reported recently.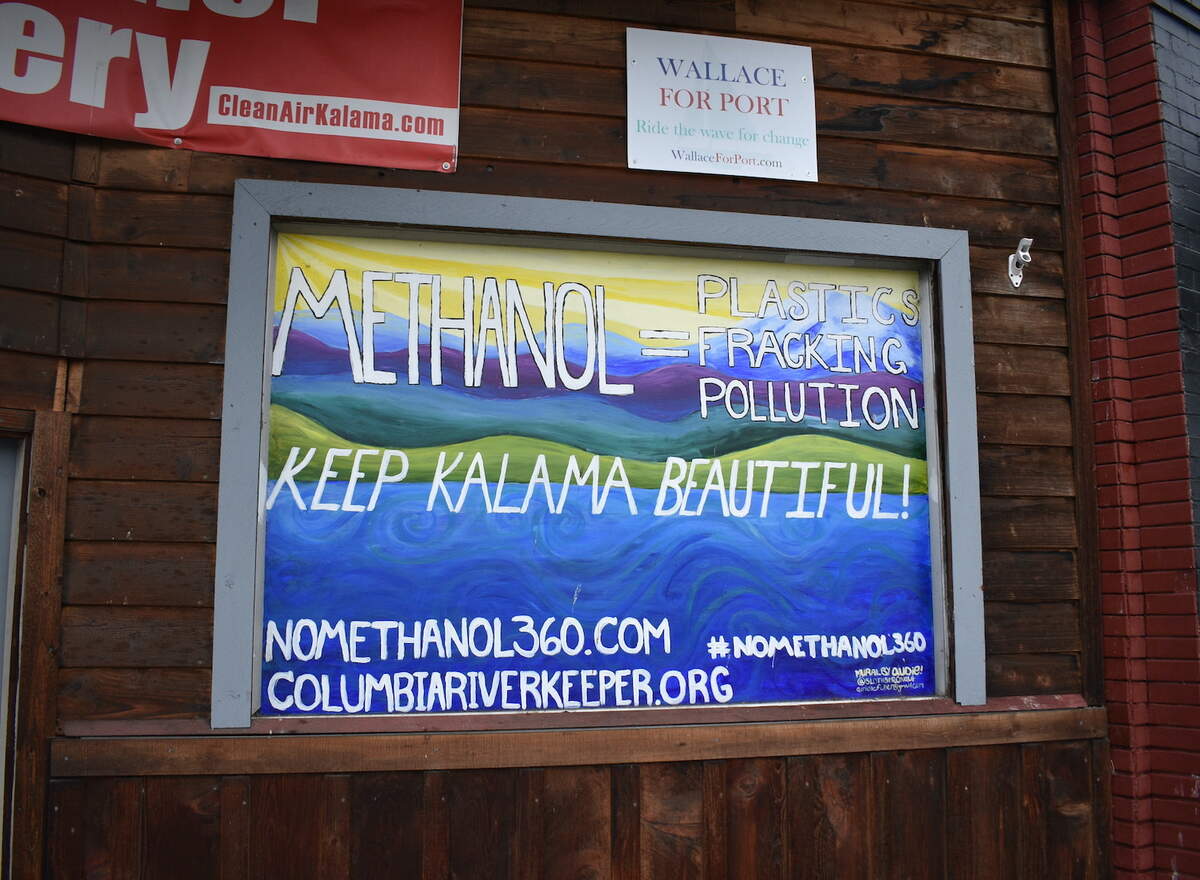 Keep Kalama Beautiful sign. Credit: Nick Cunningham
NWIW's assertion seemed to have a receptive audience at the Department of Ecology, which in December issued its final second supplemental environmental impact statement that illustrated a scenario in which constructing the project would lead to a smaller climate impact compared to not building it.
In the end, the Department of Ecology denied the permit. The agency's director, Laura Watson, wrote in an explanation that building the methanol plant would result in an enormous increase in emissions, a known outcome, while the benefits were speculative — an argument that critics have noted all along: "Do we approve a facility we know will be bad for Washington's environment and make it difficult or impossible for our state to meet its statutory emissions limits based on the potential for some alternate scenario to be even worse?"
In a statement, NWIW said it was "disappointed" and that it was considering its options for an immediate appeal. "The science Ecology developed shows that this project is the cleanest, most climate-friendly way to make products we use every day," said Vee Godley, Chief Development Officer for NWIW.
BIG VICTORY!!! @EcologyWA's decision on the shorelines permit for Kalama methanol shows that WA state is serious about climate change. Thank you @GovInslee and Ecology for believing in clean energy by denying permits for climate polluters!

Read more: https://t.co/36sgoPfOcg pic.twitter.com/tvOWdYHbss

— Columbia Riverkeeper (@ColumbiaRKeeper) January 19, 2021
But according to Miles Johnson, an attorney with Columbia Riverkeeper, an organization that has opposed the project for years, the Department of Ecology "has excellent legal grounds" for denying the permit.
"People across that state have consistently said they do not support a clean energy future that simply invests in dirty fossil fuel infrastructure," said Alyssa Macy, CEO of Washington Environmental Council and Washington Conservation Voters. "[This] science-based decision helps ensure Washington's promise of a livable planet for generations to come."
Main image: Banner protesting Jordan Cove LNG Export Project. Credit: Francis Eatherington CC BY–NC 2.0