"I am in desperate need of a camper trailer," Traditional Chief Shirell Parfait-Dardar of the Grand Caillou/Dulac Band of Biloxi-Chitimacha-Choctaw Tribe, told me outside of her totaled home in Chauvin, Louisiana, about 70 miles southwest of New Orleans. Hurricane Ida, which made landfall in Louisiana with 150 mile per hour wind on August 31, took the roof off of her home and smashed to bits her sewing workshop, located next door.
Parfait-Dardar and her family embody the word "resilience." When I visited the family on September 7, her husband was working to create a shelter for the family amid the Category 4 storm's destruction.
"Hurricane Ida humbled me," she said. Although she's not typically the one to ask for help for herself, she is asking for it now. "I have to look at the big picture. That's my job as a leader and is what I was taught to do by my elders."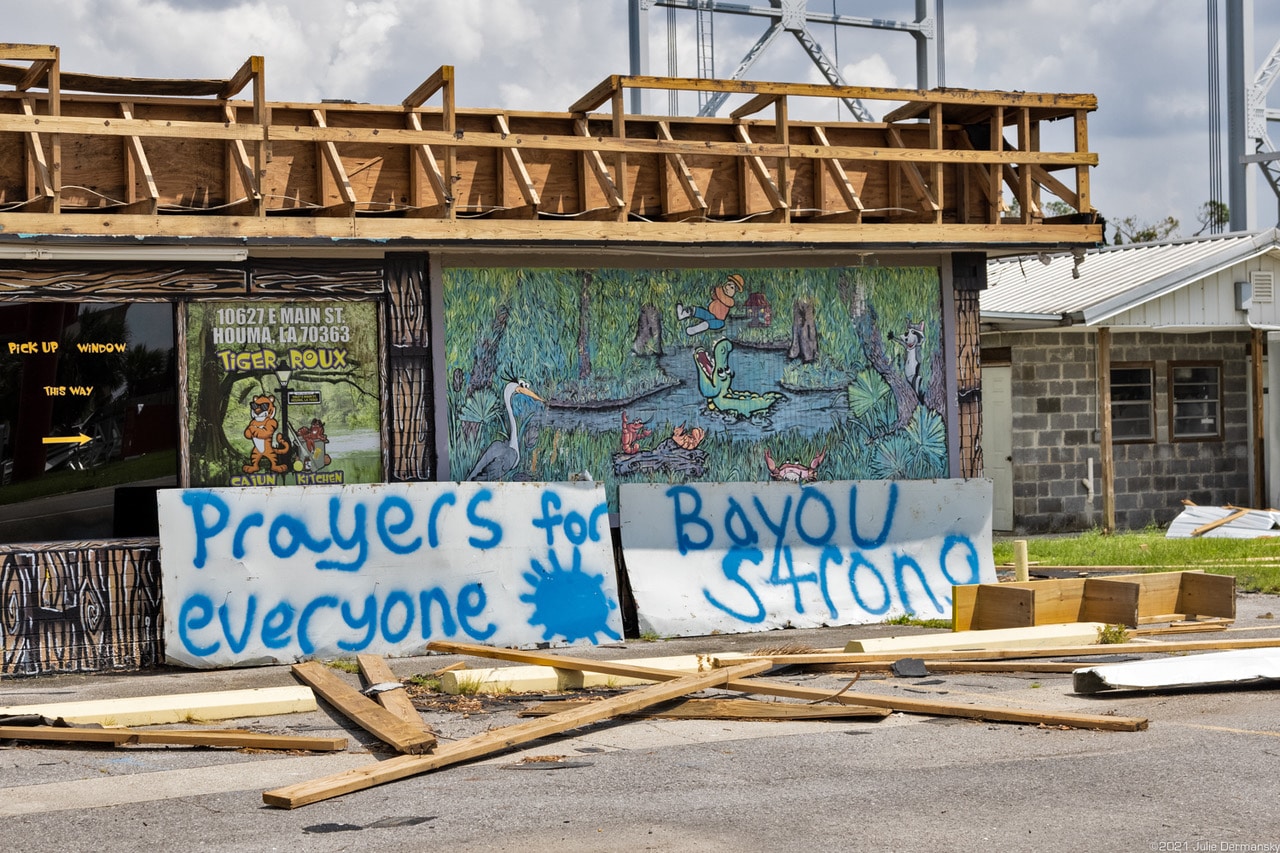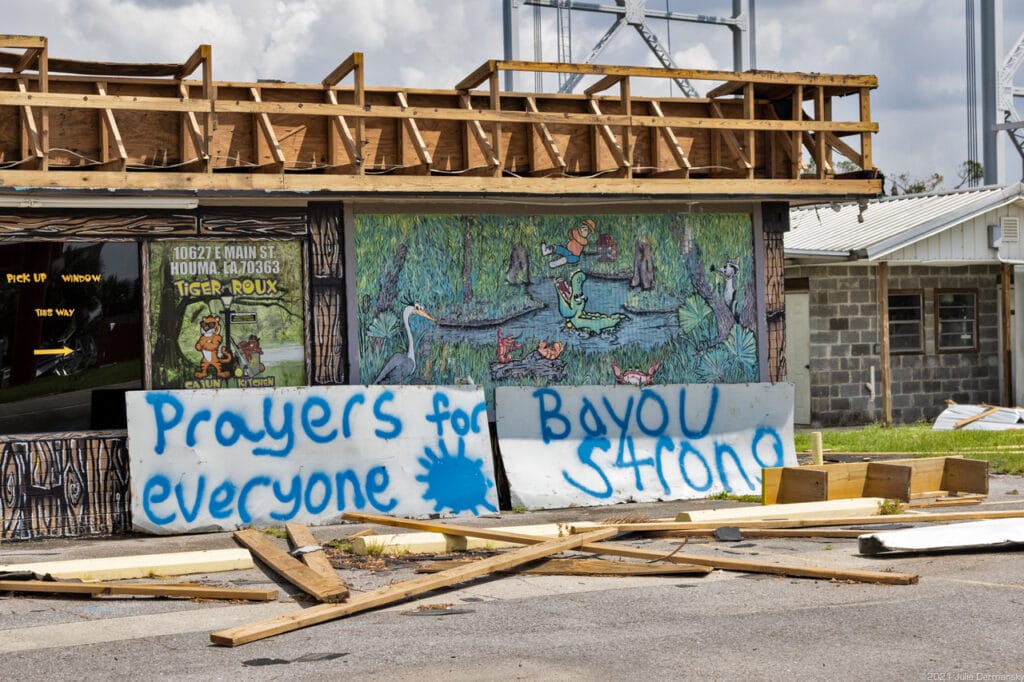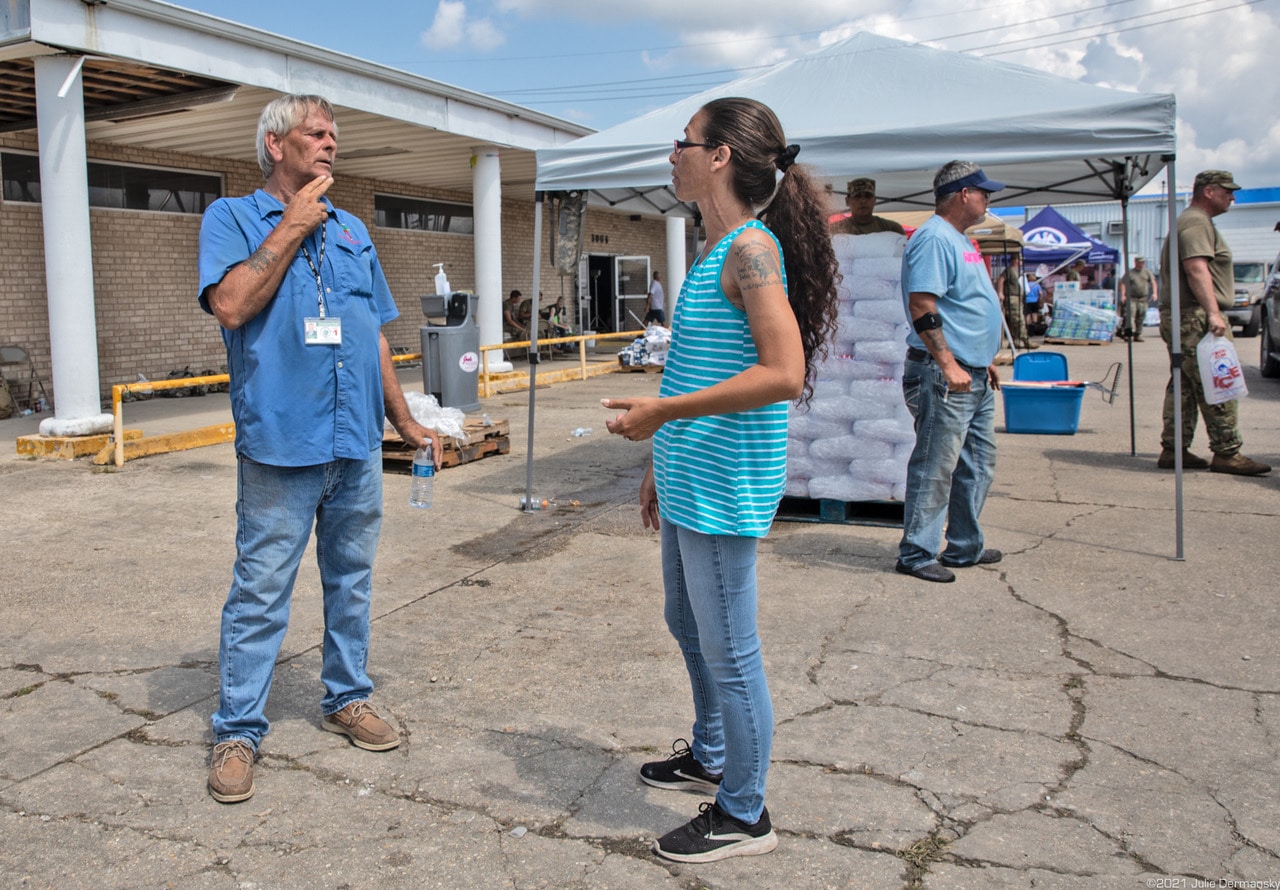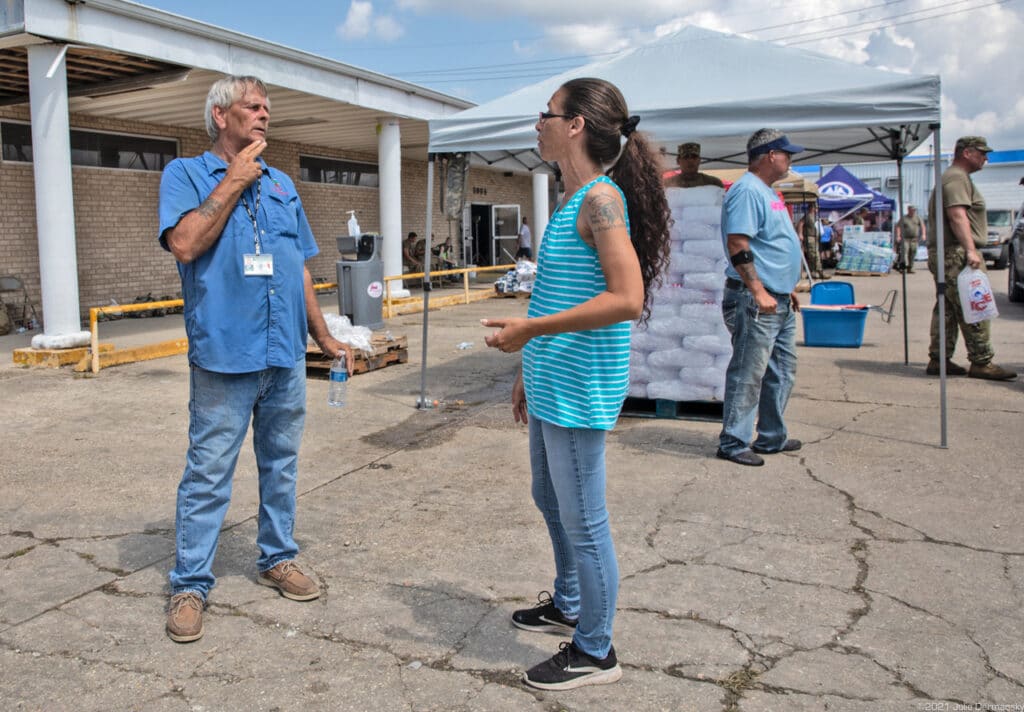 "The tribe has about 1,003 tribal Citizens, of which 400 are fully registered and documented for Federal Acknowledgement requirements," Parfait-Dardar told me.  The tribe is state-recognized but 
because it is not federally recognized it lacks access to certain federal assistance and benefits. Tribe members are currently more scattered about the Gulf region than ever, which worries Parfait-Dardar since she has no way to reach some of them. Some of the elders who returned faced with badly damaged homes without services are being evacuated to parts unknown by buses provided by the state.  
And then there is the pandemic. Though early on few of the tribe's members fell ill with COVID-19, the tribe has now lost several members in the latest surge and many continue to catch it. With its relatively low vaccination rates and battles over masking, Louisiana continues to be a hotbed for the virus.

"It is critical that I am able to stay on the property so I can help others," Parfait-Dardar said. "The best way for me to help my people is to be where they can find me."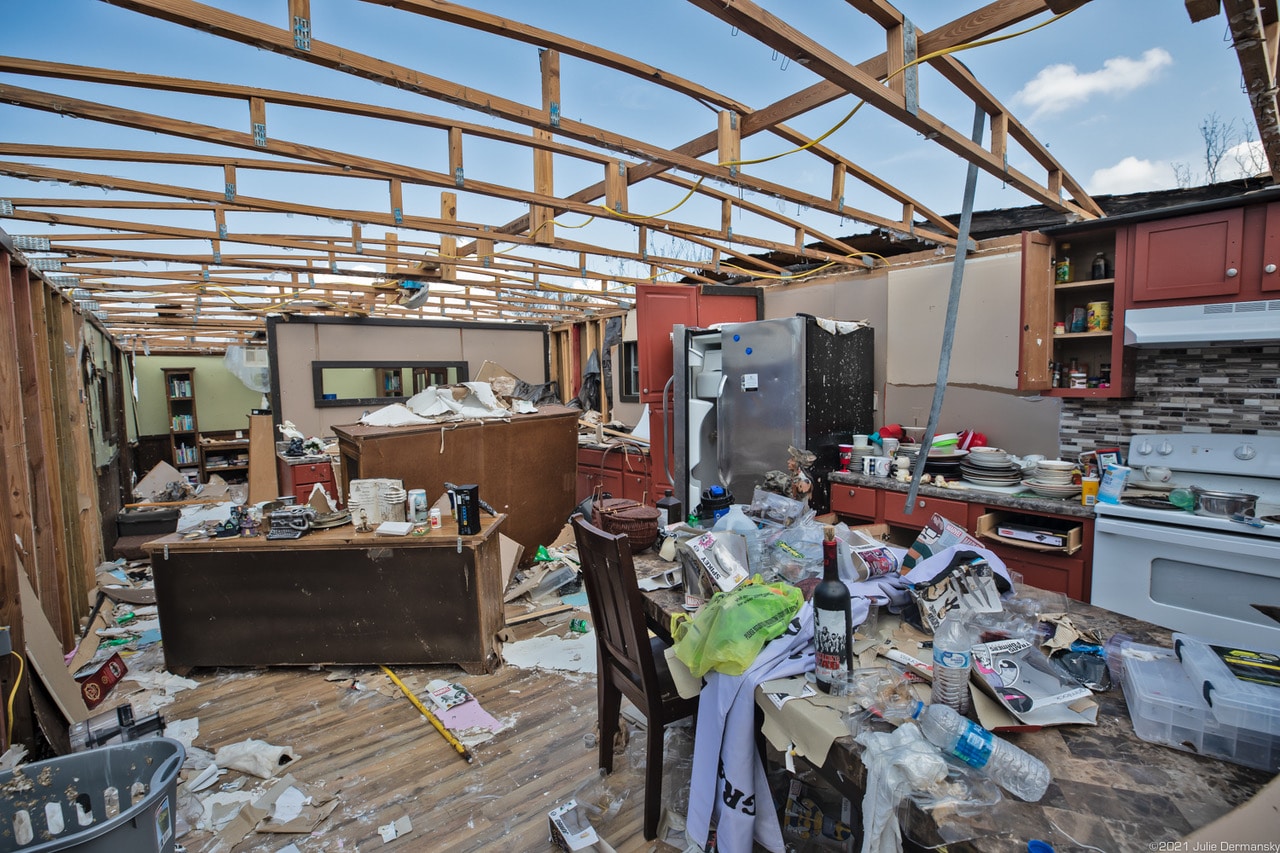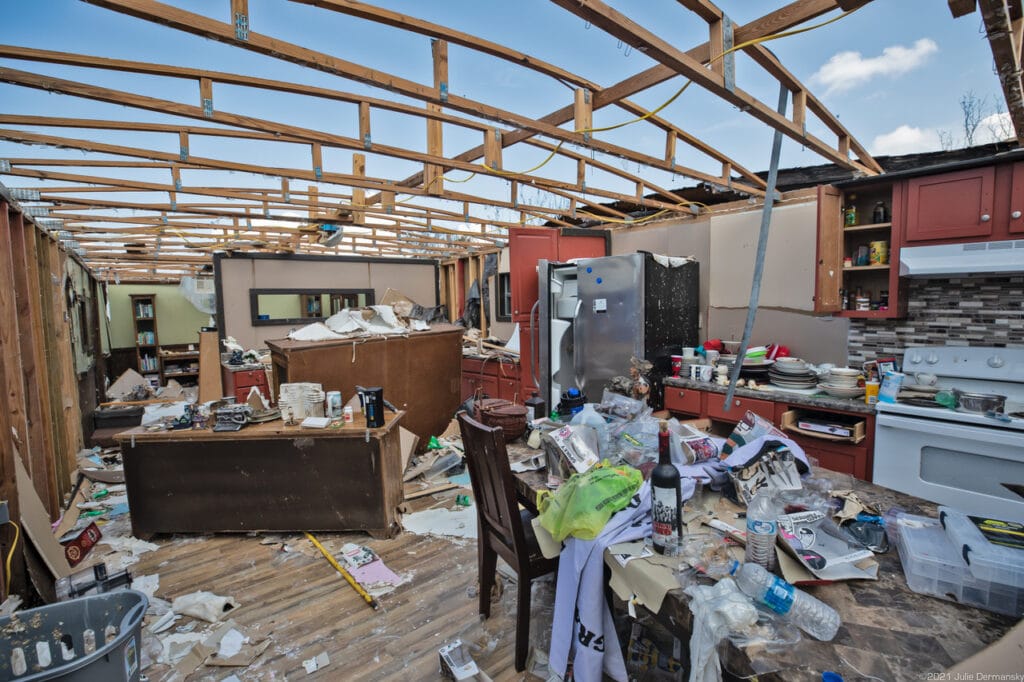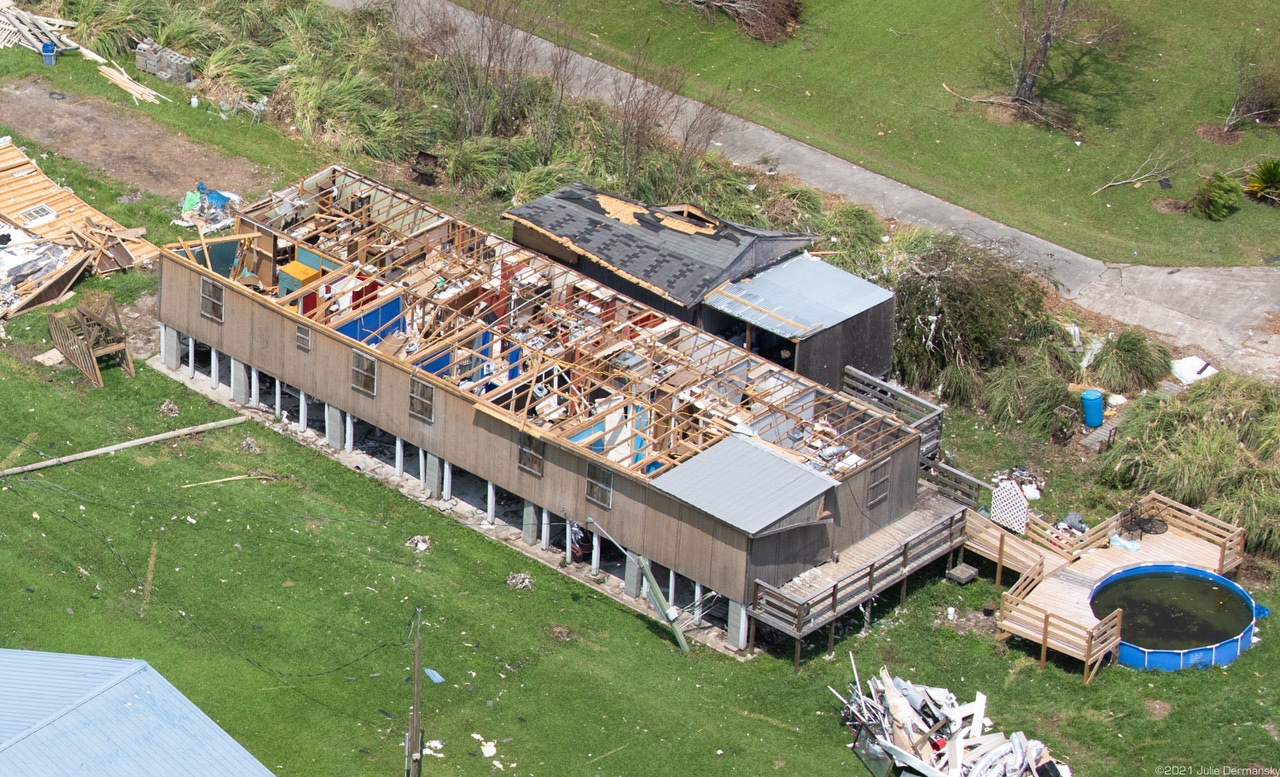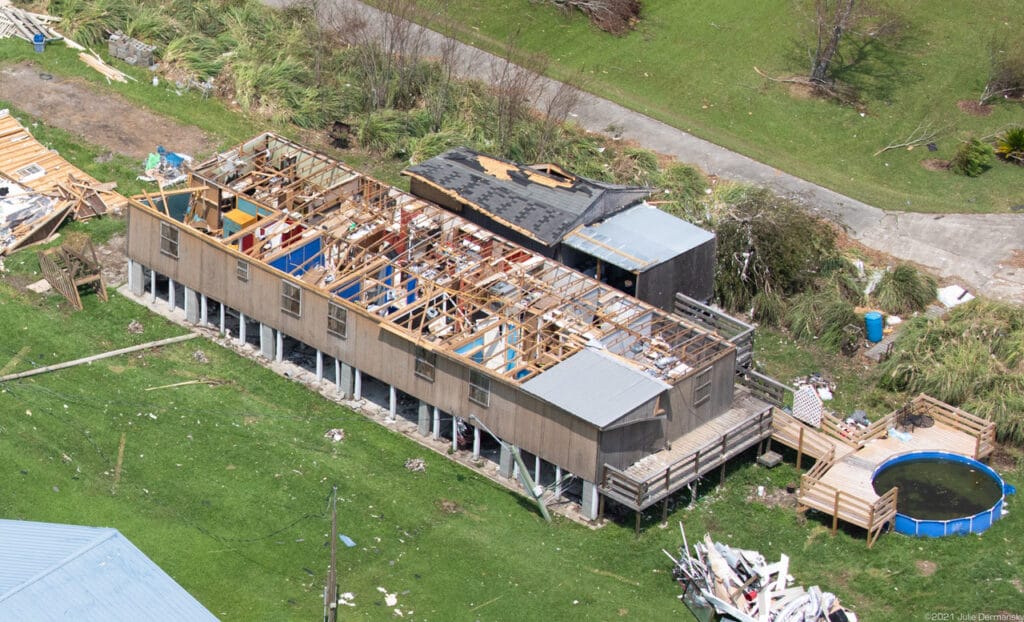 She and her family had been staying about an hour away at a relative's home in Thibodaux, but as of last night, despite not having electricity or water, they began staying in the makeshift shelter — barely protected from the elements — which her husband was building at their property in Chauvin when I visited. "I'm praying it holds up and doesn't rain too much," she told me this morning.
As another reason for returning home, she expressed concern about her use of fossil fuels by driving two hours a day from her now-destroyed home to her relative's house, but also worried about her family's reliance on gasoline to power a generator.

Parfait-Dardar, who is a state leader on the issue of climate change, takes her carbon footprint seriously. "I mean, look, this is one of the reasons why we're dealing with what we're dealing with — stronger, more powerful storms, more frequent storms — is because of the climate crisis and the things that we've been doing to our environment. And if we don't change those things, it's only going to escalate," she said.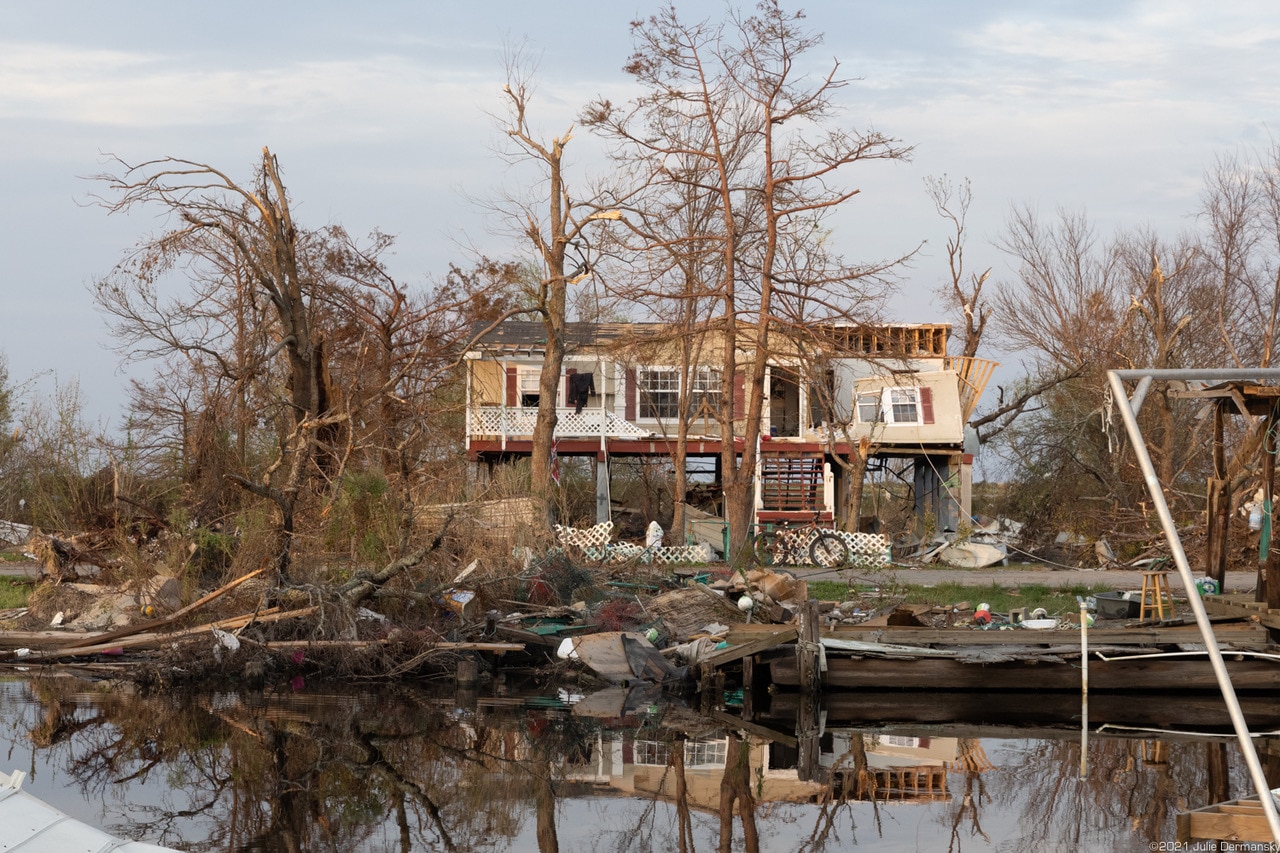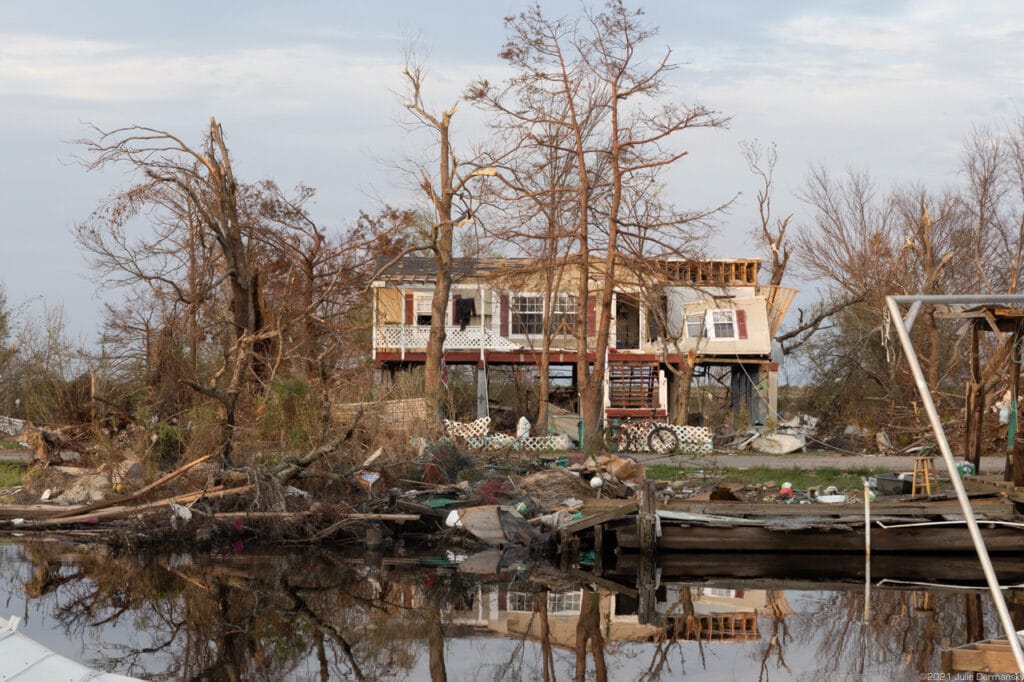 She is the Secretary for the First Peoples' Conservation Council of Louisiana, a coalition made up of six southern tribes focused on protecting nature, and was appointed to be a member of the Louisiana Climate Initiative Task Force, which Gov. John Bel Edwards established in August 2020. While she believes members are having good conversations and that some really want to save the planet, the fact is that Louisiana is still allowing new fossil fuel and petrochemical development to go forward even as the state lives with the consequences of global warming, intensifying hurricanes and more frequent and intense flooding and heat.
"While we are trying to reduce emissions, we still have companies being permitted to do the same thing. They are going to be putting more emissions into the atmosphere," she said, adding, "It just doesn't make any sense to me. Instead we need to find a new path that mitigates and doesn't add to the problem that got you there in the first place."

It breaks her heart that so many people are hurting from the latest hurricane. Her own situation is dire. Parfait-Dardar's house wasn't insured because it was still under construction. Yet even before securing a safe shelter for herself, she is helping others.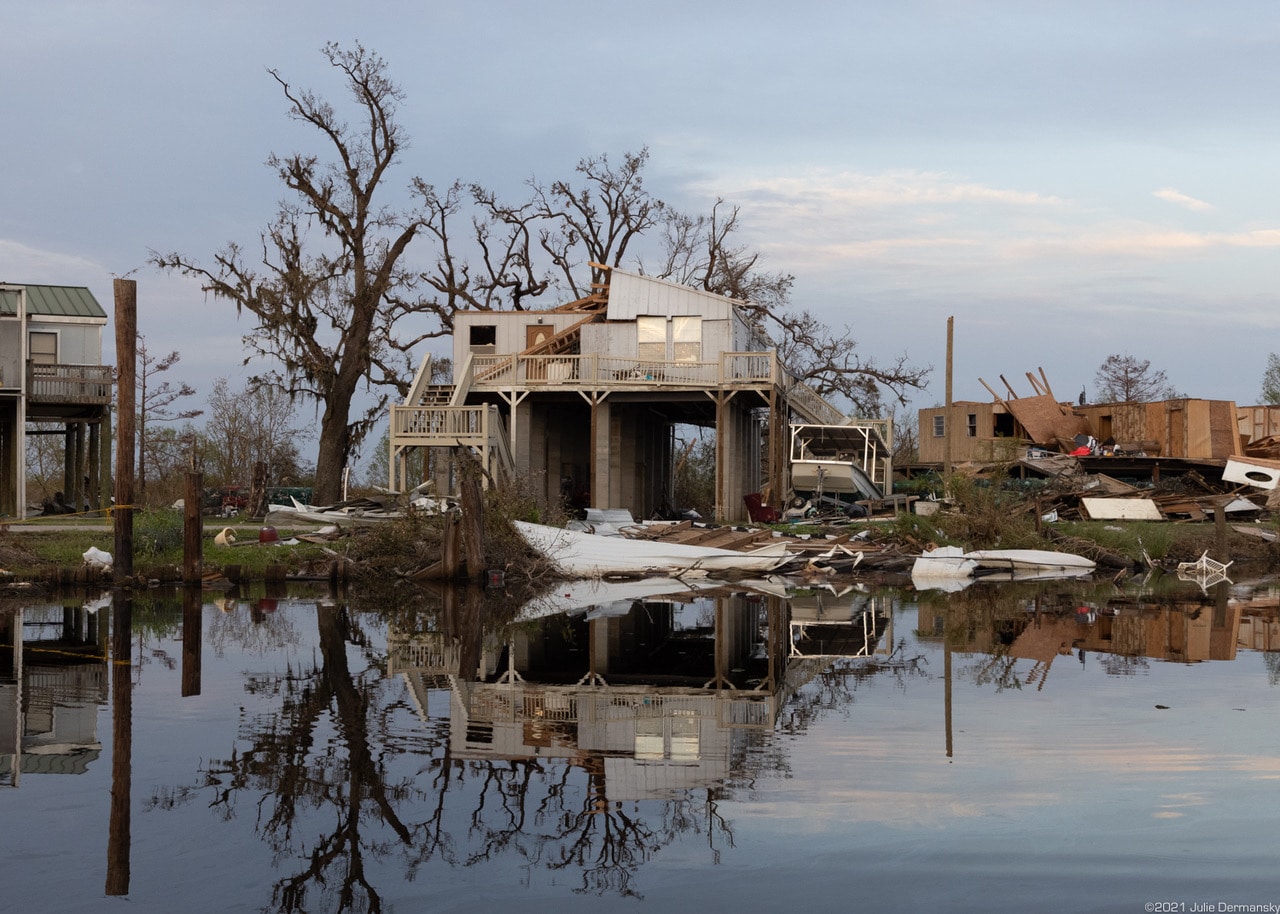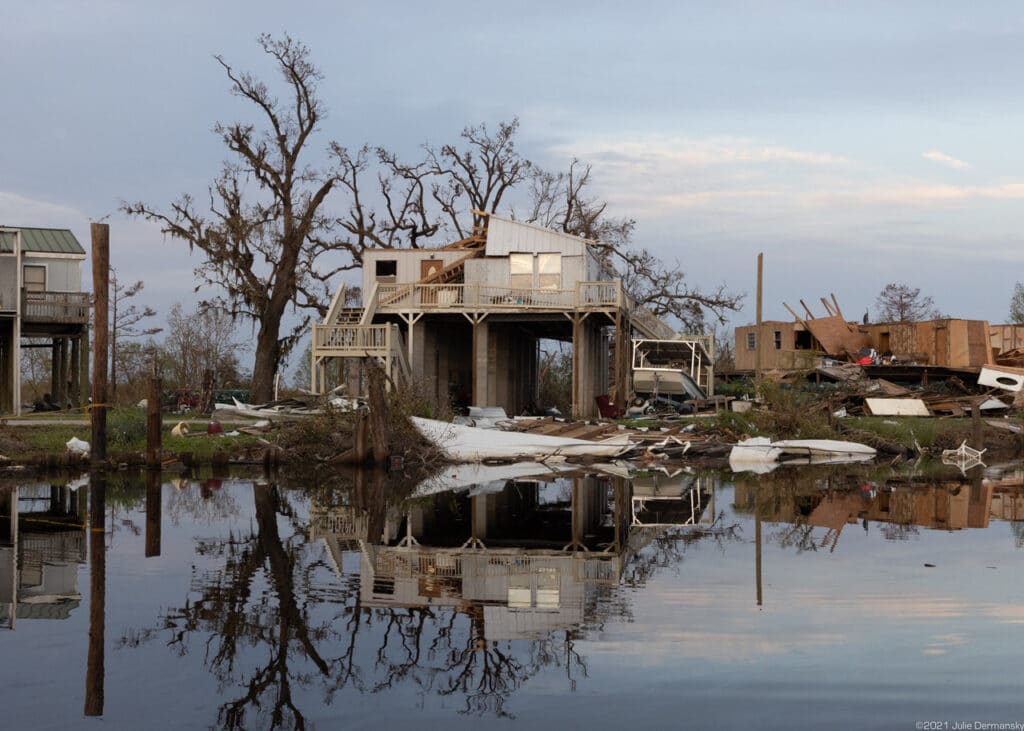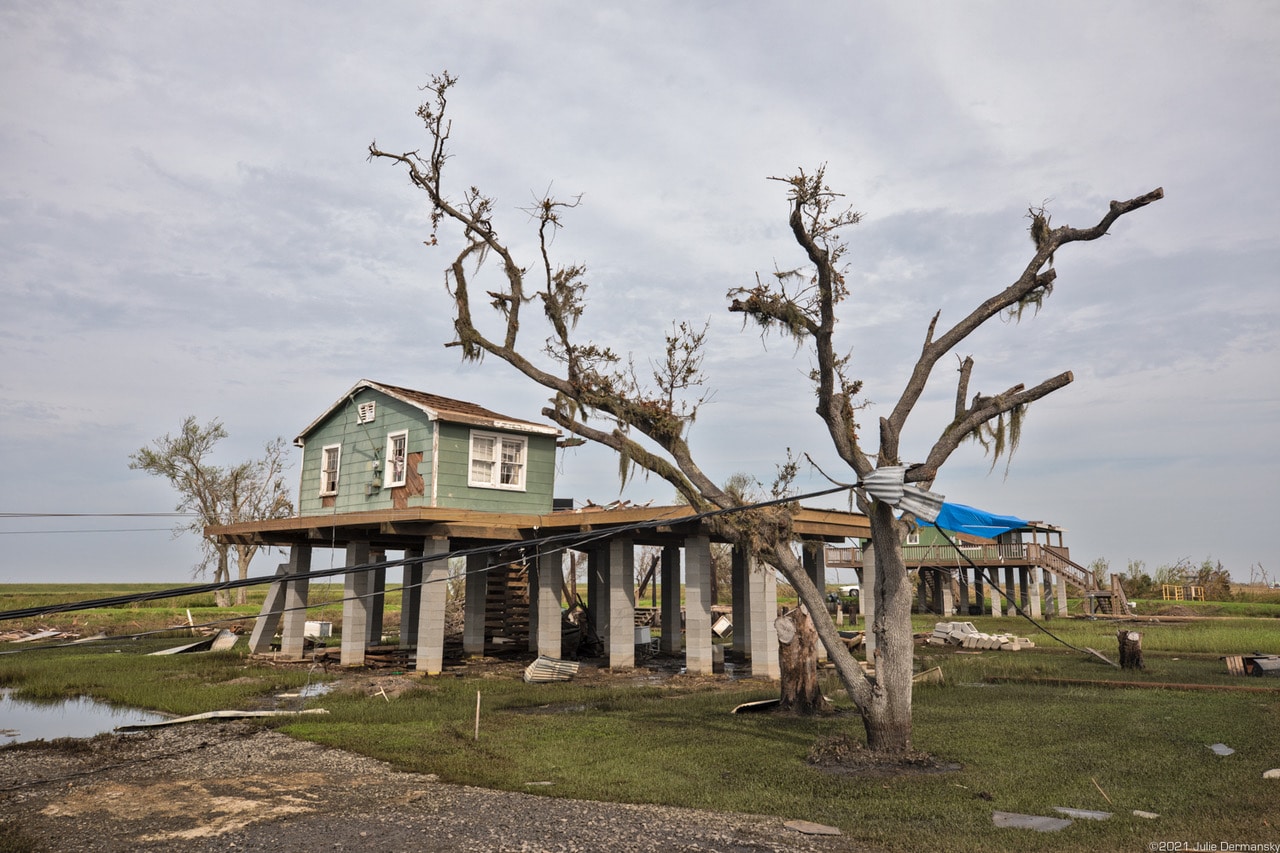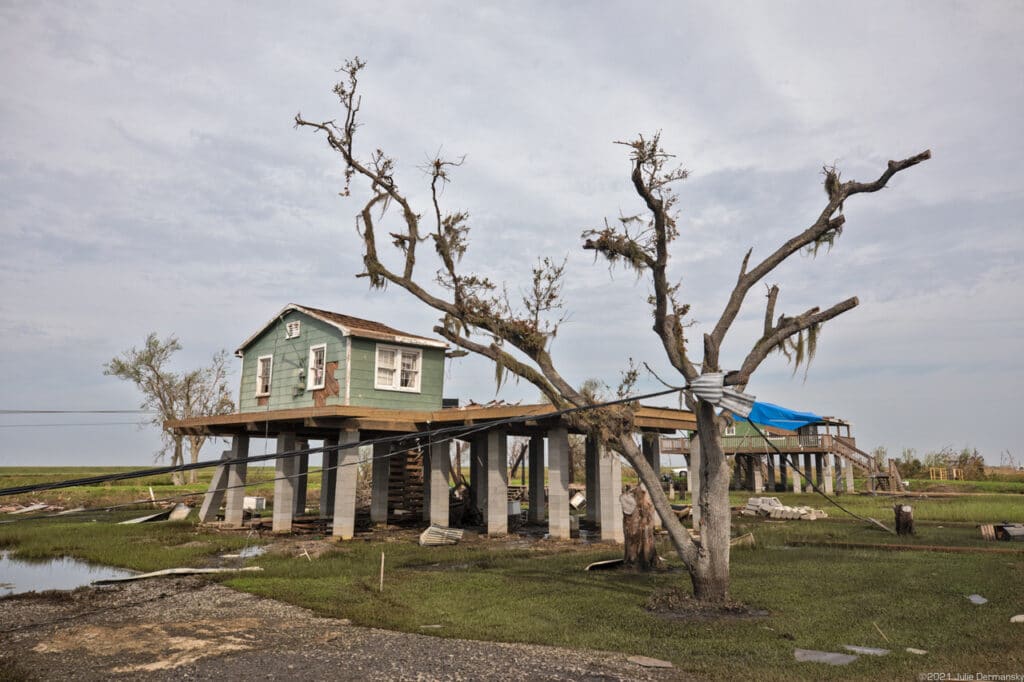 I went with her across the bayou to a post-hurricane command center set up by Terrebonne Parish. There, she pleaded with Richard "Dick" Guidry, the parish council member for her district, to open a currently-shuttered community center for her tribe, which he agreed to do once he got a hold of the keys.

Like Chief Parfait-Dardar, Guidry agrees that a priority should be helping people get temporary shelters in order to stay on their damaged properties, but he told me he hasn't heard a word about when that might happen, adding that he's disappointed but understands the challenges of making that happen.

Parfait-Dardar, while grateful for the help she is getting from local government officials like Guidry and the region's fire chief, she's frustrated that tribal initiatives to create more resilient communities like the one planned by the Isle de Jean Charles Biloxi-Chitimacha-Choctaw (IDJC) Tribe have not been realized.

As I've previously reported for DeSmog, the Isle de Jean Charles, an eroding Gulf island about 80 miles southwest of New Orleans, received worldwide attention in 2016, when the IDJC Tribe helped the State of Louisiana secure a $48 million federal grant to resettle the island's residents, who face increasing danger with each hurricane season. A proposal the tribe had been working on for years with scientists and disaster specialists helped the state's Office of Community Development (OCD) win a grant from the U.S. Department of Housing and Urban Development (HUD). But while the winning proposal was based on IDJC Tribal Chief Albert Naquin's vision of a tribal-led community, shortly after securing the grant, Louisiana's OCD radically changed the original plan, resulting in Naquin withdrawing the tribe's support of the project in 2019.

Parfait-Dardar says she believes if the IDJC Tribe had been able to lead the project — as they originally thought when partnering with the state — then more members of the tribes in what's now southern Louisiana, including her own, would be in better shape today.
"That same plan that was created by the tribe, with the help of the Lowlander Center and other amazing organizations and universities, was created in a way that it could be shared with other communities that will soon be facing this very same reality, just like my own," she said.
While the federal and state government talks about building back better and relocating vulnerable people, she says Indigenous voices are still being overlooked.
On September 8, the day after I met with Chief Parfait-Dardar, I met with Chief Naquin of the IDJC Tribe and Theresa Dardar, a member of the Pointe-au-Chien Indian Tribe. Both of them count themselves among the lucky following Hurricane Ida. Their homes were not badly damaged, and they still have shelter, putting them in a position to help others who were not so fortunate.

I found Dardar at the Pointe-au-Chien Indian Tribe's center in Pointe-aux-Chene, where there was a flurry of activity from students from Tulane University and other volunteers. Pointe-aux-Chene, a small coastal community not far from Chauvin, has homes on both sides of a bayou and is where the only road connects the mainland to the Isle de Jean Charles.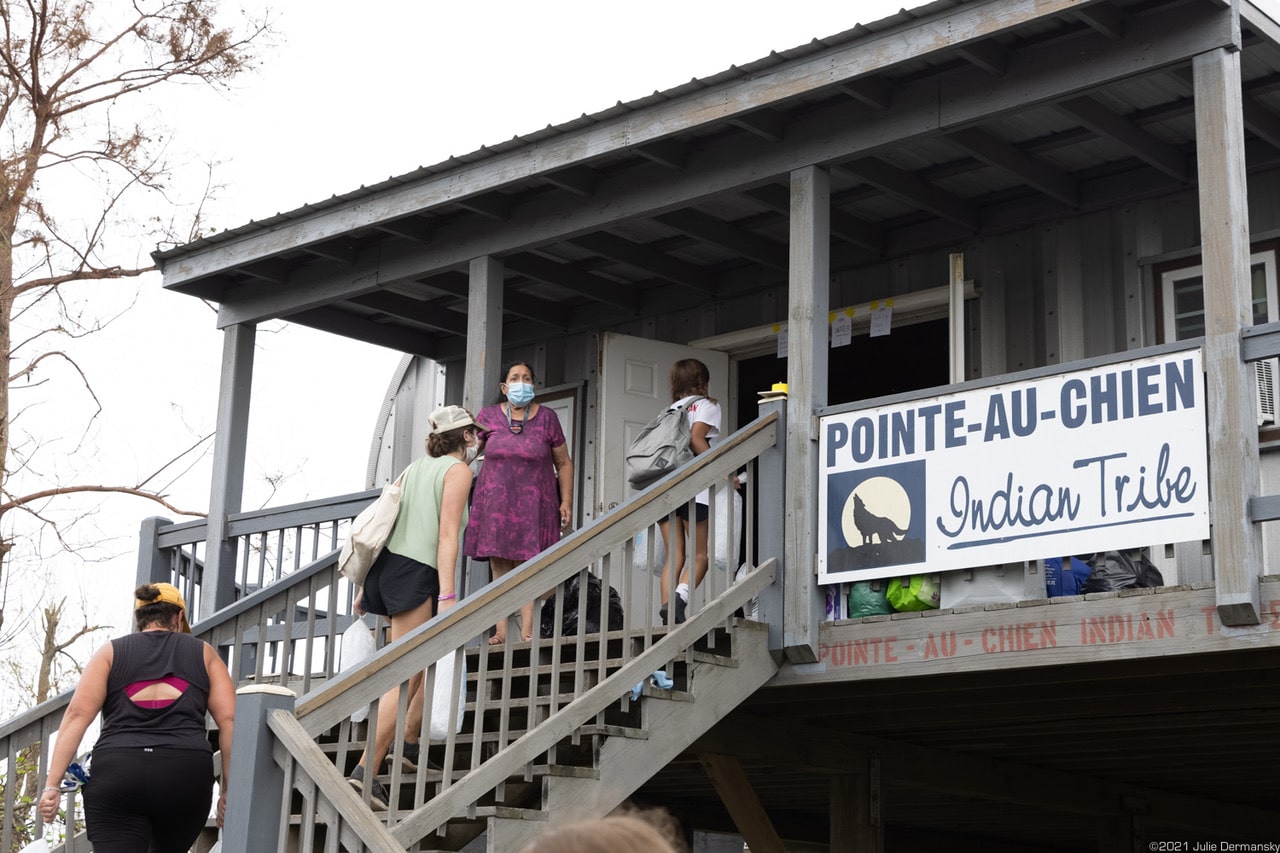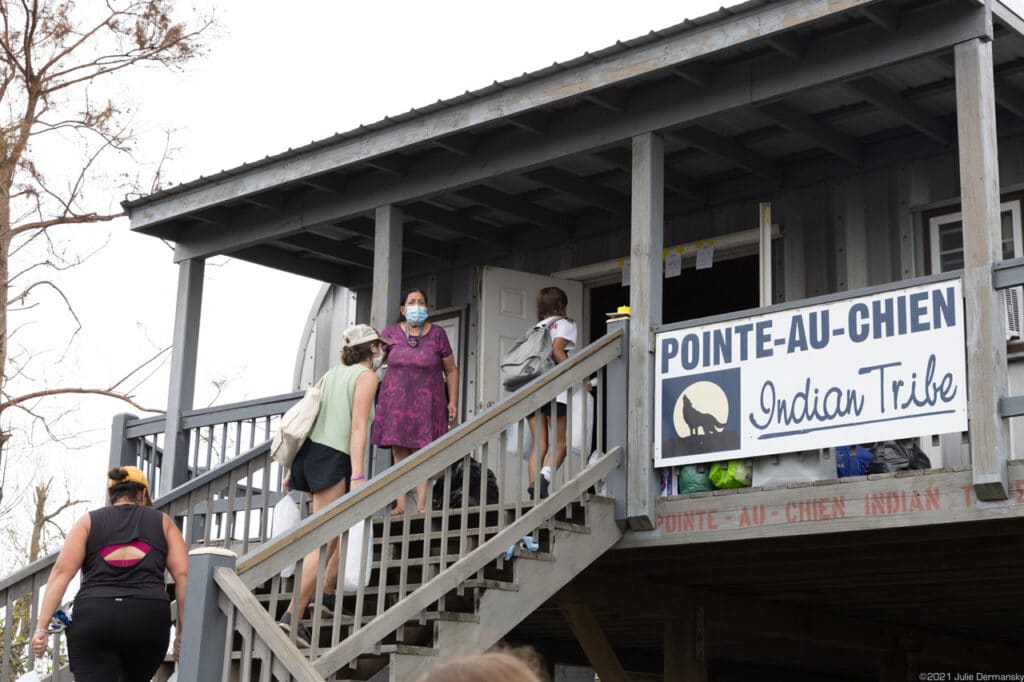 Dardar expressed frustration that some Terrebonne Parish officials have downplayed the level of need in the community after the recent hurricane and patted themselves on the back for doing a great job. "If anyone tells you we are okay, they need to come and take a look," she told me. "We have 40 homes on Oak Point Road, seven are livable. Now, is that doing okay? And on this side of the bayou, there are five livable homes."

"We've all been warned that the Indigenous communities are going to get hit worse with climate [change]," she said. "And this is what happens."
"We are the forgotten people," she says, breaking down with emotion. "I'm sorry, but it's just a devastation here. … My poor people, they have nothing left. They're salvaging a few things." She adds, "But parish people, the state, even the state, I have no words to say for the people in the state, because none of them have reached out to us."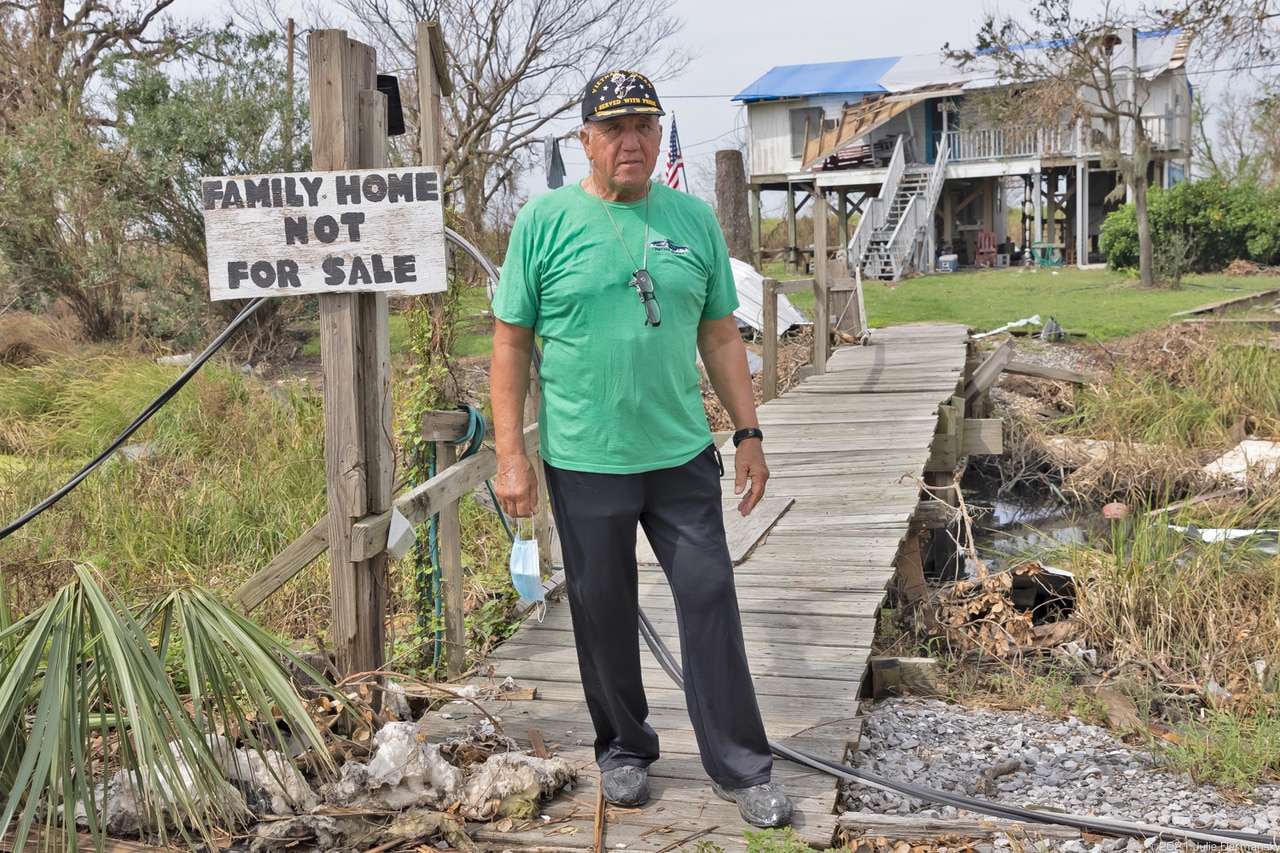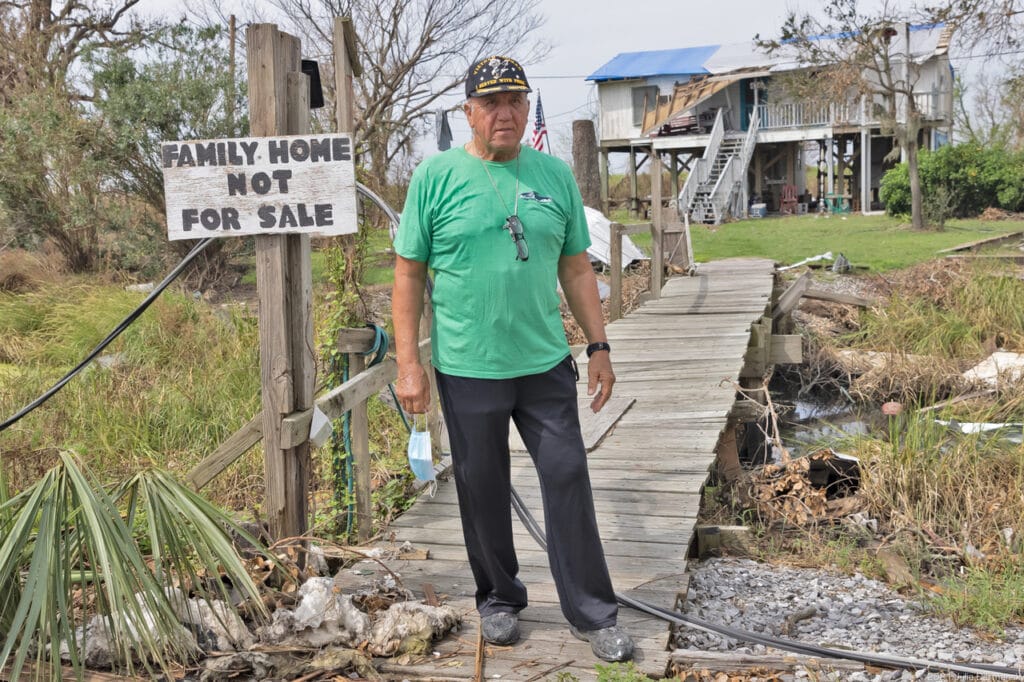 After Dardar and I spoke, I went with Chief Naquin, who today no longer lives on the island, but lives nearby, to check on the Isle de Jean Charles. We stopped at his now-deceased sister's home, which was badly damaged but still standing. Denecia Naquin Billiot, 96, passed away last year. From her porch, he expressed frustration that despite securing $48 million to relocate the island's people five years ago, today not a single house has been built in the new mainland community.
He has no doubt if the IDJC Tribe's original proposal had been implemented, his tribe and other island residents would be in better shape than they are now. "The first thing we would have done is build a community center to withstand a storm like this so people would now have a place with secure shelter," Naquin said.

Though the State of Louisiana did start construction on new homes for island residents with the funds, the date for completion continues to get pushed back, according to state spokesperson Marvin McGraw. He added that construction is currently underway on at least 16 homes.

"The vast majority of program participants had already been moved into apartment/rental homes in Terrebonne Parish as part of our optional relocation program. The few residents that still lived on the island evacuated for the storm and will be provided with relocation assistance if they request it," he told me via email.

Hurricane Ida will invariably delay the completion of the first homes in the new community — though by how much is not yet clear. Some already sustained damage from the storm, which McGraw described as minor, though inspection of the structures since Ida hit has not been complete.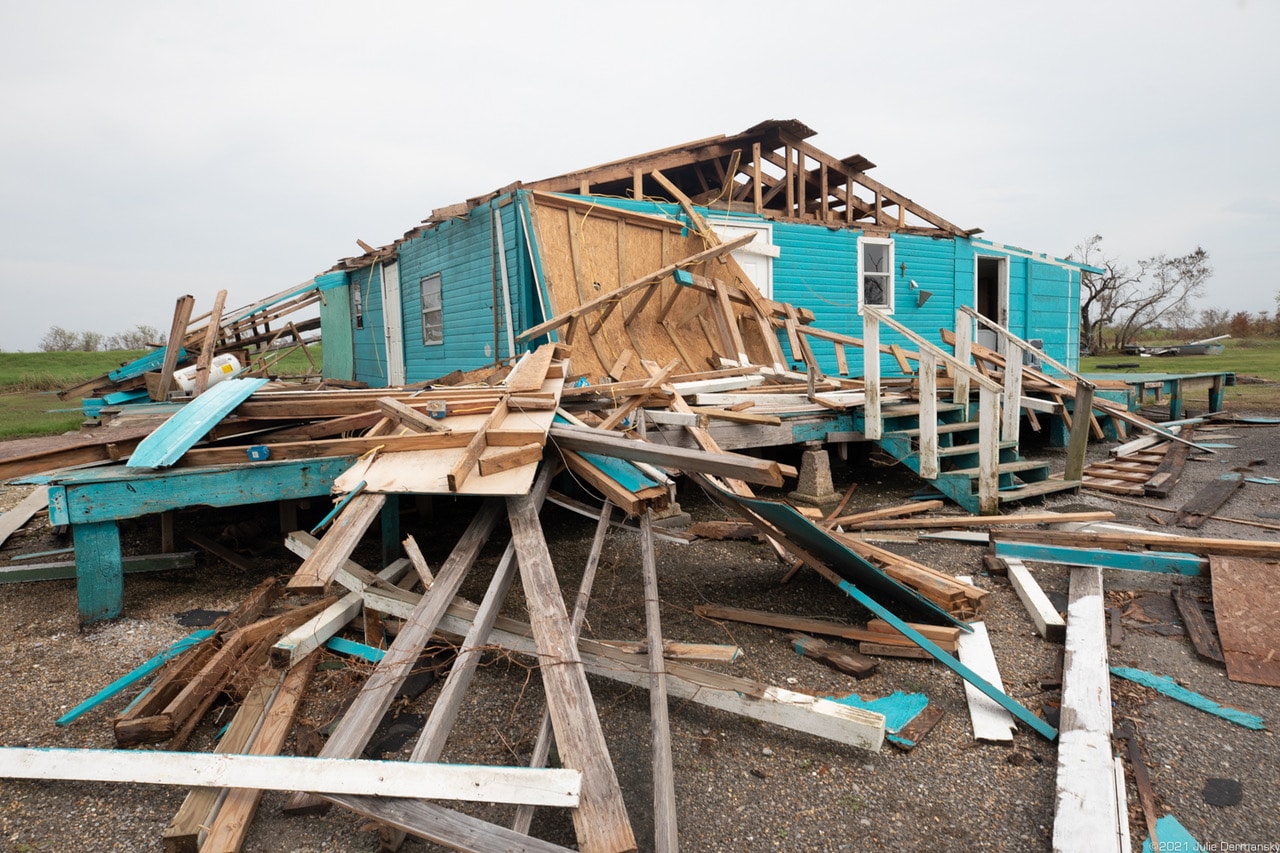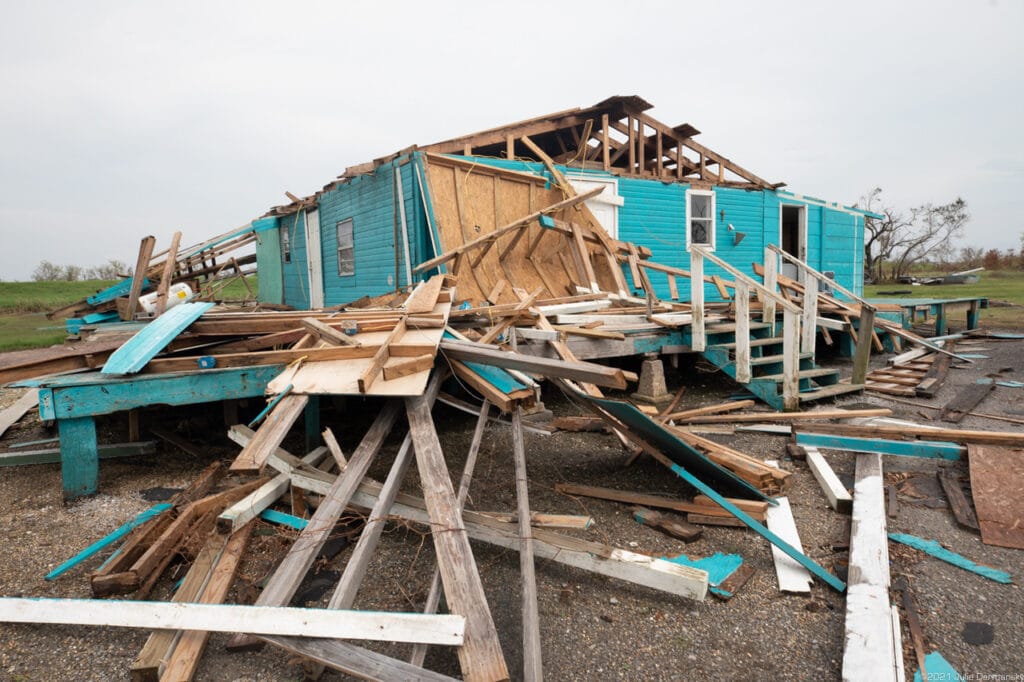 Later in the day, I visited two residents still living on Isle de Jean Charles. Edison and Elizabeth Dardar are camped out under their home. The couple only recently finished rebuilding their house after Hurricane Barry hit the island in July 2019. After Ida, their home was all but destroyed. They intend to rebuild yet again. However, they are waiting for an insurance company representative to visit before they do anything, and they say that even if they get a payout from Ida, it will only be for the home's contents and won't amount to nearly enough to rebuild.

I asked Edison if it was possible to catch shrimp to eat, as sometimes fishing is better than usual after storms. But he told me that in addition to the water close to the island being polluted at the moment, "I can't cast a net like I used to." The reason, he said, was that both he and his wife had COVID-19 in January. The couple still have no intention of moving off the eroding island, which is losing access to basic services even as other efforts encourage expanded recreational development, and told me they have rebuilt before and plan to do it again.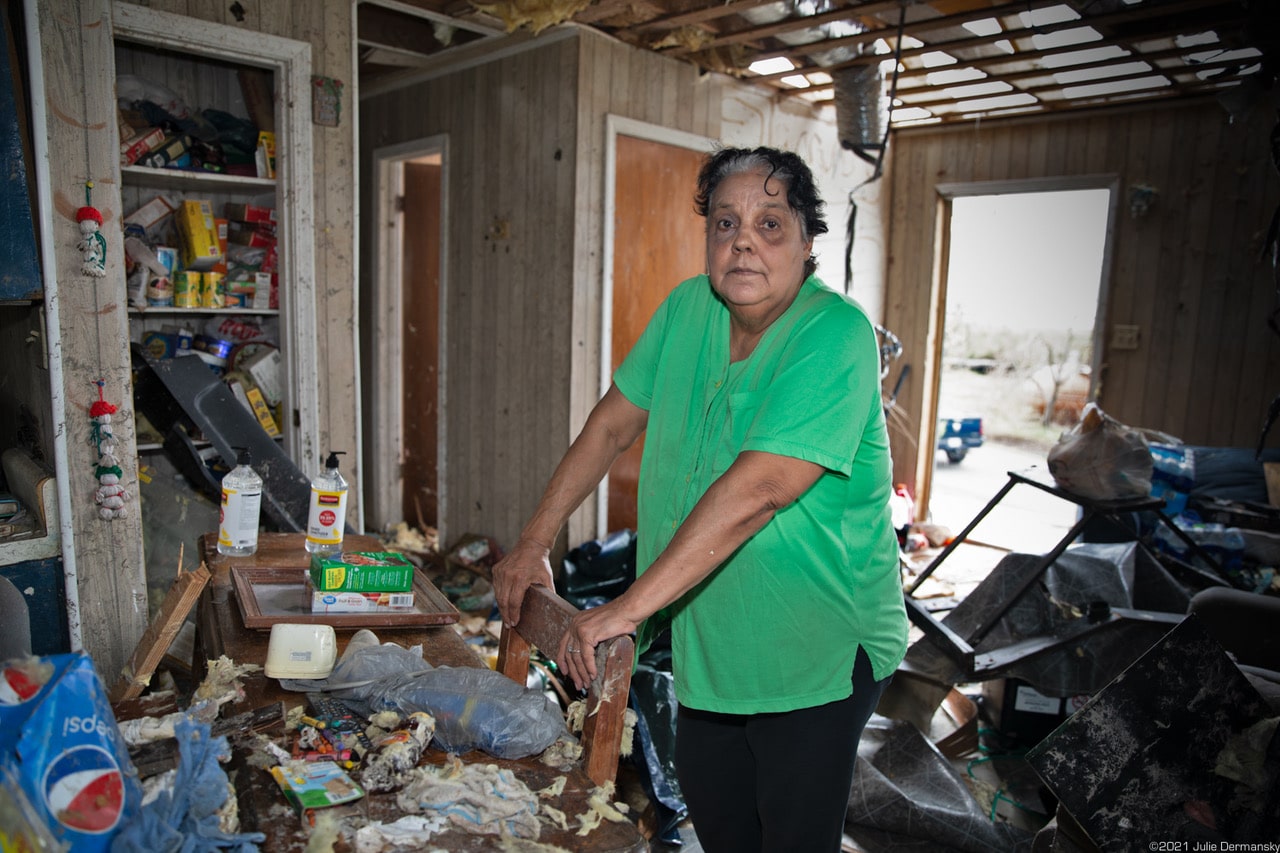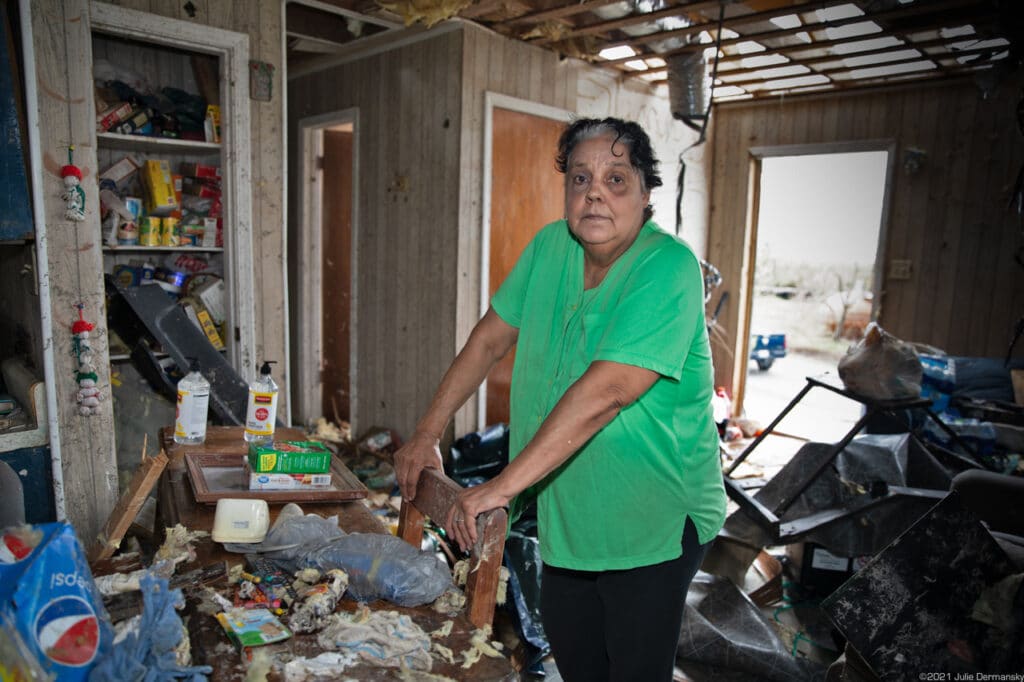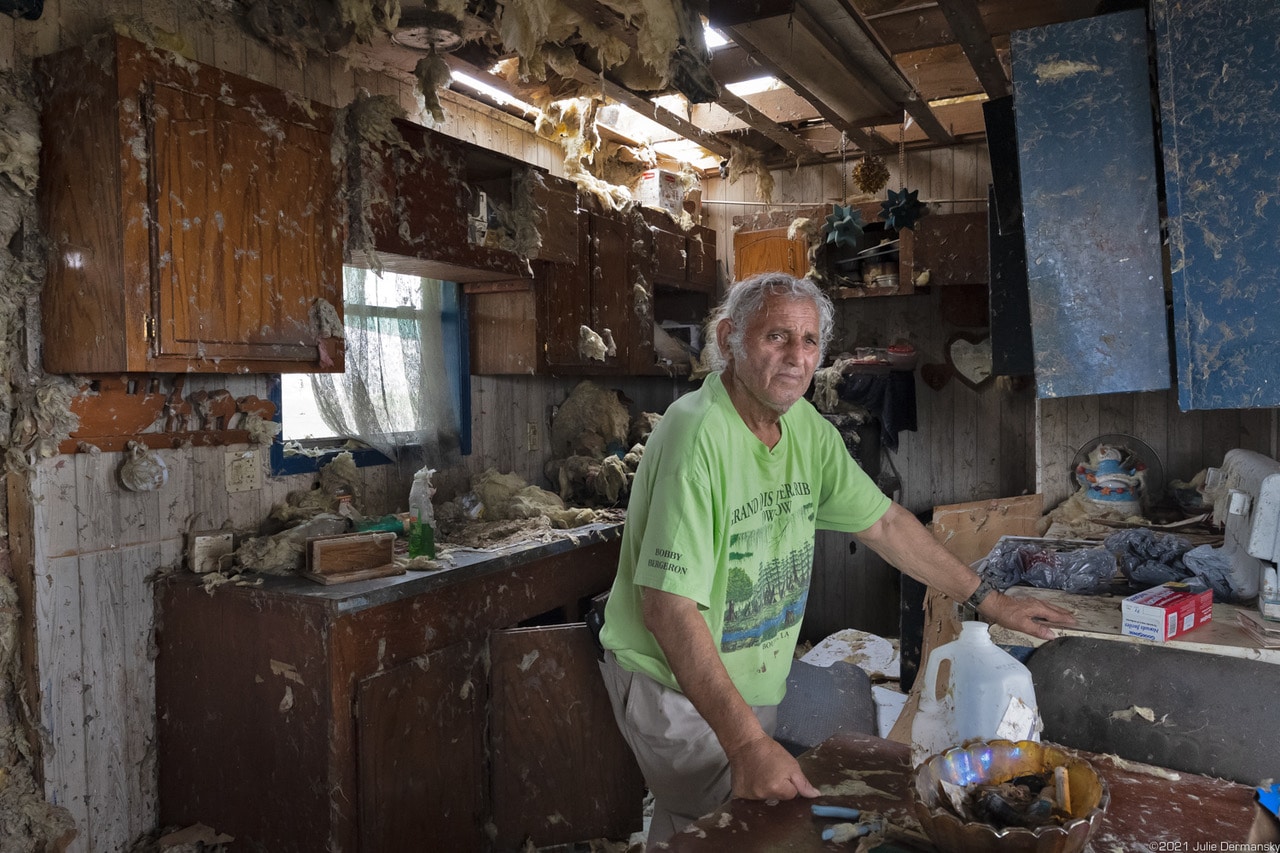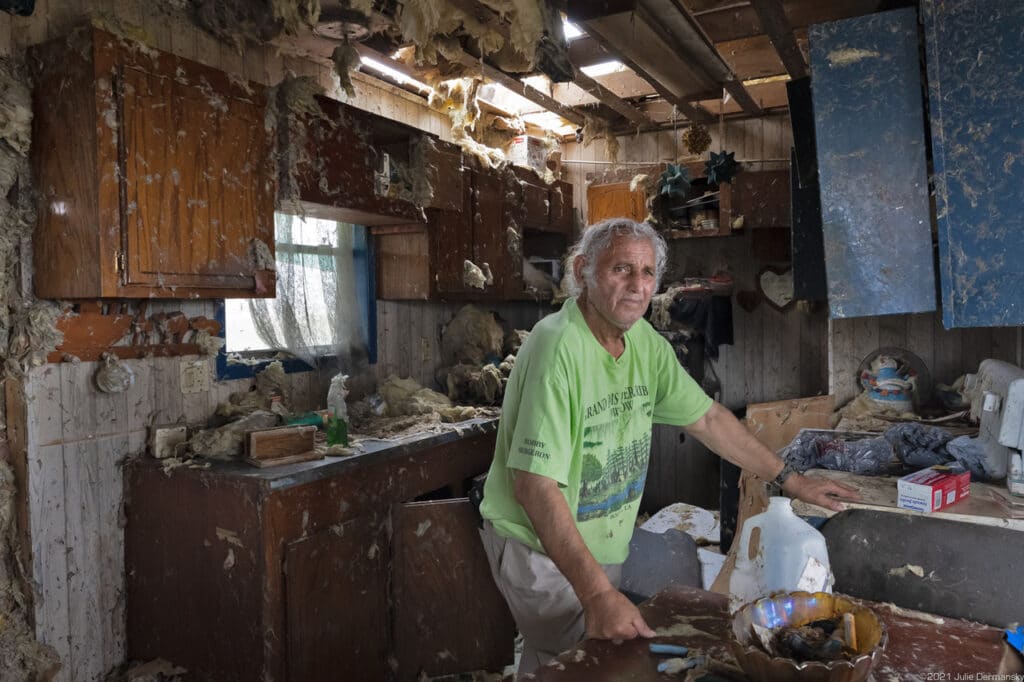 Visiting these Indigenous bayou communities will deliver a crash course in what the buzzword "resiliency" actually looks like. "We are on the front lines and we do have resiliency ideas," Chief Parfait-Dardar said. "We are adapting tribes. We have been adapting for forever, so you would think that we know something about it."
But as she points out, it's a painful process that will only get worse on the current course.
"You know, you can't destroy your Louisiana and not expect to have consequences," she said. "And we are really starting to see those things today, and Louisiana will see a lot more of it in the future if we don't do what we know is necessary and try to protect and preserve the only planet we have."