Ten days after Hurricane Ida hit Louisiana as a Category 4 storm, Wilkie Declouet, a former law enforcement officer, and lifelong resident of Ironton, posted photos to social media of coffins and tombs scattered around his neighborhood.
Earlier that day, local officials were telling residents that the town was still inaccessible, but Declouet knew better than to take what they said on face value and checked for himself — and found a way back in. Like the rest of the community, he evacuated before the storm hit.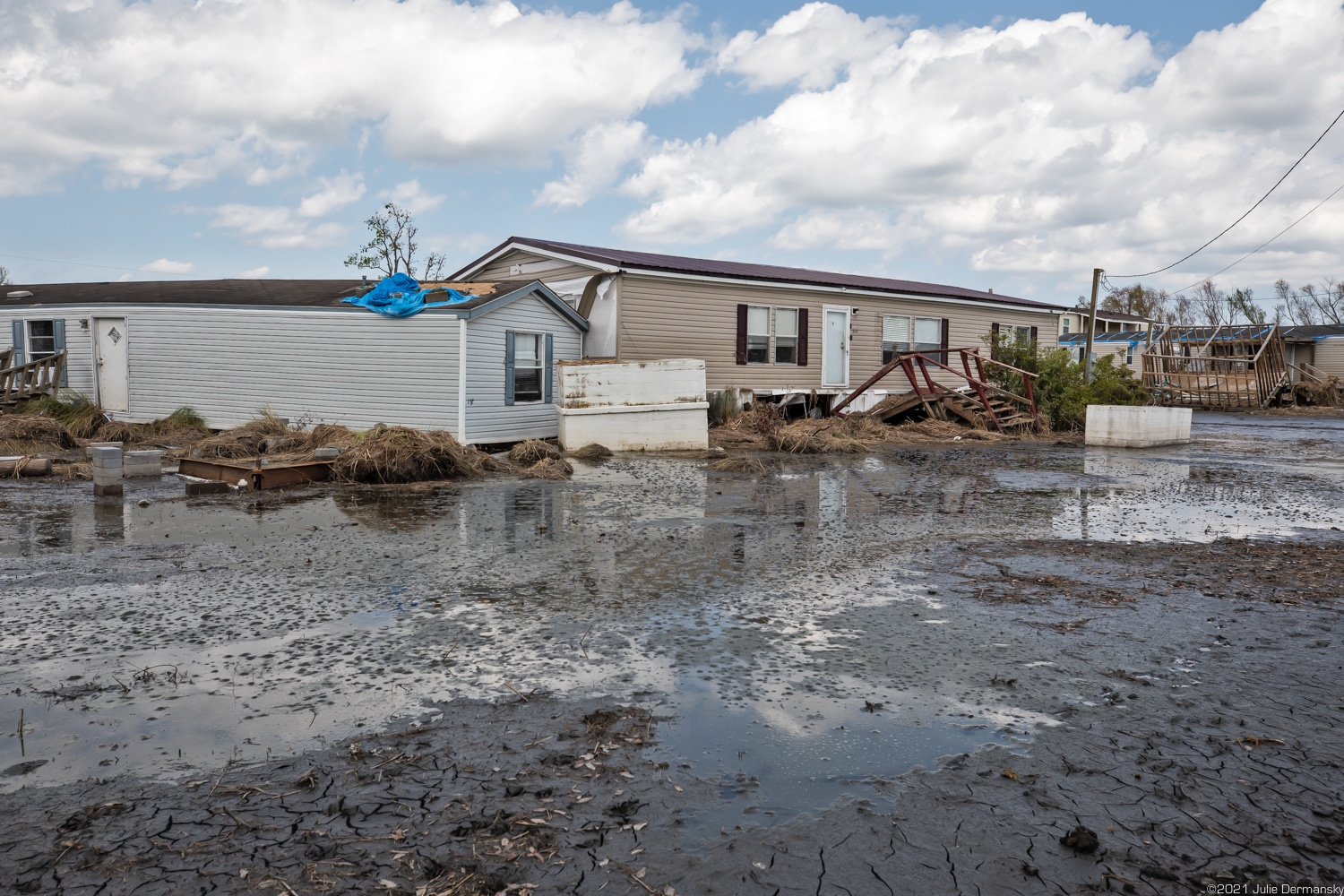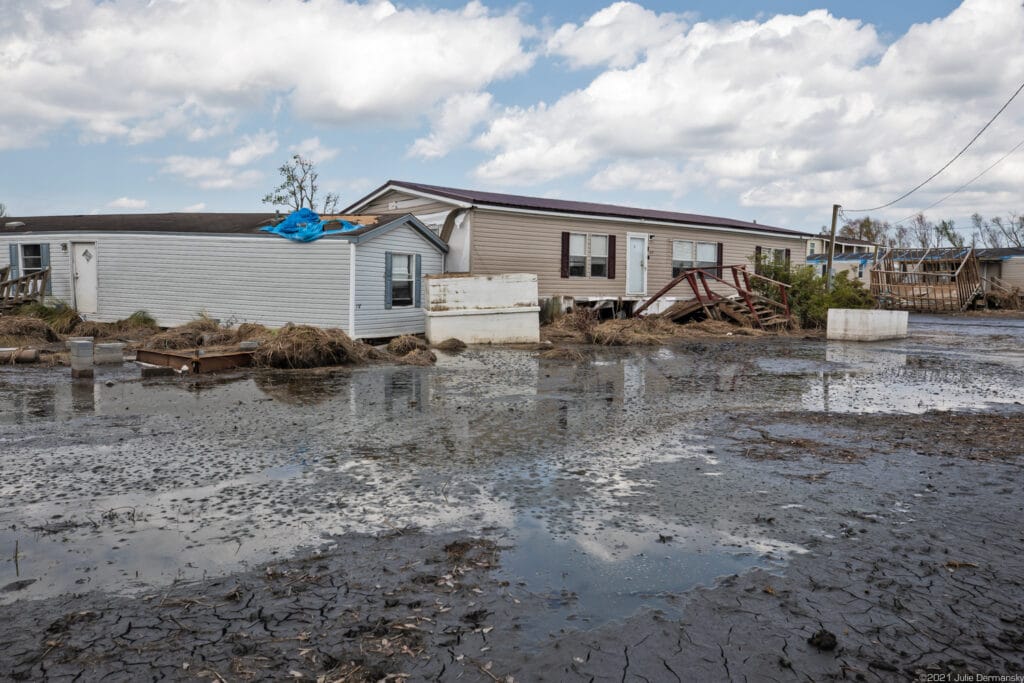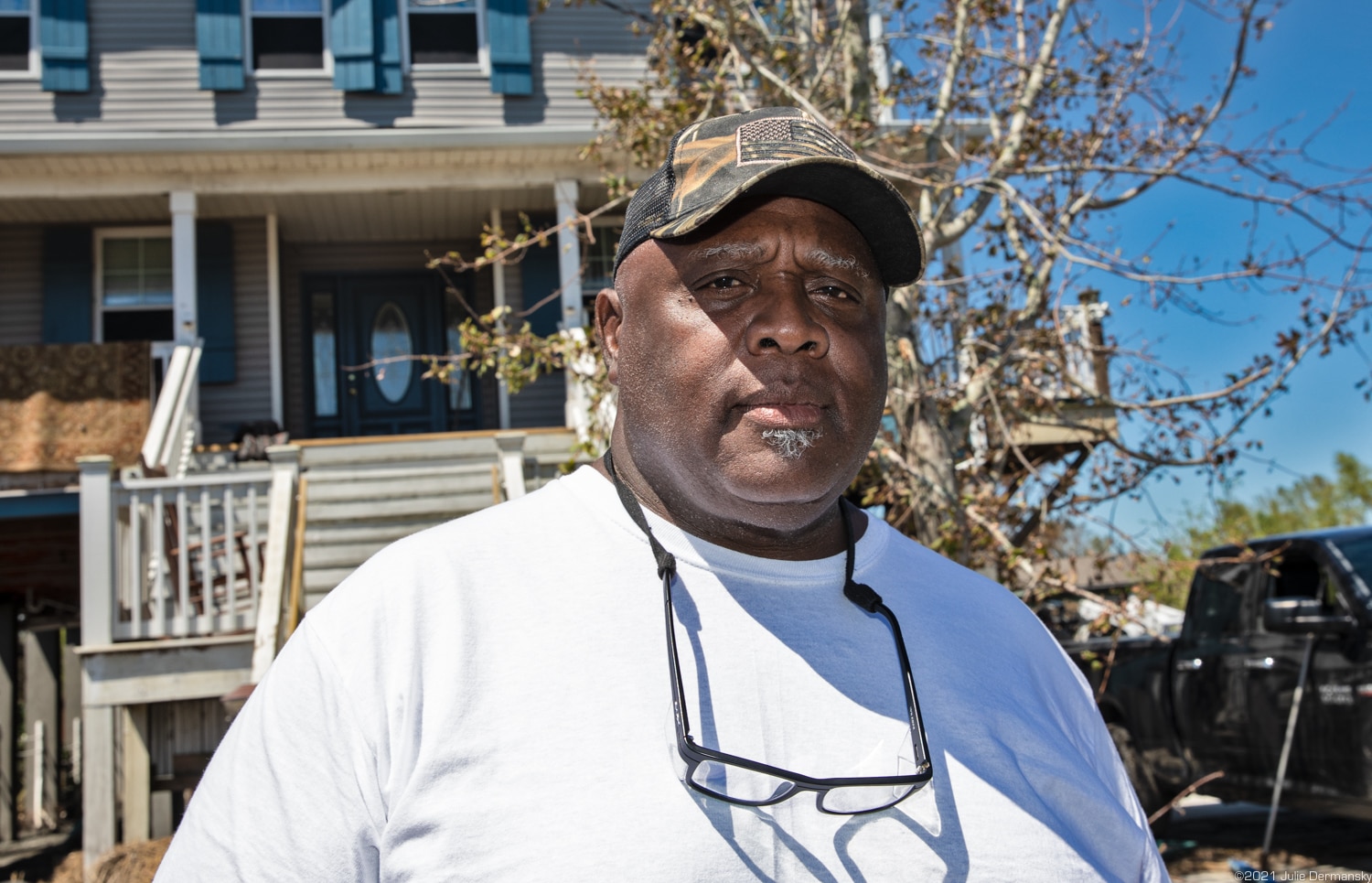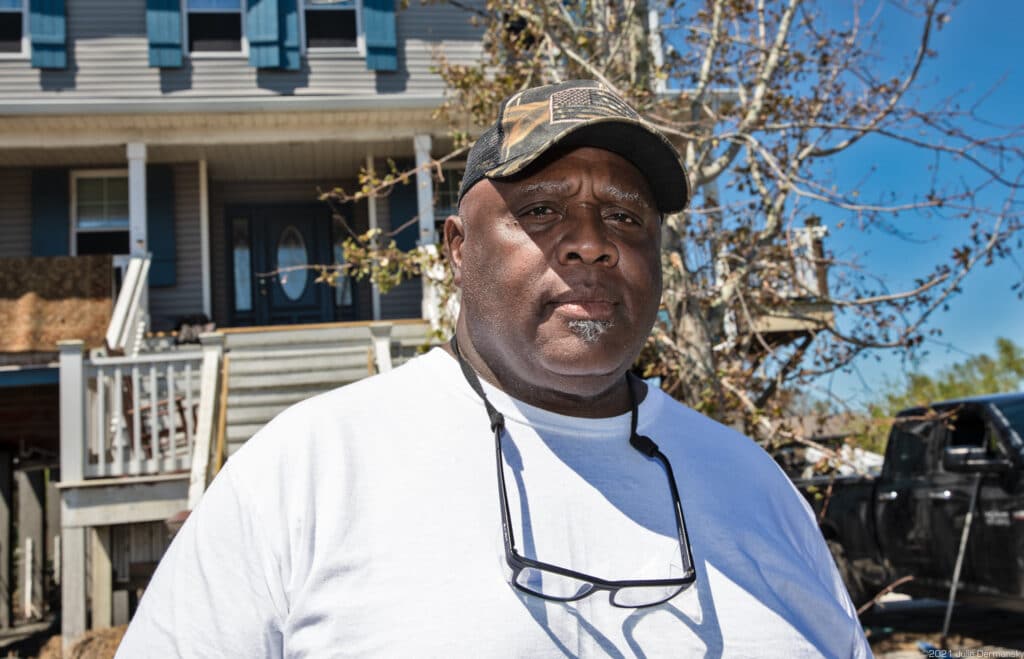 Ironton, a small town made up of about 52 black families, 30 miles south of New Orleans, is the kind of place Andrea Declouet, Wilkie's wife, describes as an idyllic place to raise one's children. "Everyone knows everyone else and we all share common values and a strong sense of morality connected to the church," she told me. "It is a safe place to live," she added, when it is not being impacted by storms intensified by climate change.
On September 9 Wilkie Declouet enlisted the help of Ironton resident Kornell Davis and Nelson Manuel, a former resident who lives nearby, to start clearing the streets.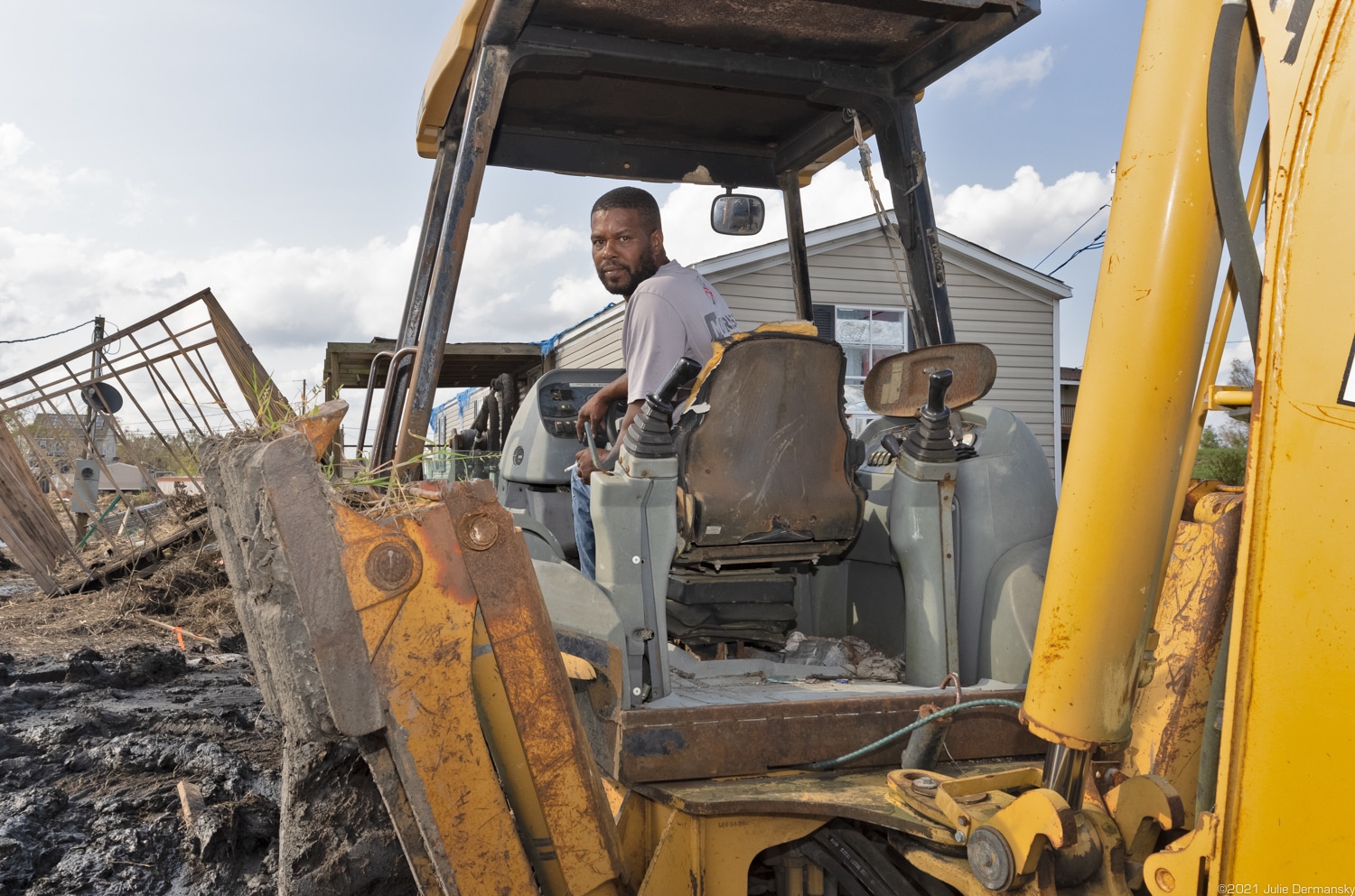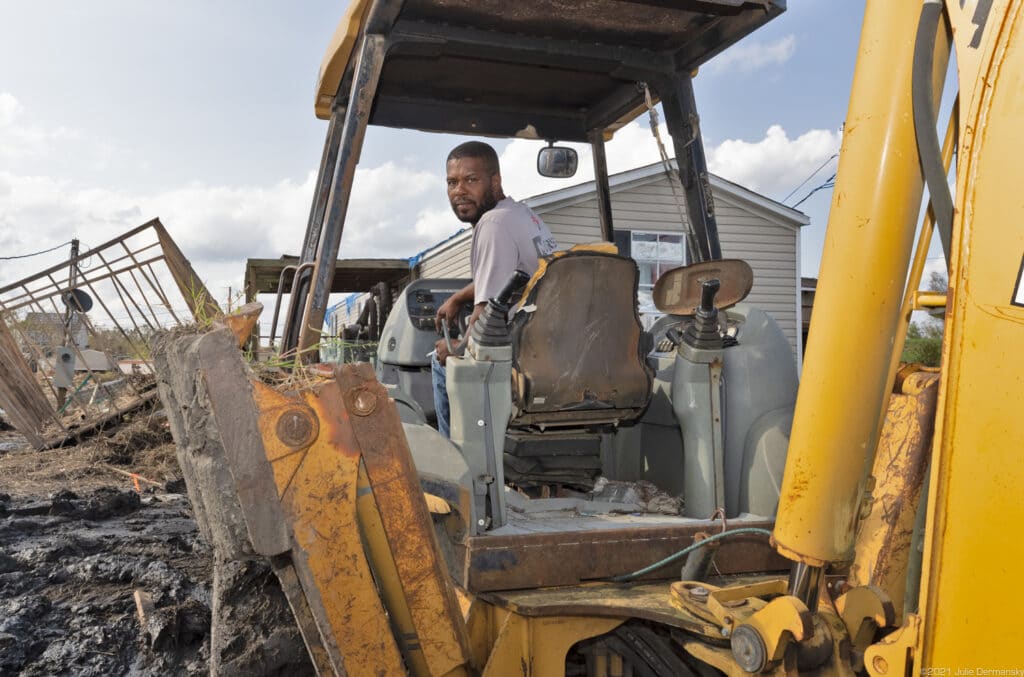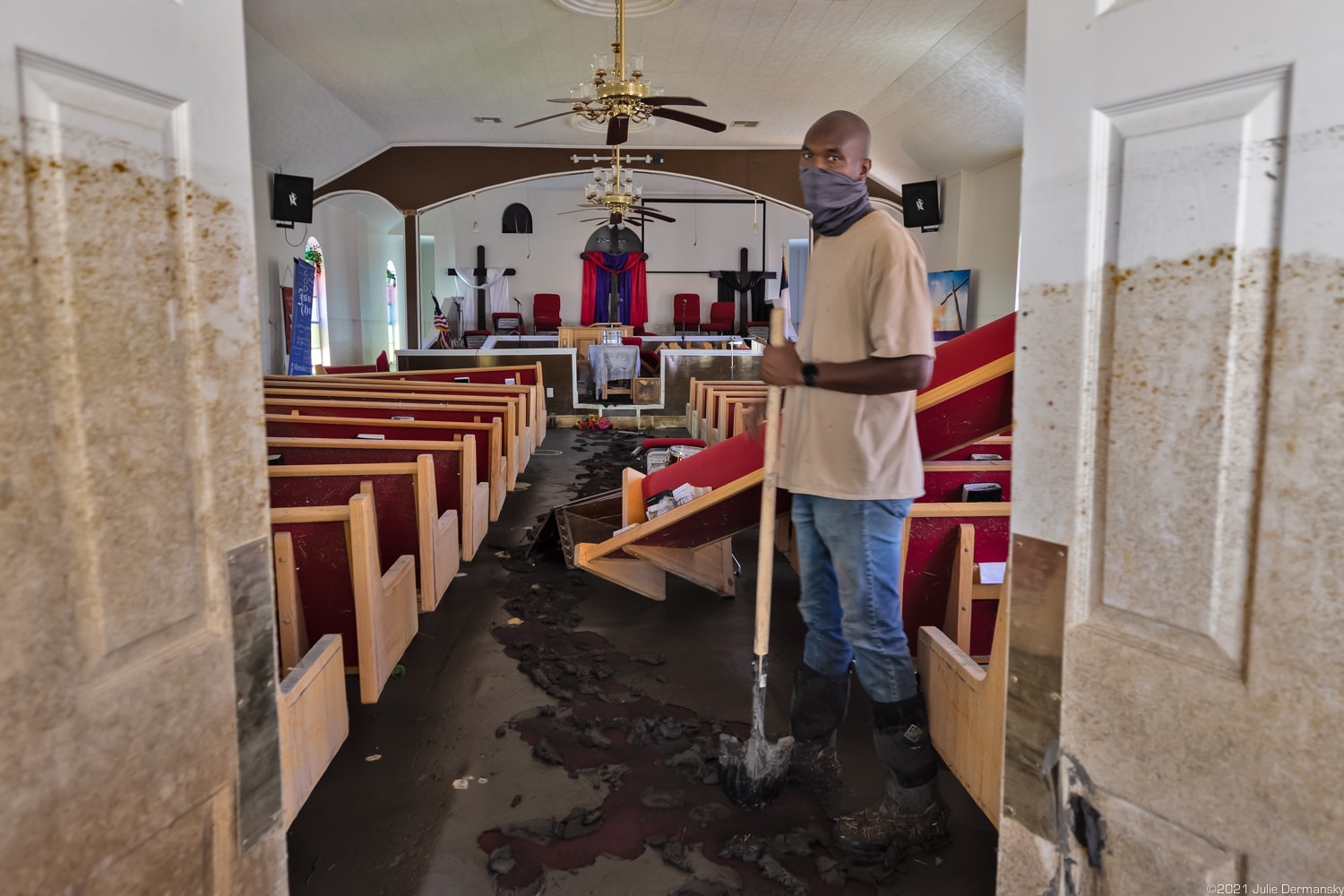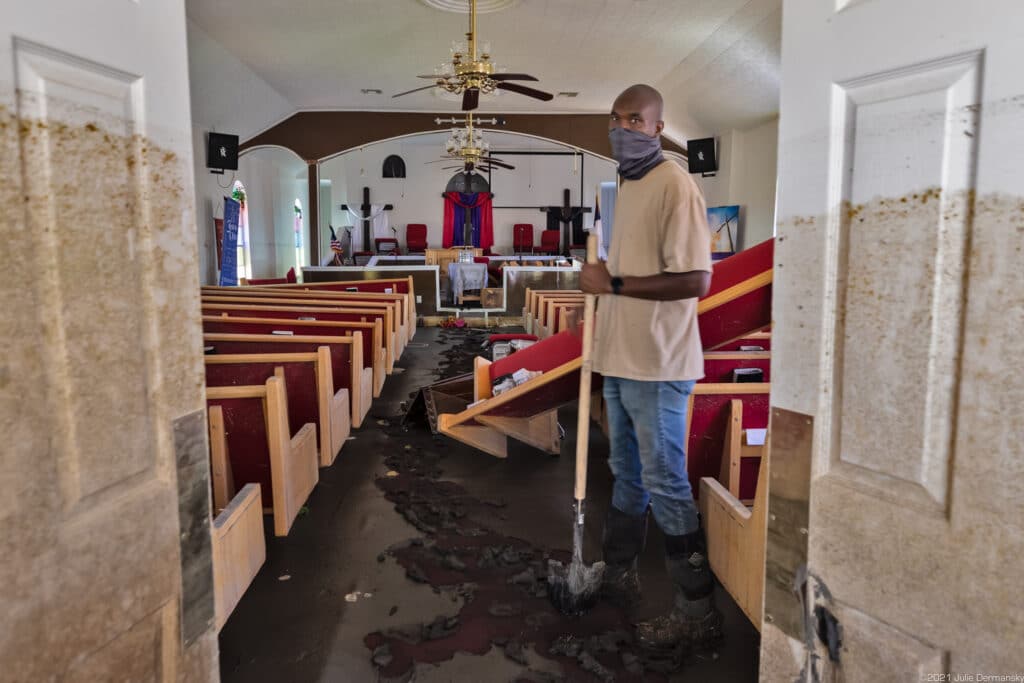 Taking care of their town instead of waiting for help to come was nothing new for them. Hurricane Katrina in 2005 and Hurricane Isaac in 2012 also devastated Ironton. The community thinned out a bit after Katrina, Andrea Declouet said, and some chose not to rebuild after Isaac, but most people remained. She expects that to happen again despite the extensive damage left in the wake of Hurricane Ida.
Manuel made his way to Ironton via highway 23, the only thoroughfare that runs nearly the entire 70-mile length of the peninsula that makes up Plaquemines Parish. On one side of the peninsula is the Mississippi River, while on the other side is marshland that leads into Barataria Bay.
He turned onto Ironton Road, which leads into the front of the town. While the road was still covered in a couple feet of water, Manuel was able to drive through it, proving that if you have a tall vehicle the town was accessible from the front and the back, where the levee is. Once on higher ground, he used a bobcat to push tons of mud, marsh grass, and debris off the roads.
He was careful not to disturb anyone's property or the coffins and tombs that were dislodged and dispersed around town by the 12-foot surge that inundated Ironton when Hurricane Ida struck. Vehicles, sheds, and all sorts of personal property were also scattered throughout Ironton and some of the homes were also dislodged from their foundations.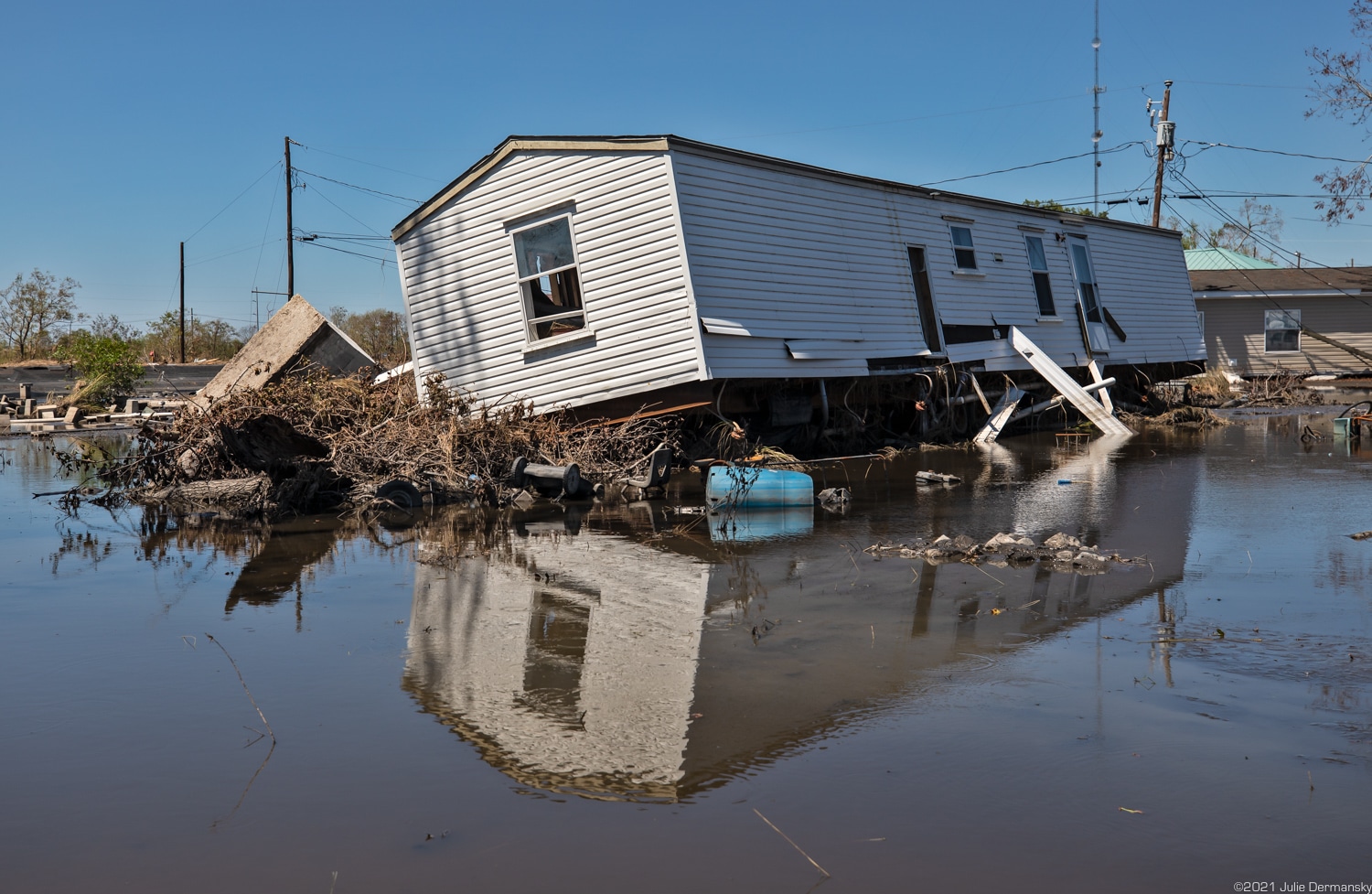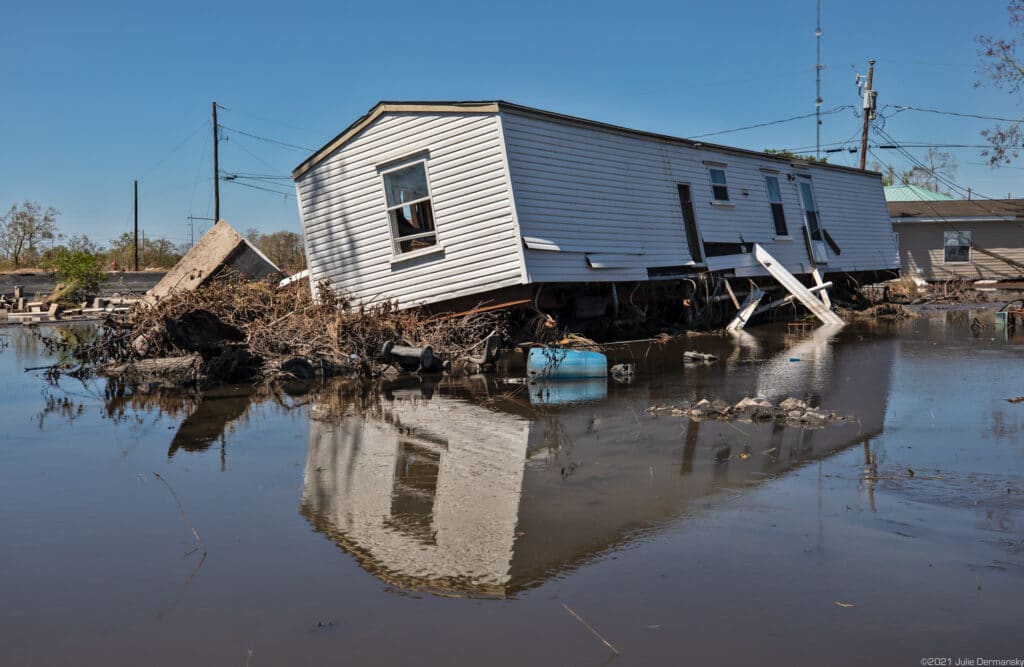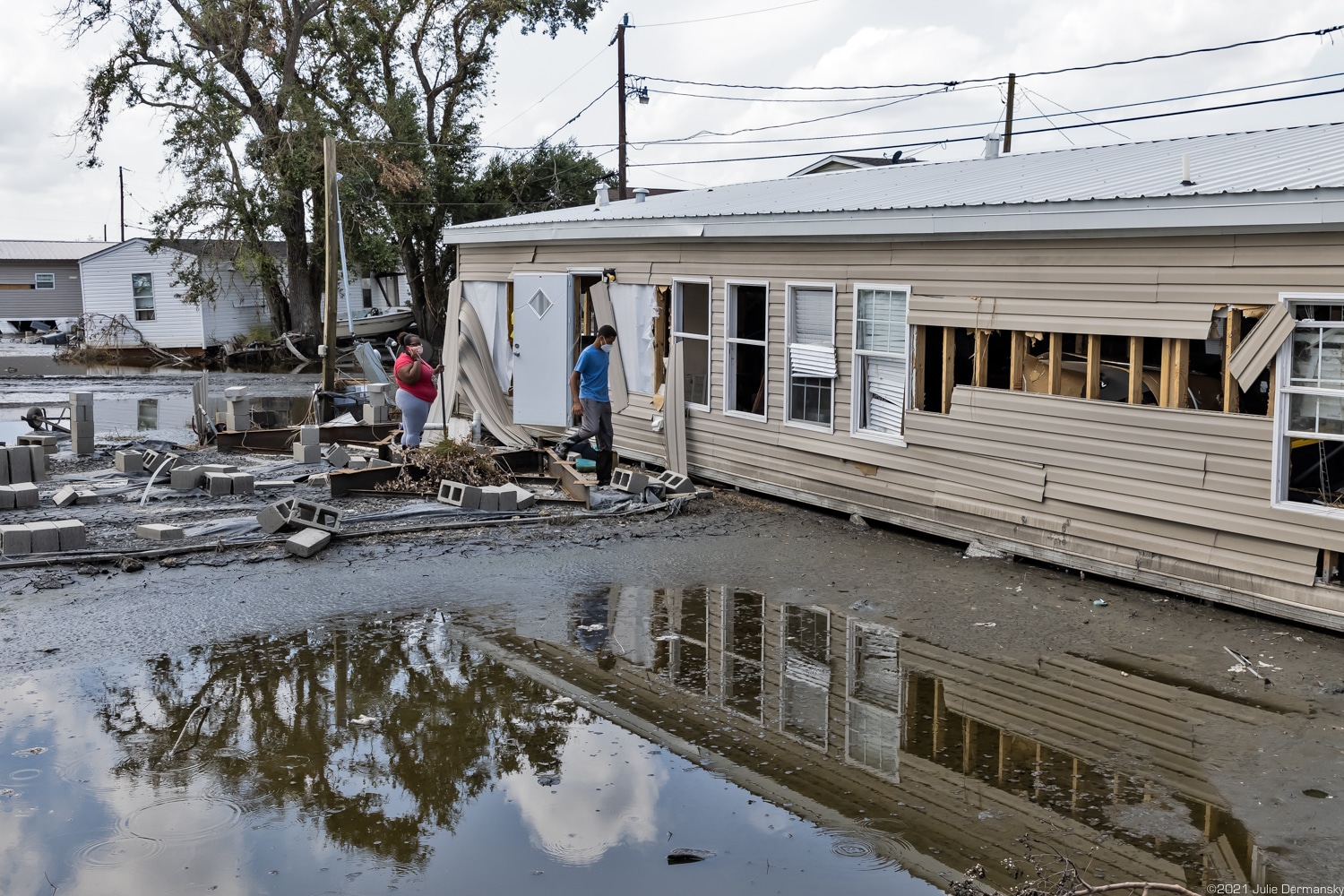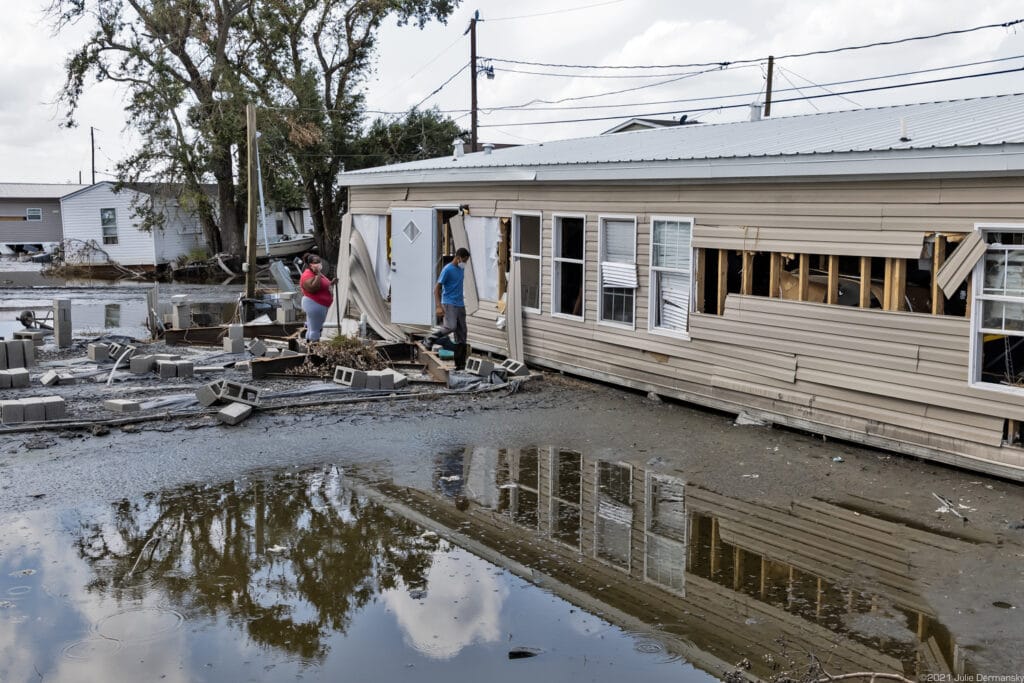 "The flood water stayed because Ironton is like a bowl," Manuel explained. To get rid of the water, parish officials strategically broke holes in the levees on the marsh side of town, letting the flood water flow into Barataria Bay.
The Declouets are adamant that destruction in Ironton was unnecessary — and they are not alone. Everyone in Ironton I spoke to believes that if the government had built adequate levees to protect them, which they have been fighting for since Hurricane Katrina, the catastrophic flooding in Ironton and Pointe à la Hache, another mostly Black community just south of Ironton, would have been prevented.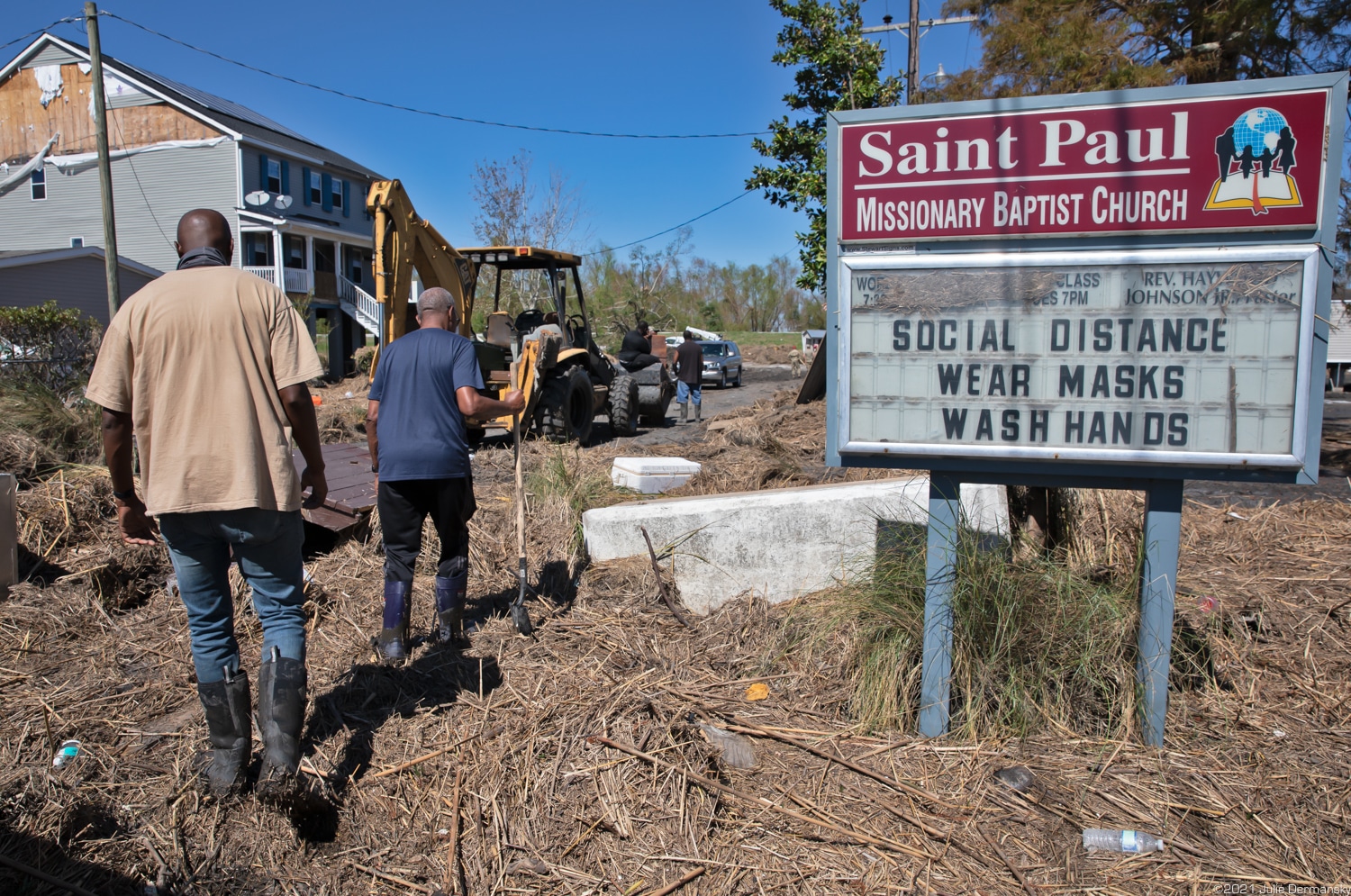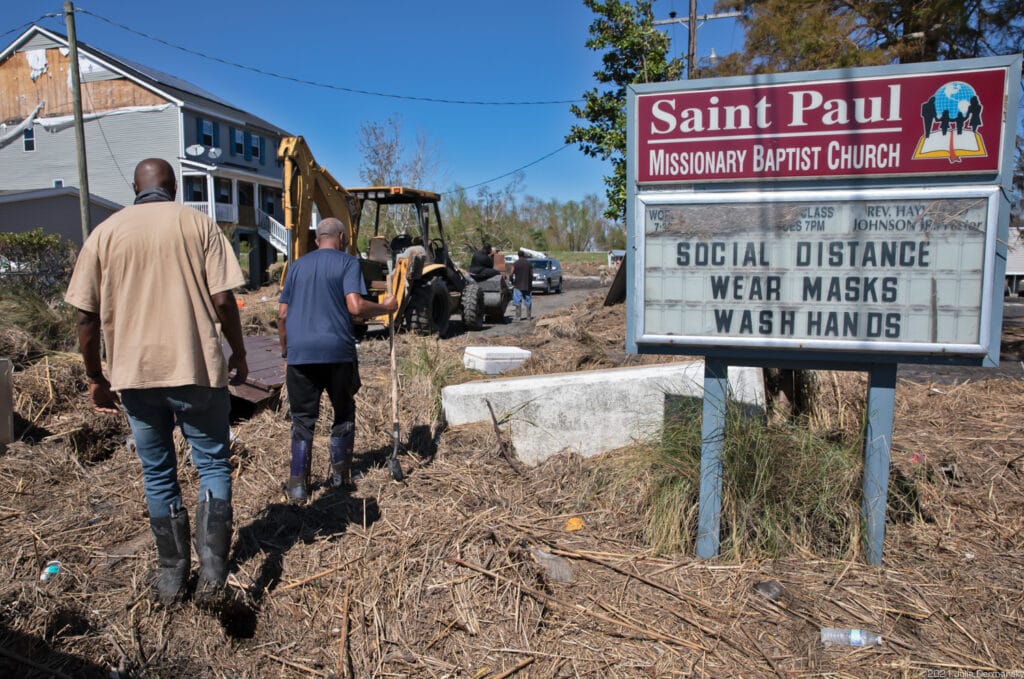 Audrey Trufant Salvant, a former Plaquemines Parish councilwoman, says she sees the destruction in Ironton as resulting from a manmade disaster, not purely a natural one. "This could have been prevented years ago, but it's due to discrimination and the history of this parish that we're in the predicament that we're in today."
She blames the U.S. Army Corps of Engineers for deviating from a plan for levee protection made after Katrina that would have protected the part of the parish that flooded the worst. Environmental racism, she says, is absolutely to blame for the catastrophic destruction in Ironton and Pointe à la Hache that occurred when Ida hit. Both towns are the only two predominantly Black communities in the parish and both lack adequate levee protection — rendering them the most vulnerable places in the parish affected to Ida's wrath.
The U.S. Army Corp of Engineers did not get back to me before publication with a response to accusations that environmental racism has played a role in the area being more vulnerable than other places in the parish due to inadequate levees.
Louisiana's lieutenant governor, Billy Nungesser, a former Plaquemines Parish president rumored to have his sights on the governor's office, described the area as a "war zone." Nungesser himself still owns a large house with a giant elephant statue that is for sale; you can it see from highway 23 between the destruction in Ironton and Pointe à la Hache. His home did not appear to sustain major damage.
Nungesser is advocating for land to be built-up higher than flood levels and levees that can withstand future storms. Residents, however, remain skeptical.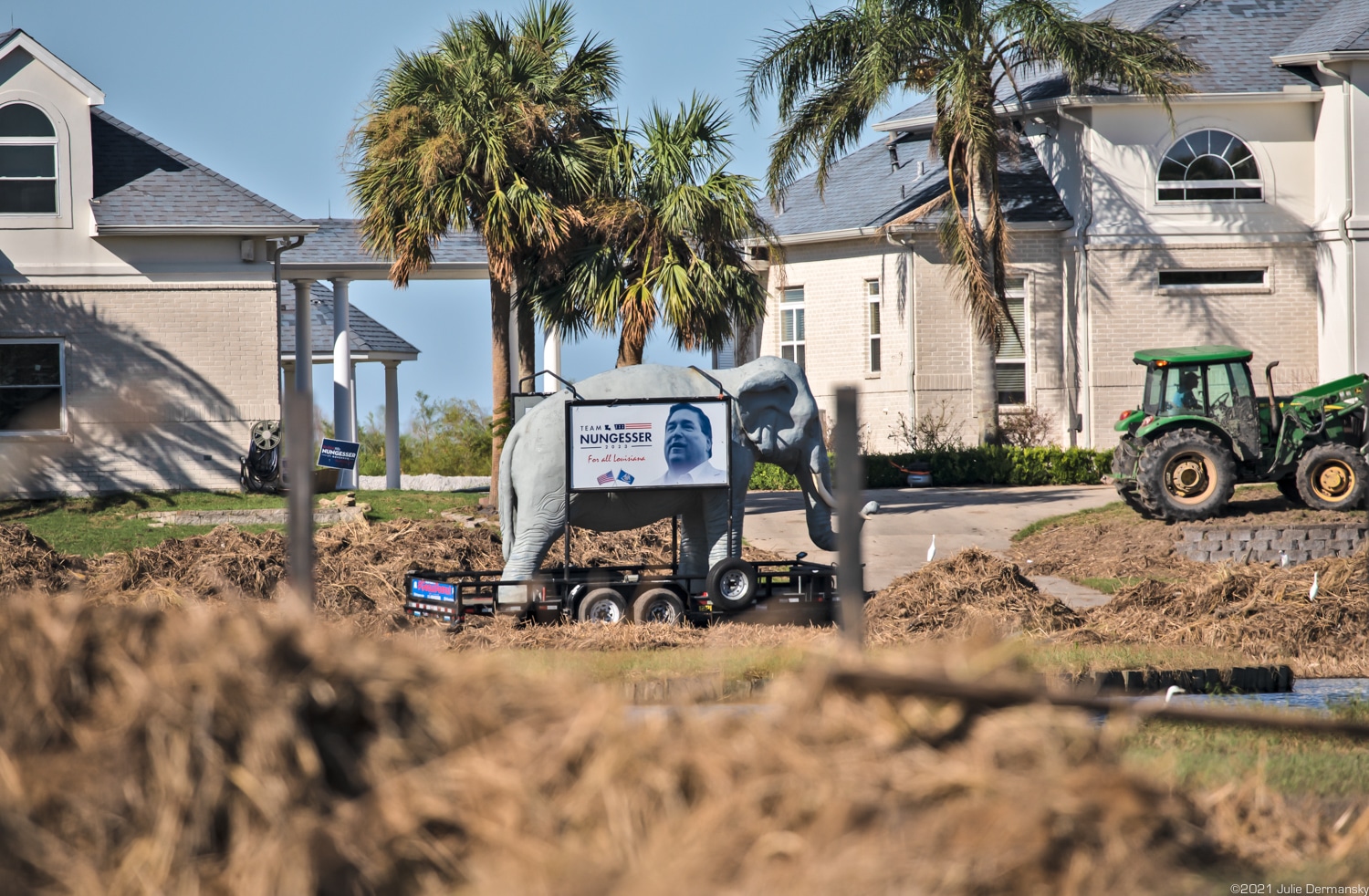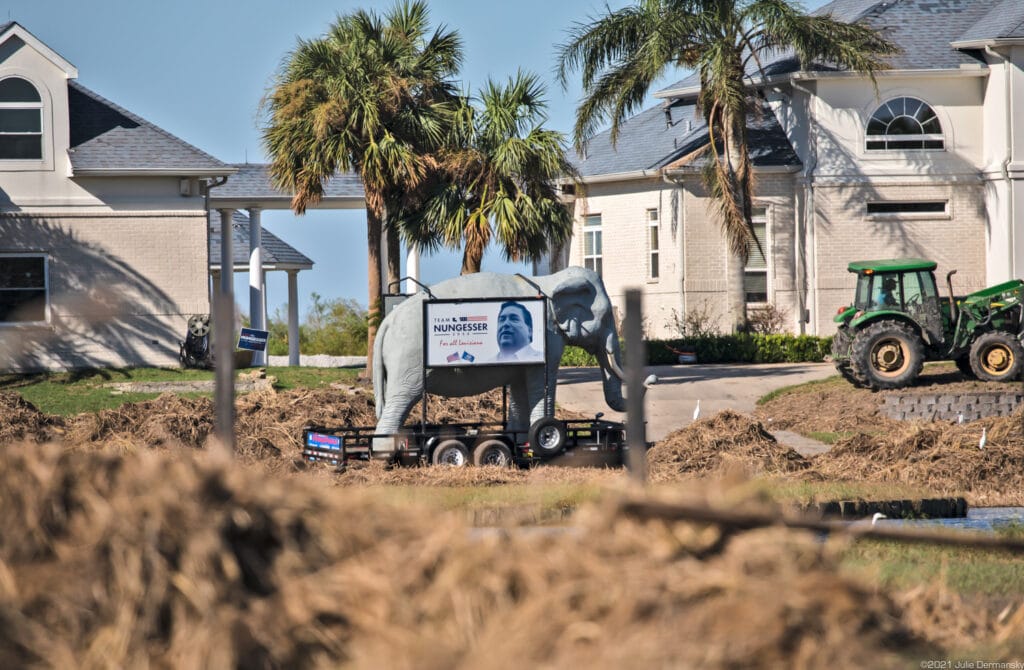 Some Ironton residents see Nungesser's concern for the area as grandstanding. Wilkie wonders what happened to the hundreds of millions of dollars provided by the federal government after Katrina for fixing the levees when Nungesser was parish president.
Plaquemines Parish is home to the last stretch of the Mississippi River before it reaches the Gulf of Mexico, making it a favorable location for oil refineries that rely on the shipping lanes for moving their product, as well as fishermen due to its rich estuary. As a result, conservationists are often pitted against fossil fuel industry leaders, who tend to help industry-friendly politicians get elected.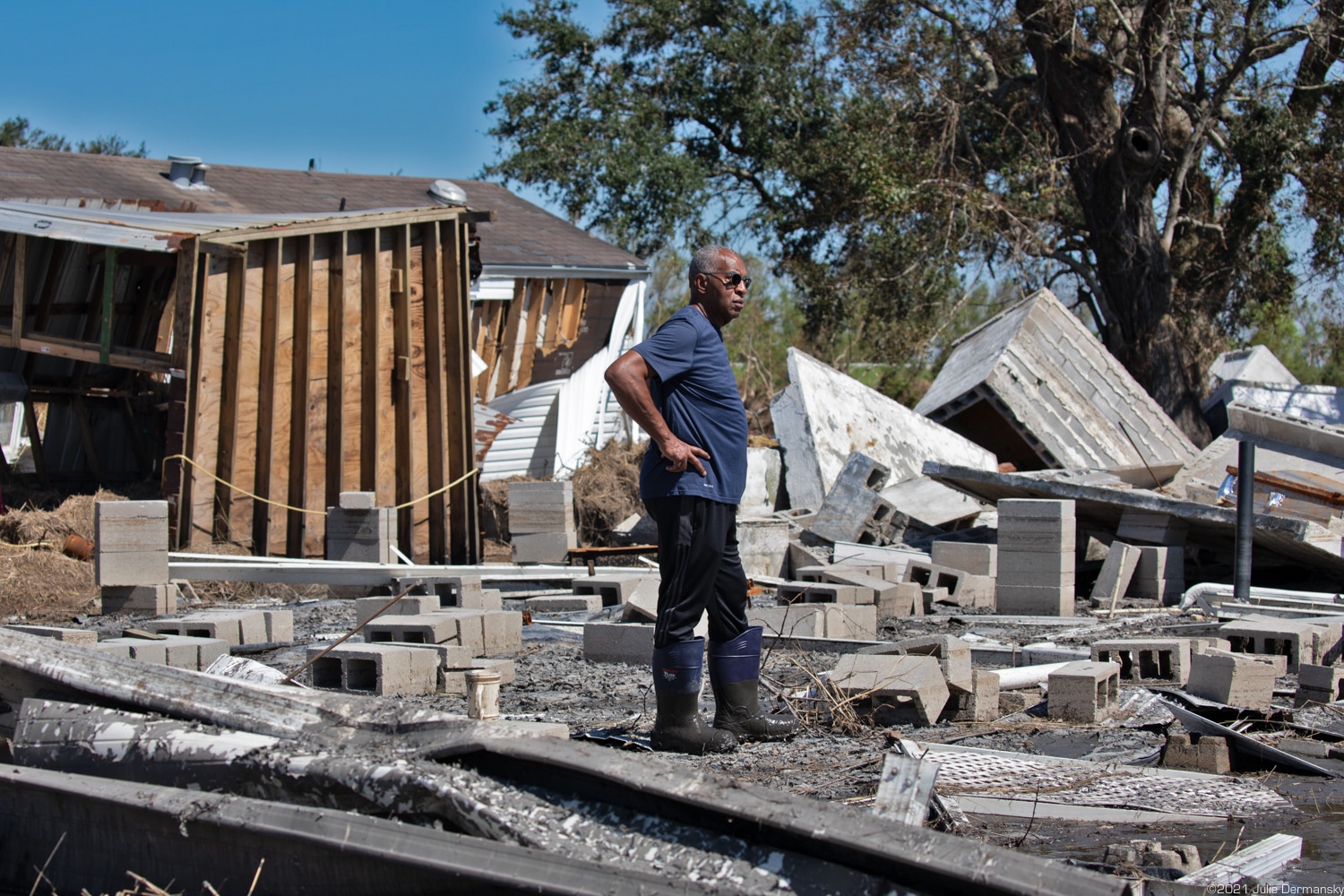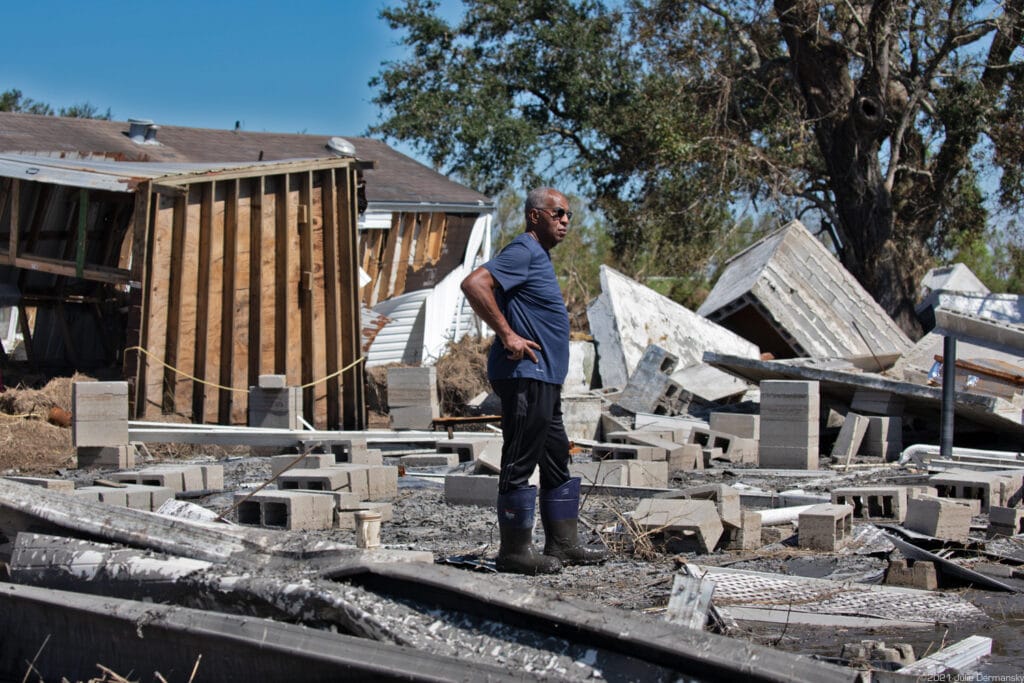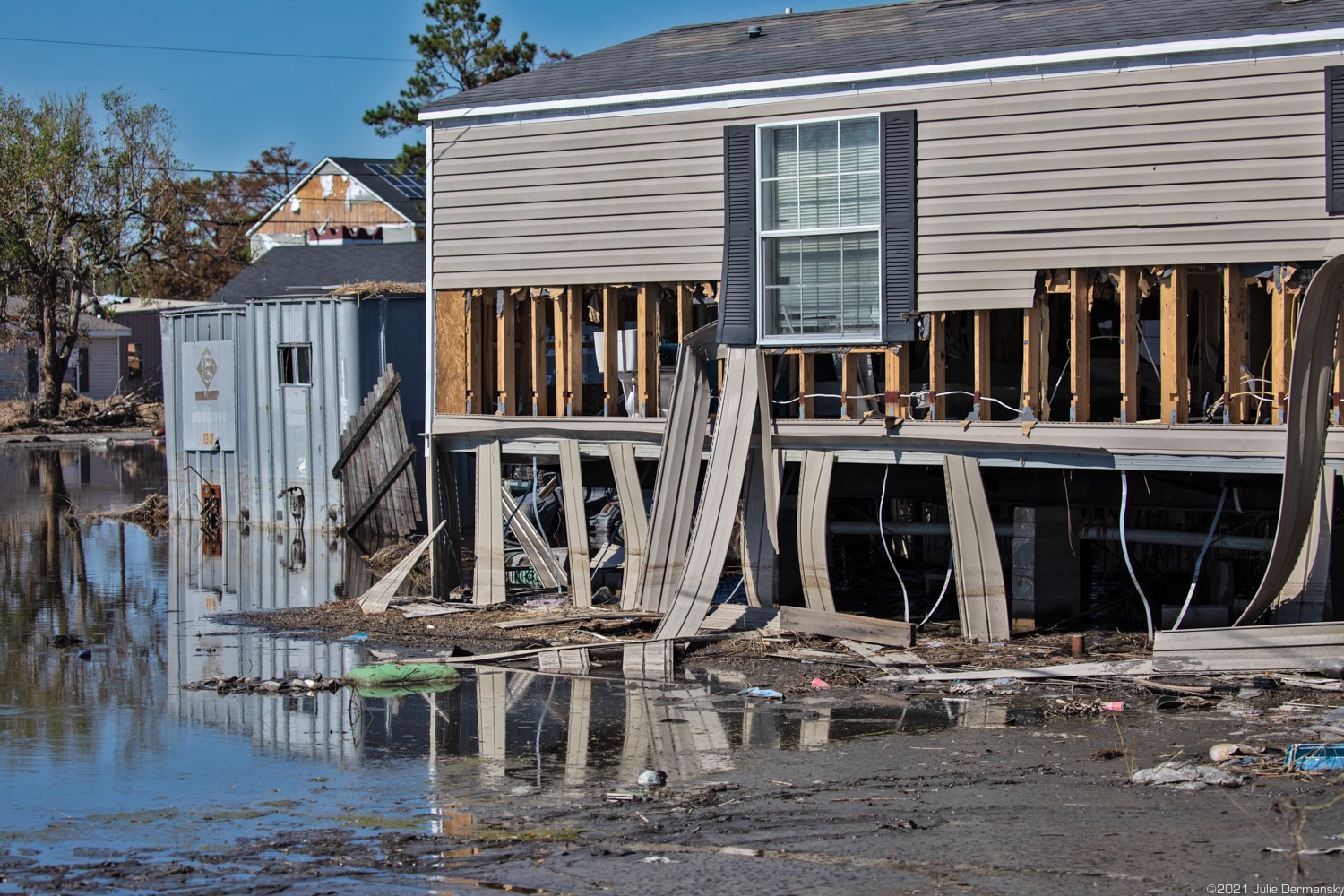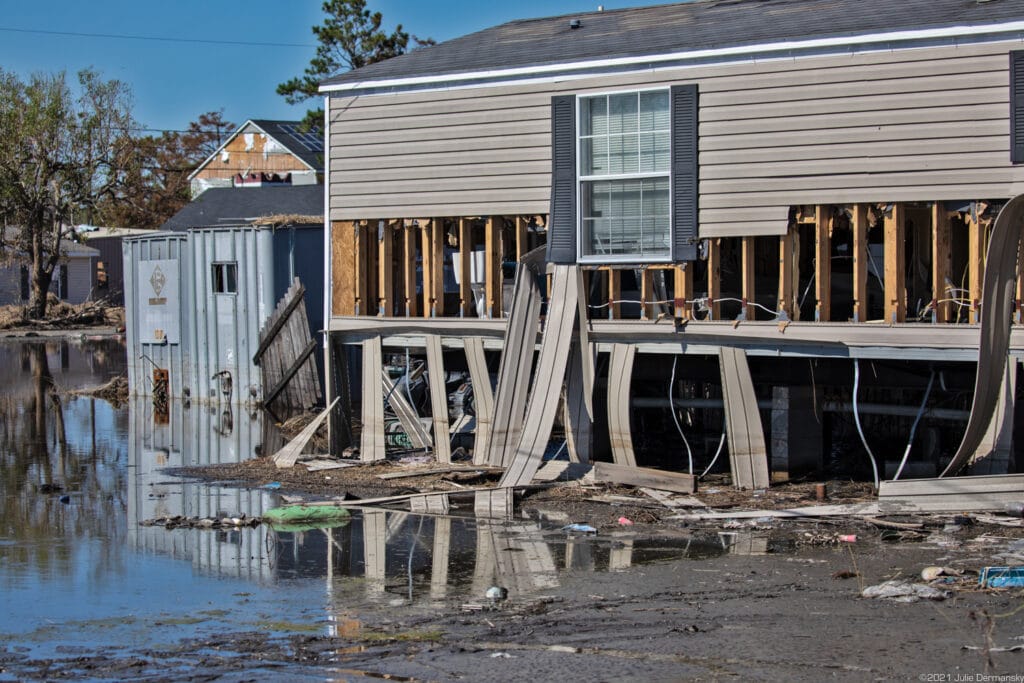 Shortly after Declouet posted disturbing images online of the condition that Ironton was in after Hurricane Ida and proved that the area was accessible, Plaquemines Parish President Kirk M. Lepine showed up, flanked with members of the national guard, accessing town from the backside near the levy.
By the time Lepine arrived Manuel had already cleared most of the streets on his own. Manuel told me that Lepine thanked him, but warned him to be careful of private property and instructed him to let the national guard unit that was with him from Florida know what the most pressing work was that still needed to be done.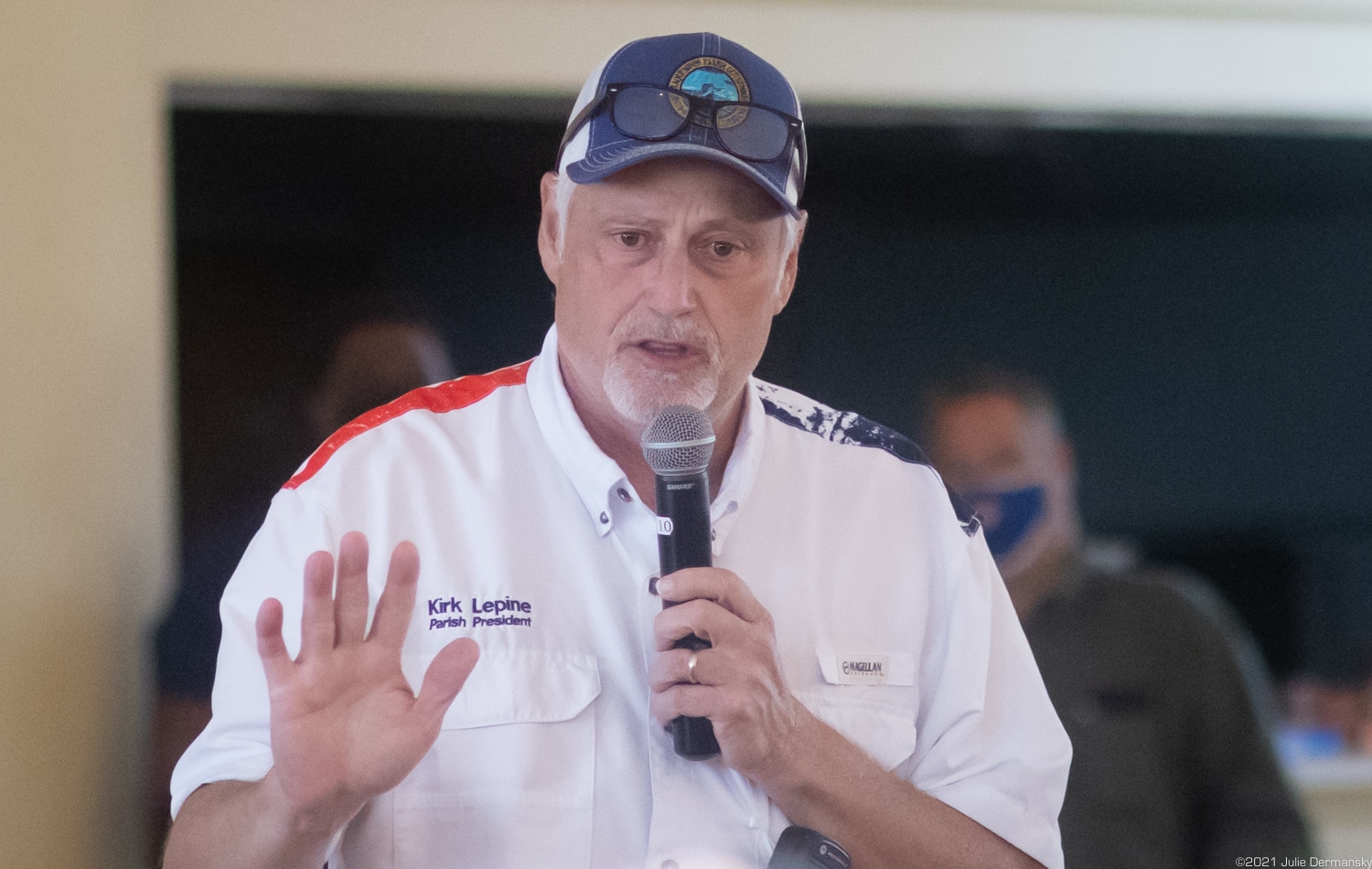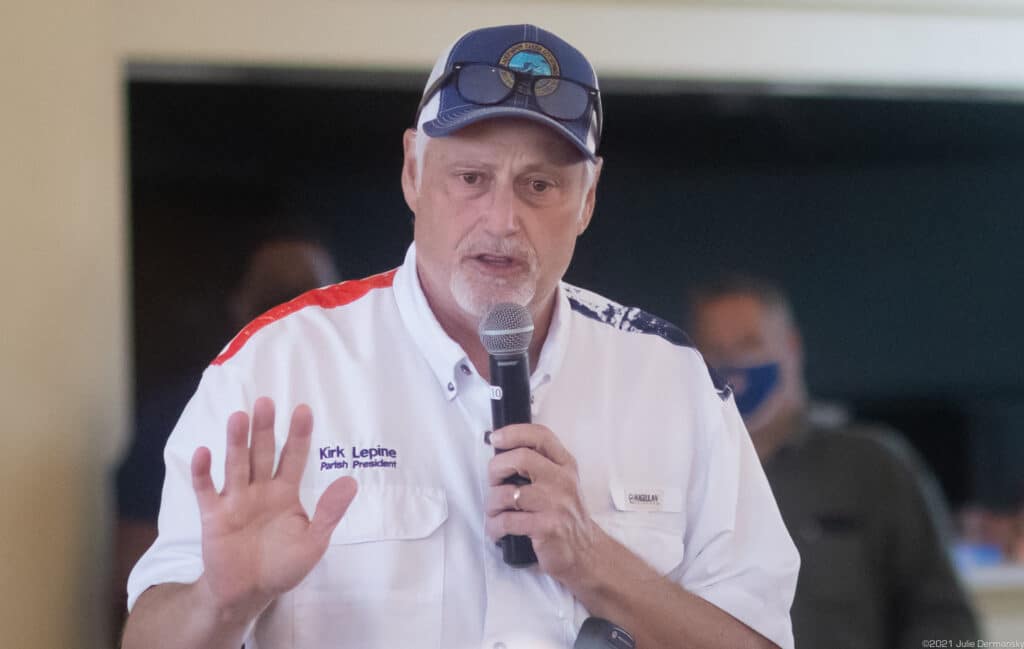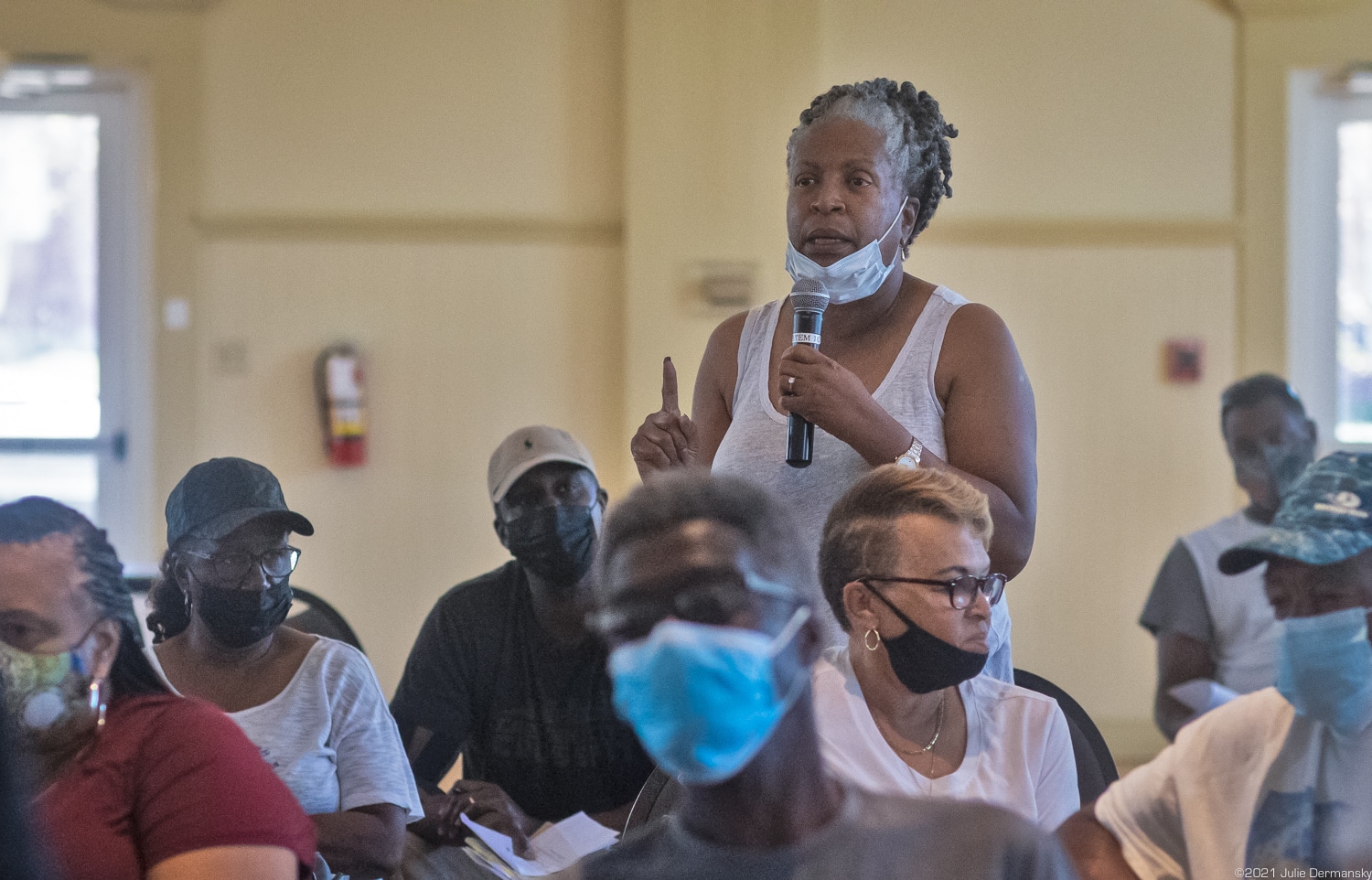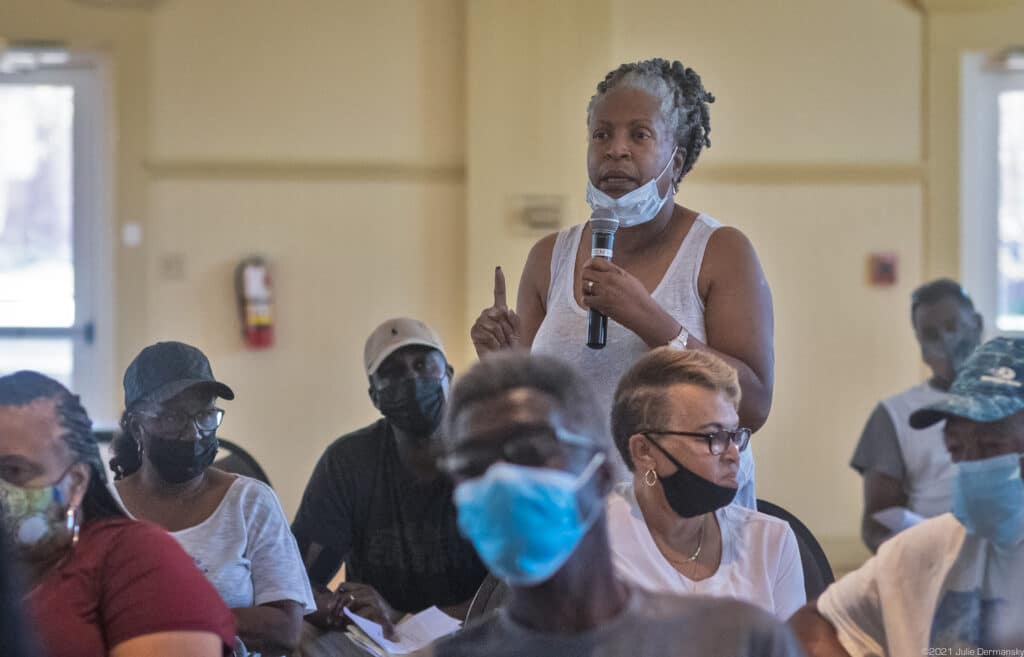 A couple of days later, on September 11, parish officials held a community meeting for residents of Ironton and Pointe à la Hache in Belle Chasse, located just a few miles north of Ironton, where power had already been restored. At the meeting, Lepine read a letter he wrote to President Biden to a nearly packed room filled with residents seeking information about the parish's plans to make it possible for them to start recovering from Ida.
Lepine's letter calls on the Biden administration to provide temporary housing and other resources for the 405 residents in Ironton and Pointe à la Hache that the parish identified as in need of help. He also called for better levy protection to be built for the area in order to prevent this destruction from happening again.
Ironton was established in the 1800s by freed slaves who worked at the St. Rosalie plantation just up the Mississippi River. Residents of this historic Black community are used to fighting for what they need. The community has had to fight for basic services all along, only getting running water in 1980.
Though they managed to rebuild after Hurricanes Katrina and Isaac, residents know they are reliant on help from the parish and the federal government now because only the government can build the levee protection that is needed, as it has done for communities in the parishes to the north and south of Ironton.
At the meeting, officials went over the logistics and next steps to start the recovery process. Ryan M. Seidmann, the head of the Cemetery Response Task Force, asked for patience as they remove the coffins and tombs from the roads and private property. The task force plans to move them to a safe area where residents can identify them, explaining that it is a slow process that must be done right. He encouraged residents to file for FEMA benefits because FEMA will likely cover the reinterment of their loved ones.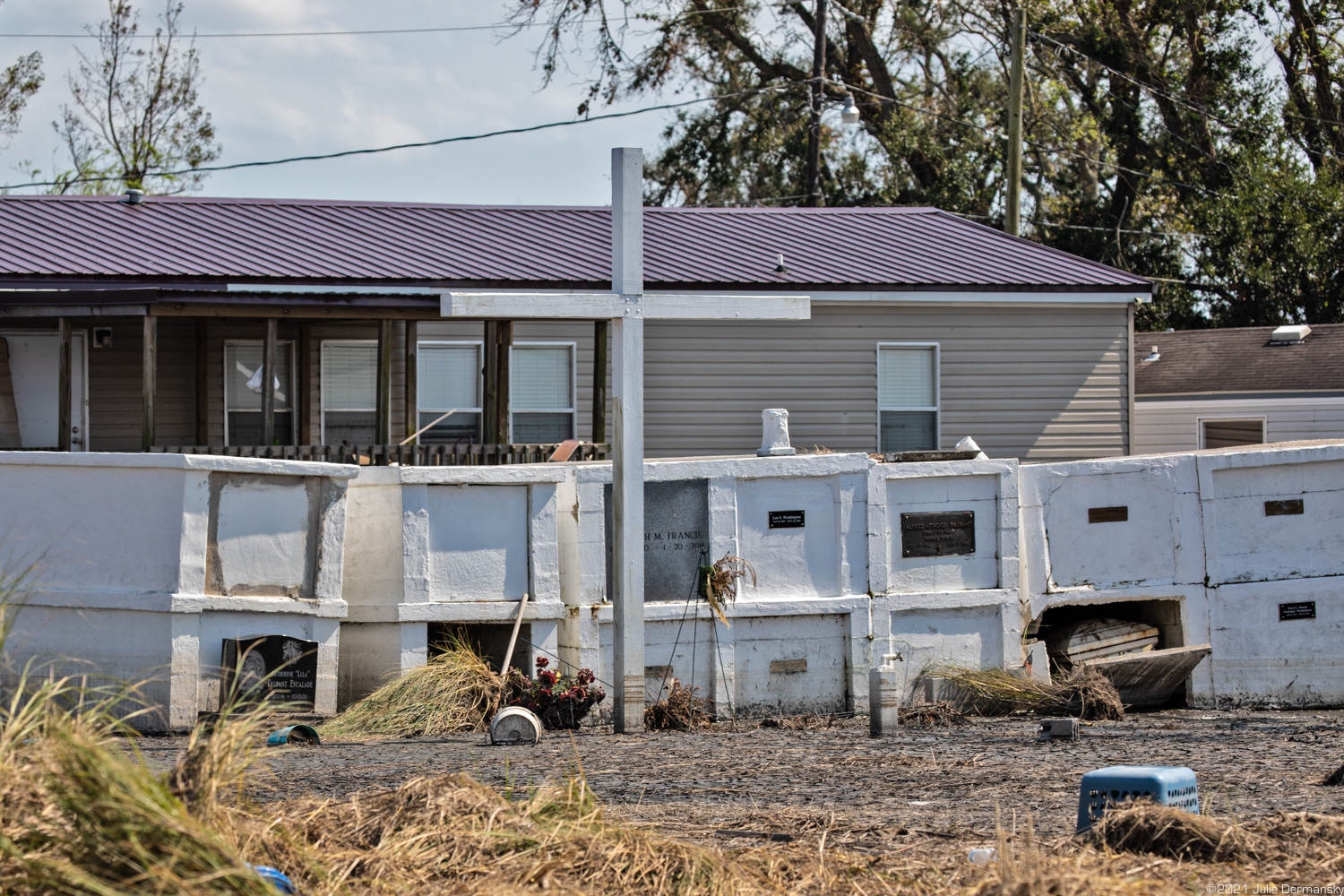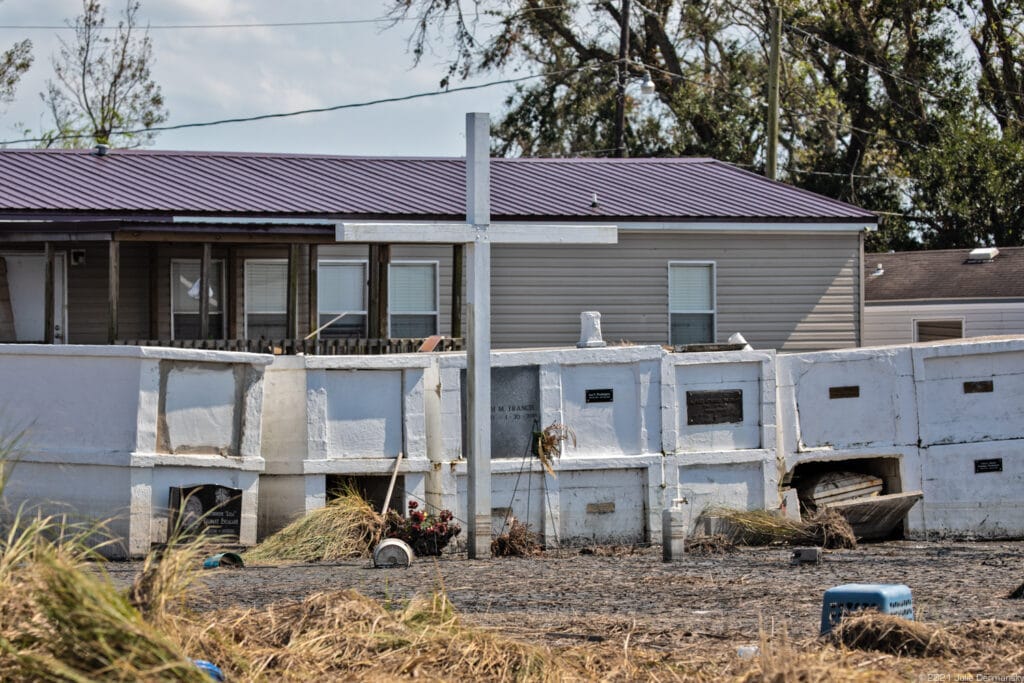 Lepine claimed that, like all of the residents I spoke with, he too wanted to see Ironton rebuilt. He took credit for getting the streets cleared and thanked the two men who helped, whose names he forgot.

Davis and Manuel took note of Lepine's misstatement about who cleared the streets, but didn't contradict him. "It was not the time to set the record straight," Manuel told me after the meeting, because at least now the parish officials were helping.
Manuel and Davis weren't seeking credit for clearing the streets. Initially, Davis was only planning on clearing a path to his house but after they accomplished that they decided to clear the street in the whole town because it needed to be done.
"We didn't care about the recognition until they took it," Davis said, a bit stunned that Lepine would re-write history so fast.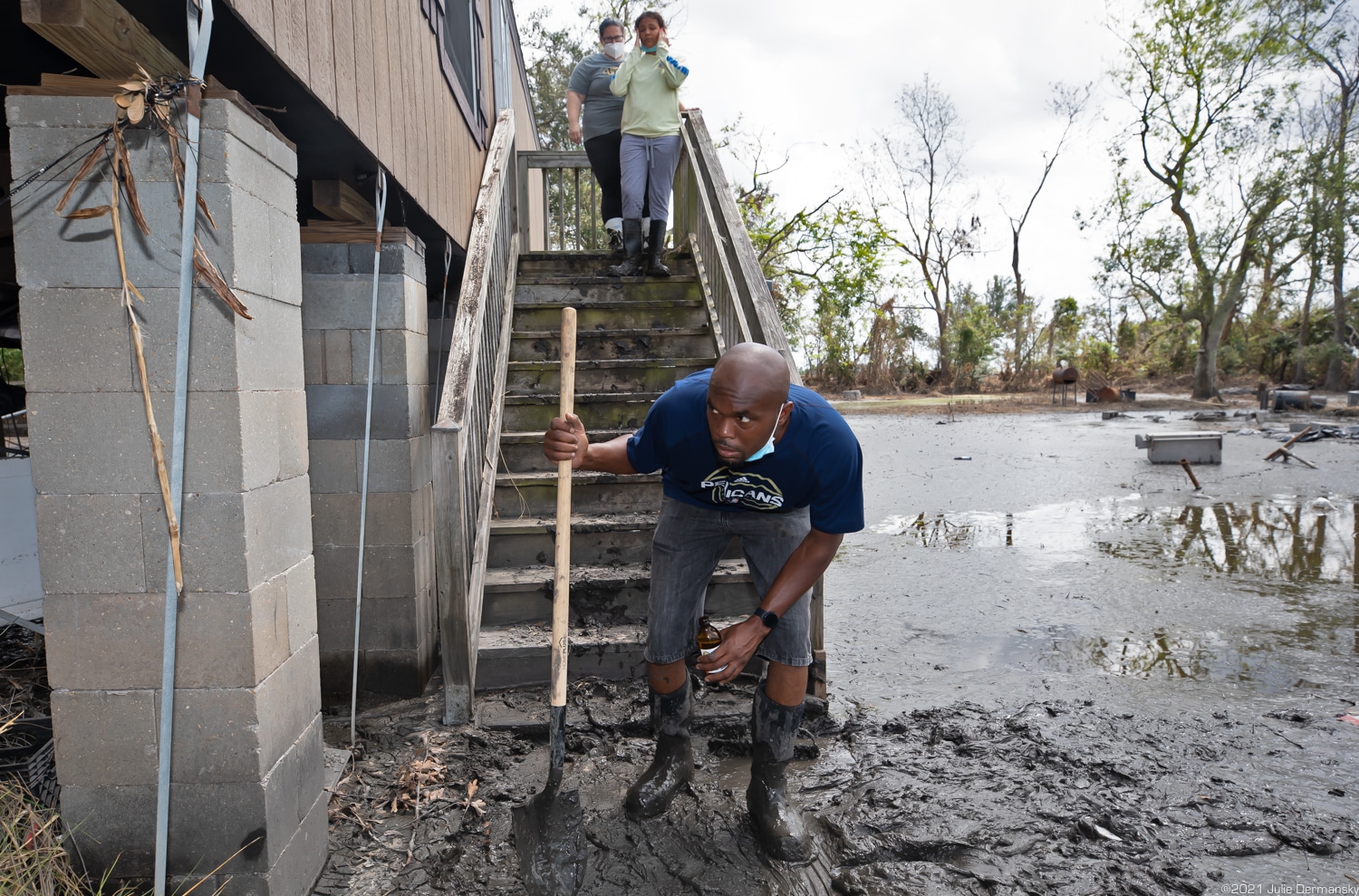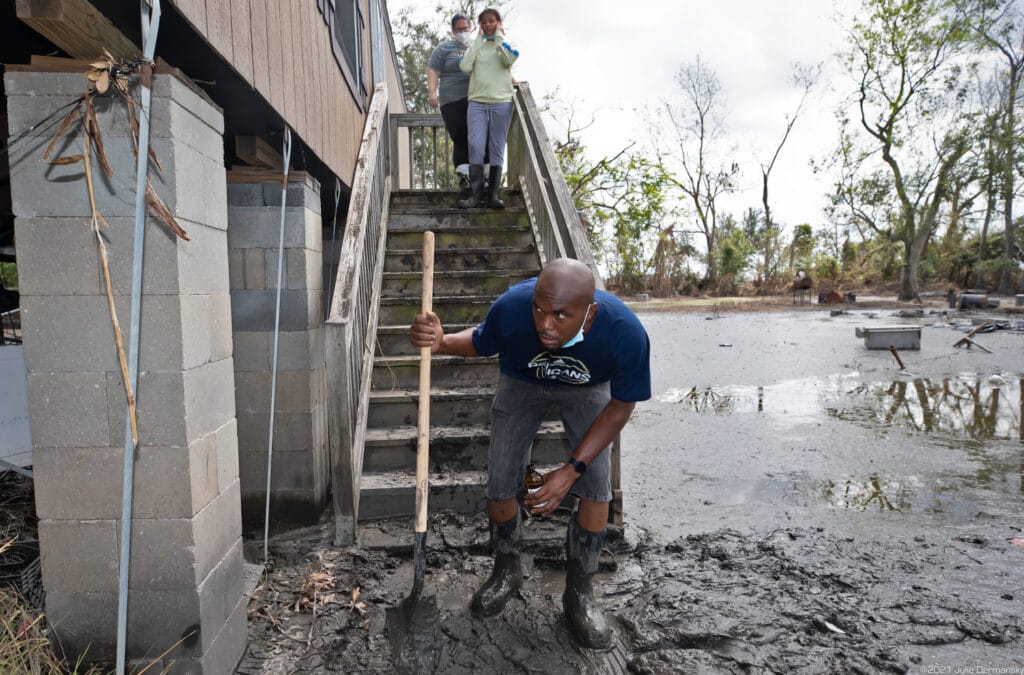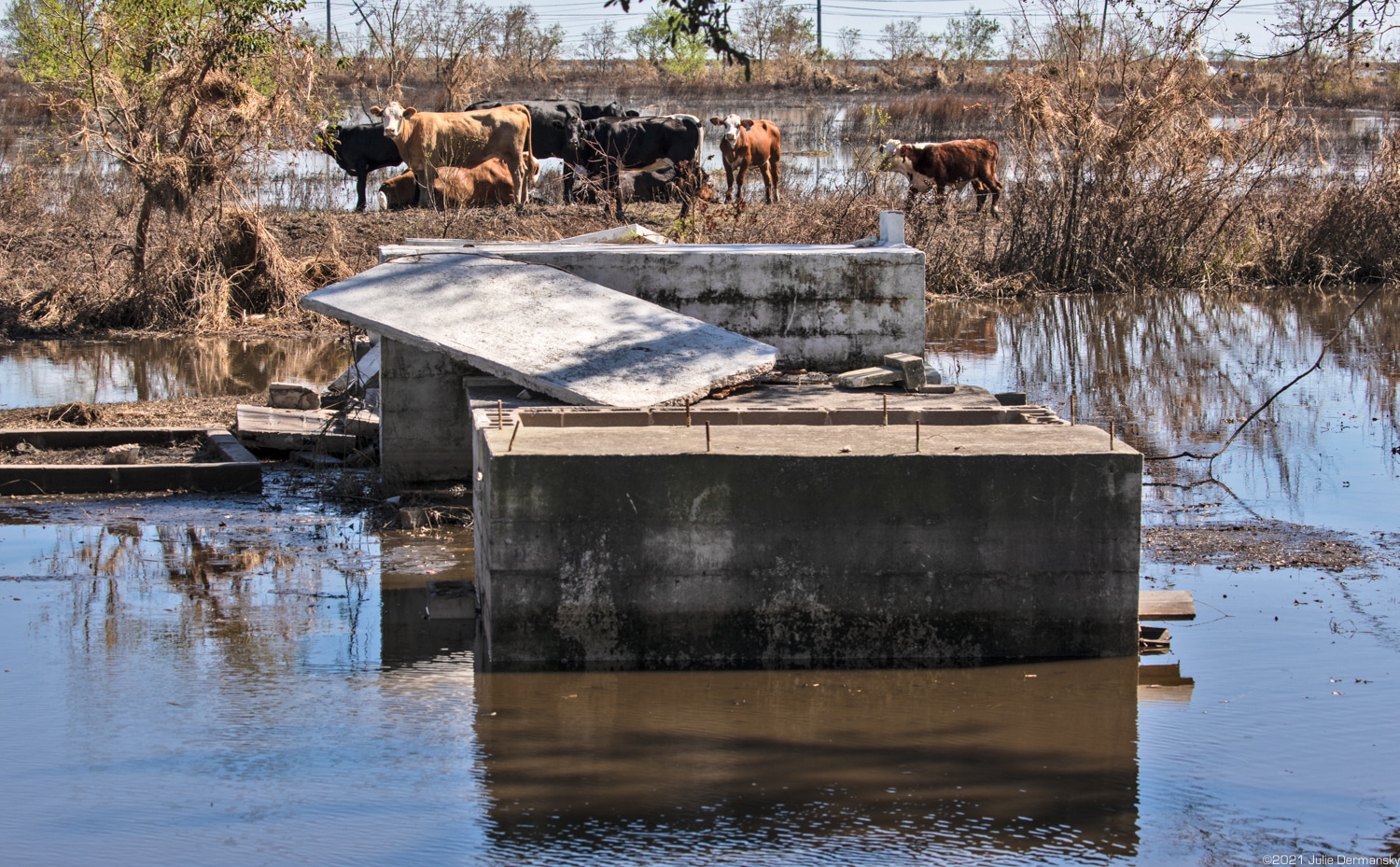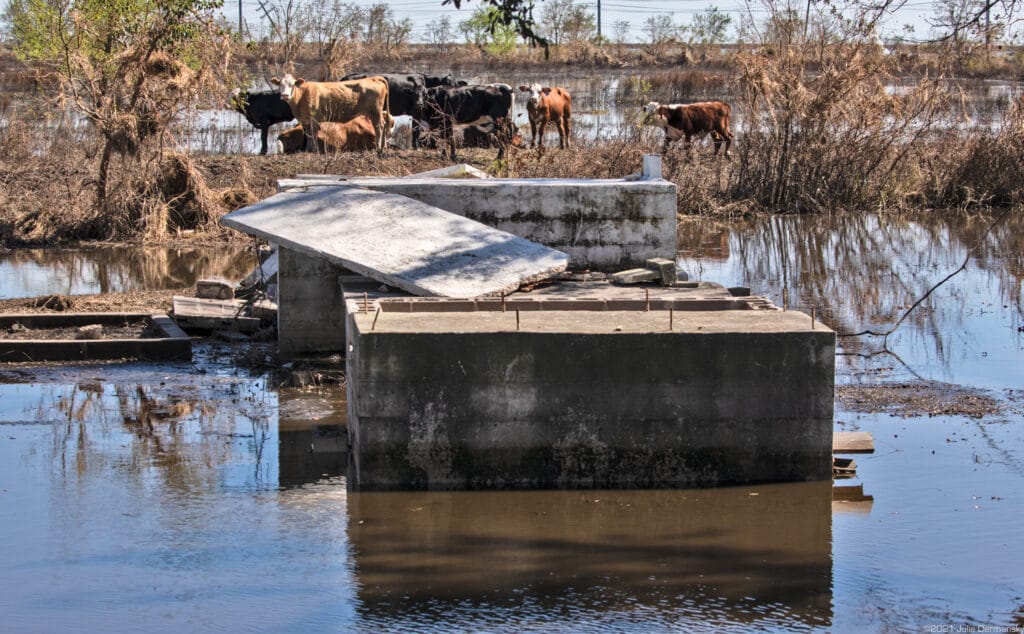 Davis guided me into Ironton on September 9 from highway 23 down Ironton Road, to get into the town. The road had about a foot of water on it that morning but most of the streets were water free. He warned me before taking me on a tour that walking around was treacherous; in some places the mud was over two feet deep and there were snakes all over the place. And as for the overwhelming stench from things fermenting, which was very intense, he let me know that you kind of get used to it after a little while.
Members of the Ironton community I met share a distrust of the local, state and federal governments. Not only did everyone I spoke to think the destruction was, for the most part, avoidable, they also felt that those who want to allow industrial fossil fuel developments and a massive river diversion project in the area have tried to push them out for years.
Haywood St. Cyr, a lifelong resident of Ironton whose home was badly flooded, told me the government has wanted them out for as long as he can remember. He invited me into his house to document the mess and meet his wife, Rita, who was busy rescuing what she could, which wouldn't be much as mold had already spread throughout the premises.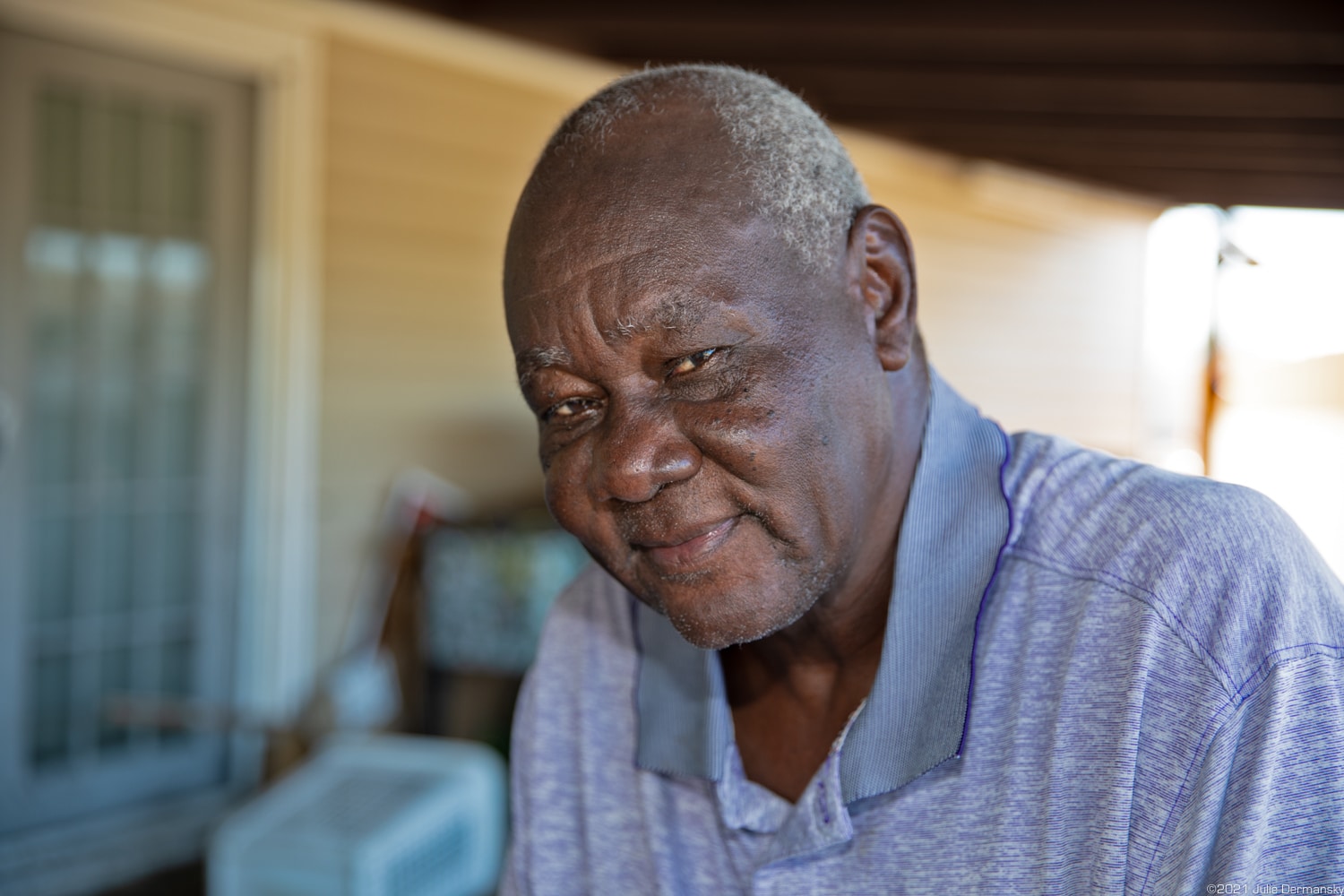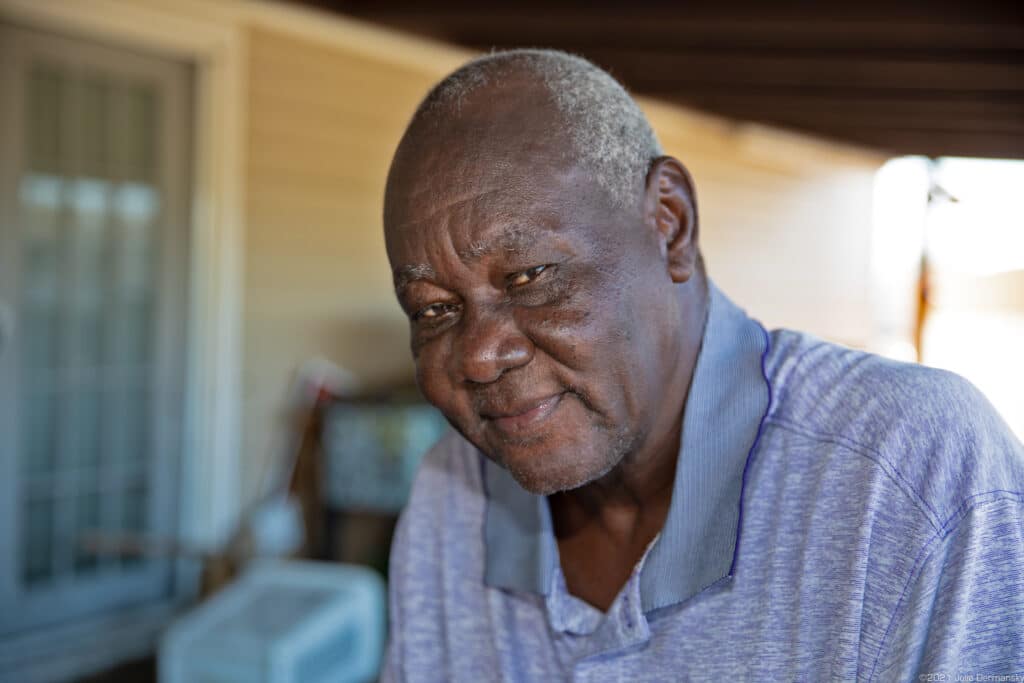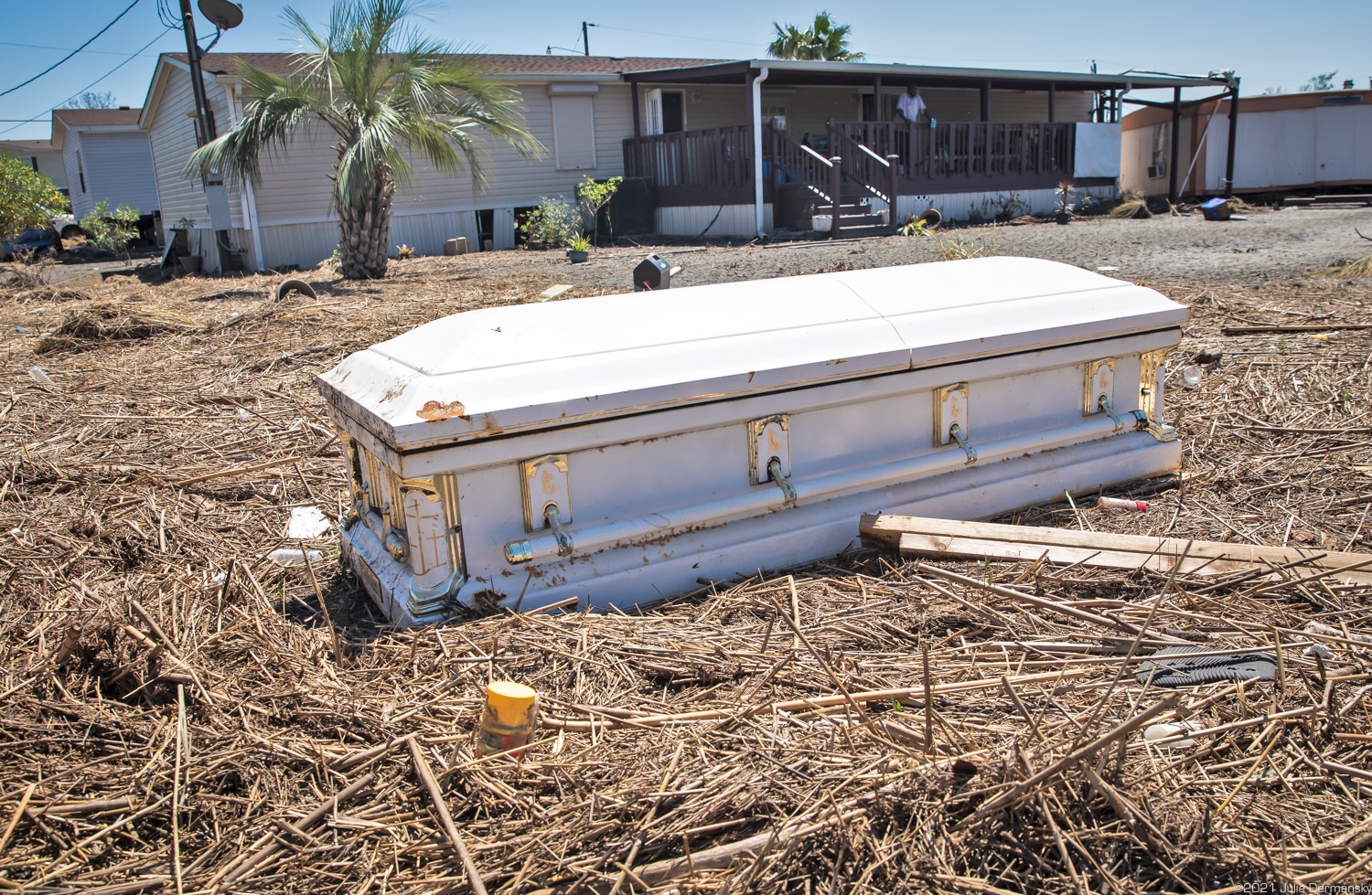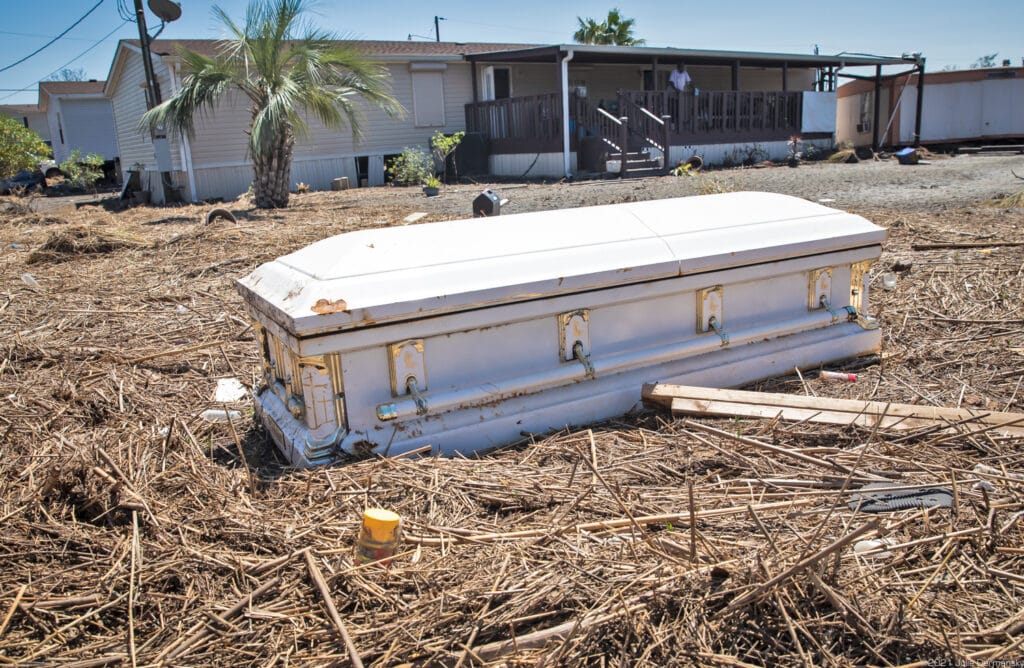 "You can dock ships and barges here because there is a good amount of land on the other side of the river levee," St. Cyr told me. "They have been wanting this land for a long time." Despite now needing to possibly rebuild his house entirely, St. Cyr has no intention to move. "I plan to die here," he said, though his wife might have had enough. 
He explained that Ironton was rezoned from residential to industrial without residents having a say, and now they find themselves battling against one industrial project after the next.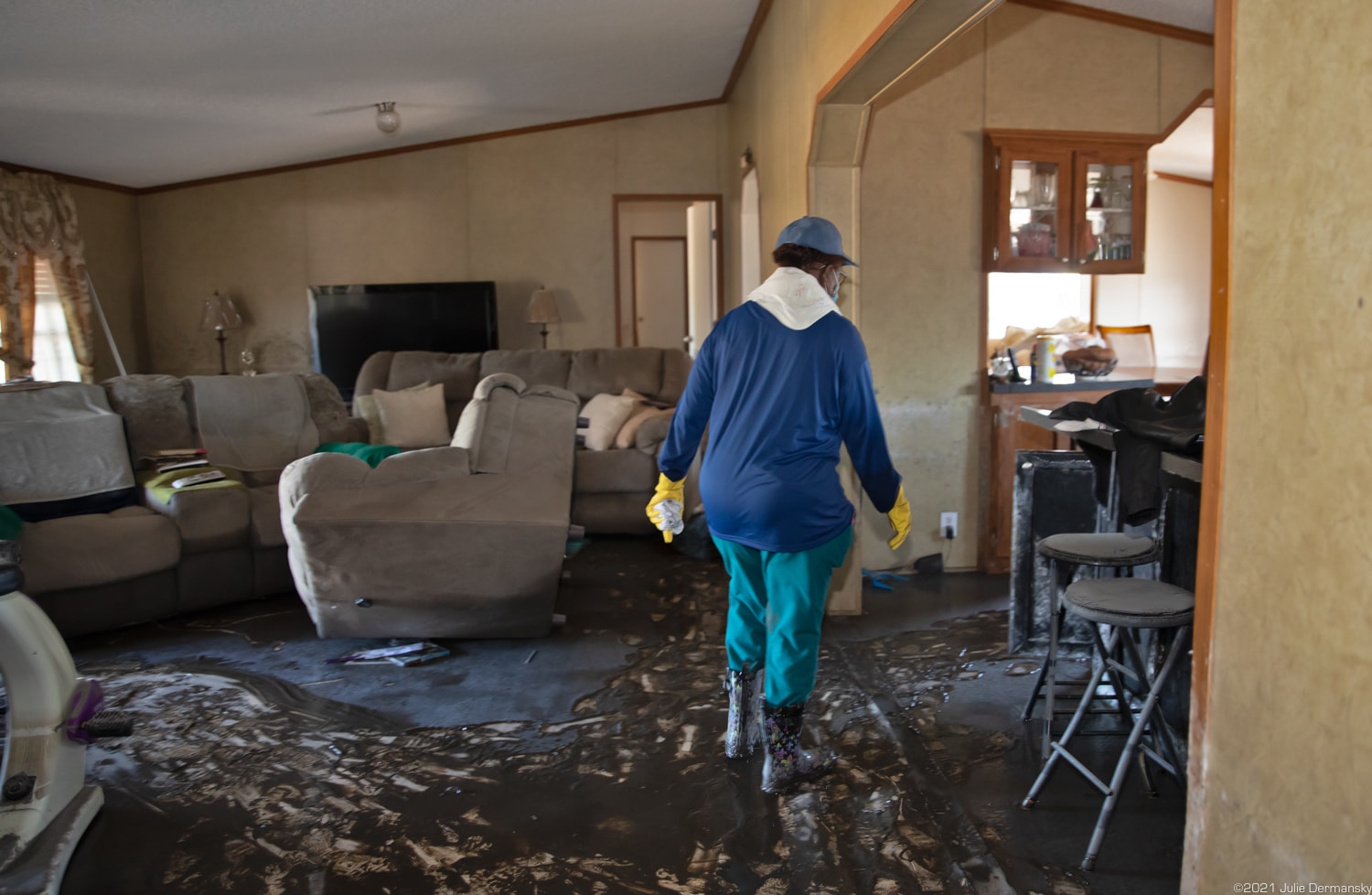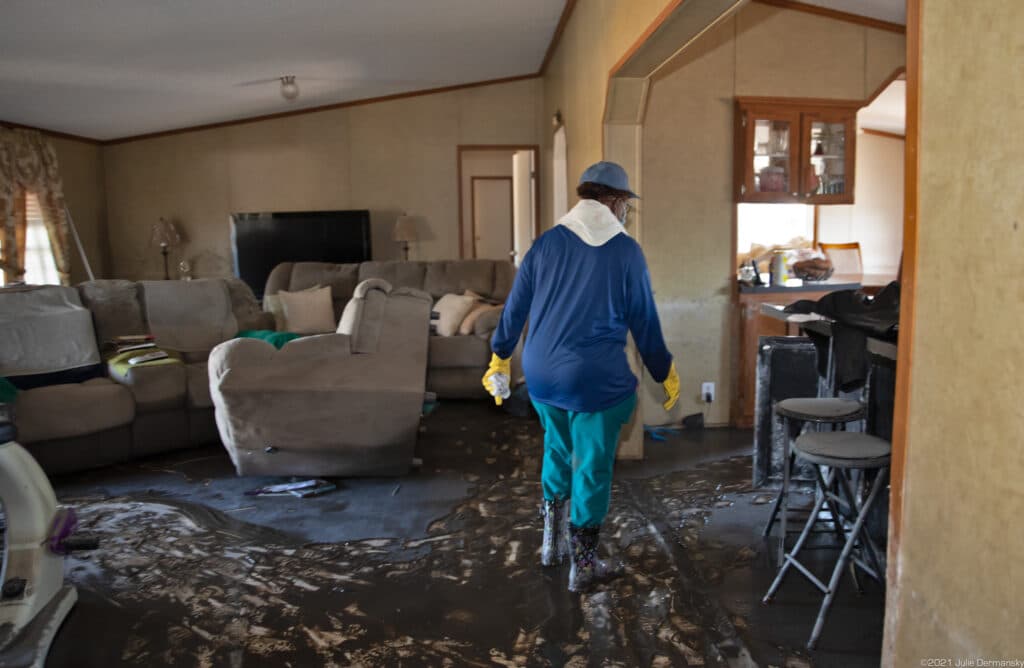 With the help of environmental advocacy groups that came to their aid, in 2013 the community was able to halt RAM Terminals, LLC proposed coal-export facility. Kentucky-based RAMACO — a coal reserve and infrastructure development group — planned to build two coal terminals nearby, run by Kinder Morgan and Oiltanking.
Currently, the community is trying to stop a massive proposed oil export terminal being built on the former St. Rosalie Plantation site and a massive Mississippi River Diversion project slated to be built a couple of miles away. "The proposed export terminal is a joint project of Tallgrass Energy LP, headquartered in Leawood, Kansas; Drexel Hamilton Infrastructure Partners, LP, a New York-based investment firm; and the Plaquemines Port, Harbor and Terminal District, which is governed by the Parish Council," according to the Advocate. "If built, the terminal would store up to 20 million barrels on-site and load them onto huge ocean-going 'Panamax' ships and barges for export."
As for the proposed $2 billion Mississippi River sediment diversion project, Wilkie Declouet said he doesn't think it should even be considered until Ironton has proper levee protection. A draft Environmental Impact Statement released earlier this year by the U.S. Army Corps of Engineers, the federal agency responsible for issuing a permit for the project, states that the project could have disproportionate adverse impacts on some low-income and minority populations in the project area which includes Ironton.
Angela Blanchard, a Houston-based long-term disaster recovery expert and Brown University senior fellow, said on a call that she sees what is happening in Ironton as part of a steady trend to marginalize Black communities with deep roots and traditions that are in the way of big money developments. She added that "marginalizing" is perhaps too nice of a word for what is happening.
"There are countless small communities of color that are targeted for extinguishment across the country," Blanchard warns — communities that we must help protect, she said.
Andrea Declouet agrees. She and others I spoke to from Ironton say that despite Hurricane Ida's massive destruction, Ironton is worth fighting for. She, her husband, and everyone else in Ironton I met last week has no doubt the town will be rebuilt.
Whether they will get the needed levee protection is another story. But they plan to rebuild anyway while continuing to fight for a levee to keep them safe, and holding the parish president and other local officials accountable if they don't make it happen.