A group of natural gas companies and utilities in Colorado formed a front group to oppose the state's push towards electrifying homes and businesses, spreading misinformation about the cost of electric heating while also promoting false solutions to lock in the ongoing use of natural gas.
The group, "Coloradans for Energy Access," is made up of a coalition of gas companies, real estate interests, utilities, and other energy trade associations, including Atmos Energy, American Public Gas Association, and the Consumer Energy Alliance.
Announcing its formation in an op-ed in the Colorado Sun, Coloradans for Energy Access decried what it calls "forced electrification," a reference to a growing movement in Colorado and around the country to discourage or prohibit natural gas connections in newly constructed homes and commercial buildings in an effort to slash greenhouse gas emissions.
More than 50 cities, mostly in California, have moved to ban natural gas in new homes and buildings, serving multiple goals at once. Gas stoves emit pollutants like nitrogen dioxide (NO2) and carbon monoxide that can contribute to respiratory illnesses. In addition, a January study published in the journal Environmental Science & Technology found that stoves leak gas even when they are turned off, an indication that gas appliances are worse for the climate and human health than previously thought.
In making its pitch for natural gas, Coloradans for Energy Access asserted that "renewable natural gas" is one of the ways that "natural gas supports the energy transition to a lower carbon economy."
But as DeSmog has previously reported, what the industry calls "renewable natural gas" — methane gas captured from landfills and industrial agriculture and repurposed for consumers to use — can't fairly be considered a solution. The energy source faces technical, economic, and environmental challenges that prevent it from being a large-scale solution. Despite that, gas utilities around the country are promoting it, a move that critics say is simply a strategy to justify the expansion of gas infrastructure while doing little to address greenhouse gas emissions.
But the overarching argument that Coloradans for Energy Access made in its op-ed is that natural gas is the cheapest form of energy, and that switching to heat pumps will be costly to consumers. "Quite simply, there is not an affordable substitute for natural gas used for cooking or to heat our homes," the op-ed asserts.
However, many of the claims put forward by the industry-backed front group are false or misleading, according to an analysis from the Energy and Policy Institute. Citing the U.S. government's Energy Information Administration (EIA) forecasts, Coloradans for Energy Access asserted that home heating from natural gas would cost the average consumer $746 this winter, compared to $1,268 for those using heat pumps.
The problem is that the EIA data didn't say that. Instead, the $1,268 cost figure was for electricity generally, not for heat pumps, a technology that is rapidly gaining in popularity and is widely viewed as crucial to decarbonizing buildings. Heat pumps transfer warm air into buildings somewhat like a reverse air conditioner. Because they merely transfer heat instead of generating it, they are more efficient than conventional types of electric heating, such as baseboard heaters. Most Americans that use electric heating still use baseboard heaters and other older technologies, so they end up paying more, which is reflected in the EIA numbers.
Contrary to the gas industry's claims, Americans who use heat pumps are likely to spend less on heating compared to those with gas furnaces, according to a recent analysis from RMI, a Colorado-based think tank. And new improvements in heat pump technology mean they can work well even in cold climates.
"In Denver, we found that new single-family homes built with all-electric appliances — including high-efficiency electric heat pumps — have lower annual utility bills than new mixed-fuel single-family homes," Talor Gruenwald, an associate at RMI, told DeSmog in an email. "So, the claim that 'natural gas is cheap and electric heat pumps are expensive' is indeed very misleading."
RMI also compared heat pumps to gas in other cities, and found similar results. "In every city we analyzed, a new all-electric, single-family home is less expensive than a new mixed-fuel home that relies on gas for cooking, space heating, and water heating," a 2020 RMI report found.
A second and more glaring reason why the talking points used by Coloradans for Energy Access were misleading is that the cost comparison did not even compare apples to apples. The group used only gas heating costs on the one hand, and the full cost of electricity use, including electric heating, on the other. In other words, people using gas for heating would still have a separate electricity bill to keep the lights on and run other appliances, but that was omitted from the data cited by Coloradans for Energy Access. The result was to depict electric heating in an unfavorable light by comparison.
The Colorado Sun issued a correction to the op-ed and removed the cost comparison. And Coloradans for Energy Access ultimately removed the EIA reference from its website, as Chase Woodruff, a reporter at Colorado Newsline, pointed out on twitter.
Further undermining the front group's claims of affordability is the fact that natural gas prices are spiking worldwide. Utilities pass on those higher costs to consumers. Global natural gas prices may go up or down, but one constant in gas markets is volatility, which adds risk to both ratepayers and utilities themselves, Joe Smyth, a researcher with the Energy and Policy Institute, told DeSmog.
"Volatility creates uncertainty — what is your gas bill going to be?" Smyth said. "And with exposure now to global markets with [liquefied natural gas] exports, prices are likely to stay high and maybe become even more volatile."
An Unexpected Backer
Some municipalities in Colorado, including Denver, have tried to encourage a shift from gas to electric heating using efficiency standards and codes, but have stopped short of banning gas hookups in new building construction like dozens of cities on the West Coast.
At the same time, the Colorado Public Utilities Commission is considering new rules that would put the cost of a new gas hookups onto the homeowner or business. Currently, those costs are split between the property owner and the utility, which is "effectively a subsidy from all the other existing ratepayers to expand the gas distribution network," Smyth said. "And that's a problem if we are trying to move away from, at the very least, expanding the gas network."
While milder than the prohibition on new gas hookups seen elsewhere, the policy direction is trending towards electrification in Colorado. This is what the front group Coloradans for Energy Access — including one surprising member — is fighting.
Xcel Energy, a Minnesota-based electric and gas utility, is among the ranks of Coloradans for Energy Access. The investor-owned utility has assets across eight Midwestern and Western states, with a particularly large presence in Colorado.
Smyth explained that it would make sense for gas-only distribution companies, such as Atmos Energy, to wage an all-out campaign to prevent electrification. But Xcel Energy has both gas and electricity assets. Any business they lose on gas sales could easily be made up in increased electricity sales. Nevertheless, Xcel joined the front group at a time when the utility is simultaneously requesting a 13 percent rate hike for its gas sales from the Colorado Public Utility Commission.
Participation in a gas front group risks tarnishing the renewables-friendly image Xcel has cultivated. Last year, it pledged to cut greenhouse gas emissions by 85 percent by 2030, from a 2005 baseline, and has put in place a formula for executive compensation that is tied to decarbonization, which distinguishes Xcel from other utilities.
It is even a member of the Colorado Beneficial Electrification League, a coalition of municipal governments and utilities in the state that promote electrification in buildings and industrial facilities.
"Xcel legitimately has some strong claims for climate leadership. We are pretty critical of utilities that try to greenwash their climate goals, and Xcel has done that as well. But they have actually done some things that are pretty good," Smyth said, noting the "strong 2030 goal" of cutting emissions by 85 percent.
In January 2022, Xcel's ESG (environmental, social, governance) presentation to investors went to great lengths to position the utility as a climate champion. The company spends nearly 50 slides talking up its progress on renewable energy, electric vehicles, diversity in the workplace, and its safety record.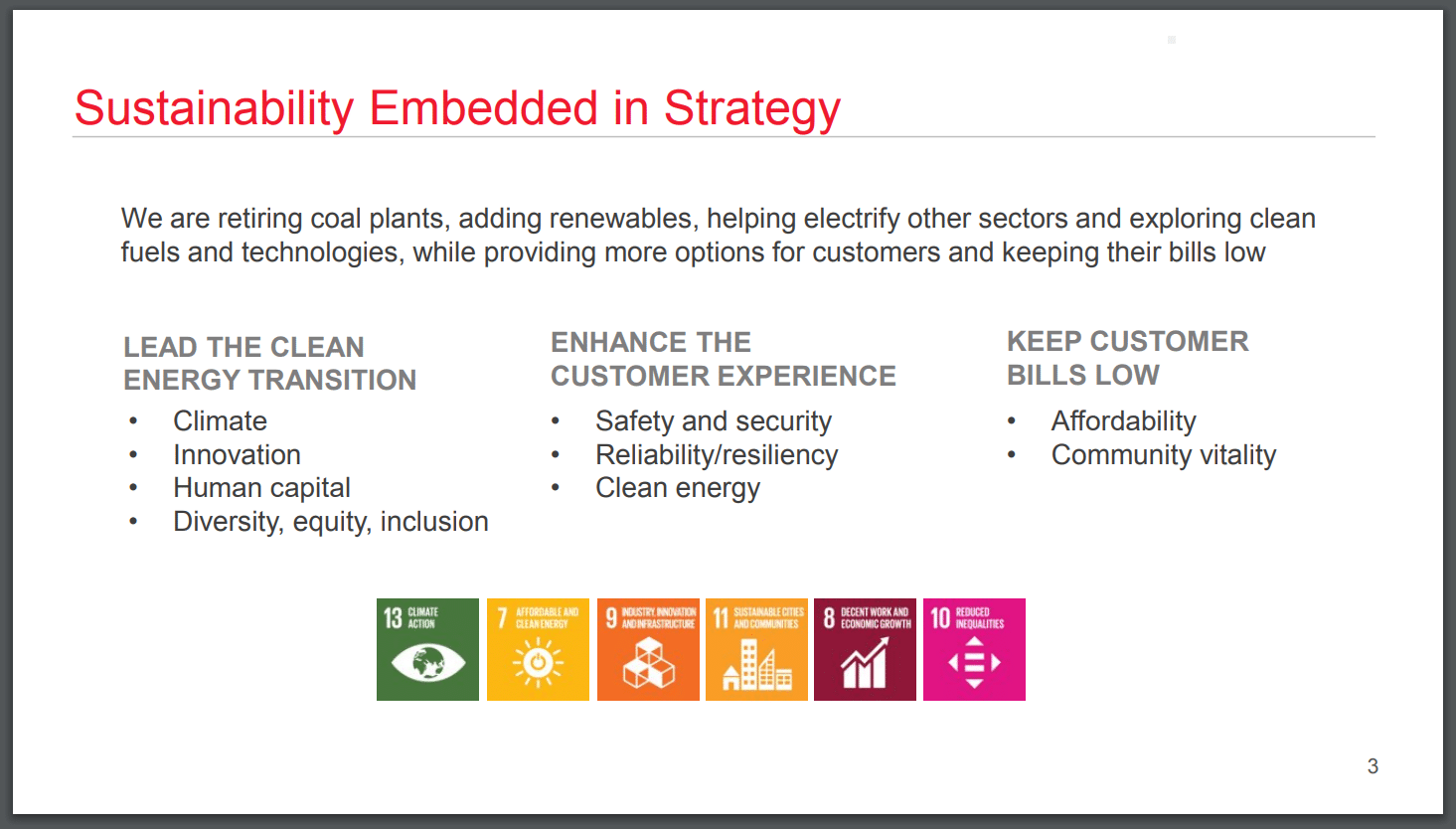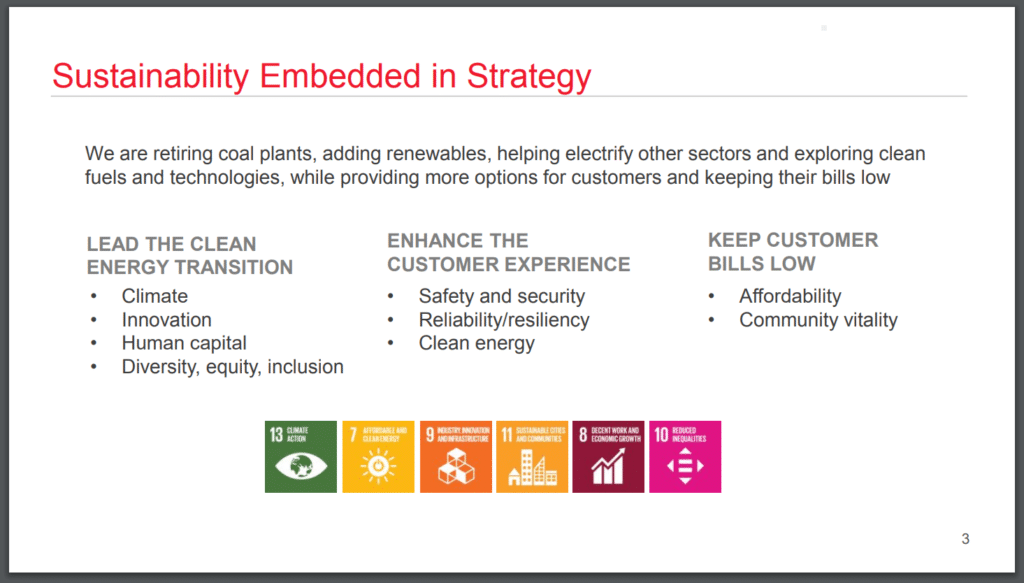 "Their pitch to investors, their message to Wall Street is: 'We are leading on climate.' Wall Street investors are increasingly interested in that," Smyth said.
This is a narrative that seems to have worked for Xcel. "What we've been able to demonstrate, and good news is other people are following now, was that renewable energy done at scale with the right public policy can actually save customers money, improve the environment and offer a great investment opportunity for our company," Xcel's outgoing CEO Benjamin Fowke said in an interview with S&P Global Market Intelligence in August 2021, the month he retired from the company.
Xcel's stock more than tripled over the ten-year period Fowke was at the helm, from $22 per share to nearly $70 per share. He partly attributed the company's strong performance to its leadership on clean energy.
Neither Xcel Energy nor Coloradans for Energy Access responded to requests for comment.
Being at the forefront of the energy transition is "a big, big topic in the utility investment world," Smyth continued. "And Xcel has had a very strong claim to be leading that."
But, Smyth warned, Xcel's support for a group that is spreading misinformation in an effort to slow electrification "seriously undermines that clean energy image that they fostered deliberately for the last several years."