Consumer Energy Alliance (
CEA

)
Background
The Consumer Energy Alliance (CEA) is an energy industry PR and government affairs organization founded by Republican lobbyist Michael Whatley of HBW Resources, a leading proponent of the Keystone XL Pipeline and the Canadian tar sands industry. [1], [2], [3]
CEA's member groups include petroleum giants BP, ExxonMobil, Shell, and Chevron, among many others. It has received "operational support" from the American Natural Gas Association, and additional funding from the American Petroleum Institute. The CEA engages in targeted media messaging and government lobbying to advance pro-industry agenda items such as offshore drilling, deregulation, and refineries expansion. [4]
The Center for Public Integrity (CIP) reported the group was founded in 2006, with a formative board consisting of executives from Shell and Hess Corporation, as well as a number of other industries. Jim Martin, Chairman of the 60 Plus Association, was also a board member. [5]
According their website, CEA "is the leading consumer advocate in support of affordable, reliable energy for working families, seniors, and small businesses across the country." [6]
In 2011, FOIA requests and investigative reporting by Salon.com confirmed the CEA is an industry front group established to influence public perception and government regulation in favor of extractive energy industries. [1], [7]
CEA has faced multiple accusations (2014, 2016, and most recently in 2018) of submitting fake comments in support of legislation that would benefit utility companies, often at the cost of higher energy prices for consumers.
Pro-Industry Stance
In documents filed with the IRS, the CEA describes their primary exempt purpose as a non-profit organization as "Education of the General Public," and have listed their stated mission is "to expand the dialogue between the energy and consuming sectors." [8]
As part of its purpose and mission, the CEA has engaged in media campaigns critical of proposed Low Carbon Fuel Standards. In 2011 tax filings the CEA listed as an accomplishment under its exempt purposes "specific outreach/education efforts to improve public understanding and negative economic impacts associated with currently proposed LCFS programs." [8]
Energy4Us
Energy4US.org describes itself as a "coalition of consumers, businesses and workers united in the belief that energy empowers us, allows us choices and improves our quality of life." The group includes members such American Fuel & Petrochemical Manufacturers and has focused on fighting against the renewable fuel standard among other regulations on the fossil fuel industry. [9]
According to the Internet Archive, as of 2015 the Consumer Energy Alliance's former website SecureOurFuels.org redirected to Energy4US.org (Secureourfuels.org is now owned by an industrial supply company).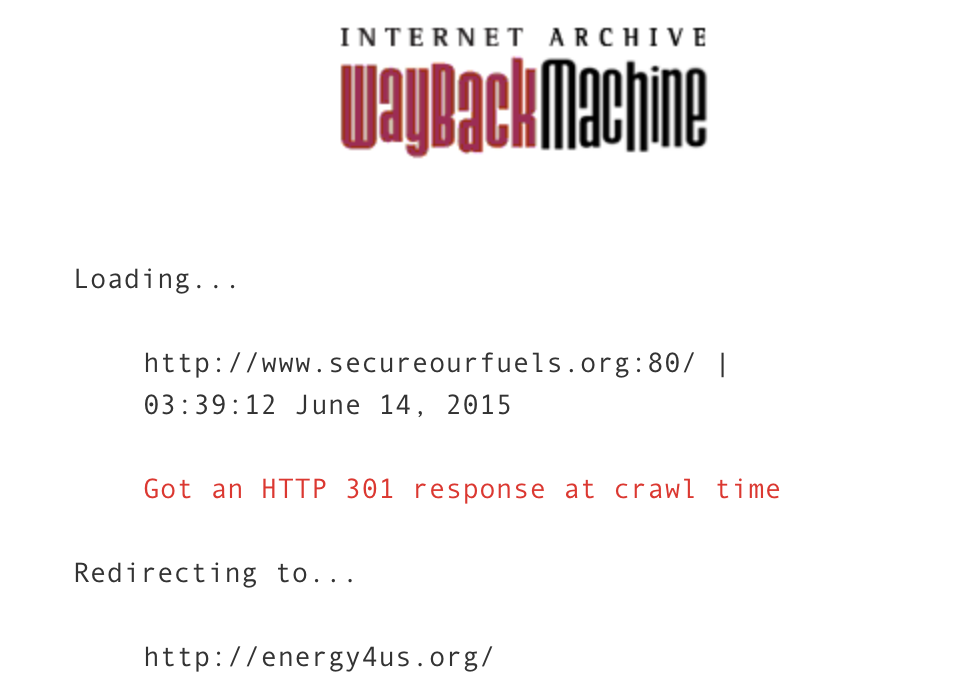 The first and second blog posts at the Energy4US website reaffirm that Energy4US.org grew from CEA's SecureOurFuels campaign. [10], [11]
Before SecureOurFuels (SOF) began redirecting to the Energy4US website in 2015, contact information at the SOF website listed names of CEA staff members Casey O'Shea, Michael Whatley and David Holt. Michael Whatley and David Holt are two of the three founders and partners listed at HBW Resources. [12]
The Energy4Us.org website features CEA vice president Michael Whatley's work on low carbon fuel standards repeatedly. Referring to Whatley as a "leading low-carbon fuel expert," the website also features Whatley's talking points on its "Gettin' the facts out" page. [13], [14]
American Legislative Exchange Council (
ALEC

) Ties

The Center for Media and Democracy's PR Watch reported that CEA's Michael Whatley regularly attended ALEC meetings. In August 2013, he attended their International Relations Task Force meeting with a briefing on the KXL pipeline. CEA has repeatedly attended ALEC events, often to present on issues related to the Keystone pipeline. [15]

CEA was also a sponsor of an "ALEC Academy" in Alberta focused on the tar sands, according to documents obtained by CMD. [16]
CEA

,

HBW

Resources, and Outer Continental Shelf Governors Coalition

In 2015, Facing South published the results of an 18-month investigation, and outlined the "unusual relationship" between the the Outer Continental Shelf Governors Coalition, a group founded in 2011 to expand offshore drilling following the BP Deepwater Horizon disaster, HBW Resources and its "sister group," the Consumer Energy Alliance. [17]

Staff for CEA and HBW Resources has largely overlapped, with a few exceptions. Littlesis has outlined some of the connections between the two groups. [5], [18]

HBW Resources has been listed as an Independent Contractor according to CEA's expenses in 2016, as shown in IRS filings. The Energy and Policy Institute reported CEA funnelled $9.1 million, or 43%, of revenue to HBW Resources. From 2010 to 2016, HBW received a total of $7,717,053 from CEA according to tax forms. [19]
Stance on Climate Change
July 3, 2013
Michael Whatley described President Obama's climate change plan as "troubling": [20]
"What's so troubling about these potential EPA regulations? For electricity consumers, the rules will undoubtedly lead to an uncertain future for coal, but clear ramifications for consumers: less fuel diversity and higher electricity costs. EPA's actions have the potential to shutter hundreds of coal-fired power plants across the nation, forcing utilities to switch generation fuel and invest billions in upgrades and new facilities. All this means higher costs for ratepayers.

"With coal producing over 40% of our nation's electricity, limiting its potential will present a significant set of challenges that need to be carefully analyzed before we move forward with anything as ambitious as the President has outlined."

[…]

"The President has laid out an aggressive plan – a plan that includes measures which will significantly and adversely affect electricity consumers across the United States for decades to come. Every homeowner, business, manufacturer and electricity consumer will undoubtedly feel the painful effects of higher energy costs under the President's proposed plan. Congress must take an active oversight role in order to prevent these negative ramifications for our nation's electricity consumers."
On Solar
The Energy and Policy Institute (EPI) reports that while CEA claims to take a pro-solar stance, their website solarenergyfuture.org "offers no pro-solar advocacy, and thinly-veiled utility attacks on rooftop solar companies." [19]
"The strategy of appearing to promote solar while attacking it is straight from the utility industry's playbook, both in terms of its revamped "pro-clean energy" messaging designed to confuse, and its political tactics," EPI notes. [19]
CEA has supported Amendment 1 in Florida, while CEA member company Florida Light and Power was a major funder of the ballot initiative that EPI described as "a controversial ballot measure that would amend the state constitution to pave the way for more restrictions and fees for solar customers." [21], [22]
Funding
CEA

as Recipient

The following is based on data collected by the Conservative Transparency (CT) project and 990 tax forms. According to CT, the Consumer Energy Alliance received regular funding from the American Petroleum Institute and the American Natural Gas Alliance between 2008 and 2012. [23]
| | |
| --- | --- |
| American Natural Gas Alliance | (Subtotal $194,500) |
| 2010 | $15,000 |
| 2011 | $158,000 |
| 2013 | $6,500 |
| 2014 | $15,000 |
| American Petroleum Institute | (Subtotal $332,500) |
| 2008 | $30,000 |
| 2009 | $67,500 |
| 2010 | $35,000 |
| 2011 | $50,000 |
| 2012 | $100,000 |
| 2013 | $50,000 |
| Grand Total | $527,000 |
Independent Contractors
In addition to the above grants, CEA was also hired to carry out "consulting" services for at least $2 million according to American Fuel and Petrochemical Manufacturers 990 forms.
| | | | |
| --- | --- | --- | --- |
| Year | Hiring Group | Description of Services | Compensation |
| 2013 | American Fuel and Petrochemical Manufacturers | Consulting | $522,500 |
| 2012 | American Fuel and Petrochemical Manufacturers | Consulting | $790,000 |
| 2011 | American Fuel and Petrochemical Manufacturers | Consulting | $1,045,000 |
| – | – | Grand Total | $2,357,500 |
Since 2011, according to publicly available 990 forms, the CEA has paid HBW Resources (which also lists CEA president David Holt as Managing Partner) over $1 million per year for "management and professional" services.
Below is a summary of 3rd party contractors hired by CEA, according to their annual 990s:
Business Name
2010
2011
2012
2013
2014
2015
2016
Grand Total

HBW

Resources
$392,130
$1,347,500
$1,240,000
$1,327,500
$1,051,394
$1,206,529
$1,152,000
$7,717,053

FTI

Consulting
$596,030
$620,000
$440,000
$1,656,030
Advocacy Group
$373,221
$236,800
$232,800
$842,821
SmartMark Communications
$140,376
$228,329
$196,402
$149,854
$714,961
Story Partners
$535,442
$535,442
Staging Solutions
$168,270
$166,250
$111,600
$446,120
Revolution Agency
$191,976
$191,976
Amanda Orr
$26,000
$26,000
David Batt
$22,255
$22,255
Roetzel and Andress
$11,346
$11,346
Cloberland
$11,346
$11,346
Grand Total
$463,077
$2,676,997
$2,096,800
$2,306,926
$1,391,323
$1,402,931
$1,837,296
$12,175,350
990 Forms
Key People
Board of Directors
Name
2008
2009
2010
2011
2012
2013
2014
2015
2016
2017
2018
Title
Company
David Holt
Y
Y
Y
Y
Y
Y
Y
Y
Y
Y
Y
Ex-Officio
Consumer Energy Alliance
Mark Pulliam
Y
Y
Y
Y
Y
Y
Y
Y
Y
Y
Y
SwayPay, Inc.
John Heimlich
Y
Y
Y
Y
Y
Y
Y
Y
Y
Y
Vice Chair
Airlines for America
Wayne Zemke
Y
Y
Y
Y
Y
Y
Y
Caterpillar, Inc.
Brett Vassey
Y
Y
Y
Y
Y
Y
Chairman
Virginia Manufacturers Association
Brian Welch
Y
Y
Y
Y
Y
Treasurer
Marsh Wortham
John Eichberger
Y
Y
Y
Y
National Association of Convenience Stores (

NACS

)
Randy Velarde
Y
Y
Y
The Plaza Group
Chad Eaton
Y
Nucor Corporation
Jennifer Diggins
Y
Y
Y
Y
Y
Nucor Corporation
Troy Bredenkamp
Y
Y
Y
Y
Nebraska Rural Electric Association
David Harbour
Y
Y
Y
Y
Y

APR

CEA

Rich Moskowitz
Y
Y
Y
Y
American Fuel

&

Petrochemical Manufacturers
David Blackmon
Y
Y
Y
Y
El Paso Corporation
Melissa Taldykin
Y
Y
Y
Y
Consumer Energy Education Foundation
Jack Belcher
Y
Staff
Name
2014
2015
2016
2017
2018
Title
David Holt
Y
Y
Y
Y
Y
Ex-Officio
Andrew Browning
Y
Y
Y
Y
Y
Chief Operating Officer
Michael Whatley
Y
Y
Y
Y
Y
Executive Vice President
Brydon Ross
Y
Y
Y
Y
Y
Vice President, State Affairs
Emily Haggstrom
Y
Y
Y
Senior Director, Communications
Lauren Westcott
Y
Director, Communications
Kaitlin Hammons
Y
Director, Campaign Activities
Kathleen Koehler van Keppel
Y
Y
Director, Events and Special Programs
Michael Zehr
Y
Y
Y
Y
Y
Federal Policy Advisor
Anne Seneca
Y
Y
Y

CEA

-Alaska
Kevin Doyle
Y
Y
Y
Y
Y

CEA

-Florida
Mike Butler
Y
Y
Y

CEA

-Mid Atlantic
Link Browder
Y

CEA

-Mid Continent
Chris Ventura
Y
Y
Y

CEA

-Midwest
Tim Page
Y

CEA

-Southeast
Tommy Foltz
Y
Y
Y
Executive Vice President
James Voyles
Y
Y
Director, Policy Counsel
Kathleen Koehler
Y
Y
Y
Director, Events and Special Programs
Marty Allday
Y

CEA

-Texas
Shawn Martini
Y
Y
Communications Director
Ryan Scott
Y
Y
Executive Director,

CEA

-Midwest

R.C.

Hammond
Y
Communication Advisor
Natalie Joubert
Y
Policy Director
Board of Advisors (2009 through 2011)
Bill Kovacs
David Blackmon
David Harbour
David L. Batt
Don Juckett
Elizabeth VanDersarl
Frank W. Wagner
Glenn Kramer
Greg Cohen
Heather McTavish Doucet
Jan-Oddvar Sornes
Jennifer Diggins
Jim Martin
John Heimlich
Kathryn Robison
Libby Cheney
Marshall Cohen
Mary Davis
Michelle Michot Foss
Rich Moskowitz
Rosemary O'Brien
Todd McCracken
Todd Thorner
Actions
November 23, 2020
The Los Angeles Times reported HBW Resources "runs Western States and Tribal Nations," (WSTN) a group that claimed it "is organized and led by state, county and sovereign tribal governments to help aid rural economic development" with membership including "the companies whose investments will make that happen." [52]
Western States and Tribal Nations arranged a letter praising the Energía Costa Azul project that was signed by governors of Utah, Wyoming, and New Mexico as well as the chair of the Ute Indian Tribe. It described the project as "One of the most promising LNG export facilities on the Pacific Coast." [52]
Internal documents shared with The Times revealed the group's main backers were county governments and fossil fuel companies. The group had only one tribal member, the Ute Indian Tribe. [52]
The documents, obtained by public records requests by the Energy and Policy Institute, listed the following members of the Western States and Tribal Nations: [52]
States
Counties
Companies
Other
Baja California (Mexico)
Converse (Wyoming)
Caerus Energy
Seven County Infrastructure Coalition (Utah)
New Mexico
Duchesne (Utah)
Dominion Energy
Ute Indian Tribe
Utah
Garfield (Colorado)
Laramie Energy
Wyoming Coalition of Local Governments
Wyoming
Moffat (Colorado)
Sempra

LNG

Mesa (Colorado)
Terra Energy
Rio Blanco (Colorado)

TYR

Group
Uintah (Utah)
The Times noted that "Western States and Tribal Nations isn't the only effort by fossil fuel proponents to cast themselves as allies of communities of color and defenders of their financial well-being."
"There's definitely a marketing campaign to gaslight everybody, literally gaslight them, by saying, 'If we do the [clean energy] transition, it's going to harm frontline Black, Hispanic and Indigenous communities,'" Leah Stokes, a UC Santa Barbara political scientist, commented. [52]
The WSTN website claims, "Tribal Self Determination Many tribal nations located in the Western United States seek economic prosperity and tribal self-determination through natural gas development" and notes that "The Ute Indian Tribe primarily funds its government through its oil and gas revenue." [53]
December 9, 2019
CEA announced on its Facebook page that the American Petroleum Institute (API) had become an official member. One month after posting the news, the announcement had received one 'like.' [51]
November 4, 2019
CEA purchased op-ed space to criticize New Jersey's draft Energy Master Plan (EMP), which proposed to transition the state to 100% renewable energy generation by 2050. The plan was supported by approximately 75% of New Jersey's residents. [48], [49]
According to the Rocky Mountain Institute, a Colorado non-profit with a focus on sustainability, New Jersey's plan would achieve significant emissions reductions with a relatively small cost increase. [50]
CEA's op-ed called the RMI study into question by suggesting that it was motivated by "ideologically-driven billionaires." [49]
June 29, 2019
CEA provided form letters and talking points to state legislators in Colorado, Utah, and Wyoming in an effort to win support from the Federal Energy Regulatory Commission (FERC) for a proposed natural gas export terminal in coastal Oregon. The terminal is seen as a vital point of departure to foreign markets for western fossil fuels. [46]
View the archived email interchange below, as well as the original Word document outlining edits here (.docx).
According to CEA COO Andrew Browning, dozens of elected officials had signed onto the CEA-generated letters, and op-eds were provided to organized labor organizations and western tribal groups to build additional support for the Oregon project. [46]
One such column, attributed to a Colorado state senator and Mesa County Commissioner, was submitted to CEA leadership for feedback prior to publication. Browning and a CEA spokesperson responded with numerous edits and a pledge to help distribute the op-ed to media outlets. [46], [47]
The CEA-revised piece included the following language:
"Whether your motivation is stabilizing rural economies in energy-producing counties or our allies abroad, lifting people out of poverty or contributing to a cleaner global environment, supporting the export of natural gas resources is the responsibility of all Americans." [47]
Upon receiving the suggested revisions from CEA, the state senator replied:
"When you guys edit you really edit…….lol." [46]
June 2018
CEA released its "2018 Solar Energy Report" that examined U.S. solar incentives. While CEA claims that it "strongly supports the expanded use of solar power nationally and in Arizona," the report criticized existing incentives and solar installations. [24]
"[M]any states are re-examining the scope and methods surrounding their incentive programs and are now considering programs that rely more on a competitive marketplace to provide the economically optimal levels of rooftop solar adoption," the report's press release suggests. CEA had commissioned ScottMadden Inc. for the work. [25]
CEA came under investigation for a set of identically-formatted emails supposedly from South Carolina citizens supporting Dominion Energy's proposed $14.6 billion takeover of SCANA Corporation, The Post and Courier reported. [45]
"If you've got a utility or a group that is misappropriating people's identities, I think that is a real problem," said Senate Majority Leader Shane Massey, R-Edgefield. [45]
David Holt, CEA's president, confirmed the group had engaged in "grassroots" lobbying when it confirmed that Dominion wanted it to get involved. Dominion spokesman Chet Wade said the company had been apprised of the work before the fake emails became known. [45]
"The more we hear about this issue, the more we learn, the more it feels like there was a deliberate attempt to mislead the public by someone other than us or CEA," Wade said. "We are puzzled by it. We are disturbed by it." [45]
September 2016
Released a report, prepared by Borlick Associates, LLC, criticizing solar tax credits and solar net metering. [27]
"The report admittedly ignores the robust studies that quantify the values of solar power, which are substantial," and "also confuses rebates offered by utilities with government policies and criticizes third-party solar ownership models," the Energy and Policy Institute reports. [19]
CEA faced allegations that it engaged in potentially criminal activity while promoting the Nexus Gas Transmission Pipeline in the Midwest. [26]
CEA was accused of submitting fake letters to the Federal Energy Regulatory Commission (FERC) shortly before the public comment period closed. An attorney representing groups opposing the pipeline had tracked the letters, and noted one came from a man who had died in 1998 while another was submitted by a woman with dementia. He also found similar language in 200 of the letters, leading them to suspect there could be a higher number of fraudulent letters. [26]
The Coalition to Reroute Nexus (CORN), a group of property owners opposing the Nexus Gas Transmission pipeline, filed a complaint at the FERC calling for a criminal review of CEA's actions in submitting comments in 347 letters to the FERC, The Plain Dealer reported. [42]
The complaint included affidavits from 14 Ohio residents who deny writing letters approving the pipeline and who said they never gave permission for CEA to write on their behalf. [42]
"This is an extremely serious matter," attorney David Mucklow said in the filing. "Submission of hundreds of bogus comment letters during the comment period is calculated to convey the false impression that there is widespread public support for construction and operation of the pipeline." [42]
CEA's President David Holt said that the Alliance has robocalled 25,000 homes asking for support for the project, and "then generated letters from questions asked by computers during the calls, attributing them the letters to owners of the telephone numbers dialed. Those letters were mailed to FERC with the residents' names but did not indicate CEA's involvement in the process." [42]
CORN co-founder Jonathan Strong said the CEA's actions were "criminal": [42]
"FERC does not seem to care about accountability," Strong said. "The whole evaluation process has been co-opted by oil and gas. This is a new day. We must stand up against this kind of activity or it will not change."
Strong said that every one of the 41 people CORN contacted whose letters appeared on the FERC website denied sending a letter. [42]
2016
According to its public 990 forms, CEA paid the public affairs group Story Partners a total of $535,442 for "communication" services in 2016. Story Partners lists work for both the American Petroleum Institute and for Noble Energy, a Colorado oil and gas production company.
Story Partners' case study for Noble Energy describes an effort to fight against a proposed ballot measure in northern Colorado: [43]
"By reframing the controversy from a fight between industry, government and citizens to an opportunity to promote energy independence and innovation, we successfully built public understanding and trust," the Story Partners boasts on its website.
The advertising materials for the campaign bear the logo of the Consumer Energy Alliance and link to a landing page on the CEA's website. [44]
2015
A Facing South investigation found that HBW Resources and CEA were instrumental in running the Outer Continental Shelf Governors Coalition, a group led by Pat McCrory (R) of North Carolina that promotes oil and gas drilling off the Atlantic Coast. [17]
CEA was accused of submitting fake comments as part of a submission supporting changes to the Wisconsin electricity grid. During the open comment period for the rule (5-UR-107) that had the potential to raise electricity rates for Wisconsin utility customers, CEA submitted "2,500 comments from Wisconsin electricity users who believe every energy consumer should pay a fair share for maintaining the electrical grid," according to its CEA's petition letter. [39], [40]
When The Capital Times contacted signers of the petition, a number of those listed said that they strongly opposed the plan that CEA had contended they supported, citing increased utility bills. In one example, listed supporter Mary Frawley said she had been contacted by CEA on the phone and agreed to let them use her name under the assumption they were against the proposal. [41]
The Consumer Energy Alliance filed the same list of 2,500 names to the PSC in the We Energies rate case Another listed supporter, Elizabeth Westlund, said she had received a call months ago but that she had never signed a petition and was opposed to "anything that will raise my bill." [41]
Peter Taglia, who runs the energy consulting business Clean Wisconsin, noted that CEA specialized in creating campaigns that appear to be grassroots support—referred to some as "astroturfing" or "greenwashing." [41]
"If this is true, it undercuts the legitimacy of the PSC process," Taglia said. "It's clear these out-of-state coal companies know they benefit from higher fixed fees on seniors, renters and low energy users." [41]
CEA's Michael Whatley denied that anyone contacted by the Alliance was misled into using their name in the PSC comments. [41]
July 16, 2014
Marty Allday, executive director of Consumer Energy Alliance-Texas, wrote a column for the San Antonio Express-News suggesting Texans should "should not be misled by anti-development activists threatening to thwart their state's energy boom and its resulting economic benefits." [28]
"Texas can expect to see more of this in the coming months and years. As the fight over the Keystone XL pipeline (eventually) comes to a close, groups who made their opposition to that project their signature issue are looking for another fight. And hydraulic fracturing is in their crosshairs. A tsunami of activist cash will be rerouted to pick apart the boom in U.S. energy by attacking its game-changing technology," Allday wrote. "Don't fall for their scare tactics! Be proud of Texas' production. Let's all take stock in Texas energy and Texas pride!" [29]
December 2011
As first reported on at Salon.com and The Tyee by Geoff Dembicki, new documents obtained via FOIA request revealed how CEA worked at national and state levels to fight against low carbon fuel standards (LCFS). As DeSmog noted, the new documents revealed how "lend insight into how CEA interacts with the Alberta government, and in turn, how the Alberta government, working alongside CEA, influences the American government at both the state and federal level." [1], [7], [30]
July 20, 2010
CEA launched a $1 million ad campaign in Michigan, Ohio, Indiana and Minnesota fighting against the most recent low carbon fuel standard proposal in Congress drafted by Michigan senator Debbie Stabenow. As The Tyee reported, mails released later under a freedom of information request revealed CEA's communication on the topic: [31], [1]
"Not sure if you are aware of this potential threat," read an email sent to Whatley from an unnamed source. "[The National Petrochemical and Refiner's Association] is implementing an aggressive media, grassroots and lobbying effort against this potential amendment."
CEA's campaign began approximately a week after the email. [1]
June 14, 2010
Alberta's then-environment minister Rob Renner, while visiting the United States on a "Clean Energy Mission," joined CEA for a Boston forum on the Low-Carbon Fuel Standard (LCFS). [32], [33]
"During this time of unprecedented economic uncertainty, instituting a region-wide policy designed to drive up gas and diesel prices and make essential energy commodities such as home heating oil a whole lot more scarce doesn't make a whole lot of sense," said Michael Whatley, vice president of Consumer Energy Alliance (CEA) who moderated the forum. "Maybe the more unfortunate reality of the LCFS, though, is that it won't do a thing to reduce global concentrations of greenhouse gases in the atmosphere. But that's the LCFS: All pain, no gain."
August 2009
CEA started running radio ads warning that policies supporting a low carbon fuel standard would "threaten thousands of American jobs" and "would be disastrous for American consumers." Each ad urged viewers to contact their state's representatives in Congress. In the ad campaign, initially running in Tennessee, Montana, and the Dakotas, CEA claimed gasoline prices, "would increase by at least 60 cents a gallon." [34]
Related Organizations
CEA

Members

View the attached spreadsheet for a summary of the below Consumer Energy Alliance members by year (.xlsx), based on data taken from the CEA website via Internet Archive:

Energy Providers and Suppliers
Member Name
2009
2010
2011
2012
2013
2014
2015
2016
2017
2018[4]
2019
2020
Alaska Energy Authority
Y
Y
Y
Alaska Miners Association
Y
Y
Y
Y
Y
Y
Y
Alaska Oil and Gas Association
Y
Y
Y
Y
Y
Y
Y
Alaska Support Industry Alliance
Y
Y
Y
Y
Alliant Energy
Y
Alpha Natural Resources
Y
Alyeska Pipeline Service Company
Y
Y
Y
Y
Y
Ameren Missouri
Y
Y
Y
Y
Y
Y
America's Natural Gas Alliance
Y
American Association of Petroleum Geologists
Y
Y
Y
Y
Y
Y
Y
Y
Y
Y
Y
Y
American Coalition for Clean Coal Electricity
Y
Y
Y
Y
Y
American Exploration

&

Production Council
Y
Y
Y
Y
Y
Y
Y
Y
Y
Y
American Fuel

&

Petrochemical Manufacturers
Y
Y
Y
Y
Y
Y
Y
Y
Y
American Gas Association
Y
Y
Y
Y
Y
Y
Y
Y
Y
Y
Y
Y
American Petroleum Institute (

API

)
Y
Y
Y
Y
Y
Y
American Public Gas Association
Y
Y
Y
Y
Y
Y
Y
Y
Y
Y
Y
Y
American Public Power Association
Y
Y
Y
Y
Y
Y
Y
Y
Y
Anadarko
Y
Y
Y
Anchorage Municipal Light

&

Power
Y
Y
Y
Apache Corporation
Y
Y
Y
Y
Y
Y
Y
Y
Arctic Power
Y
Y
Y
Y
Arizona Public Service Electric Company
Y
Arkansas Independent Producers and Royalty Owners
Y
Y
Y
Y
Y
Y
Association of Electric Companies of Texas, Inc.
Y
Y
Y
Y
Y
Y
Y
Association of Oil Pipe Lines
Y
Y
Y
Y
Y
Y
Y
Y
Y
Y
Y
Barney's Pumps, Inc.
Y
Y
Y
Y
Y

BHP

Billiton Petroleum
Y
Big Rivers Electric Corporation
Y
Y
Y
Y
Black Pearl Exploration
Y

BP

Y
Y
Y
Y
Y
Y
Y
Y
Y
Y
Bug Ware, Inc.
Y
Burnett Oil Co., Inc.
Y
Y
Y
Cabot Oil

&

Gas Corporation
Y
Y
Y
Y
Y
Y

CCC

Group, Inc.
Y
Y
Y
Y
CenterPoint Energy
Y
Y
Y
Y
Y
Y
Central Hudson Gas

&

Electric Corporation
Y
Centrus
Y
Y
Y
Y
Y
Y
Cheniere Energy
Y
Y
Y
Y
Y
Y
Chevron
Y
Y
Y
Y
Y
Y
Y
Y
Y
Y
Y
Choice! Energy
Y
Y
Y
Y
Y
Clean Line Energy Partners
Y
Y
Y
Y
Colorado Mining Association
Y
Y
Y
Y
Y
Y
Colorado Oil and Gas Association
Y
Y
Y
Y
Comanco
Y
Y
Y
Y
ConocoPhillips
Y
Y
Y
Y
Y
Y

CONSOL

Energy
Y
Y
DcR Engineering Services, Inc.
Y
Delaware Valley Marcellus Association
Y
Y
Y
Delta American Fuels
Y
Y
Y
Y
Y
Delta Natural Gas Company
Y
Denbury Resources, Inc.
Y
Y
Devon Energy Corporation
Y
Y
Y
Y
Y
Y
Y
Y
Y
Direct Energy
Y
Y
Y
Dominion Energy
Y
Dominion Resources Inc.
Y
Y
Y
Y
Y
Drake Well Service
Y
Y
Y
Y
Y

DTE

Y
East Coast Power

&

Gas
Y
East Kentucky Power Cooperative
Y
Y
Y
Edison Electric Institute
Y
Y
Y
Y
El Paso Energy Corporation
Y
Y
Y
Y
Enable Midstream
Y
Enbridge Energy Company
Y
Encino Energy
Y
Y
Energy Equipment and Infrastructure Alliance
Y
Y
Y
Y
Y
Y
Energy Institute of Alabama
Y
Energy Transfer Partners
Y
Y
Y
Y
Entergy
Y
Y
Y
Y
Environmentally Conscious Consumers for Oil Shale
Y
Y
Y
Y
Y
Y
Y
Y
Environmentally Friendly Drilling Systems Program
Y
Y
Y
Y
Y
Y
Y
Y
Y

EOG

Resources
Y
Y
Y
Y
Y
Y
Y

EP

Energy
Y
Equinor
Y
Y
Equitrans Midstream
Y
Exelon Corporation
Y
Y
Y
Y
ExxonMobil
Y
Y
Y
Y
Y
Y
Y
Y
Y
Y
Y
Y
Fairweather

LLC

Y
Florida Electric Cooperative Association
Y
Y
Florida Handling Systems, Inc.
Y
Y
Y
Y
Florida Petroleum Council
Y
Y
Y
Y
Y
Florida Power

&

Light Co.
Y
Y
Y
Y
Y
Y
Y
Foresight Wind
Y
Y
Y
Y
Freedom Solar
Y
Y
Y
Y
Y
Y
Y
Y
Y
Gas Technology Institute
Y
Y
Y
Y

GATE

Petroleum Company
Y
Y
Y
Y
GenOn Energy
Y
Y
Georgia Electric Membership Corporation
Y
Y
Y
Y
Y
Georgia Power
Y
Georgia Transmission Corporation
Y
Y
Y
Golden Pass Products
Y
Y
Y
Y
Y
Y
Great Plains- The Camelina Company
Y
Y
Green Earth Fuels
Y
Y
Y
Y
Y
Y
Y
Y
Y
Greenline Industries
Y
Y
Y
Y
Gulf Coast Clean Energy Application Center
Y
Y
Y
Gulf Economic Survival Team
Y
Y
Y
Y
Y
Halliburton
Y
Y

HD

Supply
Y
Y
Y
Y
Y
Hess Corporation
Y
Y
Y
Y
Y
Y
Houston BioDiesel
Y
Y
Y
Houston Clean Energy Park
Y
Y
Houston Geological Society
Y
Y
Houston Renewable Energy Network
Y
Y
Y
Y
Y
Y
Y
Y
Y
Y

HT

/DcR Engineering, Inc.
Y
Y
Y
Y
Independent Oil and Gas Association of West Virginia
Y
Y
Y
Y
Y
Independent Petroleum Association of America
Y
Y
Y
Y
Y
Y
Y
Y
Y
Y
Y
Y
Independent Petroleum Association of Mountain States
Y
Indiana Energy Association
Y
Y
Y
Y
International Association of Drilling Contractors
Y
Y
Y
Y
Y
Y
Y
Interstate Oil

&

Gas Compact Commission
Y
Y
Y
Y
Y
Y
Y
Y
Y
Y
Y
Y

ION

Geophysical Corporation
Y
Y
Iroquois Gas Transmission System,

LP

.
Y

JEA

Y
Y
Y
Y
Y
Y
Kentucky Association of Electric Cooperatives
Y
Y
Y
Y
Kentucky Oil

&

Gas Association
Y
Y
Y
Y
Y
Y
Y
Lakeridge Energy Corporation
Y
Y
Y
Lime Instruments
Y
Y
Y
Y
Louisville Gas and Electric Company and Kentucky Utilities Company
Y
Y
Y
Magellan Midstream
Y
Marathon Corporation
Y
Y
Y
Y
Y
Y
Y
Y
Y
Marathon Energy
Y
Marathon Petroleum Corporation
Y
Marcellus Shale Chamber of Commerce
Y
Y
Y
Material Transfer Industries,

LLC

Y
Y
Y
Y
Metal Treating Institute
Y
Y
Y
Y
Minova Global
Y
Y
Mississippi Energy Institute
Y
Missourians for a Balanced Energy Future
Y
Y
Y
Y
Y
Y
Moretrench
Y
Y
Y
Y

MS

Industrial Corporation
Y
Y
Y
Y
Nalco
Y
Y
Y
National Algae Association
Y
Y
Y
Y
Y
Y
Y
National Fuel Gas Company
Y
National Ocean Industries Association
Y
Y
Y
Y
Y
Y
Y
Y
Y
Y
Y
Y
National Ocean Policy Coalition
Y
Y
Y
Y
Y
Y
National Petrochemical and Refiners Association
Y
Y
Y
National Propane Gas Association
Y
Y
Y
Y
National Rural Electric Cooperative Association
Y
Y
Y
National Solar Power
Y
Y
Y
Y
Y
Y
Y
Y
Y
Natural Gas Supply Association
Y
Y
Y
Y
Y
Y
Y
Y
Y
Y
Y
New England Fuel Institute
Y
Y
Y
Y
Y
Y
Y
New Mexico Oil

&

Gas Association
Y
Y
Y
Y
Y
Y
Y

NJ

Resources
Y
Noble Energy, Inc.
Y
Y
Y
Y
Y
Y
North Carolina Association of Electric Cooperatives
Y
Y
Y
Y
Y
Y
Y
Nuclear Energy For Texans
Y
Y
Y
Y
Y
Nuclear Energy Institute
Y
Y
Y
Y
Y
Y
Y
Y
Y
Y
Y
Y
Ocean Energy Institute
Y
Y
Offshore Energy Center
Y
Y
Oglethorpe Power Corporation
Y
Y
Y
Ohio Oil

&

Gas Association
Y
Y
Y
Y
Y
Y
One Energy
Y
Y
Partnership for Affordable Clean Energy (

PACE

)
Y
Y
Y
Y
Y
Y
Y

PDC

Energy
Y
Y
Y
Y
Peabody
Y
Y
Y
Y
Y
Y
Y
Y
Pebble Limited Partnership
Y
Pembina
Y
PennEast Pipeline

LLC

Y
Y
PennHills Resources
Y
Y
Y
Pennsylvania Coal Alliance
Y
Y
Y
Petrohawk Energy Corporation
Y
Y
Y
Phillips 66
Y
Y
Y
Y
Piedmont Natural Gas
Y
Y
Y
Y
Y
Pioneer Natural Resources
Y
Y
Y
Y
Public Service Company of New Mexico
Y
Y
Range Resources
Y
Y
Y
Y
Reliable Renewables,

LLC

Y
Y
Y
Y
Rigzone
Y

RMI

Y
Sasol
Y
Y
Y
Y
Y
Y
Y

SCANA

Corp.
Y
Y
Y
Y
Seneca Resources
Y
Y
Y
Y
Shell Oil
Y
Y
Y
Y
Y
Y
Y
Y
Y
Y
Y
Y
Shell WindEnergy
Y
Y

SM

Energy
Y
Y
Y
Smith Brothers Oil
Y
Y
Y
Y
Society for Mining, Metallurgy

&

Exploration
Y
Y
Y
Y
Y
Y
Y
Y
South Jersey Industries
Y
Southeastern Coastal Wind Coalition
Y
Southeastern Wind Coalition
Y
Y
Y
Y
Y
Y
Spectra Energy
Y
Y
Y
Y
Y
Spectrum

ASA

Y
Y
Spitzer Industries, Inc.
Y
Y
Y
Statoil
Y
Y
Y
Y
Y
StatoilHydro
Y
Y
Stuart Petroleum Testers
Y
Y
Y
Talisman Energy Inc.
Y
Tampa Tanks, Inc.
Y
Y
Y
Y
Tellurian
Y
Tennessee Mining Association
Y
Y
Y
Y
Y
Y
Y
Tennessee Oil

&

Gas Association
Y
Y
Y
Y
Y
Y
Y
Texas Alliance of Energy Producers
Y
Y
Y
Y
Y
Y
Y
Y
Y
Y
Y
Y
Texas Oil

&

Gas Association
Y
Y
Y
Y
Y
Y
Y
The Alaska Support Industry Alliance
Y
Y
Y
Y
The Center for North American Energy Security
Y
Y
Y
The Williams Companies, Inc.
Y
Y
Y
Y
Trans Pacific Oil Corporation
Y
Y
Y

U. S.

Oil

&

Gas Association
Y
Y
Y
Y
Y

U.S.

DOE

Gulf Coast Clean Energy Application Center
Y
Y
Y

U.S.

Oil

&

Gas Association
Y
Y
Y
Y
Y
Y
Y

UGI

Energy Services
Y
United States Enrichment Corporation
Y
Y
Usibelli Coal Mine
Y
Y
Y
Y
Vaan Gaskets
Y
Y
Virginia Oil

&

Gas Association
Y
West Virginia Oil and Natural Gas Association
Y
Y
Y
Y
Y
Y
Wisconsin Industrial Energy Group, Inc.
Y
Y
Y
Y
Y
Y
Y
Wolverine Pipeline
Y
Y
Y

WPX

Energy
Y
Xcel Energy
Y
Y
Y
Consumers/Business/Agriculture/Industry/End-Users
Member
2009
2010
2011
2012
2013
2014
2015
2016
2017
2018
2019
2020
60 Plus Association
Y
Y
Y
Y
Y
Y
Y
Y
Y
Y
Y
Y
Action Supply Products Inc.
Y
Agriculture-Energy Alliance
Y
Y
Y
Y
Y
Y
Y
Y
Air Conditioning Contractors of America
Y
Y
Y
Y
Y
Y
Y
Y
Y
Y
Y
Y
Air Transport Association
Y
Y
Y
Airlines for America
Y
Y
Y
Y
Y
Y
Y
Y
Y
Alaska Communications Systems
Y
Alaska State Chamber of Commerce
Y
Y
Y
Y
Y
Y
Y
Y
Alaska Trucking Association
Y
Y
Y
Y
Y
Y
Y
Y
Alternative Energy Builders
Y
Y
Y
Y
American Bus Association
Y
Y
Y
Y
Y
Y
American Chemistry Council
Y
Y
Y
Y
Y
Y
American Forest

&

Paper Association
Y
Y
Y
Y
Y
Y
American Highway Users Alliance
Y
Y
Y
Y
Y
Y
Y
Y
Y
Y
Y
Y
American Iron

&

Steel Institute
Y
Y
Y
Y
Y
Y
Y
Y
Y
Y
Y
Y
American Rental Association
Y
Y
Y
Y
Y
Y
Y
Y
Y
American Trucking Associations
Y
Y
Y
Y
Y
Y
Y
Y
Y
Y
Y
Y
Americans for American Energy
Y
Amway
Y
Y
Y
Y
Anchorage Chamber of Commerce
Y
Y
Y
Y
Y
Y
Y
Y
Anderson Columbia Co., Inc.
Y
Y
Y
Y
Y
Applied Fiber Manufacturing,

LLC

.
Y
Y
Y
Y
ArcelorMittal
Y
Arctic Branding

&

Apparel
Y
Y
Arkansas Environmental Federation
Y
Y
Y
Y
Y
Y
ArrMaz Custom Chemicals
Y
Y
Y
Y
Y
Associated General Contractors of Alaska
Y
Y
Y
Y
Y
Y
Y
Associated Industries of Florida
Y
Y
Y
Y
Y
Y
Y
Y
Y
Y
Y
Y
Association of Corporate Travel Executives
Y
Y
Y
Y
Y
Y
Y
Association of Equipment Manufacturers
Y
Y
Y
Y
Y
Y
Y
Y
Y
Axia Partners
Y
Axioun Strategic Planning
Y
Axistrade, Inc.
Y
Y
Y
Babcock

&

Wilcox Company
Y
Y
Y
Bayer Corporation
Y
Y
Y
Y
Beaver County Chamber of Commerce
Y
Y
Y
Y
Y
Y
Y
Beneficiation Technologies
Y
Y
Y
Y
Y
Better Roads Inc.
Y
Y
Y
Y
Y
Y
Y
Bettis Brothers Sand and Gravel
Y
Big Lake Economic Development Corporation
Y
Blue Dragonfly Brewing

LLC

Y
Blue Dragonfly Inn
Y
Bodø Graduate School of Energy Management (Norway)
Y
Y
Y
British-American Business Council
Y
Y
Y
Y
Y
Y
Y
Y
Y
Y
Y
Y
Broken Arrow Chamber of Commerce
Y
Brownsville Area Revitalization Corporation
Y
Bug Ware, Inc.
Y
Y
Y
Y
Building Industry Association of Central Ohio
Y
Business Council of Alabama
Y
Y
Y
C

&

H Printing
Y
Canadian American Business Council
Y
Y
Y
Y
Y
Y
Y
Y

CAP

Logistics
Y
Y
Y
Y
Y
Capital Region Chamber of Commerce
Y
CareerSource Florida
Y
Casis
Y
Y
Y
Caterpillar Global Petroleum Group
Y
Y
Y
Caterpillar, Inc.
Y
Y
Y
Y
Y
Y
Y
Y

CCC

Group, Inc.
Y

CF

Industries, Inc.
Y
Y
Y
Y
Y
Y
Chamber of Commerce of the Mid-Ohio Valley
Y
Chamber of Shipping of America
Y
Y
Y
Y
Y
Y
Y
Y
Chemical Industry Council of Illinois
Y
Y
Y
Y
Y
Y
Y
Y
Y
Chemung County Chamber of Commerce
Y
Cimarron Cycle Works
Y
Clay County Chamber of Commerce
Y
Clay County Farm Bureau
Y
Cleveland Bros Caterpillar Dealership
Y
Cleveland Brothers Equipment Co., Inc.
Y
Y
Y
Y
Y
Cole Chemical
Y
Colorado Building and Construction Trades Council
Y
Colorado Business Roundtable
Y
Y
Y
Colorado Energy Coalition
Y
Y
Y
Y
Y
Y
Y
Colorado Farm Bureau
Y
Y
Y
Y
Y
Y
Y
Y
Y
Y
Y
Y
Colorado Motor Carriers Association
Y
Y
Y
Y
Y
Y
Y
Comanco
Y
Y
Y
Y
Combined Arms
Y
Commonwealth North
Y
Y
Y
Consortium for Ocean Leadership
Y
Y
Y
Consumers United for Energy Solutions
Y
Y
Cornerstone Business Solutions
Y
Corpus Christi Hispanic Chamber of Commerce
Y
Y
Y
Y
Council for Dredging and Marine Construction Safety
Y
Crafton, Tull

&

Associates
Y
Y
Credence Corp.
Y
Culbreth Financial Group
Y
Y
Y
Y
Y
Dawson and Associates
Y
Y
Y
DcR Engineering Services, Inc.
Y
Y
Y
Y
Y
Y
Y
Decision Strategies
Y
Y
Y
Y
Deutsche Post

DHL

Y
Y

DHL

(Deutsche Post World Net –

USA

)
Y
Dow
Y
Y
Y
Y
Dynamotive

USA

, Inc.
Y
Y
Y
Y
Economic Alliance Port Region
Y
Edmond Chamber of Commerce
Y

ELEC

/Operating Engineers Local 825
Y
Y
Elite Parking Services of America, Inc.
Y
Y
Y
Y
Y
Y
Y
Y
Enaxis Consulting,

LP

Y
Y
Energy Industries of Ohio
Y
Y
Y
Y
Y
Y
Y
Energy People Connect
Y
Y
Y
Y
Y
Y
Y
Y
Ernst

&

Young
Y
Y
Y
Y
Exponent Consulting
Y
Y
Fairfax Chamber of Commerce
Y
Farmington Chamber of Commerce
Y
Y
Y
Y
Y
Florida Chamber of Commerce
Y
Y
Y
Y
Y
Y
Y
Y
Y
Y
Y
Y
Florida Family Association, Inc.
Y
Y
Y
Y
Florida Fertilizer and Agrichemical Association
Y
Y
Y
Y
Y
Y
Y
Y
Y
Y
Y
Y
Florida Handling Systems, Inc.
Y
Y
Y
Y
Y
Y
Y
Y
Florida Hispanic Chamber of Commerce
Y
Florida Minerals and Chemistry Council
Y
Y
Y
Y
Y
Florida Restaurant and Lodging Association
Y
Y
Y
Y
Y
Y
Y
Y
Y
Y
Y
Y
Florida Sugar Cane League
Y
Y
Florida Taxpayers Union
Y
Y
Y
Y
Y
Y
Y
Florida Transportation Builders Association
Y
Y
Y
Y
Y
Y
Y
Y
Y
Y
Y
Y
Freanna Yoghurt

LLC

Y
Fueling California
Y
Y
Y
Y
Y
Gainesville Area Chamber of Commerce
Y
Gallagher Benefit Services, Inc.
Y
Y
Y
Y
Gallup-McKinley County Chamber of Commerce
Y
Garcia Jewelers
Y
Y
Y
Y
Y

GATE

Petroleum Company
Y

GCI

Industrial Telecom
Y
Y
Y
General Electric
Y
Y
Y
Georgia Agribusiness Council
Y
Y
Y
Y
Y
Y
Y
Georgia Association of Manufacturers
Y
Y
Y
Georgia Chamber of Commerce
Y
Y
Y
Y
Y
Y
Y
Y
Grand Junction Area Chamber of Commerce
Y
Y
Y
Y
Y
Y
Great Lakes Maritime Task Force
Y
Y
Y
Y
Y
Y
Greater Binghamton Chamber of Commerce
Y
Greater Fairbanks Chamber of Commerce
Y
Y
Y
Y
Y
Y
Y
Y
Greater Houston Partnership
Y
Y
Y
Y
Y
Y
Y
Y
Y
Y
Y
Y
Greater Houston Restaurant Association
Y
Y
Y
Y
Y
Y
Y
Y
Greater Louisville, Inc.
Y
Greater Philadelphia Chamber of Commerce
Y
Y
Y
Y
Y
Y
Greater Pittsburgh Chamber of Commerce
Y
Y
Y
Y
Y
Y
Greater Tampa Chamber of Commerce
Y
Grocery Manufacturers Association
Y
Y
Y
Y
Y
Y
Gulf Coast Business Council
Y
Y
Y
Gulf County Economic Development Council
Y
Y
Y
Y
Y
Y
Y
Gulf Economic Survival Team
Y
Hancock County Port and Harbor Commission
Y
Harman Farms
Y
Hispanic Leadership Fund
Y
Y
Y
Y
Y
Y
Y
Y
Y
Hispanic Policy Group
Y
Hotel D 2
Y
Houma-Terrebonne Chamber of Commerce
Y
Houston Restaurant Association
Y
Y
Y
Y
Houston Technology Center
Y
Y
Y
Y
Y
Y
Y
Y
Y
Huntington Regional Chamber of Commerce
Y
Illinois Chamber of Commerce
Y
Y
Y
Y
Y
Y
Y
Y
Y
Y
Y
Illinois Trucking Association
Y
Y
Y
Y
Y
Y
Y
Y
Y
Indiana Builders Association
Y
Indiana Manufacturers Association
Y
Y
Inlet Mechanical
Y
Y
International Brotherhood of Electrical Workers – Local Union 111
Y
Y
International Foodservice Distributors Association
Y
Y
Y
Y
Y
International Longshoremen's Association – Local 1768
Y
Y
Y
Y
International Union of Operating Engineers – Local 450
Y
International Union of Operating Engineers – Local 66
Y
Y
Y
Y
Y
Y
Y
Y
International Window Film Association
Y
Y
Iowa Association of Business

&

Industry
Y
Y
Y
Y
Iowa Motor Truck Association
Y
Y
Y
Y
Y
Y
Y
Iron Workers International
Y
Y
Y
Y
Y
Y
Y
Iron Workers Local 3
Y
Y
Y
Y
Irrigation Association
Y

J. B.

Coxwell Contracting, Inc.
Y
Y
Y
Y
Y
Y
Y
Y
Y
Y
Y
Y
Jacksonville Chamber of Commerce
Y
Y
Y
Y
Y
Y
Y
Y
Jefferson Chamber
Y
John L. Wortham

&

Son,

L.P.

Y
Y
Y
Y
Y
Y
Kentucky Chamber of Commerce
Y
Y
Y
Y
Y
Y
Kentucky Motor Transport Association
Y
Y
Y
Y
Y
Y
Kenworth Alaska
Y
Y
Y
Y
Kissimmee – Osceola County Chamber of Commerce
Y
Y
Y
Y
Y
Y

LA

1 Coalition
Y
Y
Laborers District Council of Western Pennsylvania
Y
Laborers' International Union of North America – Midwest Region
Y
Y
Y
Laborers' International Union of North America – Northwest Region
Y
Y
Y
Love's Travel Stops

&

Country Stores
Y
Y
Y
Y
Y
Y
Luna County Farm

&

Livestock Bureau
Y
Lynden
Y
Y
Y
Maine Motor Transport Association
Y
Y
Y
Y
Y
Y
Y
Y
Manufacture Alabama
Y
Y
Y
Y
Manufacturers Association of Florida
Y
Y
Y
Y
Y
Marcellus Shale Chamber of Commerce
Y
Marine Engineers' Beneficial Association
Y
Y
Maritime Exchange for the Greater Delaware River and Bay
Y
Y
Y
Y
Y
Y
Y
Marsh Wortham Insurance
Y
Marshall County Chamber of Commerce
Y
MatSu Business Alliance
Y
Y
Y
Y
McDonald Construction
Y
Y
Y
Y
Y
Y
Y
Melbourne Florida Regional Chamber of Commerce
Y
Metal Treating Institute
Y
Methanex Corporation
Y
Y
Y
Y
Methanol Institute
Y
Mid Frisian Dairy

LLC

Y
Mid Frisian Farms

LLC

Y
Midland Chamber of Commerce
Y
Y
Y
Y
Y
Y
Y
Y
Midland-Odessa Transportation Alliance Inc.
Y
Minnesota Chamber of Commerce
Y
Y
Y
Mississippi Economic Council
Y
Y
Y
Mississippi Energy Institute
Y
Y
Y
Y
Y
Y
Y
Y
Mississippi Manufacturers Association
Y
Y
Y
Y
Y
Y
Y
Y
Y
Missouri Chamber of Commerce and Industry
Y
Y
Y
Y
Y
Y
Missourians for a Balanced Energy Future
Y
Y
Mitsubishi Hitachi
Y
Mobile Area Chamber of Commerce
Y
Y
Y
Y
Y
Y
Y
Y
Monahans Chamber of Commerce
Y
Monarch Corporation
Y
Y
Y
Y
Montana Chamber of Commerce
Y
Y
Y
Y
Y
Y
Y
Y
Y
Moretrench
Y
Morgantown Area Chamber of Commerce
Y
Morgantown Area Partnership
Y
Morrison Auto Group
Y
Mosaic Company
Y
Y
Y
Y
Y
Y
Y
Y
Y
Y
Motiva Enterprises
Y
Move Texas Forward
Y
Y
Y
Mowell Financial Group, Inc.
Y
Y
Y
Y
Y

MS

Industrial Corporation
Y
Y
Muscle Wall,

LLC

Y
Y
Y

MWH

Global
Y
Y
Y
Y
My Town, My Job, My Voice
Y
Y
Y
Y
Y
Myrtle Beach Area Chamber of Commerce
Y
Y
Y
Y
Y
Y
Y

NANA

Regional Corporation
Y
Y
Y
National Association of Convenience Stores
Y
Y
Y
Y
Y
Y
Y
Y
Y
Y
Y
National Association of Home Builders
Y
Y
Y
Y
Y
National Association of Manufacturers
Y
Y
Y
Y
Y
Y
Y
Y
Y
Y
Y
Y
National Association of Neighborhoods
Y
Y
Y
Y
Y
Y
Y
Y
Y
Y
Y
Y
National Association of Truck Stop Operators
Y
Y
Y
Y
Y
National Energy Education Development Project
Y
Y
National Grange of the Order of Patrons of Husbandry
Y
National Ocean Policy Coalition
Y
National Small Business Association
Y
Y
Y
Y
Y
Y
Y
Y
Y
Y
Y
Y
National Tank Truck Carriers
Y
Y
Y
Y
Y
Y
Nebraska Chamber of Commerce

&

Industry
Y
Y
Y
Y
Y
Y
Y
Y
Y
Nebraskans for Jobs and Energy Independence
Y
Y
Y
Y
Y
Y
Y
Y
Y
Nevada Trucking Association
Y
Y
Y
Y
Y
Y
Y
Y
New England Ratepayers Association
Y
Y
Y
Y
New Jersey Chamber of Commerce
Y
New Mexico Business Coalition
Y
Y
New Mexico Farm

&

Livestock Bureau
Y
New Mexico Trucking Association
Y
Y
Y
Y
Y
Y
Y
NextOp
Y
Y
Y
Y

NGVA

merica
Y
North Carolina Chamber of Commerce
Y
Y
Y
Y
Y
Y
Y
North Carolina Farm Bureau
Y
Y
Y
Y
Y
Y
Y
North Florida Clean Cities Coalition
Y
Y
Y
Y
Y
Y
Y
Northeast Florida Builders Association
Y
Northeast Pennsylvania Manufacturers and Employers Association
Y
Y
Y
Y
Y
Y
Y
Y
Y
Northrim Bank
Y
Y
Y
Y
Nucor Corporation
Y
Y
Y
Y
Y
Y
Y
Y
Nucor Steel
Y
Y
Y
Odessa Chamber of Commerce
Y
Y
Y
Y
Y
Y
Y
Offshore Marine Services Association
Y
Y
Y
Y
Ohio AgriBusiness Association
Y
Y
Y
Y
Ohio Cast Metals Association
Y
Y
Y
Y
Y
Y
Ohio Chamber of Commerce
Y
Y
Y
Y
Y
Y
Y
Y
Y
Ohio Oil and Gas Energy Education Program
Y
Ohio State Grange
Y
Ohio Trucking Association
Y
Y
On Deck Seafood
Y
Y
Y
Y
Y
Y
Y
Y
Y
Y
Y
Y
Orbital Engineers
Y
Ostego County Chamber of Commerce
Y
Oviedo-Winter Springs Chamber of Commerce
Y
Y
Y
Palmetto Agribusiness Council
Y
Y
Y
Y
Y
Y
Y

PCS

Phosphate Company, Inc.
Y
Y
Y
Y
Y
Pelco Structural,

LLC

Y
Y
Y
Pennsylvania Chamber of Business and Industry
Y
Y
Y
Y
Y
Y
Pennsylvania Chemical Industry Council
Y
Y
Pennsylvania Energy Infrastructure Alliance
Y
Y
Y
Y
Pennsylvania Food Merchants Association
Y
Y
Pennsylvania Manufacturers Association
Y
Y
Pennsylvania Motor Truck Association
Y
Y
Y
Y
Y
Y
Y
Petroleum

&

Convenience Marketers of Alabama
Y
Y
Pipefitters Local Union 208
Y
Y
Y
Plumbing-Heating-Cooling Contractors—National Association
Y
Y
Y
Y
Y
Port of Corpus Christi
Y
Y
Y
Y
Y
Y
Y
Y
Y
Port of Houston Authority
Y
Y
Y
Y
Y
Ports-to-Plains Trade Corridor Coalition
Y
Y
Y
Y
Y
Y
Y
Y
Y
Poten and Partners
Y
Y
Premier Edge Barber Shop
Y
ProEnergy
Y
Promes-Atlas
Y
Prosperity Alaska
Y
Y
Y
Queens Chamber of Commerce
Y
Ragin' Cajun
Y
Regional Airline Association
Y
Research Partnership to Secure Energy for America
Y
Y
Y
Y
Y
Y
Y
Y
Y
Y
Y
Resource Development Council for Alaska
Y
Y
Y
Y
Y
Y
Y
Y
Y
Y
Y
Y
Rifle Area Chamber of Commerce
Y
Y
Y
Y
Y
Y
Rigzone
Y
Y
Y
Y
Ring Power Corporation
Y
Y
Y
Y
Y
Y
Y
Y
Y
Y
Y
Y
Rivere Foods
Y
Y
Y
Y
Y
Y
Y
Y
Y
Robinson Fans
Y
Y
Y
Y
Y
Rural Jobs Coalition
Y
Safety Kick
Y
Y
Y
Santa Barbara County Energy Coalition
Y
Y
Y
Y
Y
Y
Y
Y
Y
Y
Science

&

Engineering Fair of Houston
Y
Y
Shale Crescent

USA

Y
Y
Y
Y
Shepherd Safety Systems
Y
Y
Shipbuilders Council Of America
Y
Slover Consulting
Y
Y
Y
Smiths Group,

PLC

Y
Y
Y
Y

SMM

Pogo
Y
Softway Solutions
Y
Y
Y
South Carolina Chamber of Commerce
Y
Y
Y
Y
Y
Y
Y
Y
South Carolina Farm Bureau Federation
Y
Y
Y
Y
Y
Y
Y
South Carolina Trucking Association
Y
Y
Y
Y
Y
Y
Y
Y
Y
Y
Y
Southeast Energy Alliance
Y
Southeastern Fisheries Association
Y
Y
Y
Y
Y
Y
Y
Y
Y
Y
Y
Y
Southern Chemical Corporation
Y
Y
Southern Saratago County Chamber of Commerce
Y
Southpointe Chamber of Commerce
Y
Y
Y
Y
Y
Y
Y
Y
Y
Spitzer Industries, Inc.
Y
Y
St. Louis Regional Chamber
Y
Y
Y
Y
Y
Y
State Chamber of Oklahoma
Y
Y
Y
Y
Y
Y
Steel Manufacturers Association
Y
Y
Y
Y
Y
Y
Y
Y
Y
Straits Lighting Company
Y
Y
Y
Sun Glass
Y
Y
Y
Y
Y
Tampa Tanks, Inc.
Y
Tennessee Chamber of Commerce

&

Industry
Y
Y
Y
Y
Y
Y
Y
Tennessee Farm Bureau
Y
Y
Y
Y
Y
Y
Y
Texas Association of Manufacturers
Y
Y
Y
Y
Y
Y
Y
Texas Motor Transportation Association
Y
Y
Texas Prosperity Project
Y
Y
Y
Texas Trucking Association
Y
Y
Y
Y
Y
Y
Y
The Business Council of New York
Y
Y
Y
The Carey Group
Y
Y
Y
The EarthQuest Institute
Y
Y
The Fertilizer Institute
Y
Y
Y
Y
Y
Y
Y
The Hispanic Institute
Y
The Hispanic Leadership Fund
Y
Y
The Peace and Prosperity Project
Y
Y
Y
Y
Y
Y
Y
Y
The Plaza Group
Y
Y
Y
Y
Y
Y
Third Coast International
Y
thyssenkrupp
Y
Y
Toledo Regional Chamber of Commerce
Y
Torch Energy Solutions
Y
Y
Y
Y
Townsend Marine
Y
Y
Y
Y
Transportation Advocacy Group
Y
Y
Truth or Consequences Chamber
Y

U.S.

Chamber of Commerce
Y
Y
Y
Y
Y
Y
Y
Y
Y
Y
Y
Y
Ukpeaġvik Iñupiat Corporation
Y
Y
Y
Union Contractors and Subcontractors Association, Inc.
Y
Y
Y
Y
Y
Y
Y
Y
Y
Union of Operating Engineers Local 66
Y
United Brotherhood of Carpenters Millwrights
Y
United Motorcoach Association
Y
Y
Y
Y
Y
United Piping
Y
Y
University of Texas, Center for Energy Economics
Y
Y
Y

US

Energy Stream
Y
Virginia Chamber of Commerce
Y
Y
Y
Y
Y
Y
Y
Virginia Manufacturers Association
Y
Y
Y
Y
Y
Y
Y
Y
Y
Y
Y
Y
Vision Shared
Y
Y
Vital for Colorado
Y
Y
Y
Y
Voovio
Y
Y

W. W.

Gay Mechanical Contractor, Inc.
Y
Y
Y
Y
Y
Y
Y
Y
Y
Y
Y
Y
Ward Packaging and Associates
Y
Y
Y
Y
Washington County Chamber of Commerce
Y
Y
Y
Y
Y
Y
Y
Y

WD

Scott Group, Inc.
Y
West Gulf Maritime Association
Y
Y
Y
Y
Y
Y
West Virginia Manufacturers Association
Y
Y
Y
West Virginia Route 2 and I-68 Authority
Y
West Volusia Chamber of Commerce
Y
Winkler Public Relations
Y
Wisconsin Industrial Energy Group, Inc.
Y
Wisconsin Manufacturers and Commerce
Y
Y
Y
Y
Y
Y
Y
Y
Y
Y
Y
Wisconsin Motor Carriers Association
Y
Y
Y
Y
Y
Y
Wyoming County Chamber of Commerce
Y
Y
Y
Y
Y
Y
Y
Ygrene Energy Fund
Y
Y
Y
Youngstown / Warren Regional Chamber
Y
Academic Groups
Member
2012
2013
2014
2015
2016
2017
2018
2019
2020

BRITE

Energy Lab
Y

CSTEM

Teacher

&

Student Support Services
Y
Y
Y
Y
Y
Y
Y
Houston Museum of Natural Science
Y
Y
Y
Y
Y
Y
Y
Y
Y
HoustonWorks

USA

Y
National Energy Education Development Project
Y
Y
Y
Y
Y
Y
Offshore Energy Center
Y
Y
Y
Y
Y
Y
Y
Y
Y
Science

&

Engineering Fair of Houston
Y
Y
Y
Y
Y
Y
Y
Y
Y
Tech Belt Energy Innovation Center
Y
University of Nordland (Norway)
Y
Y
University of Texas, Center for Energy Economics
Y
Y
Y
Y
Y
Y
Y
Contact
&

Address

The Consumer Energy Alliance listed the following contact information on its website as of November 2018: [38]
Consumer Energy Alliance
2211 Norfolk Street, Suite 410
Houston, TX 77098

(713) 337-8800 (main number)
Social Media
Resources
Other Resources