As a carpenter for a contractor company, Cullen Boudreaux worked in oil refineries throughout Louisiana. "I think a lot of regular people don't realize how dangerous it really is," he said of his experience in the oil and gas industry. Boudreaux described a time when he halted work on a project because he smelled a leak, but said that other times he was worried he would lose his job if he called out safety hazards.
For five years, he chased after contract jobs at different plants. Some lasted a year and a half and others were two or three months long. Last year, Boudreaux was forced out of the industry after a back injury. "I was tired of the layoffs and the inconsistency of pay and looking for work and stuff like that," he said. He recently took a job as a manager at a restaurant in New Orleans.
Boudreaux's experiences with dangerous working conditions and instability in the oil and gas industry are echoed in a survey of 1,635 oil and gas workers in the United States. Boudreaux did not take the survey but participated in a roundtable discussion about the survey in Thibodaux, Louisiana, last month. While fossil fuel firms claim that shifting to renewable energy would mean significantly shrinking their labor force, the survey by True Transition —  a worker advocacy and public policy collaborative — found that fossil fuel firms have laid off workers and decreased their pay while raking in profits.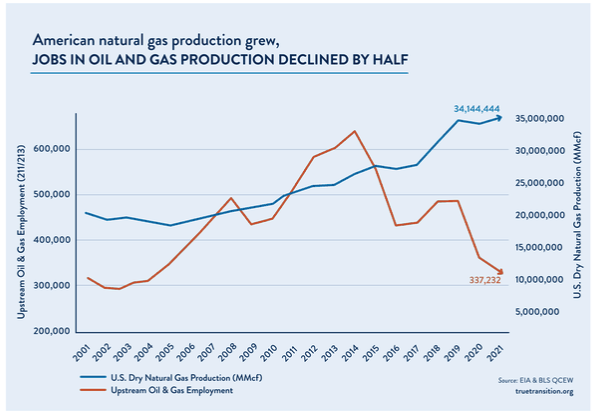 More than 50 percent of survey respondents reported losing their jobs before 2020, when the pandemic drove a downturn in the oil and gas industry. This tracks with data from the U.S. Bureau of Labor Statistics showing the industry cut its workforce by about 30 percent between 2015 and 2019. But those job losses don't line up with fluctuations in oil and gas company revenue, as fossil fuel firms have found ways to produce more oil and gas with fewer workers. In 2022, oil and gas companies made record profits, but the labor force hardly recovered from the 2020 downturn, according to U.S. Bureau of Labor Statistics data.
The True Transition survey was circulated via industry channels, social media, and targeted advertisement. Responses were collected at the end of 2021 through the beginning of 2022 and published in March. The survey was open to workers across a variety of sectors in the oil and gas industry, including exploration, production, transportation, construction, and refining.
About half of respondents said they lost their jobs in 2020 because of the COVID 19 pandemic lockdowns. "Before covid layoffs I was making $29 hourly. After a year and nine months, I was able to get work for two months doing the same work for $17 hourly with 25 years of experience. I don't see how this is legal," said one anonymous respondent quoted in the survey.
About 40 percent of respondents had a negative view of their pay and a third said they've been told to do something in direct violation of safety practices on the job. Justin Solet worked in the oilfield for a decade, both onshore and in the Gulf of Mexico. He grew up in Dulac, Louisiana, and went straight into the industry out of high school.
It didn't take long before Solet had his first injury. When he was 19 he was evacuated from a platform in the Gulf of Mexico after an unsecured piece of equipment pinned his shoulder inside the snubbing jack, which is used to change out tubbing in a well. Solet was looked over at a hospital onshore, put on light duty, and sent right back to work the next day. "I was afraid to be blackballed from the Gulf," he said. "If I didn't go back to work, I would lose my job. If I sued, well, I'd never work again."
Solet left the oil and gas industry in 2008 after he crashed his car while driving sleep deprived after a long shift. A 2022 National Institute for Occupational Safety and Health survey of onshore oil and gas workers found that 60 percent worked 12 hours or more per day and commuted home sleep deprived.
The True Transition survey was meant to provide a rare glimpse into the world of oil and gas workers, said Leo Lindner, a True Transition organizer and former offshore oil worker. Lindner was aboard the Deepwater Horizon on the night of the deadly 2010 blowout. "I think it's very rare that people get insight into what an oilfield worker's life is like," he said. "Oilfield workers would be much more inclined to accept that we need to switch to a different form of energy if they had something else to do. Why they're so reticent to accept the fact is that there's just no open path for them to something else. This survey pointed that out."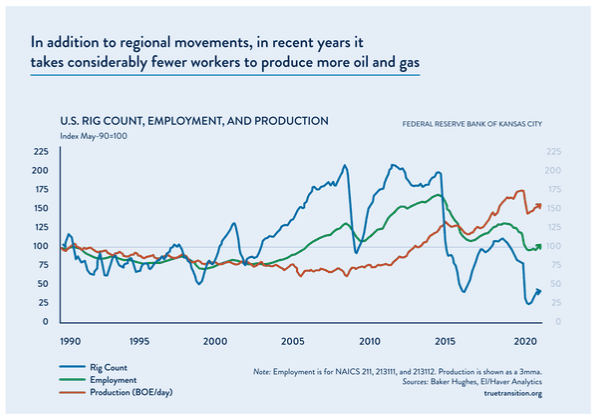 In his discussion with other oil and gas workers, Lindner said two topics constantly came up: job security and worker safety. About half of respondents were employed full time in the industry at the time of the survey. Of those, about 20 percent worked as contractors or 1099 workers. In 2022, only about 4 percent of U.S. oil and gas extraction workers were in a union, according to the Union Membership and Coverage Database. In 2021, Exxon locked out union workers for 10 months at the Beaumont refinery.
"My experience talking to other people is that there's always the constant fear of losing your job," Lindner said. That concern makes workers less likely to want to call out unsafe work practices. "If you're a troublemaker you will be run off," he said.
With this in mind, the True Transition report recommends that federal regulators set up 24-hour tip lines and email addresses for onshore and offshore oil and gas workers to anonymously flag unsafe working conditions. The report also recommends creating a way for oil and gas workers to be linked up with renewable energy projects that offer training programs. Workers' existing skill sets could also be employed to plug and clean up abandoned oil wells, it notes.
But survey respondents said wages in the renewable energy sector are not yet high enough to lure them away from the fossil fuel industry. About six months ago, Solet went to work for an environmental organization, Healthy Gulf. "I still haven't seen a renewable energy job yet in the Gulf region that's comparable to an oilfield job," he said.
For Boudreaux, it comes back to job security and worker safety. "As long as it paid the bills it wouldn't matter to me," he said of the prospect of working in the renewable sector. "If I can come home to my family that's what matters."