Major hospital systems and medical institutions in the United States are betraying their oath to "first do no harm" through their investments in the fossil fuel sector, warns a new report from a campaign advocating for fossil fuel divestment in healthcare.
According to the report, The Biggest Malpractice: How Hospitals Betray the Public Trust with Billions in Fossil Fuel Pension Investments, it is likely that privately owned U.S. hospitals have investments amounting to well over $10 billion in the fossil fuel economy. The report, released today by the First Do No Harm campaign and the Climate Safe Pensions Network, examines fossil fuel pension investments made by some of the largest U.S. private hospital systems. It calls for the health sector to divest from the industry most responsible for driving the climate crisis, which the medical community has recognized as a public health emergency.
Kaiser Permanente, Mayo Clinic Health Systems, HCA Healthcare, and Ascension — four of the most prominent hospital systems in the United States — have invested more than $774 million in fossil fuel producers through their pension funds, the report finds. These are direct investments in companies such as ExxonMobil, ConocoPhillips, Shell, and Suncor, supporting some of the largest and dirtiest oil and gas extraction, like the Canadian tar sands and the recently approved Willow Arctic drilling project.
Furthermore, the report finds that those four hospital systems alone have invested at least $4.6 billion in the overall fossil fuel economy, including fossil fuel service companies, fuel transport companies, pipeline operators, fossil-fuel powered utilities, and additional investments in these companies embedded within index investment funds.
The United States has more than 1,200 private hospital systems, and the report estimates that the total amount of fossil fuel investments held by private hospitals exceeds $10 billion, based on extrapolating from the $4.6 billion figure calculated for the four major hospital systems. It is the first analysis of its kind looking at health sector investments in fossil fuels.
"The health sector has thus far avoided any public scrutiny of its fossil fuel investments, even while touting its leadership in other sustainability-related policies," Don Lieber, campaign director of First Do No Harm and a surgical technologist at Memorial Sloan Kettering Cancer Center, told DeSmog. "These investments stand in stark contrast to the fundamental mission of our healthcare institutions."
While many medical institutions have made progress in reducing carbon emissions from their own operations and implementing other sustainability initiatives, such efforts "may be dwarfed by these fossil fuel investments," the report suggests.
"I've put it like, okay you've established you have a patient with end-stage lung cancer, you establish that he has to go on a chemotherapy regimen, and he does. At the same time you're giving him money to go smoke cigarettes," Lieber explained.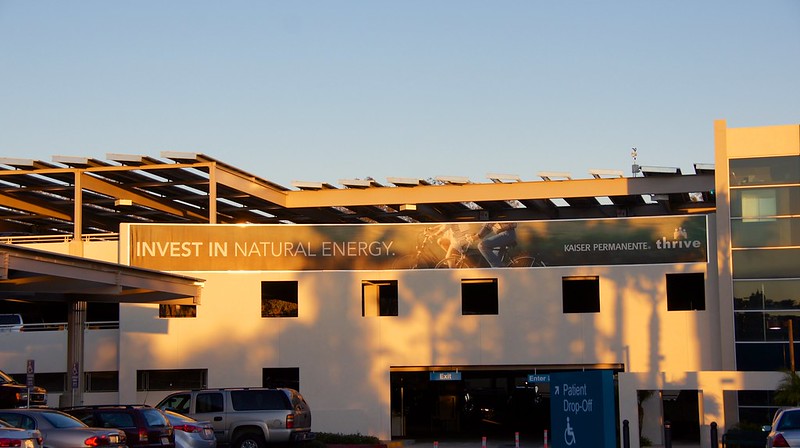 Ignoring hospitals' financial support of fossil fuel companies and related services and activities "directly contradict[s] the Hippocratic Oath — First, Do No Harm — at the heart of the healthcare profession," he said in the report's press release.
The fossil fuel divestment movement has made a considerable impact in recent years, with institutions controlling more than $40 trillion worth of assets currently committed to divest. It has spread well beyond college campuses to other institutions like local governments, foundations, churches, and financial institutions. But hospitals have so far stayed on the sidelines; out of the more than 1,560 institutions committed to fossil fuel divestment, just 1.2 percent of them are healthcare institutions.
Recognizing this gap, hospital staff started organizing divestment campaigns at a few individual medical institutions. Lieber spearheaded a campaign at his hospital Sloan Kettering in 2019. It has since grown into a larger networked campaign, called First Do No Harm, that launched last year.
As Lieber explained, the divestment campaign in the health sector didn't just come out of the blue. "We were responding to the health sector's already widespread calls for decarbonization, recognizing the profound health implications of our greenhouse gas emissions crisis as a health emergency," he said. There's even a pertinent precedent as the health sector previously divested from the tobacco industry.
"Now it's time we do it with fossil fuels," Lieber said in the press release.
"Like a Diagnostic Scan"
With the release of the new report, the campaign now has concrete data to back up its calls for fossil fuel divestment in the health sector. "The report offers numbers, which, like a diagnostic scan in one of these hospitals, the doctors should be looking at," Lieber explained.
The report focuses on Kaiser Permanente, The Mayo Clinic, HCA Healthcare, and Ascension because they are four of the largest and most prominent hospital systems in the country. HCA Healthcare is the largest, operating 182 hospitals and more than 2,300 other health care sites, which serve 35 million patients annually in 20 states and the UK. Ascension is the second-largest hospital system, operating 151 hospitals in 19 states and DC. Kaiser Permanente and Mayo Clinic are smaller but are both prominent institutions. According to the report, those two have even greater sums in fossil fuel investments and holdings — $2.5 billion for Kaiser Permanente and in excess of $1.4 billion for Mayo Clinic, compared to HCA Healthcare with over $351 million and Ascension Health Systems with more than $258 million in fossil fuel holdings and investments.
Kaiser Permanente and Mayo Clinic did not immediately respond to a request for comment. Neither did HCA Healthcare or Ascension.
As for why the health care sector has so far been on the sidelines in the fossil fuel divestment movement, Lieber suspects it is because it hasn't yet been tasked with taking a stand on this issue. "This is the first time the health sector's leadership is being called upon to step up. It's been out of all the fossil fuel divestment limelight until now," he said.
Should hospitals decide not to join the fossil fuel divestment movement, they risk betraying their mission to serving their patients, the report warns: "If they continue to invest in fossil fuel companies, hospital systems will not be prioritizing the best interest of the patient. Instead, they will be committing grave malpractice."