A First Nations advocacy group whose leader has accused pipeline protesters of being beholden to hidden financial interests has taken hundreds of thousands of dollars from one of Canada's top oil and gas producers, newly reviewed corporate documents reveal.
Stephen Buffalo, CEO of the Alberta-based Indian Resource Council, is one of the most outspoken Indigenous voices in favor of oil and gas expansion, testifying several times to Canada's federal government and appearing frequently in mainstream media outlets.
On multiple occasions he's used his platform to attack the credibility of First Nations people and environmentalists who oppose new oil and gas development, alleging they are being controlled by secretive funders and one time asking "who's really pulling the string here?"
But Buffalo's organization has been quietly receiving contributions from Canadian Natural (CNRL), one of the largest oil and gas producers in Canada. That's according to recent federal disclosures, which show that CNRL gave $200,000 to the Indian Resource Council between 2020 and 2022.
Those disclosures are required under Canada's Extractive Sector Transparency Measures Act, an anti-corruption law requiring companies to report payments to governments and other entities.
Neither CNRL nor the Indian Resource Council responded to detailed questions about the contributions.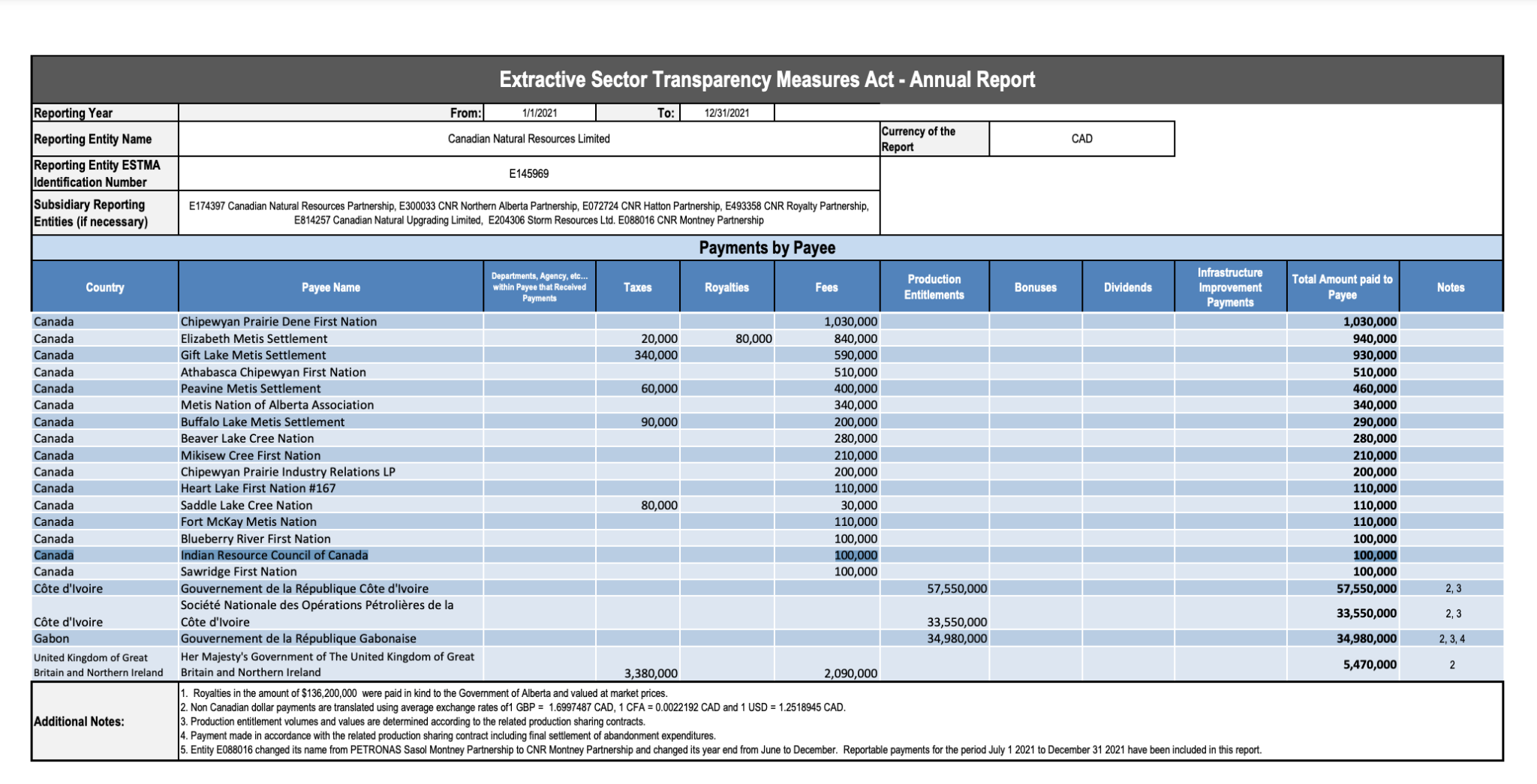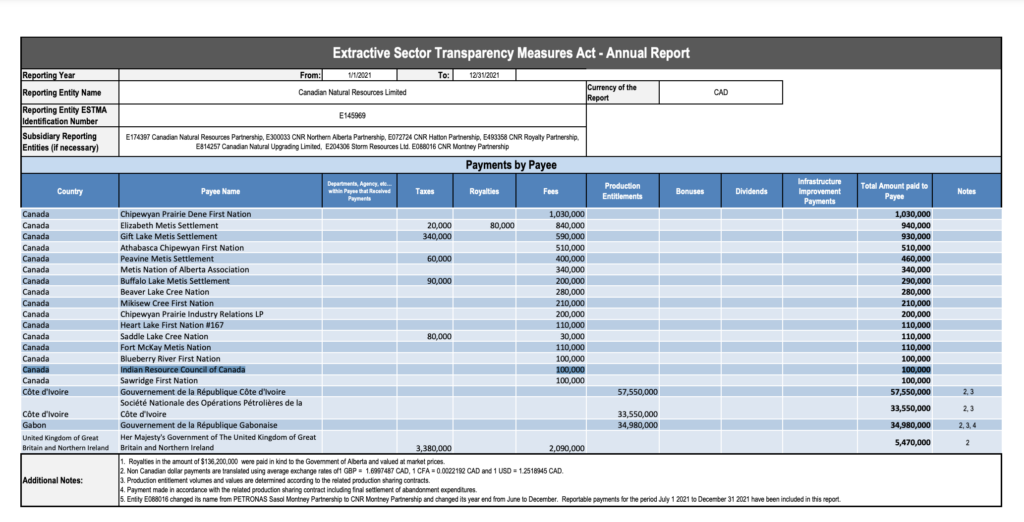 "They are playing a long game of divide and conquer," said Chief Na'Moks, a hereditary chief of the Wet'suwet'en First Nation, who has been a vocal opponent of the Coastal GasLink pipeline being built through his people's traditional territory in northwest British Columbia.  
"When you talk about money going from oil and gas to entities they helped create, that's pretty biased in my opinion," he told DeSmog.
Founded in 1987, the Alberta-based Indian Resource Council describes itself as being "made up of First Nations across Canada that have oil and gas production on their land including those that have the potential for production."
"There's no sector—not solar panel installation, not tourism, not golf courses—that can replace the economic opportunity that oil and gas provides for First Nations," Buffalo told the House of Commons Indigenous and Northern Affairs Committee last year.
His group works closely with the Canadian Association of Petroleum Producers, signing a memorandum of understanding with the oil and gas lobby group in 2020. The Indian Resource Council is a frequent critic of federal green policies, urging Canadian senators to oppose stronger environmental reviews for oil and gas projects, criticizing the country's carbon tax and raising concerns about a proposed cap on greenhouse gas emissions from the oil sands.
Buffalo argues that some First Nations who oppose oil and gas expansion are serving someone else's agenda. During a 2019 speech in Calgary, he said that legal challenges to the Trans Mountain oil sands pipeline were brought "by a small number of First Nations who were funded by foreign environmental NGOs," according to a description of the event.
That echoed allegations made for over a decade by Vivian Krause, a researcher who helped launch a $3.5 million Alberta government inquiry by claiming prominent environmental groups are trying to landlock Canadian oil and gas on the behest of powerful U.S. funders.
Krause is "a good friend of mine," Buffalo told APTN News in 2020.
That interview took place as a protest against the Coastal GasLink pipeline led by Wet'suwet'en hereditary chiefs generated solidarity demonstrations across the country. Buffalo dismissed the environmental concerns around a project designed to bring 1.7 billion cubic feet of natural gas per day to a terminal on Canada's west coast, accusing the protesters of serving foreign interests who use environmental concerns as a pretext to prevent the Canadian oil and gas industry from expanding.
"So, when you see this activism, it's somewhat challenging because we don't know who's speaking anymore," Buffalo told APTN News. "The hard part again is who's really pulling the string here?"
Yet that same year the Indian Resource Council received a $100,000 contribution from CNRL, which describes itself as "a large producer of natural gas in Canada with a vast land base, significant owned and operated infrastructure and a deep inventory of drill to fill opportunities."
CNRL's drilling rights in gas-rich regions of northwest Alberta and northeast British Columbia are "one of the largest among our peers," the company says.
Chief Na'Moks said the only vested interest he has is ensuring the health of the Wet'suwet'en people and the territory they've lived on for thousands of years. "We look at the long term, we look centuries ahead," he said. "What we're trying to do is protect what is left of the clean water, the clean land, our access to the land."