UK fossil fuel imports from authoritarian petrostates surged to £19.3 billion in the year following Russia's invasion of Ukraine, a new DeSmog analysis has found.
Government efforts to end the purchase of oil and gas from Russia have seemingly resulted in an upsurge in imports from other authoritarian regimes, including Algeria, Bahrain, Kuwait, Libya, Qatar, Saudi Arabia, and the United Arab Emirates (UAE), according to data from the Office for National Statistics.
These seven states are all classed as authoritarian by the Economist Intelligence Unit's 2022 Democracy Index, which is judged according to five measures: electoral process and pluralism, civil liberties, the functioning of government, political participation, and political culture. Petrostates are countries that are economically heavily dependent on fossil fuel production.
The news comes as Trade and Business Secretary Kemi Badenoch last month travelled to the Gulf to "boost trade ties" with the Gulf Cooperation Council (GCC), a six-country trade bloc comprising Bahrain, Kuwait, Oman, Qatar, Saudi Arabia, and the UAE. Trade between the UK and the GCC hit a record high of £61.3 billion in 2022.
In her speech to the Conservative Party Conference in October 2022, then prime minister Liz Truss warned that the UK had become "too dependent on authoritarian regimes for cheap goods and energy".
However, it appears that the UK has simply diverted its spending from Russia to other autocratic states, some of which are also engaged in brutal foreign conflicts and stand accused of human rights violations.
Fossil fuel imports from Russia fell from £600 million in February, the month that Vladimir Putin launched his invasion of Ukraine, to zero in January 2023 – compensated for by a more than 60 percent annual increase in fossil fuel imports from other problematic petrostates.
The amount spent by the UK on energy imports topped £100 billion for the first time on record in the year to March 2023, with DeSmog's analysis indicating that the UK spent upwards of £125.7 billion on fossil fuel imports from the year beginning February 2022.
During this period, the UK imported £6.9 billion in fossil fuels from Qatar, £3.4 billion from Saudi Arabia, £2.6 billion from Kuwait, and £2.5 billion from the UAE.
"While cutting our dependence on Russian fossil fuels is both necessary and laudable – albeit with little actual choice – it is a half measure if only aimed at reducing fossil fuels from Russia," Dominic Kavakeb of the human rights and environmental pressure group Global Witness told DeSmog. "Replacing Russian energy with fossil fuels from other authoritarian regimes, is at best short sighted, at worst a gross hypocrisy."
The International Energy Agency has warned that in order to achieve net zero the world must achieve "huge declines in the use of coal, oil and gas", requiring "nothing short of the complete transformation of the global energy system".
"Hydrocarbons aren't the solution, they're the problem," Green Party MP Caroline Lucas told DeSmog. "The fossil fuel era is over. The best way to deliver energy security for the long-term is to insulate the nation, adopt abundant and affordable renewables, invest in storage technologies, and keep all new fossil fuels in the ground where they belong."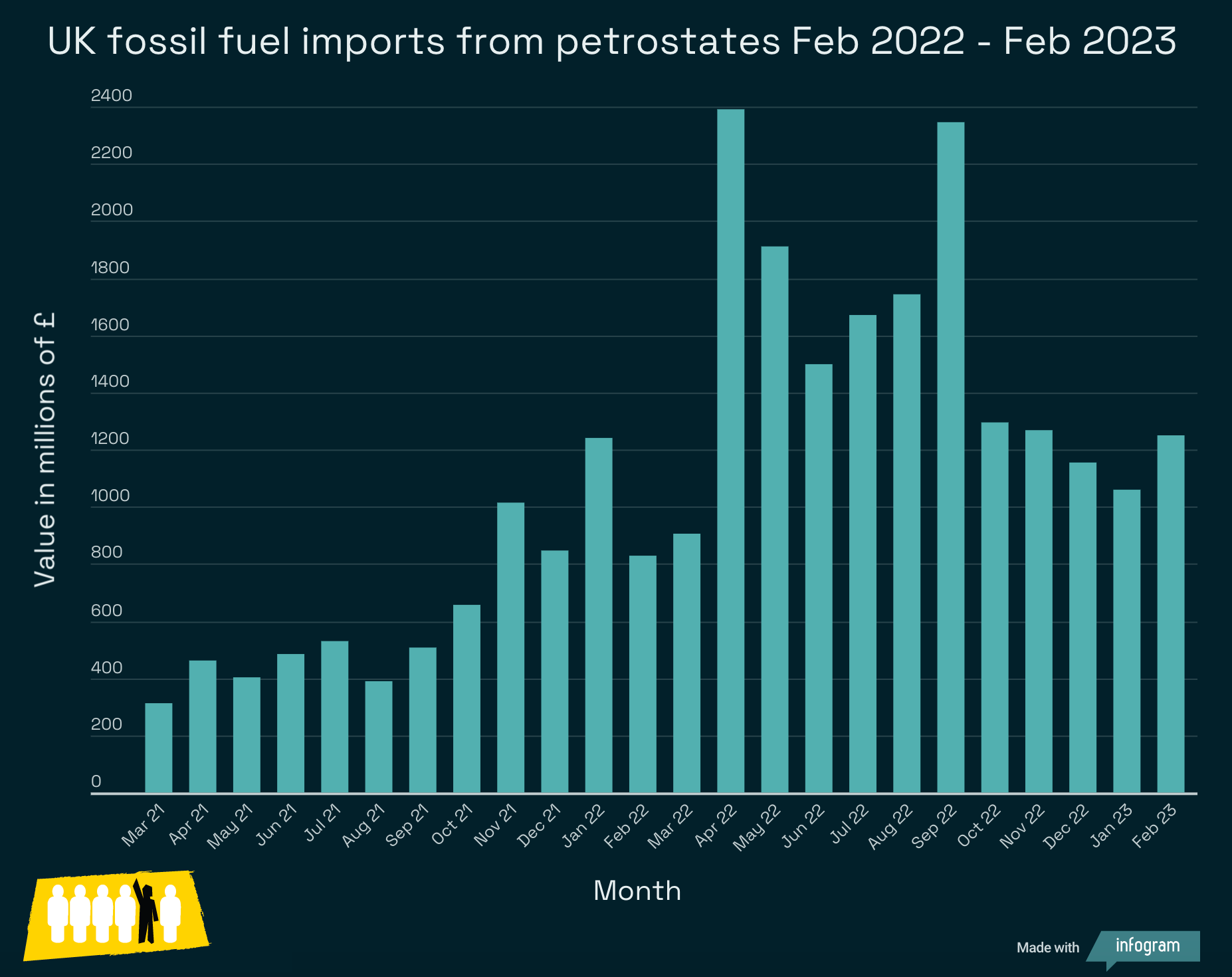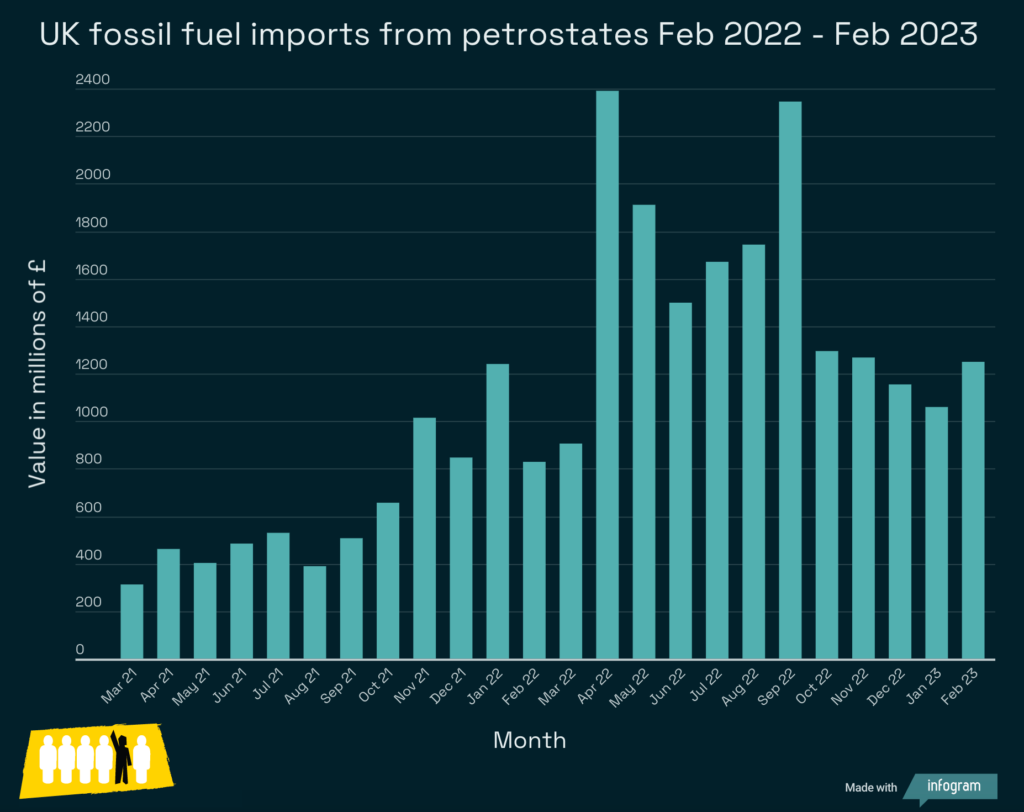 Guzzling Gulf Oil
This year's COP28 summit will be held in the UAE and led by Sultan Al Jaber, head of the Abu Dhabi National Oil Company.
Al Jaber recently said that fossil fuels should "continue to play a role in the foreseeable future" – a statement labelled as "very dangerous" by former UN climate chief Christiana Figueres.
The UAE has also attracted criticism over its plans to imminently expand fossil fuel operations when the International Energy Agency has stated that new oil and gas projects are incompatible with a safe climate.
"I just don't see most countries, and certainly not the vulnerable countries, being willing to support the COP president on this because it is a direct threat to their survival," Figueres said.
The world looks set to surpass the key 1.5C global warming threshold within the next five years, according to the World Meteorological Organisation, with higher temperatures likely to inflict disease, drought, and extreme weather events that will hit vulnerable Global South populations the hardest.
The average monthly value of fossil fuel imports from the UAE to the UK increased from £84.4 million in the year to February 2022, to £195 million the year after.
The UAE continues to arrest and imprison activists, academics and lawyers who speak out against its monarchic rulers. UAE authorities also continue to discriminate against women, LGBTQIA+ communities, and migrants.
Saudi Arabia was an increasingly significant energy source for the UK following Russia's invasion of Ukraine. Average monthly fossil fuel imports from the Kingdom quadrupled (from £50.4 million to £263.8 million) in the year ending February 2023.
The Foreign, Commonwealth and Development Office has noted the prevalence of arbitrary detention in Saudi Arabia – calling it "a hallmark of authoritarian regimes" – as well as the incidence of torture, neglect, lack of medical care and solitary confinement."
Saudi Arabia also routinely executes political dissidents. The state has killed an average of 129 people per year since Crown Prince Mohammed Bin-Salman assumed de facto rule in 2015.
Along with other major global producers, Saudi Arabia has announced periodic cuts to oil supply in recent months, risking a further spike in prices that will benefit Russia.
Neighbouring Qatar has also profited from a growing share of the UK market. Fossil fuel exports to the UK jumped to £531.5 million a month on average in the year following Russia' invasion of Ukraine, from an average of £201.1 million the year before.
Last year's FIFA World Cup highlighted Qatar's poor record on human rights, particularly in relation to migrant workers. A Guardian analysis in 2021 found that more than 6,500 migrants from South Asian countries had died – due to suspected exposure to extreme heat while working – since Qatar was awarded the World Cup in 2011.
And, despite the UK government incrementally banning the importation of Russian fossil fuels following Putin's invasion, the country's oil and gas is still entering the UK indirectly via imports from India.
The average UK home will spend nearly £6,000 on foreign gas in the next 12 years, including £140 on Qatari gas every year, according to a report from the Energy and Climate Change Intelligence Unit (ECIU). A previous report from the ECIU also found that the UK is on course for its dependency on imported gas to increase by 75 percent by 2035.
"The UK's high gas demand and dwindling North Sea production over the past 20 years have been creating a growing problem of import dependence that threatens our energy security and deepens our trade deficit," said Simon Cran-McGreehin, ECIU's head of analysis.
"This really hit home in the gas crisis, with UK spending on gas increasing six-fold to £60-70 billion in a single year, driving inflation across the economy and triggering the cost-of-living crisis."
'A Strategic Political Calculation'
In the wake of Brexit, the UK has deepened its diplomatic alliances with authoritarian regimes.
In January 2022, while serving as Business Secretary, Kwasi Kwarteng held a series of undeclared meetings with senior executives of Saudi Arabian firms, including individuals representing Saudi Aramco, the world's biggest oil producer, and its subsidiary Sabic, the world's fourth largest petrochemical company.
Kwarteng was instructed by officials to "reaffirm the UK's commitment to deepening our relationship with Saudi Arabia and the wider Gulf region". He was flown around the Kingdom by Saudi Aramco, and the minutes of the trip suggest that the journeys provided an opportunity for the oil company to lobby the Cabinet minister.
Meanwhile, the UAE and Qatar have each agreed to invest £10 billion in "priority" UK industries.
A spokesperson from the Department for Energy Security and Net Zero said: "We are committed to reaching net zero by 2050 and are cutting emissions faster than any other G7 country.
"While we are accelerating renewables and nuclear as part of our plans to power up Britain, the transition to cleaner energy cannot happen overnight and we will continue to need oil and gas over the coming decades, as recognised by the independent Climate Change Committee.
"We continue to work with international partners to maintain stability in global energy markets and boost our energy security."
Dr. David Wearing, a lecturer in international relations at Sussex University, said that the UK's growing ties with Gulf states is based "not on an economic calculation but a strategic political calculation."
Gulf states send "a big chunk of their petro dollars into our financial system", said Dr. Wearing, who is the author of AngloArabia: Why Gulf Wealth Matters To Britain. Royal families across the Gulf are estimated to own more than £1 billion in property across the UK, largely concentrated in London.
"Those capital flows help to square off the fact that Britain's got a huge deficit on its current account [imports versus exports], which becomes more important with Brexit … That's the crux of the relationship."
Gulf fossil fuels are "strategically important in terms of power politics too," he said, in terms of keeping these countries aligned with the West rather than China. "For all these different reasons, it's [seen as] important to keep the Gulf states as they are and keep those ruling families in power – so the UK can trust them to continue staying aligned with the Western bloc and sending their petrodollars into our economic system."
A common feature of petrostates is a propensity for aggression; there is strong evidence to suggest that petrostates are more likely to start wars.
As a result, the UK's purchasing of oil and gas from these states indirectly supports conflict abroad. A Saudi-led coalition of Egypt, Qatar, Saudi Arabia, and the UAE have been engaged in a proxy war against Iran in Yemen since 2014 in which hundreds of thousands of civilians have been killed, and an estimated 23 million people, from a population of 30 million, are in need of humanitarian assistance.
DeSmog's analysis found that the UK spent £13.2 billion importing fossil fuels from the members of this coalition in the year from February 2022, which constitutes 62.5 percent of the total imported from authoritarian petrostates during the period.
"Fossil fuels are the currency of dictators and warmongers everywhere," said Dominic Kavakeb of Global Witness. "It's time to build an energy system that benefits people and the planet, rather than polluters, petrostates and despots."
Additional reporting by Sam Bright